On some level we all know that the Divine is always present within us and also fills the world around us.  We all may have different names for it, and each person when asked may have various opinions as to how much importance it has in their life and also just how much they want to experience more of it.
For the most part our day to day reality consists of all the limitations of the material world and yet from time to time we hopefully can see beyond the demands of email, our human frailties, and the problems of the world which seem to be inexhaustible.  Either we are pushed or pulled into an awareness of our true inner nature and we are then, if only briefly, no longer prisoners of our limited body and mind.  We are aware that we are part and parcel of the divine and the inner call of our journey means we need and must go beyond what we currently imagine ourselves to be.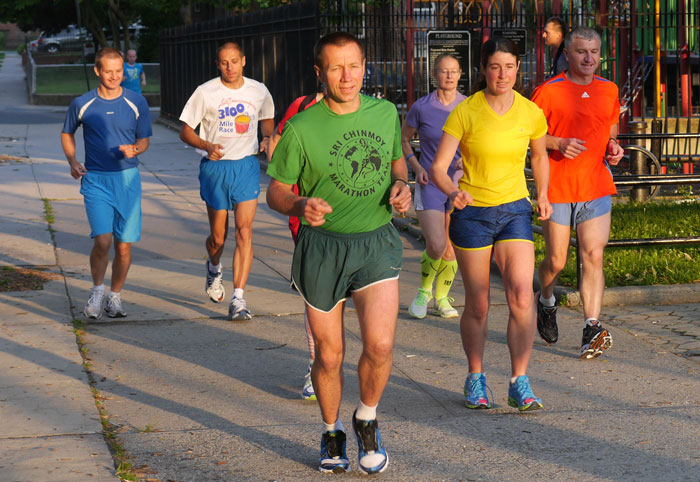 Each year at the start of the Self Transcendence 3100 mile race I experience a profound moment of realization.  I am but a tiny part of this great event and yet each and every year when I am there, doing what I do I feel myself become more alive inside.  It is almost as though that up until then I have been lost in some unconscious slumber and simply by being at the course I am catapulted into wakefulness.  I sense a new awareness, not just within myself but also the world around becomes imbued with a radiance and glow that I had somehow not been aware of up until then.
When I talked to many of the helpers on the course this morning they also confirmed the sense of brightness and newness and clarity they experienced as well.   There are of course so many indescribable aspects of the divine which don't easily conform to our mental notions of reality.  Each runner hopefully will describe over the coming weeks just what snatched them up from so many distant lands and then brought them to this place.  Perhaps we all can learn just a little more of what it was that made them take up the self transcendence challenge at 6 o'clock this morning and then run on and on throughout the long New York summer towards a goal that today is so far far away.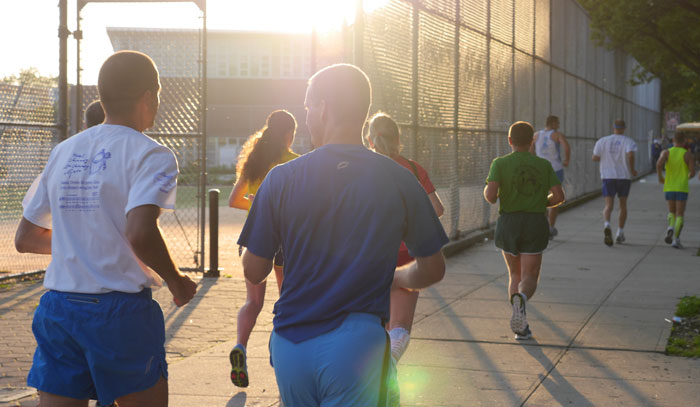 A special thanks to Sri Chinmoy who created and continues to maintain this world of wonder on this little block in Queens, on this Fathers Day.   And also a special thanks to those who from time to time drop by here on this blog and either embrace or tolerate my attempts to reveal the  miracle that is the Self Transcendence 3100 Mile race.
Question: When we attain a divine consciousness, is it better to say that the divine consciousness attains us or that we attain it?
Sri Chinmoy: When we attain the divine consciousness, it attains us and we also attain it. There is a meeting place where the two come together. Reality is all-pervading. Suppose right now we are on the first floor; this is our reality. God, who embodies the universal Consciousness, is on the third floor. So God comes down to the second floor with His Compassion and we go up to the second floor with our intense cry to attain oneness with His Consciousness. God embodies the highest divine Consciousness and He also embodies our inner cry. So God, who is within us in the form of our inner cry, carries us to the second floor; and God, who is outside us in the form of the infinite divine Consciousness, comes down to the second floor. God climbs up with us and God climbs down with the divine Consciousness. When both the seeker and God arrive at a particular place, the seeker enters into the divine Consciousness and the divine Consciousness enters into the seeker. With our personal effort and God's Grace we go up and with His Compassion and Love God comes down.
Sri Chinmoy, Canada Aspires, Canada Receives, Canada Achieves Part 1, Agni Press, 1974
Some friends from Pennsylvania drop by to try and find out for themselves what this race is all about.
Nidhruvi and her crew arrive on foot.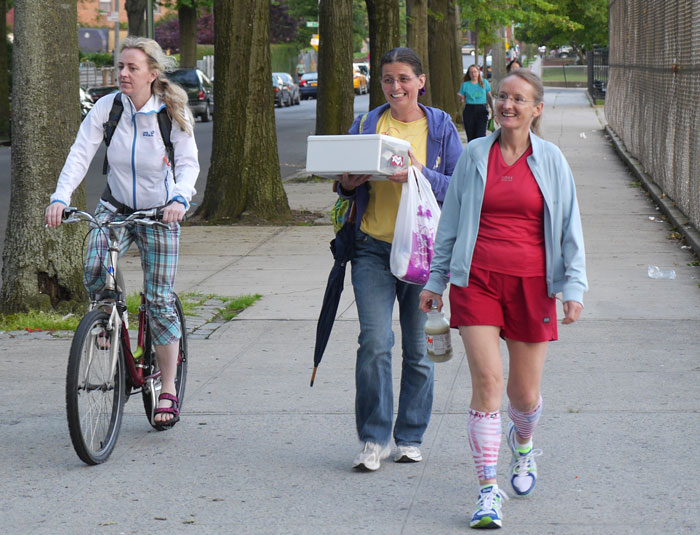 "As is the case with all our races we dedicate this race to the founder of the marathon team and the founder of this race, the visionary of the Sri Chinmoy marathon team and that would be Sri Chinmoy himself.  He tirelessly saw and dedicated his wishes upon us to provide the best possible situation.  Still making an incredible challenge.  We started off first doing 10 mile races, then we graduated up to the half marathon and then the marathon.  There was always a new challenge.  And also the runners were accepting this challenge.
Then in 1985 we put on our first multi day which was a 1000 mile race, and for us it was an incredible experience to put on.  Extremely tiring but so fulfilling.
But it is because of you runners.  Your determination, your perseverance, your dedication on the road, after years and years of training.  Years and years of racing and years and years of discovering yourself.  That is what will bring you to the goal." Some of Sahishnu's opening remarks. Plus audio start of race.
It starts off as a perfect morning.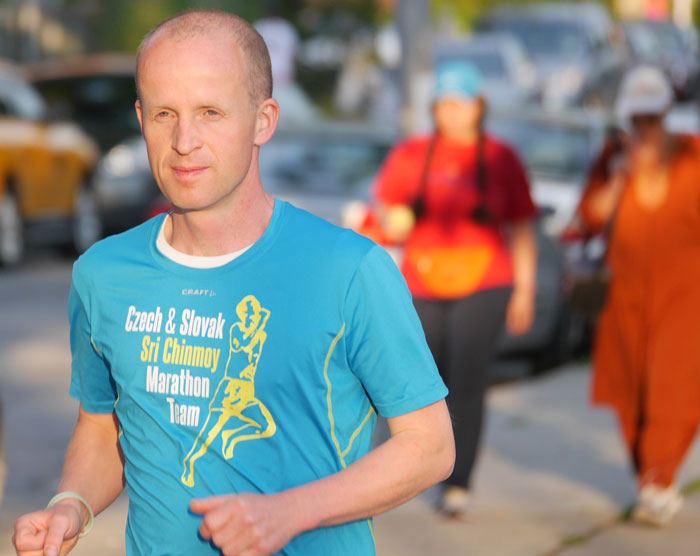 Very quickly the runners are comfortable and seem to be moving almost effortlessly at least for now.
"He became from a runner to a rock climber." Ashprihanal who has spent 11 summers here running the race, 7 of those times winning it, decided not to run last year.  "I turned into a rock climber last year.  I went to Austria to do a series of climbing and then to Peru to do some mountaineering also.  For a change." (emphatically)
His answer to if he missed being here, "not really.  Maybe my heart and soul has missed.  But I felt that I needed a break.  But now I am happy."  He mentions that on one other year he skipped the 3100 mile race in order to train for the 1300 mile race which used to be held in Flushing Meadow in the fall.  You need to run at least 72 miles a day in order to make the cut off.
When asked if there are any similarities between rock climbing and running he says that the surfaces of both sports are equally hard.  "You have to transcend yourself.  I am sure there are many things in common."
He feels that for him in climbing there is always newness and excitement which gives him joy.  He has run around this block more than 62,000 times over more than a decade of running here.  He says that nothing has changed much at all for him here though he did see a box of flowers he says which he had never seen before.  Also he likes having new runners on the course.  At this moment he passes Yuri over by the Grand Central.
At the start this morning he says, "I wasn't afraid, I wasn't anxious, there is not much stress in this race any more.  You know that you have done it before.  You know what to expect.  It is very good."
Atmavir and friend
Galya drops by
Sarah finding her way.
The Fathers Day marathon taking place across the street. And yes everyone was counted.
The course is hard but there is beauty along the way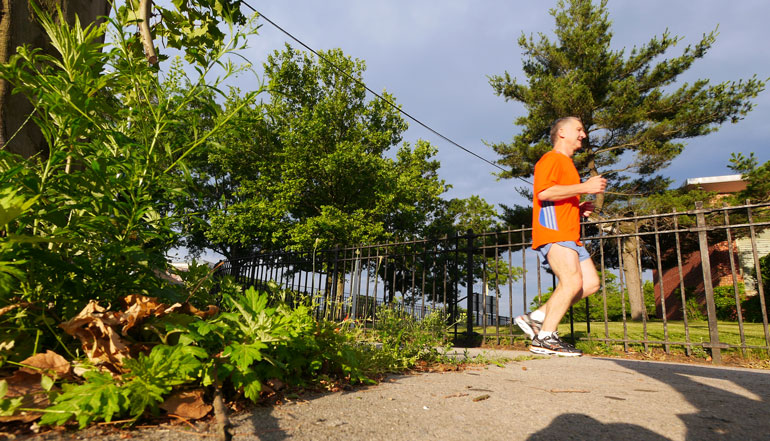 Nidhruvi and Surasa enjoying themselves.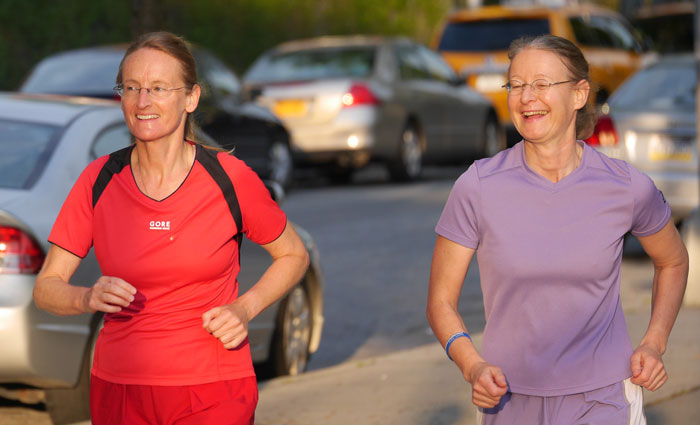 Either 3 or 4 years ago Nidhruvi was running in the father's day marathon which was taking place just across the street.   When asked if she was running the whole distance she said, "I don't know actually I planned just a half because I am quite injured I haven't been running.  I haven't practiced long distance for a few years  but I still remember what it was like in those days.  and how I thought difficult situations there are so many things just to keep going I feel always in front of you have faith in he will do everything in and through you.  be open and good instrument of his."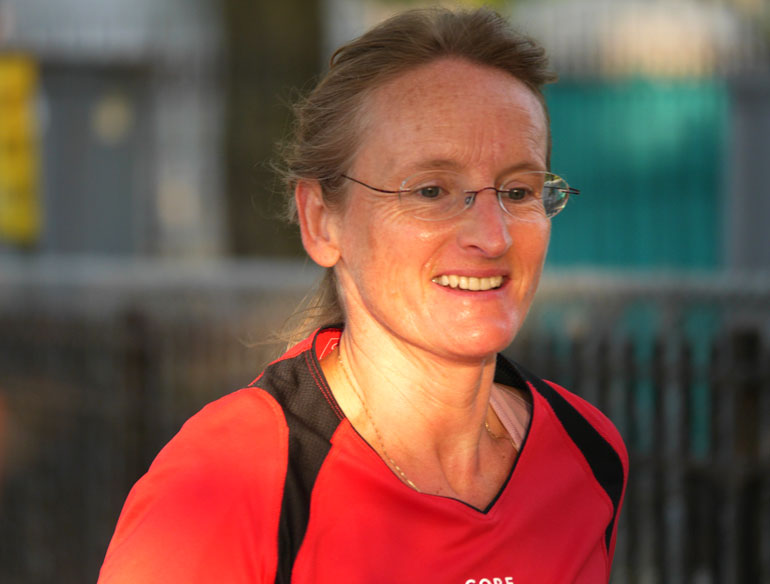 Her story is very much a dream come true, for as of this morning she is now taking part in a race she has wanted to run for a very long time.  In 2012 however she ran in the 6 and 10 day race and did extremely well.  "That was my big comeback."
As for being part of the 3100, "I never, never, lost sight of it.  To run this race was always my dream, all these years.   And even though I had injuries.  There were times when I thought, maybe I am not supposed to do it.  But I had it always in my heart.  It always came back to me again and again.  So I never really gave up.  Then I thought, If I really want to do it, I am getting older and older.  I don't want to start the race when I am 50 (she is 47).  I like to be fast in everything.  So I wanted to do it as soon as possible."
So she describes how by running the race last year in Flushing Meadow she would see clearly if she still had the capacity to run the 3100.  "So I ran the 10 day race, and even though there were difficulties, I was very happy.  It showed me definitely that I could go to the start of the 3100 mile race.  This gave me lots of confidence."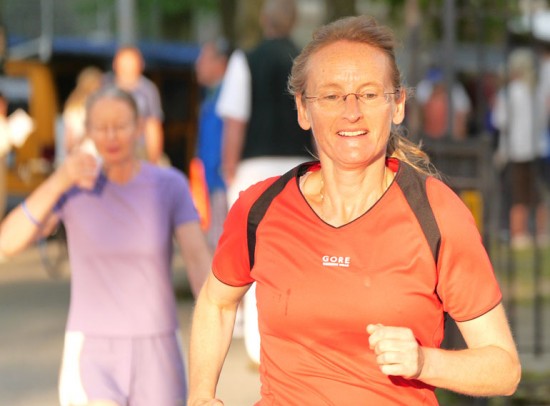 "I also had a very special dream.  When I ran the 10 day race I had a dream about Sri Chinmoy."  There were 3 aspects of the dream she says.  One part involved a friend of hers and the next part was that she was told that she needed more rest.  At this point she walked away and then realized that she had to ask him a question.  She asked permission to run the 10 day race describing as well that she wasn't very fit.  His response she says was that as long as she had good helpers she would be fine.  "I was so grateful.  I was so much in tears.  This gave me a lot of confidence of course."  During the race she had problems but she says that she ran easy and was cheerful.  "I was so happy it was a great race.  That is why I am here today."
She is also modest about her appearance here this year.   She feels that she is not a fit as she would like but feels inwardly that being here for the race is the right thing for her to do.  "I am so grateful."
A quote from 4 years ago.
"I think if you are really open and let things happen,  then it doesn't matter how old you are you can still achieve great things in the running world and the inner world.  Next week I will be 44.  There is something in me that doesn't give up."
The park has many other things happening here as well.
Rupantar the film maker
Keeping the course clean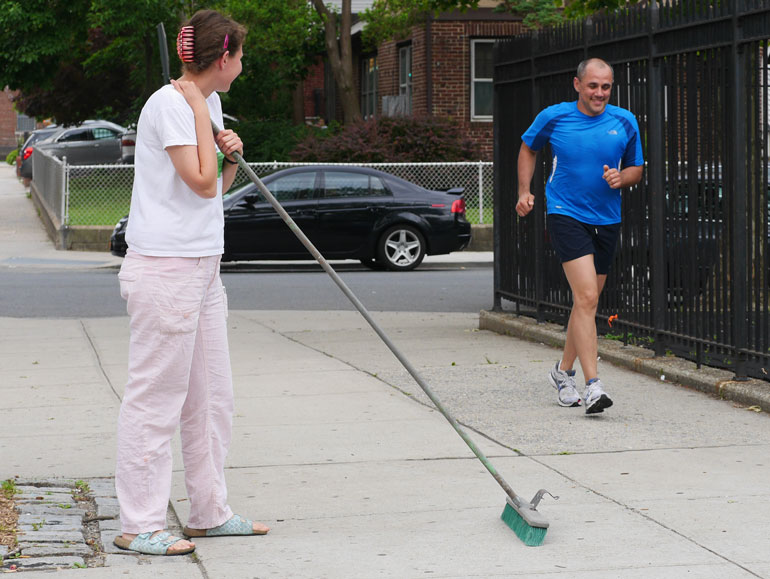 Pranjal
Sangit Surabhi performs for the runners
Sopan
Yuri
Vasu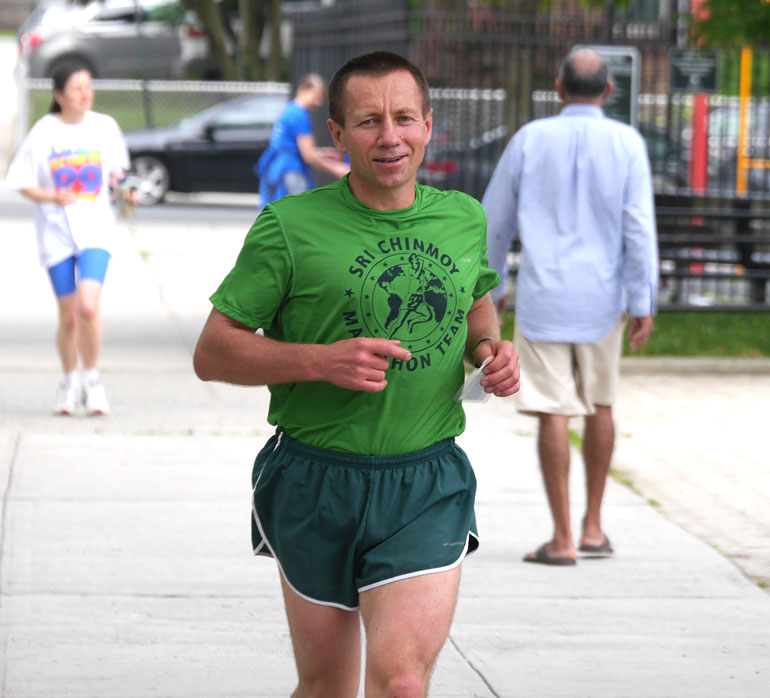 Surasa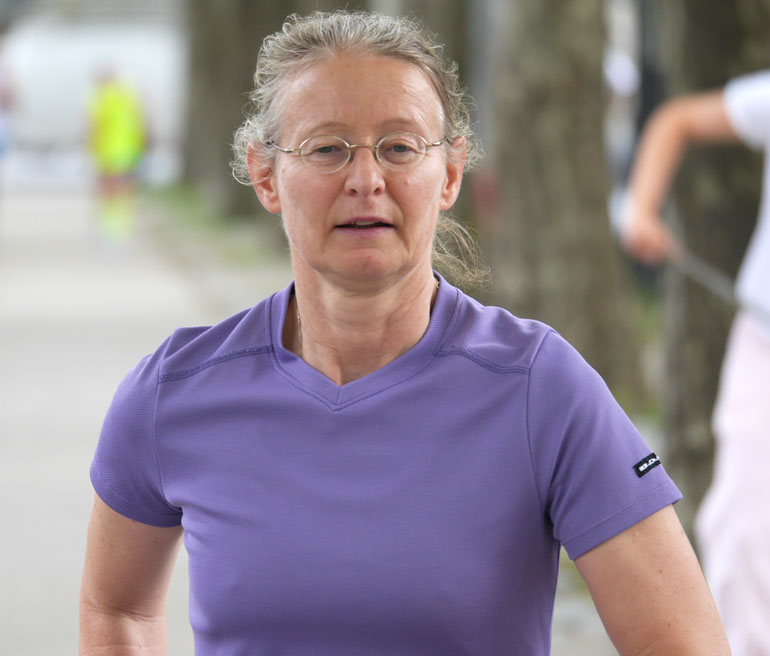 "I feel spiritually with the ideas of Sri Chinmoy."  The Consul General of Bangladesh, Monirul Islam made a brief visit to the course this morning along with his family.  "That humans can transcend their limits.  Humans are humans, they are not limited by any religon, race, culture, or country, or state, what ever it is.  We are unlimited.  What Sri Chinmoy believed in I do too.  That brought me here, and I feel that I should be with all of you."
He is only here for a brief time and the race has only begun so I ask him if it is possible at this point to grasp what he sees happening here.  "Again it is a matter of feelings.  A matter of understanding.  If we look with our material eye we don't understand.  We have to see it with our inner eye.  What it is and why they are here.  Then we feel their feelings.  They want to have oneness with one idea, which is universal, eternal, and endless.  That is why they are here.  They want to be united with that endless thing.  So I feel like that.  They are running to meet the endless thing.  And that endless thing is God, who we came from and to whom we shall return.  I destination and our origin I believe are the same, so they are running for that destination."
Parvati's Group
DIVINE JOURNEY
The divine journey
Is the continuous, eternal journey
That is not only nearing God-Reality
But is actually bringing God-Reality
To itself.
And this journey is not only the soul's
Continuous preparation
In us,
But also the soul's full blossoming
For us.
Sri Chinmoy, Silence-Seed And Sound-Fruit, Agni Press, 1975