"You can help them tremendously by putting love and devotion into the food."…Nirjharini
The little kitchen is tucked away, nestled in a quiet nook, safe and secure from all the buzz and bustle of the busy streets of Queens.  To get there you have to climb some steep steps leading up from the cracked sidewalk and then open a big wide gate.  Once you step through the entrance it will swing shut behind you with a big thump.  But once inside, once you are within the quiet confines of the high white fence.  It is only then that you will realize you have entered a secret and sacred little garden.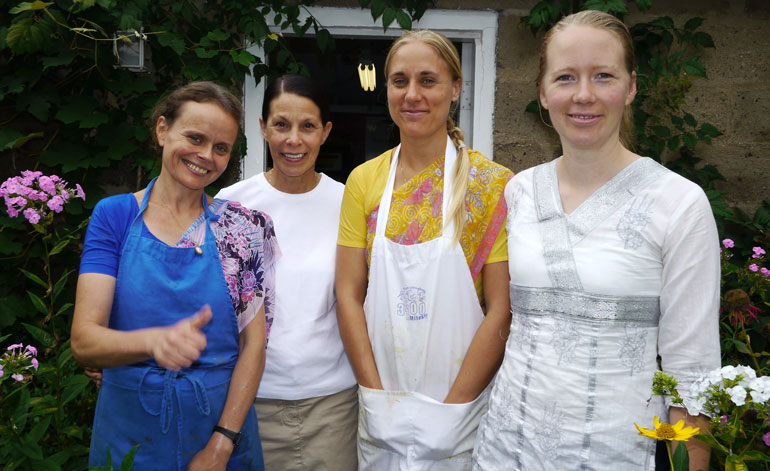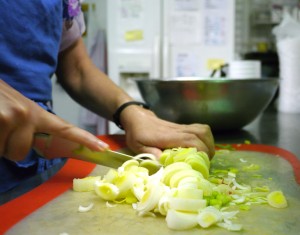 Summer flowers are bursting with beauty everywhere and because of a lot of rain the past few weeks all the vegetation is lush and green. But the scent of flowers is not what stirs the senses here or touches the heart.  In this spot delicious aromas silently drift out and across the neighborhood for much of the long long day, and continue to tempt and entice well into the night.  Causing no doubt the many hungry stomachs of not just a few nearby pedestrians to jump with anticipation as they are momentarily greeted by these enchantments.  Then the desire will quickly fade as the usual smells of a city street invade and push away that tasty sense of delight and wonder.
The source of these tempting aromas are just a few steps more.   Cross over the meandering stone path and push open the plain white door and there before your eyes, calling out to all the cares and wishes of even the most temperamental and finicky of hungry stomach, is a celestial abode of food preparation.  It is the kitchen for the runners of the 3100 and it is a veritable temple of purity and sacrifice while at the same time being a non stop assembly line of food preparation.  Churning out millions of calories of high quality nourishment to keep their now finely tuned engines roaring with determined speed and energy for 18 hours a day.  Keeping legs and hearts moving for the complete distance of the 3100 mile race.
Since 2004 Nirjharini has been the leading light of this selfless band of cooks.  Who work on not just regular meals but also snacks and treats from before dawn and into the late night.  The Self Transcendence race needs the care and sacrifice of many people but none may be more crucial than its cooks.  Of them Sri Chinmoy once said, "I admire them like anything."  He request of them, "Cook for my golden children."
FOOD FOR THE SOUL
The body's food
Is matter-made.
.
The soul's food
Is spirit-made.
.
Gratitude-life,
Gratitude-heart for God
Is food for the soul.
.
Perfection-cry
Is food for the soul.
.
Heart's awakening
Is food for the soul.
.
.
.
Sri Chinmoy, Transcendence-Perfection, Agni Press, 1975.
.
Vasu came early this morning to get some help with his blister.  He needs to complete 376 miles in the next 7 days.
A little soul bird watches
Meanwhile the minutes before 6 pass quickly…… still a few precious moments of rest.
Pushkar has found what he is looking for.  He ran the most laps yesterday and completed 65 miles.
Some radical alterations are done on a brand new shirt.
Pradeep now has some help with the arrival of Abhinabha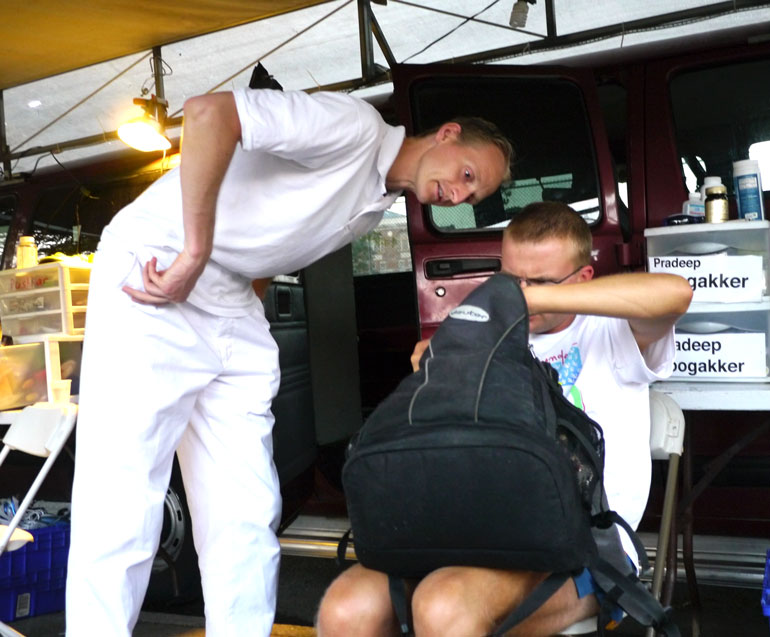 Pranjal starts the day with what else…a chocolate bar.
Start Day 46
No 4 leaf clover but still good luck just the same.
Yesterday Vasu's blister problem bothered him a lot.  He completed his lowest number of laps in several weeks.  It is healing on the outside more quickly then in and so is still causing some concern and discomfort.  Vajra has helped him a lot.  "For me it was very nice.  My pain was gone, because Vajra checked my blister."
"Everything is in the hands of Sri Chinmoy.  I hope to finish on Monday night or Tuesday.  I need to do my best."
Click to Play Interview
No one gets lost
Stutisheel going in the right direction.
Vasu continues to run.
Pranjal needs only 165 more miles
Sarvagata will finish here tomorrow to become the 2nd finisher of the race.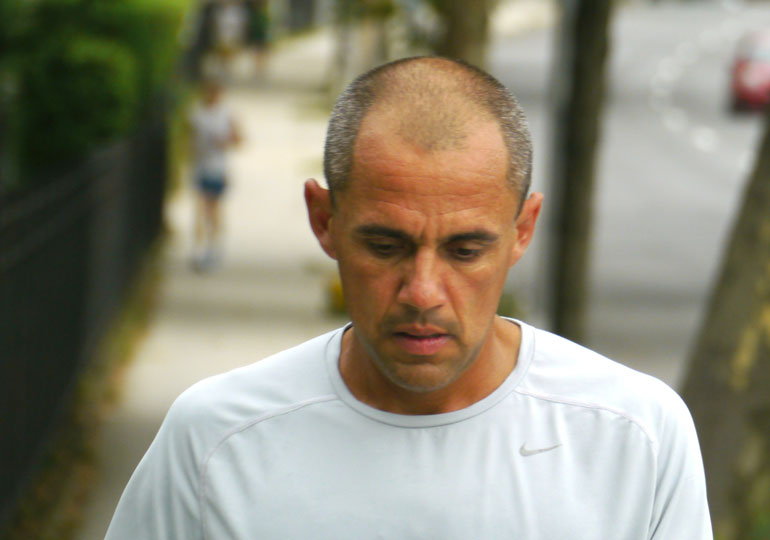 We were born to run
We were born to run the 3100 mile race.
We love this race.
We need this race.
Because one day we will realize the Supreme here.
This is our Aspiration ground.  …….Baladev
This is a poem that came to Baladev here yesterday.  "For me it is 100% true this poem.  Because one day it will happen here.
I am blister free
I am shinsplints free
I am injury free
I am sugar free
I am running free.
Click to Play Poems by Baladev
7 Full days left
"I am preparing today's lunch.  It will be a pasta with a vegetable sauce and some feta cheese and olives.  Then for the 4 non pasta runners, they are gluten free they get the dish with quinoa."  Each meal has to accommodate each and every of the many dietary  requirements of 11 hyper extended athletes.  "When they run they get very sensitive.  Some can't have tomato, some can't have soy, some can't have dairy, and some can't have gluten. "
"Every year is a little bit different.   Some stay the same but generally speaking, I think the runners are more watching a healthy diet.  It used to be more about calories.  They liked brownies and cheese cake. It is still around but not as much.  Maybe when you get older your body gets more sensitive.  Ashprihanal used to be the one that mainly lived on chocolate and coffee.  But he said last year he had to start watching his die better.  You use up a lot of minerals when you run a long race.  So there has to be a source for it to replace it of course."  Nirjharini
"I am the world's biggest bag lady.  It was the year I retired and I wanted to keep busy and I was always enchanted by the race."
"I do like to shop.  Of course even things that you like can get boring or you may not be in the mood.  But it is a big responsibility and a wonderful responsibility to serve the race in this capacity and to help my boss Nirjharini.  She is the best boss." Snigdha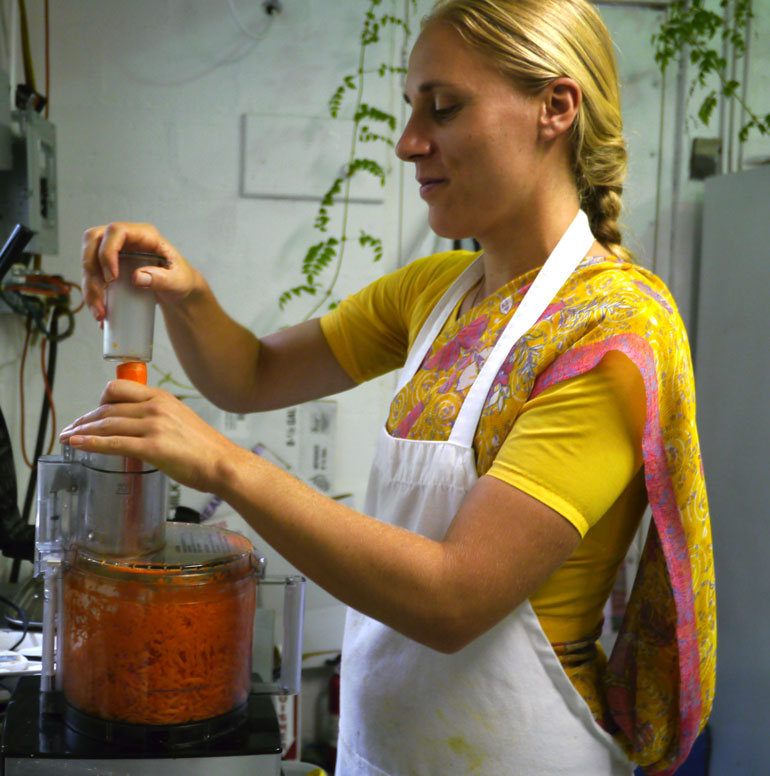 "The salad has carrots, cashew nuts, lettuce, and celery root."
"This is my second year of cooking.  This year I am here a little longer.  I feel a little more in touch with the runners and what they are going through." Shobhavati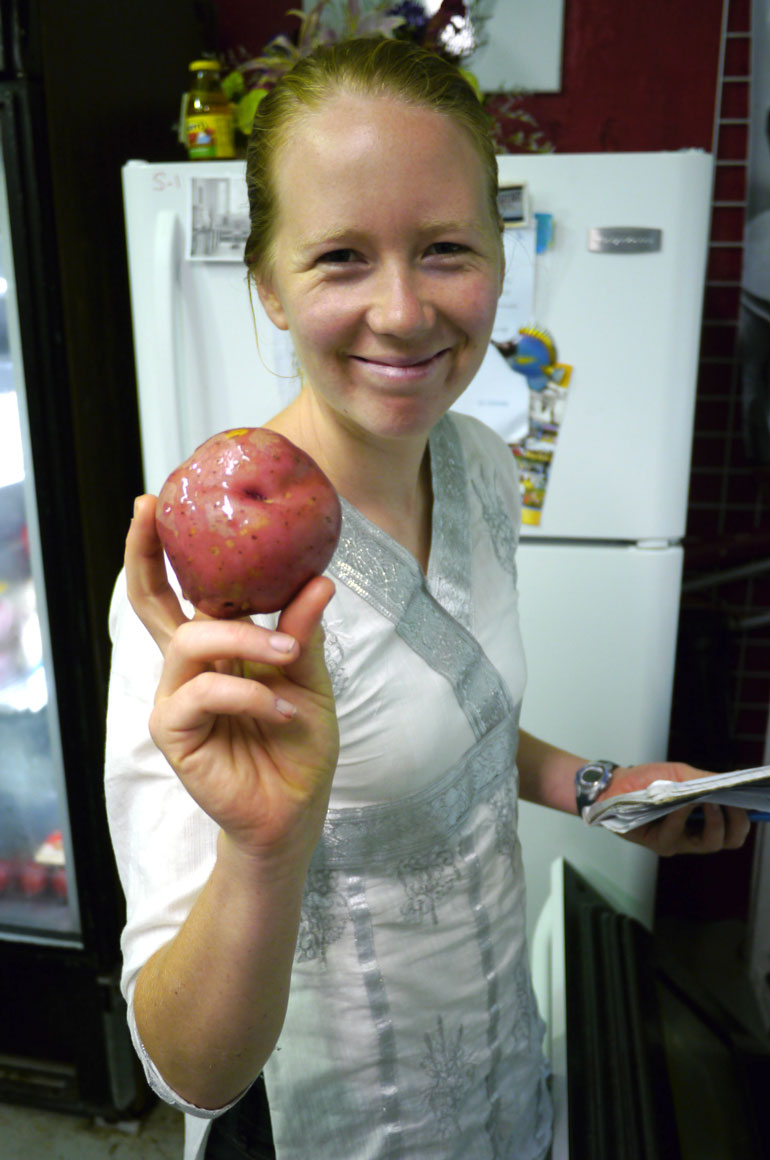 "So after lunch is cooked Tejini and I will come on and we will do snacks for 2:30, 4:30, dinner, and evening snacks.  So I am just getting ahead now.  This is my 4th year helping in the kitchen.  The race holds a special charm for me, obviously since I keep coming back."   Ujjwala
Click to Play Interview
Regrettably Tejini and Chetana were not available at this time.
Arpan briefly joins the Enthusiasm Awakeners
A special guest sits quietly off to the side.
Suhasini recites the Poem of the Day
Click to Play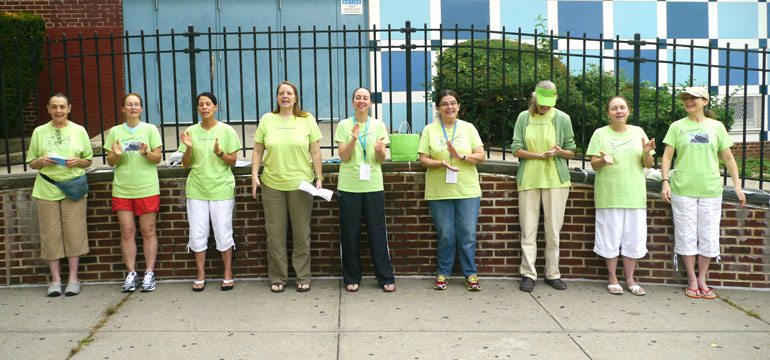 My God-hunger-hour
Is the right time,
And
My God-nourishment-heart
Is the right place.
Sri Chinmoy, My Eagerness-Heart, Agni Press, 1993.