"Like a Deni-God, a chariot, coming in sunshine, in God's glory.  Very Uplifting.  It was really nice."……Sarvagata   On seeing Grahak's finish
"I have learned a lot from Grahak.  I admire his qualities as a runner and as a person.  Ideally we run our own races.  I run my race and he runs his race, but somehow together it is one race.  We are working as a team.  We benefit from each other.  I like this race.  This very race I have learned a lot.  I will be better next race…..definitely."
Yesterday Grahak was embraced and greeted by all his brothers at the finish line.  It is a meaningful and heartfelt tradition that has spontaneously existed when each runner  crosses over the line for the last time.  It makes no difference if the runner is first like Grahak was or if they be the last one to do so.  Each will in turn salute and honor the runner who has just completed his journey here.
The crowd near by will cheer, sing, and ring bells, but it is not the same.  For it is only the other runners who have truly and totally shared in this glorious adventure, and who can grasp the full measure of what it took to get there.  How each day was a battle but one in which the enemy did not exist on the course beside them but only within themselves.
Our true foe is our own ignorance and it is in and through this divine field of battle, the 3100 that 12 warriors relentlessly attempt to conquer the slow and resistant nature that sits dormant and reluctant within us all.
Here as each mile is struggled for, and grudgingly attained, an inner fight and journey exists simultaneously.  One that does not end at the finish line, but instead ,will be complete only when we can make our way to the doorstep or our very own perfection.
When I witnessed this moment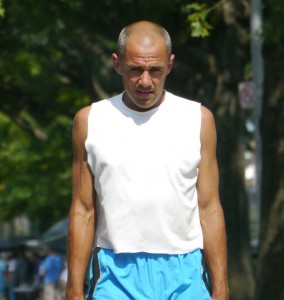 I knew that something more was taking place here than meets the eye.  For unlike any of the others, these 2 were for almost 2000 miles of the race running so closely together in terms of mileage that there must have been times when each must have felt the presence of the other, like a constant phantoms at their sides.  Subtly pressing, coaxing and prodding them on.
On the outer plane this was visible in the slender wobbly gap between the two that shriveled and shrank to little more than 40 miles.    Within though was a mutual love, admiration,  and oneness.  A bond that respectfully challenged the other to do more, to give more, to reach ever deeper within themselves to reveal all the hidden capacity each treasured.  And ultimately to fly higher than each would have ever dared to reach for alone.
Olympic competition will always bring forward moments of superb competition and transcendence.  To even appear at the games already signifies you are one of the very best in the world as an athlete.  It does not always signify of course as a person you have also reached the highest height.  There are many immortal moments at the games over the years that have continued to inspire the world long after the medals themselves have tarnished and slipped away.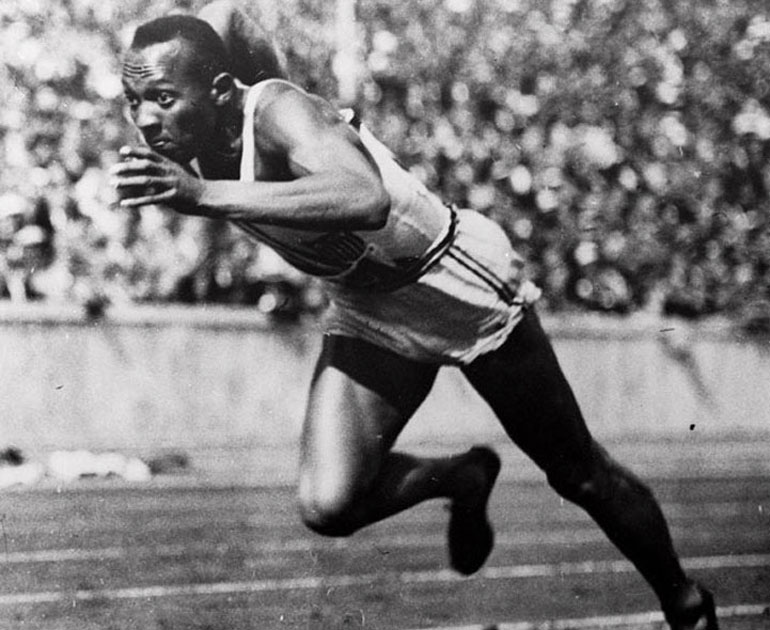 In 1936 American athlete Jesse Owens would shock the world by winning 4 gold medals in Berlin at a time in which the world was teetering on the brink of collapse and catastrophe.  His talent was unsurpassed in all the events in which he competed but it was at one event that without the help and assistance of another competitor he would not have been victorious.
In the Long jump Owens was struggling just to qualify little alone win.  It was at this time that a German jumper named Luz Long came to his aid.  Long had just set an Olympic record in the event and could see that the American could do better if he simply moved his take off spot back a few more inches.  In so doing Owens was not only able to qualify but also win the competition and set an Olympic record at the same time.  Of Long he said: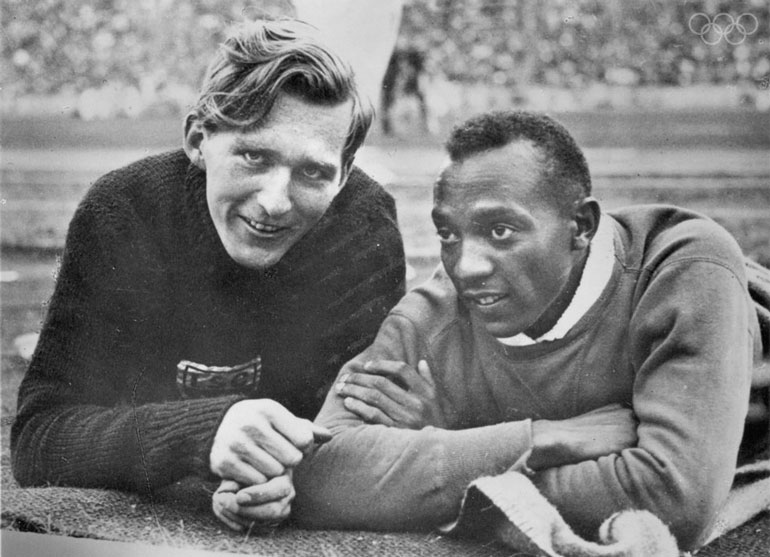 "You can melt down all the medals and cups I have," Owens later said, "and they wouldn't be a plating on the 24-carat friendship I felt for Luz Long at that moment. Hitler must have gone crazy watching us embrace."
Sri Chinmoy was a greater admirer of Jesse Owens and said this: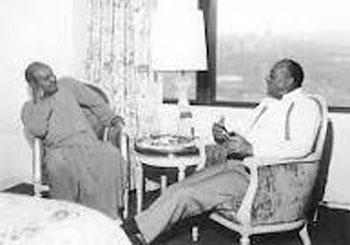 "Spirituality means speed: speed in the inner world, speed in the outer world. In the inner world, speed is founded mostly upon aspiration. In the outer world, speed is founded mostly upon inspiration."
"There are some individuals who have speed in the inner world, while there are others who have speed in the outer world. There are few, very few, who have speed both in the inner world and in the outer world. Jesse Owens, the champion of champions, the immortal of immortals, had this rare speed both in the inner world and in the outer world. He is the colossal pride of the entire America.
"Finally, he is, indeed, a universal treasure. As the outer world treasures his fastest speed, even so, the inner world cherishes his bravest dedication that fought against poverty, darkness and ignorance in human life. He has contributed abundant speed and light to the entire world." (April 22, 1980)
Checking the miles
Start Day 45
When Tuesday comes again it will be the final day of competition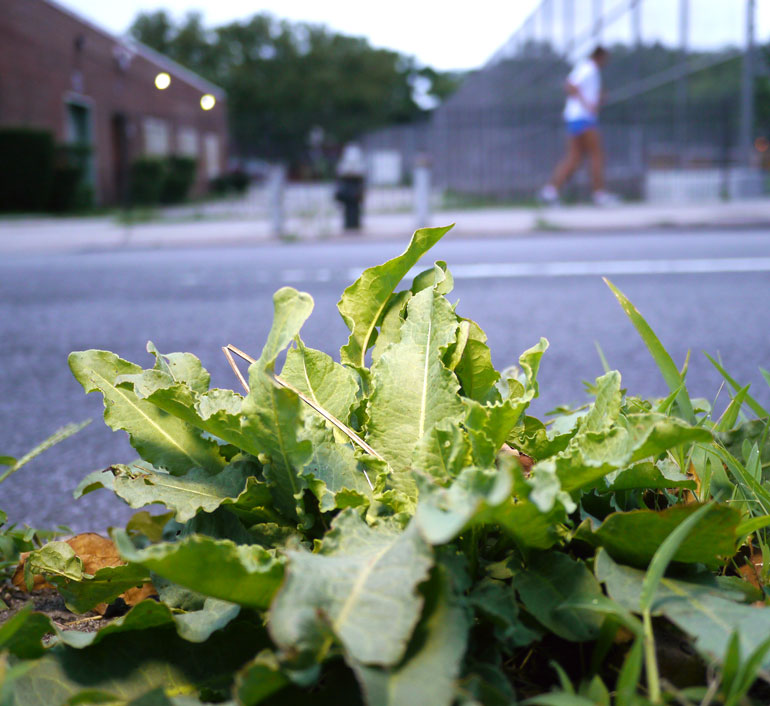 Vasu will likely be the last runner to make it to the goal.
This morning it is clear that Sarvagata will in fact be the next to finish it is just not clear when this will happen.  He starts the day with 140 more miles to run.  Meaning two 70 mile days and he could make it just before midnight on Wednesday.  But the going has not been easy for Sarvagata of late.  His body is rebelling in its own way and there are struggles that go on within are deeply personal.  He is doing his best and can only say, "One day at a time."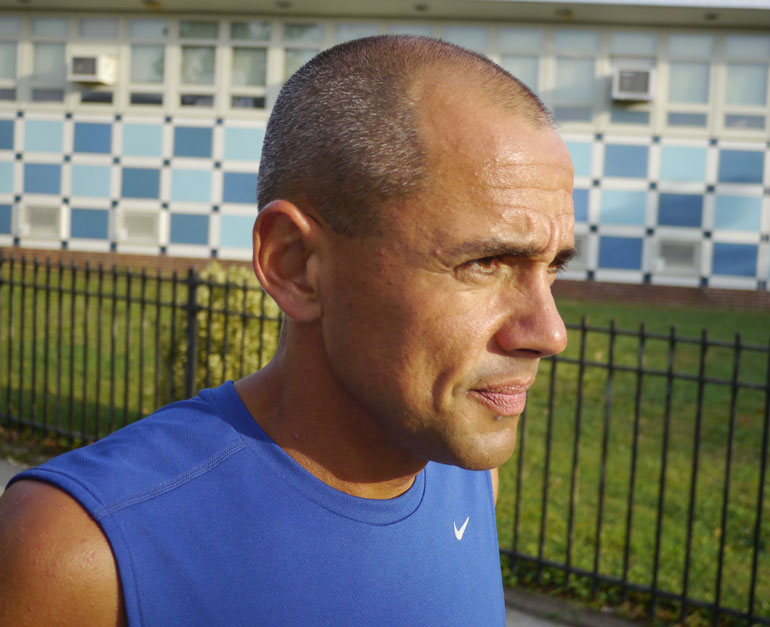 Click to Play Interview
Pradeep continues to push onwards and upwards.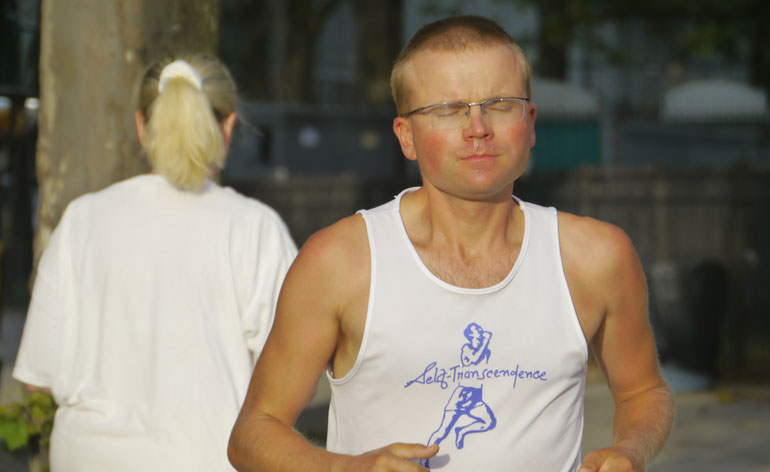 Playing will come later
Stutisheel, a remarkable athlete, 9 years this course has been his home.
Mark Dorion and family…. A friend from near and far.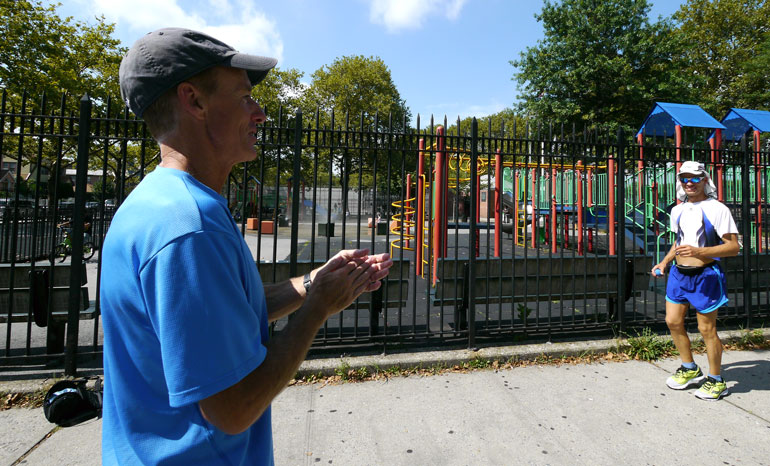 Baladev tells some t shirt experiences.  "The first is a little bit funny.  A man was wearing a cap and it said FBI and Jesus.  It is funny, for me this moment was…..what is this?  FBI and Jesus?  And the thought came to me that the FBI do outer protection and Jesus is doing inner protection.  It is a little bit funny."
"The second was pretty nice.  There was a guy walking through our camp and he had a T shirt.  It said 76 heroes.  For me 76 is a special number, because I was born in 1976 and Sri Chinmoy went to Maha Samadhi when he was 76.  Heroes…… every one is a hero.  Every one who lives on earth is a hero.  We don't know but it is true.  One day we will realize this and that we are heroes."
"The third shirt said Peace….Love.  When we have peace we also must get love.  When we get love we take peace."
Click to Play Interview
Ananda Lahari does not fade or falter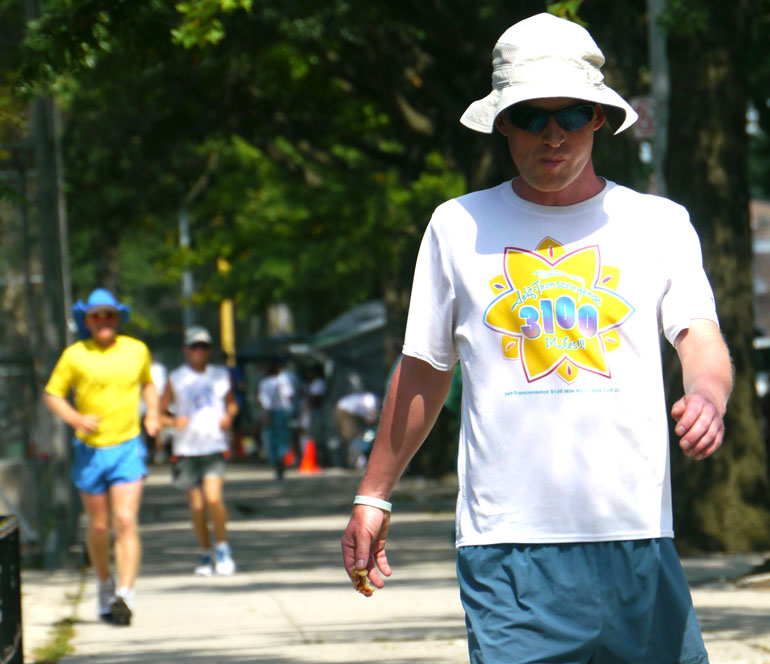 Singing continues
Hands do clap
Green Between the lines
From Yesterday
"It is an outstanding performance.  I consider Grahak my little brother.  Cunningham is his name but we are not related."
"It has just been an awesome effort.  I have been watching the runners every day I come for hours.  I see what he is going through.  I see what they are all going through.  71 plus miles a day is no joke.  It is really a tremendous effort on his part.  I would see them going home at night on their bicycles and then come back here at 6.  They are not even home 4 or 5 hours and they are back.  Remarkable."
"Australia should be proud of this boy.  He has done something so outstanding he has broken definitely many Australian records.  His first 1000 miles was 13 days and 16 hours.  Which my best was 13 days and 20 hours and that was when I was in a 1000 mile race.  That blew me away his first 1000.  Then the 2nd 1000 was 14 days.  He has broken at least 4 Australian records in this effort alone."
"Send him your cheers send him your gratitude because….wow.  I was asking him last night how he was feeling and he said he was really sleepy.  But this morning he picked it up and after he come off his break at 2 o'clock, the joy and the atmosphere just carried him home.  This crowd was so beautiful and Congratulations Grahak.  Australia send those messages."
Click to Play Interview
"I am just going to try and convey just how difficult this race is.  We started out with 12 competitors.  At 1000 miles we lost one runner and then had 11 left.  Sri Chinmoy said that these are the real Impossibility Challengers.  What they go through is extraordinary.  You see Grahak covered in rashes and this is on the down swing of it.  When he goes home he soaks in a tub of epson salts and he has to deal with this all day."
"If you look at his feet you wouldn't want to look at his feet.  He is missing most of his toenails.  You compound that on just the daily pounding on the concrete and how many shoes he has gone through.  The indigestion.  Having to deal with portable toilets.  The bees, the kids on the sidewalk, the bicycles.  The humidity we have had in this race is probably the worst we have had.  It just sucked up all your energy and this they had to put up with."
"What you see is someone who is absolutely elated that the race is over but to get an inkling of what they have gone through you have to be here for the whole race.   They really are extraordinary runners, and we are really proud of Grahak."
Click to Play Speech
Atmavir still focused on the goal
Having fun and tying shoes
Looking Closer
Baladev recites the Poem of the Day
| | |
| --- | --- |
| | |
|   |  Enthusiasm Awakeners….Click to Play….parvati |
There is only one victory
In my inner life and outer life,
And that victory is
My self-transcendence
In God's own Way.
Sri Chinmoy, My Race-Prayers, Agni Press, 2004.