"I think my mind says, O I have to get it done and get out of here.  But your heart wants to savor and be grateful and value the experience and the feeling."…Grahak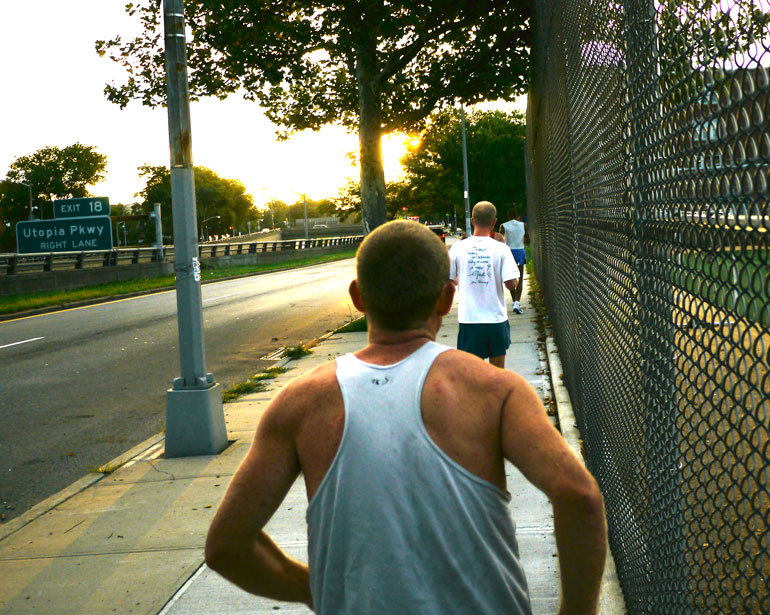 The morning is cool here at the 3100 mile race, a perfect day to run.  A lid of clouds has slipped across the sky, at least for now, to protect this little patch of earth from a fierce July sun.
43 days ago, way back in June, Grahak began his journey here, by this afternoon he will make one last grand circuit of the course and he will need run no more.
What comes now for Grahak is the slow and gradual reentry into the world that you and I and the rest of humanity inhabit.  One that he so powerfully dashed away from back in June.  In one day more the calender peels back another page and will reveal August.  A clear note that the dreamy end of a New York summer is fast approaching.
From now on, with the inevitable blessings of each new day he will gradually heal from all the pain and hurt he has heaped willingly upon himself.  The angry terrible rash that has erupted across his flesh will gradually succumb to the certain soothing cure of long baths, dips in the sea, and the dreamy embrace of real rest.   Spread out across the long sweet endless enchantment of a full night in a bed. It is the world we nearly all call heaven.
But for 43 days Grahak and for 10 others heaven was listening not to slumber's enticement but to the clear clarion call of his inner pilot.  To sleeplessly travel far beyond the realms of the possible and then on towards the miraculous shores of Self Transcendence.  He got there not by his own fierce determination but with the inner strength that comes from within, to aid and guide all those who seek out,  and surrender themselves fully to higher goals.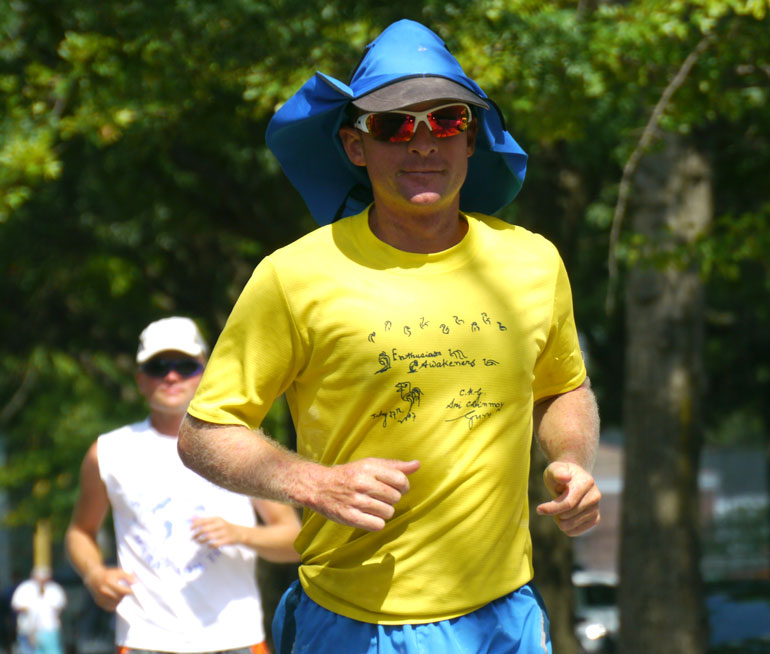 Now he and the goal are one, after striving tirelessly for 43 days, his prize is that he has once again transcended himself for a 4th time here.    The fog of time will come and dim this bright immortal moment from his eyes.  His tremendous record setting experience will gradually fade back into shadowed memory and photographs.  Yet what cannot be removed from his heart is that he has truly and deeply tasted  satisfaction in a way that we cannot.  Gone father and higher than you and I have ever dared to attempt.  And if tomorrow we look at him and think that he is just like us we will be wrong.  For he has reached and touched the divine reality that most of us are not even aware of.  If his feet have not fully and firmly planted themselves on perfection's shore he has at least made long strides toward it.
Shortly after crossing the finish line he says:
"I want to thank Sri Chinmoy for running with us every step of the way.  Obviously this is Sri Chinmoy's journey and a pilgrimage we all undertake together, and I am so grateful for finishing."
O our 3,100-mile-run runners,
My sleepless, prayerful, soulful, powerful
And proud gratitude-heart-throbs
I have discovered
In your aspiration-mountain-height
And in your dedication-fountain-delight.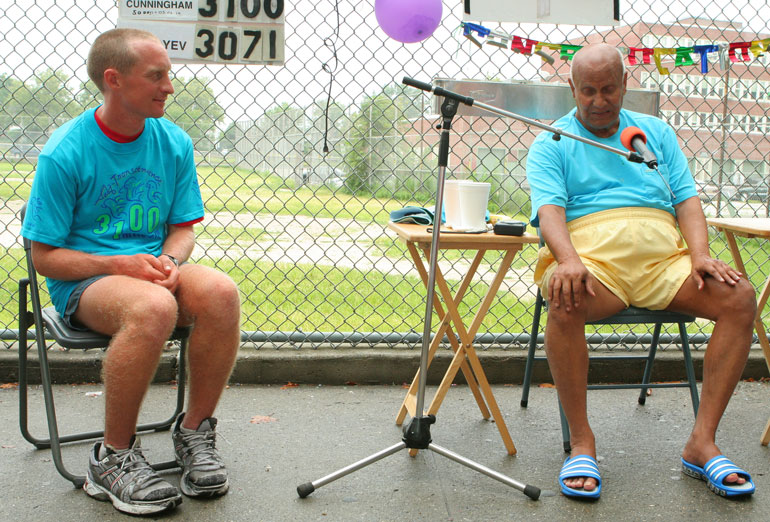 One last bike ride to the start.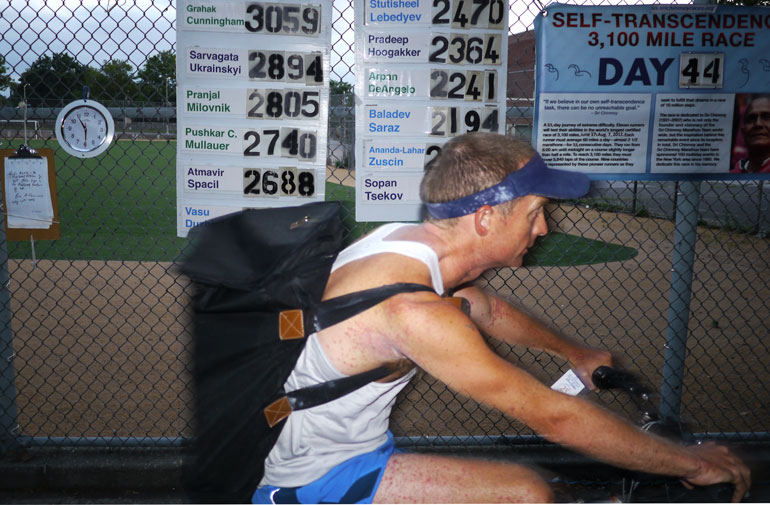 Tying shoes and wondering when the torment of the rash will finally  leave
Start Day 44
An applause from those who will miss him here tomorrow but know how much he deserves what he has gained.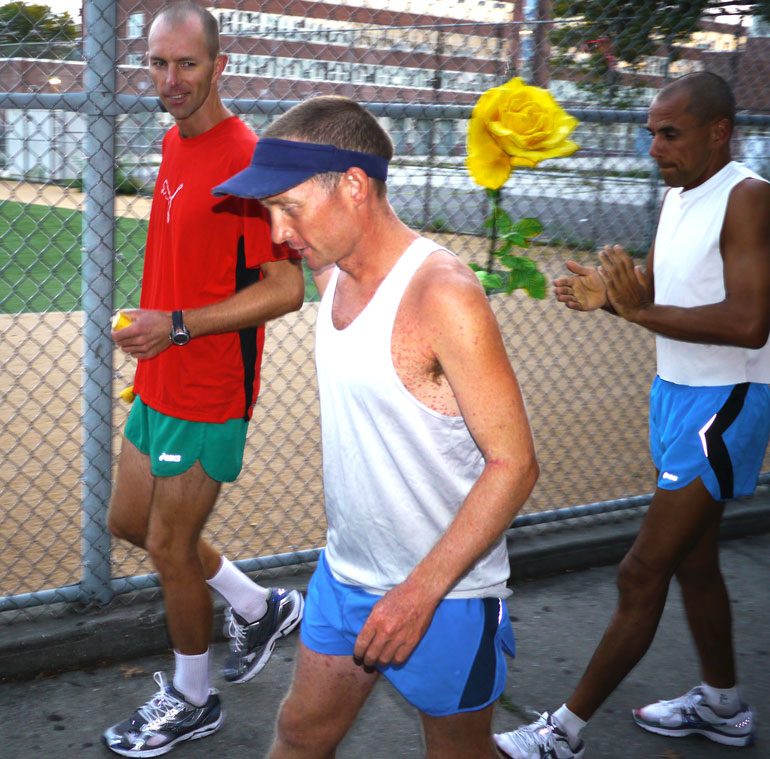 The outer run inspires me
To go and see God.
The inner run inspires me
To come and sit at God's Feet.
So many moments that cannot be replaced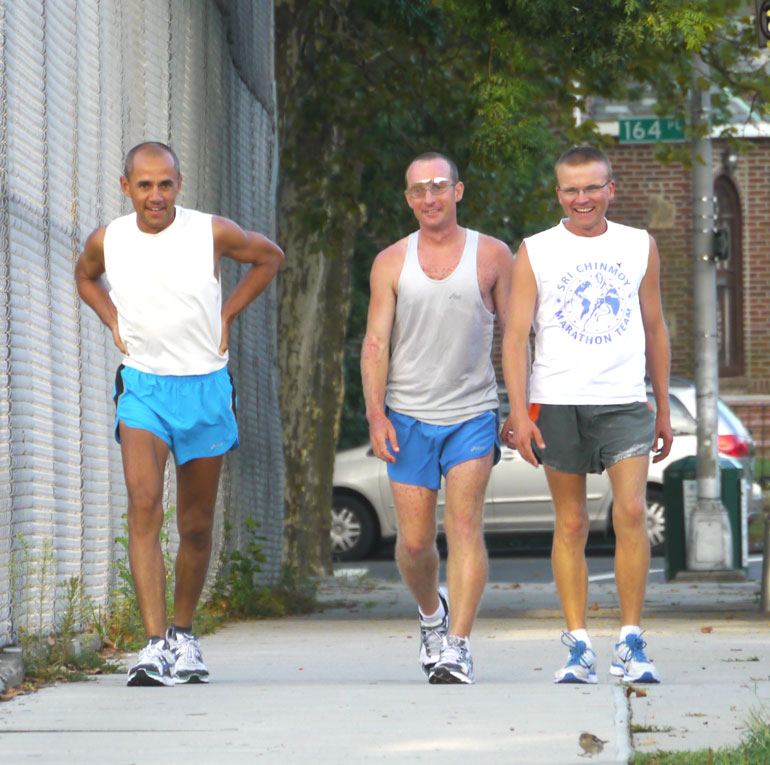 I must transcend my previous
Aspiration-heart-height, I must!
I must surpass my previous
Dedication-life-length, I must!
I must deepen my previous
Ecstasy-soul-depth, I must!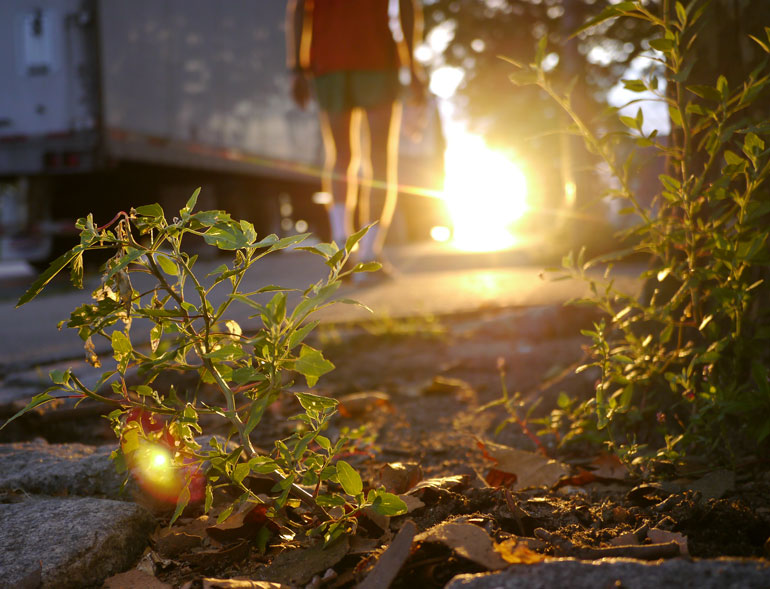 "It is a really great day.  I am not even sure how many laps I have to do but I have to do 41 miles."
"I want to say high to all my friends and to Mum and Dad and everyone who has shown support through emails and comments on the blog.  People who have offered their love.  It has been fantastic."
"My best time was 44 days 9 hours and I knew I could do a 70 mile average.  No, I didn't think I could do this well really.  A pleasant surprise I guess.  I guess maybe it was more experience in the race.  In the first 1000 miles I probably went out too fast, but it really got me off to a good start.  Where I could just work on keeping my average mileage up, I guess."
"Obviously my skin has been the biggest issue,  rashes and chafing, and things like that.  An Achilles problem that bothered me for a while.  But muscularly and skeletally I have been really good.  My Achilles problem has been interesting because it happened when Sarvagata was really pushing me to chase me and just to show their love on the course him and his wife helped me.  Giving me the right insoles and some stretching and things like that.  Just shows that we all have the same goal.  And we all try and help each other to get there."
He mentions that many of his spiritual experiences are very private.  Simply he says,  "feelings of gratitude and oneness."
On a practical level we come through the camp and he has to stand on the weighing scales one more time.  When he started 43 days ago it said 73.4 kg.  Today it say 68kg.
He talks about the first race and how at one point he heard that it was possible that Sri Chinmoy was going to have to leave New York for a while.  "I was thinking….O My God.  I can't survive without his encouragement, his presence, and coming every day.  Any way it didn't happen."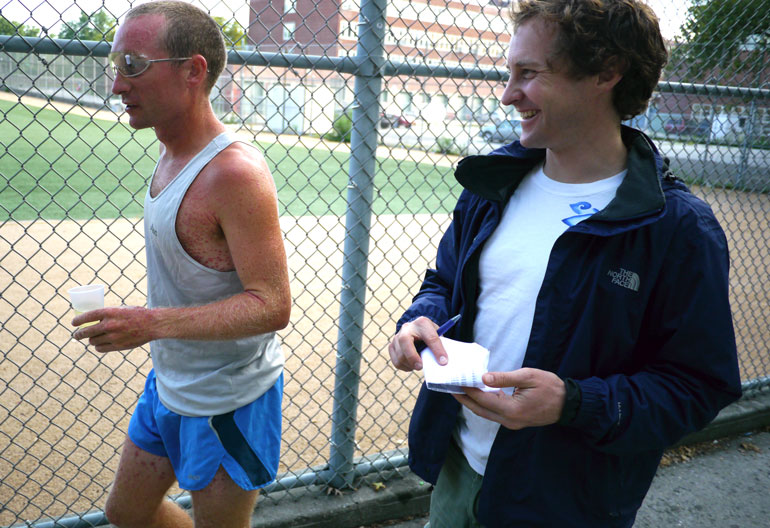 After his race in 2007 Sri Chinmoy passed away a few months later.  He had already committed himself to coming back and running in 2008.  "I was still feeling all the time his concern and love and presence.  And we still try and still do that now."
"I remember when I was doing my final lap.  Sri Chinmoy said he was very proud of me, very grateful.  Things like that.  It was mainly the smile and the understanding that he would run in and through us.  And help us get there."
Click to Play Interview
The slow uphill march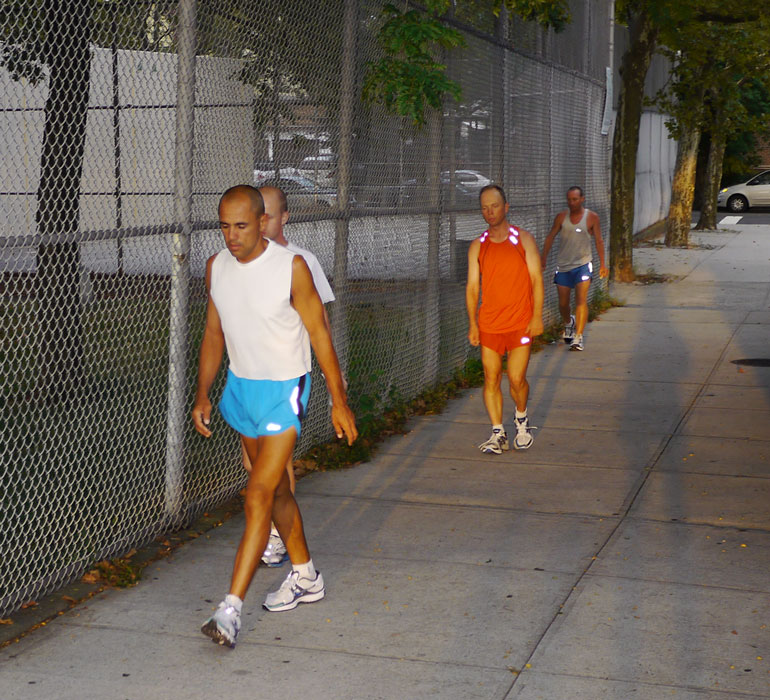 The small and the grand
Some goodbyes come early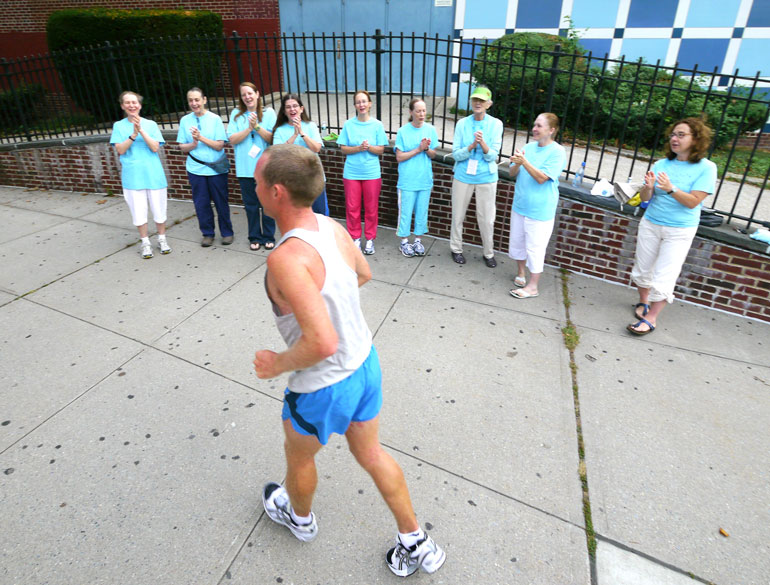 Grahak recites the Poem of the Day
| | |
| --- | --- |
| | |
| | Enthusiasm Awakeners….Click to Play….parvati |
The sound and songs of the finish line
At Last the End
A team to thank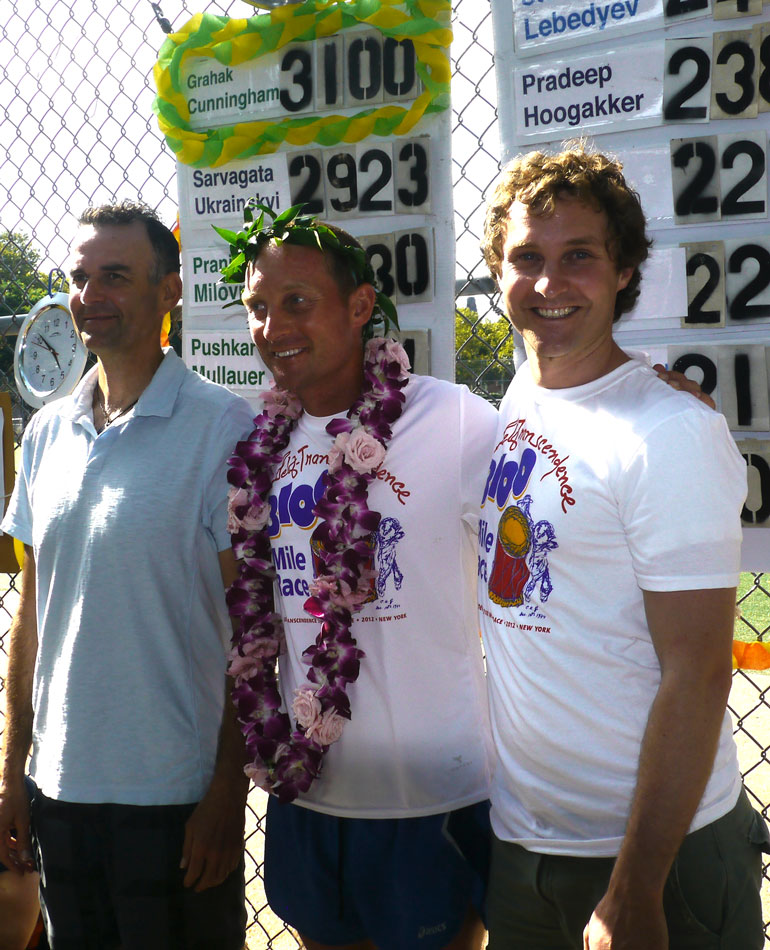 Support from the crowd.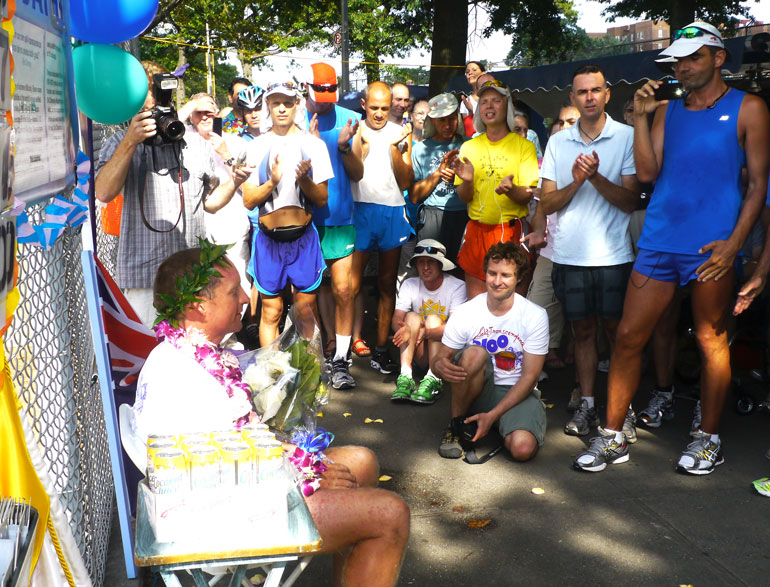 Savoring the moment
Sahishnu tells the tale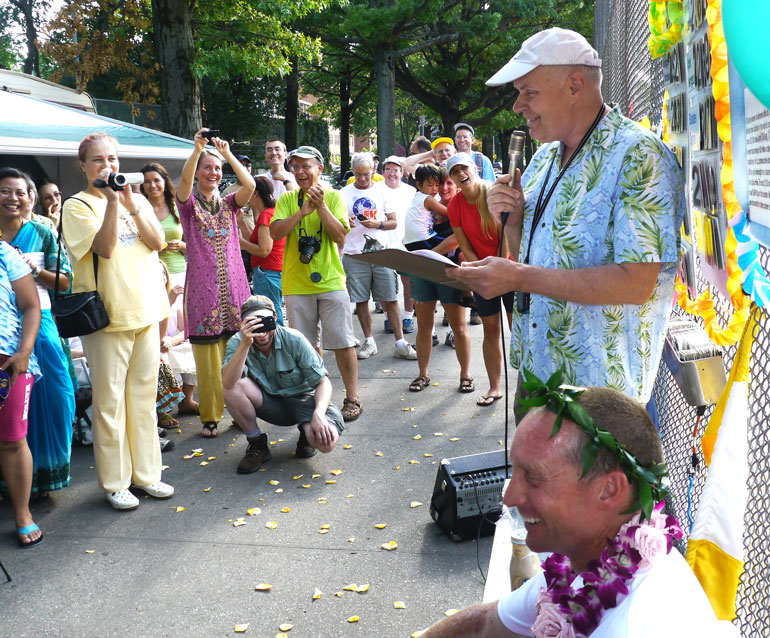 "Ladies and gentlemen.  In an extraordinary performance.  Grahak set a personal best by almost 24 hours.  He now ranks 3rd all time.  The 4th fastest performance in history.  It is a new Australian record, and it is the 4th fastest time out of 110 finishes so far in the 16 history of the race.  He is the 3rd man in history to average over 70 miles a day.  He averaged 71.36 miles a day or 114.8 km a day.  An extraordinary time."
"For 3100 miles his total time was 43 days, 10 hours, 36 minutes, and 39 seconds.  Congratulations."
Click to play Speech and Grahak comments
A Picture better than words.
The real spiritual life means
Daily, weekly, monthly, yearly
And eternally
The victory of
Self-transcendence-discovery.