There are many things in our lives that we are fond of or attached to but probably really do not ultimately give us much joy or any sense of an inner thrill.  We often try and erect safe fences at the outer boundaries of our mental perception of the world around us and then carefully try and monitor and judge what if any new thing we will allow into our life. As for truly offering ourselves, we mentally negotiate little contracts with the not so subtle stipulation that we need to get back at least as much as we are willing to give.  All this creates a safe predictable life but one that will never extend our experience beyond the boring and limited confines of the material world.
Here at the 3100 quite a different experience is offered to any and all who accept its open invitation to be part of it in any way.  There are moments when it is possible to see the race as some vast Niagara of unconditional surrender.  12 runners have made a Supreme leap of faith 2 weeks ago into an unfathomable transcendence experience.  One that their hearts and beings did not even try and bargain for anything in return.
On the inner plane an eventual outcome may already be realized but it is still weeks and miles away from being revealed.  For now however real achievement is not so much based on how many miles they have accumulated but how much they each selflessly and willingly give of  themselves.   The real reward is each precious moment that they unfasten themselves from limitation and fix their gaze on the limitless now.  Remember who they are within and where their journey ultimately leads to.
He is intellectual. What does it mean? It means that the weight of his head far surpasses the weight of the rest of his body.
You are spiritual. What does it mean? It means that the weight of your heart far surpasses the weight of the rest of your body.
There is a striking difference between his head and your heart. His head quite often does not love his body. His head belittles the body's capacity and the needs of the physical. But you have a different story to tell.
Your heart loves your body. Your heart inspires your body to love God. From its own personal experiences your heart tells your body that there is only one way to be happy and fulfilled and that is to love God and serve God in every way.
Sri Chinmoy, Earth-Bound Journey And Heaven-Bound Journey, Agni Press, 1975.
There are many sweet and simple things about the race and smiles are always abundant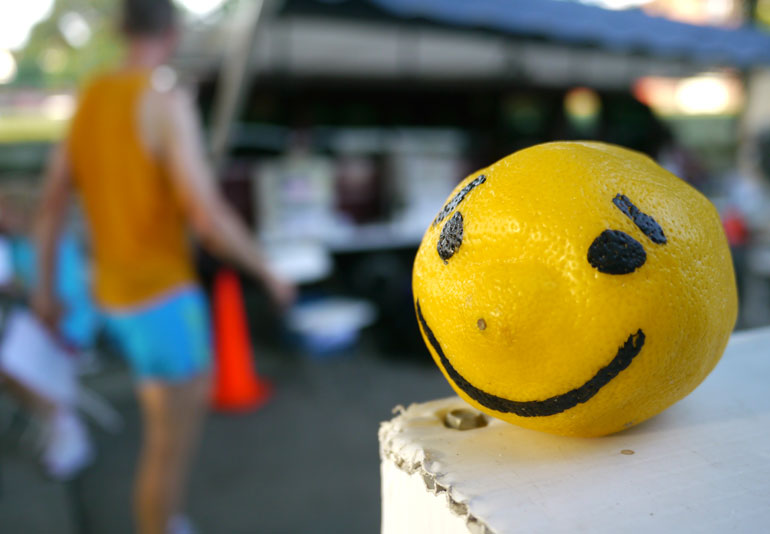 Start Day 14
"They help me very much they do all kinds of things." Since the start of his race Sarvagata has been receiving help from his wife Sarvakamya but today and old friend and even more assistance has arrived in the form of Dimitry who helped him here last year.  He mentions that they help with everything from food and clothing to supplements and massage.  More importantly though is how they are able to inspire him.  They do this he says simply by being cheerful and self giving.
Sometime today he will push past 900 miles after 2 weeks on the course.  For him time is passing so fast.  "I didn't notice those 2 weeks, surprisingly.  Which is so nice, it is like one day, and I don't remember details."
"You recognize the course, some small things, useful things, tips, but it is all coming effortless."
I suggest that in the beginning he appeared to be struggling at least a bit, but as the days have passed and the miles accumulated he seems to be getting stronger and stronger.  "I have to confess that maybe I didn't train so seriously for the race.  I needed 3 or 4 days to adjust my body and all the attitudes.  But also I think it is a part of my nature, a slow start I mean."
Pranjal, who trains all year long for the race takes quite a different approach.  "He is one of my heroes one of my idol icon runners.  He is unbelievable as well as Grahak.  He has the same determination as Pranjal but a little bit faster.  2 great runners.  I am so happy to learn from them so much."
Pranjal as well seems so self sufficient that he appears almost as though he needs no one else on the course to inspire him.  Sarvagata does not feel the same.  "I don't think so.  You see I even have 2 helpers.  (laughs)  I don't know it is fun to have more people involved.  I like teams.  I can see that with all the runners we are all one team."
At this moment we pass by the camp where Dimitry is holding out 2 cups, one with water and one with a smoothy.  "I hope with my 2 helpers they will complete a perfect team." He says his wife is also an experienced nutritionist, and Dimitry is very practical.  "I hope we have a lot of fun."
Sri Chinmoy had stressed many times how important it was for the runners to try and remain cheerful.  "There are so many things that could make you unhappy.  Even here you really have to focus on being happy."  He says that listening to Sri Chinmoy's music helps as does getting innocent joy from food, drinks, and jokes."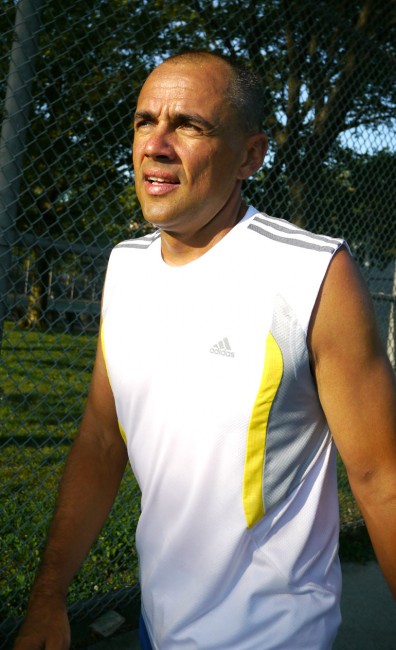 Currently he is just 7 miles behind his mileage at the same time last year.  "I can't say that I don't care at all.  Besides, at the beginning of this race the weather conditions were really harder than last year.  There were no really hot days in the first 3 weeks of the previous race so we had time to blend in."
Now he feels that through God's grace and his body's ability to adjust he is optimistic.  "I hope everything is going to be good."
He has many friends and supporters back home in Oneness Dream Boat shore.  "Yesterday I got a call from Igor (who was here last year).  He just finished a cross Ukraine run successfully, and he shared his experiences.  He was saying that he supports us and his team in Vinnitsyia, they all support us.  They are following us online and praying for us."
"From different parts of the Ukraine there have been letters of support which is really good, so moving."
Click to play Oneness Dream Boat shore greeting
Last year there were days when before he started his day of running he felt an inner inspiration that he would eventually be able to complete a certain mileage on that day.  I ask him if he had experienced that this year.  "Yesterday it was very hot I didn't quite feel well and I wasn't sure I could do 70 miles."  Despite the difficult conditions throughout the day he felt he would do it.  "It happened eventually.  I am very happy."
click to play interview
Full crew counting
Feet
"Right now I am trying to get the runners chasing their shadows."  Jowan has been expertly photographing the race for quite a few years now.  "But it is hard to get it lined up just right.  The exposure just right, but I will keep trying.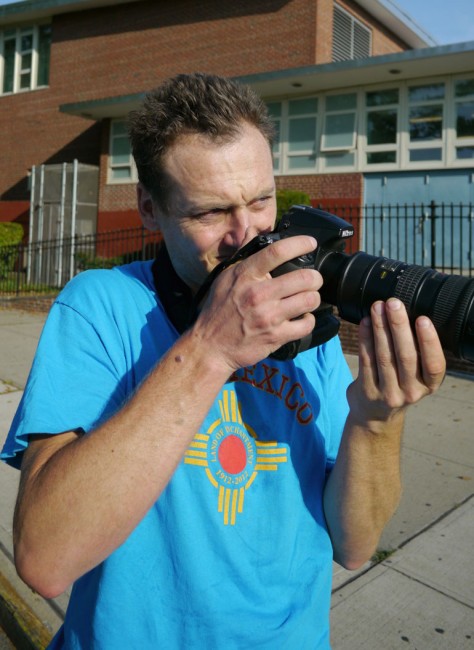 "Sometimes I am looking for moments and sometimes I am looking for architecture.  The best is a combination of both of those.  But it is not always easy.  Nothing is ever easy actually.  I think moments are more important than composition, especially here.  We (Prabhakar) have been shooting this race for so many days that, you know, finding that cheeky new angle is not what it is about any more.  It is about capturing that unique moment."
"The uniqueness of whatever moment is will always be fresh and new and captivating.  It will always be special."
"I started taking pictures here in 2006.  That was the first year that I did it a lot, if not every day."
Both he and Prabhakar besides getting terrific photos also have their own unique experiences being here.  "What can you say, all the good stuff.  All the joy and inspiration.  A lot of times I come to sort of heal myself.  You come here and you get inspired.  You come grumpy and you leave happy. "
Photo Gallery Link
http://gallery.srichinmoyraces.org/3100/2012/
Click to play interview
| | |
| --- | --- |
| Larisa recites the poem of the day:poem | |
|  Enthusiasm AwakenersClick to Playparvati | |
Life and sports cannot be separated; they are one. As a matter of fact, life itself is a game.
This game can be played extremely well, provided the player develops consciously or unconsciously the capacity to invoke the transcendental energy which is always manifested in action.
In the life-game, each soul is running consciously or unconsciously toward the goal of inner perfection.
There is not a single individual who has not left the starting point.
Now, one individual may be behind another in the Godward race, but all are making progress and running toward the same goal.
Sri Chinmoy, The Outer Running And The Inner Running, Agni Press, 1974.