Any time in the past few weeks that I have felt tired, or sore, or simply just draped myself with a large heavy coat of self pity I have had to stop and give myself a sharp wake up call.  For no matter how bad things might seem to be for me there are 12 runners here who could at any moment look at my inconsequential suffering and gladly exchange it with theirs as quickly as changing shoes.  For the measure of any of my suffering in this time, if it were examined more closely, would be like trying to gather dust blowing on a breeze.  For how bad really are most of our self declared failures or disappointments.  Is it not we who bring upon most of our life tragedies by simply releasing the tiller of our life boat and then finding ourself unsurprisingly sailing into a rocky cove of indulgence or ignorance.
If you can imagine, even for a moment the burden that each has to bear and just how any of us might weather the ordeal if it was us in their places.  If it was we whose lives where by now so intimately embedded into the fabric of this block that we became a permanent fixture here.  Mobile of course but never ever straying very far these past very long and full 2 weeks.  The irony as well, that even though we had covered more than 700 miles in that endless time,  the finish line is still so far away that it is not even yet a glimmer in the darkness.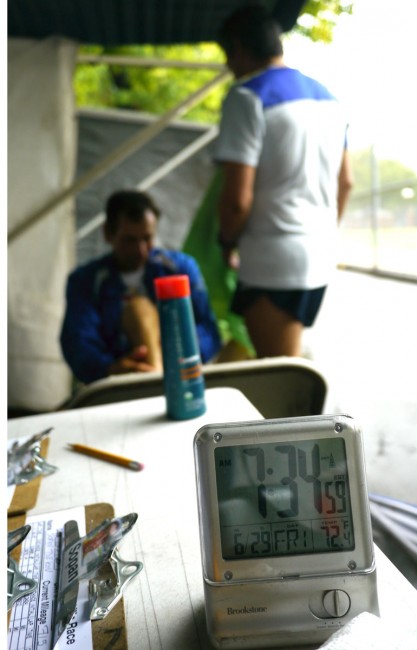 Sometime yesterday Arpan slowly and gradually renewed an old acquaintance with shin splints.   Each of the past 7 days he had gradually increased his mileage.  His enthusiasm and energy level yesterday was sky high and he was the cheerful Arpan that most people know.  He is still cheerful today but his body certainly is not.  I will not repeat what he is saying in the above picture as Pedro tries to massage his shins.  Select some appropriate colorful descriptive language that you still would repeat in front of your Mother and you would no doubt be not far off.
On a personal level you cannot help but be sympathetic and a little miserable when a friend is suffering like this.  He, like all the runners are attempting something monumental and significant.  There is no fine print in the contract of our lives that we can choose to disagree with or make exchanges with our personal experiences.  Select from an exclusive menu in which every moment will be full of delicious peace and bliss.  In 2004 he rode this same rough patch for 9 days and then ultimately broke free of his pain and reached his goal.  Knowing Arpan, even though the finish line his still far away, the chances of him surrendering to his pain are much further.
We can think of ourselves as two halves: imperfection is one half, and our sincere cry for perfection is the other half.
One side is weakness, and the other side is strength. With our inner cry for perfection, let us run towards our destination and reach the illumination-shore.
When our being is fully illumined, then dark, ignorant forces are afraid to come near us. Before we reach the destination, they challenge us.
But once we reach the illumination-destination, the ignorant forces do not dare enter into us because they feel that they will be totally destroyed.
They do not know that they will only be transformed and illumined.
 Sri Chinmoy, The Outer Running And The Inner Running, Agni Press, 1974.
The body's painful experience is the soul's fruitful opportunity.
Sri Chinmoy, To-Morrow's Dawn, Agni Press, 1982.
The weather today is going to range through a selection of all the runners least favorite ingredients.  Starting with thundershowers and then moving onto heat and oppressive humidity.  Karibe and Svetlana are the counters this morning.  The tarps are being readied so they are sorting out the counting clipboards.
Start Day 13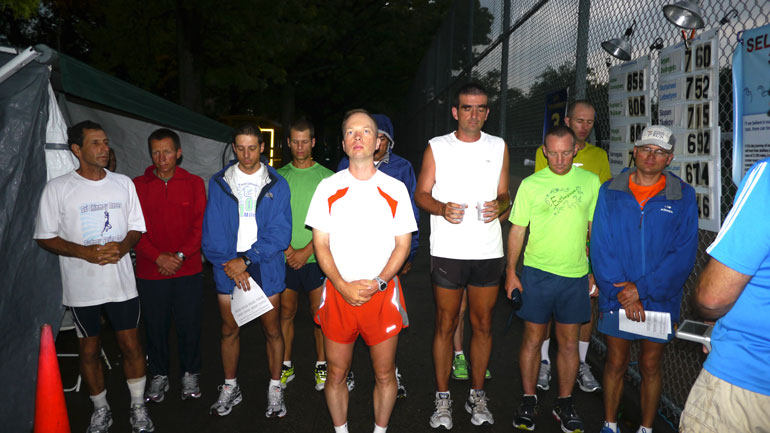 Yesterday Sarvagata ran 134 laps which is the most he has run on any day so far in the race.  Call it a pattern or call it the nature of who he is as a runner but just like last year when he ran here he seems to grow stronger each day he runs.
Two days ago Vasu ran past an inevitable milestone that was definitely going to fall.  In previous races he had never run further than 713 miles and run more than 10 days.  The trajectory of his progress is easily soaring far far above that with each new day and mile.  We are running with Stutisheel who is helping with some translation.  Vasu says that he is happy to be transcending himself.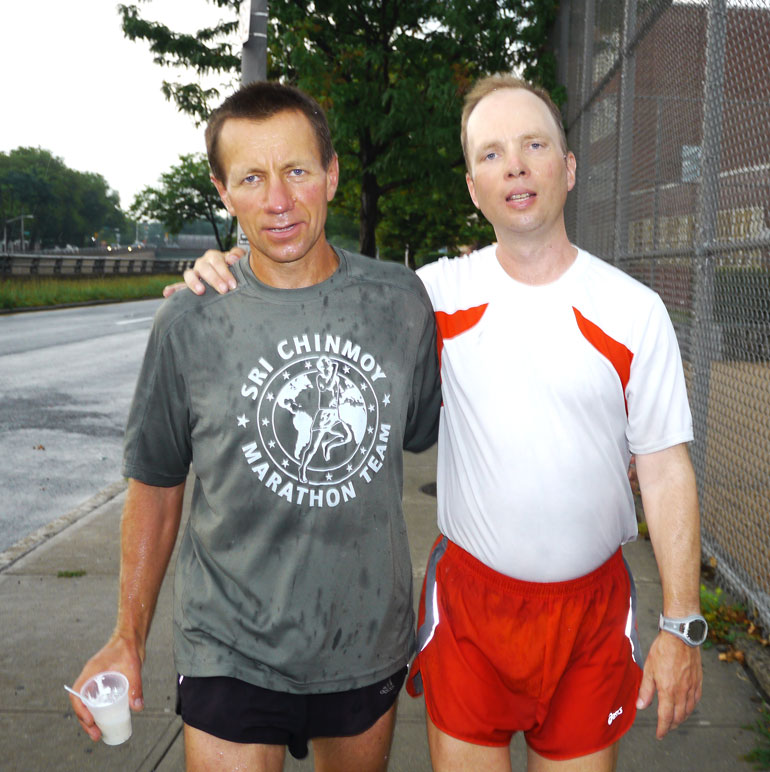 He has made a new friend here which most of us would be less enthusiastic to describe as a very painful blister.  "Other friends have wanted to come but they have not, shin splints.  But they are waiting for me.  Yesterday Rupantar said that if I also get digestive problems than I will have the complete set of problems."
He was passed yesterday by Sarvagata who like him was a first time runner here last year.  He is accepting of all the experiences he has received and feels that he is learning from everything that happens to him.   The most important lesson he says, "to take things slowly and steadily."
He was born in the Ukraine but now lives in St Petersburg.  He feels however that he comes from neither place but instead from a place that Sri Chinmoy described as Oneness Dram Boat Shore which includes all the countries of the old Soviet Union.  Many across this region are supporting and encouraging him.  "Many from the centers where I have been to are sending me aphorisms and poems by Sri Chinmoy."
"At the finish line I would like to carry all the flags from all of the republics.  From all the countries that make up Oneness Dream Boat shore. (Around 15)"
"In the beginning of the race morning was my favorite time but now no."
When asked which he likes more, rain or heat, he says, "For seeds to germinate you need both."
I ask Stutisheel what he thinks about Vasu's performance.  "He has to be friends with his head with common thinking.  Now I see that he is settled and calm and like he said, trying to run slowly and steadily.  For sure he will reach the final finish line.  He is still very strong, and I expect much more to come."
Click to Play Russian Interview
The rain comes
The rain goes as does Arpan
Yesterday Bangshidhar visited the course and for a while ran with Arpan.  Many years ago in 1985  he did a solo run around America and so is not unfamiliar with long distance running.
"It is so much more an inner thing for you guys,  because you are always on the same course .  When you cross the country every day you see something new and beautiful scenery.  This makes an added dimension."
"I was averaging about 30 miles a day.  Like half of what these guys are doing.  Being here what it does is it awakens all my admiration for my brothers and my gratitude.
Arpan describes that for him he feels part of  a huge event that everybody can take part in.   "For the fact is even though they are out here all day, when we are at our job, or whatever, you can feel the energy.  If these guys can do that than I can go out and do my 2 little measly miles.  Don't be lazy.  What they are doing affects all of us, inwardly.  There is a consciousness thing going on.  Just to see their faces is like, 'holy cow' hundreds of miles and look at them."
click to play interview
| | |
| --- | --- |
| | Ujjwala recites the poem of the day:poem |
|  Enthusiasm AwakenersClick to Play:parvati |   |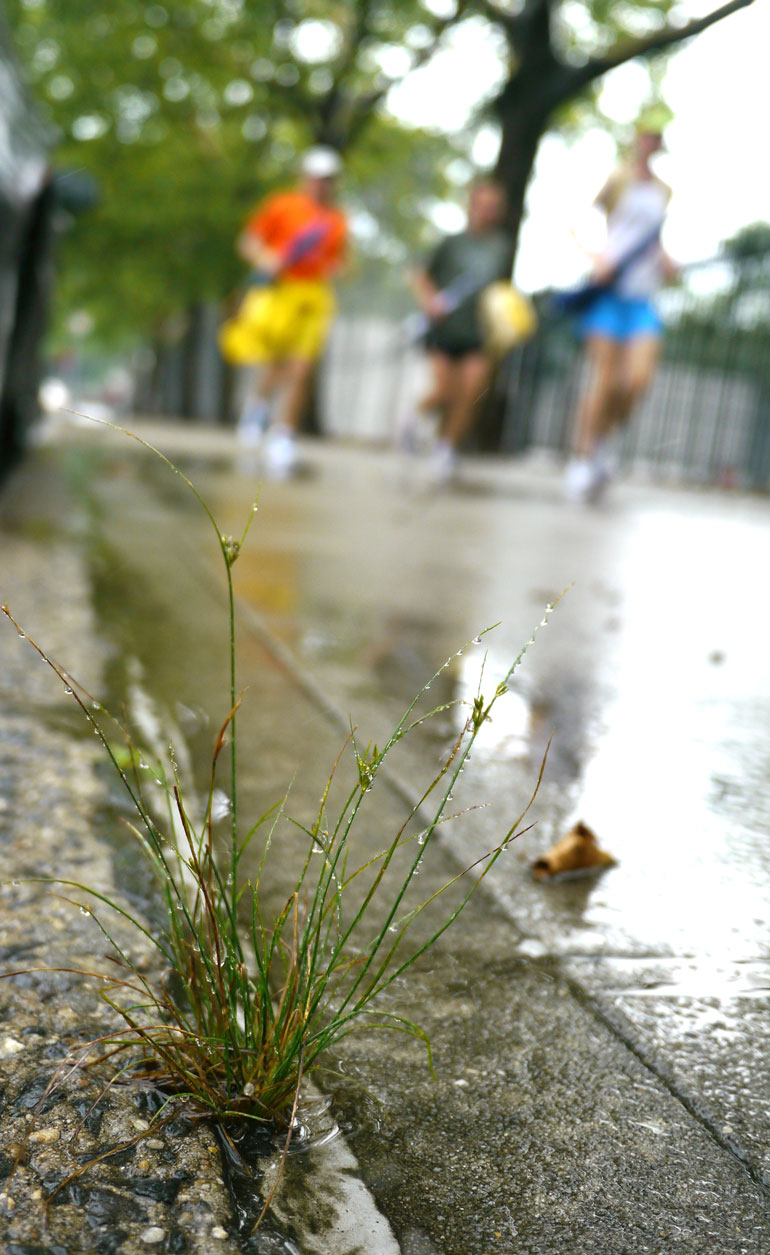 When I live inside my mind,
I offer my Lord Supreme
An unparalleled frustration-prison.
When I live inside my heart,
I grant my Lord Supreme
An unparalleled opportunity
To receive me, shape me,
Mould me and make me
An exact prototype of His own
Heaven-Vision in Earth-Reality.
Sri Chinmoy, Ten Thousand Flower-Flames, Part 65, Agni Press, 1983.