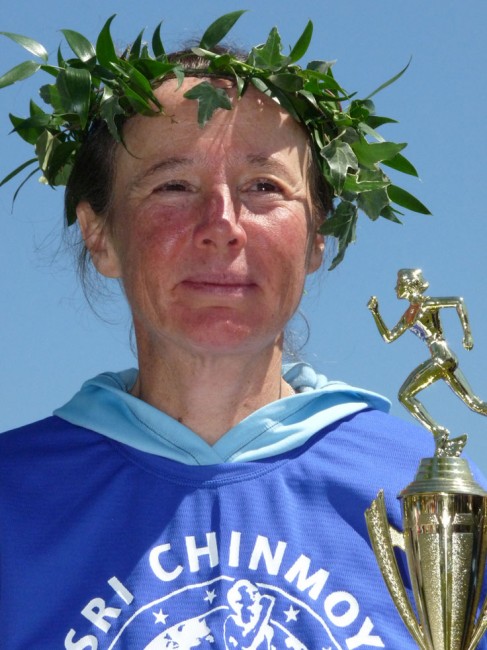 "It's not easy to break a world record."  Once long ago Sri Chinmoy told this to Dipali Cunningham as she set one of her many world bests.  It is also not easy to run 446 miles over 6 days as she did here in Flushing Meadow today.  Doing it as well, by pushing relentlessly through the worst running conditions she has ever encountered in the 19 years she has been competing in multi day events.  And if all this were not enough to establish her performance here as remarkable, this 51 year old runner beat all the male runners as well. It must be duly noted as well that two top men were also seasoned 3100 mile runners who were more than a decade younger than her.
Her victory she will never ever claim as her own.  There is no obvious outer reason why this slender middle aged woman has been so good at this sport for such a long time.  Her inner strength becomes apparent as you try and keep up beside her.  It doesn't take much to see that her success has little to do with muscles and mind as it has to do with inner strength.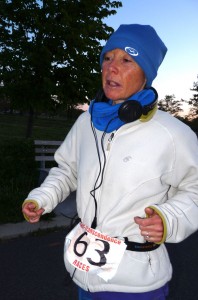 It is a qualities that we all have, and which is never defeated by age, by weather, and adversity if we just allow it to come to the fore.  It is also not about winning but about surrendering.  Not about conquest but of offering up.  You can see it in her foot steps, all lightness and yet determined. You can feel it in her voice as she encourages and inspires others knowing full well that the success of everyone else she can easily identify with as well.
It is a deep inner force, which pulls and pushes her out into the wind and across the mud the puddles and out into the cold, that causes so many others to wrap up and hide in a sleeping bag until the nightmare is over.  It is a force which contributed to the laurel wreath that now rests upon her head.   This inner force she will tell you is not for her alone but is available to everyone else as well.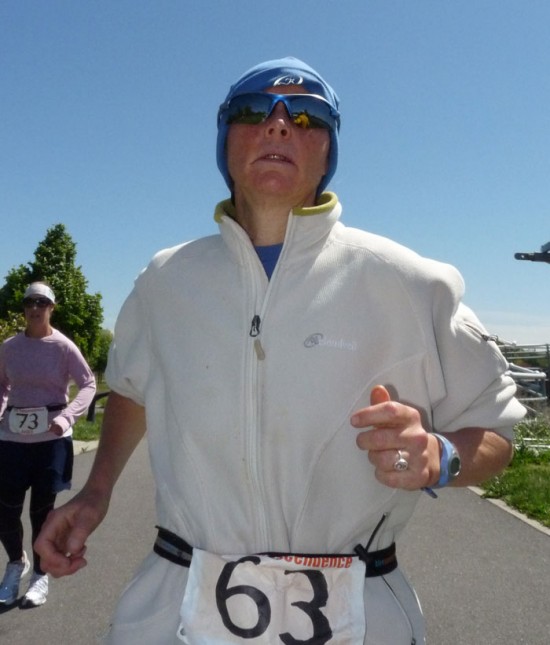 She says today as she rounds a corner and heads into one of her final few laps, "All of us are exhausted from the elements that we have encountered here."  We talk about her theme of humility which she expressed a few days earlier.  "I think it is going to be one of the lowest mileages that I have ever done."  The weather of course was the adversary for all who ran here this year.  A precious few found a golden spark amidst the dark damp clouds but most found the trio of obstacles, wind, rain, and cold a team that was just too tough to conquer entirely.
For her it brought out the necessity, "to be determined, and being happy, and being cheerful, and being surrendered."  The conditions inevitably either made you hide or as she says, "you had to go deep within to your source."  She says that for the runners everything was telling them to stop.  Yet inwardly most understood, that stopping was not an option.  "That is not why we came out here."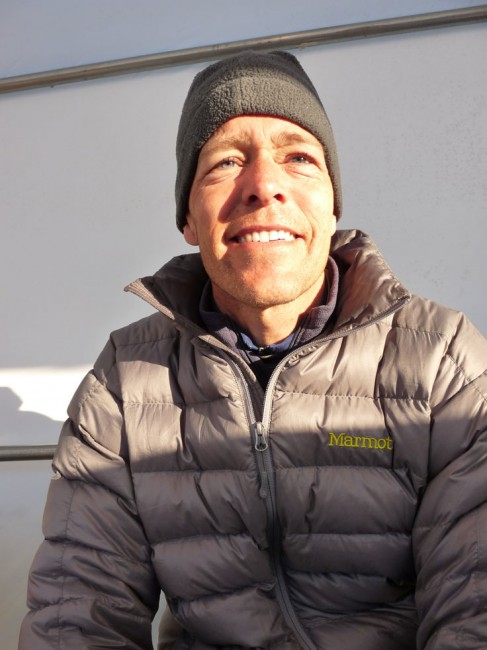 It is hard not to really like Alex Swenson.  He ran with incredible courage and conviction for many days.  Even on the cusp of his last day he was charging hard on a severely blistered foot that would have sidelined most of us days earlier.
It is his first multi day and for all intents and purposes it was a stellar introduction to an event in which he ran 5 days longer than he ever had before.  He tells me, "I didn't have a lot of expectations."  He knew that surprises were bound to occur.  "You try to be prepared for the various surprises and you try to envision them."
He tells me that in his past 24 hour races, how one feels during the race is predictable in many ways.  It is much more easier to adjust and take account for difficulties.  Here he was surprised at the incredible roller coaster ride of ups and downs.
He describes an incredible low, as being a moment when you are having a hard time that you cannot come up with any simple solution to alleviate or eradicate the obstacle.  For the most part the lows were due to injuries that had no easy fix, yet he expresses great appreciation for all the medical staff did to keep him on the course.  "They got me out there in ways that I did not think they could do so fast."
One of his highs he says took place on day 5 when his ailments appeared to have ganged up on him to such an extent that he would be forced to give up.  "Somehow I found it in me to say no, you are going to go on."
He says this kind of experience helps him understand better that the limitations we so often allow to hold us back are simply illusory.  His blisters however were very real and he feels in hindsight that he should have attended to them earlier.  For any future event, "I would never do anything different physically to prepare."  He does believe that in any future event he would be more attentive to the execution of his performance.  "I think I respected the length of this event."  He does admit that he may have taken it a little more for granted than he should have, categorizing his attitude at times, "I was a little cocky."
Overall he says of the race, "It has the capacity to put other things in perspective."
It may be one of the greatest first time performances ever in a multi day race.  38 year old Manjula jumped the preparation cue to ultra distance running and went straight for the 10 day.  For her the smiling, running quickly Austrian, "it was great.  There was nothing I would have changed not even the pain."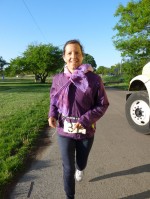 At the end of 10 days she has completed a remarkable 631 miles.  This puts her in 3rd place in the women and would have placed her 3rd if she had run in the men's category.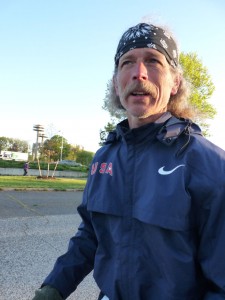 In the beginning he said he was trying to figure out how to run 6 day races.  He finishes the event in 5th place with 365 miles but seems to have been struggling with injury for many days now.
He tells me, "now it is time to go back and plan my next attempt to crack the case."  He is not certain why things have turned out this way and admits his first day was not great and it just got worse.  Despite it all, he has also never appeared despondent or glum at any time.
There are a few hours left to go and he is moving at grand mother speed around the course.  I wonder why he doesn't just pack it in. He says, "there is still time on the clock, so I will still keep going.  I don't quit.  I have done over a 100 ultras and never dropped out.  I wouldn't want to stop now. There is no reason to.  I can still go so I might as well keep going."
Nishima is one of the few on the course of the 10 day runners who is still running well on her last day.  12 years ago when she was last here and entered the 6 day race she race walked but most of the time she has run and will finish the day with 521 miles.
She is humble and suggests that she is able to run so well because of taking too many breaks but she also admits to be running on a stress fracture.  To get around this she tells me she takes a break every 10 miles.  She was diagnosed with this condition she says 5 days ago.  I ask if they suggested to her that she should quit and her reply, "they would never say that."
She is upbeat as she runs and vows that it will not be another 12 years again before she returns.  "I am planning the next one next year."  For her she is amazed at what is possible.  "It is unbelievable at what you can do."  She is also grateful at the support of all those who helped out at the race and the support she received from friends back in New Zealand.  "There was race shinning through everybody."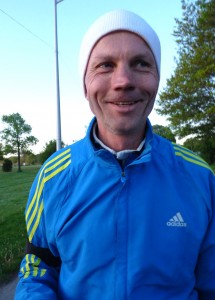 This is his first appearance at multi day race in 19years.  It was for him a 50th birthday present and it has been a great one.  He finishes the race with 531 miles in 6th place with 5 Ukrainians taking up all those positions.  (this is another story)  He is philosophical when asked to sum up his experiences over the past 10 days.  He quotes for me from one well respected philosopher, runner, and also a Ukrainian I might add, Stutisheel.  "The fullness of life can nowhere be experienced like in multi day races."
"It is very intense It is one thing after the other.  I am very happy with my performance and the way it went.  Outside it was all steady but inside it was a turmoil of things happening.  I had some of my best experiences of my life here."
As he says this he is shaking off the heavy dust of sleep and fatigue.  There is a blister that is killing him and he still has 6 hours of running to do before the race is over.  The miracle of course is that after just one lap it is already much better.
"It is an immense collection of experiences on all levels.  I think it is an amazing opportunity to expand your capacities, to expand your limits.  So see what is possible.  To go beyond is one of my main lessons."
Smararna has run the 3100 mile race 7 times and picked this race to return to multi day running after a couple of years.  He is just 38 but is a veteran of distance running.  It is early on his last morning of the race and he is running easily.  Through the night he moved past an ailing Alex Swenson but will end up finishing the race in 2nd with 410 miles.
The moon has just slipped away, and the first rays of the sun are refreshing.  He tells me that he is paying no attention to the board or his position on it at all.  He says that since he had done the 3100 so many times he approached the 6 day as if it were a bambini race (kids event).  He laughs as he suggests that he has underestimated the difficulties of the race as well as perhaps the weather.
He describes the conditions and says, "there were quite a few entertainments here.  Twice I was at rock bottom.  I really went down.  I didn't know if I could rise again.  There is always a solution to the problem.  This is a nice lesson."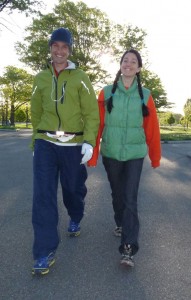 His goal was to be on his feet for 18 hours a day to mimic the conditions he will experience when he enters the 3100 in little more than  month.  His final mileage will be 347 miles which is good enough for 7th place.  Were this race to have a team category the contributions of his wife Nandana, who was the head cook and his daughter Shakti, who has peddled the course for many miles, there would be no competition.
"It was a fantastic experience.  I absolutely loved it, even the intensity of all the rain and everything.  It created such a unity amongst all the runners.  The only thing you could do was keep moving."
"I trained for this one and I was very much looking forward to see what my body was capable of.  Saturday morning it became clear that it was going to be a different sort of adventure."  The race Barbara suggests because of lots of reasons became more an inner experience than a "sack of miles."
She mentions blisters that she did not properly attend to.  This led to an awkward adjustment to her style which in turn added stress to her knee.  "It has been one thing after another."
By chance I meet her on her last lap.    She has done just one 6 day race prior to this one.  At the race in Arizona she won the woman's division with 202 miles.  Here she will end up with 245.  In describing this last lap she says, "it is the best one yet."
"I didn't have a goal in mind in regards to numbers."  Instead she set goals for herself in what state of mind she might achieve and what clarity she might have about her life in general.  Happily she adds, "those things were accomplished and then some. I definitely feel it was time well spent and energy well spent."
Bigalita is 69 and has returned to the 10day race after doing it last year for the first time.  She brings tremendous enthusiasm to the event but this year conditions were much different than back home in sunny Culver city California.  There is no comparison for her between last year and this year.  "It is totally different she says."  Clearly it was more difficult this time but she admits the similarity between the two was, "there was a lot of grace.  Much more ups and downs.  "It was a physical struggle and a mental struggle."  Despite this she still had some great moments in which there was, "joy, satisfaction, and happiness."
She pledges to come back next year and says, "I am learning that you can't have any expectations.  Hopefully by next year I will learn that."
I have the good fortune to walk with Marvin Skagerberg as he completes his last few hundred meters.  This 72 year old distance legend will finish the race with 112 miles.  "I don't have great results with mileage but I have had a great week of joy.  So many good feelings, so many wonderful things.  I think I can go on and do better.  We don't like to say for our age.  We say for ourselves.  I am so happy.  This is my inspiration to go on.  I haven't transcended any records or any mileage. "  He does credit his race though for allowing it to show his mind what he is ultimately still capable of doing in a long race.  It is a wonderful feeling."
"As usual I slept longer than I wanted to."  62 year old Fred Davis had come prepared, but sleep has a way of finding us all.  His distance here over 10 days is 505 miles, one more than he completed in 2008.  He also had a goal of setting a 6 day age group record but says that his schedule was off by the 3rd day into the race.
He has transcended himself at least by one mile but more importantly he says that he feels better at the end of this race more so than he has all the other races he has done.  "I think the wind tired me out more than I expected."  As for coming back year he is ready to sign up again now.
Misha has had a breakthrough performance at the race this year.  He ran more than 60 miles more than his previous best.  With his great effort he managed to complete 601 miles.  He has done the race twice before and says the 2 previous attempts were able to teach him how to make better adjustments in how to run the race better this time.
It also he feels gave him more time to be able to search within himself.  He simply did not have the physical difficulties of previous years and so there were none of the distractions on this level.  He calls the experience here this year, "unparalleled."
I have found him on his last lap and he is in no hurry to finish.  It is though he is cherishing each last step that he takes here.  The race he says also gave him a new appreciation for all the weather conditions that he has experienced.  "I love this rain."  When he crosses the line he will fold his hands and bow with gratitude.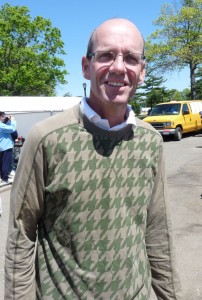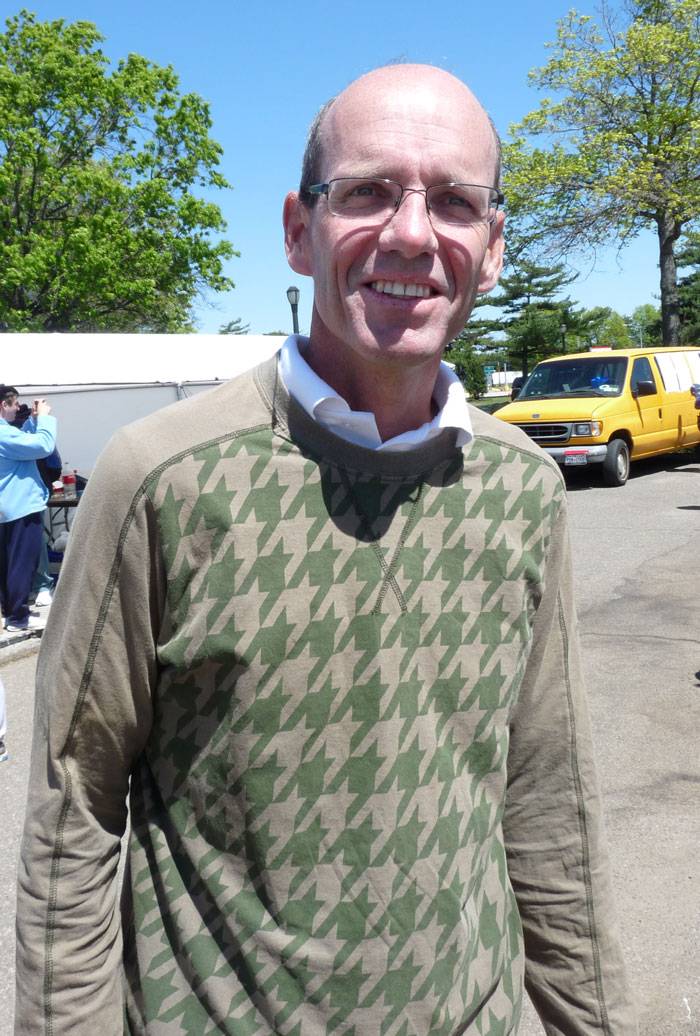 As I meet Barney I realize that of the 10 days he has been on the course I can't remember the last time I actually saw him running.  He has made his way along the course for days it seems in something resembling an awkward shuffle but never once did I see him complain or feel sorry for himself.  He finishes the race with 450 miles and seems to be a very happy fellow.
He tells me that he realizes that he is happy and that it is a very strange condition to be in because, "I had a lot to be unhappy about." When asked to compare his mileage to past efforts he laughs and says, "that was reasonably bad for me."
As for his happiness he tells me he has learned the secret.  "The secret is gratitude," he says.  "This is an amazing place, full of amazing people, and full of amazing atmosphere…..and I am here having a good time."
"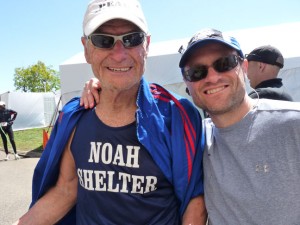 I do these because it helps me find myself."  Pete Stringer tells me this, moments after finishing his last lap and just minutes after the bell sounds to end the race.  His mileage will be 275 miles for 6 days.
"There is nothing so purifying as the spirituality that I find at the Sri Chinmoy 6 day every year.  It's incredible."  For Pete who has a long and deep commitment to charity fund raising at the Boston Marathon the timing of the race could not be worse due to the tight scheduling between the two events.
The race here for him he says, "is like gold, no, better than gold.  The spiritual feeling I get here I wish the world could get."
| | | |
| --- | --- | --- |
| | The inspiration and joy felt here never goes away.  It can and will uplift all those who took part for months and years to come.  Perhaps even for a lifetime. | |
HERE and NOW
I must come to realise
That my unconditional God-surrender
Succeeds
When everything else fails.
Excerpt from Here And Now by Sri Chinmoy