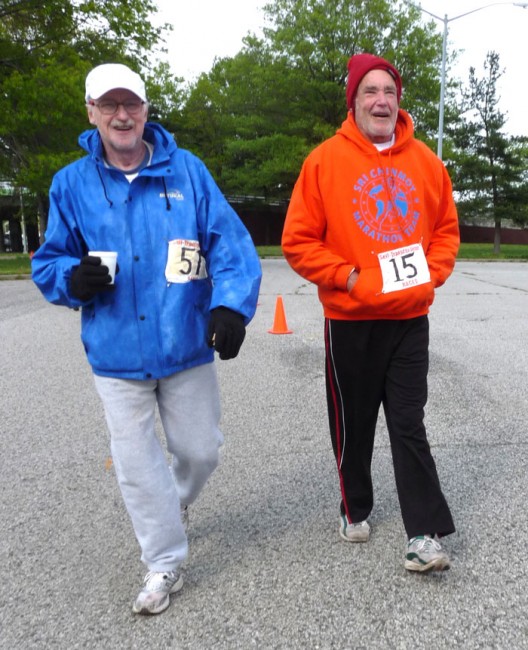 There are O so many precious moments in the 6 and 10 day race.  Some glorious and record breaking, and at other times, the little special personal ones.   The moments that do not attract much notice from others, and yet may in the end mean much more to you.
Things that take place while you are out on the course all alone in the middle of the night.  Or maybe just being with someone else and feeling a camaraderie that has built slowly over the past few days or even decades.
The counters manage to keep track of what on paper are special measured moments.  Crossing milestones and journeying further into the uncharted realms of new mileage or just the regular signposts that come up grudgingly every 100 miles. You can hear it again and again though that the end of the race is not always the best time.  It is an end of sorts, to see the completion of 6 or 10 days but the journey within never does  sit comfortably on markers or timetables, or even the expectations that flitter and fly before our eyes.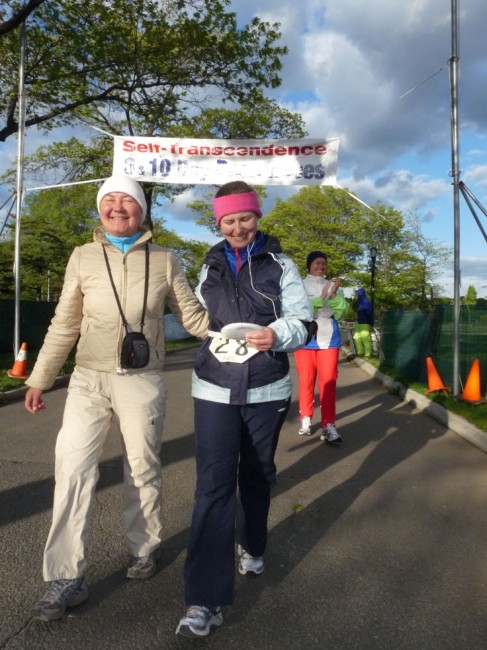 In this picture Nataliya Hluschuk has just completed 500 miles.  With just 18 hours more to go it is unlikely that she has even a remote chance of bettering her previous best of 600 miles in the 10 day race.  Yet it is easy to see that this young 34 year old woman from Vinnitsa is loved and cared about by many here at the race.
Yesterday I learned that it is because of her that 4 other runners from her city have been coming here and competing for the past few years.  It was because of her love of this race and the experiences she had here that encouraged this ever growing contingent of Ukrainian and Russian runners to come and discover the magic that is here.
Some may never find it for lots of reasons.  They will start off believing in a journey that only exists in their minds.  One that can be measured against a catalog of success but one that only offers a dew drop of joy.  When you allow yourself to accept the race on its own terms, it is possible to receive an ocean instead.
Every step that Mark Dorion 50 of El Paso Texas takes now is one that takes him further and further into uncharted territory.  It almost seems at times that Mark is a permanent fixture of the race here in Flushing Meadow.  He has come so many times it is impossible in many ways to imagine the race here without him.
Yet this year he did something new and switched from the 6 to the 10 day race.  So far he has been running 3 days longer than he ever has and is just about to pass 497 which is 100 miles further than he ever ran in the 6 day.
The weather has been of course about as bad as can get.  Many say the conditions have never been worse.  Mark says,"we have had our challenges with the weather to transcend."
He had told me earlier that he had been encouraged by some that he had the capacity to move up to the 10 day.  "For about 8 days it was good and I was fine, but yesterday afternoon was a real low point."
Mark had been pummeled by wind and rain for days.  Being from Texas he was not used to such wet conditions and perhaps feels his selection of clothing might have been better.  "It was a challenge all yesterday afternoon and evening."
Yet when this morning came and the weather cleared everything changed.  He could see that the end was at last at sight.  He says in any athletic endeavor, inevitably a point comes, "when you have to get over that hump."
He is also adamant that it is not only more satisfying but also practical to try and take a spiritual approach when taking on these ultra endurance races.  "When people come here like it is a boxing match and say they are going to set the record it is just self defeating."  It is an approach he suggests that should not just be used for the race but also carried over into day to day life. It is important to dig deep within and try and offer up a little more than you think you have to give.
"You learn a lot about yourself no matter how many of these things you have done."
While at the race today I notice Allan Harman 48, from West Vancouver Canada take a small camera and run around the course with it.  It is a special moment for Allan as on that lap he was completing his 252nd mile in the 6 day race.  One more than he ran last year in first 6 day race.
He has trained hard for the race and tried to mimic some of the running patterns he needed here back home in Canada.  Some of the weather he is not too unfamiliar with back home in soggy Vancouver but he says, "the cold was awful."
When asked what he did to get ready for the race this year he says, " I am better prepared.  The experience has been better." Though no amount of preparation could prepare for the recent severe conditions.  He is not certain he will come back next year but does not rule out sometime in the next few years where he would like to return here to, "Increase my distance limit."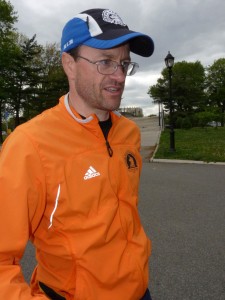 He is also happy that he has discovered that he can stick with it longer than he did last year.  "I am pushing my limits both mentally and physically." He is in admiration of all those who worked so hard to keep the course dry.  He is also notices that he is experiencing 90% less pain than last year which means he is able to enjoy running more.  "I have a spring in my step I feel so much better."
When asked to describe how it is possible to love something that can so often cause so much discomfort.  "It is a tough one because it is contradictory."
He will say to me latter that when he is here he not only learns things about running but more importantly learns more about himself, when he pushes the limits.  "I love to run and all those who have come here is for a common purpose to run, and it is really great."
| | | |
| --- | --- | --- |
| | Alex Swenson is doing incredibly well for his first 6 day race.  He is, going into the final hours in the unenviable situation of being forced to chase Dipali.  Volodymyr Hlushchuk now has a fast closing Mykhailo Ukrainskyi closer to him than his shirt collar. | |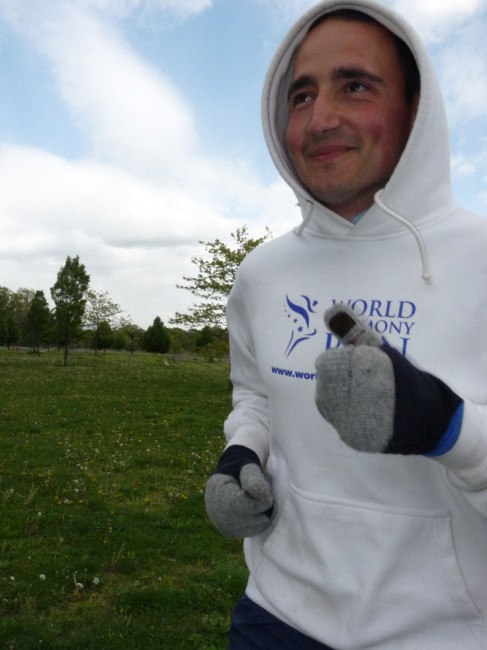 "Maybe last year was like beginners luck, and now I have to learn the hard lessons."  Baridhi Younchev 28, Sofia Bulgaria says he did many more miles in his first 6 day race last year.  "But I am learning more things."  Like all he has suffered with the conditions but also picked up an injury.  "I have gone through some transformation probably," and laughs at this.
Last year he completed 276 miles and how on the board he has 190 with just 18 hours left to go.  "This race teaches you how to keep the balance in your life.  If you push too hard you get an injury.  If you don't push enough than you don't achieve anything."  He also feels that he should continue to do the race.  The reason, "because these lessons need to enter more deeply into my nature."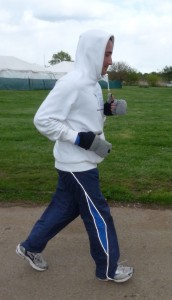 The lessons he is also feeling as though he is understanding better, is learning about attachment and expectation.  "You have to be detached and not attached to the result.  If it comes it comes."  Also despite not improving his miles he still feels as though he has transcended himself from a different perspective.  "I am more relaxed and happy." He believes that the more one can separate themselves from attachment and expectation than ultimately they can achieve more peace.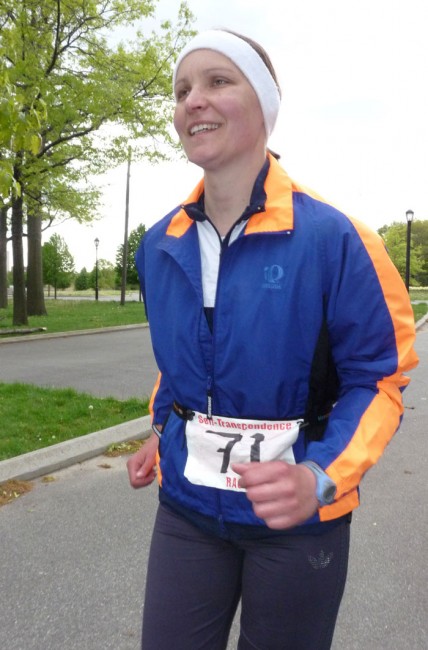 "Last year was my first time and I was inexperienced.  So now I have some knowledge."  It would appear that Sandra Tribulin 33, Nis Serbia has picked up a lot of knowledge since last year.  At that time she ran 284 miles which is a number she should surpass in just a few hours.  Not just good she has a strong position on the board and is comfortably in 3 place.
She describes a couple of blisters, a tricky Achilles, and something is happening with her knee but despite all of that she is running well and looks as though it is her first day and not that she is heading into her last.  Prior to doing the 6 day last year she had only done a 12 hour but felt no trepidation to make the astronomical jump, bypassing a 24 hour in between. "I just love it."
She describes how she first came here as a helper and it was then that her love for it first became apparent.  She tells me how peaceful it is here at night, but what really brings her here she says, "I have an inner feeling that I can do this race." She believes in this feeling even though she does not believe that she is a good runner. "It took me a while to adjust my mental and emotional state of being."
As for the conditions over the past few days, "this time it was so challenging, but still I was able to stay happy."
Her view of the race as a whole, "it is a very very special inner journey.  You get to know yourself on so many levels, so many ways, and that is worth it."
Misha and Vlady find inspiration by running together.  Misha is almost touching 2nd place in the 10 day and Vlady is trying to hold off Smarana.

Chanakhya is about to pass the 200 mile barrier.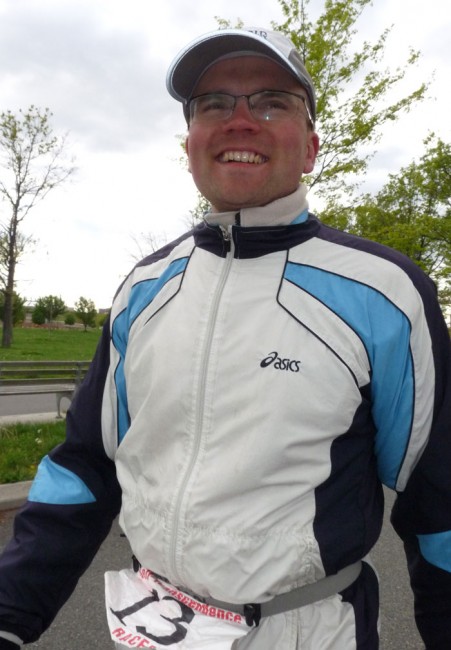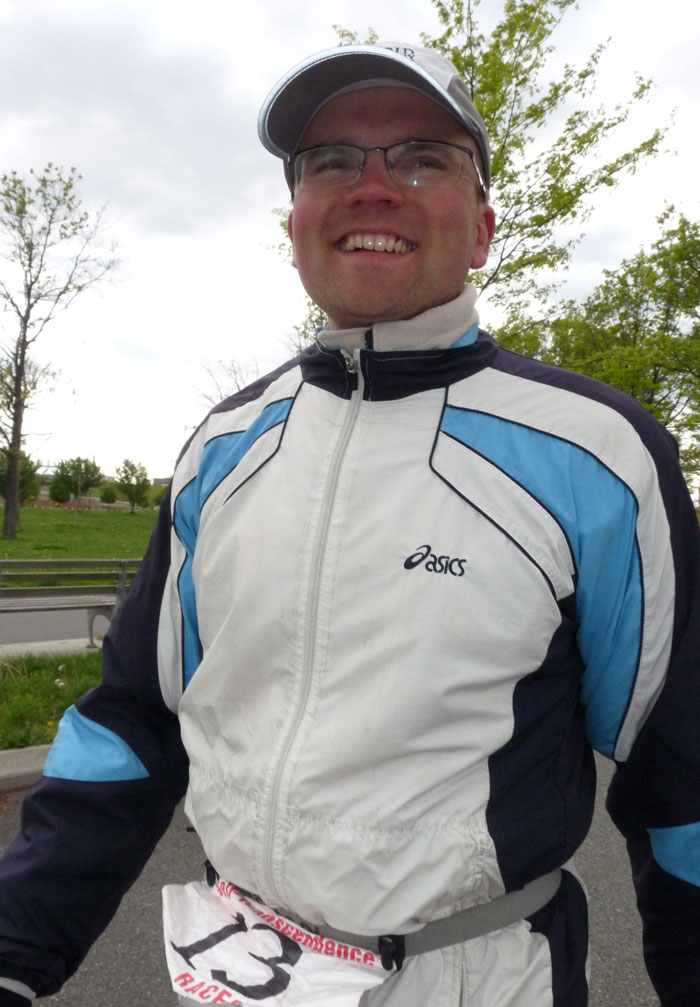 Pradeep Hoogakkar 30, Den Haag, Netherlands is unusual in that the adverse conditions were in some ways in his favor.  He doesn't like the heat but in fact last nights near freezing conditions were just too much for even him.  "I am going very slow because of an injury.  I couldn't stay warm so I went to bed and slept."
For a while he gives me a tour of the food tent where he picks up a hot cup of water which he then goes outside to add some cold water.
This is the 4th time he has done the race and from an inner perspective he says, "it is the best so far."  Last year injury and discomfort made it difficult to get into the real feel of the race.  On day two it appeared as though injury was going to come and interrupt his experience again but he says he simply focused very hard and was able to have a good time.
For him months of meditation in his normal life is not comparable to the meditation he experiences here over just 10 days.
"In between there is some hardship but that is the package.  The fullness of life I only really experience here.  Here you have everything.  You have struggle, love, and oneness.  It is a very very complete feeling."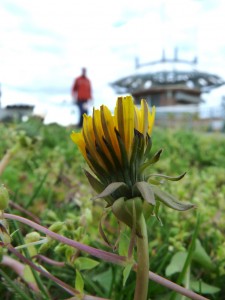 My mind
Has a lot to unlearn.
My heart
Has a lot to learn.
My soul
Has a lot to contribute.
Excerpt from Twenty-Seven Thousand Aspiration-Plants, Part 38 by Sri Chinmoy