He is the new kid on the 6 day block, but you would never know it.  He is moving easily here around the course on this gorgeous Saturday afternoon without any signs of wear and tear.  It is really hard to believe, as he runs so effortlessly now, that he has been at this for more than 24 hours.  As a new guy it would be easy to dismiss his speed during this still early times as reckless, but 45 year old Alex Swenson from Vashon Washington has tremendous experience in distance running and seems to have trained and planned to perfection for this race.
He has come a long way from the west coast to be here but Alex says, "there aren't many 6 day races. That's why I came." He has done around a dozen 24 hour races and was eager to take on a new challenge.  As we pass the board he is currently in the lead with 124 miles.  He tells me that with a few laps more he will be entering into new territory in the mileage world.  His personal best over 24 hours is 146 miles.
He says that he has not done anything in particular to train for this race but admits, "I have always trained pretty hard. I can't see training any harder."  His belief is that the 6 day race will not be so much a challenge physically but rather one that mentally he will find new terrain to conquer.
"I think the most important thing I did on the advice of others is have a concrete plan how to go about running, as to, running until you feel tired.  I have been running 5 hour blocks with a specific running and walking strategy.  It's been going really great."
He has spent the last 5-6 years focusing on 24 hour races and he feels now that to make the move to 6 day running is a natural progression.  His feeling was that it was important to make the big jump to 6 days rather than try 2 or 3 days.  He says, "if it was rough I was afraid I might not have the guts to go up."
As for his experience here so far he says, "the race is supremely well organized.  It has this great feeling of support, and I am terribly impressed.  And I think as I start to feel worse I am going be even more impressed by that support that is being offered in so many ways."
His strategy at this point.  "Sticking to my plan.  The plan that I have in place and just having the courage to stick to it and ignore what other people are doing."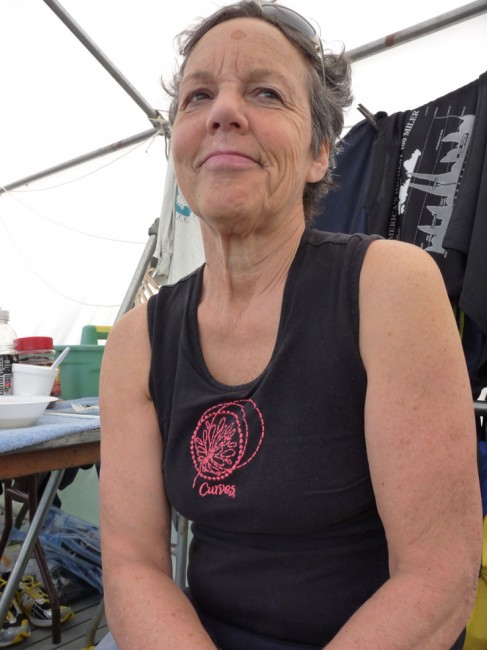 Having a helper is an enormous plus for most runners in multi day running.  Especially if you are the type who do not want to even waste a second of time.  To some it may seem absurd that reaching for a snack or a jacket can waste that much time over 6 and 10 days but it does.  Pete Stringer's support crew comes in the form of his wife Jane, who for up to a few days ago did not know whether or not she could make it to Queens to help Pete.  Because of job obligations she may not be able to stay the whole time.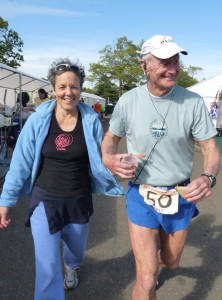 She says that she has played this support role for about 10 years now.  She says as to herself, "I have run marathons but not ultra-marathons." When asked why Pete likes these races she says, "he likes challenges.  He likes to do big things, and there is not much opportunity in real life to do big things any more."  For both of them as well there is something to be said about the community of runners who take part in these events.  She says Pete, "loves the people."
For herself she says, "I love this race because everybody is so nice."  Of the people here she says, "they are accomplishing something.  I really don't know what that is but I am a part of it and I am helping Pete do that."
| | | |
| --- | --- | --- |
| | Bob Oberkehr is one of the perennial participants in  this race.  Dipali, seems to have had a great first day. | |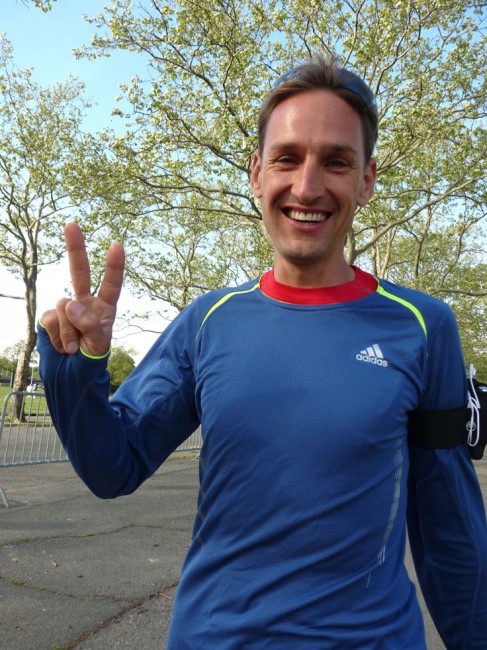 An always enthusiastic Dharbasan Lynn is even more upbeat today because it is his birthday.  "I am out on my feet all day because it's my birthday.  It is a pretty good occasion."  He has done this race before and prior to his start yesterday was also part of a large crew that helped assemble the village.  He is not really trying to achieve any great mileage numbers.  Instead he hopes to use this race as a chance to train for the 3100 mile race which is only 2 months away.  In that race the running is only possible for 18 hours each day so his goal here is to practicing being on his feet that length of time each day.
In the past he has tried to push himself to the limit but here it is important to find a balance of being able to keep going for 18 hours.  I mention that his lengthy participation in these races is more than birthday gift.  With the presence of his wife Nandana here as the main cook and their daughter Shakti also part of the little community it seems more like a way of life for him and his family.
He proudly mentions that Shakti over the time she has been here has even done 7 miles on her bicycle while following her Dad around the course.  For the moment a tire puncture has temporarily stopped her cycling adventures but hopes to be up and riding soon.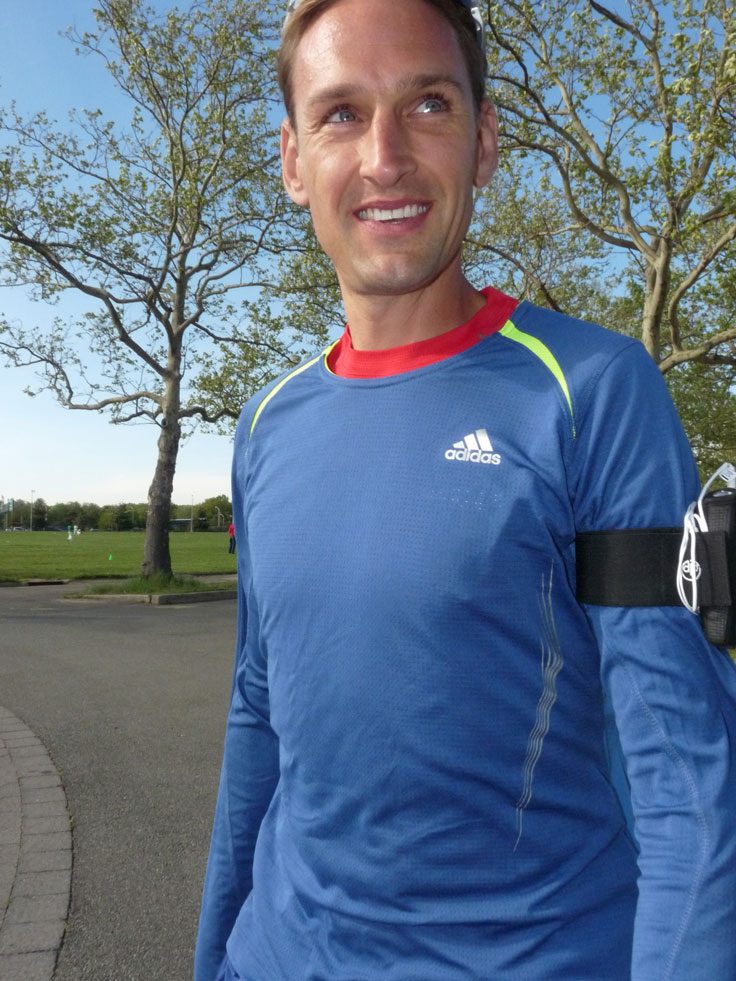 When asked how it is possible to cope with so much going on around him he says, "I have the easy part here. I am out here running and walking and I get looked after."
He is really focused on the 3100 mile race which is fast approaching.  It is an enormous leap from 6 days to an event which could last nearly 2 months.  He seems  nonplussed by this gigantic leap and says the he draws upon the inspiration of his late spiritual teacher Sri Chinmoy.  He says, "the inspiration to do the 3100 has been welling up inside a long time.  It almost feels like a rite of passage. The ultimate pilgrimage."
As for the experience he might gather here, "Obviously one wants to absorb and assimilate the subtleties of all kinds of experiences.  One of the little things I notice at these races is that there is personal effort and there is grace, and right where those two meet is your capacity."  It is when you push and pull beyond your capacity that injuries arise.  Out here you get experiences you can't get anywhere else."
She is in 3rd place in the women's 10 day race.  As we run together on a gorgeous bright Saturday afternoon, she has nearly completed 350 miles.  Remarkably this is the first time she has run longer than 24 hours.  More over, the farthest she has run is 156 km or a little over 84 km.  Manjula Boehler, 38, from Innsbruck Austria is running phenomenally.  More than half way through her race she seems to be experiencing no problems whatsoever.
She says, "I wanted to do it for a long time but my body was never healthy enough.  Now I felt it was the time.  It is all grace.  My body is co-operating really well."
I mention that she is now more than half way through the race her answer, "that is good yes," and laughs heartily.
Nights for her here are the worst time.  It is while resting that pain is able to find her.  "You just have to run and the pain disappears."  Clearly there is some price to pay for being able to accomplish something extraordinary.
Manjula is absolutely happy as she runs.  "I am just happy to be here and that everything is as the way it is." This way, though challenging, is extremely simple for people who really enjoy these races.   "Here it is just running eating and sleeping."
All her preparation she says was simply, "praying that I would enjoy being here.  So far the prayer was fulfilled."
| | | |
| --- | --- | --- |
| | A now healthy Igor is just a whisper away from first place in the 10 day race.  Fred Davis takes a short break at his table.  The weather is supposed to turn for the wet worst tonight. | |
Many of the runners have come very far to be here.  Tamara Abramovkikh is particularly unique in that she has come from Russia just to help her daughter, Jayasalini run this race.  Jayasalini is 29 and has become a superb multi day runner.  In the 4 times she has run this race she has improved each time.  Her mother volunteered to helped Jayasalini in a 24 hour race in Kiev last year.  She was so impressed with the event that she helped her daughter for that race.
Jayasalini was so impressed with her Mom's help and how willingly she participated as well, that she asked her to come to America and to help her here as well.  At first she refused, fearing that seeing her daughter struggle would be too much for her.  Inevitably she relented and has been a big help to her daughters race.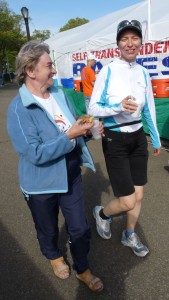 She says, "I knew my daughter was good in sports but I never knew that she would do such things." When asked why she would come so far and take on a job so challenging in its own way her answer is the obvious, "I love my daughter."
Her own experiences here at the race have been exceptional.  "I feel a lot of friendship and a lot of support to each other and a kind of delight here.  There is a very peaceful atmosphere here."  Her own goals here are as well so simple.  "I would love, that what I feel now remain with me in the future and that I could share it with others."
Jayasalini Abramovskikh from Moscow, is having a particularly enjoyable experience here this year.  She is running sky high miles and is in a tight race in the women's 10 day race.  Currently in second place she is close on the heels of race leader Kaneenika and has Manjula following closely behind her.  It is clear however that just having her Mom here supporting her and also that her Mom is having such a great time, may be for here the biggest victory of all.  "It is the best gift I could ever dream of."
She does take the challenge of self-transcendence seriously.  Each year she has run the race her totals have improved by about 50 miles each time.  Last year she ran 612 miles and at her current pace it appears as though she can better her previous best.  She adds however, "this is not the most important thing."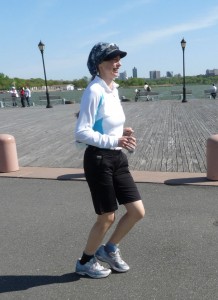 Coming back to the race for the 4th time clearly demonstrates how committed she is to it and all that it entails.  It is something she looks forward to.  "This is probably the most important event in the whole year for me.  Because what is happening here you cannot experience so intensely in day to day life."  So many unexpected things take place here for her.  The most important ones are those that she feels take place within.
Just a day ago she says she had the experience of divine love coming down.  All she needed to do she says was just to absorb it.  This goal of experiencing love and in turn sharing it freely with other she says, "is the goal of our life."
Experience tells me
How foolish I was.
Experience tells me
How wise I can be.
Experience tells me
How silly all my mistakes were
Experience tells me
How I can easily be perfect
Next time.
Excerpt from The Dance Of Life, Part 19 by Sri Chinmoy