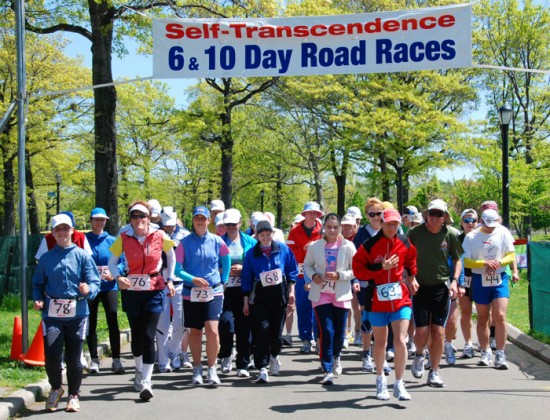 At noon time today, the second great wave of runners stepped off from the starting line in Flushing Meadow.  There were 40 in total and under bright sunny skies they set off on a journey that will not be completed until 144 hours have passed.  One might say that running for 6 days has to be one the most challenging running events in the world, with just 2 significant exceptions.
There is the obvious matter of course of the 29 runners who have already been here for the past 4 days, and each of whom has run nearly 200 miles or even much more. For them this influx of fresh legs is like an infusion of new energy and inspiration.  They are each moving now to a unique flow and rhythm that emanates from within.  They may have schedules and time tables but when you have been on your feet for such a long long time and have come so far you are not bound by so many of our seemingly important day to day concerns.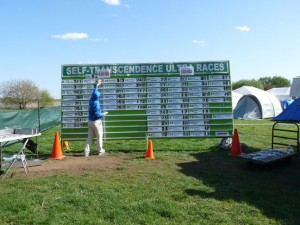 There is no boss to please, no assignment to be handed in, in fact there is no useful functional purpose to be here at all other than to please yourself.  To take pride in an achievement that few can even comprehend.
The 6 day race is long and hard.  It has been around in some shape or form since the middle of the 1800's.  But yes there are harder things out there besides those beside you who have been here already for four days and will not reach the half way point of their paths for another 24 hours.  For a truly incomprehensible race one need only turn to the Self-Transcendence 3100 Mile race that is held nearby every June.
If you want to learn more about it you would only have to ask one of the 4 guys who have already run it many times before and are using the 6 day race to train.  You can recognize them because they are running as if there is no tomorrow.
This past Monday, 51 year old John Geesler from St.Johnsville NY had to run a little race over in the near by state of Massachusetts.  Many are familiar with it because it has been around just about as long as there have been distance running events.  It was the Boston marathon.  He tells me he ran a time of 3:13.  He says, "it wasn't one of my better ones but it wasn't terrible bad either."
The swift pace he is running now is certainly not 26 mile pace but it is not much slower than that.  For someone carrying a voice recorder and a camera it is not the easiest pace to conduct an interview.  John however is running comfortably and he somehow makes it seem easy and natural even though as he is running we are passing nearly all the other runners.
2 years ago when he was last here he ran 435 miles.  Due to foot problems he say, " I walked all of days 2, 3, and 4.  I figure if I can avoid having to do that I should be able to do better."  When I ask if he has done one of these races since then he says, "No, there are not many around." As to why he is back his answer plain and simple, "I still have unfinished business with the 6 day. I have to do a good one."  What that means for a man of John's capacity is to be a distance of at least 500 miles or more.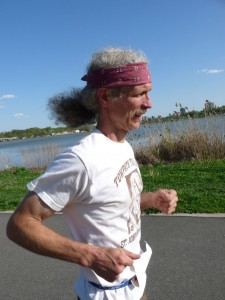 He describes that once he has been here for a few days he gets in a groove and when that happens, "it is a beautiful thing. It just flows and it is not a big effort." He is clear in that he is not seeking inner peace and does have real mileage goals that he would like to achieve here.  For a man from a rural part of New York state there is also not much appeal in spending 6 days in a suburban park with endless traffic streaming past near by.  He would much prefer to be trail running.
He admits though, "I like all types of running.  This race is a different type of enjoyment."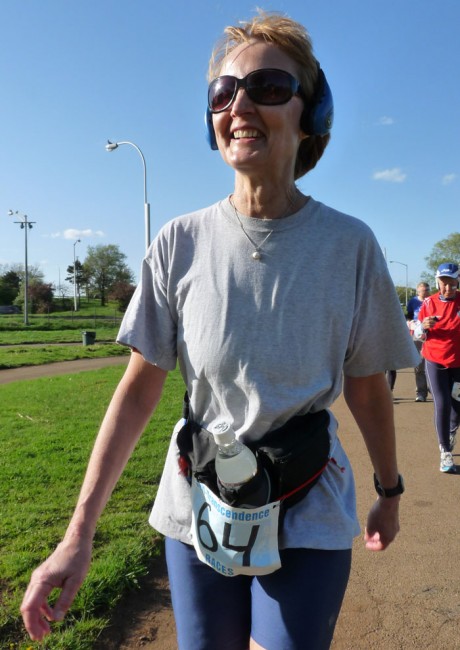 Kate Condon from Chichester is deceiving as she strides purposefully around the course.  She is all sun bright smiles and long lanky strides.  She makes it all look a bit as if she was going for a stroll across the English country side.  Except that by the end of it all Kate will have completed 100's of miles.
She has enormous experience as a distance athlete but it has been 3 years since she was last here.  She says she has come this year because, "you see I have a family here."  Her eyes taking in all those running and moving in each direction on the course that winds here and there about the park.  "Staying away 3 years has been too long."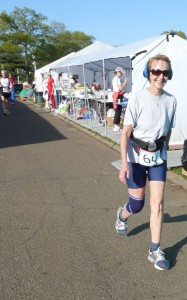 She has a bandage around one of her knees and tells me that she has had a recent surgery.  As for miles she seems not too concerned.  "I shall just see how it goes. I am not looking for numbers. I am looking for a peaceful time and the courage to dig in."  She also explains a little about her philosophy which she says, "that if you do everything with love that means that you are doing the best that you can."
She also is much impressed with the caring and help that comes from so many faces and places here during the race.  "Everyone is here for everyone else as well.  There is competition here but it is really a competition of you against yourself."
The race has a large medical crew here who take shifts around the clock to try and help all the various aches, pains, and injuries that are bound to show up at some point in most peoples races.
It is a unique service to the race, but it is one in which there is precious little literature to consult and seek advice.  Blisters and sore muscles are easily treatable things but sometimes the remedy is as simple as a change of diet, an extra supplement, or even an extra bit of rest.
Kausal Cortelia has just arrived at the race today from Italy.  He had come last summer to the 3100 mile race to help for a week and ended up staying for four.  He is a trained professional Doctor in Auyervedic medicine and his presence at the race last summer had a profound effect on many of the runners as well as upon him as well.  "I was really impressed by the oneness amongst the runners.  I was really touched and inspired by everything."
When asked what is the difference between treating his usual patients and these extraordinary distance athletes he says, "they are working at another level of vibration.  They are not working in an ordinary way."
He also describes the importance of attaining oneness with those he treats so that he can help them better.  In this way you are not using your ordinary mind.  Instead you are able to call upon your intuition.  "Your oneness can tell you more about the physical, emotional, energetical, situation."
He also describes an unusual  experience he had while dealing with the 3100 mile runners.  He says that when he worked with the runners he felt he was working with them he felt he was working with something sacred and very pure.  "It was not my mental hallucination. It was a real embodiment of sacrifice." It was a profound and moving time for him and he attempted he said to offer in turn that purity and sacrifice that he experienced in New York, back home in his clinic in Italy.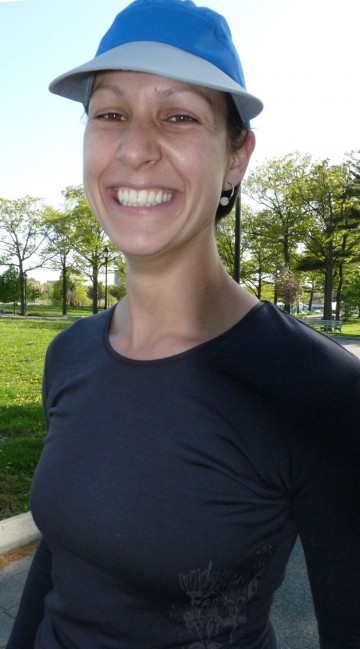 "Just to finish without an injury."  Barbara Szeprethy from Bishop California arrived yesterday at the camp and seemed right away at home here.  She ran in a 6 day race a year ago in Arizona and her goals on the surface, seem modest at this race here in the park.
As to why she has flown across the country to be here she says, "I heard great things about the race."  Apparently Bob Oberkehr had spoken to her about this race when they met during the previous race in Arizona.
She was born in Hungary and when she and her parents first moved to America they lived in Brooklyn and so she feels it is kind of a homecoming of sorts even though she is one borough away.  Incidentally she pronounces the name Brooklyn in a very New York way.
Her race is only a few hours old but she says about the event, "so far I am very very pleased.  There is a lot of good energy.  There is a super positive vibe.  Everyone has so much to give and offer one another.  I am taken aback by it definitely.  I am very pleased and very happy."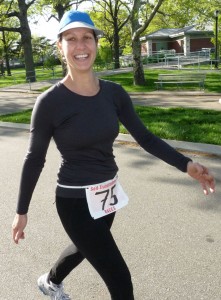 She has been only running for 6 years and says that it was the Badwater race, which is near her home, that inspired her to take up distance running.  It was another friend, John Raddick who introduced than to the 6 day running world.  In her first 6 day race in Arizona she ran 202 miles and she hopes to be able to improve upon that number here.
I ask her how she would describe this event to family and friends who might be unfamiliar with multi day running.  She says, "I tell them it is just like a meditation. I am just on the move rather than sitting.
Sometimes experiences happen to runners during the race that are of profound inner significance.  Most often they can be momentary events that bring inspiration and illumination when the times are most dark and difficult.  For most of us who have never attempted anything even remotely as difficult as running a multi race we have little in the way of roadmaps to get to the place they have been or little alone comprehend what took place.
Mykhaylo Ukrainskyi 36, from Berdyansk Ukraine has been in several of these events so is all too familiar with the joys and rigors of these extremely difficult runs.  While taking a break this afternoon he told me in a soft voice about something that had happened to him the previous night.
He was going through a rough patch in which he was suffering from shin splits and fatigue.  He says, out of the blue a sudden realization occurred to him.  "Now is the time to love myself."  It was for him a deep and meaningful moment of introspection.  It was a dropping of all expectations and a moment in which he felt he needed to accept, in the deepest possible way who he really was.
In that moment there was a transformation.  His pain and fatigue completely disappeared and he was able to run easily again.  "It was so nice a run."  He felt absolutely no concerns or worries.  His only worry he says is how long it all would last.  His running afterwords he says, "I never felt before, totally relaxed.  You don't identify yourself with your body but still you can enjoy it."  How this experienced demonstrated itself outwardly he says, "you can see it on the board."
After having such a wonderful experience his only real thought, "Why am I so lucky?"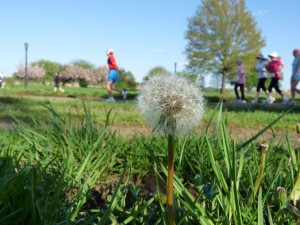 If you want to understand yourself,
Then do not examine yourself.
Just love yourself more sincerely,
More soulfully
And more self-givingly.
Excerpt from Ten Thousand Flower-Flames, Part 35 by Sri Chinmoy