They spilled out of the bus on the Grand Central Service road.  They saw a sign for the off ramp of the Utopia parkway but knew they were not anywhere near paradise.  It was quite clear that the bus that had picked them up in lower Manhattan had now taken the group only as far as an inconspicuous Queens neighborhood.  The group was taking part in a 'Flux Factory Mystery Bus tour,"  and only the guides,   Jason Eppink and Matt Green had any idea what was happening on this block in which the same dozen runners kept passing them by.  The only thing the group knew for sure was that the subject of the tour was, 'The Quest for Immortality."
The group has been told to stay out of the way of the runners as they kept going round and round past them.  They were respectful but it was clear none could understand what was happening here.  I ask one girl what she thought was happening and she replies, "are they training for a marathon?"  Another, who says he is an artist in residence, tells me he has no idea what is happening, but says, "it is an adventure, a great adventure."  The tour group moves in the opposite direction of the runners and eventually they walk into the open area in front of Thomas Edison High school.  Matt reads from an article on the race that was published several years ago in Harpers magazine.
Matt then tells them that since the race started in June no matter what any of them  have done the runners have only been just here running around this course.  No matter the weather, no matter any other circumstance, they have been living their lives here around this block, in which the Flux Factor group have only just meandered around about half of.  He suggests that they try and walk around the full block themselves and picture what it might be like to see it thousands and thousands of times.  He says, "try and get inside the head of the runners and think what it might be like for them.  How intimately they would become acquainted with this block." Matt Green talk
I speak with Matt as his mystery tour group starts to investigate more of the course.  He doesn't remember when he first heard about the 3100 but says that when he read the article in Harpers, "I was floored when I read it. I couldn't believe this was humanly possible to do."  This is for Jason and himself the first stop on their first tour.
When they get to the counting area Rupantar starts to tell them more.  He describes self-transcendence as being eternal.   That what you achieve today simply becomes the starting point for tomorrow's next challenge.  "There is no end to it. You have to draw upon all your capacity and use it during the race.  Everything is accelerated here.  It is like the Everest of running."Rupantar talking
Eventually some, but not all, will take a slow and leisurely circuit of the loop.  I ask one mystery tour person when they return, what their experience has been like so far. It immediately becomes clear that they are still enmeshed in a cloud of incredulity.  They had noticed the flowers and bits of garbage more than they had noticed the runners.  They saw tidy homes and signs on the parkway that led to other places but had not read any message on the faces of those that passed.  The quest for immortality of course takes more than just one life and more than one loop of a block in Queens.
Oneness, oneness, oneness! Oneness with the temptation-life I do not want, precisely because temptation is frustration. Oneness with the earth-bound life I do not want; for earth-bound life is nothing short of limitation. Oneness with the Heaven-free life I want, for the Heaven-free life is Eternity's Peace, Infinity's Bliss and Immortality's Life.
Excerpt from The Vision-Sky Of California by Sri Chinmoy.
It is old news now but yesterday, with the ringing of bells and the clapping of hands Asprihanal past 2400 miles.  He will eventually complete his running yesterday by running more than 72 miles.  It means he is now averaging more than 70 miles a day.
Grahak arrives today after nearly running 72 miles himself.  His rash on his neck is getting worse and seems to be spreading.  Meanwhile Diganta has found his rash has nearly disappeared.  He has taken antibiotics and other remedies.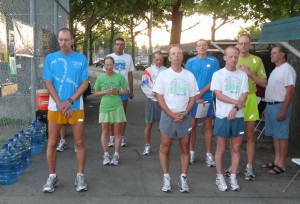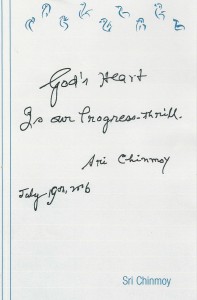 He has been absent on the starting line before but this morning it becomes clear that a search party will be necessary to retrieve Vlady from his world of slumber.  Vajra will go to the place where he stays and he will awaken, a dead to the world, Vlady with knocks upon his door.  Vlady will awaken to this sound and see his life in an instant flash, before his eyes.  It will take him 53 long minutes to get himself ready and on the line.  He arrives happy however and clearly not bothered at least very much by this mistake.  Not setting the alarm has happened to everyone.  With some discussion it is clear that he has not set a tardiness record for the race but at least set a new mark for the race in 2009.  In the last week he has run more than 67 miles each day.  It is hard not to be impressed with both his smile and his mileage.
The rash on Grahak's neck seems to be getting worse.  It does not however seem to be slowing him down even one tiny bit.  On Sunday he will receive more treatment in order to at least stop its progression if not create an outright cure.  I had been told that he had also had a bad right toe that had earlier been quite infected.  In trying to remove the puss Rupantar told me he had fainted.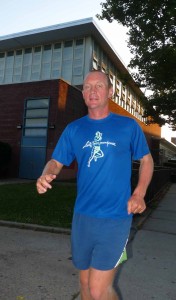 He tells me it took place a couple of nights ago.  He said that he had taken a hot shower and, "all this stuff was coming out of my toe.  It is clearing up now he says optimistically.  He apparently lanced it himself and when it discharged it was for him a combination of release and relief that he couldn't handle.  "I could hardly touch it at first."  Then with laugh he says, "and when after I got up after fainting I accidently kicked something with it." He says now, "I am sure it will be fine."
It should be noted that Grahak is incredibly tough and brave, but not foolish.  This is the 3rd time he has done this race and knows that one cannot be too squeamish when it comes to the body's reaction to the long hard miles.  He will not put himself in danger of any kind.  He is monitoring his condition closely just as the race personnel are.  In the next day he knows that his rash will need to be addressed and kept in check.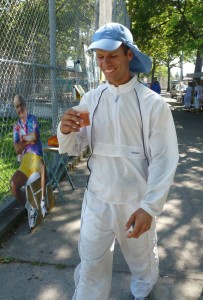 There were two other milestones this morning.  Petr will also pass 2400 miles.  Bells will ring out and he will enjoy a momentary cup of carrot juice and run on.  A short time later Pavol will pass the 2000 mile mark.  Once again he ran mileage that was even better than he had the day before and had not done since day 2.  He says, "I still have 1100 miles to do, I will celebrate then."
Yesterday, as part of the Flux Factor tour's, "Quest for Immortality," Ashrita will come out to the race and give a short talk and demonstration.  Having set over 240 Guinness records over the years he is all too familiar with Self-Transcendence and what it takes to do it.  He said many things about the benefits of meditation and a life of spirituality.  "Once I got out of the mental world, and got into the world of the heart, I started feeling a divine presence inside me, which we all have. "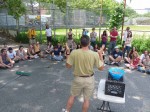 He admits that as a high school student he had  little if any ability in sports.  Becoming a student of Sri Chinmoy and engaging in his philosophy on all levels, both spiritual and practical, would change that for him.  The first indication he had real capacity as an athlete was a 24 hour bike ride in Central park in which he entered with little training after buying his first bike a short time before the race.  He says entering the race, "was one of the turning points of my life".  With no training he rode 405 miles and tied for 3rd place.
He says that when the race was over he realized that, "this is not my body this is my inner soul," that gave him the capacity to accomplish such a feat.  He was so inspired by what had happened to him that from then on he sought with great enthusiasm to break Guinness records.  He did this not for fame but to show others the benefits of meditation.  "That there are no limits.  If you can feel your inner strength you can do anything."
This morning he and Bipin, in what is billed as a practice session will show his chocolate malties catching record.  The record is based on the number of the candies he can catch in his mouth in one minute.  His current record is 51.  Because the candies tend to melt quickly he has experimented this morning by putting them in ice water.  This however makes them slippery for the thrower Bipin.  He is only able to catch 47 in the allotted one minute time.
Ashrita also demonstrates his samurai sword and cutting apples records, and also the fireman carry record he did with Bipin a few years ago.  He also tells the group about his skipping a marathon record he set not too long ago.  He tells them that it is impossible to be unhappy when you are skipping.  You cannot help but feel child like when you skip.  The group which has been watching the demonstration then rises  to its feet.  For a short while all are skipping in a big circle.  While on the big circle of the block around them the runners get to see them going around in a happy circle. Ashrita talk.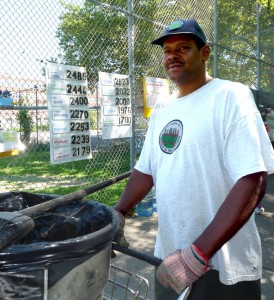 Glen has been only working at this park for less than a year.  He has been working for the parks department for some time but has never had an experience like he has been having this past summer working close by the 3100.  He has been so impressed with the race that he has almost called the press himself.  He would like to tell the world, "You know what is going on over here. It is amazing."
He was on vacation recently and I asked him if he even thought about the runners here.  He said, "I thought about them, man they are still running."  He laughs with this and says, "Man it is incredible."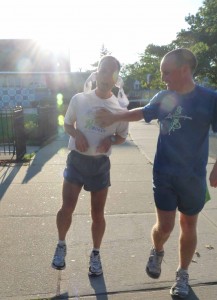 Grahak will ask Stutisheel how long he has been a dog.  Answer, "ever since I was a puppy."