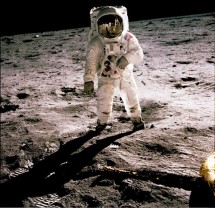 40 years ago today history tells us that the first man walked upon the surface of the moon.  Neil Armstrong, who was 38 at the time said, as he stepped down from the space craft, "this is one small step for man, one giant leap for mankind."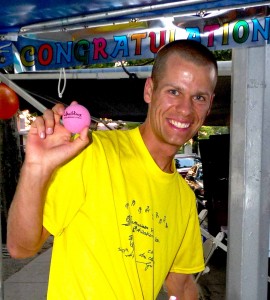 History may not make much note of Petr's 32nd birthday today but his running friends surely made it extra special for him this morning.  For 3 years this young man from the Czech republic  has had his birthday right here in Queens. The celebrating is kept to a minimum but there is still time to appreciate a runner who as of last night has completed a lot more than one small step.  Over the last 36 days he has run 2452 miles and has so far run 181 more miles than he did at this same time last year.
There are lots of unfathomable mysteries when one tries to study  the frontiers of science and technology.  There are mysteries at the 3100 too but they mostly involve the infinite capacities of the heart and not the mind.
This morning on his table when he arrives Petr will find a new shirt and a pink ball.  He says, "I really appreciate simple things.  Somebody knew that I like the color pink, and from this pink ball I got tremendous joy this morning."
My birthday song:
I plan to soar,
I plan to roar.
The bird in me
Will teach me how to soar.
The lion in me
Will teach me how to roar.
I plan to love,
Below, above.
The lover in me will teach me
How to love
Within,
Without,
Below, above.
Excerpt from Transcendence-Perfection by Sri Chinmoy.
There are always milestones of one kind or another at the 3100.   Late yesterday Pushkar transcended a mark that has both haunted and inspired him over the past year.  In 2008 on his 48th day of running Pushkar withdrew from the event with 2289 miles.  He comes on this his 38th day having completed 2294 miles, and with the almost certainty that he will be able to not only complete the distance this year but also do very well.  Diganta is 77 miles ahead of last year.
There is a marked degree of less solemnity this morning at the starting line.  All are of course wearing Happy Birthday hats, though some are exploring innovative ways in which to wear them.  This is a family of course that draws ever closer together as the days and miles pass.  Today they find festiveness and celebration in one of their owns birthday.  What they share amongst themselves is not just the small half mile loop they run upon but also the dedication of their lives to a noble and divine expression of Self-Transcendence, by running 3100 miles upon it. Happy Birthday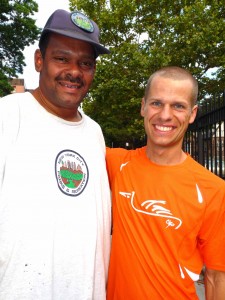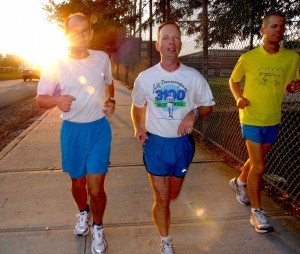 No one is in a hurry for the first few hundred meters.  They move as one, singing the Happy Birthday song to Petr.  He will say of this, "I was so happy that we were together in the morning.  You can feel the spirit, it is very supporting."  He will also be able to offer some gifts in return to his running family.  He has bought chocolates for them and flowers for the cooks.  He also gets to meet with his friend Glen from the parks department who is cleaning up as usual.  Petr says, "everybody will be happy today."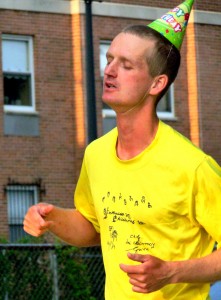 Eventually in time the hats will come off.  But for a while the sweetness and oneness of these 12 is something to behold and to admire.
"Yesterday I found the definition of this race," Pranjal emphatically tells me this morning.  He says that it happened the previous evening as he was running past Tirtha and Ivana who were singing and playing instruments.  "I got the idea that this race is like one big body.  The runners are the legs.  You are the mouth.  Jowan is the eyes.  The race directors are the brain.  Bipin and other guys are the hands.  All the singers are heart.  The cooks are stomach.  The medical staff are the immune system.  And Sri Chinmoy is the soul of the race."
He tells me that all together these elements create the race.  "One part without the other and it does not work."
"I also found one thing that others might think that I am crazy.  You can be dying here and when you get home you are half conscious, half dead.  And as I am falling asleep I am only looking forward to coming back here."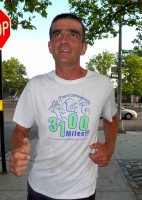 He says usually each year when he comes to the race he has some goal.  "Last year I wanted to run under 50 days, and this year I could not find another goal which I should really try to reach for.  I just came here and said I will do my best.  Since the first day I am just running.  I really don't care how many miles I do."  Despite this he tells me he is already 40 miles ahead of last year.  "I am really surprised."
We pass a light pole that figures prominently in one of his most profound experiences here.  It happened on a hot day in which he was struggling to finish before the cutoff and was struggling to find the strength to continue.  At the precise moment when he felt there was no hope in making it a white pigeon landed beside the pole.  He saw this is an omen.  It was an inner reminder to him of why he was running and where the real strength to do it came from.  He tells me that, "I always feel protected and guided here."