2 years ago Nirbhasa ran the Self-Transcendence 3100 mile race for the first time.  After 11 days of running he had accumulated 710 miles.  Last year was a break year and once again he is running the longest race in the world.  This time after 11 days he has 725 miles, which in the peculiar trajectory of race statistics, would indicate a very good improvement.
When I ask Nirbhasa if he feels it is going well he says, "I am taking it one day at a time.  I don't think about the accumulative amount of laps.  But I do remember at this stage of the race last time I started going down hill pretty quickly."
He doesn't know exactly what happened back then.  The files show that he started going well under 60 mile per day up until about the half way point on Day 26.  "My body just wasn't used to it.  It started around day 11 or 12.  Before that all I had done was a 10 day race.  So that could have a lot to do with it."
"Maybe now I am just doing better at management with things like sleep.  I am really trying now to look after myself.  To be in bed as soon as possible after this finishes."
Nirbhasa says he learned a lot from his race experience here in 2015.  "But there is still a lot more to discover.  You come back with new goals.  Things that you could have done better outwardly.  Things that you could have done better inwardly to remain in a better frame of mind to actually enjoy the race as an experience."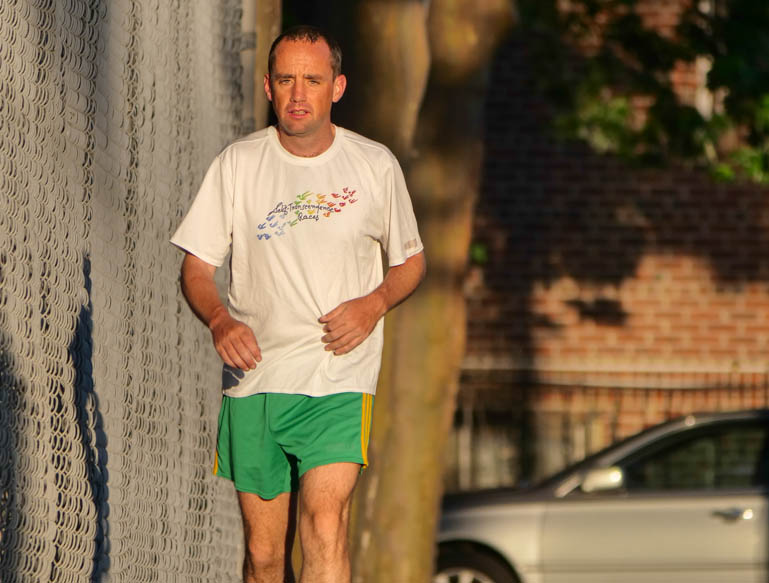 "There is no point in being out here for the better part of 2 months if you are not committed to experiencing and enjoying the race fully.  Rather than thinking, O God, and just ounting down the days until you have to go."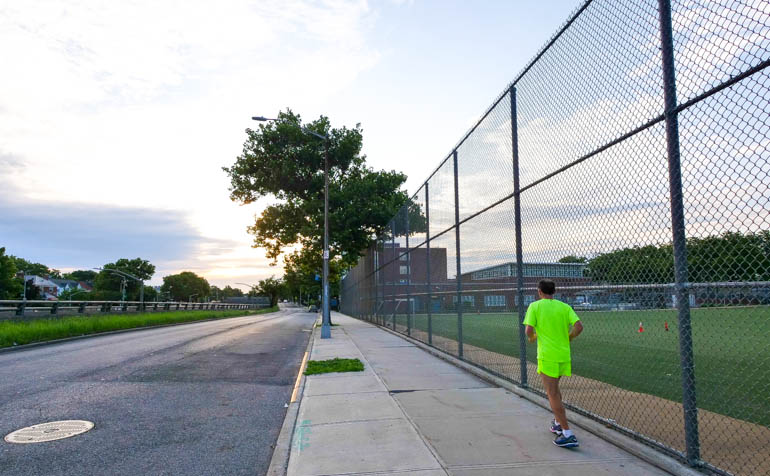 I suggest to Nirbhasa that he went into the last race with a high degree of confidence.  "Confidence is a strong word.  You can cut it two ways.  You definitely have to some kind of idea that you can finish the race, and do well.  Have some goals and try and meet them every day.  At the same time you have to be very humble at this race.  Because the distance is just too long to push or pull.  Anything can happen.  You can get injured.  You might have to go slowly for a while."
"I guess inwardly part of the goal is to be as happy and cheerful as possible no matter what happens."
"One of the real opportunities of this race is that you really get to take time off and dedicate it towards your inner search in a way that I try to do in my regular life.  I am very lucky in that most of things that I do in my outer life are connected to my inner search in one way or another.  But still it is normally difficult to get together all those spiritual disciplines that you really like to do."
"So it is a real opportunity here to really challenge the mind to go beyond the mind and go into the heart.  Because if you can't do it here where can you do it."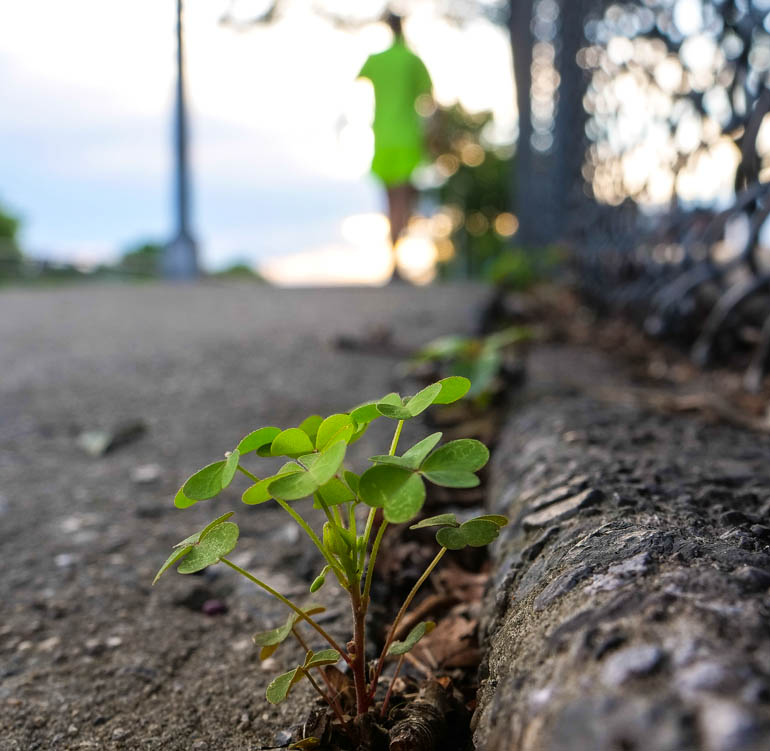 What are you searching for?
I am searching for my heart's
Birthless and deathless sun.
Dipali's Race Tips:
The Board at the Start of Day 11
20 minutes before the start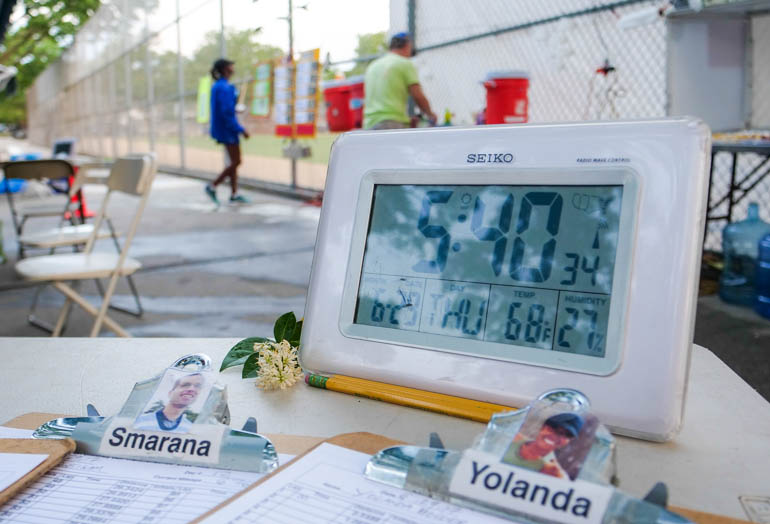 Yuri getting ready
Yolanda taking a selfie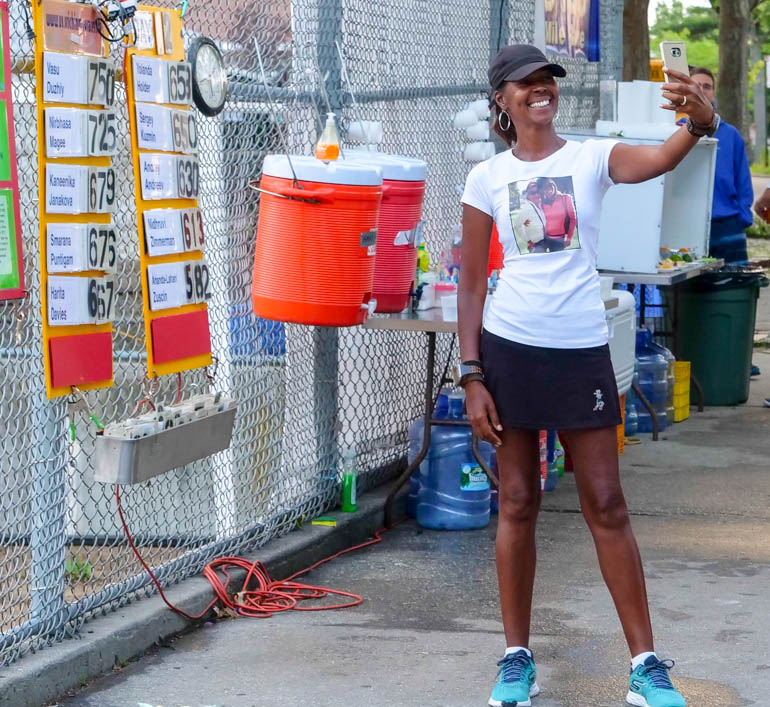 Suhasini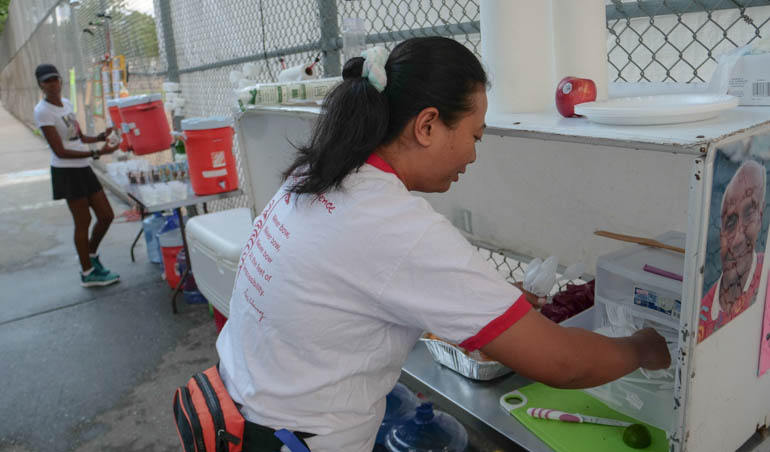 Pipasa's chalk art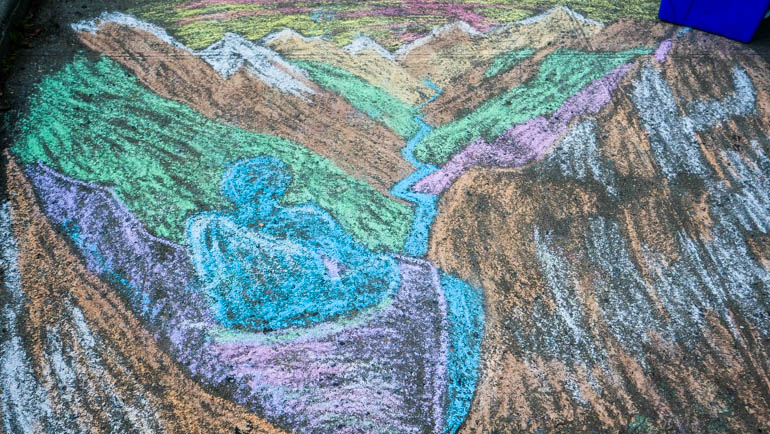 Andre arrives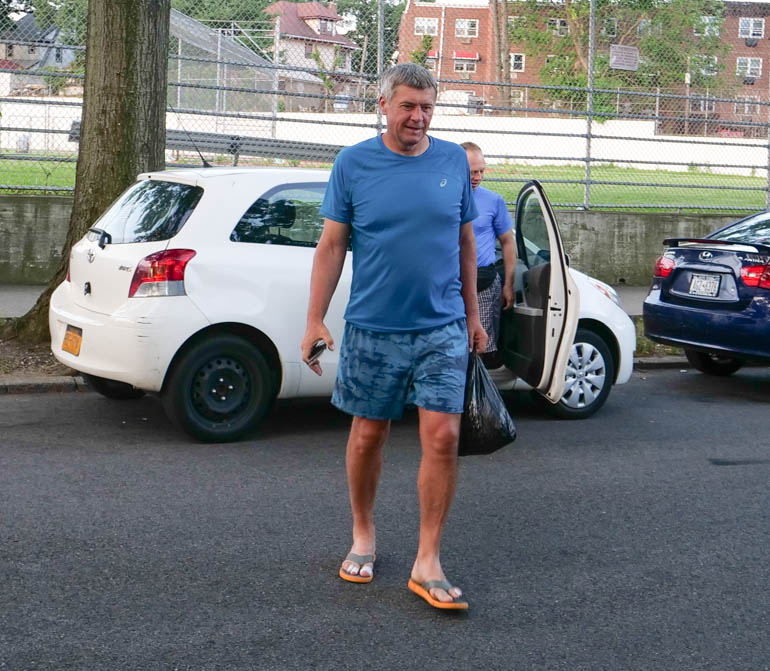 Sergey checking the laps sheets
Stutisheel updating the board
Vasu arrives
Yolanda wearing a shirt dedicated to her late Mom
Nidhruvi and Lyalya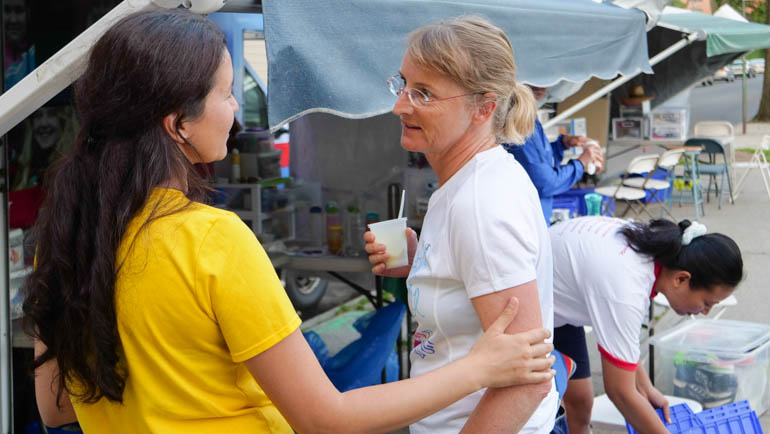 Joke on the fence
Ananda-Lahari arrives
Kaneenika and Harita
Rupantar and Alan
Start Day 12
Clover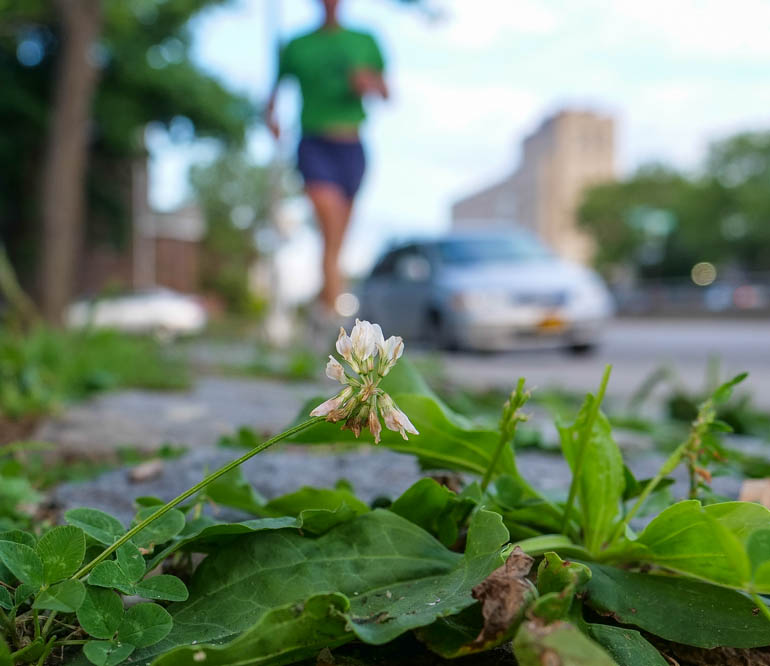 Vasu did 66 miles yesterday
He now has 750 miles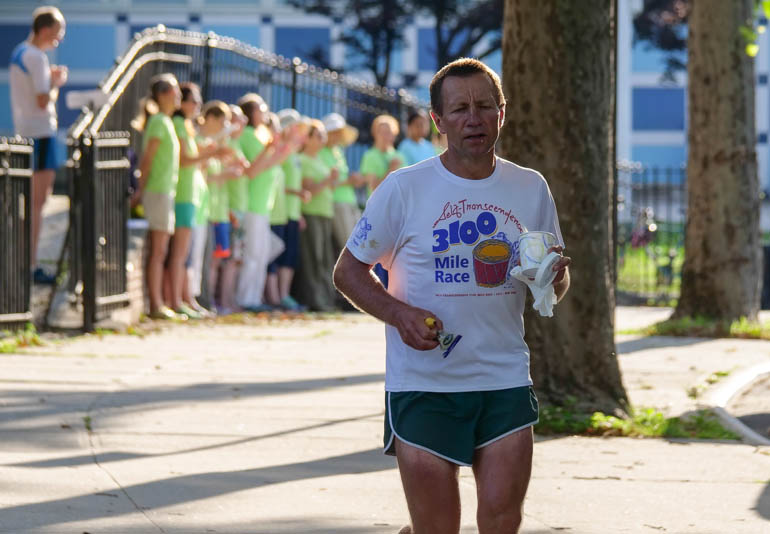 Flower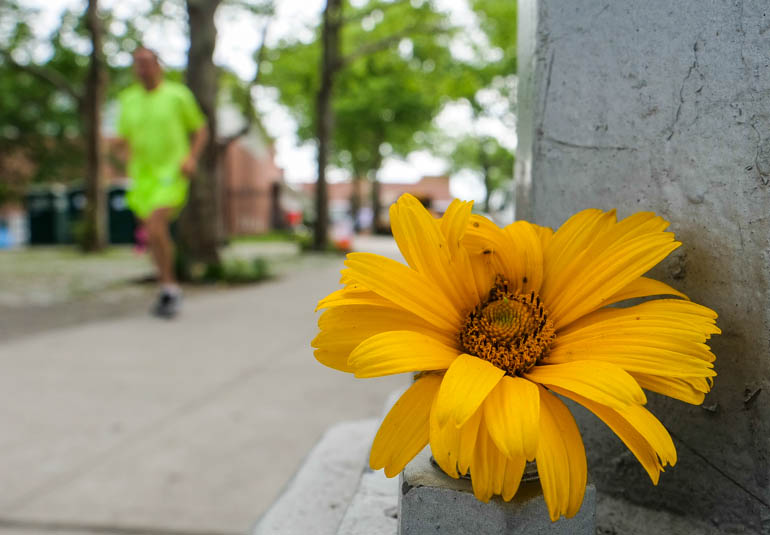 Nirbhasa did 64 miles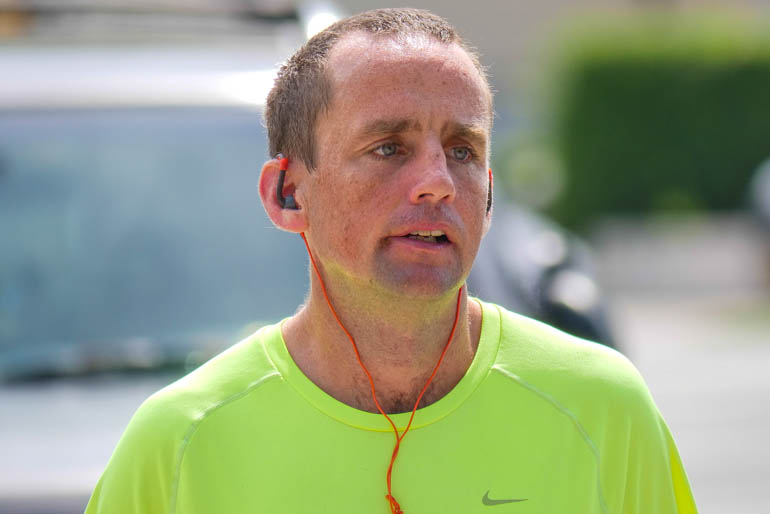 He now has 725 miles
A bit of green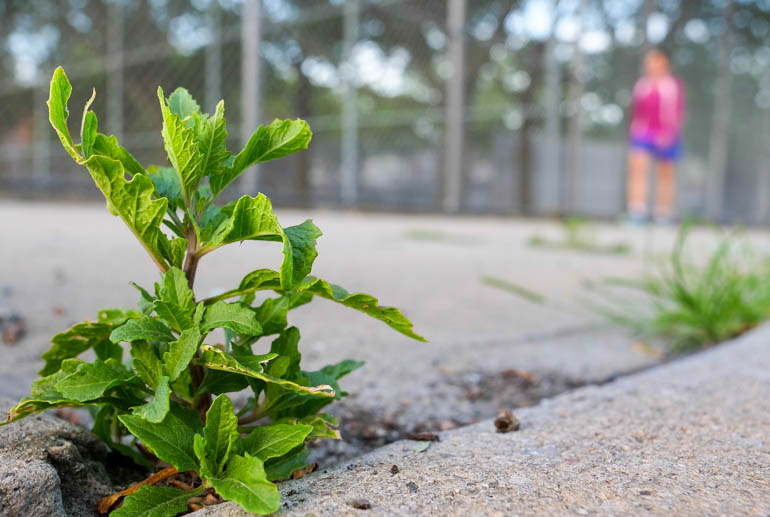 Kaneenika had her 2nd day of 116 laps (63 miles)
Getting some help from Suhasini and Kanala
She now has 679 miles
Last year at this same time she had 696 miles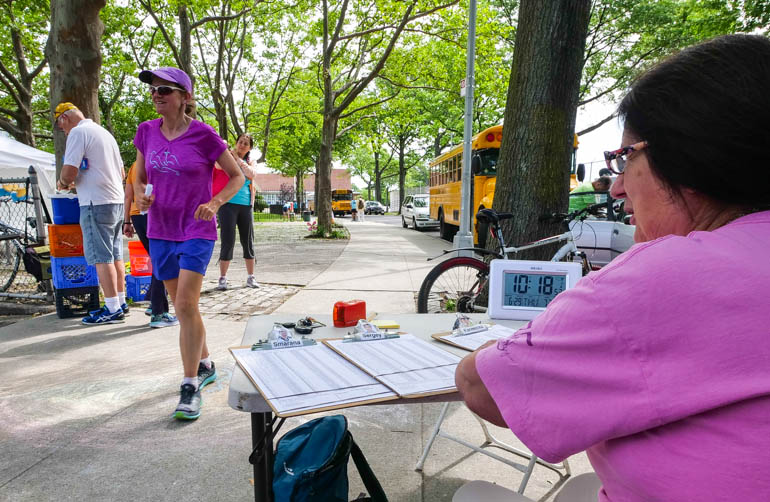 Flower
Harita had her 7th straight day of 110 laps (60 miles)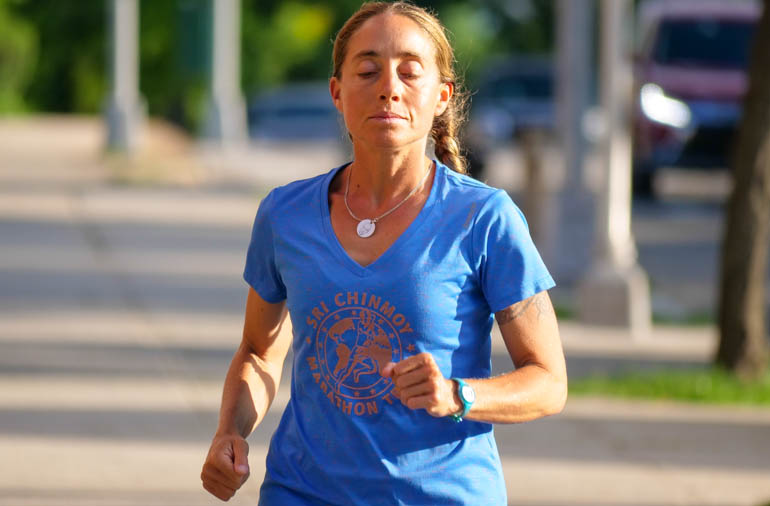 She now has 667 miles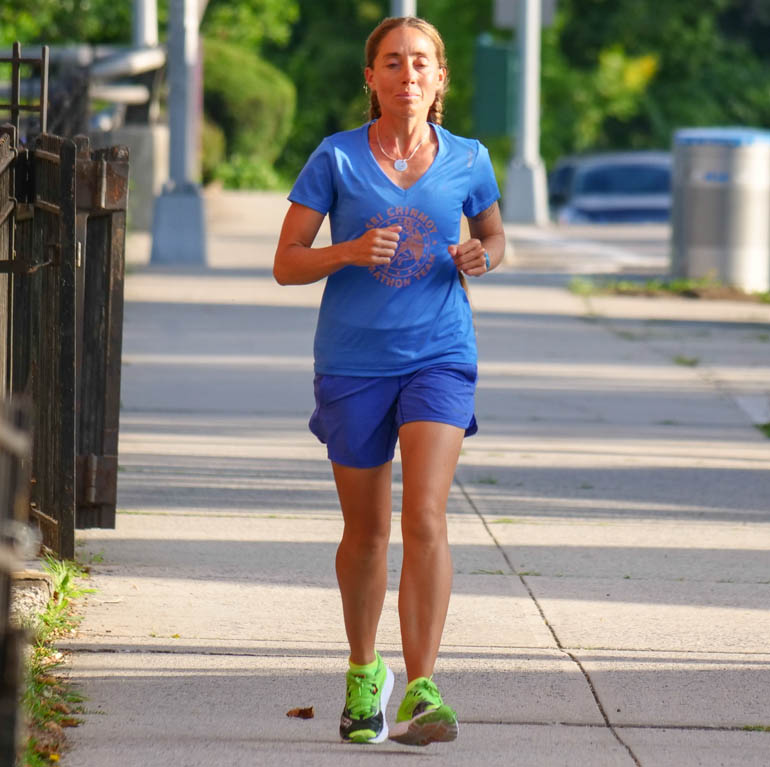 She is 2nd girl and 5th overall
Flower
Yolanda did 111 laps or 60 miles
She now has 658 miles, which is the furthest she has ever complete in competition.  Helped by Samarpita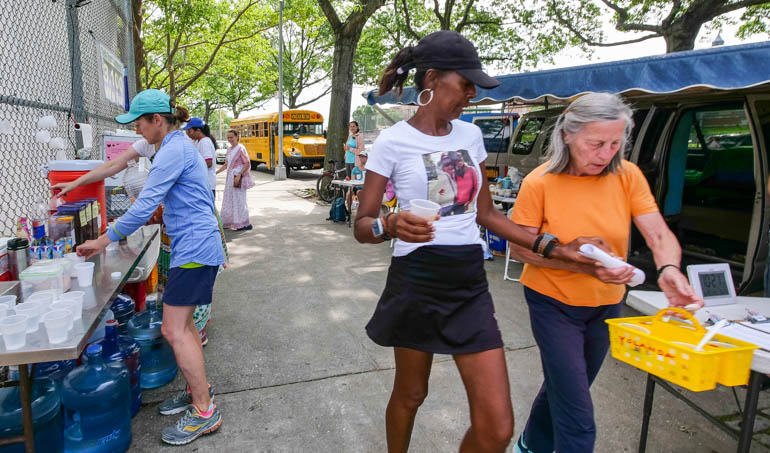 Flower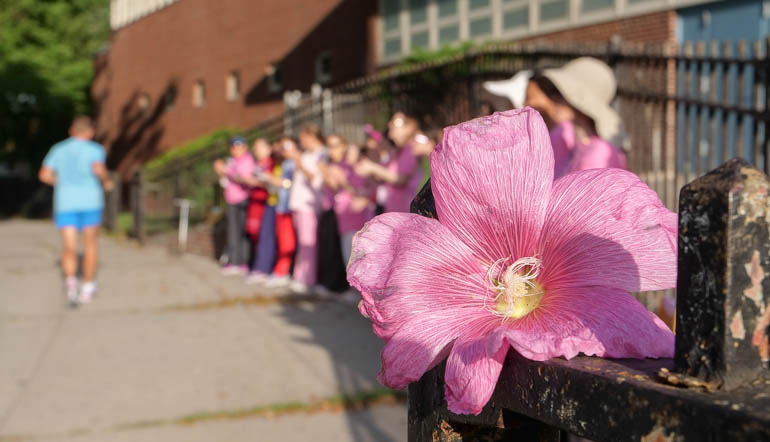 Sergey did 115 laps or 63 miles
He has 650 miles
He is doing very well
flower
Andrey did 109 laps or 59 miles
He has 630 miles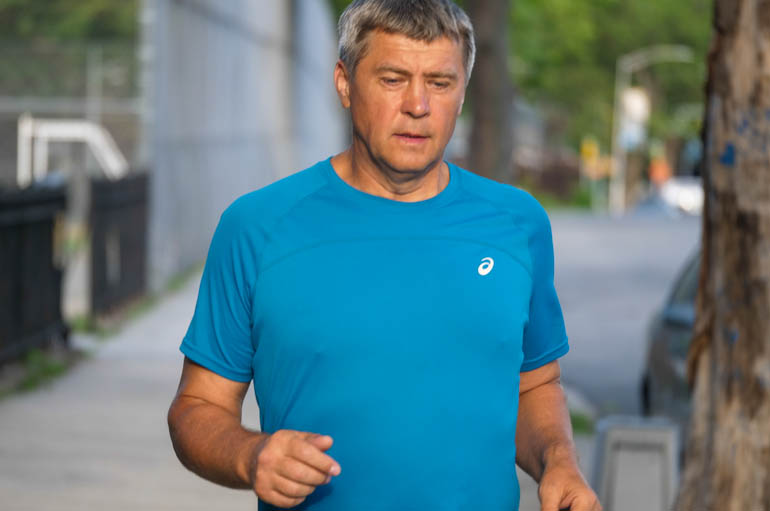 Flower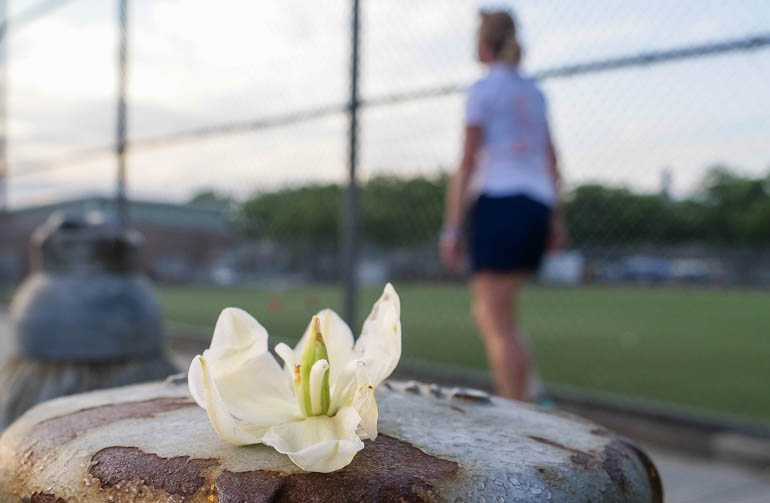 Nidhruvi did 74 laps or (40 miles)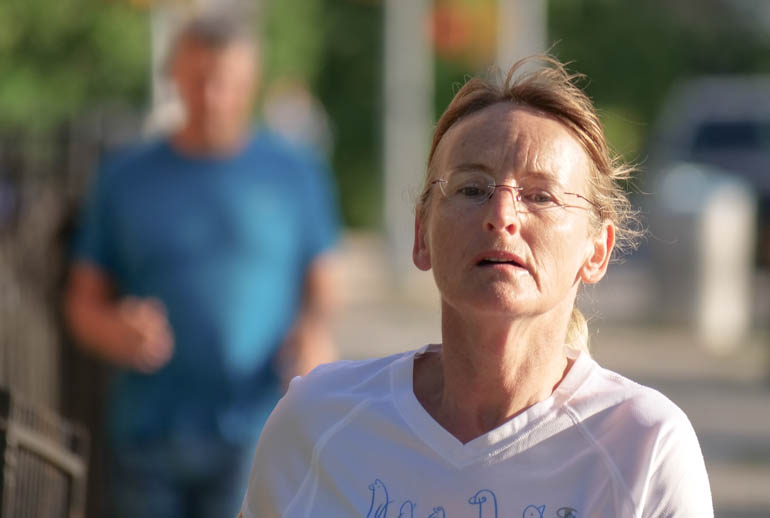 Reading letters that have just arrived
Practicing Jokes that she will tell with Harita latter to the Enthusiasm Awakeners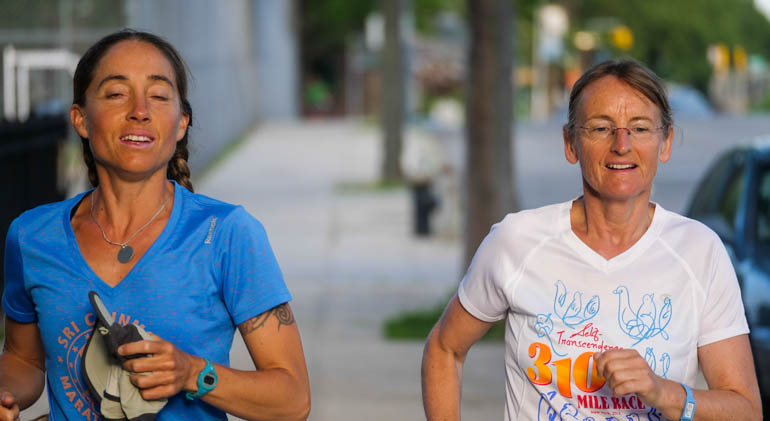 Pranika leaving an inspiring article with Nidhruvi's helper Devarupi
Having fun performing
Moving on
Flower
Ananda-Lahari did 94 laps or (51 miles)
He now has 582 miles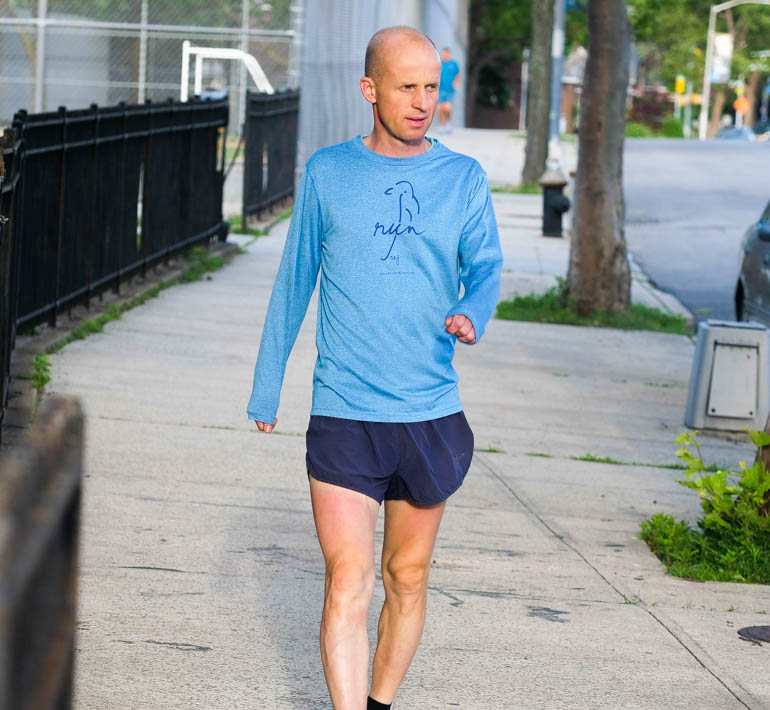 A bit of green
Swamiji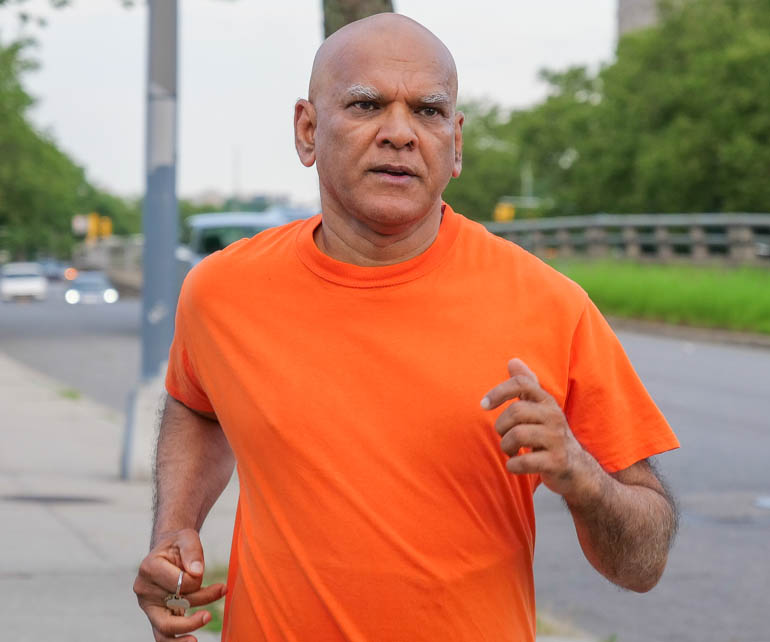 Flower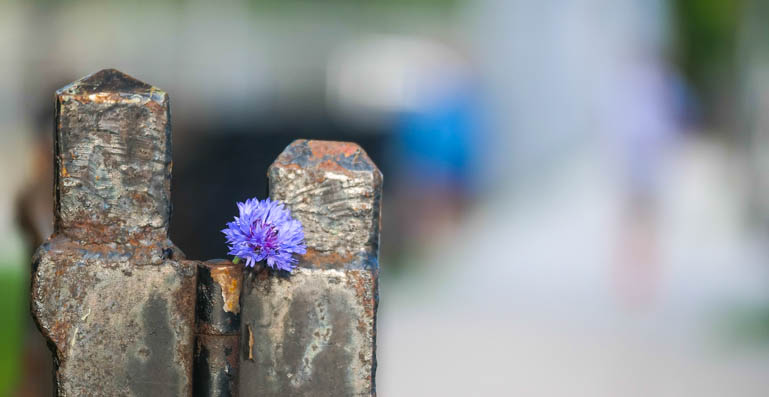 Sahishnu scooping ice
The cooks arrive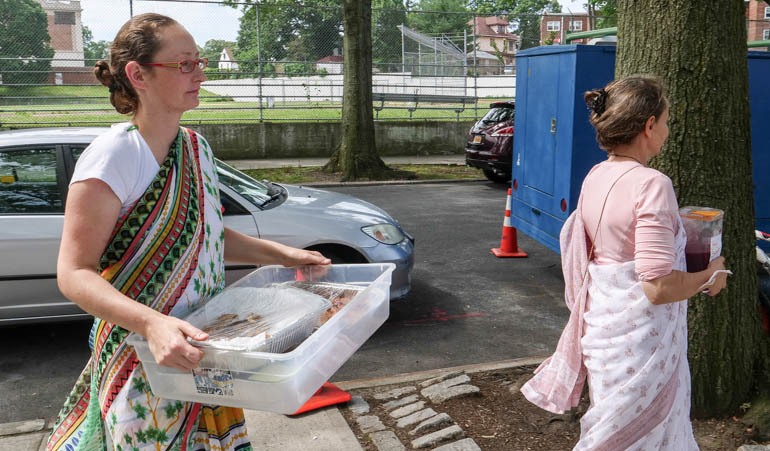 The tireless Nirjharini out on the course with Nidhruvi to make sure she prepares just the right food
"Yes I like coming to baseball games and getting a good seat but mostly I like the snacks here."
Parvati and Anjali tidying up the new flower beds
Satyaroopa reads the Daily Prayer
"What I like at the race is the enthusiasm.  What I like here is that dreams come true.  This is made for me.  I also like seeing disciples who are transcending. This is the main idea on our path."
She feels that all the runners, no mater where they are from are part of her family. She feels more dynamic when she leaves absolutely.  "The race gives me a lot of energy from this place.  Watching my brothers and sisters who are doing such amazing things.  Of course this helps me in my life."
Click to Play:
Enthusiasm Awakeners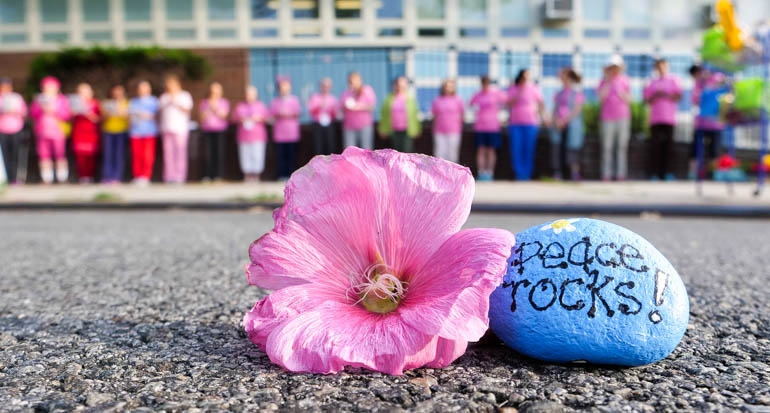 Click to Play:
I love to live in between
My searching mind
And my aspiring heart.