He is a sweet enigma.  Ananda-Lahari, in this his 13 straight appearance at the Self-Transcendence 3100 mile race has spent more time, covered more distance, and smiled more soulfully than any of the other runners he now shares the course with.
When we think of races we usually think of placing, of crossing of finishing line, and the hopes for some, of being able to declare victory.  Ananda-Lahari, though he is built of all the same moving parts as the rest of humanity is simply designed and constructed within to view this race in a much different way.  Certainly some part of him wants always to complete the distance.  Something that has eluded him 7 of 12 times he has come.  Instead he is drawn to do this impossible act in a way that appears to be detached from the obvious results.
He runs as fast he can go, he rarely takes breaks, and stays on the course as late as any of the other runners.  In his absolute devotion to what he does, in his pure and uncomplicated dedication he is satisfied.  Because I believe he sees his spiritual journey as one that is not bound by the sidewalks he circles tirelessly each day.  But instead by the unseen progress he is making within towards a higher goal.  One that has no trophy, no finish line, only his own perfect perfection.
When I ask if he thinks of the loops around the course as repetitive, he says, "It doesn't look like you are repeating the same thing.  It is like a journey."  He also feels that the days for him feel longer when he is not running the race.
"I feel every part of the course has some beauty.  It may look very ordinary.  Like just a typical sidewalk and street, and highway, but it is actually very nice here."  Ananda-Lahari also says he doesn't miss the course when he is not here.  "Everything has its own time and place.  When I am here I am happy and when I am some place else, I am also happy."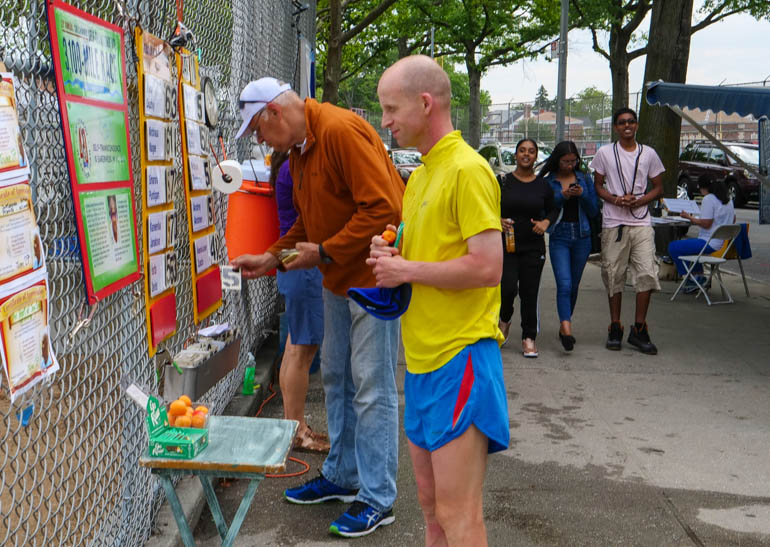 Only Ashprihanal has run the race more times.  He completed the race 14 times.  "I stayed out until the end but I did not complete the distance." I point out that regardless he has been here a long time and covered an amazing amount of distance nonetheless.  "I don't see it like that.  Somehow every year it is like a new experience.  It is a new race and the past is dust.  I don't think, O I have done it so many times."
"Every moment is special and every day is like going through many lifetimes.  It is not 52 days, it is like 50 years or more.  I don't know."
"Now it is still quiet.  It is just the start of the race.  But after 20 or 30 days it then becomes like immortality.  It is a really long long race."
Ananda-Lahari says he thinks about his late Spiritual teacher Sri Chinmoy a lot.  "He is my inspiration definitely.  I sometimes imagine the places where I saw him many times over the years around the course."
"I am trying consciously to meditate or to pray or to chant as much as possible.  Which is almost all the time.  I am very grateful that I have the concentration for that and the eagerness, or enthusiasm.  I am really happy that I am here."
The longest journey
Is always
The inner journey.
This journey knows no beginning
And no end.
The Board at the Start of Day 10
The rains start up just before 6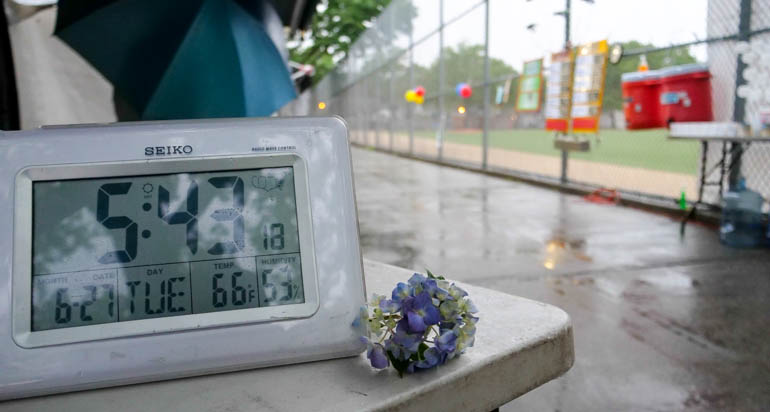 Suhasini getting some water bottles ready
Yolanda getting ready
Harita arrives
Andre getting out of Stutisheel's back seat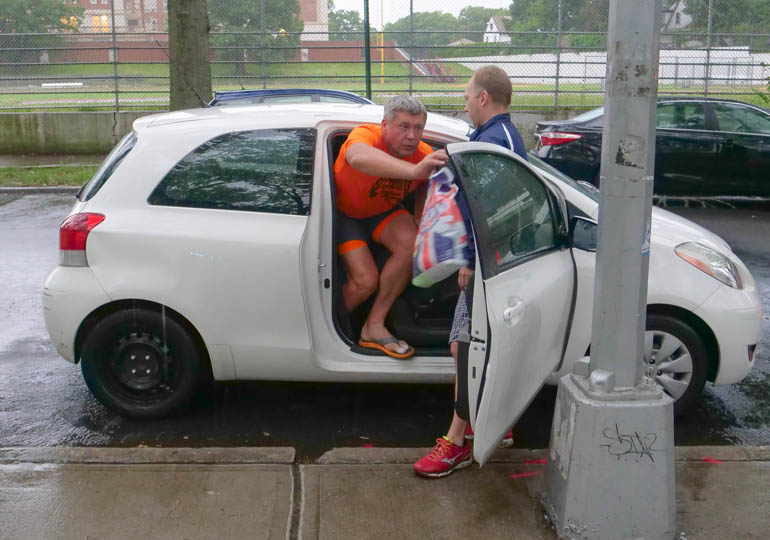 Rupantar does his daily report
Stutisheel checking the lap sheet
Nidhruvi arrives
Vasu arrives
Start Day 10
In an hour the sky starts to clear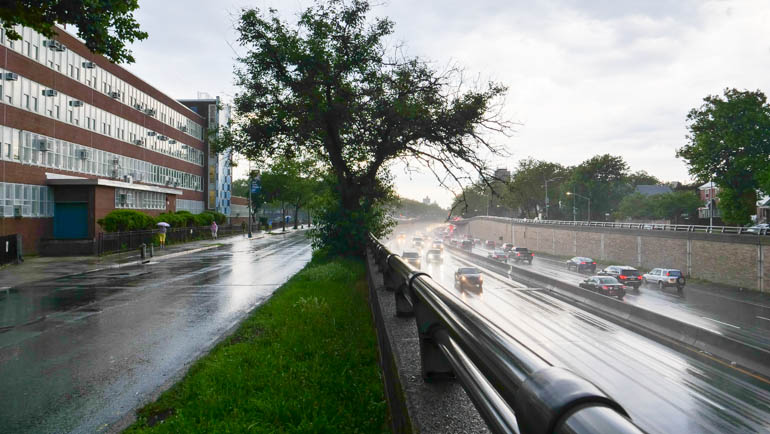 Vasu ran 66 miles yesterday
Jadranka cheers as he goes through camp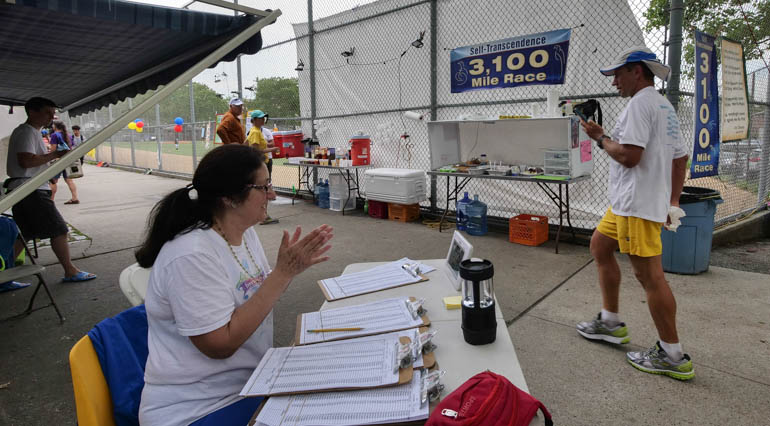 He now has 616 miles
Getting help from Sasha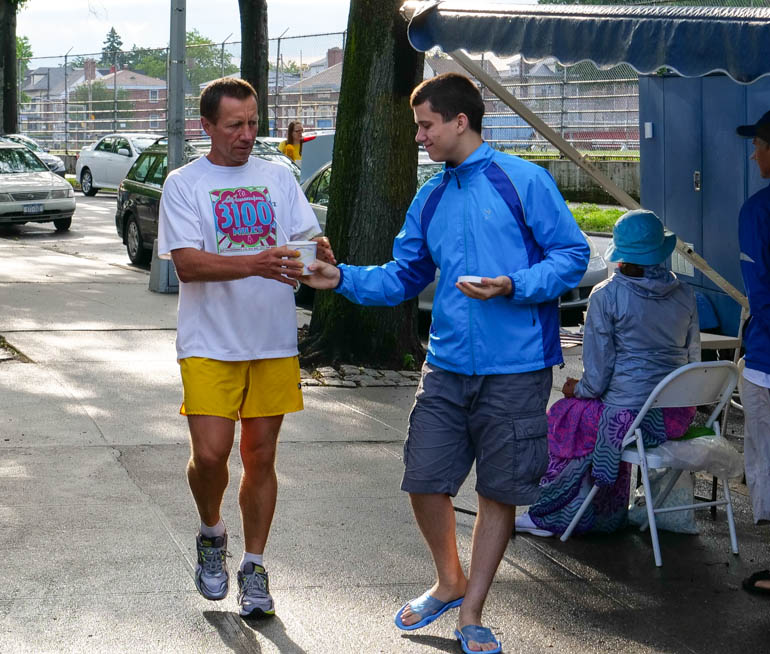 Hats off to Nirbhasa
Nirbhasa ran 67 miles.  More than everyone else
He has 596 miles in 2nd place
Nirbhasa is 20 miles behind Vasu
Chatting with Smarana
Flower
Smarana did 62 miles and has 554 miles
Flower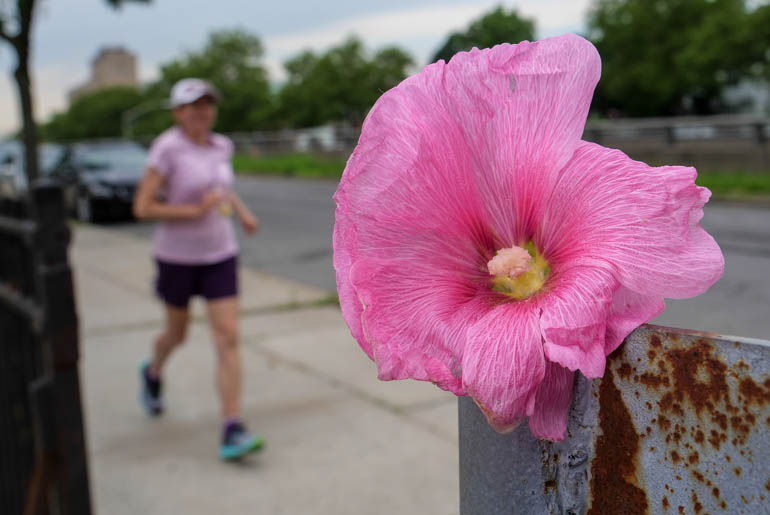 Kaneenika and her rain gear
Kaneenika ran 61 miles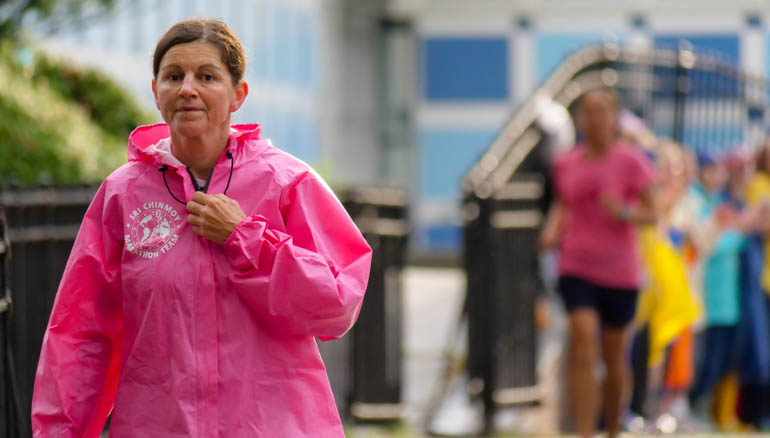 She now has 552 miles
Soon the streets will dry
Legs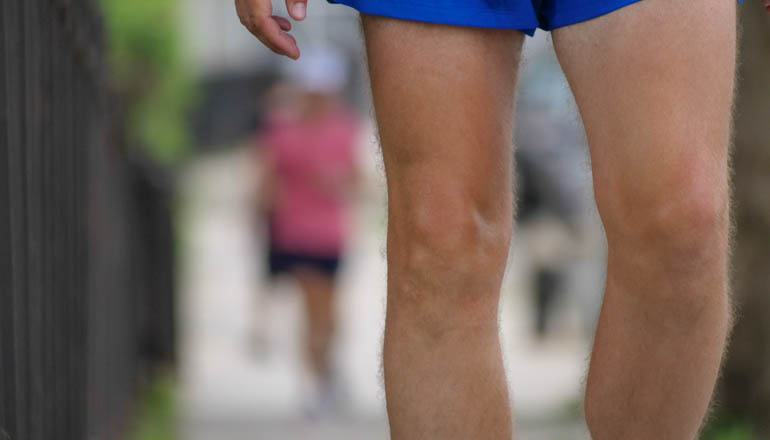 Raindrops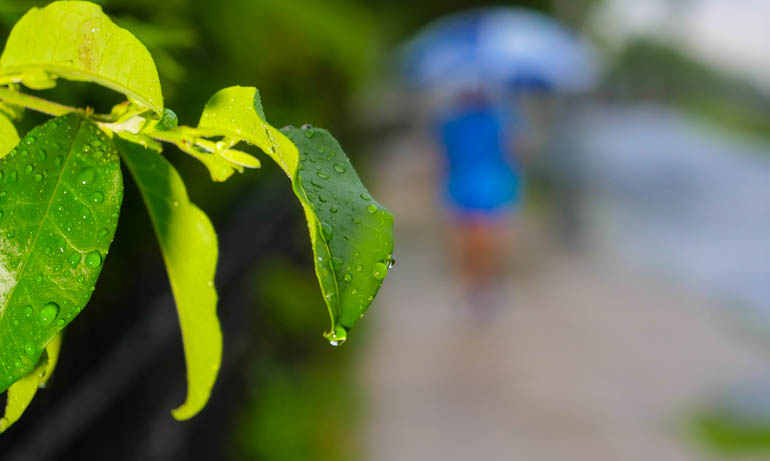 This is Harita's 5th day in a row of running 110 laps or 60 miles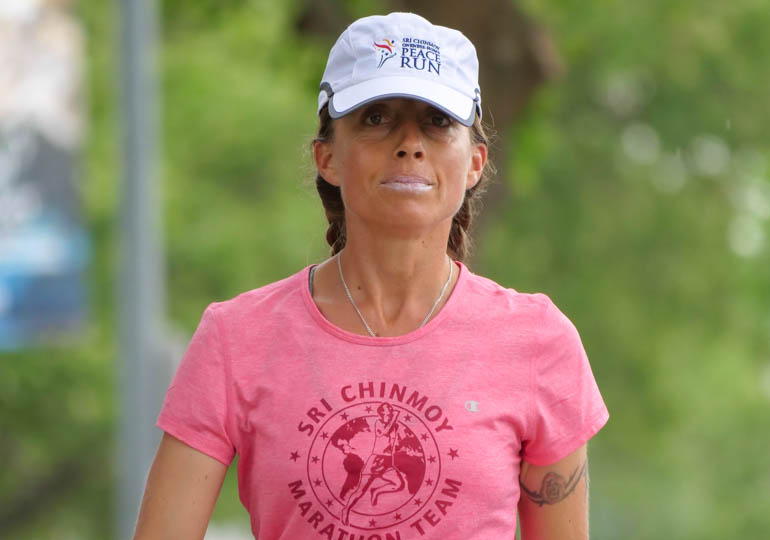 She has 546 miles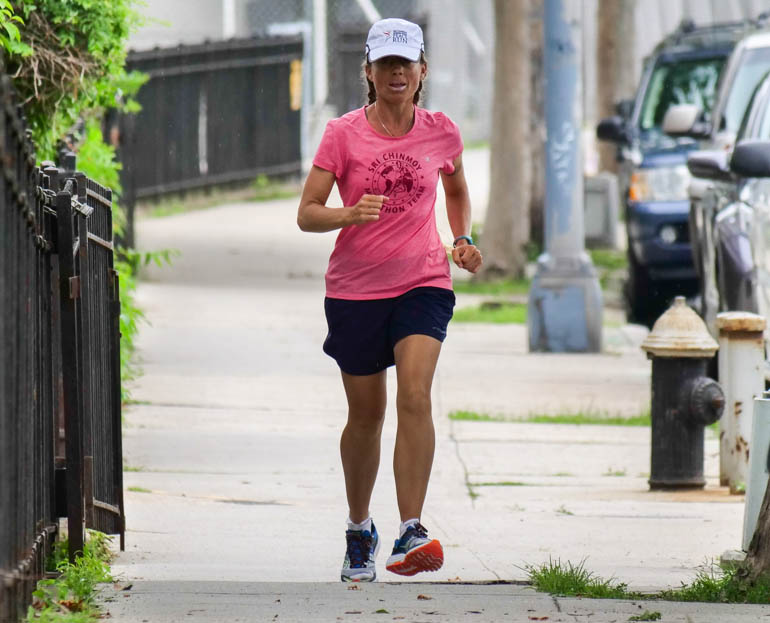 Savita works on her feet in camp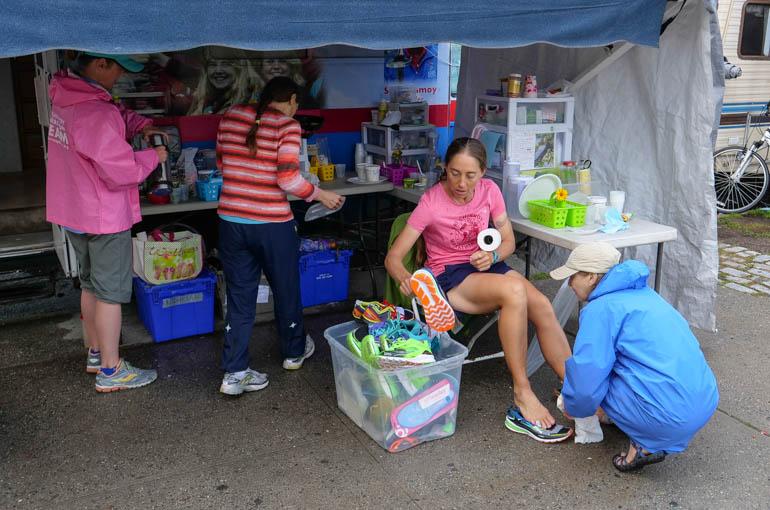 Coming up the hill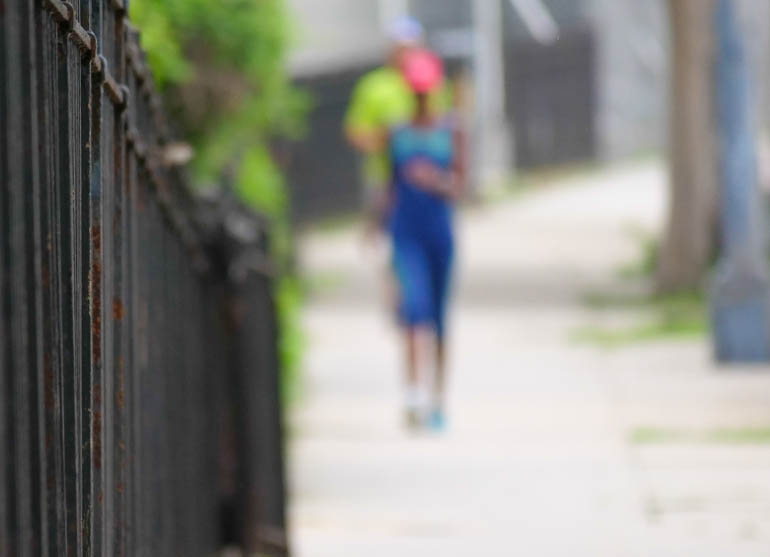 Yolanda did 59 miles
She has 537 miles.  Mario worked on her feet this morning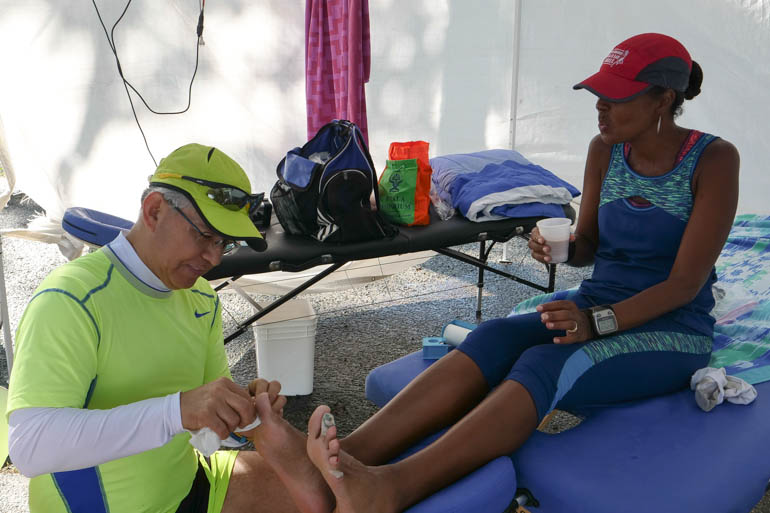 Flower
Sergey had his 3rd straight day of 63 miles
He now has 523 miles
Green
Nidhruvi did 48 miles
She now has 516 miles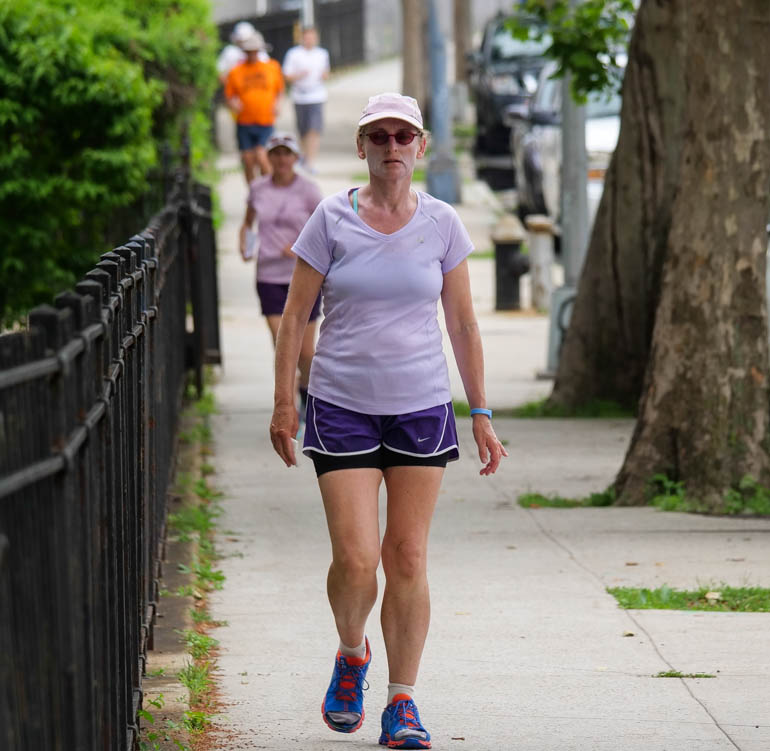 Stretching
Telling a joke along with Harita to Parvati's group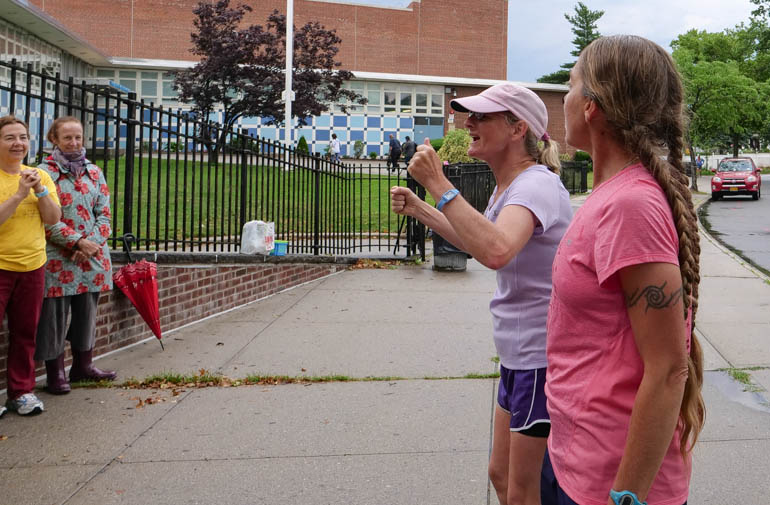 Nidhruvi with her helper Devarupi
Raindrops
Andrey and Vasu sharing a phone call
Flower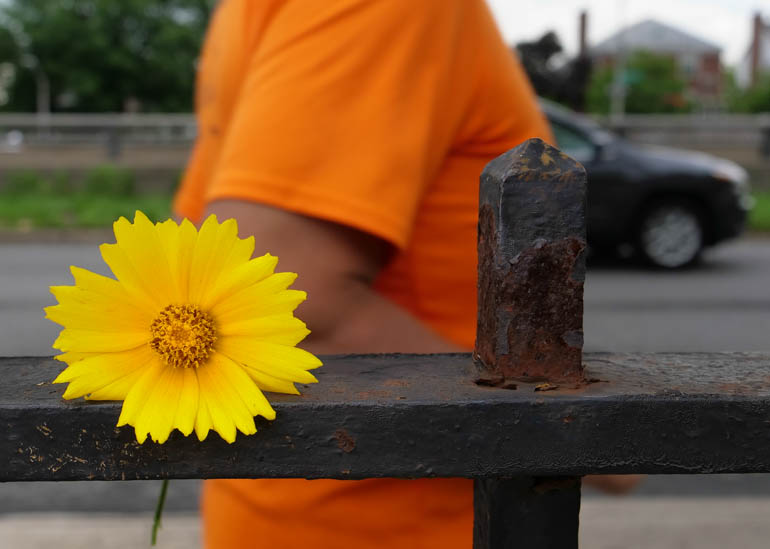 Andre did 61 miles
He now has 509 miles
"Yes, amazing and true.  I will be the first squirrel to climb higher than the sun."
Happiness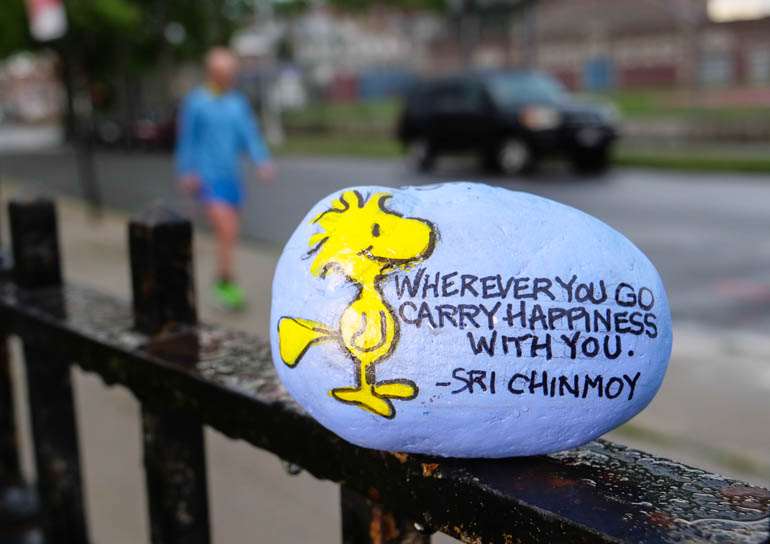 Sasha reads the Daily Prayer
"This is my first time at the race and it is a very amazing experience for me.  Because I feel Sri Chinmoy's light and presence so much here.  We work a lot but it gives me a lot of joy and happiness.  Coming here to the race is very different than when I come to celebrations in New York."
"But I think I can make more progress here because it is different.  It is serving the Supreme in a different way.  I am here usually 7 or 8 hours.  My body may feel tired when I go home but inside I feel very good and very happy."
Click Below to Play:
Enthusiasm Awakeners
Click to Play:
God never wants me to celebrate
My journey's close.
He wants me to enjoy only
My journey's constant self-transcendence.