"Something is wrong here…… I have to check this out."
In 1987 when a 18 year old Dinesh walked into a well known Concert hall in Munich(Circus Krone) to listen to a Sri Chinmoy Peace concert for the first time he was mystified.  It was a place he had already seen many rock and jazz concerts.  There was nothing about what he was about to see though that would in any way compare with anything else he had ever experienced before.
"It was very unforgettable.  Usually you have a huge stack of amplifiers onstage.  But there on the left and the right you had just a small stick and on the top you had a ridiculous small p.a..  I came in and said, what is this?  (laughs) It was just too small for this hall."
"I was not interested…. or I did not know about meditation and yoga, but from the musical point I was interested."
When Sri Chinmoy walked on stage and meditated before a hushed audience of nearly 2000, any doubts Dinesh may have had vanished.  He immediately recognized what he calls Sri Chinmoy's authenticity.  Dinesh says that the more authentic a musician is than the more he is liked.  "That is what people are searching for.  Something that is authentic, something real.  In Guru's case he was completely real.  There was not a single percentage of 'show'."
"I had no idea what to expect." As the concert proceeded and Sri Chinmoy moved from instrument to instrument Dinesh realized that Sri Chinmoy was not performing for applause and appreciation but for a completely different reason.  "He had a program that he wanted to do and he did it.  That is what impressed me most.  There was no in between.  Either you liked it or you didn't like it. I was like wowwww!!!"
Click to Play part of rehearsal:
Dinesh was so inspired by what was happening that he left while Sri Chinmoy was still playing in order to bring a friend who was in a nearby club.  "He has to see this.  It is too much.  It is unbelievable."  By no small coincidence his brother Pramodan was also at the concert as was another brother, though they all went independently.  It was only sometime afterward that he understood that being able to attend a live concert offered by Sri Chinmoy was a very rare occasion.
Ashirvad ( Sao Paulo, Brazil)

"From then I began to listen to Guru's music.  It was something new and something I had never heard of."  Dinesh was also playing guitar in a band and studying music in school.  He describes how much he enjoyed playing the tapes he received from his brother Pramodan in his car.
By 1990 Dinesh was a student of Sri Chinmoy.  His brother Pramodan became a student a few years earlier, in 1987.  By now his musical interests continued to be even more influenced by the music of his spiritual teacher who eventually wrote more than 20,000 songs. He says regretfully that he only had the opportunity to perform in front of Sri Chinmoy only once.  It happened in 2001 when he was still playing classical guitar and he and a tabla player performed Purna Kariya. "It was very difficult technically."
On New Years eve of 2007 the Dinesh band performed for the first time at a small joy day in Lindenberg.  It was shortly after he had purchased his first western acoustic guitar.  By the Autumn of that year he had a very powerful mediation experience where he became inspired 2007 to play fast again.  At this joy day he hoped to impress the organizers of the event that his new band should perform.  He told them the band was called 'Seven Sitars.'  When asked how many sitars there actually were, he says, "there were only 2."
Mahiyan (San Diego)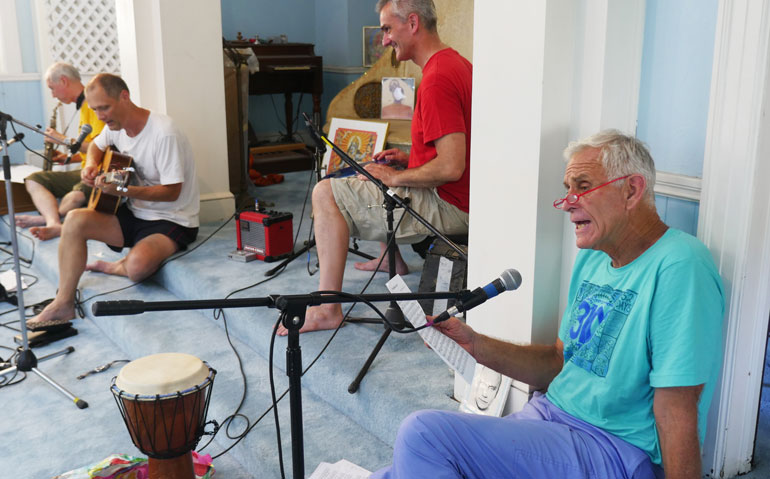 It took 2 years before the band would perform again.  "In 2009 we had another performance at the same spot."  By early 2010 many of the band members were together on the Christmas trip in Colombia.  This time they performed initially for a mediation class.  He laughs as he describes, "somebody came to us and wanted a CD.  This was our 3rd performance."
Though he had been living with his brother Pramodan for some time, Dinesh says, that because of tuning difficulties he initially found it impossible to tune his guitar to work with his brother's sarangi.  "So I started doing research.  How can we play together?  What can I do to my guitar so that it fits with a sarangi?"
Pramodan (Dortmund, Germany)

It was then that he discovered 'just intonation', specifically through a book called 'The Enharmonic Guitar, written by Martin Vogle.  "He came from the classical world.  He was actually a trumpet player, and he was a theorist and written many books."
(Equal temperament is the common musical system used in the tuning of western instruments)
https://en.wikipedia.org/wiki/Just_intonation
Christian (Vienna Austria), Harkara (Augsburg Germany)

Because the full band gets together so infrequently the idea of actually collaborating on producing a CD never germinated for many years.  The various band members live in many places and rarely get together to practice.  This April however, when they performed at a Songs of the Soul concert in New York, the inspiration blossomed. All hoping that when they returned to New York in August an opportunity would arise and it did.
For 2 days in late August as celebrations were winding down the group met at the Bayside church to work on a number of songs and make an attempt at recording.  Of their style of music, "we don't use harmonies.  We don't use chords, it is forbidden.  We use the prime and the 5th as a drone.  We also often use the natural minor 7th.  We use very specific intervals. When working on a song the first goal is to find the right starting note in relation to the drone."
Kulananda (Augsburg Germany)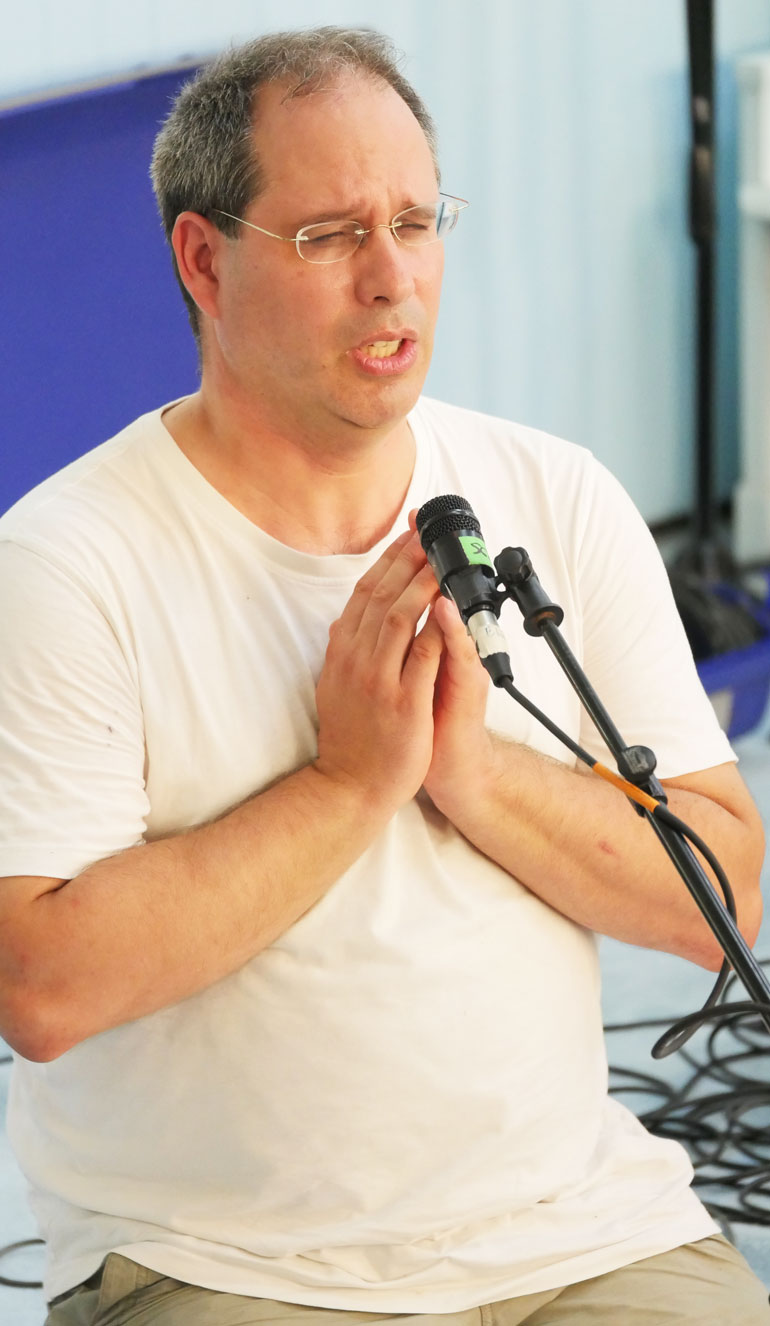 Dinesh has a unique perspective of Sri Chinmoy's music.  He enjoys very much it's uplifting and transformative qualities.  But he also appreciates the music from a technical perspective and enthusiastically recognizes its unlimited potential.  "For all the future of Guru's music it is unbelievably big, because there are thousands of possibilities on how to play the music."
Most of the other performing groups up to now interpret the music using western harmonies.  "We have chosen the Indian way to do it, which has a drone note."
Over 2 days the band has spent hours recording and trying out different songs.  They have deeply appreciated and respected the opportunity to bring music once again back into the Bayside Church, a place that has been the scene of so much personal history for Sri Chinmoy and his students.
Ilin (Cologne Germany)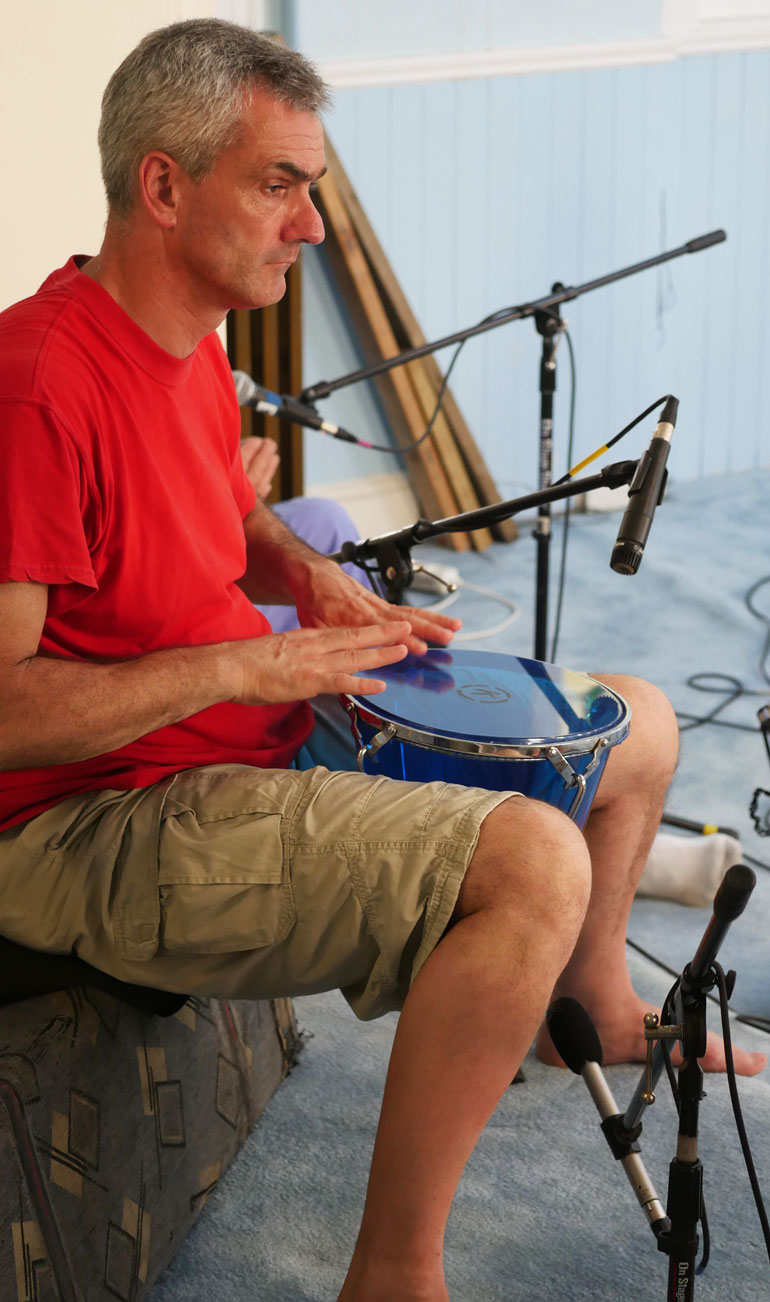 Michael (Dortmund Germany),  and Saral (New York)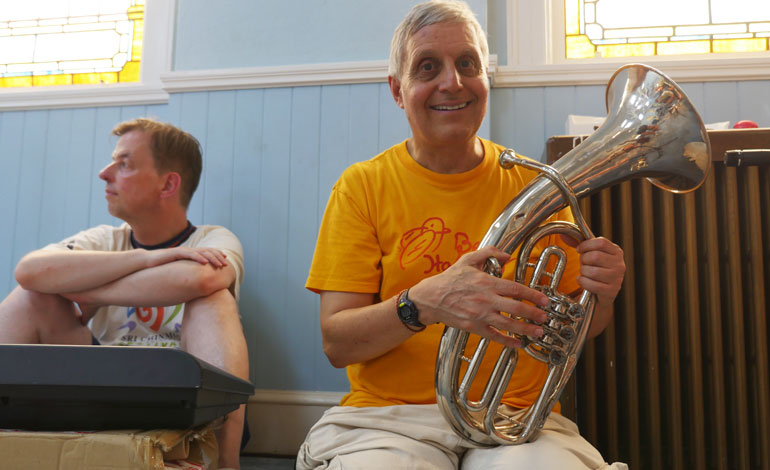 Over those days the group recorded 16 songs.  "It is not finished yet.  It was a good milestone."
Premik (New York)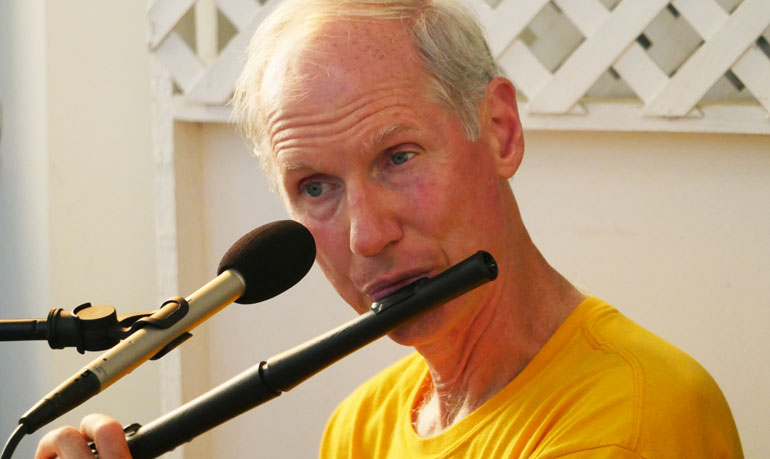 Dinesh recalls that he once read a question asked of Sri Chinmoy, about what do when playing his music.  He is not sure of the source but he recalls Sri Chinmoy empathizing newness.  "This I strongly feel is what we are doing with the band."  He describes again their use of 'just intonation and the natural 7th.  "It is how we use it.  I have not seen anyone else using it in this way."
"We just make music.  We just play Guru's songs.  But we use these tools to make it. It ultimately creates a very sweet sound."
For More Information on the Dinesh Band….click on link
Music is inspiration, soulful inspiration. It inspires the human in us. Music is manifestation, fruitful manifestation. It manifests the divine in us. Music is satisfaction, supreme satisfaction. It satisfies the Pilot Supreme in us.
The human musician plays in order to become great. The divine musician becomes good first and then plays divinely, while soulfully and unconditionally offering the results to his Beloved Supreme. The Supreme Musician does not play in order to become great, and He does not have to become good in order to play. For the Supreme Musician embodies at once the universal sound-music and the transcendental Silence-Music.
God the Supreme Music feeds the aspiration-heart of the seeker-musician. God the Supreme Musician illumines the dedication-life of the seeker-musician.
The soulful prayer and the music world of a seeker-musician are the same thing. His soulful music is his soulful prayer, and his fruitful meditation is another name for his fruitful music.
The music of the unaspiring musician and God's Compassion-Flood are inseparable. The music of the aspiring and surrendered seeker-musician and God's Satisfaction-Delight are always interchangeable.
Sri Chinmoy, The Vision-Sky of California, Agni Press, 1980