"I would like to tell a story.  It happens every day.  Around 8pm when I am tired.  I have no energy to run, and I cry." It is at this moment almost like clockwork that Databir's blue van pulls up.  It is the one he used to drive Sri Chinmoy with for many years.  When Vasu sees the van he will stand beside it devotedly and meditate for a short while.
"I get some peace, joy and I offer my gratitude to Sri Chinmoy.  After that I get some more energy, and I can run faster, faster, and faster."
https://vimeo.com/133801550
There are times in most of our day to day lives when it appears that our world increasingly becomes more complex and confusing.  There is a part of us inside that yearns for peace, sweetness, and simplicity.  But despite our best intentions, not to take the tangled path we quite often do, and end up in a place where peace is even further away.
Since 2012 Vasu has been coming to the 3100 mile race each year and been using the hard half mile loop to strip away the extraneous parts of himself that do not give him joy or fulfillment.  His life here is all about simplicity, devotion, and an incredible amount of dedicated hard work.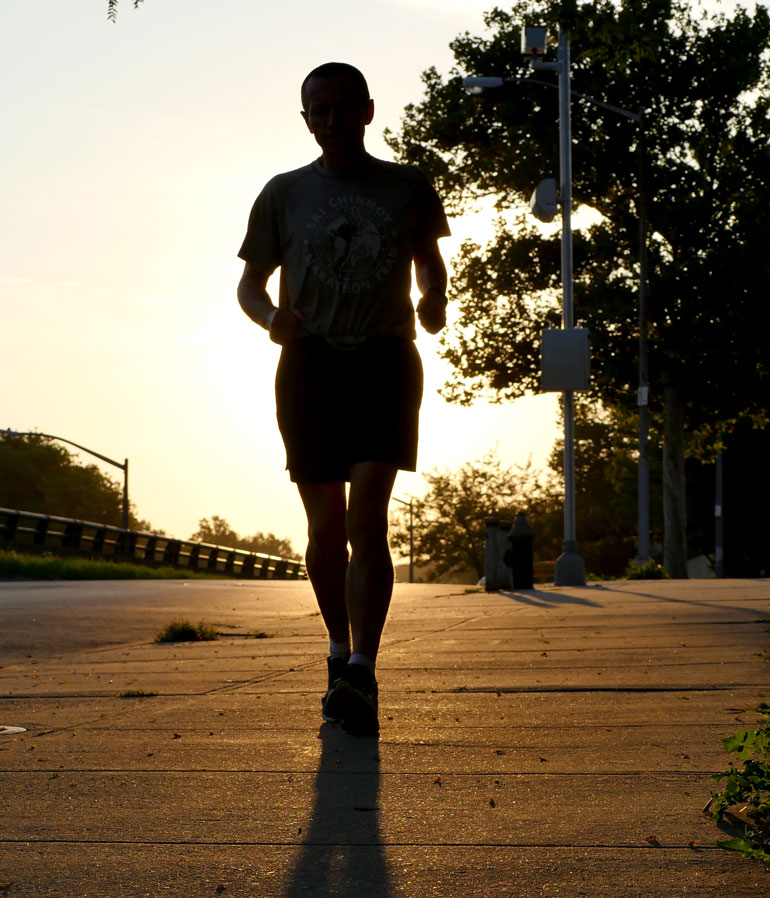 Last night he ran 70 miles and now has 2290 miles.  He is currently 164 miles ahead of his pace from last year.
Before becoming a student of Sri Chinmoy 25 years ago, Vasu was a member of another group.  He feels that it was all in preparation to eventually meet Sri Chinmoy.  After being with the group for a year he says he felt a wall within himself.  The barrier was such that he felt that he could no longer make any progress.
Than he saw a smiling picture of Sri Chinmoy.  "I felt something in my heart, very, very nice."  He went to a 3 day workshop, "and I had many many experiences.  After that I became a disciple."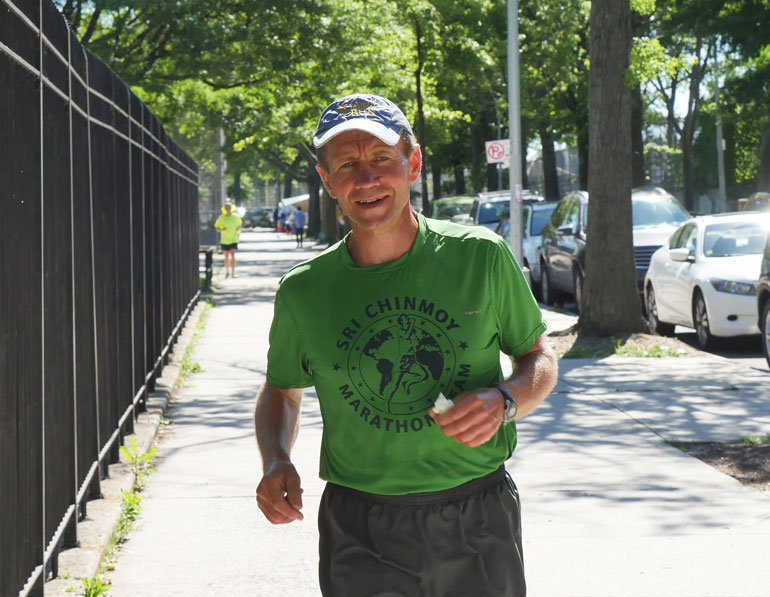 Vasu says that he never even considered running this race in his early days.  But his friend Stutisheel was running it.  "For me it was too much."
It was only in 2009 when a friend from Vinnitsa was coming to run in the Spring races that he felt he too should try and prepare to run as well.
"I feel that Guru is here all the time.  But I feel him most when somebody reminds me about him.  For example in the morning when Kodanada comes and plays his flute.  I imagine that Guru is playing on me.  If I have some bad thought in my mind it is thrown away, than I try and run faster."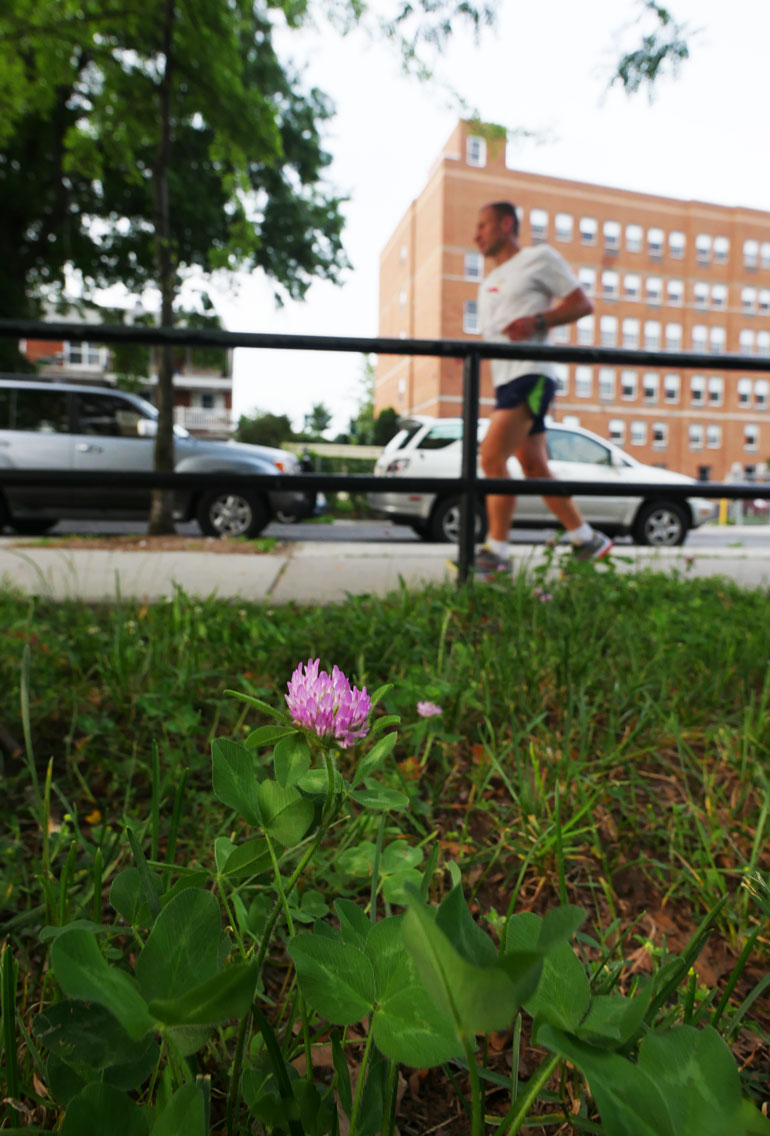 "When the Enthusiasm Awakeners start singing it also brings me joy, happiness, energy.  I can run faster and better.  In the morning I try and do the daily prayer and songs.  It helps me so much.  I have energy inside, some aspiration, and some spirit all day."
Click to Play Interview:
Vasu arrives on what is a cool morning but with some humidity.
The clock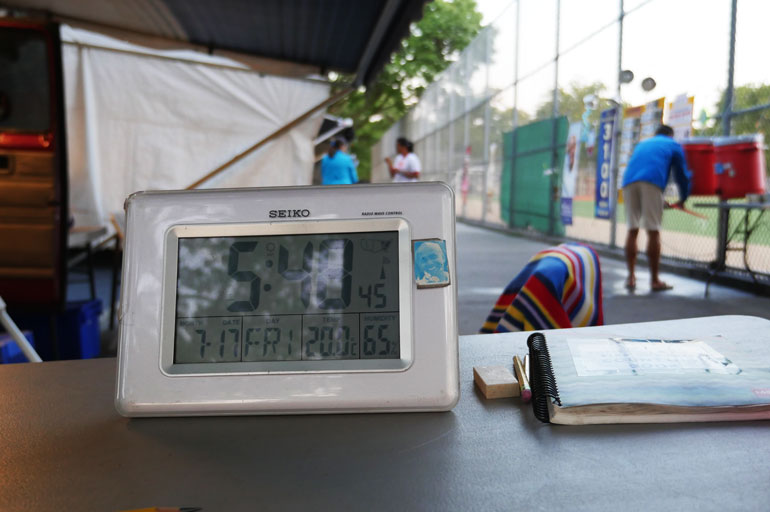 The short wait.
Start Day 34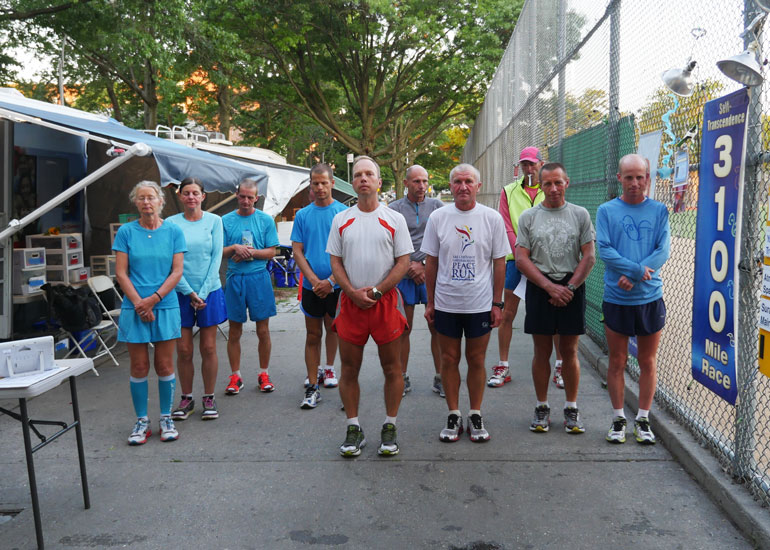 Ashprihanal ran 75 miles yesterday.
He is 31 miles ahead of the record.
He has 2532 miles completed.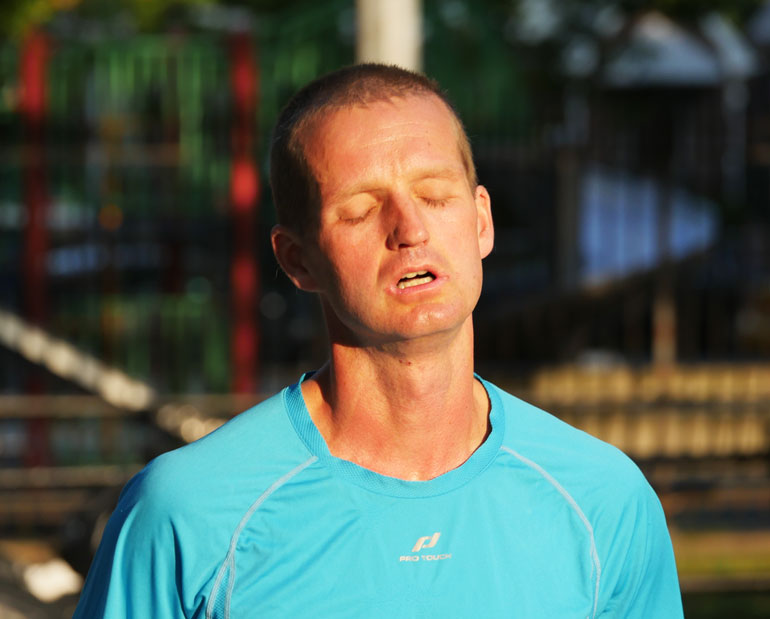 It is beautiful
Galya did 71 miles yesterday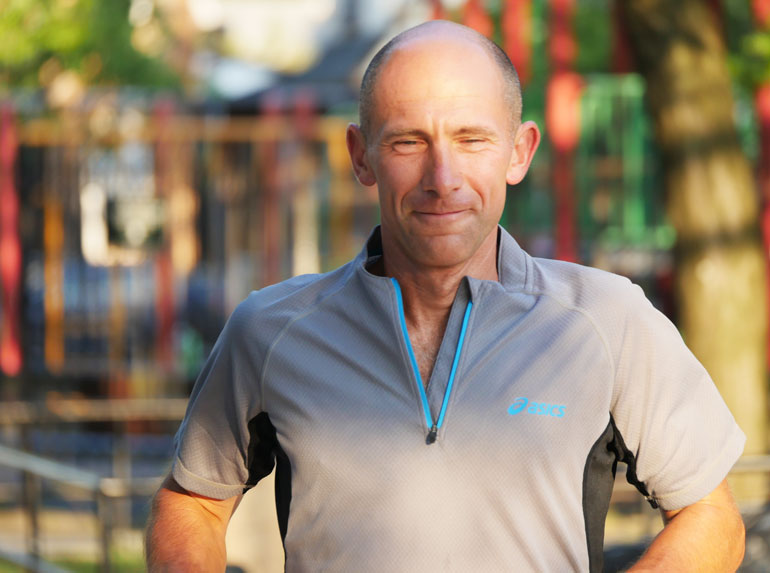 Galya now has 2381 miles.
Nature's gift.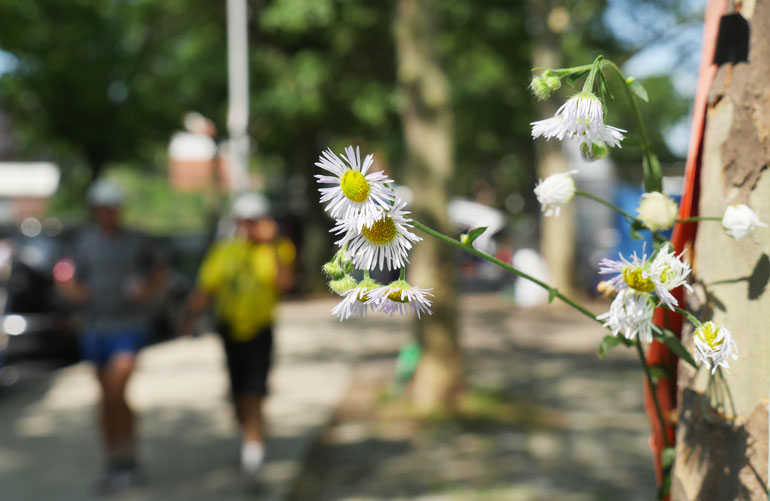 Yuri ran 66 miles yesterday. He now has 2244 miles.
The wild flowers have returned.
Atmavir had 60 miles yesterday and now has 2116 miles.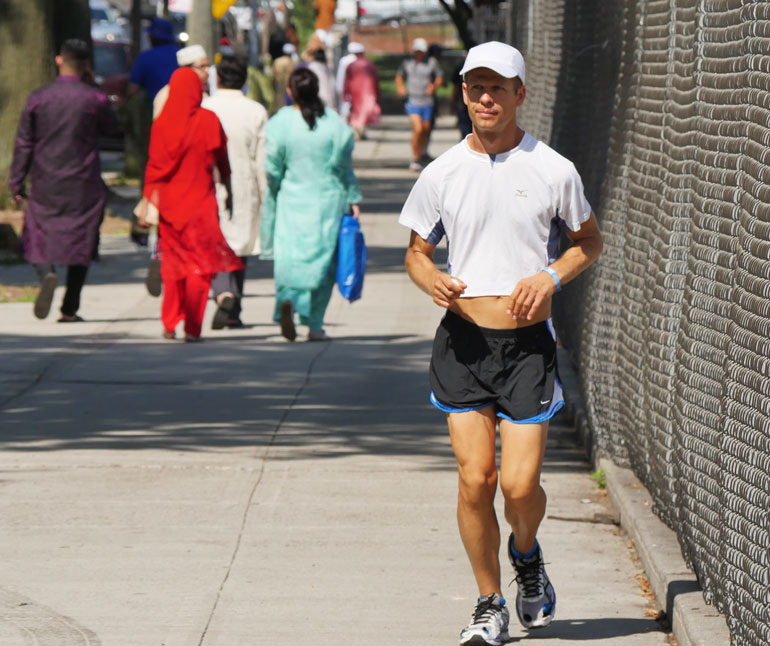 Surasa has the road to herself.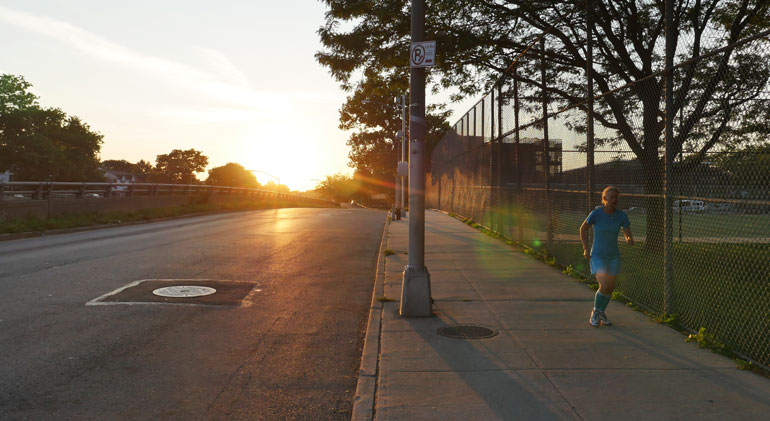 She ran 63 miles yesterday and now has 2050 miles.
Vandya helps her in the mornings.
Kaneenika with Suhasini
She ran 62 miles yesterday and now has 1986 miles.
Than just before 10 am she reaches 2000 miles. A few friends celebrate.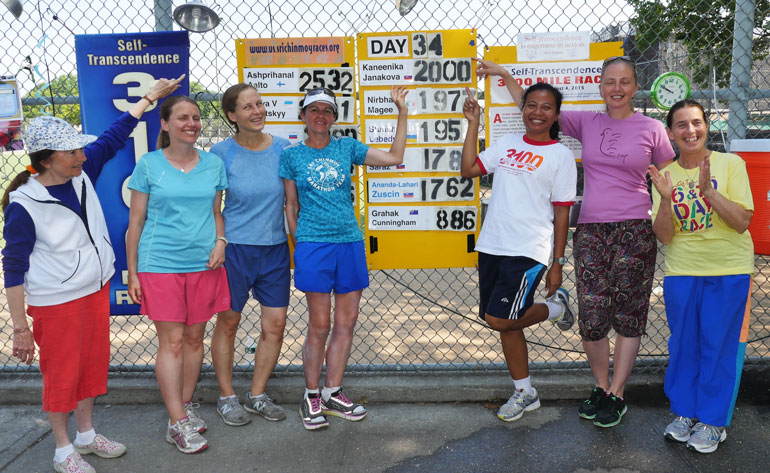 The sound of her arrival
Click to Play:
Grahak comes early
Somebody sadly leaves.
Some questions about what is for desert.
Across the street Eid Mubarak is being celebrated.  Shohel has brought his son Syon who is a big fan of Ashprihanal.  He enjoys working with all the big numbers.  Shohel is a math teacher and enjoys numbers very much.
On the other side.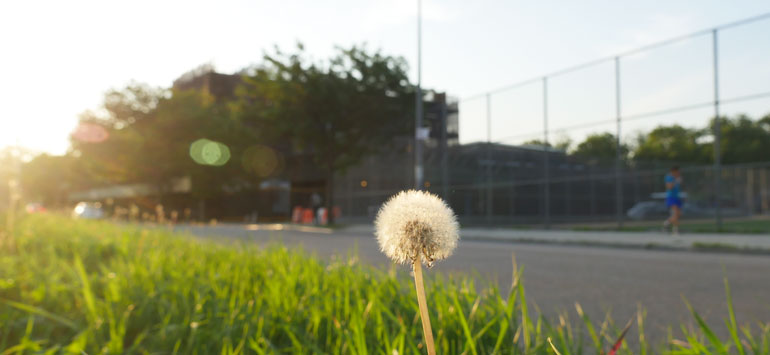 Nirbhasa ran 62 miles yesterday.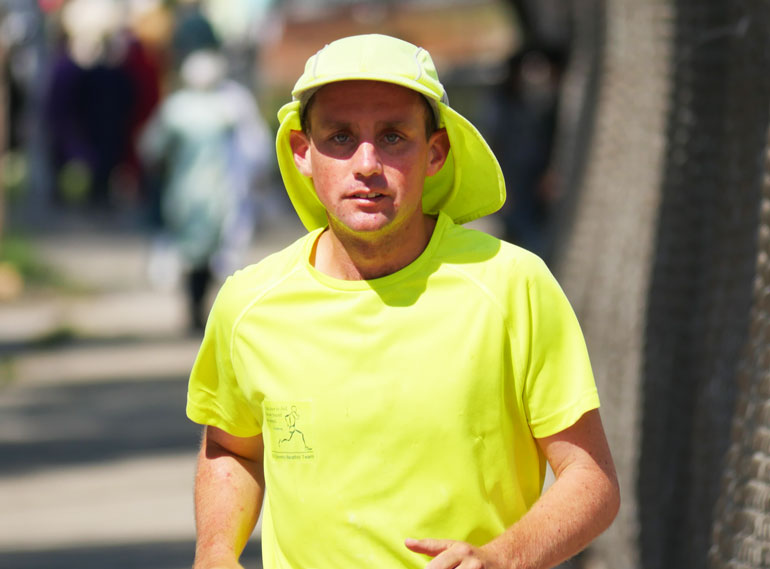 He has 1977 miles and will reach 2000 by noon today.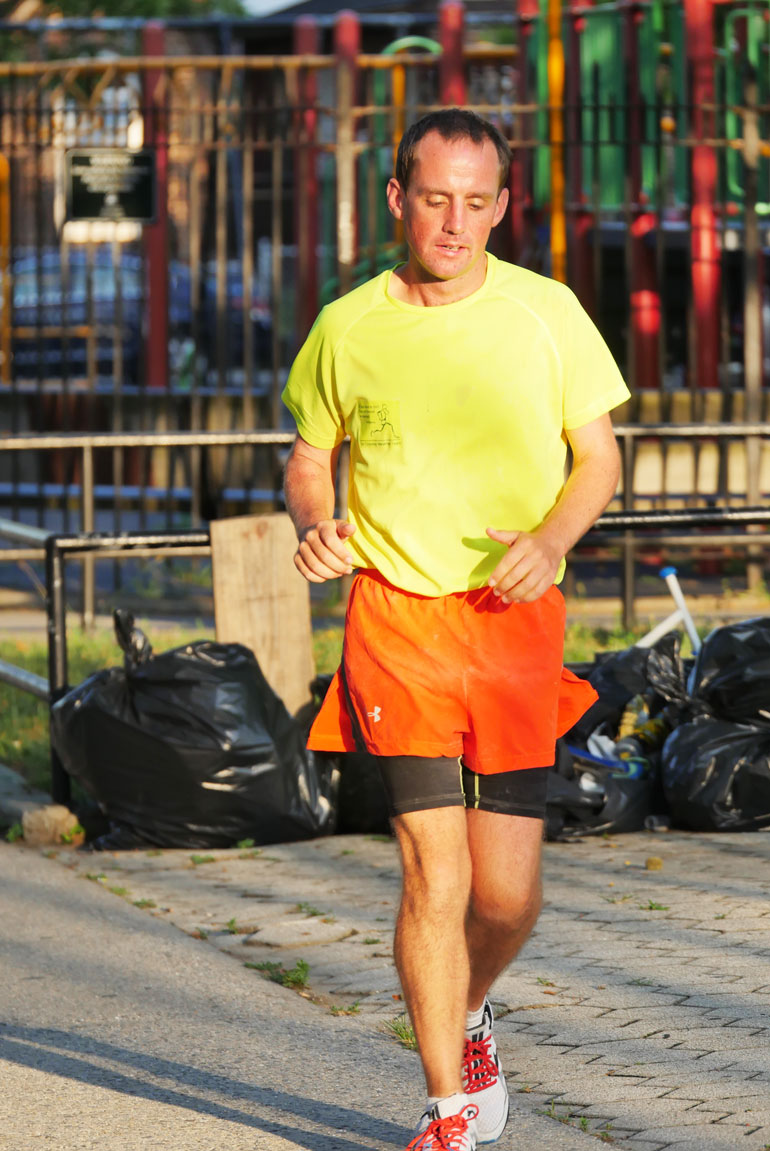 Where happy campers stop.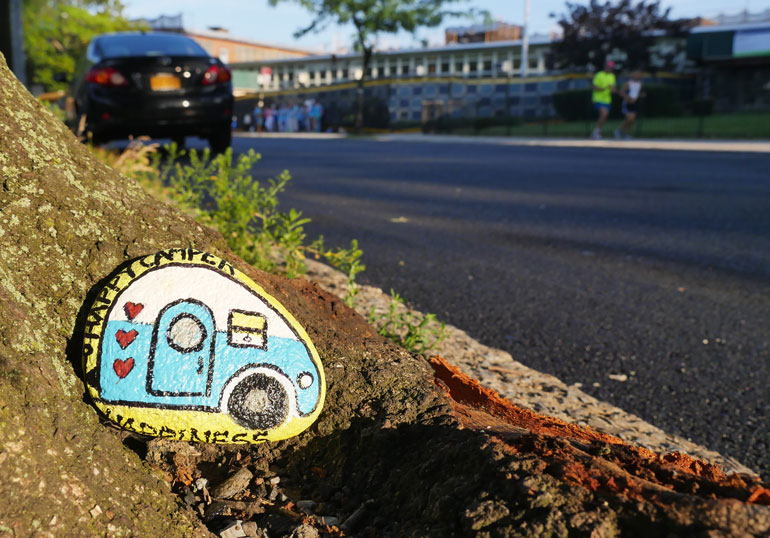 Stutisheel had a very good day with 66 miles. He now has 1958 miles and will also easily make 2000 miles.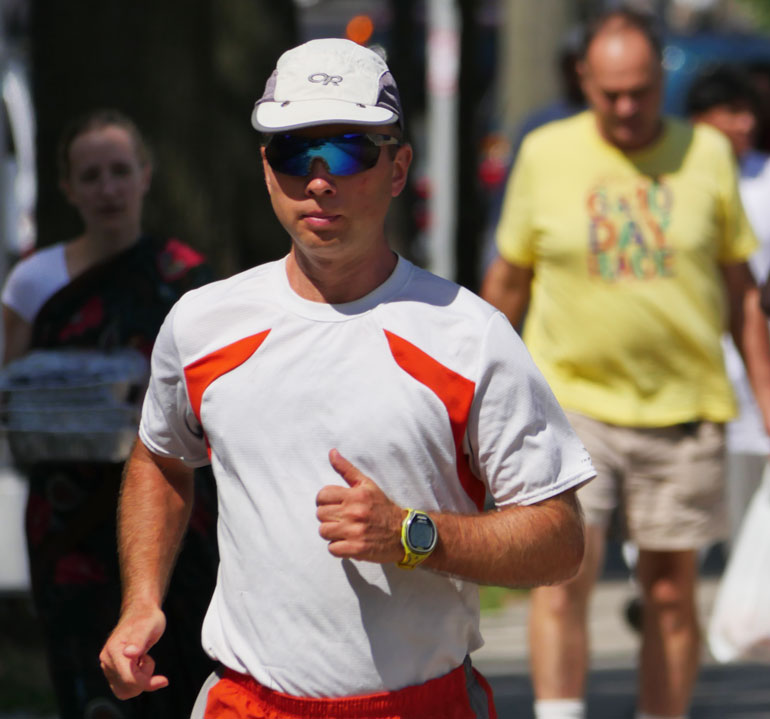 The morning snacks arrive.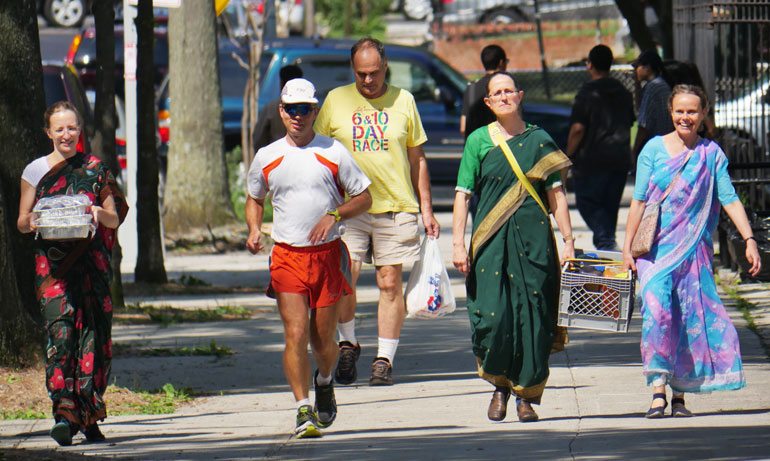 Nirjharini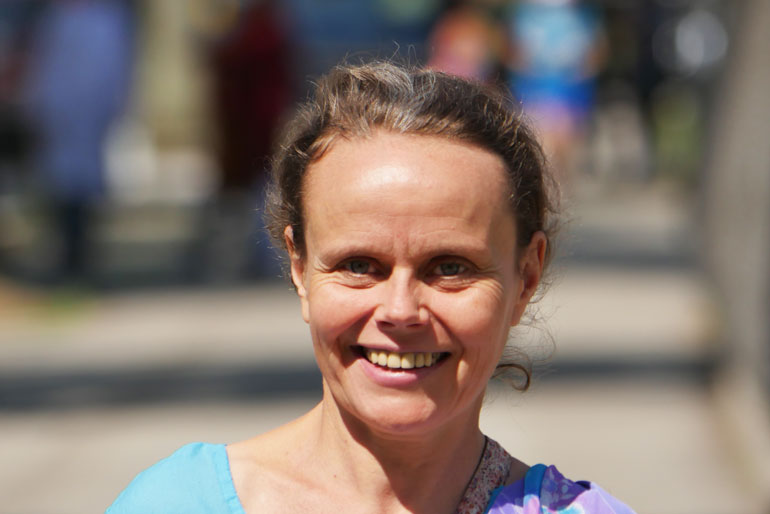 New life.
Baladev had 53 miles and now has 1766 miles.
On the edge
Ananda-Lahari had 46 miles and has 1762 miles.
Yesterday was Daulot's birthday and he and Stota have both been coming for many years to New York from their home in Seattle to celebrate.  They reminisce about an experience that happened 10 years when they were at Sri Chinmoy's house and he wrote a song for them.
His birthday was actually on the 16th but for various reasons Sri Chinmoy wanted to honor him the following day.  It happened at Sri Chinmoy's house and Sri Chinmoy near the end of the evening meditated on him.  With a glance Stota said, "he indicated that I should come up as well.  He meditated on the 2 of us together.  It was an amazing meditation and than Sri Chinmoy started humming slightly."
"He was seated in his chair in the house and than he started singing this song had both our names.  It was 10 years ago today."
They sing the song together.  "It is inspiring."
When asked about coming to the race.
Stota: "I get so much inspiration, and also joy.  You feel Guru's compassion and light.  I am just amazed and astonished at the runners accomplishment.
Daulot: "I feel that Guru is showing us that transcendence is in the every day.  It is right in our life right now.  Every day you see these runners and you can't see in a moment what they are going through.  The effort they are putting out.  But over a long period of time you start time you start to get the feeling what takes.  A constant dedication to transcend.  It is a very beautiful inspiration."
Click to Play Interview:
Stota read the Daily Prayer:
Click To Play:
Enthusiasm Awakeners
Click to Play:
I am determined to see something
Behind me.
What is it?
My failure-life.
I am determined to see something
Before me.
What is it?
My purity-heart.
I am determined to see something
Beyond me.
What is it?
My perfect perfection-soul.