"I am good.  A little bit slower this morning. I just go without ever pace I am able to do.  The main thing is to just go forward."
Nirbhasa says this with the same cheerful lightness and enthusiasm that has categorized everything he has said and done for more than 11 days. In that period he has run further in time and longer in distance, than this 35 year old jack of all trades from Ireland has ever done before in his life. He, like all the runners in the 3100 mile race though still have a very very long way yet to go.
Last night when he left the course to grab a few hours of sleep he went home on his bicycle with the scoreboard showing 710 miles beside his name.  His previous best of 702 had been accomplished more than a year ago at the 10 day race in Fushing Meadow.
Nirbhasa calls pushing beyond his previous marks of 10 days and 702 miles as, "they are nice little milestones along the way."
"The main thing is to stay in the moment.  At this stage it is still quite early.  If you think about what you have left to do.  It is kind of too much."
I mention to Nirbhasa that both he and Kaneenika are venturing into new realms running the 3100 for the first time.  The two of them had run the 10 day race for a few years.
"It is a completely different race.  The surface is one thing.  On the very rare occasions when we have to go out onto the road here.  If feels like you are running on rubber. The concrete here is very unforgiving."
"The format is also a lot different.  You have to condense all your running into this 18 hour time frame. 10 days you can kind of get your head around it.  When you are going to start and when you are going to finish.  A race like this you can't think too much about the finish line you just have to keep going.  You have to take it day by day."
"In general I am having a nice experience.  I am not really worried too much about mileage.  I am going forward at whatever pace I can and somehow the miles come.  You just have to stay grateful and happy the miles kind of rack up almost by themselves."
"In the first 2 or 3 weeks you are still kind of in the training wheel stage.  It is important not to push too hard, not to blow a tire."
"I certainly have targets and goals and little kind of way marks for achieving them.  Essentially you have to make sure that your own inner attitude is up to shape.  If that is taken care of then that means you can stay out here and let the miles happen."
Nirbhasa also says that he feels aware of his late spiritual teacher Sri Chinmoy, the founder of the 3100 mile race, in a very tangible way at the race.
"Not only around the course but also in the whole organization, that is set up around the race. It is very much like a family feeling.  Everybody is kind of looking out for each other.  The kitchen staff are doing such a wonderful job.  I think they are working harder than we do, to make everything ready.  There is such an atmosphere of self giving, of concern.  These things you feel really permeate the race."
Click to Play Interview:
Kaneenika arrives with a smile.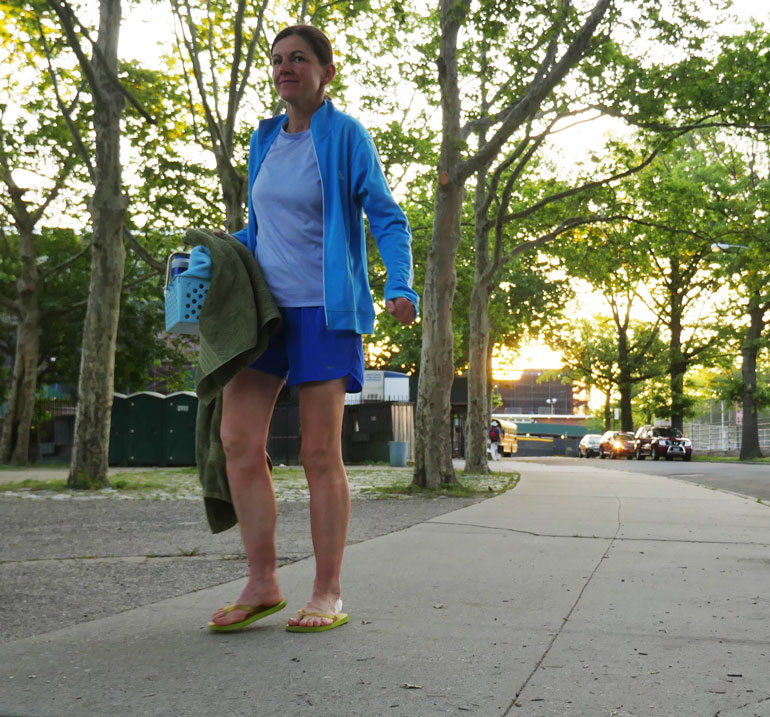 Yuri ready to add more miles to the board.
The girls area
Rupantar admiring the daily race poem.
Galya cutting it a little too close.
Start Day 12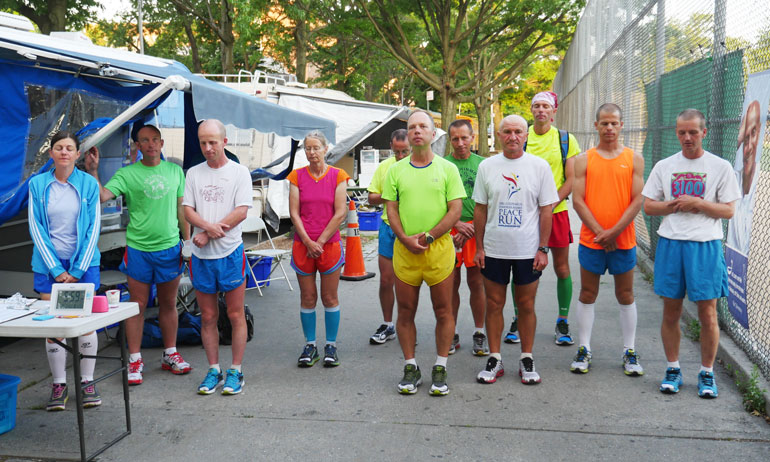 Another perfect day, sunny but not too hot.
Ashprihanal again ran 77 miles yesterday.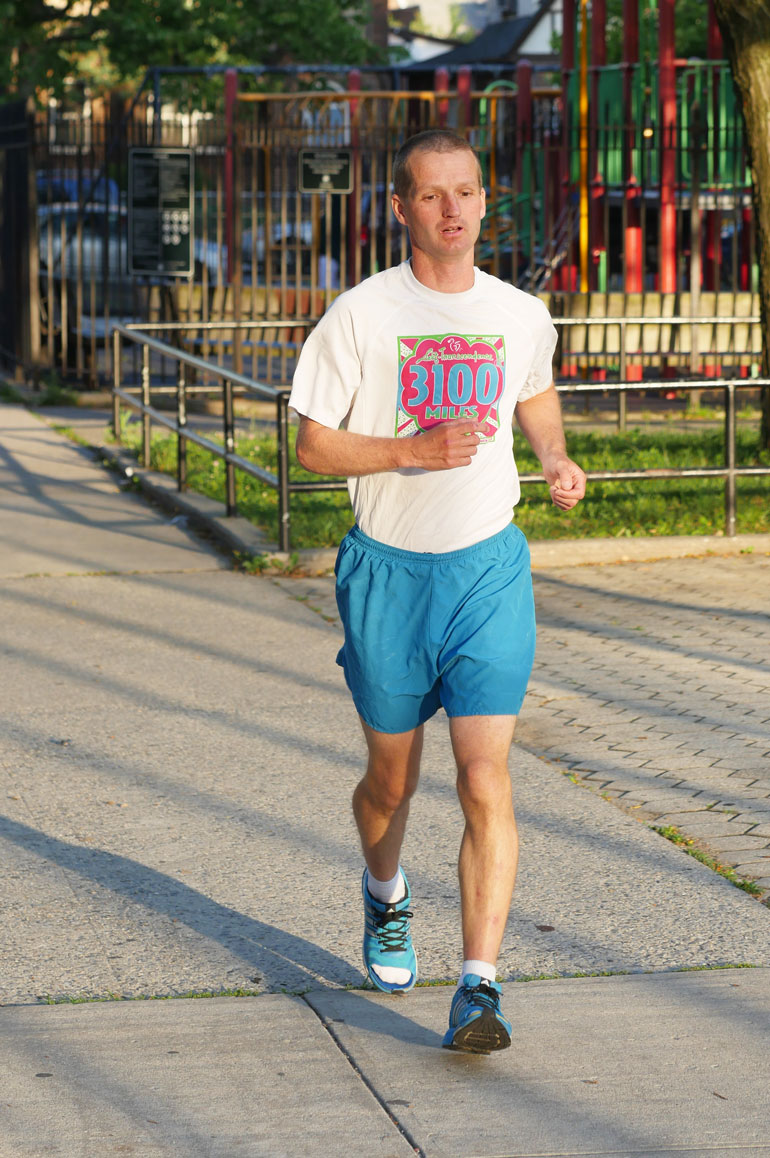 His 11  day total is 866 miles.  He leads 2nd place Atmavir by 46 miles.
Atmavir had a phenomenal day yesterday running 75 miles.
Atmavir has 820 miles.
Between the fence and the road.
Galya ran 72 miles yesterday.  He has 811 miles.
Yuri coming through the camp.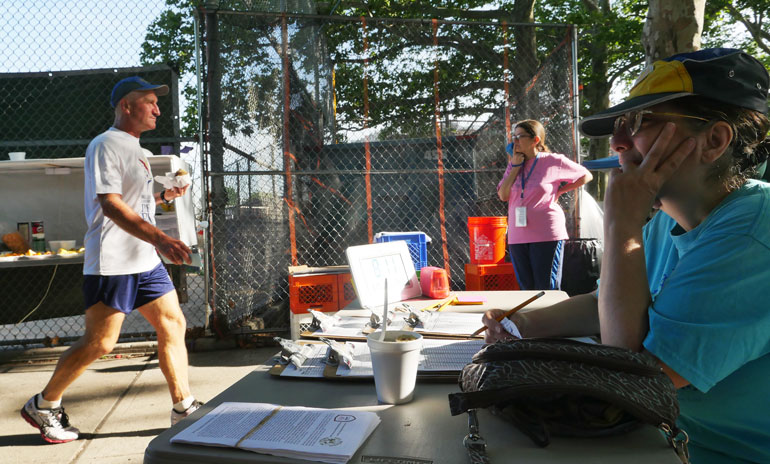 Yuri ran 68 miles yesterday and has 772 miles.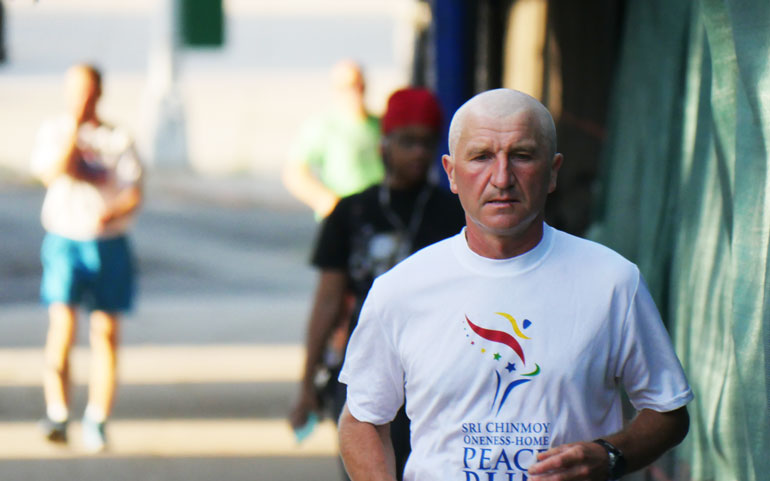 Just across the street.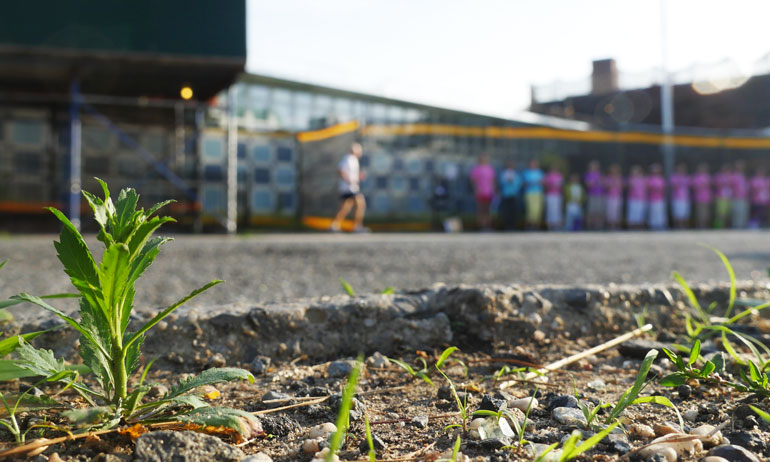 Grahak is now in 4th place with 739 miles.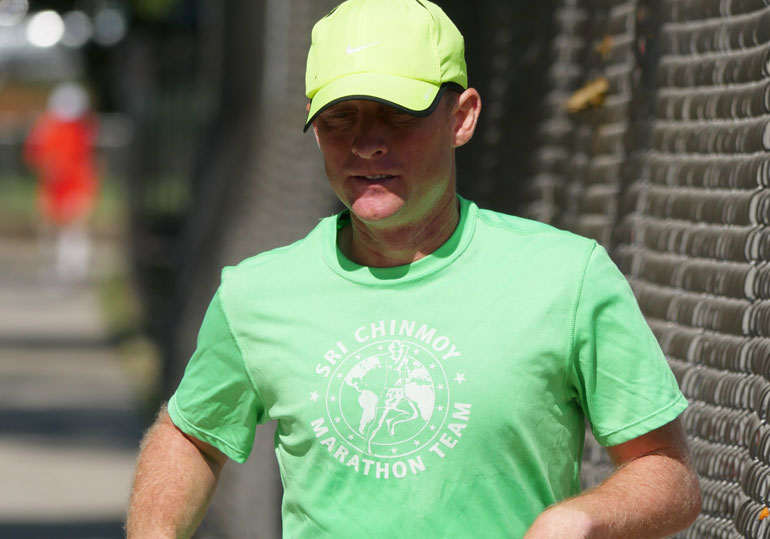 He also ran 70 miles yesterday.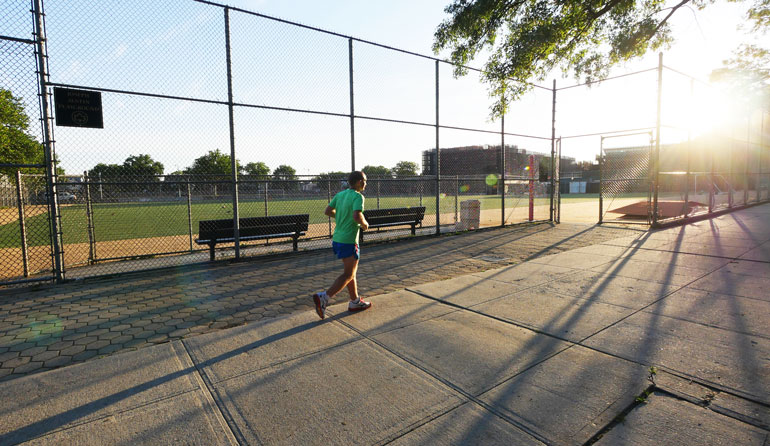 Roxy visiting the race and being temporarily distracted from her job as cheerleader.
Vasu had his best day since day 2.  He ran 73 miles.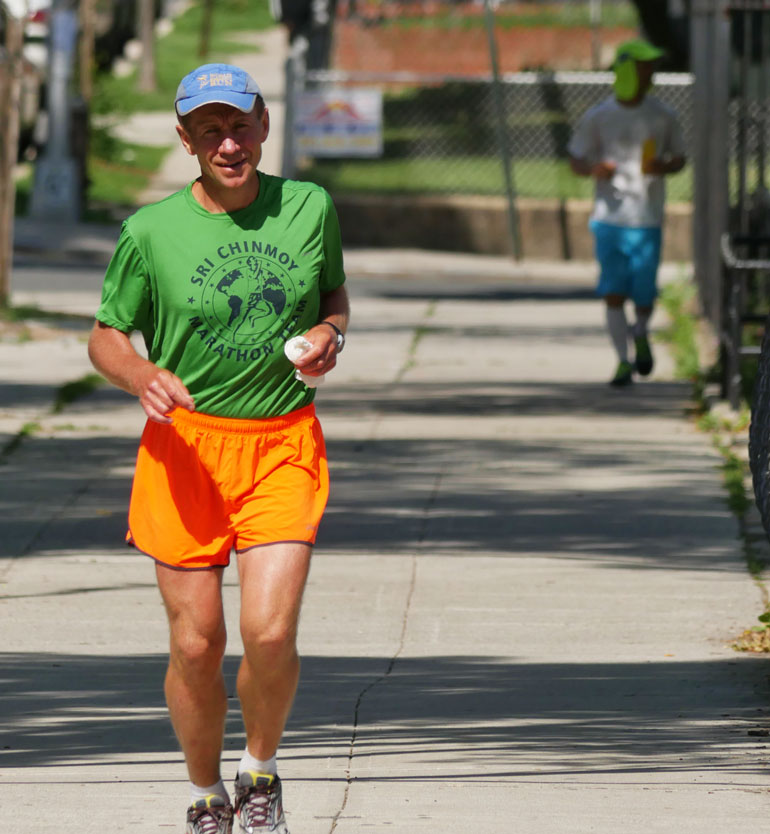 That mileage means he ran 9 more miles than the previous day.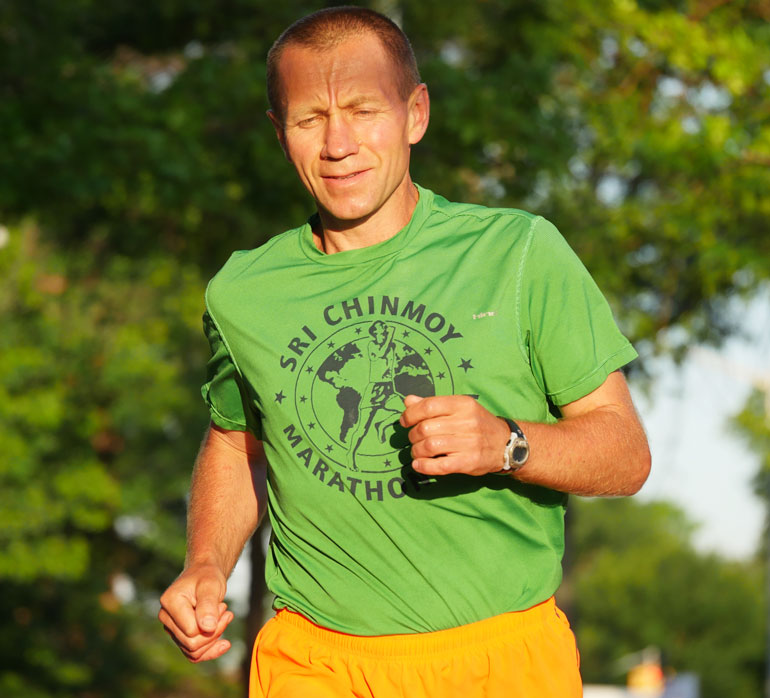 Some fallen leaves.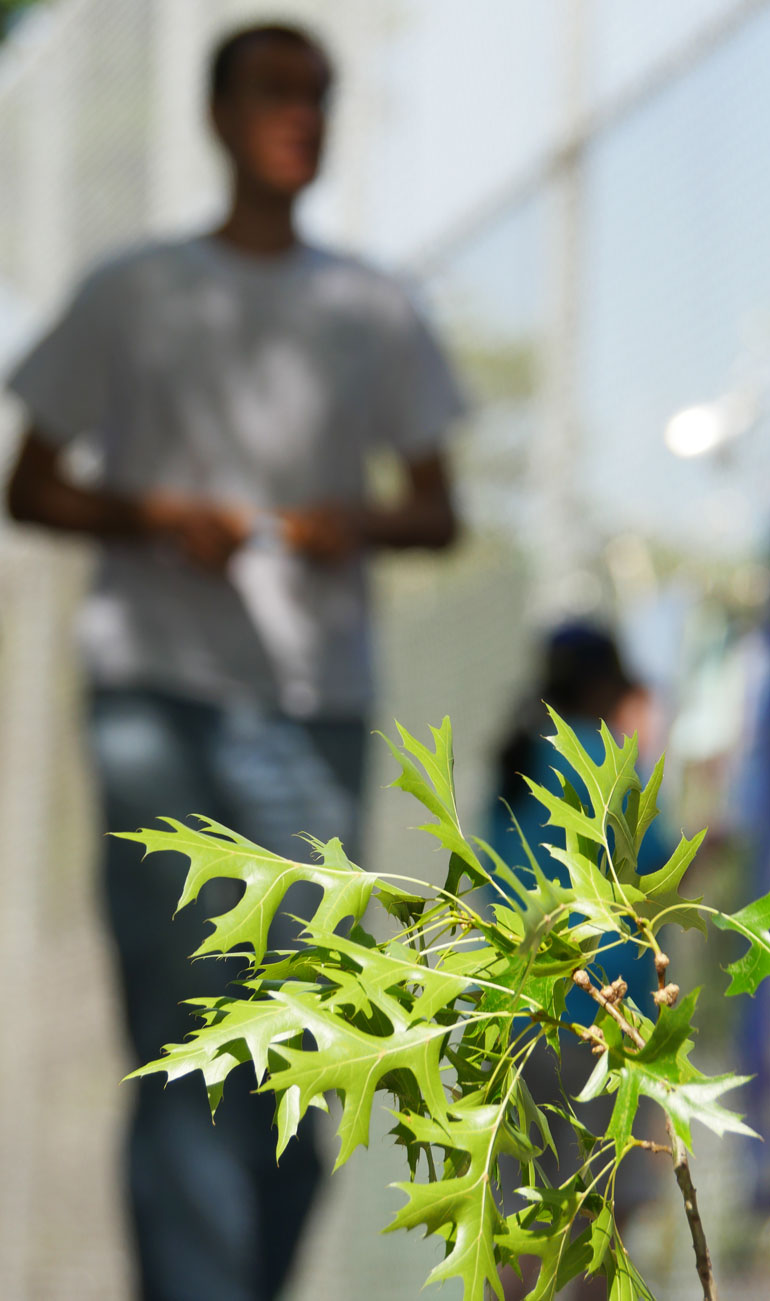 Well don't blame me.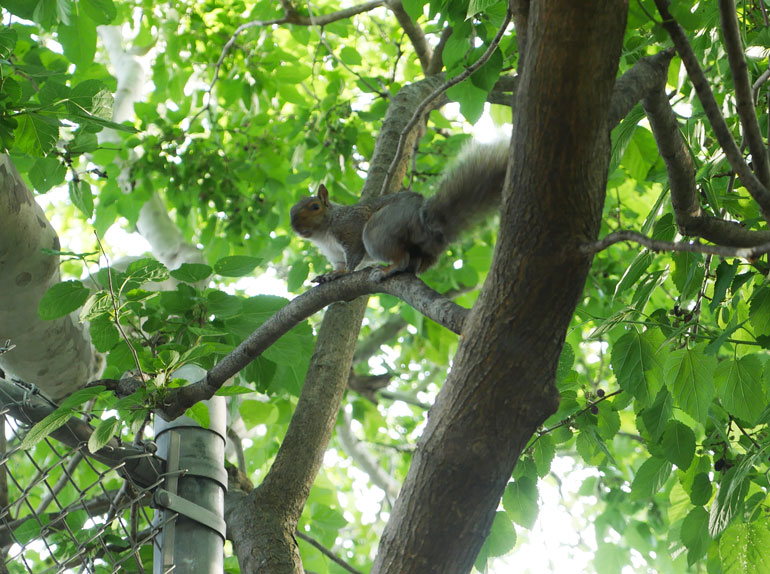 Stutisheel with Galya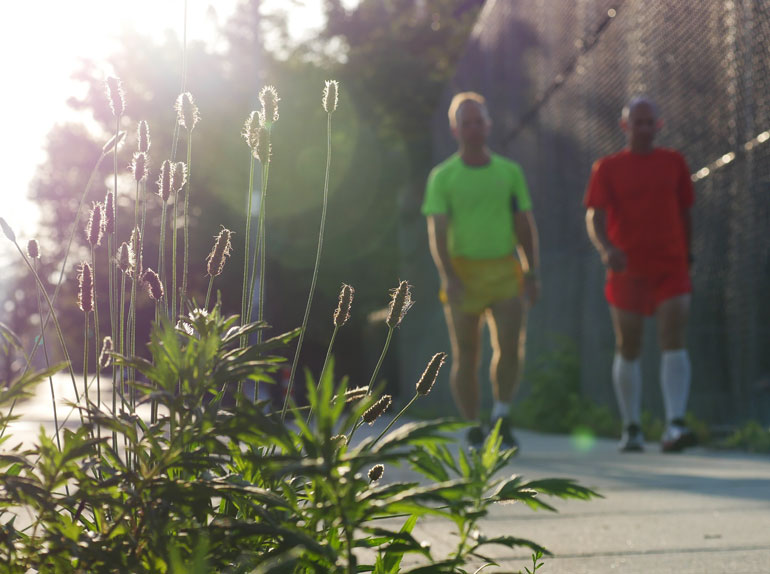 Champ is a special friend of Stutisheel.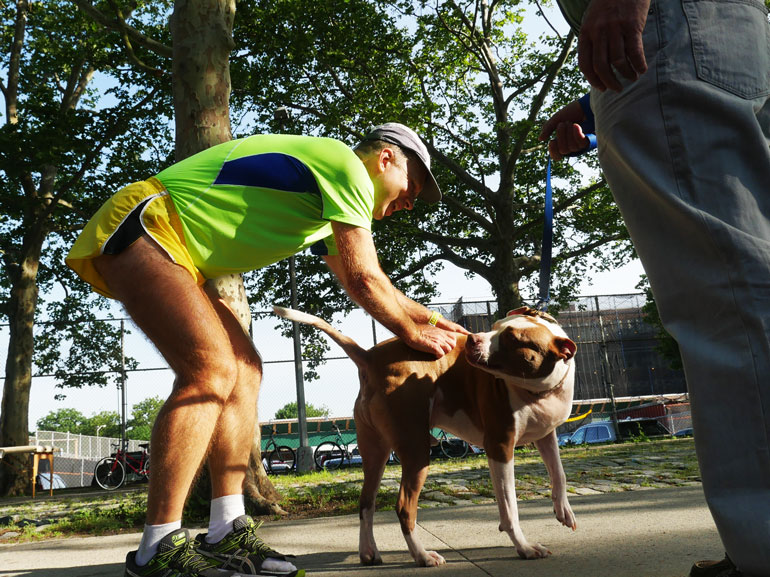 Stutisheel ran 67 miles yesterday and has 703 miles.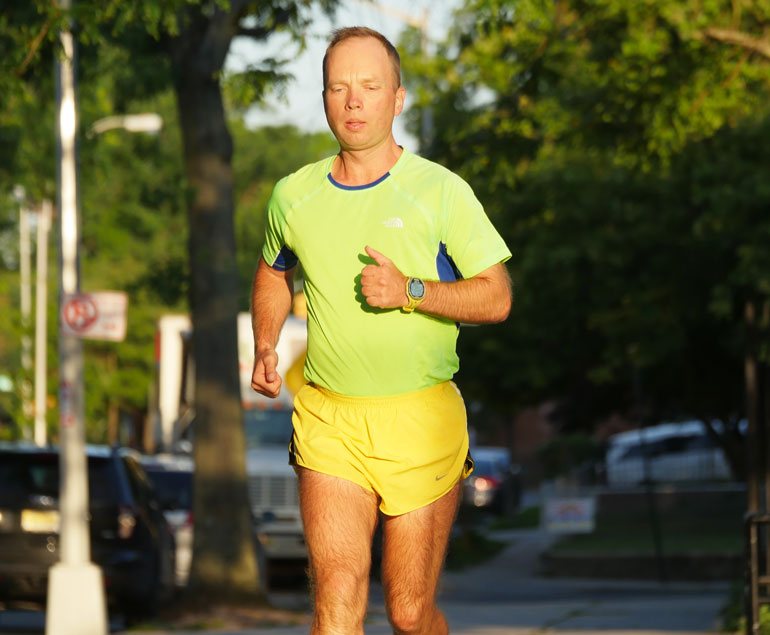 Kaneenika had a better day yesterday.  Her 59 miles is the best she has done in 4 days.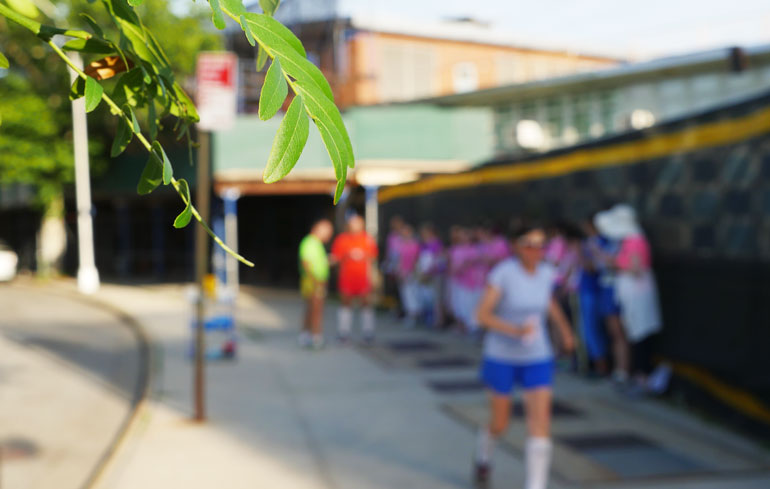 She has 656 miles.
Suhasini has been there first thing every morning for her. I joke with Kaneenika by asking her if Sushasini is any good?"
"She is really great.  She has never done the job.  She is eager and really devoted."
Suhasini says that she was asked to be a helper for Kaneenika who was looking for full time ones back in May.  Initially she had planed to fill in for the first shift with a girl who was arriving late.  Also she confesses to not being much of a morning person.  Still she is there before Kaneenika arrives every day.  Helping her friend in every possible way.
Her sister encouraged her by telling her that after 21 days everything would come like a habit.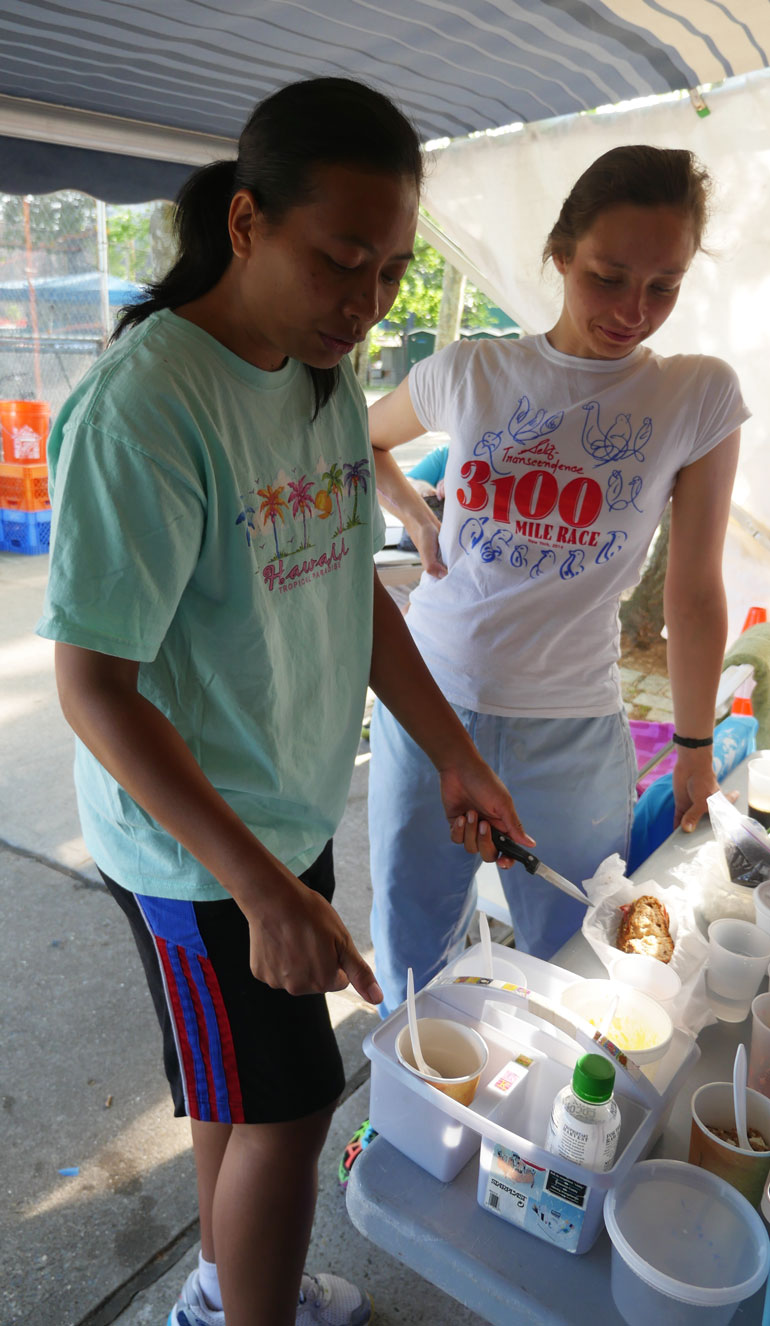 "I am enjoying it.  It is 6 to 8 only. Then other girls come."
"I am happy.  I am always looking for something new to inspire me.  This is like a morning puja.  In a way Kaneenika has motivated me to wake up very early.  Which is very good."
Click to Play Interview:
Surasa had her best day in 8 days.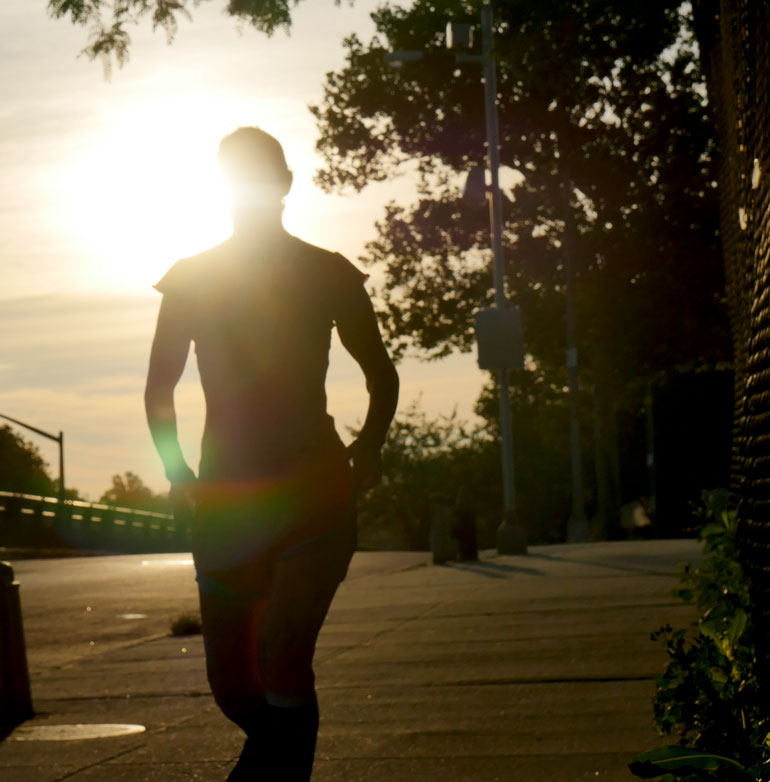 She ran 65 miles and now has 653 miles.  Surasa also receives great support.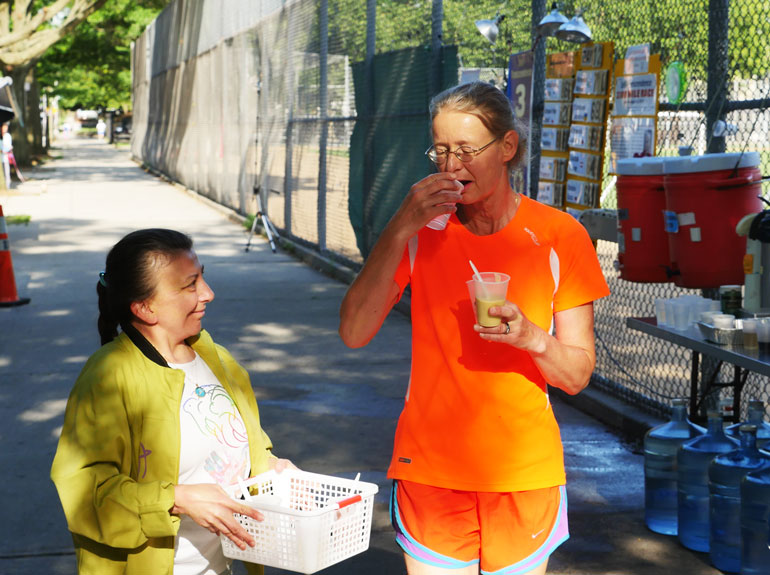 Good reason to smile even more
Ananda-Lahari ran 47 miles yesterday.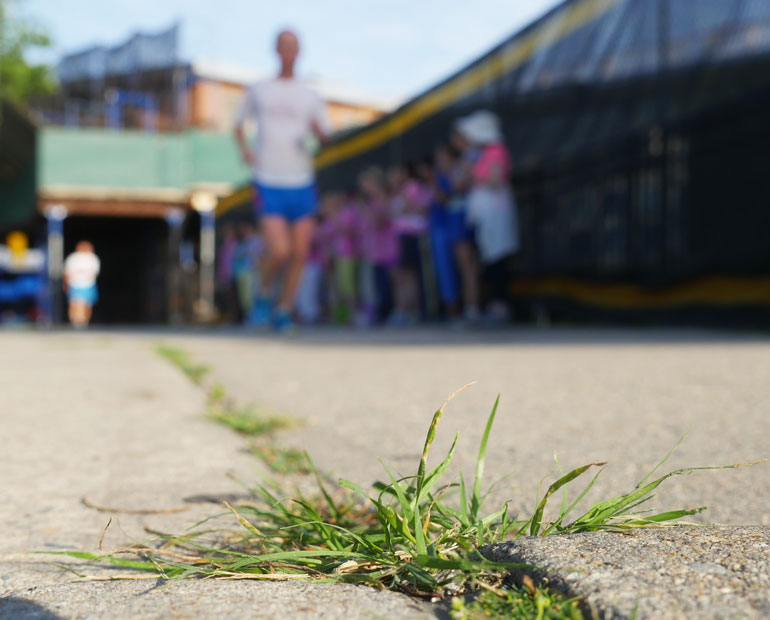 He has 620 miles.
Baladev ran 49 miles yesterday.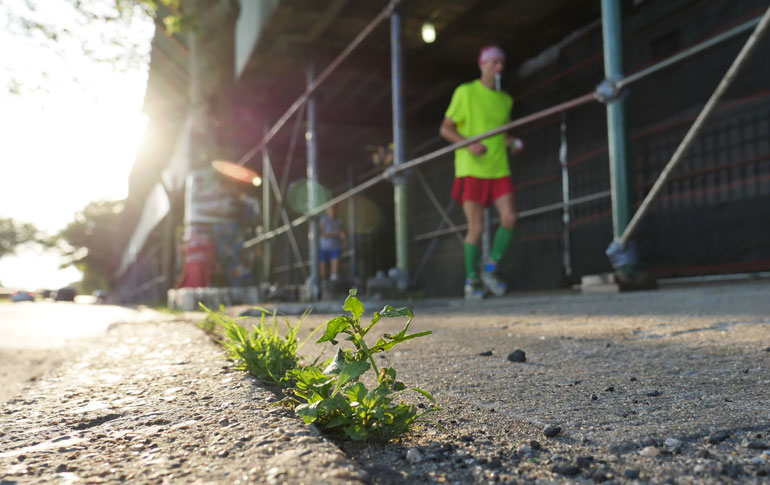 He now has 620 miles
Baladev wrote this poem:
Peace means joy.
Joy means peace.
Peace and joy can never be separated.
Click to Play:
Micha reading the daily mileage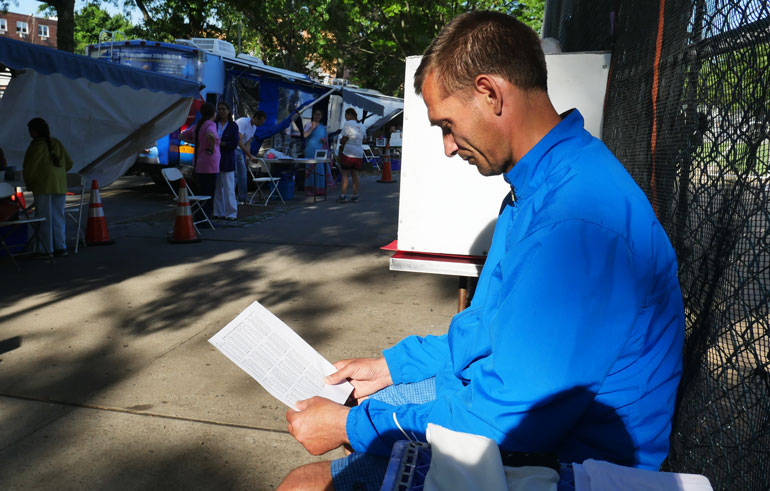 Poem of the day
Click to Play:
Enthusiasm Awakeners
Click to Play:
Matter tells me:
"Go back.
You have walked
Farther than you needed."
Spirit tells me:
"Go forward,
Go forward.
Indeed, you are meant
For the Call of the Beyond."