"He is very close to me.  Many times people mix us up when they see us.  We are very similar.  I am sometimes mistaken for Vasu but with Volodymyr it is more often.  But it is not just an outer similarity.  But also a deep inner oneness.  Volodymyr is very strong inwardly.  He has strong spiritual qualities."
"A long long time ago he taught me how to run.  He graduated from a Physical Culture university and he is a coach.  In the beginning I didn't know almost anything about running.  For many hours we used to run together in the forest and he was teaching me as we ran."
"How to move your arms and legs, and how to breathe properly.  I am deeply grateful to him for this."
"We both shared one dream together.  We both wanted to run the 3100 mile race.  Now my dream has become a reality.  I am praying that one day as well his dream becomes real as well."
"He has come very closely to this dream.  But this 3100 mile race is a very special place.  This road, does not allow you to come to it.  Sometimes it keeps you at a distance.  You have to develop a deep inner cry so that this road allows you to be here.  I feel that Volodymyr has this inner cry."
"He has been in New York visiting for some time now.   I am sure that his dream will also become a reality.  He is not far away from his dream."
Click to Play Interview: (Translation by Anastasia)

As Yuri starts his 41st day of running here it is important to note he has run a superb race in every possible way you care to look at it.  Compared to his mileage this time last year he is more than 240 miles better.  In addition if he compared his mileage to the leader in the race last year this time, he would have the lead by 40 miles.  In fact, if it weren't for Sarvagata's amazing performance this year he would be leading the race this year and not in second place.
But these are trivial things when compared to what Yuri is really seeking as he makes his way once again down this long sacred road.  He has a precious friend at his side this year who is contributing more than a little to the great journey he is taking.  One, who because he cannot take these steps himself, is helping to lift and carry some of the burden that Yuri himself must endure along the way.
On this Monday a great dream will be fulfilled, not just by Yuri Trostenyuk from Vinnytsa but also by Volodymyr who is from there as well.   Two great runners sharing a goal, that through their oneness will be reached, realized, and then offered to the world.
These 2 have also competed in races many times.  There are many stories of genuine affection and comradeship that happens during competition.  There may be no story more powerful and poignant in all of sport than what happened in the final of the Long jump at the Olympic games in 1936.
The great Jesse Owens was having trouble in making his jumps when his German competitor Luz Long, came to his aid.  He not only helped him make qualifying jumps but also in so doing enabled Owens to secure the gold medal and the Olympic record at the same time.
Jesse Owens, Jesse Owens, Jesse Owens!
O deathless jump, O breathless speed,
Eternally, athlete's world you will feed.
Dictator Hitler's Aryan supremacy
Surrendered to your Himalayan ecstasy.
Champion of champions, Hero of heroes!
In your service-heart America glows.
In Berlin, four gold medals winner;
Eternity's diamond-heart owner.
Sri Chinmoy, Run and become, become and run [songbook], , 1982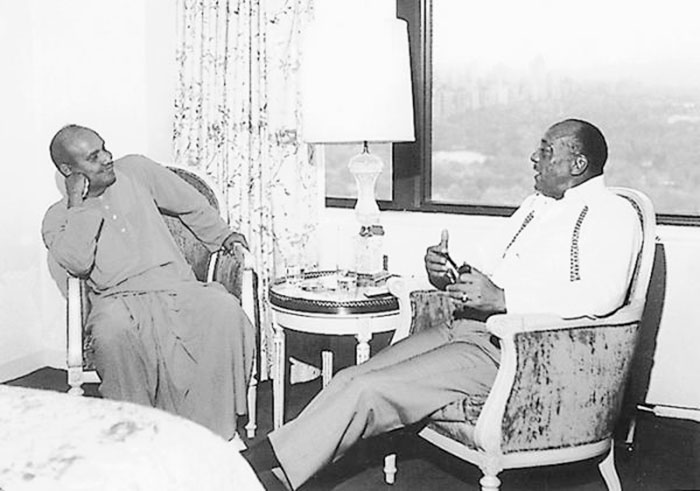 Sarvagata had the most laps yesterday with 124.
Tired runners arrive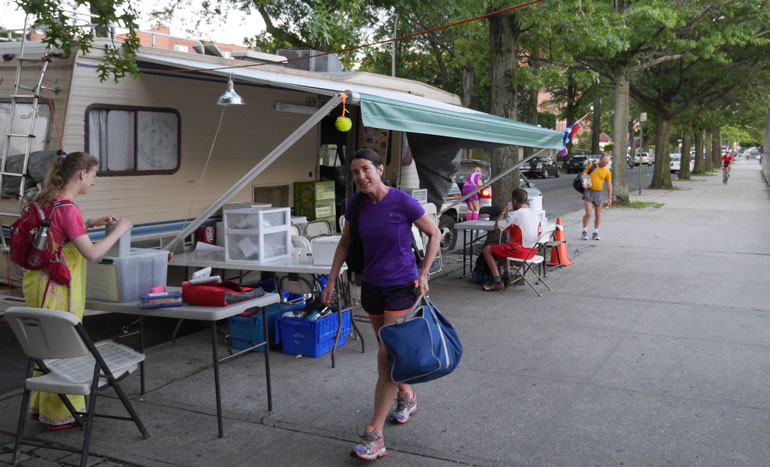 Yuri checking the time.
Girls getting ready.
And the counting book says.
Sopan having a bad hair day
Which some of us don't have to worry much about at all these days.  But picking up trash is a never ending job.
The sponsor today is Kosice, which is where Ananda-Lahari is from.
Start Day 41
Another beautiful day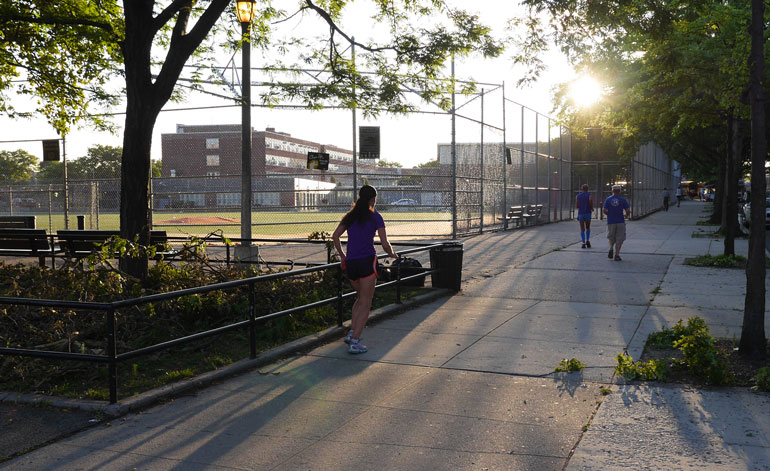 "I like looking at the numbers, particularly now, after 40 days.  How far they have come and how far they have to go.  I was struck by the fact as we begin today. That Sarvagata has 314 miles to go.  314 miles is the exact distance of the Vol State ultra run.  I did it last year.  I think it is the 2nd longest annual distance run in the United States." (It starts on the western side of Tennessee and continues east to the other side)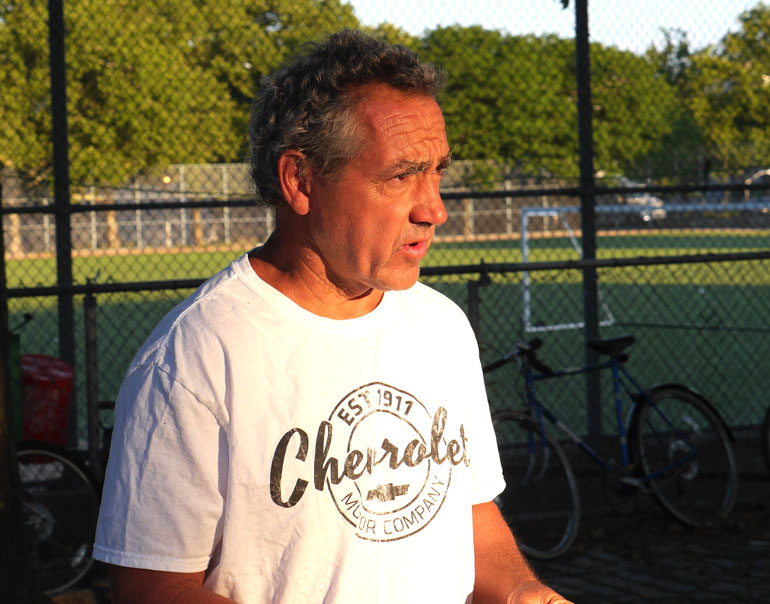 "Starting today Sarvagata had exactly 314 miles to go." What Ray speculates that irregardless of the 40 days of running he has already done, if he were to be measured only on the next 314 miles his time would put him amongst the top 5 in the Vol state run.
"There is a further statistic that I know.  As we begin today after 40 days.  Sarah, the women's leader has exactly 628 more miles to go.  She is one Vol state behind Sarvagata.  What I am playing with in my mind is a double Vol State, out and back.  She has 12 days to do a double.  The record for anyone who has actually done it is 14 days."  He suggests the mathematically her time over the last part of this race would easily break the double record in Tennessee by a couple of days.
This comes to the topic of just how good Sarvagata and Sarah are.  "They are extremely good.  Sarvagata is absolutely in the same class as all the world class runners. At traditional recognized distances.  The fact that he is running this almost masks just how great a runner he really is, and the same is true for Sarah."
He also suggests that Sarah's performance is not only superb among other women runners but also compares favorably with top male athletes.
"People have studied at human performance laboratories since running began.  How the body does things how it adapts."  He sees clearly here how runners like Sarvagata and Sarah are getting stronger and are adapting to the task.
He mentions how the previous night Stutisheel gave himself the permission to open up and just let go.  He did this knowing that he would be able to recover over night.  "A lap or 2 more has no further cost." He was able to do this because after so many days he has physically adapted so well.
He says that those adapt the best perform the best.  "Take me.  I adapted very poorly.  I reacted very badly to several aspects of this race."
"If I were physically better I would still be right up against the edge with the mental aspect.  I look at these giants of the sport that can put the physical and the mental together, day after day.  That just amazes me."
"You can be spiritually in the exact right place.  As Ananda-Lahari was yesterday.  He was trying to run 10 laps an hour yesterday felt the same to him as his walking of the day before.  He was offering up a gift (trying to run 100 miles) He was trying to be and do.  He still had needs in the physical realm he could not meet."  He suggests that it could have been a whole list of factors from hydration to food.  Whatever the case his speedy pace slowed down dramatically.  He finished 114 laps.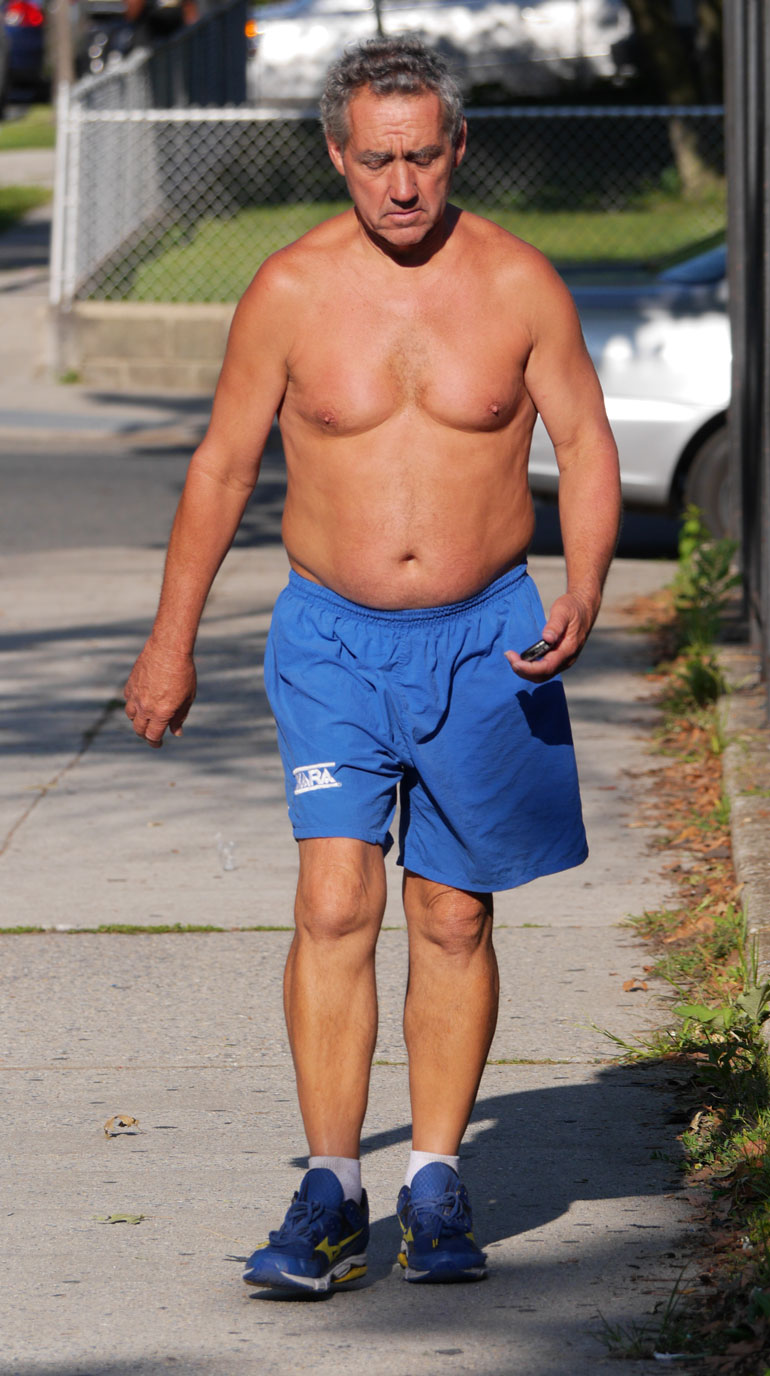 Today Ray describes him as still wobbly from his effort.  "His body rebelled.  Spiritually I don't think there is anybody that was more in tune than Ananada-Lahari was yesterday."
He believes that if the physical, mental, and spiritual are, well synchronized than those runners will achieve the best results.  "There are balances in everything in life."
Click to Play Interview:
There are moments this morning when clearly Ananda-Lahari and Sopan are enjoying being together.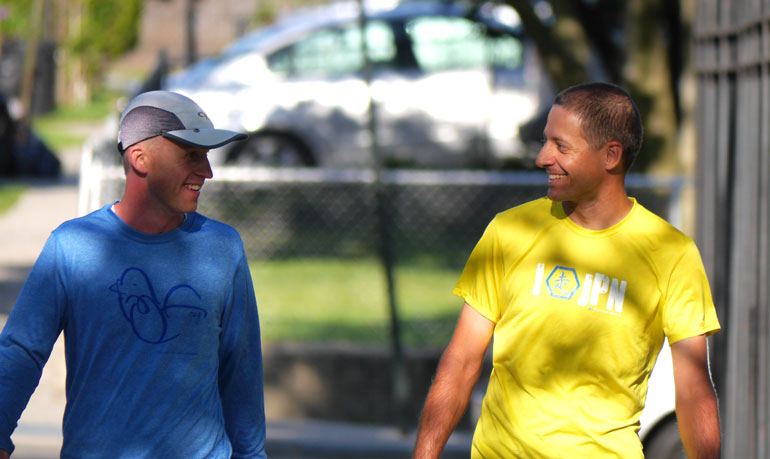 They are now just 5 miles apart.
Teekshanam is having back to back good days.
He had 110 laps and has 2088 miles.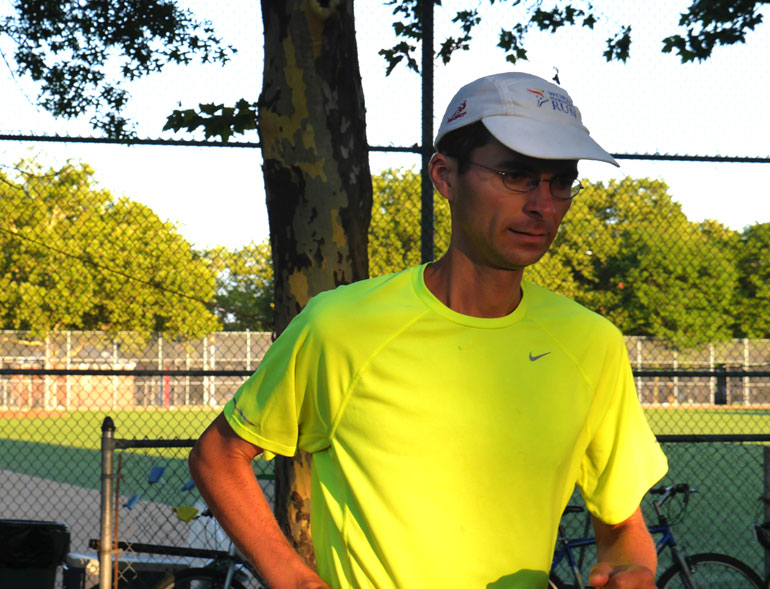 Baladev had 104 laps
Enjoying himself.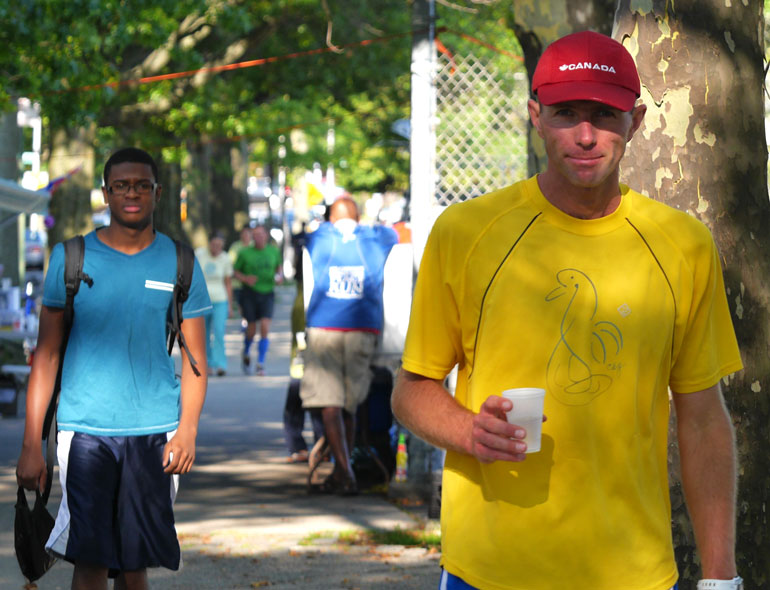 And all this world has to offer.
Everyone taking big big steps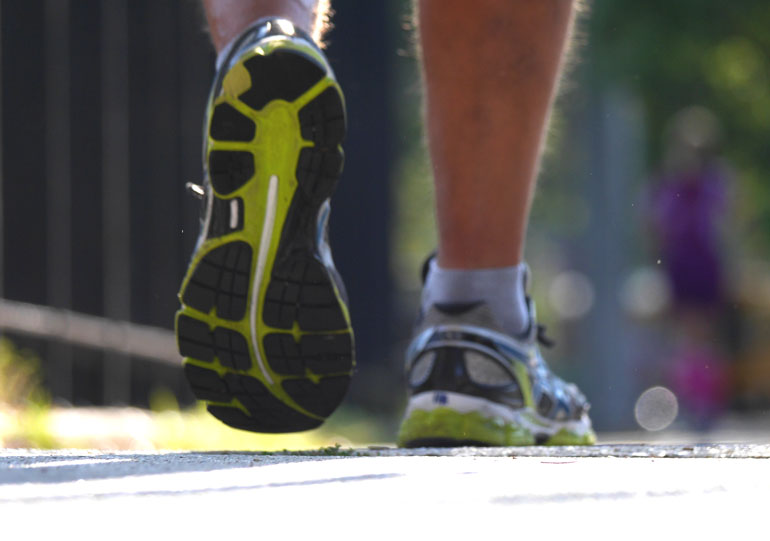 Seriously, I was gone no time at all and when I come back…..bamm.  My tree is gone.
Don't tell me let me guess.  You are seeing spots in front of your eyes, right?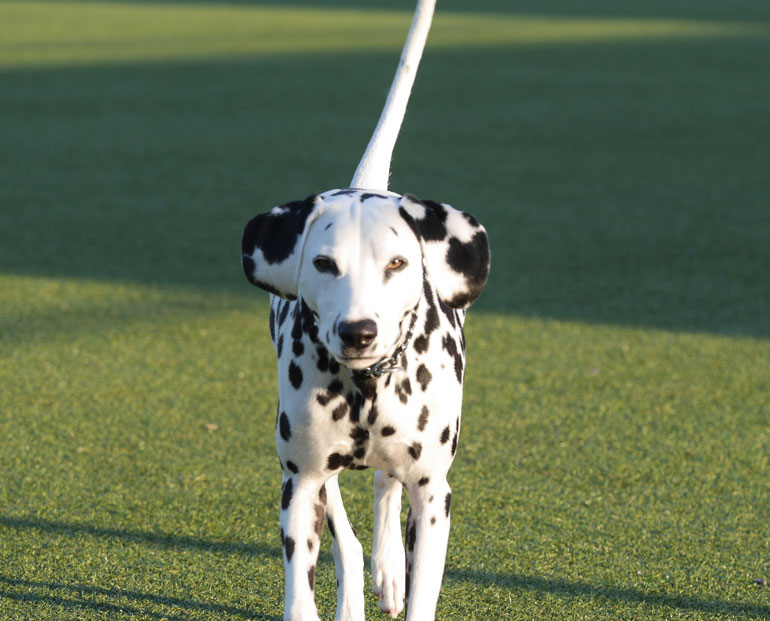 Nidhruvi did 108 laps yesterday.
When she runs into the sun on mornings like this she seems to be the happiest person.
She is so at home here.
Confidence now radiates in the William Sichel camp these days.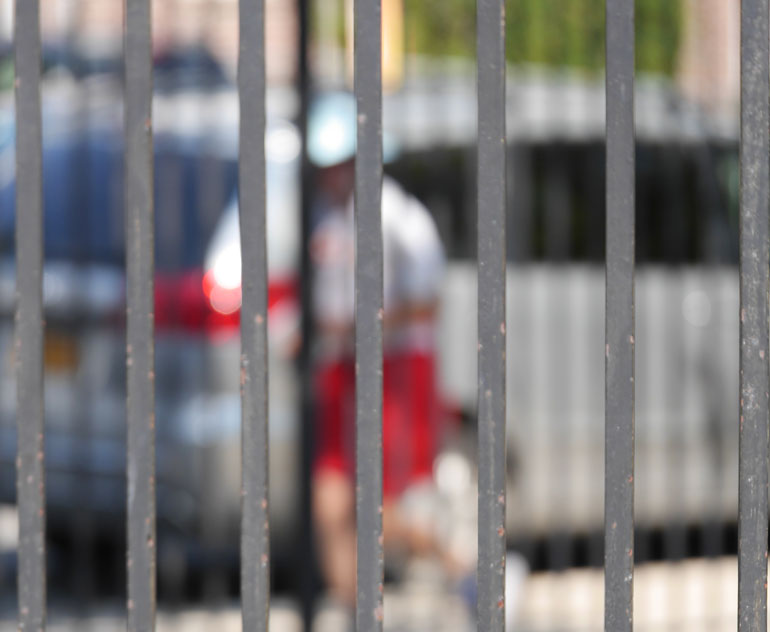 He did 114 laps, which is the number he will probably repeat every day for a while now.
It is hard to imagine anyone could be more focused and disciplined than William has been here this year.
Alan his crew is on top of and double checking everything.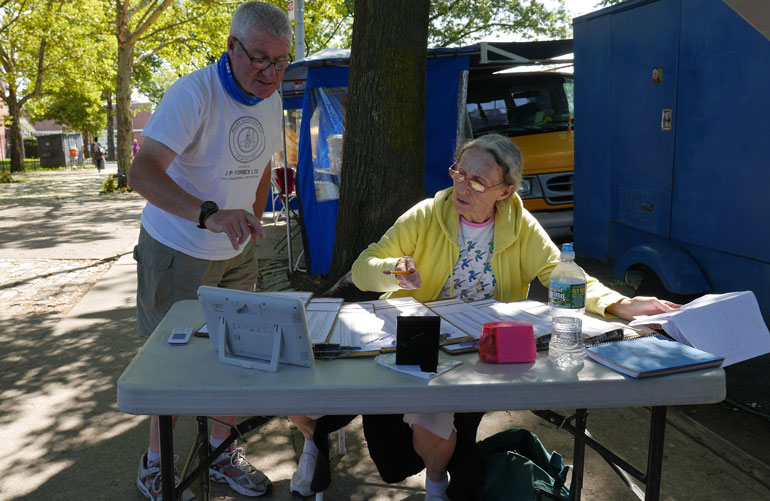 William gets several messages for Tim and Tarit congratulating him for now being over the red line.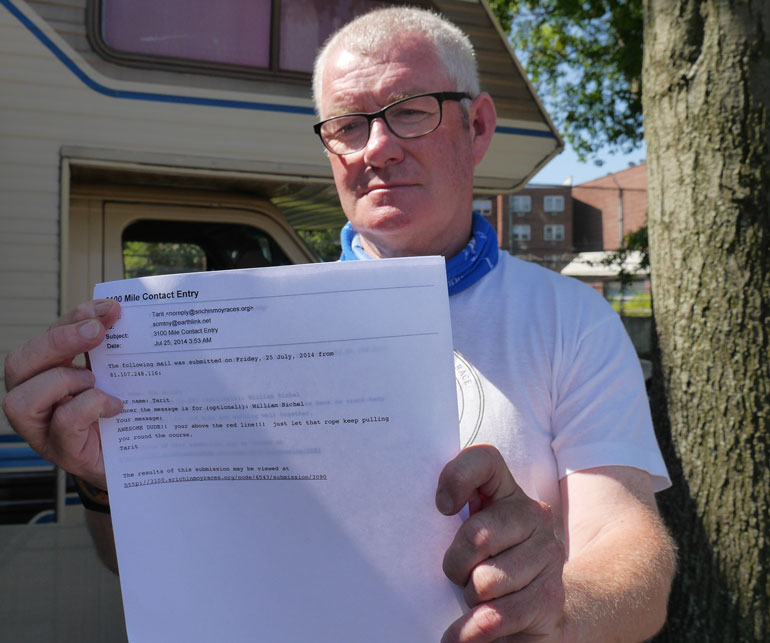 He has 709 more miles to go.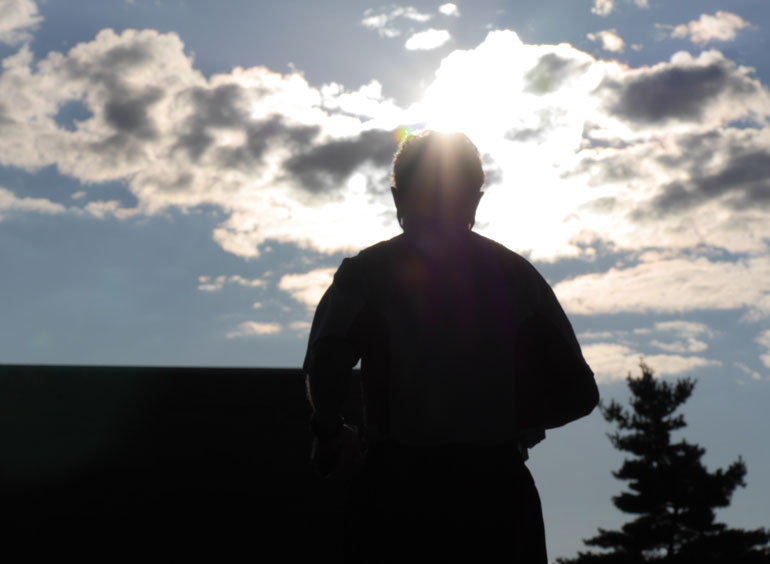 Jayasalini has 2419 miles.
Her help is superb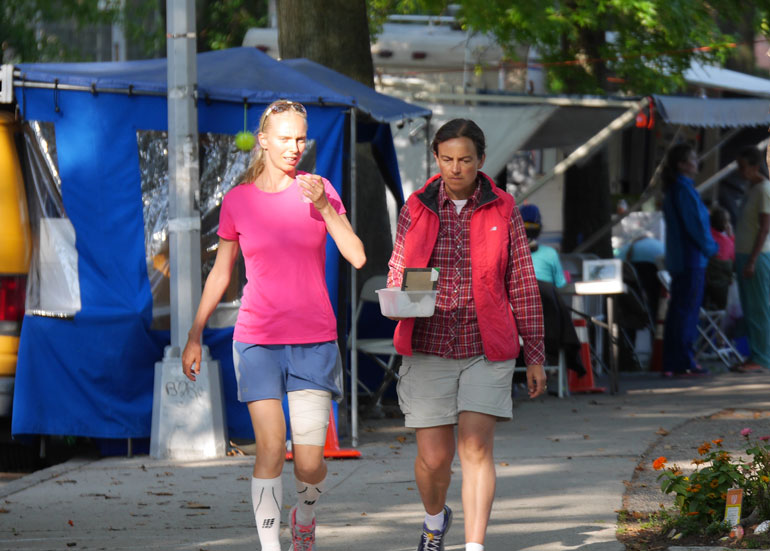 She has 681 more miles.
Feet sometimes in groups and sometimes just 2.
Sarah makes 2500 this morning.
Such a remarkable person and such a great athlete.
Stutisheel did 121 laps yesterday.
As Ray explains we really don't know just how amazing the runners are.  Even when you see them do it right in front of you.
Then he and Sopan do a play.
Explains for just a minute and then goes on to run perhaps another 120 lap day here.
One of Joey's most excellent rock creations.
Vasu did 119 laps yesterday.
He has 2584 miles this morning.  He is just 6 miles behind his total for last year.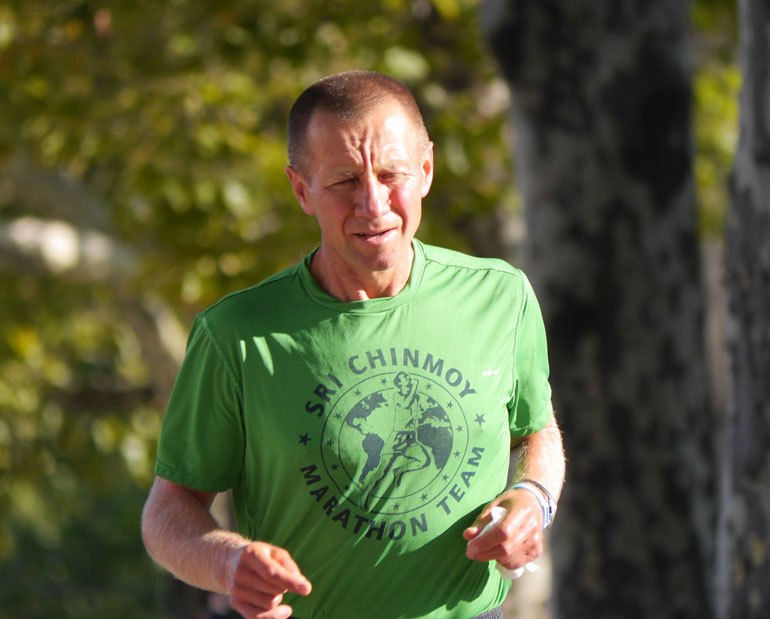 This is so….not easy. I don't know about you but I get dizzy when I look down.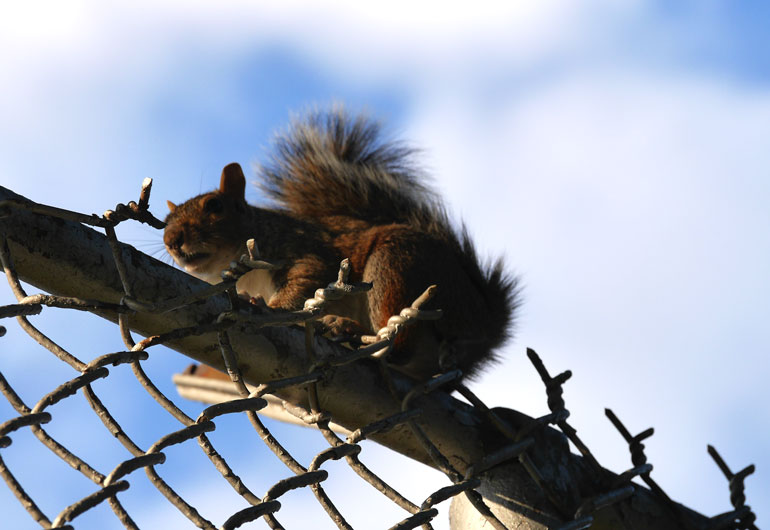 Pranjal had 117 laps yesterday.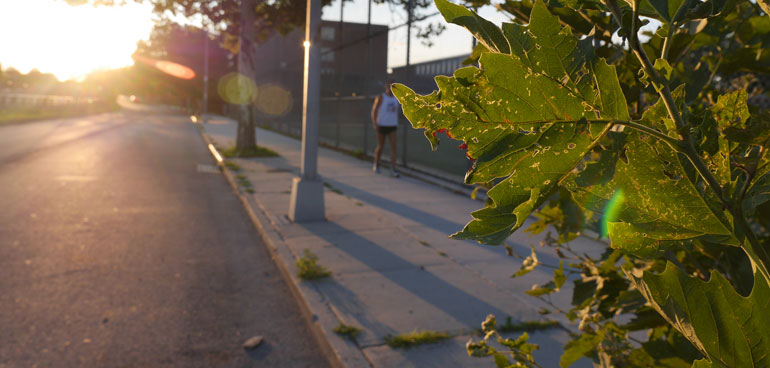 "It is getting more and more interesting as I get more and more tired."
He thinks he will finish in 8 or 9 days.  He calls the last few days duct tape time,"everything is falling apart.  Everything is starting to hurt.  You have to just keep everything together the last few days."
Knees, and muscles, anything starting to hurt and you know there are just a few days and it is over."
Pranjal has 2606 which is 110 more miles than he had last year.
Yuri also did 117 laps.
I know the answer, but I had to ask Yuri, now that he is nearing the finish, is he ready to go home.
"My home is here."
I tell him he will be finished in just 455 miles.  "I already feel finished.  It is already on Monday."
Click to Play Interview: (Translation by Anastasia)

Yuri recites the daily prayer in Russian
Click to Play:
Anastasia translates
Sarvagata did 124 laps yesterday.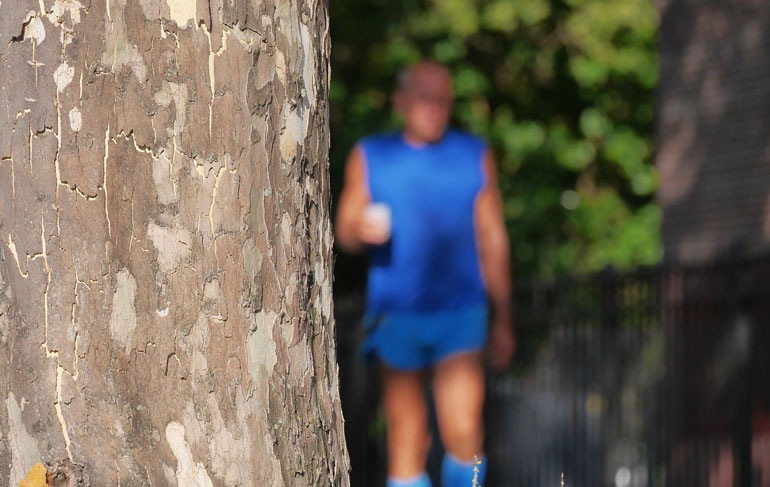 He has 2786 miles which is 220 more than last year.
His team working to perfection
We can speculate as Ray mentioned just how well he could do in other races but there is no point to this discussion.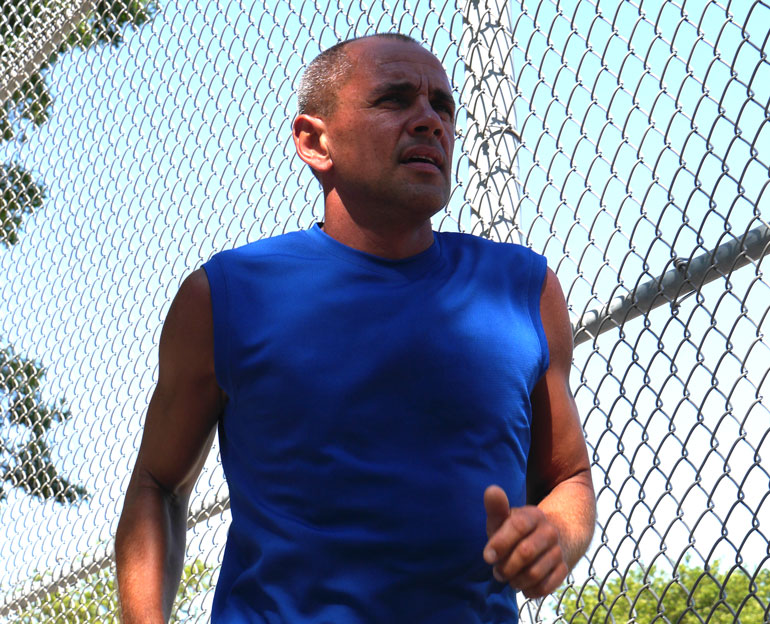 For this alone is his race.  Where he can devote himself fully and run for only one purpose.  Not to win but to become.
Prayer of the Day recited by Suhasini and Sanaz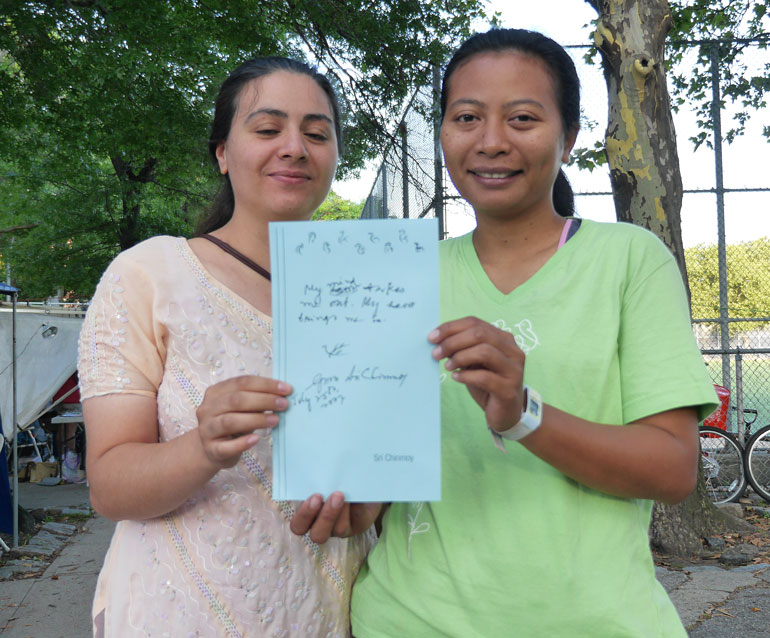 Click to Play:
Enthusiasm Awakeners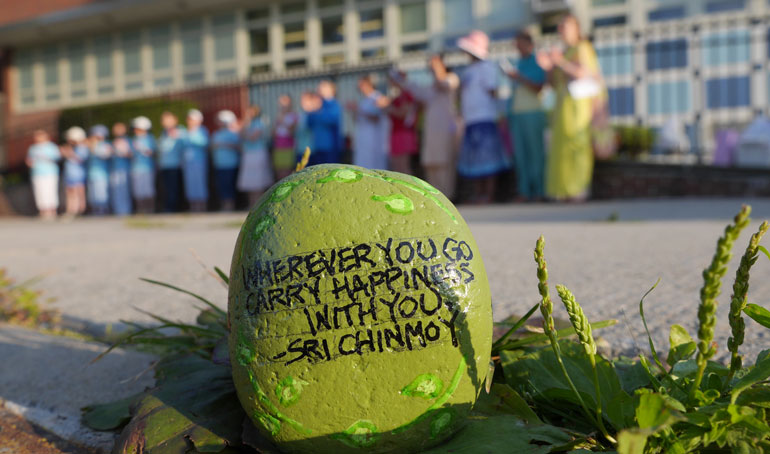 Song of the Day
Click to Play:
A seeker has to start
His spiritual journey
With a ceaselessly dreaming
Oneness-heart.
Sri Chinmoy, Twenty-Seven Thousand Aspiration-Plants, Part 145, Agni Press, 1991