"The rain is outside.  Happiness is inside.  They do not mix.  I love rain very much.  I call rain my friend, and when it comes I am very happy."
"I understand that other runners do not like rain very much.  But rain doesn't ask us when it comes.  Therefore I am very happy when it comes.  I cheer it."
"I take rain as a part of the Supreme.  Rain, sun, and wind are all manifestations of the Supreme, and I try and take it with gratitude.  Our minds can think about it in a bad way.  But my heart feels that I am one with the rain.  Rain is also a symbol of purity.  So when it comes I feel more pure.  Outwardly it is difficult.  Inwardly I have a good feeling."  Yuri Trostenyuk
On a night when the rain fell heavy and rich out of the sky Yuri completed 2000 miles on the very wet earth below.  He posed briefly for Sarvadhara to take a picture and then went on to cover an additional 5 more miles.
I know how I feel when it is raining, or it is cold, or I am tired and faced with the prospects of going out for a run.  Like many, I can easily make friends with procrastination and give in and give up.  Just like that.
None of the 14 runners ever have that option available to them at any time. No matter how hot it might be, no matter how heavy the rain comes down out of the sky, and no matter what creature of doubt or hesitation or the mistress of lethargy itself persistently tries to make their acquaintance. They all must be pushed aside in order to move on.
This board has been has been witness to many sweet victories over the years.  Not just a yellow backdrop to the greatness of champions who have completed the distance, but also to observe the small quiet triumphs that can take place long before the race is even over.
It is a constant presence.  There when pain or dark doubt have been turned away or when joy and peace have made their presence felt.  Observed the inner battles, both large and small. The joys both luminous and profound.  All the pilgrims pass it by but none stay by it long. Yet still its presence makes no permanent mark and yet passing by it means and counts for  much.
In the first year of the race, and over many other years, the great Ted Corbitt used to come out to visit the race.  As a pioneer of American distance running and a dear friend to Sri Chinmoy the founder of the race, this was a place where he could quietly and lovingly observe his ultra distance sport taking place at the absolute summit of his imagination and his dreams. He loved to come and quietly watch.
At an age when he could just as easily walk up and enjoy ultra races from a distance, he instead continued to compete.  Compete at an extraordinary high level at an age when just about anybody would have questioned his sanity for doing so.
On one occasion when Sri Chinmoy heard that Ted was here visiting the race, he came over so that he could meet with his dear friend.  He asked Ted why he had not competed in the 6 and 10 day races in the Spring.  Apparently Ted mentioned that he was simply unable to run anymore and was only able to walk.  Sri Chinmoy, so it has been remembered said to him.
This is not something you are doing for yourself.  This is something you are doing for the world.
Ted Corbitt, at age 81 competed at our 6 day race at Wards Island in 2000 and walked 240 miles.  The following year in 2001 he returned again and walked 303 miles, 63 miles further.  Then when he was 84 in 2003 he did 68 miles in a 24 hour race, placing 17th out of 35 competitors.
Ted Corbitt, Ted Corbitt, Ted!
Runner-world revolution-head.
O softness-runner-saint,
Measureless miles your legs did paint.
A brave champion is found
In Heavenly Silence-Sound.
Sri Chinmoy, Run and become, become and run [songbook], , 1982
It has something that Sarvagata has done before.  Reach an impossible summit and then reach out for an even greater height.  He ran 135 laps and finished the day with 2100 miles.
Rupantar's  taxi has come.
Pranjal somehow made it before William who can seen striding down the road.
William last night passed Teekshanam
Nidhruvi looks at the numbers and is trying to find just a few more laps each day.  From now until the end.
William has an even greater task but seems to be finding the way to manage it.  William did 116 laps yesterday and needs to continue each day with 113.
Jayasalini is doing all that she needs to.  Sarah had a great day yesterday and perhaps can begin to see the possibility of setting a new women's record here.
The counting book when opened in the morning does not always have good news.
But when you have a puppy on your table then everything can look a little better.
Start Day 31
In the morning it is overcast and humid, but not hot.  Later in the afternoon the showers will come and off and on pour down over the area well into the late evening.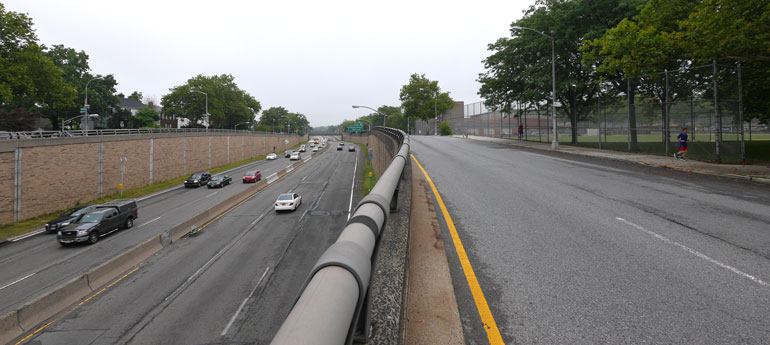 Sarvagata's performance when you begin to really look at is awe inspiring.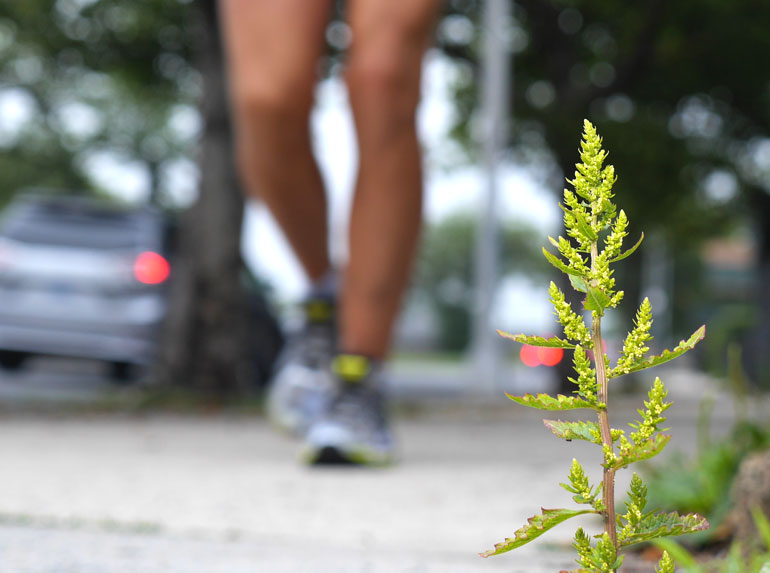 To run 135 laps, which is a number he has only ran once earlier this year is incredible.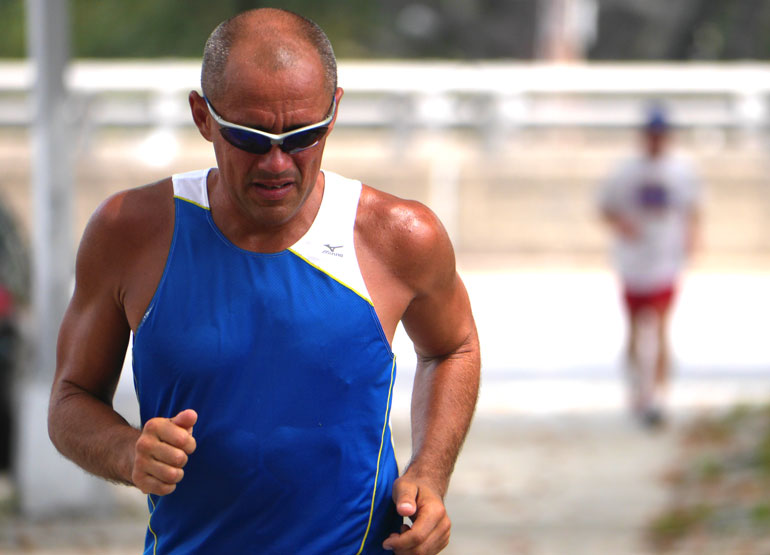 But you have to also be aware of just how generous he is with the strength that he clearly has.
He has found a kind of leadership role that he quietly just goes on and performs.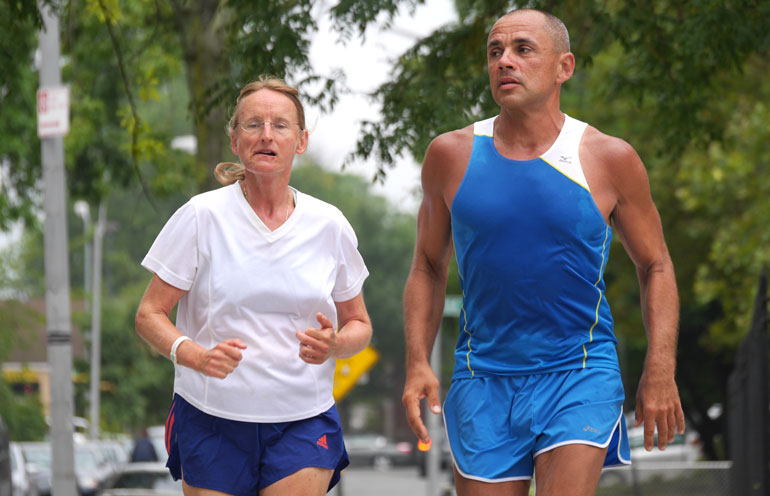 He knows that everyone suffers but maybe in a small way he can run beside another runner for a while and share what it is he seems to have.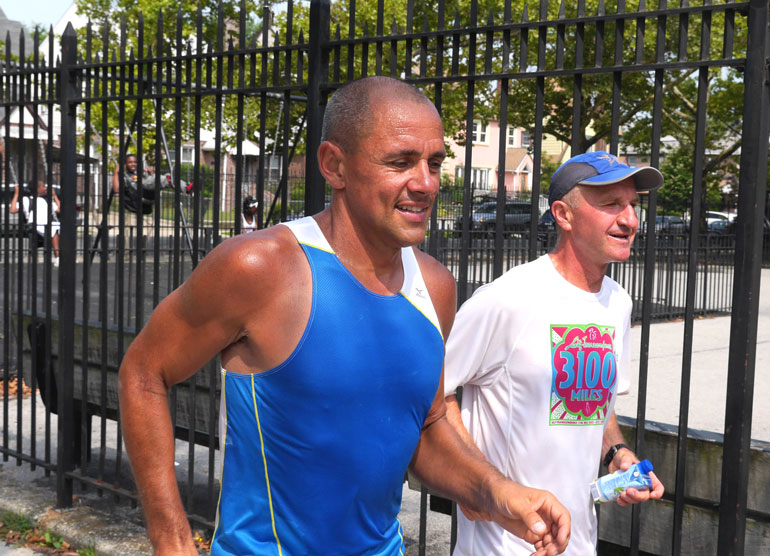 He jokes when he says, "I am serious about being happy."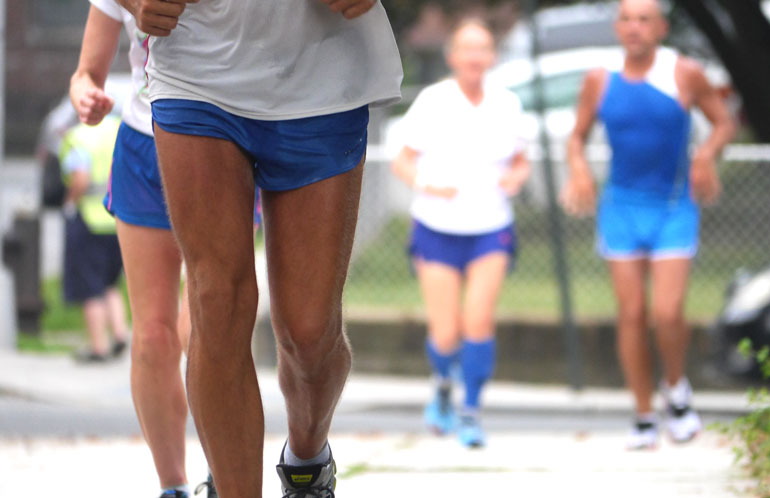 I ask Yuri if any of the other problems that come along during the race, besides rain are also his friends.
"They are my companions.  I understand in such a big race that it is not possible to go through it without difficulties.  These difficulties help me in my mind to get rid of attachments.  They help me to go higher and look further, and even to look deeper inside myself."
"The race here last year taught me these things.  That you don't have to be afraid of difficulties.  It all depends on our attitude to them."
"We have 2 choices.  One is to feel that God is holding our hand and guiding us and the other is to be afraid of difficulties and close ourselves off."
"It depends if we are in the mind or that we are in the heart."
"Last year when I finished and Stutisheel called me I told him I loved this place so much that I wanted to put up a tent and live here.  And now this same feeling is getting stronger.  But I feel that I have to put the tent inside my heart.  In the heart of oneness with everyone then you will find happiness always there."
Click to Play Interview….Translator was Anastasia from Chelyabinsk:
Pranjal had 118 laps yesterday and has 1961 miles.  He is 53 miles ahead of last year.
Francesco was the inspiration for this.  Photo by Jowan
Today's tiny steps
Will help you
To take giant steps
Tomorrow.
Sri Chinmoy, 34567 Seventy-Seven Thousand Service-Tree, Part 35
Late this morning he made 200 miles as well.
The night before last it began to rain just as he was finishing his last lap.  But the main rain he says, "didn't start until I closed the door of my house."
Yesterday was not hot but, "really, really, humid."  He was not as sleepy yesterday and so was able to manage and get 118 laps.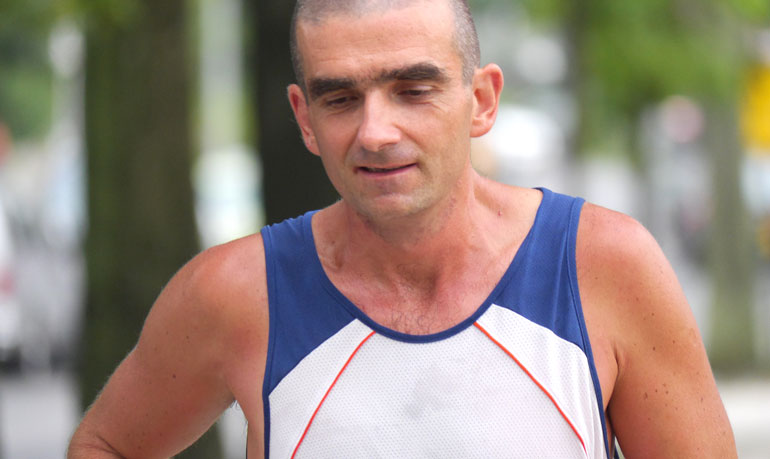 "Sometimes you just don't know what can affect you."  He describes that even on days back to back when he gets the same mileage he can feel not so good one day and better on the next and yet achieve the same result.
"I can have a good day and somebody else can have a bad day you just don't know how the weather will affect you."
"Everybody has their own problems.
The rain's soft beauty does purify what it touches.
Vasu has found a way to endure all the challenges that have come.
He completed 121 laps yesterday and now has 1924 miles.
His face shows just how really strong he is.
He also knows how to encourage and inspire others.
Stutisheel had a good day with 118 laps.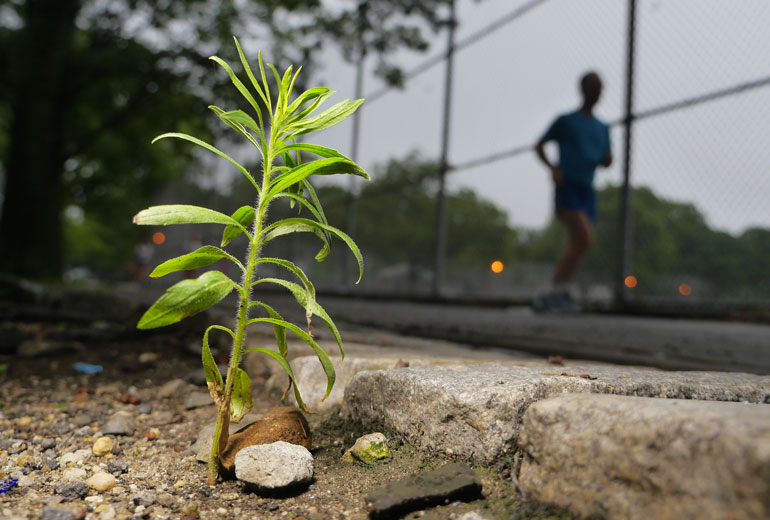 He starts the day with 1891 miles
Hridayinee mentions that the Oneness Fountain Heart restaurant supplied all the food for the runners to celebrate their anniversary.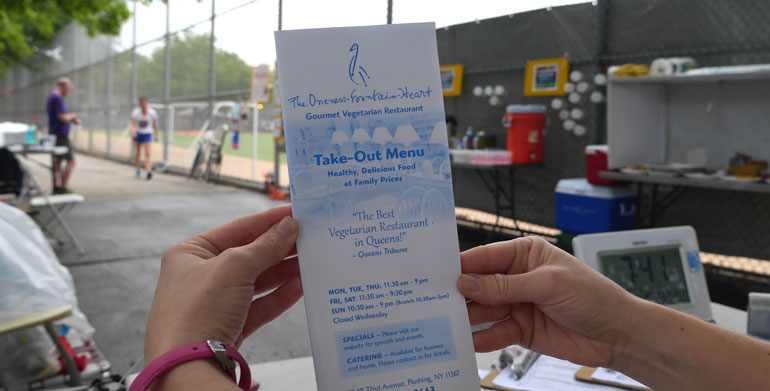 Sarah had another good day of 113 laps.
Her mileage this morning is 1862.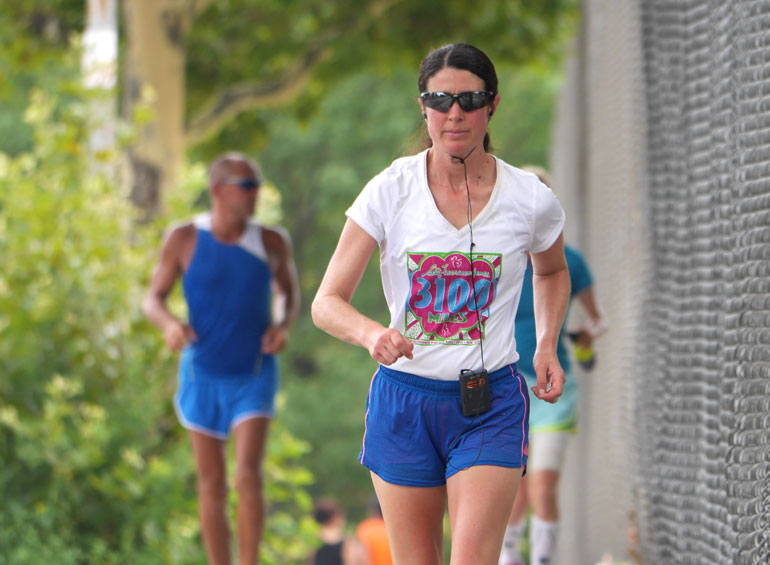 She was running fast laps most evenings with Sarvagata but sometimes in the morning they do it as well.
She heard a line from one of the Enthusiasm Awakeners songs and wants to write it down.
Her average pace, as of today is 62.09 miles.
Who knows what she or anybody else will do here in the days ahead.
You just have to take that first step
Hastakamala from Perth putting in some laps.
That and watch out for the cat.
The mini version of Sangit Surabhi performs.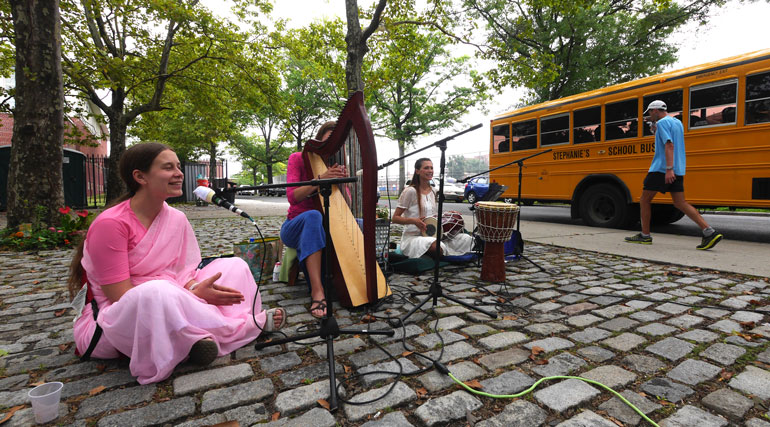 Click to Play:
The light will come.
Jayasalini did 109 laps yesterday.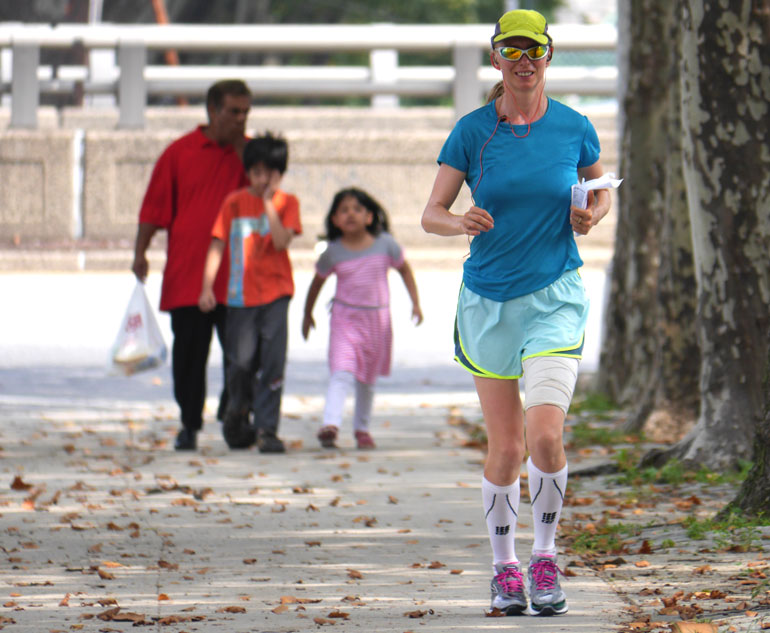 Prior to performing Manoshri warmed up and ran some laps with her.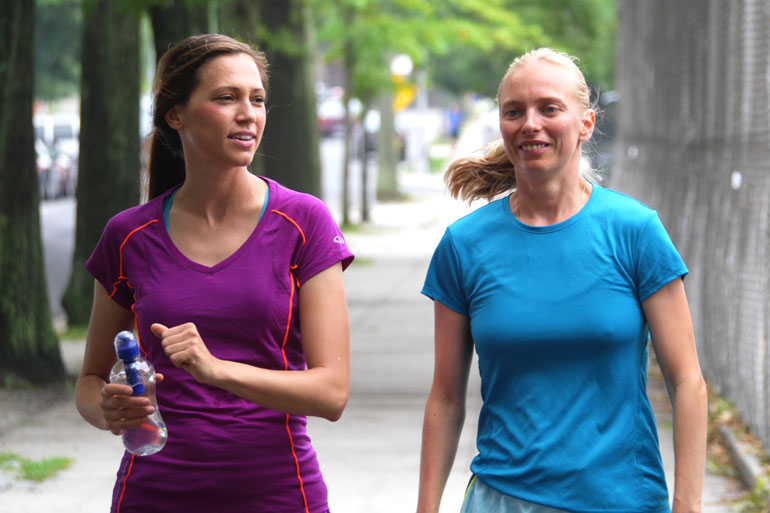 When the kids get out of school the sidewalk can get crowded.
She is doing so so well.
Clear and unclear.
I believe in exercise of course.  But yoga is more my style.
There is celebrating going on today.  I believe it has something to do with Germany and the World Cup.  Will have to google it.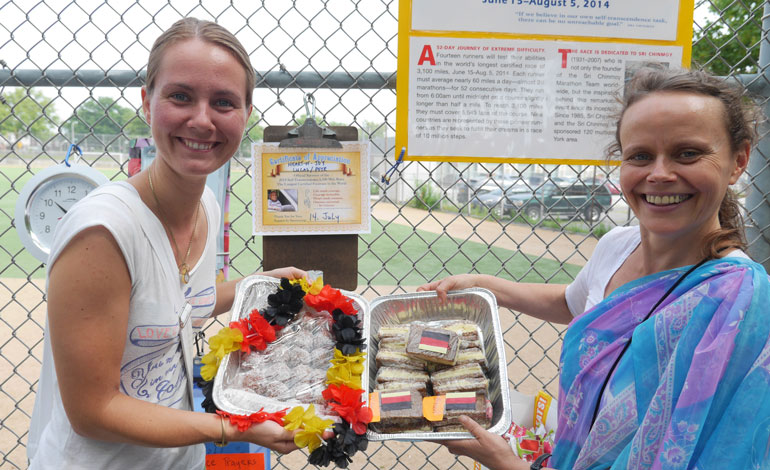 Nidhruvi did 106 laps yesterday.
She is doing her best absolutely.
She ran some laps with Gautami this morning.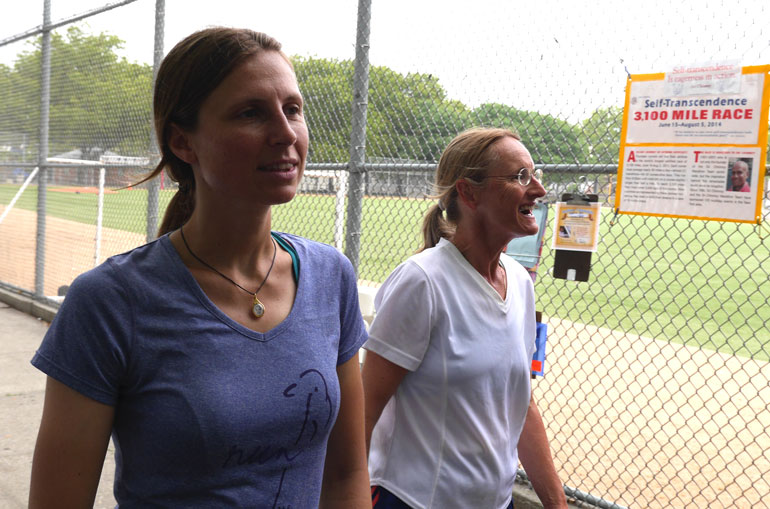 She is getting lots of support and encouragement but now she needs just a few more precious laps each day.
Nidhruvi speaks in German for her friends and family:
Anything can happen here.
Mitch the chiropractor is here working on runners this morning.
He works on Yuri's calf
A happy patient and a happy Doctor who is able to serve the runners he admires so much.
The rains come in the late afternoon.  They will continue on for most of the night.
Baladev had 101 laps yesterday.
He is doing his best.
He has 1748 miles.  58 more than last year.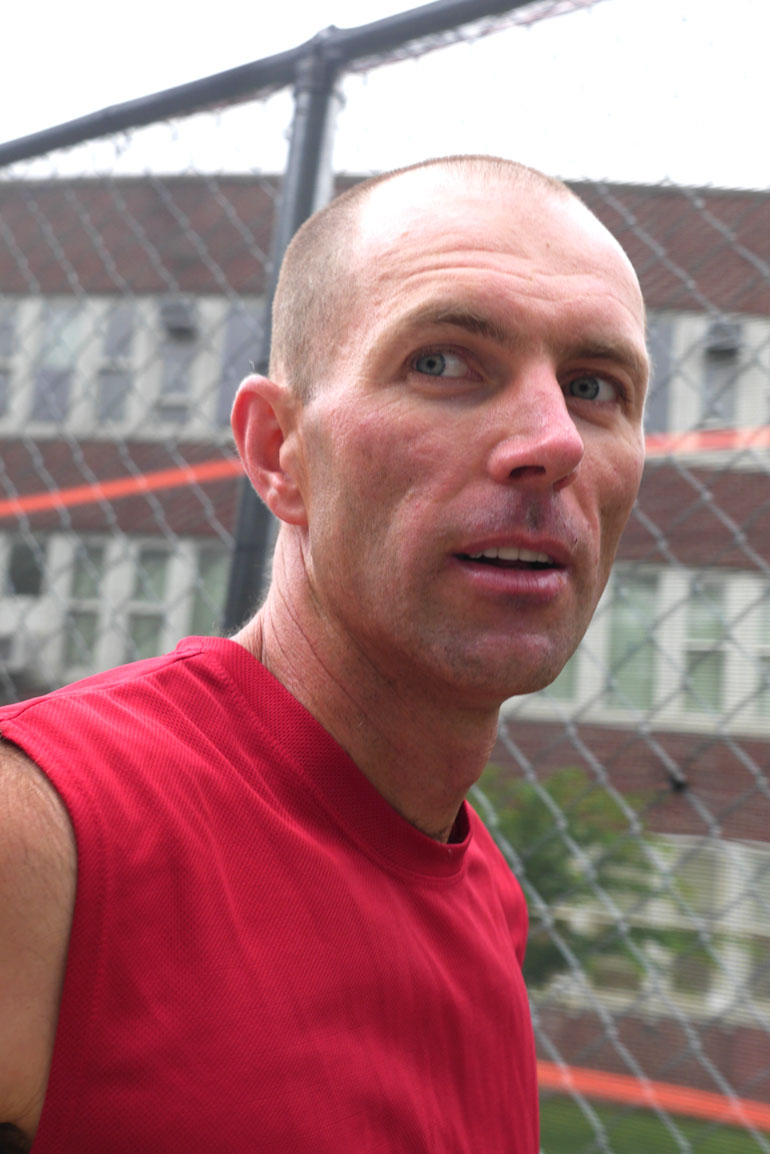 He has written quite a few poems.  Here are some of his most recent.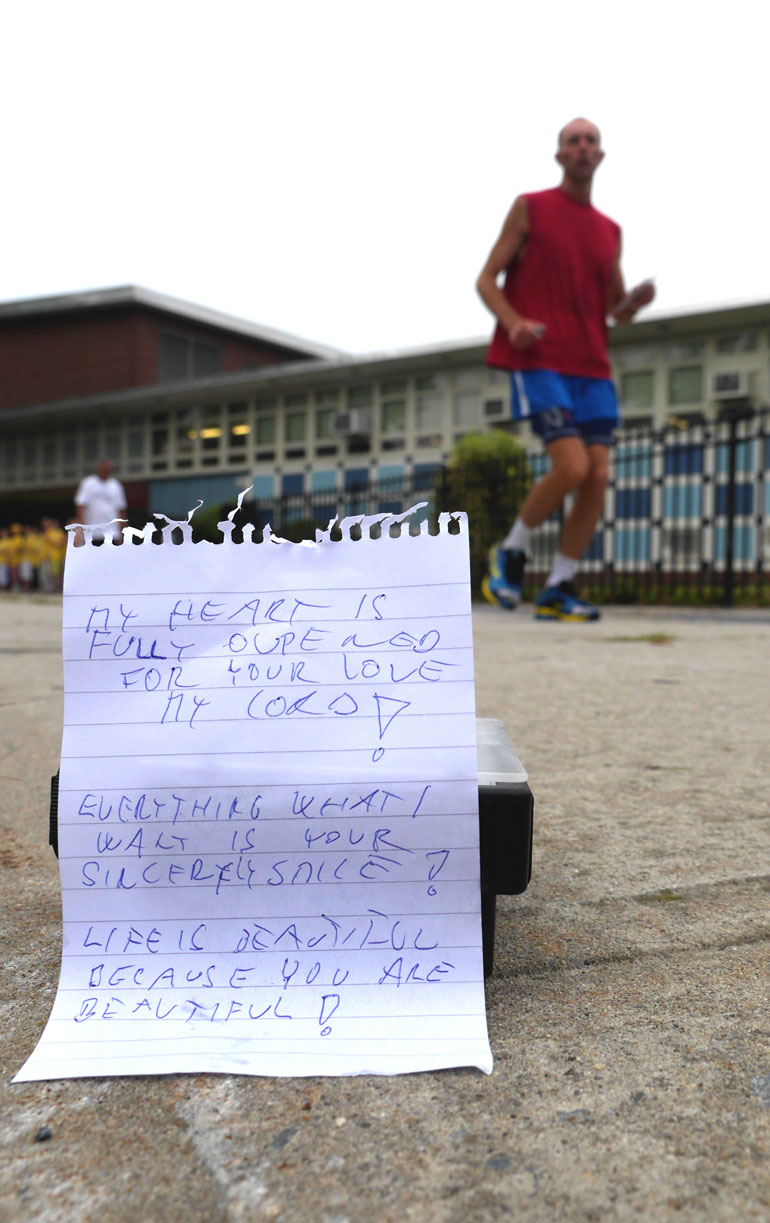 I ask him about the rain last night.  "It was amazingly beautiful.  This rain was real bliss.  I don't know if it was like this for others but for me it was bliss.  I like rain.  It was heavy that is true but it gave freshness to my feet."
"Many days you are running here, there is so much dry weather.  But when the rain comes you can feel that nature is happy.  It was a blessing."
"When the rain comes it purifies everything.  It is cleaning the consciousness, it is cleaning the physical everything.  You know water is consciousness."
"Water in nectar.  Water is life.  Without water there is no earth.  There are no human beings.  Water is God, God is water."
Click to Play:
William's task is clear and he is also going for it.
The obstacles in front of him are not insignificant.
He did 116 laps yesterday and starts the day with 1740.  He needs to now not drop down below 113 laps.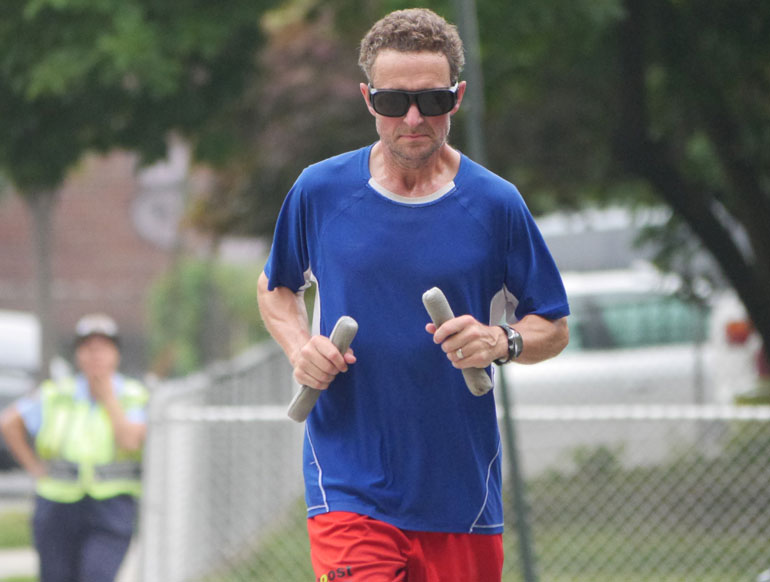 I saw him having a laugh with Stutisheel.  This will not hurt him.  It is after all the start of day 31.  There are still 3 weeks in front of him yet.
William is much stronger and determined than he appears to be.
Teekshanam is doing fine.  He is very happy and fulfilled to have this experience.
legs going and going and going.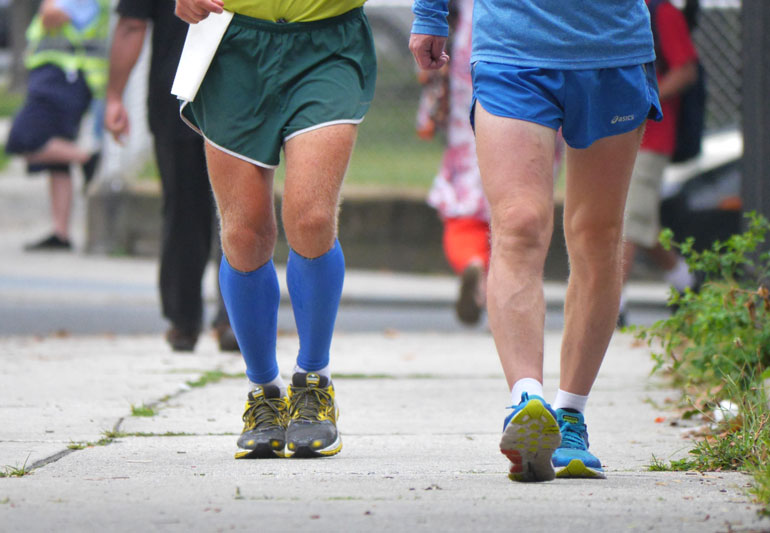 Your tires are still good.  You have a lot of miles left in them. But not so sure about the brakes.
Good reason to be green
"Every morning Rupantar the race director brings a pot of coffee…"
"It is interesting to observe how the runners including me after 1 month running in circles go to the coffee pot in the morning like bees on honey… The coffee pot would be empty in like 10 minutes!"
"So if you make laps longer than 10 minutes like I do you go to the coffee pot and sometimes you push the top and nothing comes out! … and you are sooo disappointed…"
Thinking "oh no Rupantar brought again an empty pot of coffee"… Fortunately soon he brings this new Dunkin Donuts invention a big cardboard box full of coffee! What a relief!
By afternoon it is umbrella time.
"I am coming down is there anybody there to catch me?"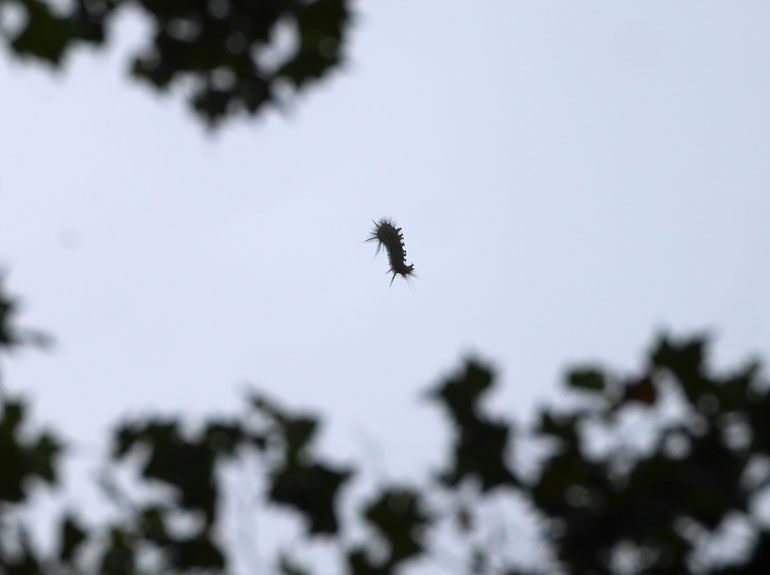 I am here.  I can't wait until you come. I have got the car warmed up and ready to go.
The long way to the closest place inside.
Ananda-Lahari had 74 laps yesterday.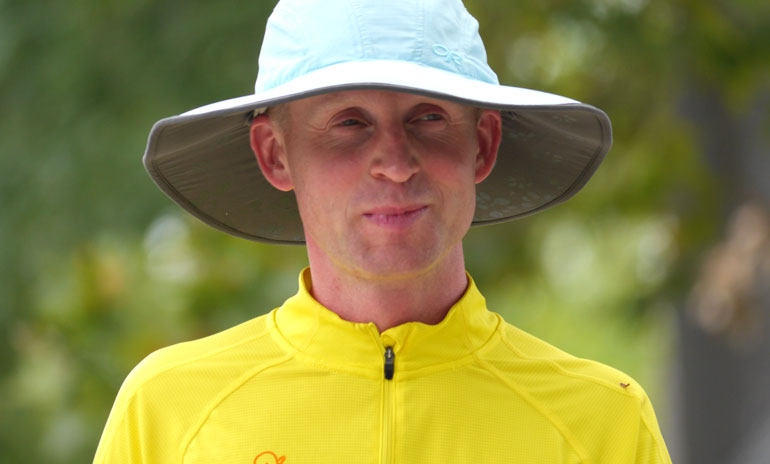 Ray had a hard day yesterday.
He did 53 laps of the course.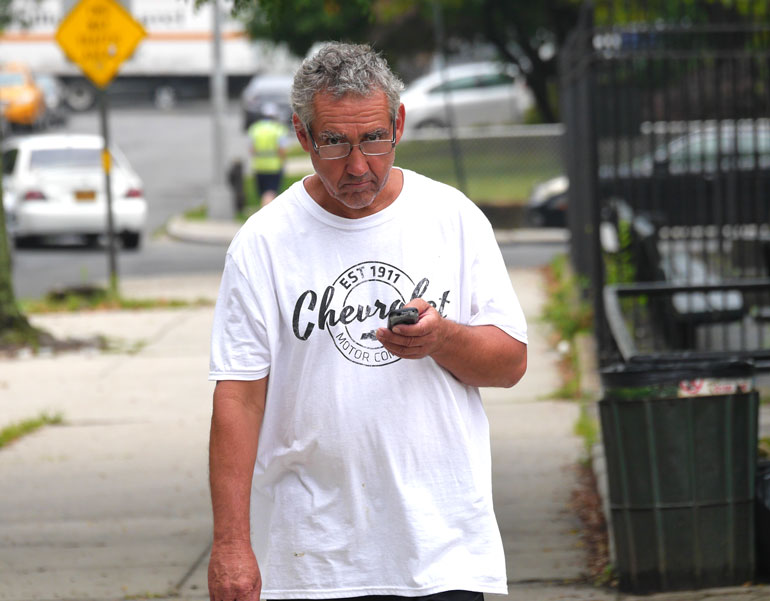 Prayer of the Day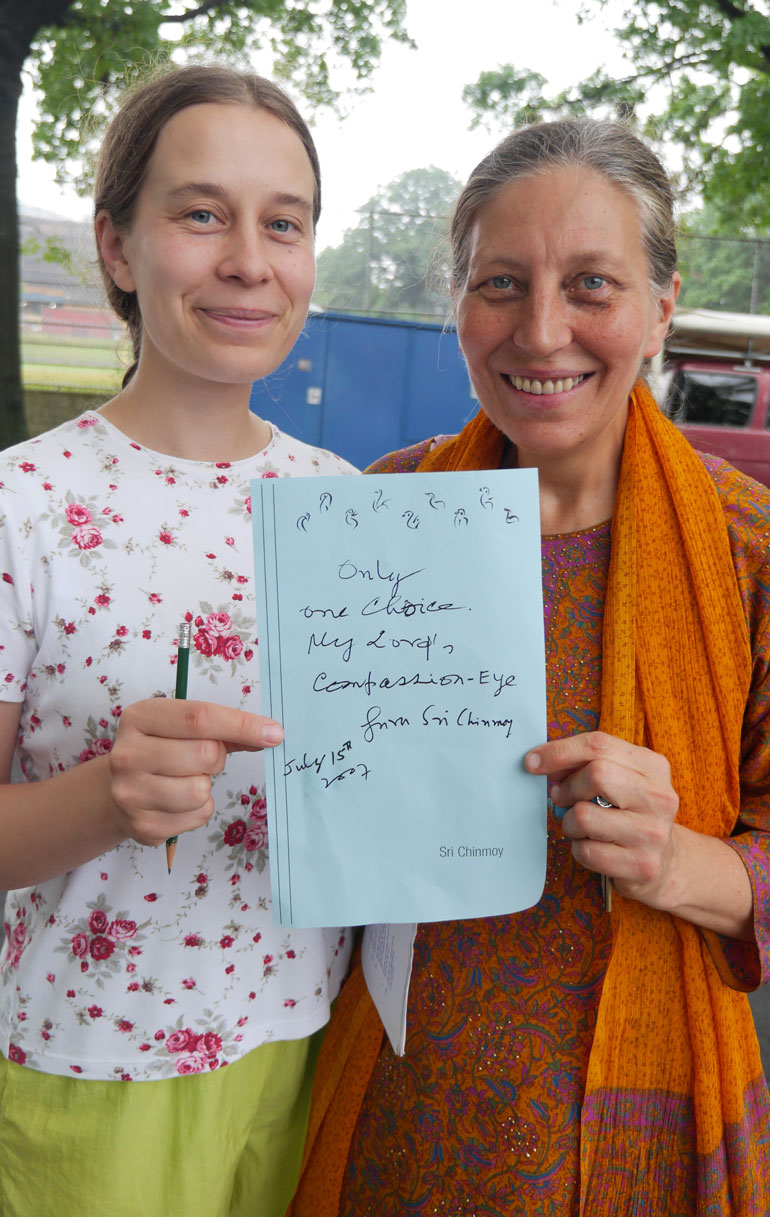 Click to Play:
Enthusiasm Awakeners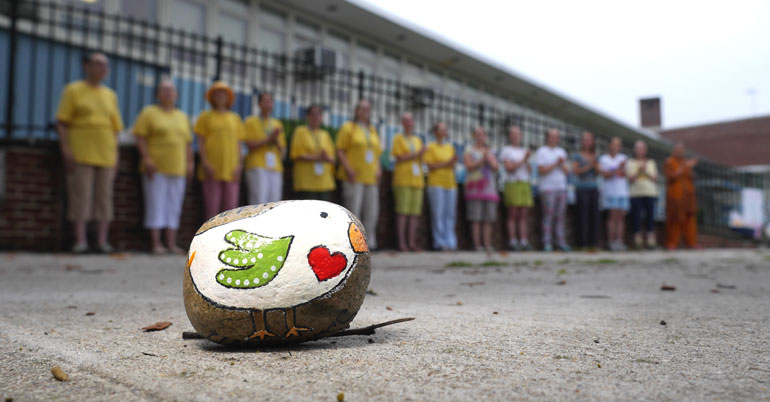 Song of the Day
Click to Play:
Your mind is a measureless canopy of beautiful thoughts, and your heart is a measureless canopy of fruitful ideas.
Sri Chinmoy, Sixty-One Gratitude-Blossoms from the World-Head-Home-Garden, Agni Press, 1992