Each and every day the 14 runners at the 3100 mile race collectively accumulate on average  830 miles.  As of midnight last night, the end of day 23, when Pranjal was the last one to leave the course, the lights went out, and he pedaled home, they had run 19,105 miles.
Lots of things both big and small have to be perfectly in place, for this all to happen. Laps have to be counted, clothes have to be cleaned, and bodies have to be patched up, and coaxed and prodded to keep going.  All the little details and all the bits and pieces of an event like this are crucial.  Very little is left to chance.
But certainly the most important thing the runners need besides strength, determination, and a cheerful spirit, is food.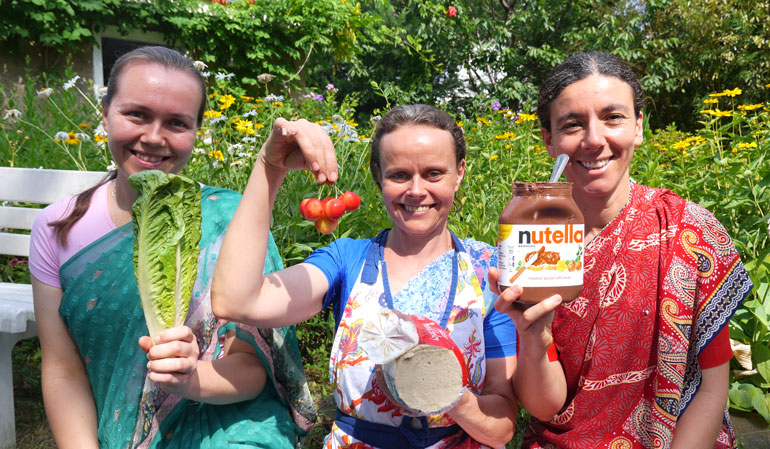 Lots of food.  Nutritious, digestible, energizing, and packing enough calories to get them each through those long hard 60 mile days, and then back out at dawn the next day to do it all again.
And it can't just be anything off the shelve or out of the back of the kitchen.  Runners like Sarvagata who is currently leading the race has run 1615 miles.  His body, as is those of everyone else, has now become an incredibly balanced  high performance marvel of nature.  Nobody can say for sure, but probably what each runner is doing on this brutal relentless course is not what the human body is scientifically capable of doing .  Yet somehow for the past 18 summers they miraculously still endure, enjoy, and go on.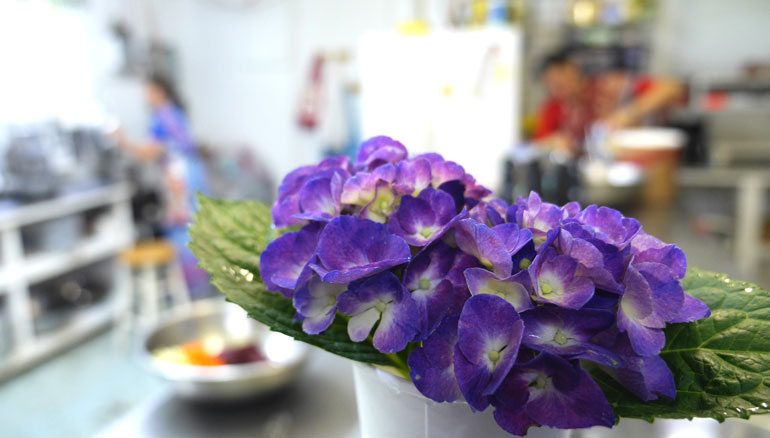 Nirjarini has been the main cook for a lot of those years.  This summer will mark her 11th time as the master chef of the race. A job she relishes and one that just inspires her in so many ways to come back again and again.
A chef for just 14 diners would be a simple job in any other setting than this one.  This one in which the 14 diners are never seated.  Instead they are constantly mobile and often nibbling, eating, and digesting thousands of necessary calories each day for 52 days.  This very exclusive clientele may be the most finicky, delicate, and yet satisfying patrons as you would find in any hungry corner of the country.
When I enter the kitchen this morning, Nirjarini is carefully cutting up some pink sweet desert.  "It is a raw cake."
"The raw thing started about 7 or 8 years ago."  I ask her if the tastes and appetites of the runners is different now then it was.  "At first it was more like junk food.  They were into brownies and pudding and a lot of sugar and then it changed to the opposite.  This year I really feel that it has become a balance.  No extremes any more.  This year a little bit of everything."
Pranjal has maintained a traditional diet, heavy on sugar, for many years.  "He is the easiest to feed.  And he knows what he needs.  And he can digest pretty much anything,"
"I feel in the race because it is so long, and the weather conditions are very difficult.  So they get extremely sensitive. So what they can have and what they can digest changes a lot. So we adjust to help them go through a hot day or a rainy day, or whatever is coming up."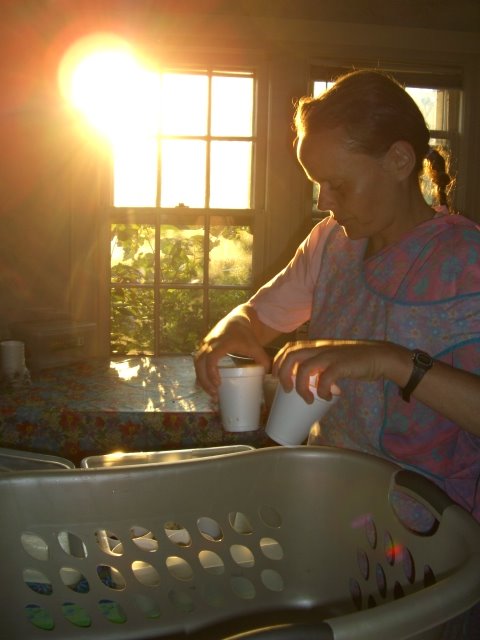 "Some have better digestive systems.  They are somehow easier than others.  We want to support them so that they can run well.  That is why I really try and cater to them."
"I really love this race.   I am happy every day."  It is now literally almost half way, and she says that she is so absorbed in what she is doing that she looses track of time.  "The race is like a different dimension.  I am not thinking too much about what day it is,  how many days left, or how much we have done.  Somehow I am in that feeling of ….Now!"
Harikanta is helping Nirjarini for the first time.  She has helped out at the 6 and 10 day races 3 times before.  "There is a difference.  I am very very happy in both kitchens. But here you only have 14 people but you really have to remember.  What to do for them.  What they like, what they don't like."  She admits to accidentally putting some tomato into one of Stutisheel's sandwiches yesterday.
She says, "I would be upset if I found tomato in my sandwich when I don't eat tomato.  You have to really be concentrated.  It is not as intense as the 6 and 10 day race."
Her friend Jayasalini who is also from Moscow is doing the race for the first time.  She says at first her friends were concerned for her.  "It so hard and so are the weather conditions are also."  But jayasalini was very inspired to come.  "She is a very strong person.  She is very dynamic, and strong and good with people."
It was the physical things that concerned her friends in Moscow most.  "In the beginning she was going through some hard times and adjusting.  But now she seems to be very happy. For me it is really really amazing to see her and I love to do a lap or two with her.  Just to speak with her.  She told me I would be happy to see more familiar faces when I am running.  So I felt I should come."
Nirjarini adds, "I am very happy she is wonderful to have.  And she is fantastic too." Nirjarini points to Hastakamala from Perth who at that moment is working some wonders with some Nutella.
"They are chocolate chip pancakes filled with Nutella."  Hatakamala says this is her first time working full time in a Self-Transcendence race kitchen.  Previous to now she had only helped out she says for about 2 hours once in a race in Flushing Meadow.
"Nirjarini asked me to come.  She said that you are the one.  I said, no, no, no." She laughs as she recalls this earlier conversation that took place back in April.  Time has passed and she believes that it was the right choice.  "I think she was right."
"It is really great to be here.  And it is so true what she is saying about time."  Meaning she too is really enjoying being in the moment.  In her ordinary life she says she thinks, "How much time before I come back to New York.  But here it is very different."
She is a runner and for her the race is, "incredible.  On Sunday I was running for about 4 hours.  It was getting hot and when I stopped I felt a bit dizzy, all the things that would be 10 fold for them.  It is a real honor cooking for them.  We have a great team.  Everyone is beautiful."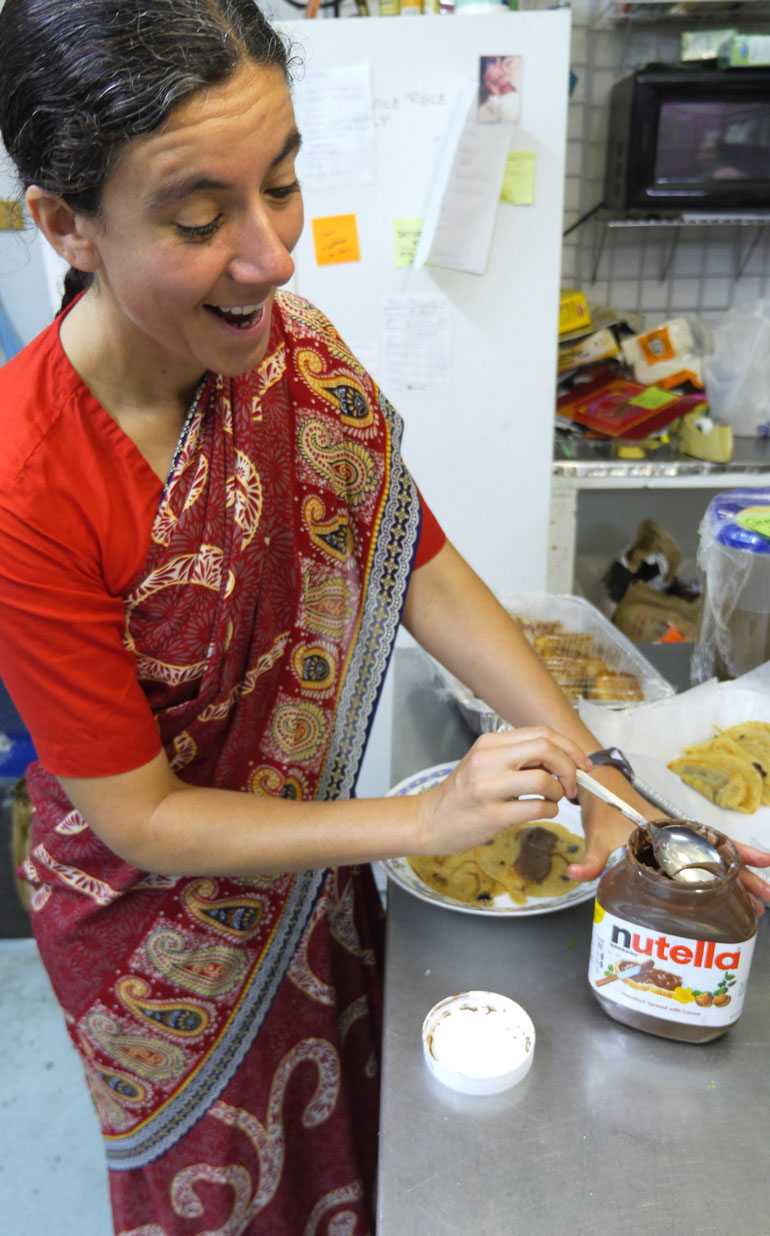 Click to Play Interview:
The body's food
Is matter-made.
The soul's food
Is spirit-made.
Gratitude-life,
Gratitude-heart for God
Is food for the soul.
Perfection-cry
Is food for the soul.
Heart's awakening
Is food for the soul.
Sri Chinmoy, Transcendence-Perfection, Agni Press, 1975
The inevitable hot humid reality of summer is now clearly making itself felt here on this little block.  For now it is just going to be hot for days to come.  Interspersed with thundershowers.  But the super sweltering days have to yet bring their steamy misery thus far.
Tonight at 8:30 the weather map looks a little ominous.  But the showers may still be some hours away and happen after the course is closed for the evening.
The wide open vistas of Tuesday and street cleaning.
Pranjal arriving after an 122 lap day yesterday.
All so familiar and routine by now and yet so extraordinarily hard.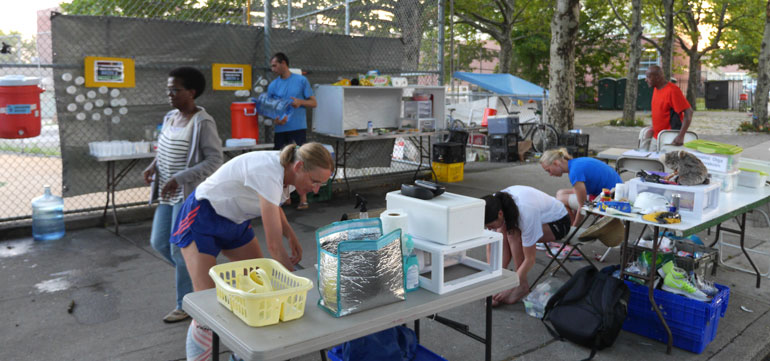 Sopan checks his box while Rupantar checks the clock.
The girls gathering up the bits and pieces and putting Humpty Dumpty back together again each day.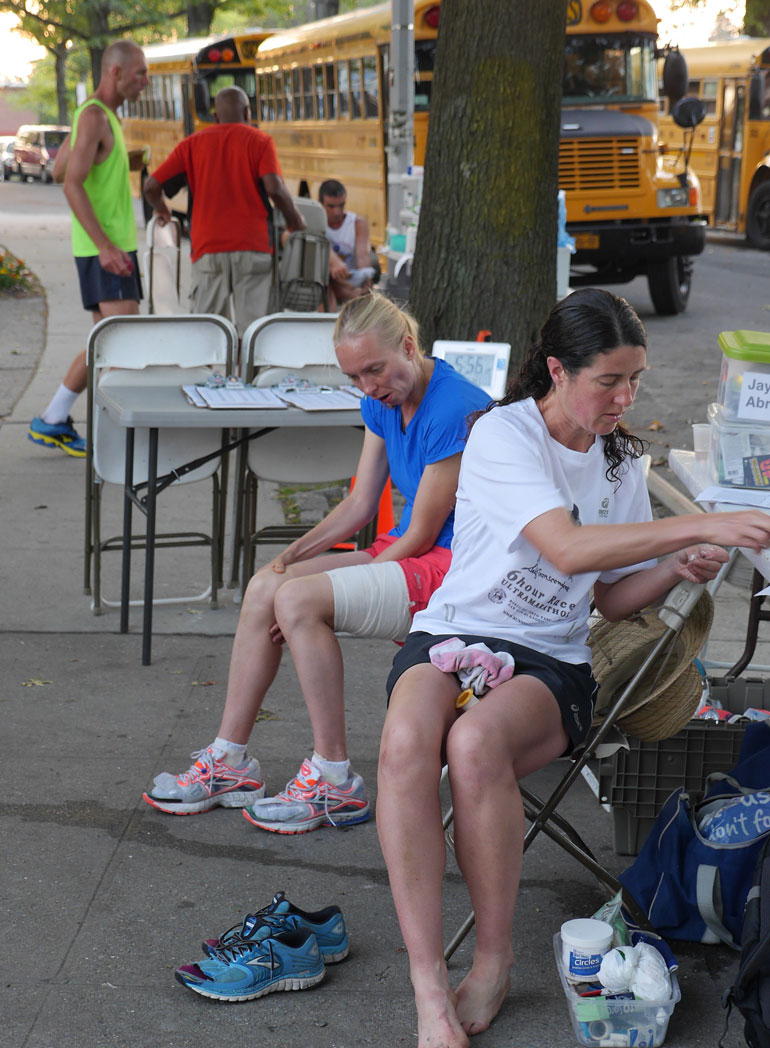 Karibi checking the counting book to see who is on with her this morning.
For now the morning is pleasant but that will change all too soon.
Tarit trying to do whatever he can for William.
Can anyone really imagine what it is like just putting on your shoes is like after 23 days.  In a couple of laps Jayasalini will have completed 1400 miles.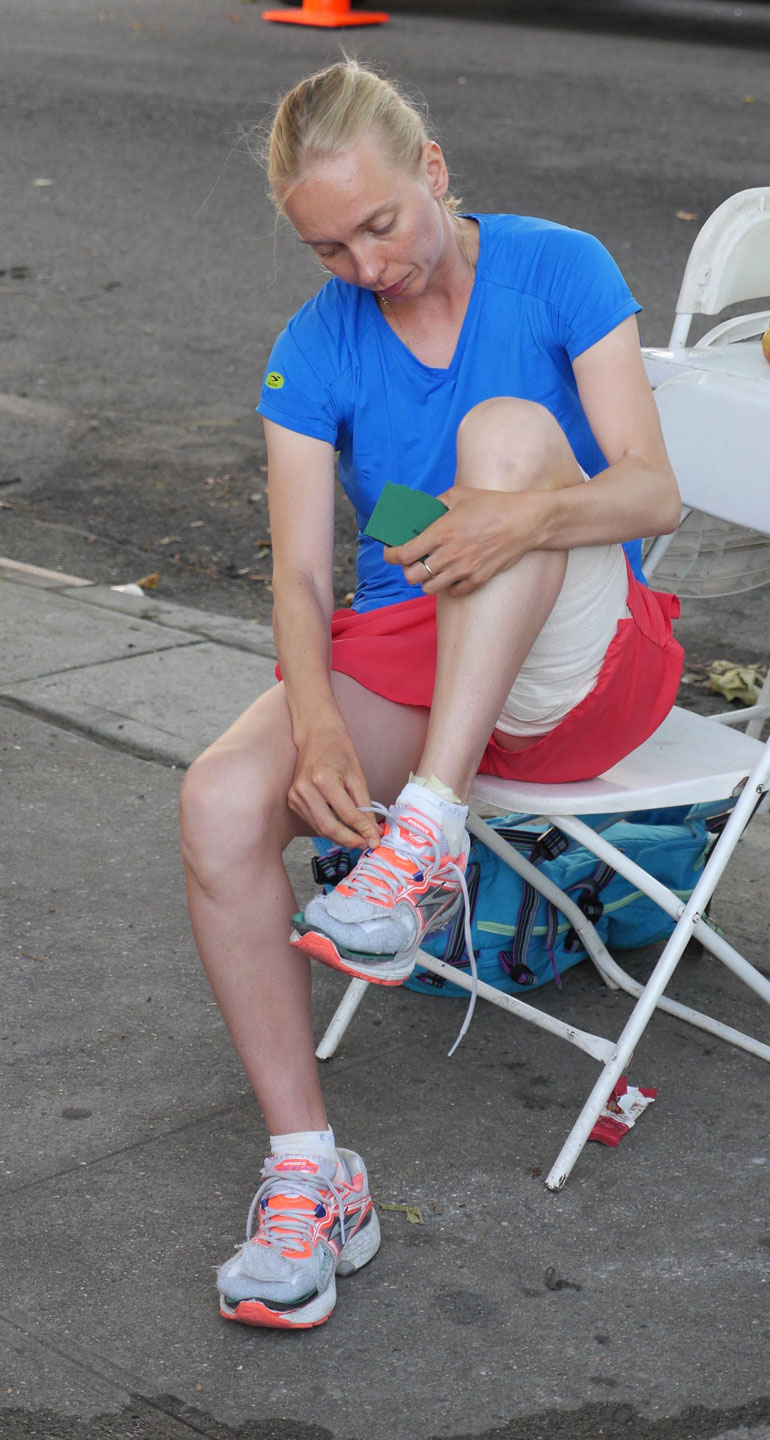 Start Day 24
In some ways Sarvagata has taken on the role of leader of the other runners.  One, who by the sheer greatness of his effort and his day in day out performance is inspiring and lifting everyone else.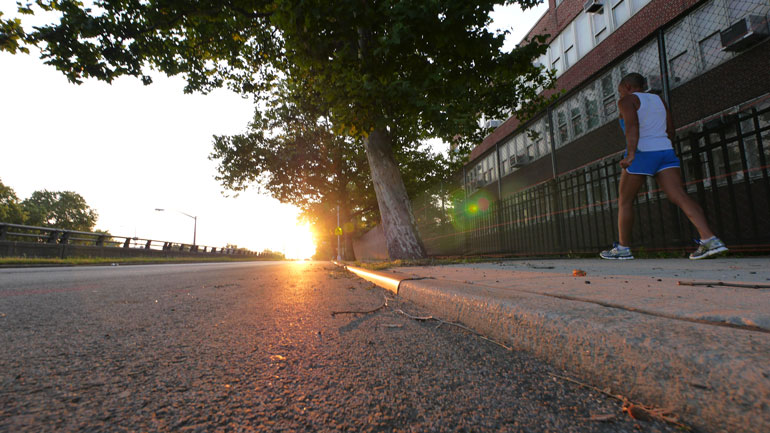 It is not a role that he has set out to do but is one that comes simply by his ability to find his very highest and then to offer it to the road, the other runners, and the receptive world around him.
It is true that he is almost entirely focusing on what he has to do.  Which is more than enough for any mortal.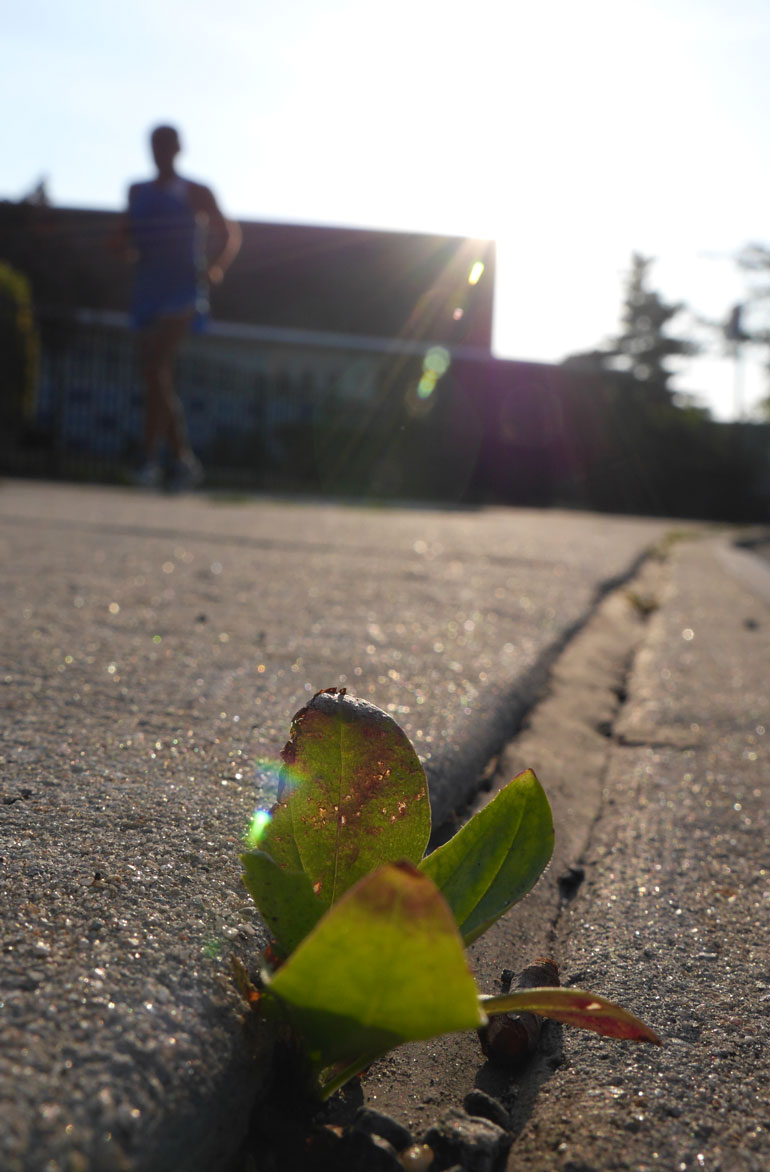 But Sarah tells me a story today about how she was in a bad space yesterday.  For no reason in particular. It is just one of those things.
Saravagata came by and then simply said the words that would inspire her and nudge her out of the mood that seemed to have grabbed her.  She was so grateful for this small kindness.  But it is one that happens here and there with all the runners.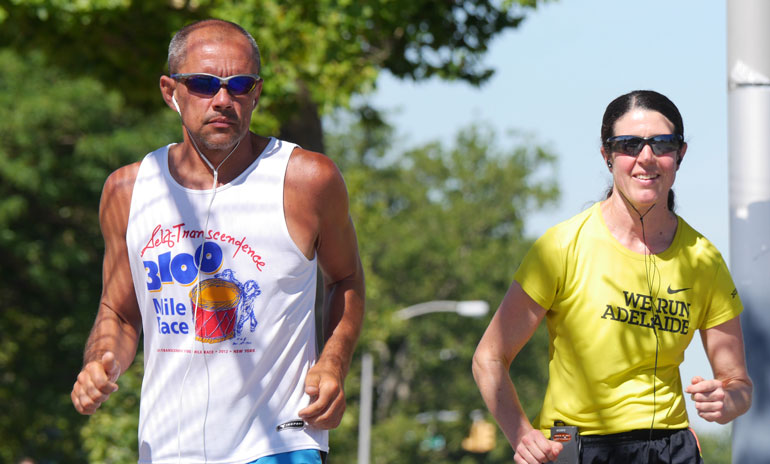 He ran 131 laps yesterday and has 1615 miles
For such a sweet brief time the light is magical every morning, so too is it as well when the sun has finished its journey at dusk.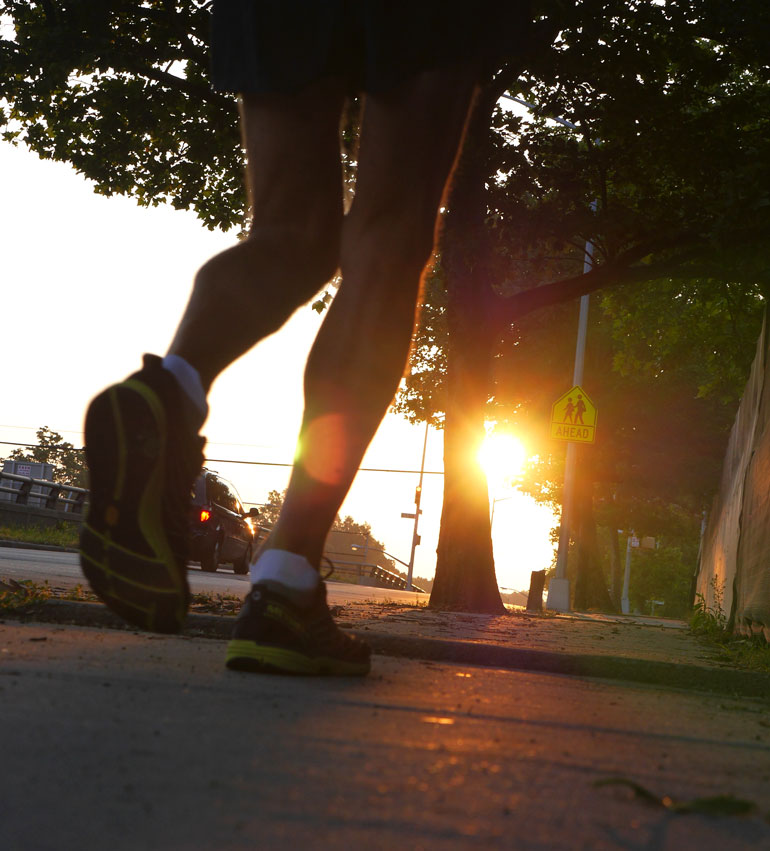 Yuri had his best day since day one.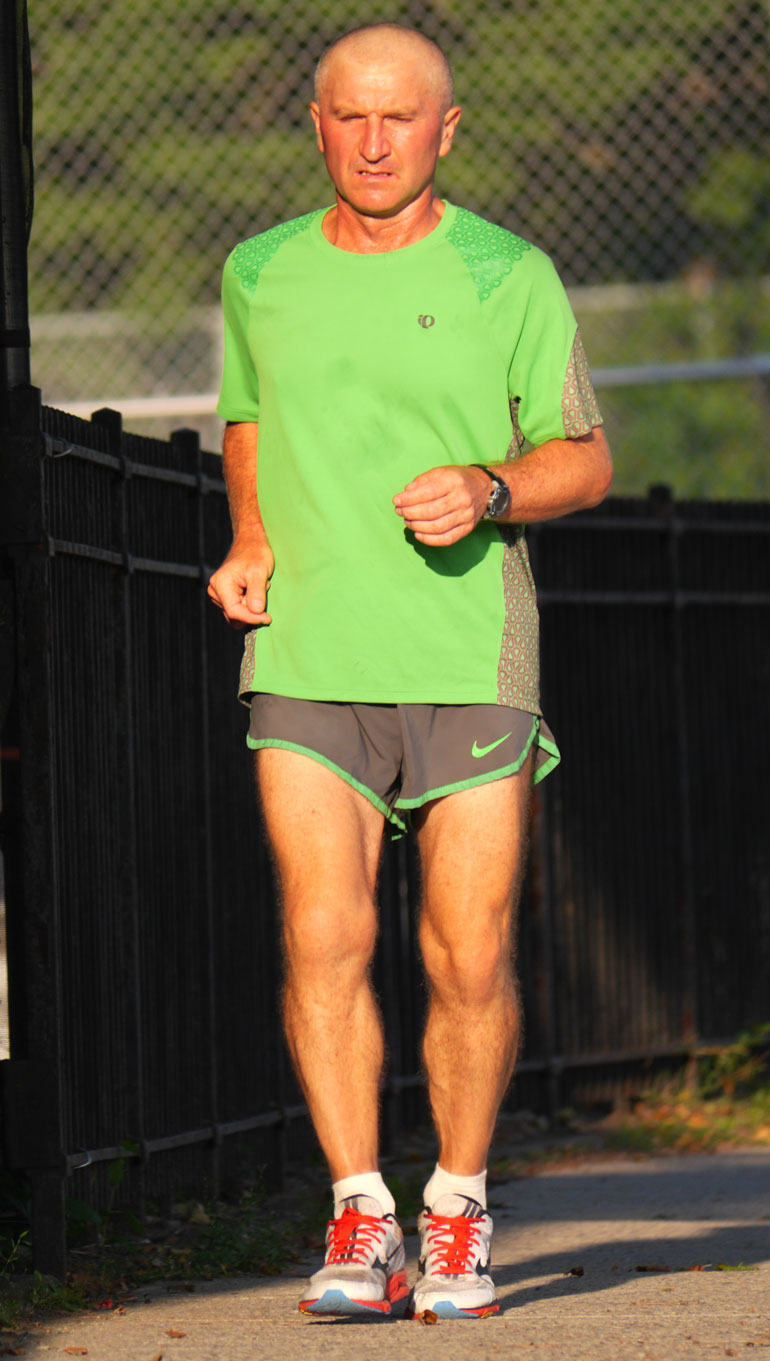 His 126 laps yesterday is such an incredible performance.  One that shows he has learned so much here since last year on the course.  Yet as hard as he runs he knows when it is time to play.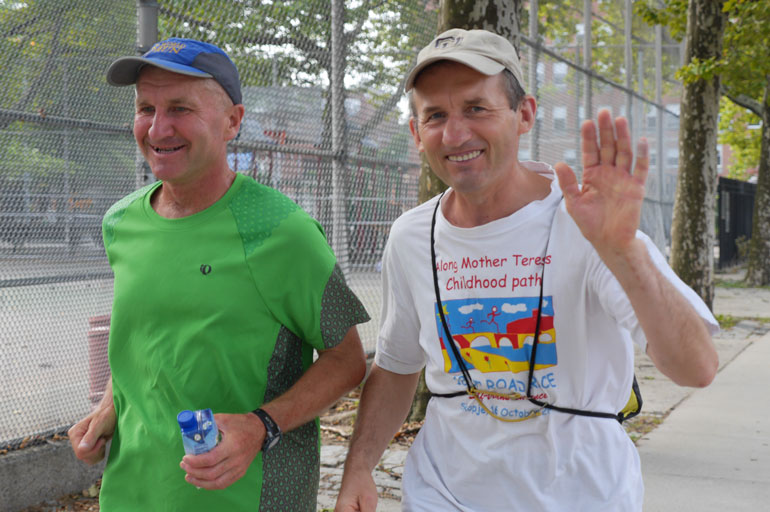 His 1539 miles is just 11 miles short of half way.  Something that will happen this morning.
Pranjal says, "Yesterday was very hot around 32C around 90F.  It was really humid and quite hard.  So many people were walking.  It is very hard to run in these conditions."
One of his tricks is to simply carry an ice pack in his hand.  "It really  helps to cool my body." By the end of the lap it is of course melted.
"Usually in the evening when the temperature goes down people feel much better.  It is just part of the race the weather is a big factor.  But I can't really complain about the weather because we haven't had so many hot days.  Usually it is much much worse.  We have only had one or two hot days.  So you have to get used to it and survive it."
His performance also has a powerful way of inspiring the other runners.  He simply does not know anything other than to always give his best.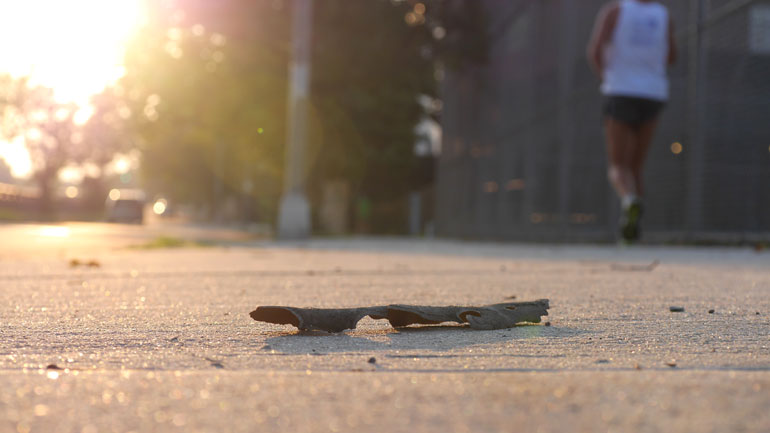 Stutisheel had a hard day yesterday but knows all too well how to put it behind himself and move on.
It is part of his great experience to not be caught up and to keep moving
He has 1465 miles and is now 2 days away from the half way point.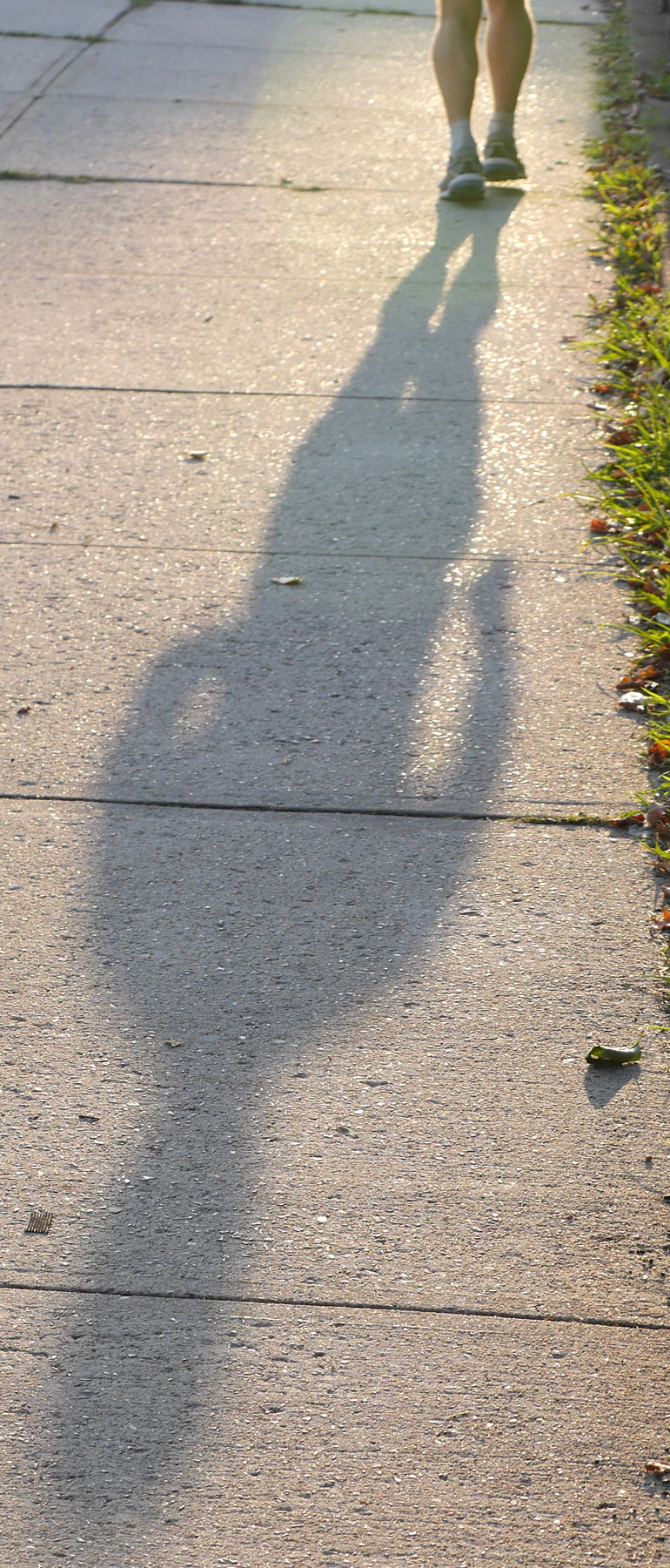 You know they were right.  The pasture is greener over here.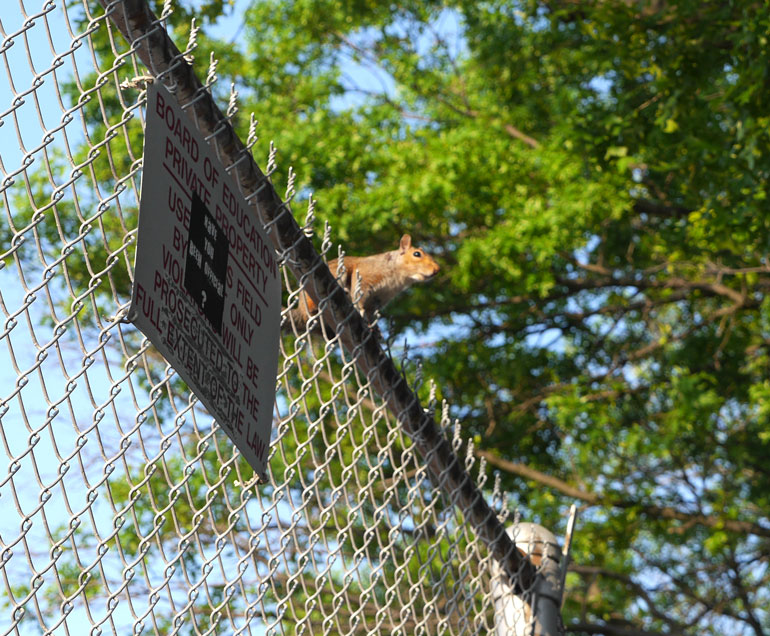 Vasu is having an interesting time most definitely.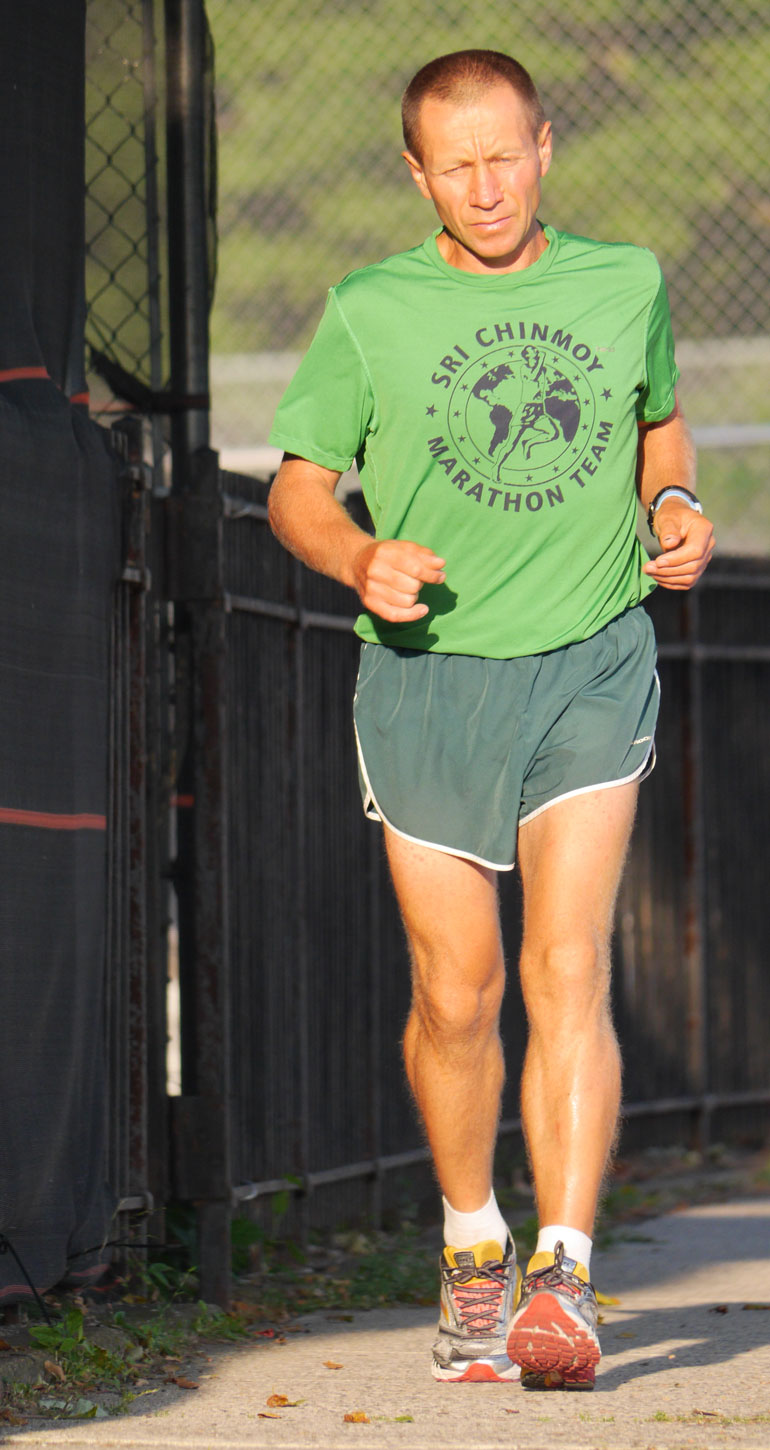 He had 115 laps yesterday and is still trying heal and fix some leg issues.
Sarah had a 108 lap day.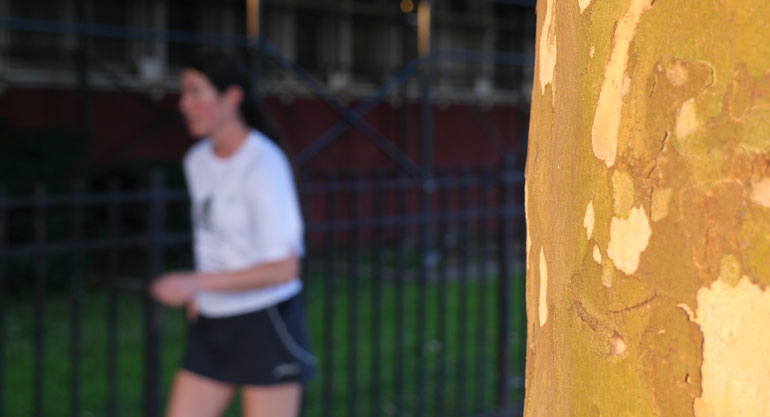 Sarah has asked me to take a picture of her new shirt and she is very excited.  All the runners got them yesterday sent here by the Sri Chinmoy Marathon team in Italy.
"I needed it.  I am still waiting for my laundry.  So it came as a blessing."
She is closing in on half way and I marvel that she has circled the block 2617 times and she is not tired of it.
"This I have to disagree. (laughs)  Everything has been really fantastic but yesterday I did start to have a little bit of a downer.  That's when you think.  Why are we going around in circles, in this heat.  But this is when we help each other. Sarvagata had a few stern words with me.  To try and pull me out of it."
"Sometimes you just need someone to pull you out of your self pity.  We help each other."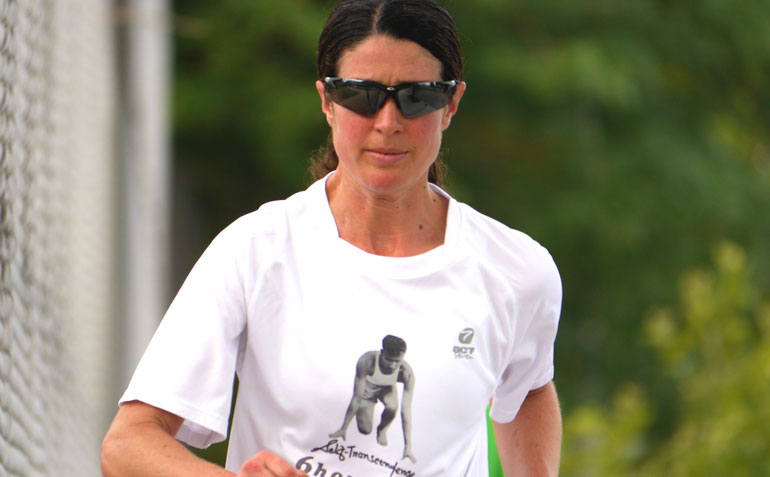 "Sometimes when I ran pat the Enthusiasm Awakeners in the morning they sing a line that just hits you right here.  The first song I heard was about optimism.  Hearing that word was just like, wow.  Don't think about your injuries or that things are going down hill.  You just have to be optimistic and every day is new."
"The second song was come what may my heart must pray.  That was one of the lines and it was so true.  Come what may really don't have any control.  So we just have to stay happy and grateful I guess."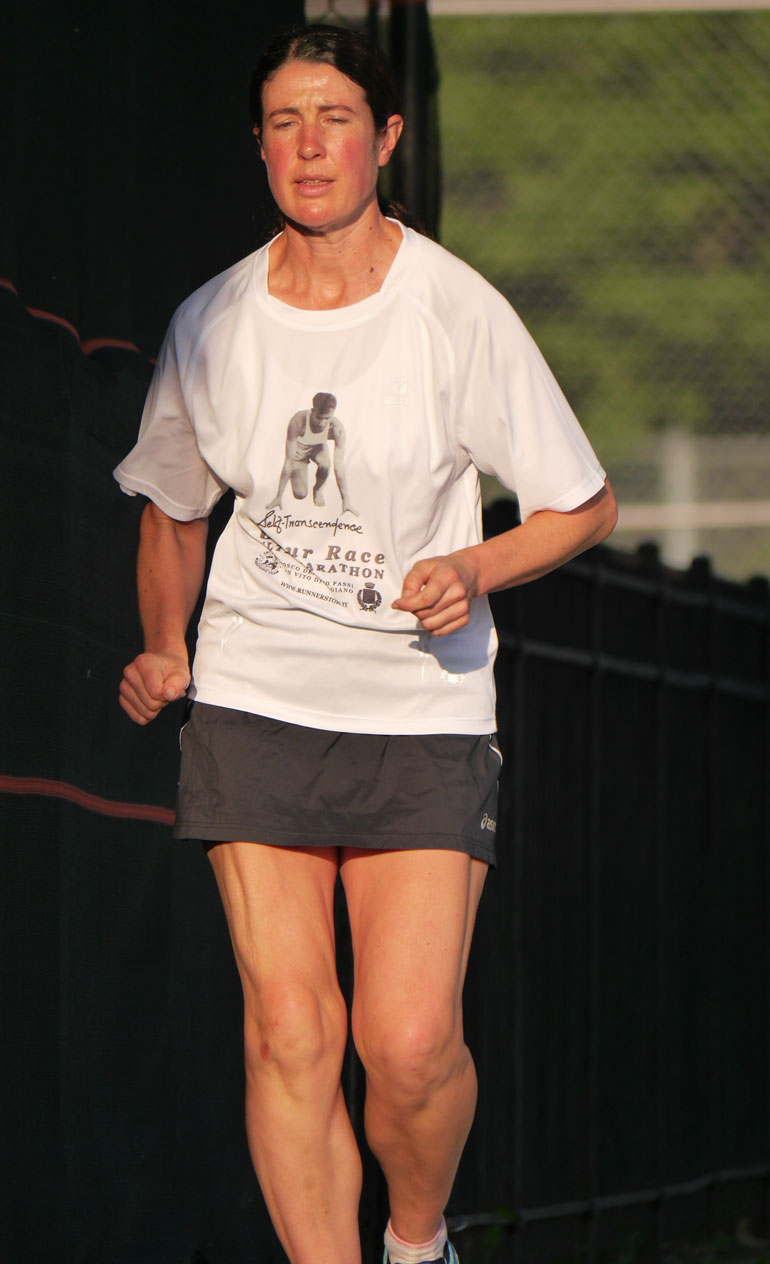 "Every single person struggles with it.  But I think if we can tap into the inner world somehow, our outer circumstances are just passing clouds.  They kind of come and go.  The best runners out here have learned to just go within a lot more."
The subject of Pranjal comes up.  "Out of all the runners he is my hero I have to say."
"I leave the track to get a massage or to do this or that and there is Pranjal just running straight past.  He is silent.  He doesn't stop at all except for 20 minutes for his one break a day.  It doesn't stop for a single thing.  It is amazing."
"He is also like an angel.  Sometimes I have some physical problems, then he will just run past and hand me some herbs or something.  He pops up when people need him."
"There is definitely a sense of a deep sense of peace in the way that he is never fazed.  Like a big elephant going forward.  He is a reminder when you get caught up in your own issues.  He just goes forward.  It is great."
I am just so grateful to be here with so many awesome people.  It is a privilege and I forget, especially in the morning when I am starting out."
Click to Play Interview:
Jayasalini had 110 laps yesterday
The great runner that she is clearly emerging with each new day.
Not that anything she does here is easy but she has a way of making it at least joyous.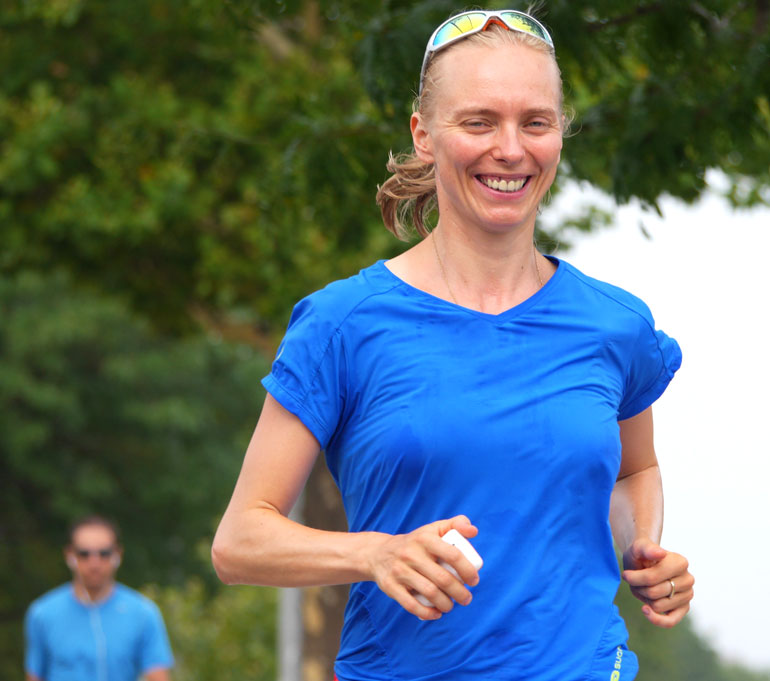 She is about 2 days from the half way point.
The camp wide open until 10.
Can you even see this beauty when you pass by so quickly.
Teekshanam had 108 laps yesterday.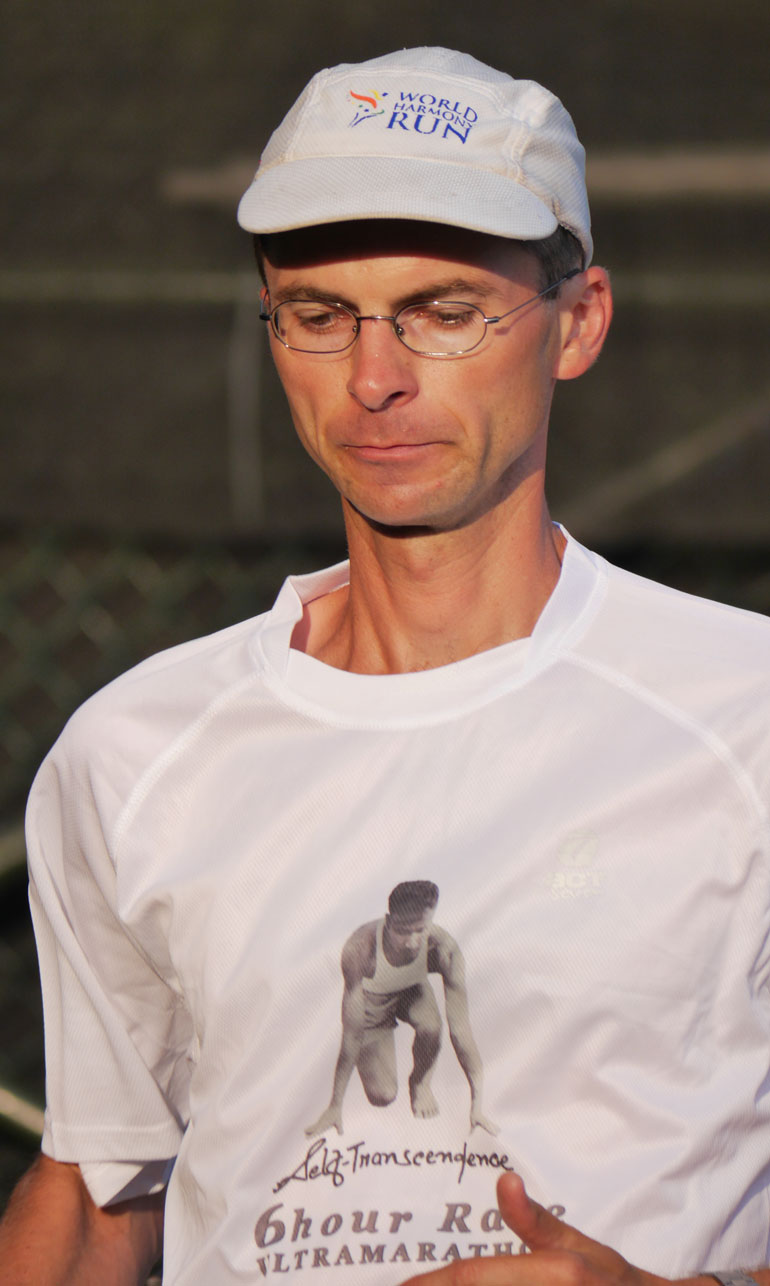 He jokes that he is advertising the merrell shoe company, because their logo is so big.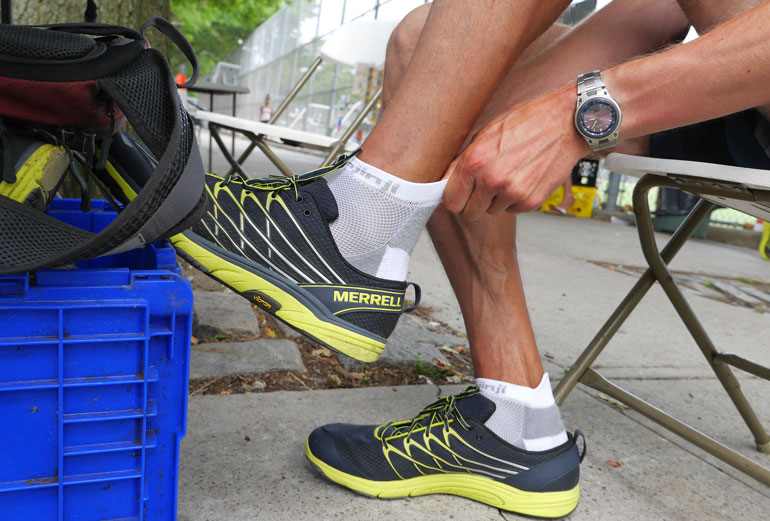 What do you see in this face.  A man at peace.  A man doing what he loves best to do.
Nidhruvi had 107 laps yesterday.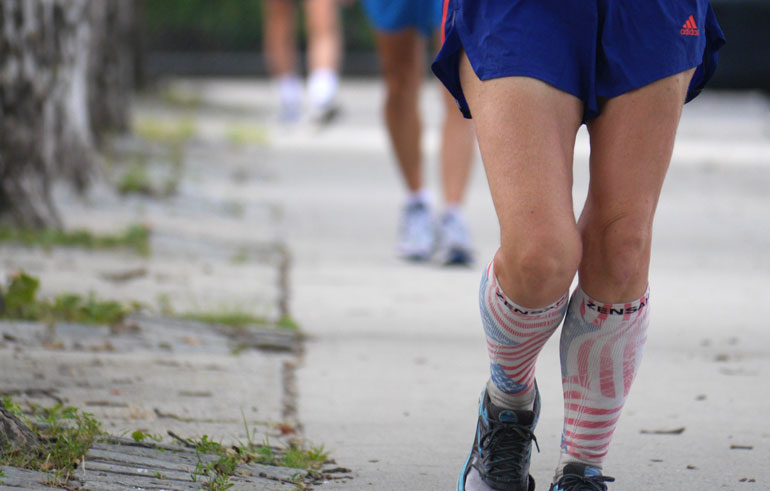 She is still ahead of last year.
Still looking strong and confident.
Baladev had a hard day yesterday.
He had 87 laps but seems to be having quite a few sleepless nights.
To have as much patience as nature does.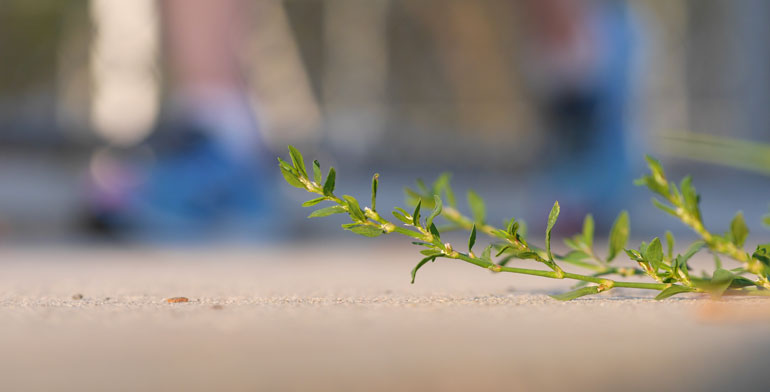 Mom told me always to look both ways before crossing the street.
Now, what was it she said about playing in the street?
William went through 1300 miles this morning.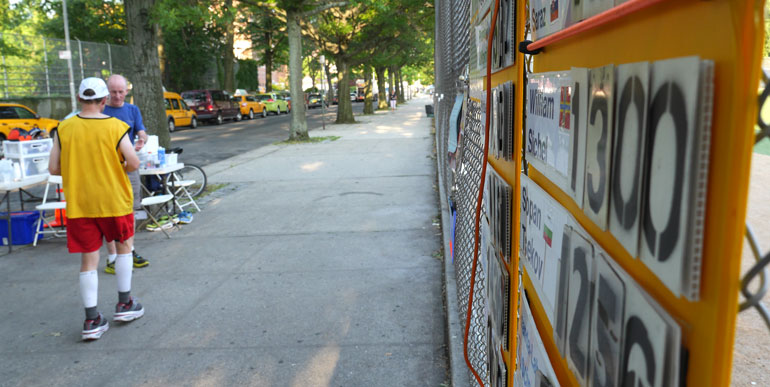 The weather the next few days will be his biggest test.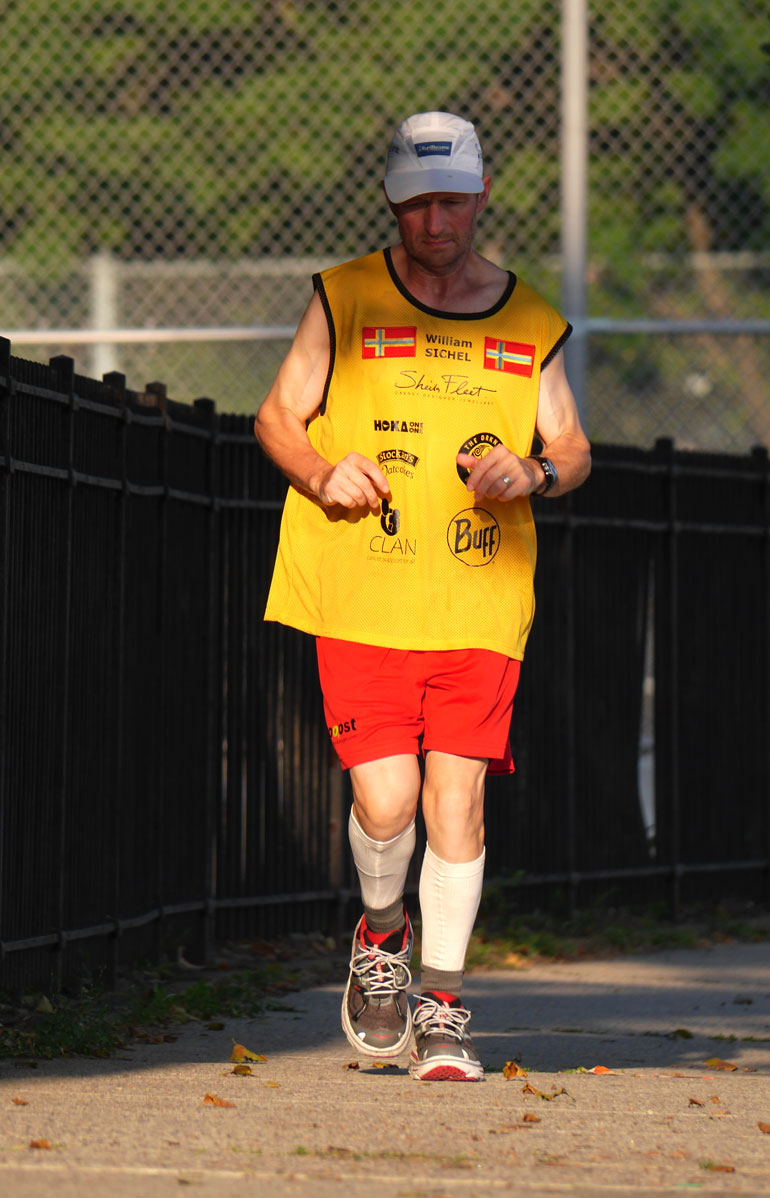 He had 90 very hard laps yesterday and is trying to get as mileage in as he can before it heats up in the morning and then again after it cools down at night.
Sopan is not unfamiliar with this struggle.
I have been pushing the line for some time now and the past 2 days I have been completely engaged with dealing with my back problem reaching a peak moment yesterday.
I feel that I need to go through this experience as a similar one from last year brought me back to the race.
Last year I experienced how deeply transforming such intense experiences can be if you approach them with the right attitude.
To survive and then some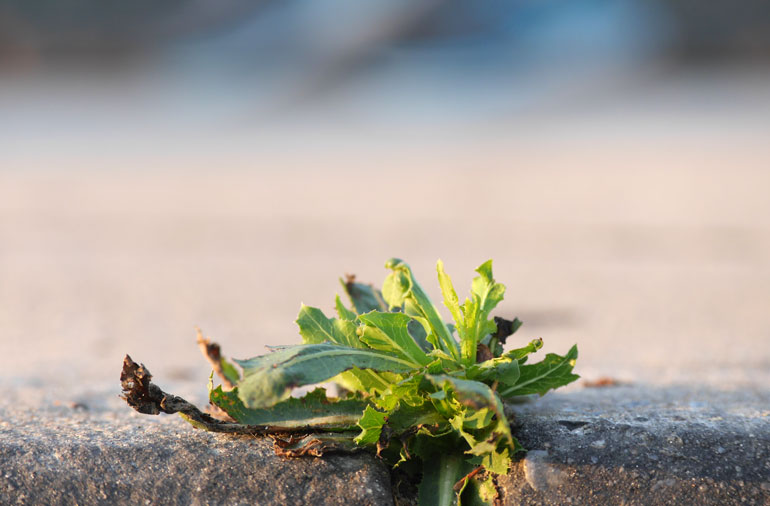 Ananda-Lahari had 78 laps yesterday.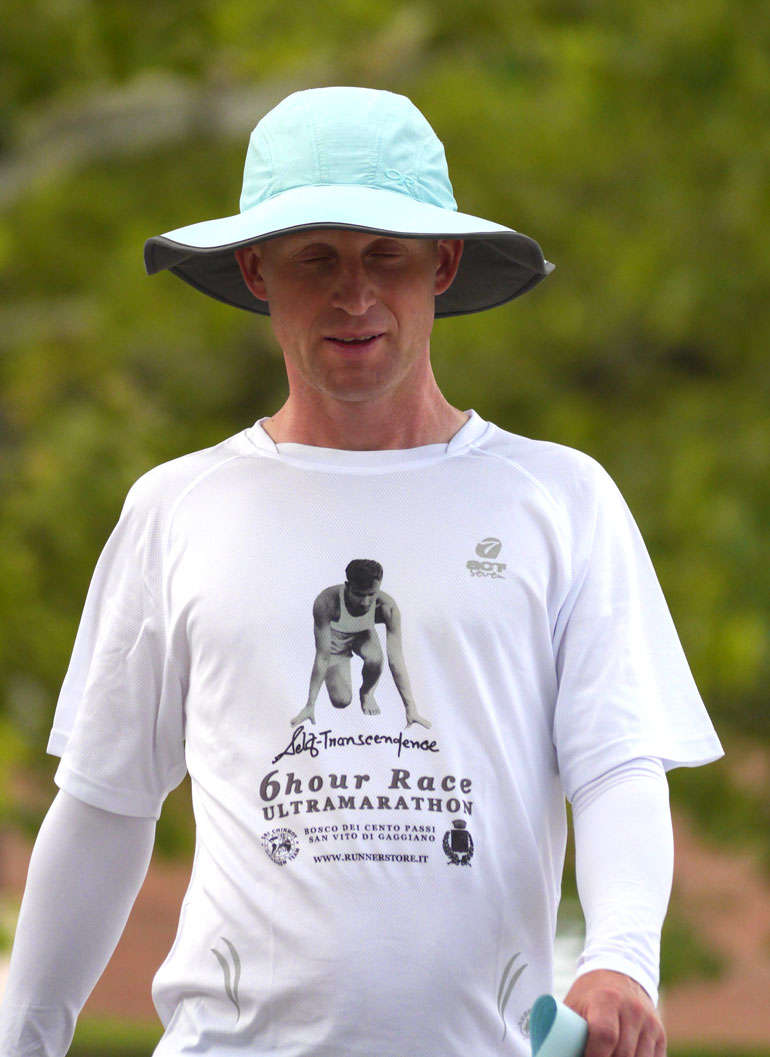 It is really incredible what he does here and how he simply and beautifully does it.
I am so happy I could just jump for Joy… Wait a minute… I just did.
Feet going on and on.
Ray is not feeling well today.  He tells me he is having some intestinal issues.
He figures he just might as well be doing laps.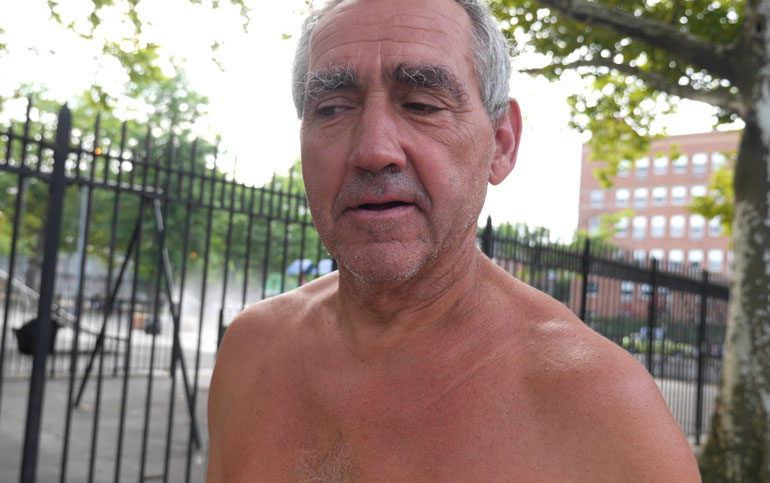 There is a chart that shows how each of the runners have done.
The cooks recite the prayer of the day.
Click to Play:
Enthusiasm Awakeners.
Song of the Day
Click to Play:
A soulful smile
Is the nourishing food
Of love.
A fruitful cry
Is the fulfilling food
Of oneness.
Sri Chinmoy, Twenty-Seven Thousand Aspiration-Plants, Part 113, Agni Press, 1987