"Now I am experiencing first hand what the New York times calls the World's toughest foot race."
This morning I saw Tarit writing a story on his lap top.  He has been here since yesterday helping William.  A job that you might consider trivial, but it is one in fact which is far from simple and robotic.
It is no small task setting out drinks, fine tuning supplements, checking shoes, and generally sorting out a lengthy list of errands for this great Scottish ultra distance runner.  But the most important part of it all is to be a friend.  To be kind, to be patient, to be supportive, and to anticipate just what you have to do to get William Sichel to 3100 miles.  And also grabbing hold of a world record or two along the way.
Between helping William on his clockwork trips through the camp, Tarit has been sitting on a plastic folding chair.  There with his computer perched on his knees, he is trying to bring to life the rather interesting combination of encounters and events that began first when William made a phone call 20 years ago. To his Run and Become store in Edinburgh.
For him right here and right now is the perfect opportunity to sort some of the special threads and moments of their long relationship.  Look at the little things, that didn't seem to mean so much at the time, but over the years the fabric of something larger emerges.  Discovering a friendship that is quite fine and profound and one well worth traveling across an ocean to support.
Many lives intersect briefly for special moments in time, but once in a long while, a special bond is formed like it has with William and Tarit.  Starting with phone calls, and packets of running shoes mailed off to the Orkneys.  Somehow from this a true friendship began to form.  One which has now brought these 2 enthusiastic talented Scottish runners both thousands of miles across the Atlantic to a steamy little oasis in New York.
For a week at least Tarit will be sharing this half mile block in Queens with William. Writing a new chapter of their friendship and perhaps Scottish sports history as well.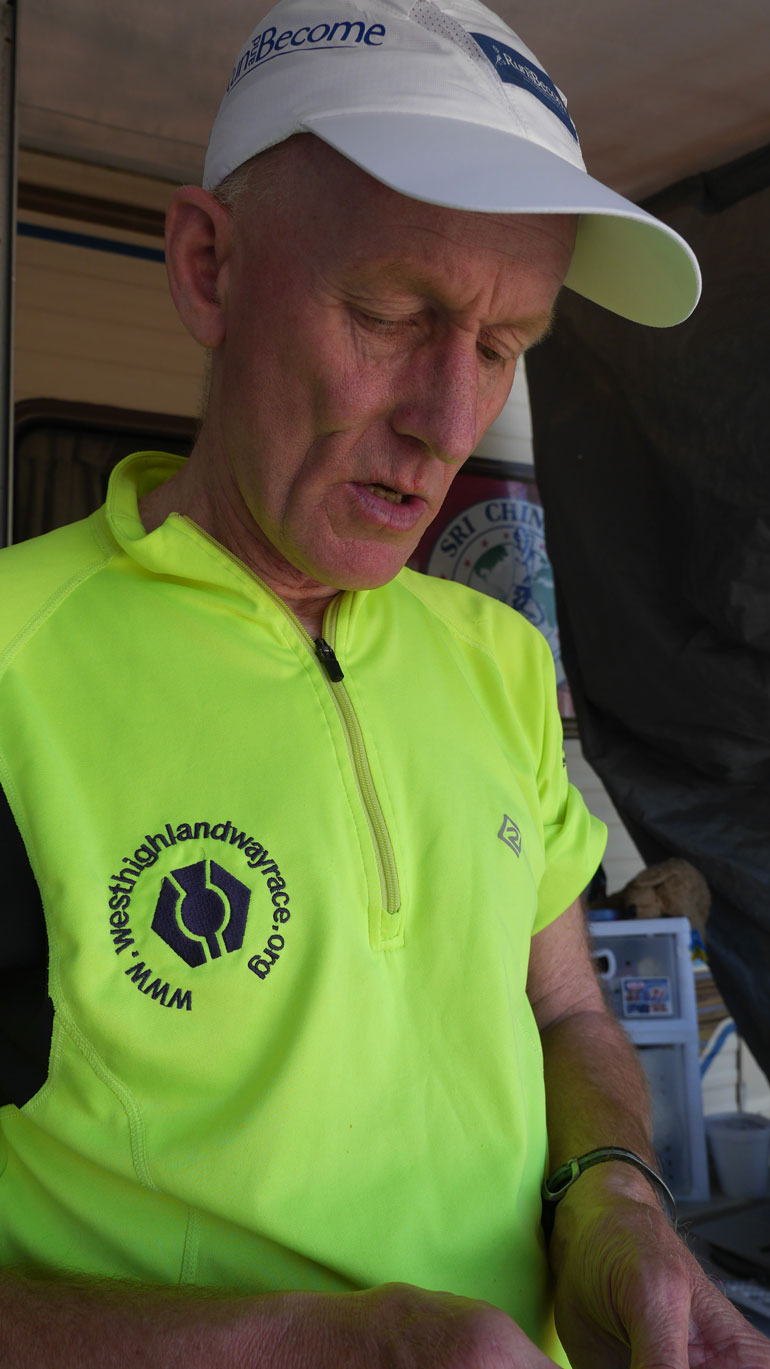 "Whenever I have tried to explain the event it is usually met with curiosity, bewilderment, and bemusement.  And even….No Way!"
"It taxes the imagination just thinking about it."
Tarit has been managing the Run and Become running store in Edinburgh for many years.  So for most Scottish runners it was the place you had to go to pick up a pair of shoes or running gear.  William lives in Sanday, in the Orkney islands.  A place that is now of course well connected to the rest of the world electronically.
But 20 years ago when he needed a pair of shoes it wasn't step out the door and hop in the car and drive to Edinburgh.  It was a seriously long trip, so when he needed gear he would have to call up the store in Edinburgh and purchase things over the phone.
He liked to call the store from time to time and ask questions about products that he had only heard about or seen pictures of in running magazines.  Through a couple of phone calls, "I found out he ran marathons.  He found out I ran ultra marathons."
It didn't take too long for this ex table tennis player from the Orkneys to become a good marathoner and run a time south of 2:40.  "He called the store one day and asked me.   Do you think I can run an ultra?  Of course you can.  You just have to want to do it."
So in the spring of 1994 William ran his first 40 mile race in preparation for the Scottish 100km championship in July.  He won the race and became Scottish champion of the event that Tarit was organizing.
"Over the years our paths have crossed many times."
They have competed against each other and also been part of ultra distance teams.  "The 3100 mile race represents the biggest challenge he has ever taken.  And as I feel an instrumental part in his burgeoning ultra marathon career.  I found myself compelled to come and help him."
Click to Play Story:
Run and become.
Become and run.
Run to succeed in the outer world.
Become to proceed in the inner world.
Sri Chinmoy, Run And Become, Become And Run, Part 2, Agni Press, 1979
3 full weeks have passed now.  As well the full affect of summer weather will start to be felt.
Yesterday Yuri made 1400 miles.  In just 2 days more he should be at the magic half way point.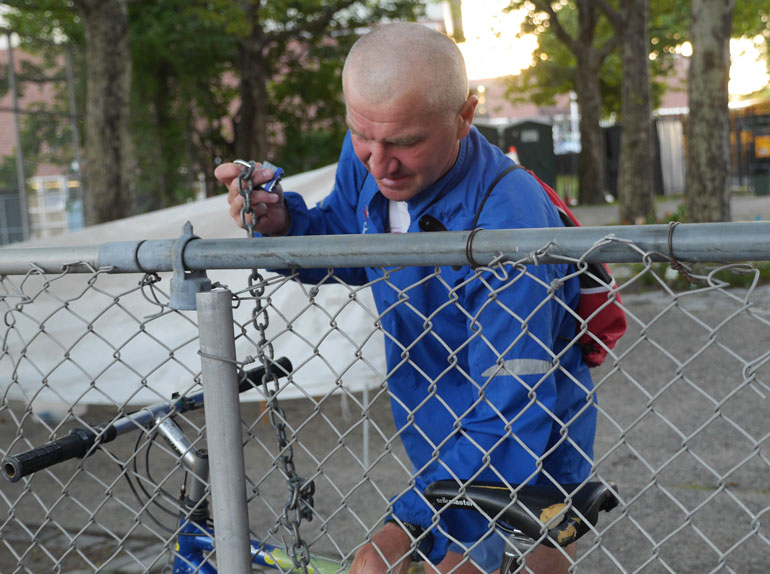 It will be hot and sunny today but not so humid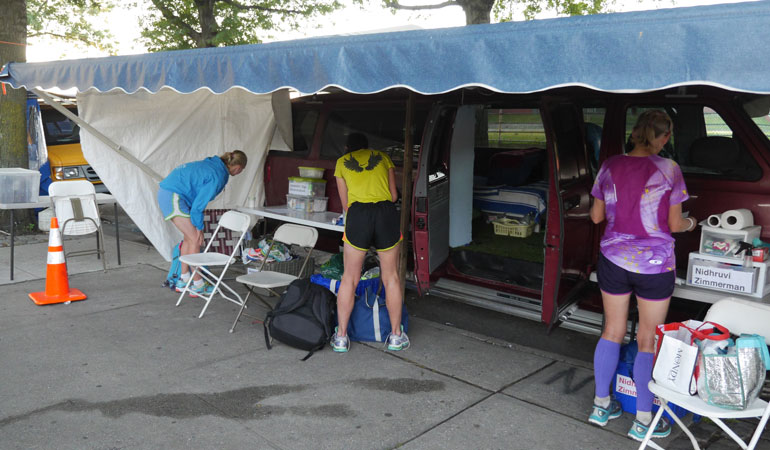 It will be warm soon enough but for the moment Jayasalini wears a jacket.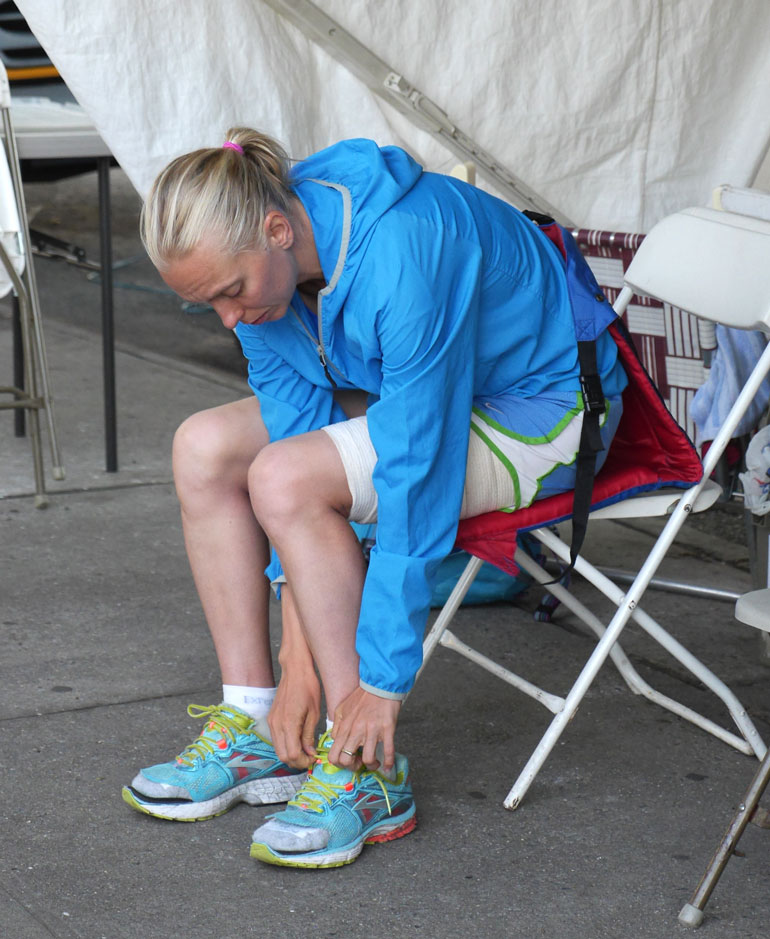 Pranjal waking up.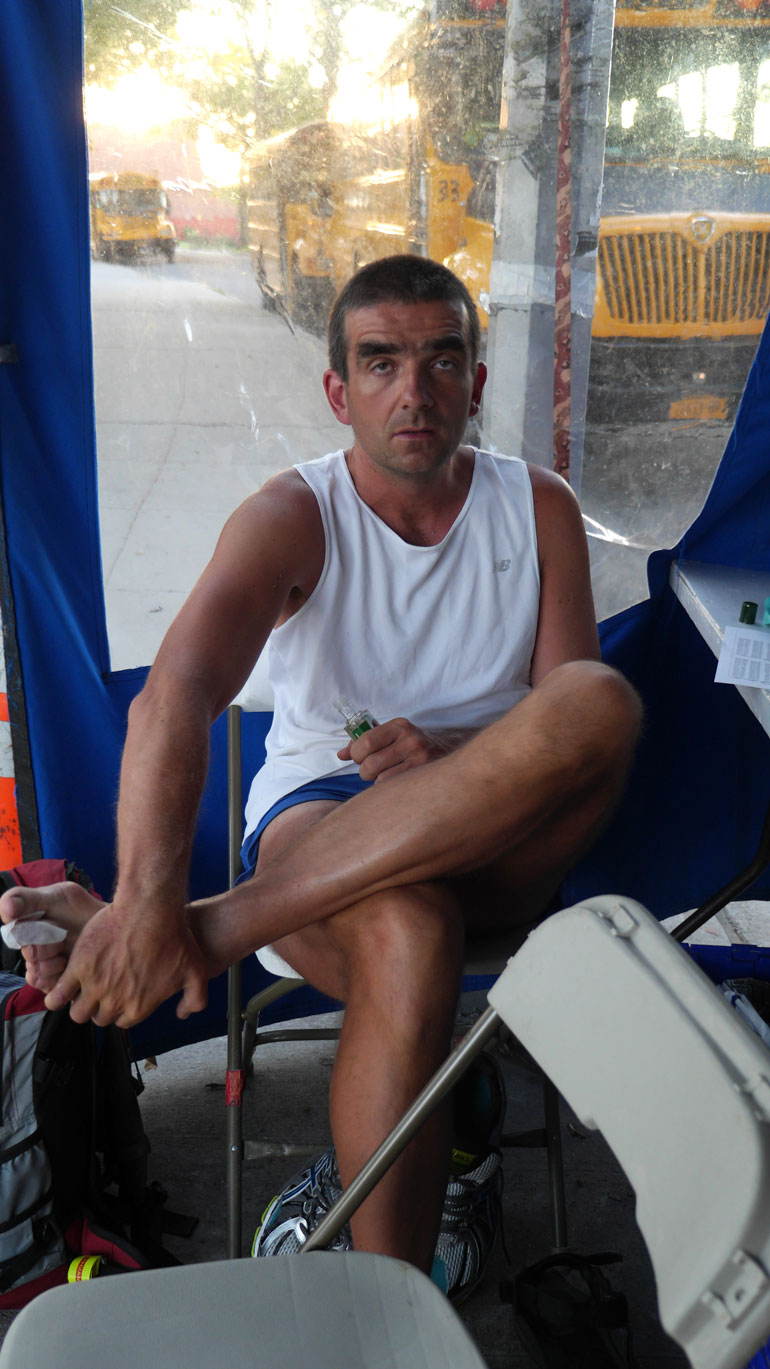 As it turns out there are no counters this morning.
Ananda-Lahari getting some inspiration before he runs.
Yuri checks the numbers and has a drink
William puts on his shoes.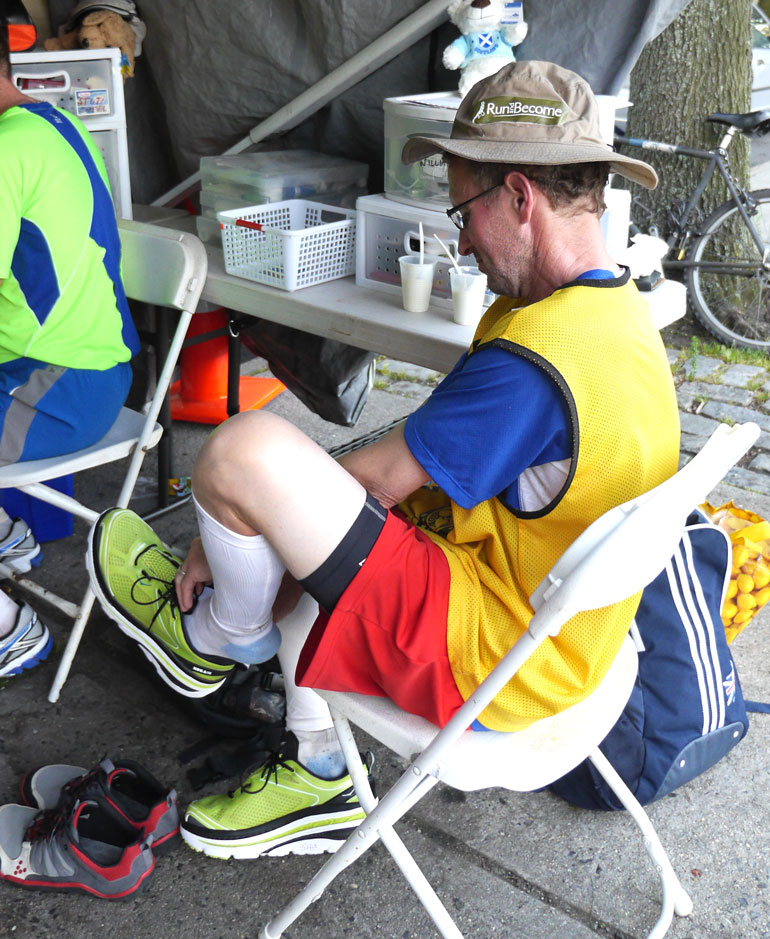 Start of Day 22
Just a beautiful start to the day.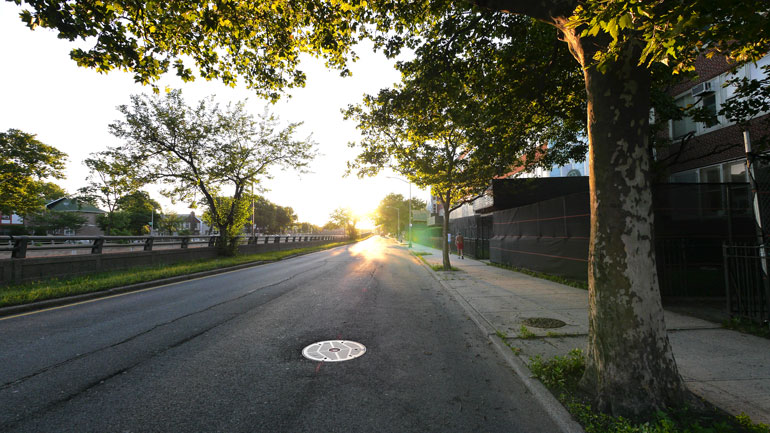 The sun bright and the way is clear on this beautiful Sunday morning.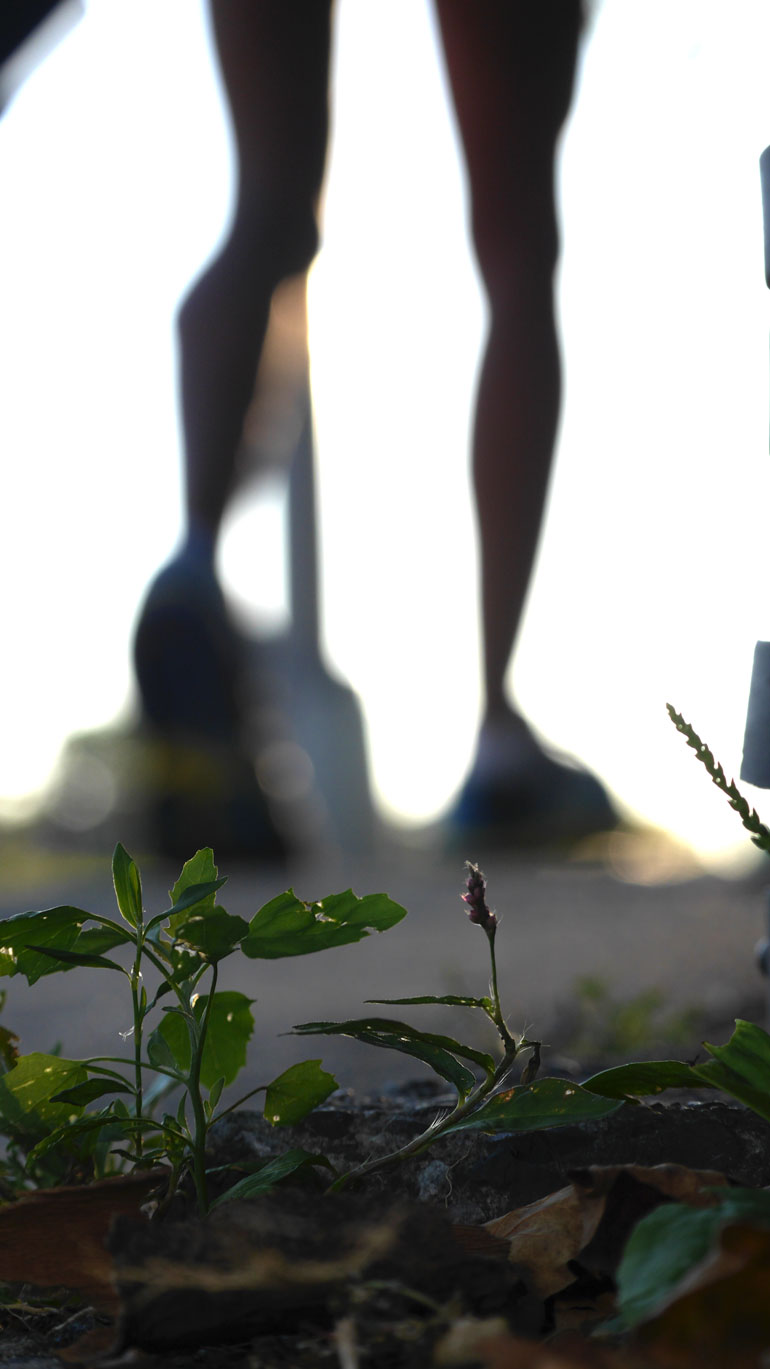 He did 125 laps yesterday.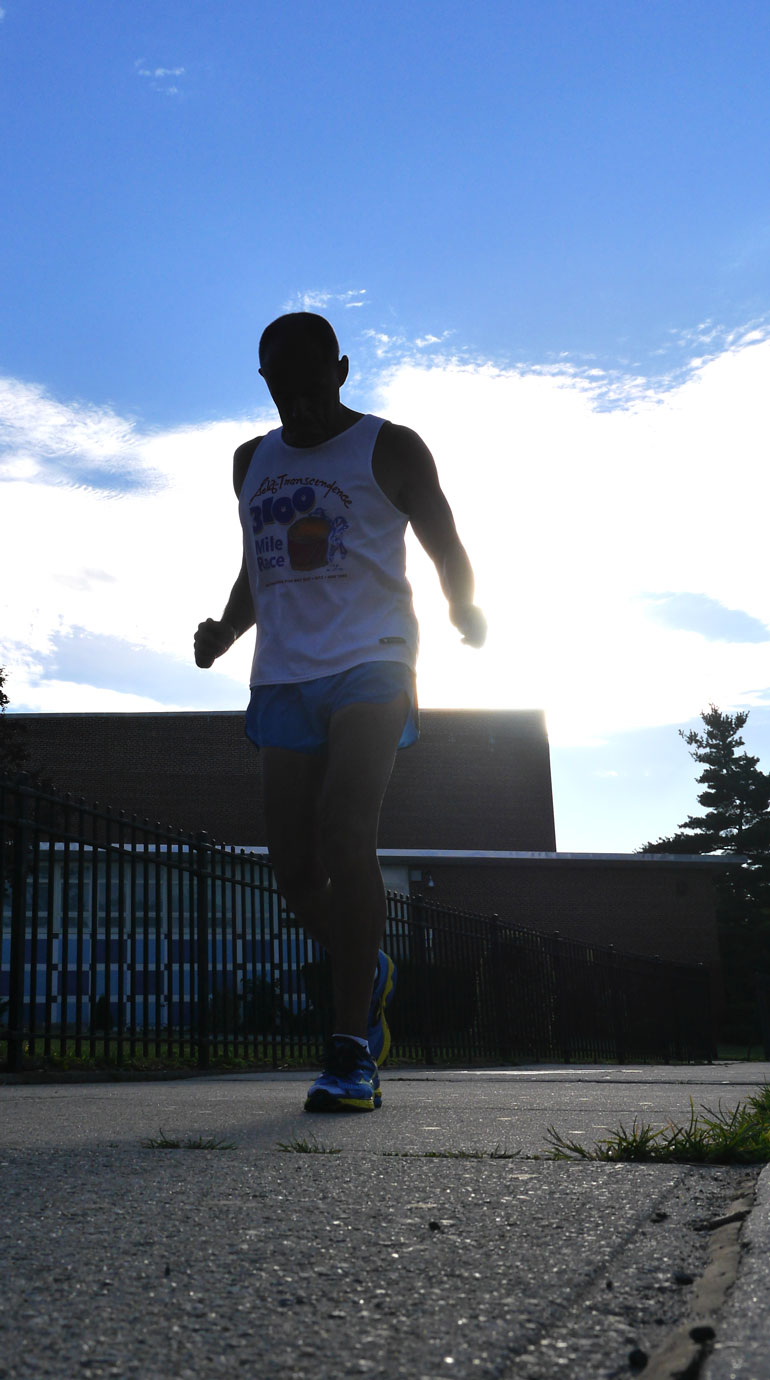 Sarvagata starts the day with 1469 miles.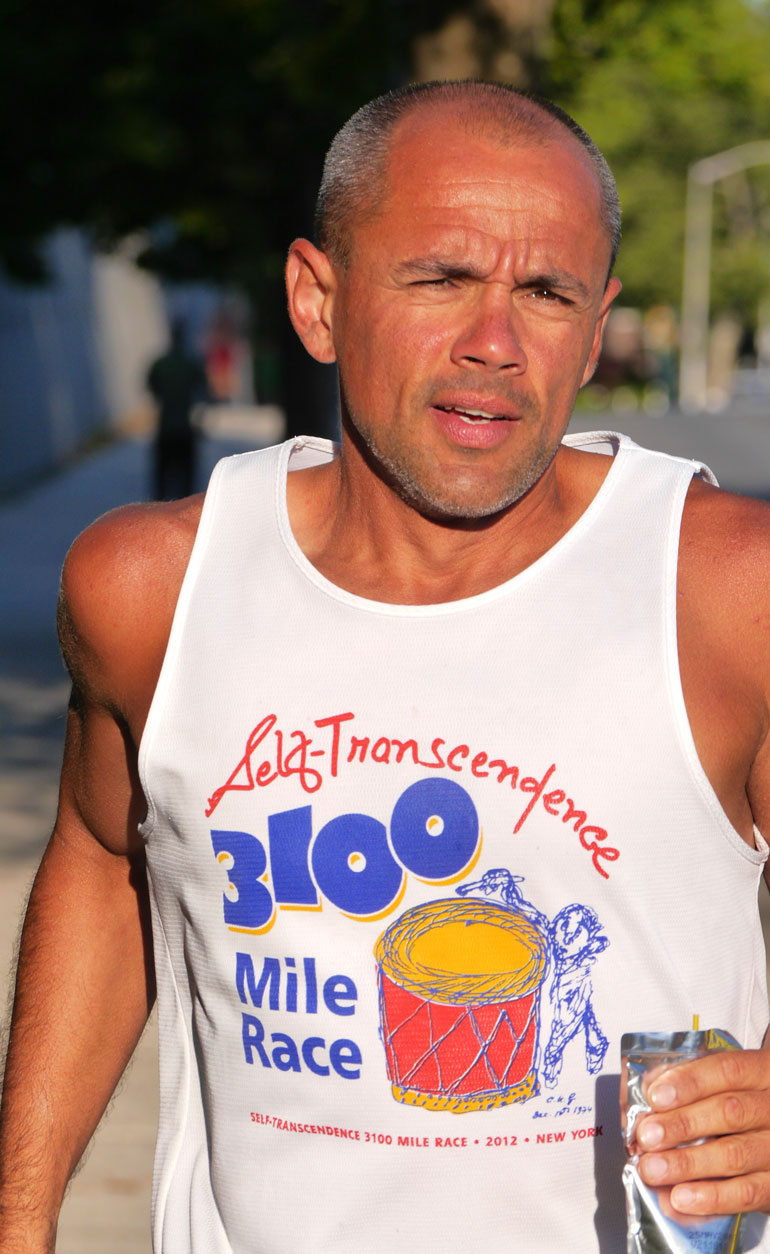 You just know he is putting in an incredible effort each day.
Then within this extraordinary performance as such casual moments it seems hard to connect one with the other.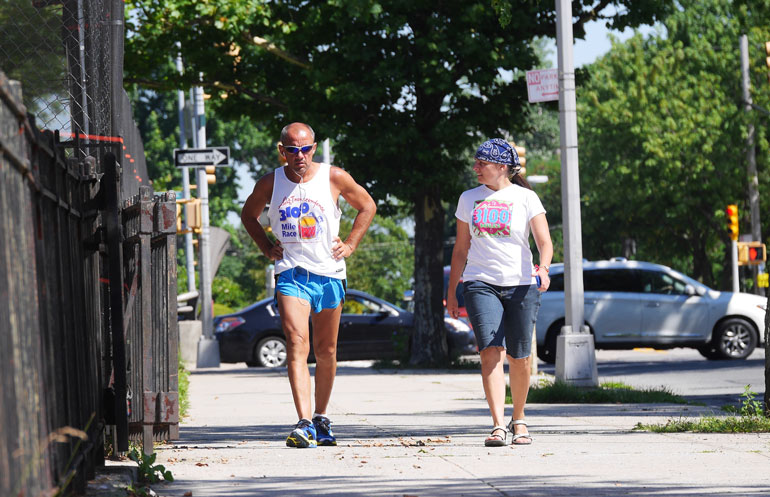 So much happening that we see and cannot see.  Understanding only what needs to be revealed.
I think I am putting on too much weight……Just look at the size of that shadow.
Helpers conversing.
Yuri did 120 laps yesterday.
He is strong. Very strong.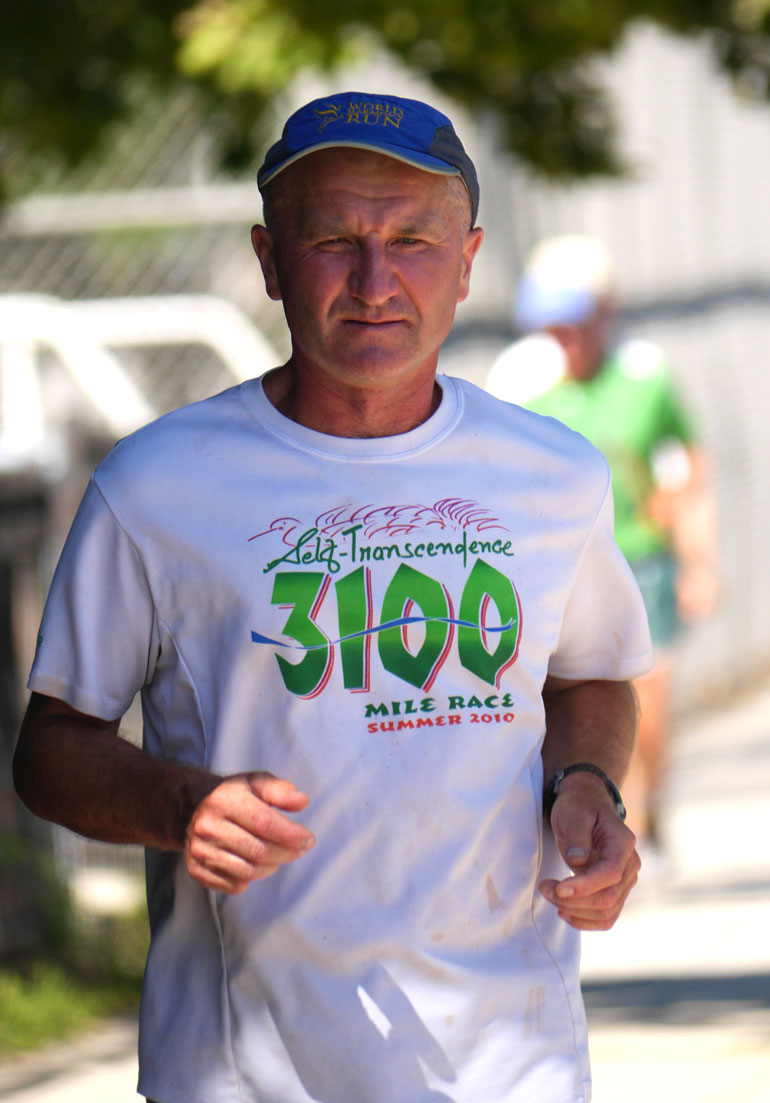 With his 1402 miles he is more than 50 ahead of last year.
He is working very hard but knows sometimes he has to take a phone call as well.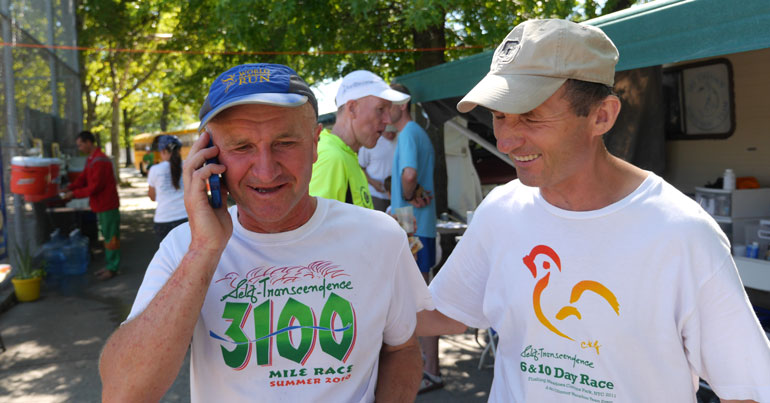 Pranjal has lost 15 pounds and jokes, "this is the best weight loss program in the world. You can easily loose 8 kilos in 3 weeks, without any problerm"
He says that he can pretty  much anything he wants.  For the time being the weight he has lost has come from fat.  By the time the race gets to the latter stages he says he also looses muscle.  "You just can't get enough energy from food.  It is not possible to eat enough calories."
"You need 10,000 calories.  In my case I probably need even more.  Probably more like 13,000 calories. It is not possible to digest that many calories."
"I try to eat as much as possible but sometimes it is hard to eat, because it is hot and you are always moving.  It is not easy but you know that you  have to eat."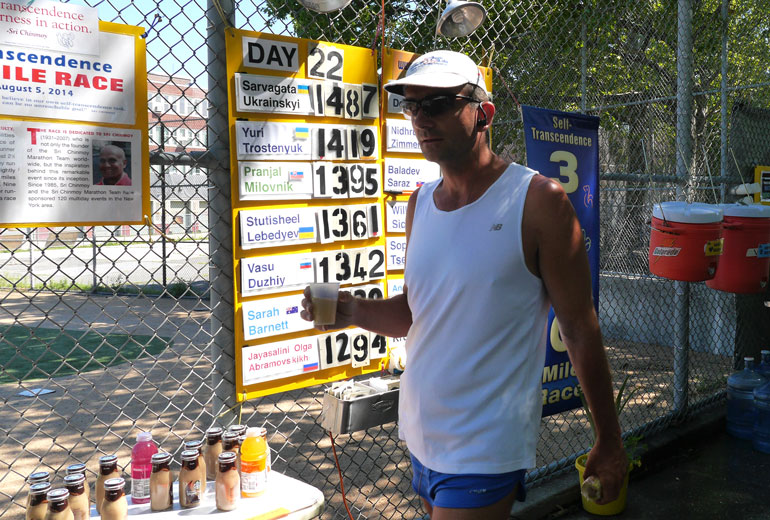 You can always talk about the weather with the runners and certainly this year it is a subject that has been for the most part nothing but good news.  Pranjal is running this race now for his 10th year.  Has seen many hot humid summers but not one quite like this one so far.  "Only one day over 30c so far.  Two rain storms so far.  That is really good."
Something important to understand about Pranjal is that no matter the weather, and no matter how he feels, he pushes as hard as he can, and as long as the 18 hour window of running time is open to him.  "It is hard even in this weather.  Doesn't mean it is easier when there is good weather. I always try and do my best.  It doesn't matter what kind of weather it is."
"In the evening I am always dead."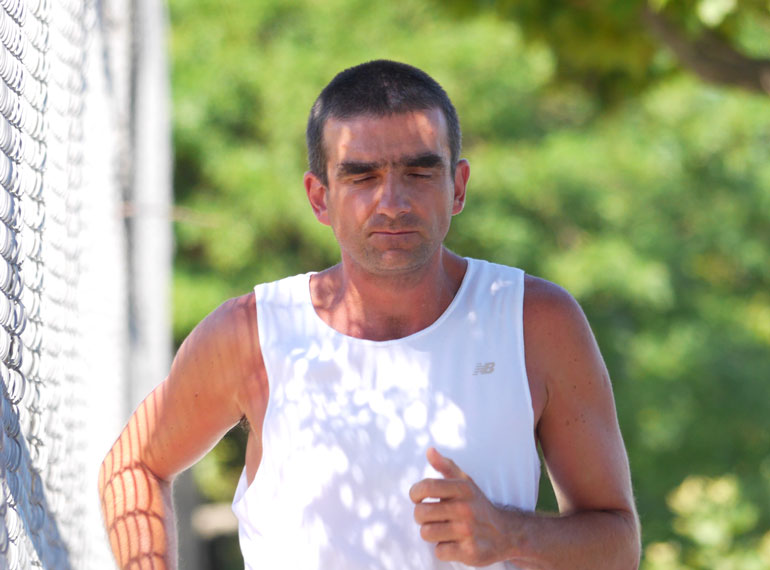 "Somehow over the years I have got used to this pace to this style.  I never think about my style I just run.  So it is not thinking about the style.  Look at everybody.  Everybody has their own style.  It is not good to copy somebody.  Your body adjusts to your style.  If you copy somebody you can get some injury."
"When you look at Teekshanam he has a much longer stride than me.  If I tried to copy him I would just break down."
"I have already gone through 3 pairs of shoes.  This is now the 2nd set.   Usually a set of 3 pairs of shoes lasts for 6 days. In 18 days I use 3 pairs."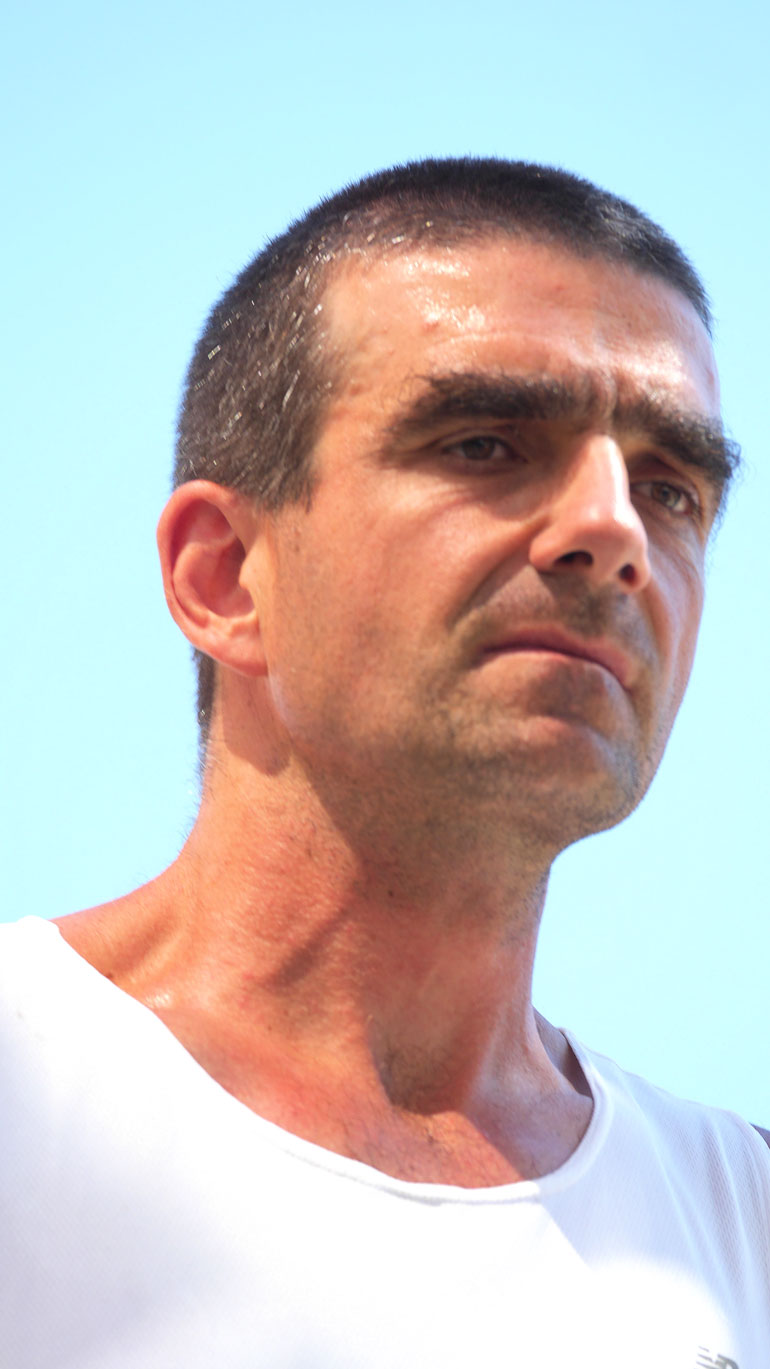 When he describes his first experience here 10 years ago he says that awe and enthusiasm has not changed. "It is part of my life.  I always think that this is the real life here.  Not the life that is after the race or before it."
"Many people like to talk to others because it helps them to overcome boredom, or the pain, or anything.  But the more tough it is the more I have to be alone.  It really helps me this way."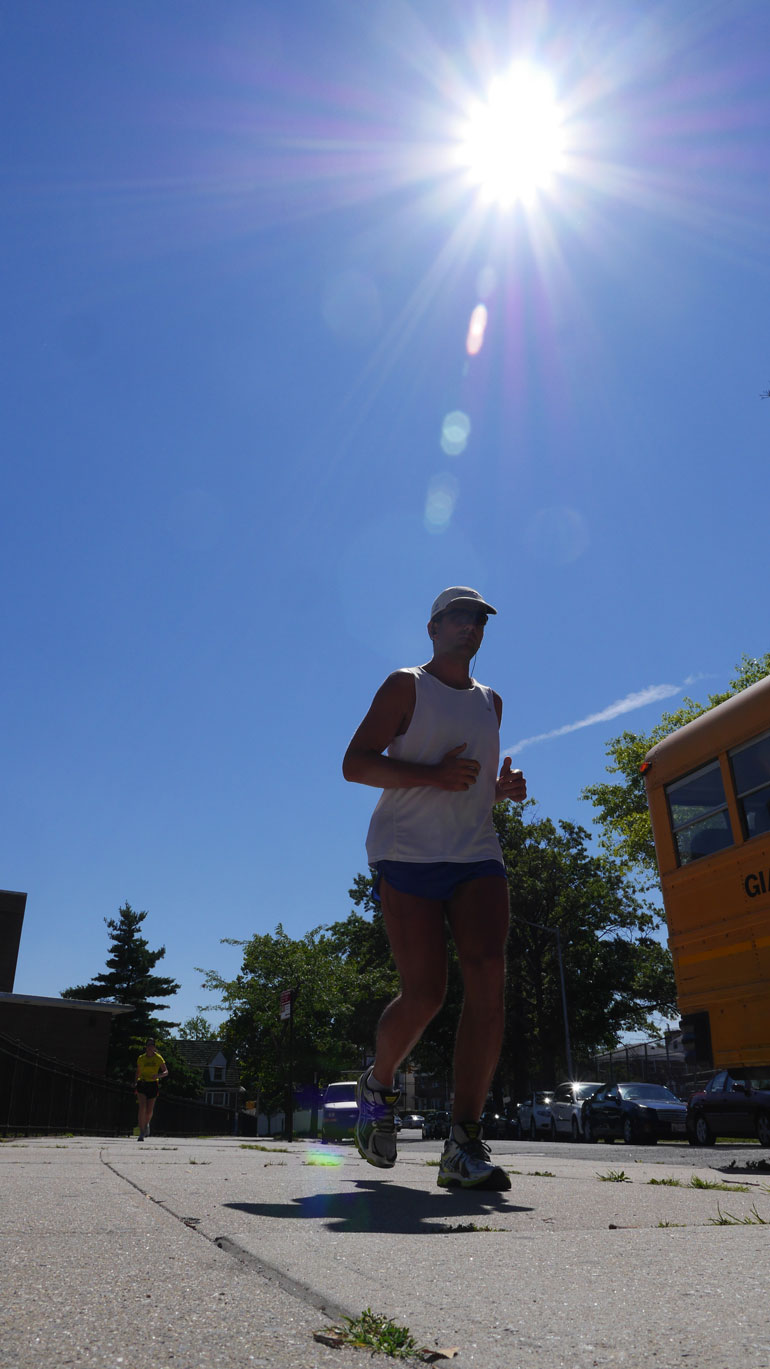 "There are so many experiences that you have here.  You live 100% here.  When I come home everything seems to be boring.  Because there is no intensity in it.  So you have to really find your goal."
"I hope everybody can reach their goal."
Click to Play Interview:
I am going to have to speak to the counters.  They have definitely got my laps wrong here on day 19.
Stutisheel had another day of 122 laps.
He now has 1344 miles.
By now you can pick out who each runner is from just a glimpse of this or that or an outline against the sun.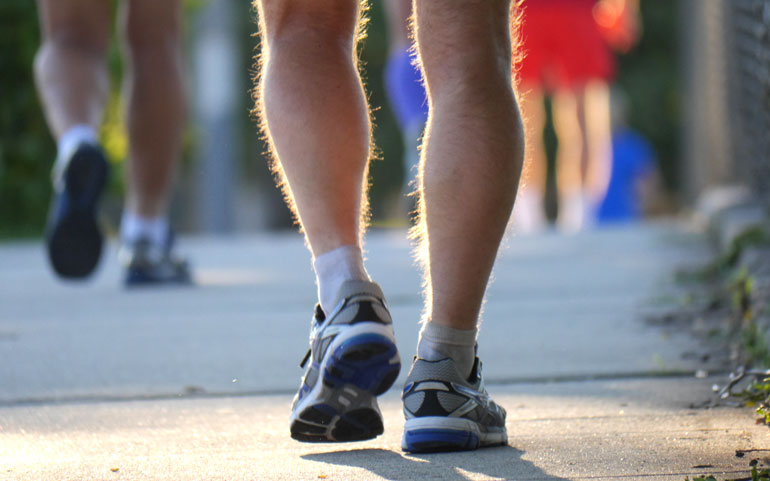 Stutisheel is unmistakable to me after so many years.
The stick is not going away any time soon for Vasu.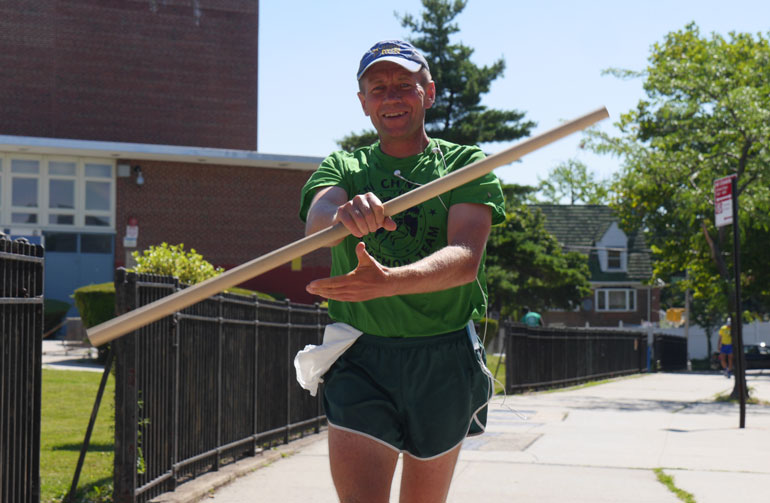 He did 119 laps yesterday and has 1327 miles.
The stick spinning or not easy to see from a distance.
The things a guy has to do to charge up his cellphone these days when he is out and about.
Sarah had 110 laps yesterday.
She has been around the course this year already 2393 times and has 1313 miles.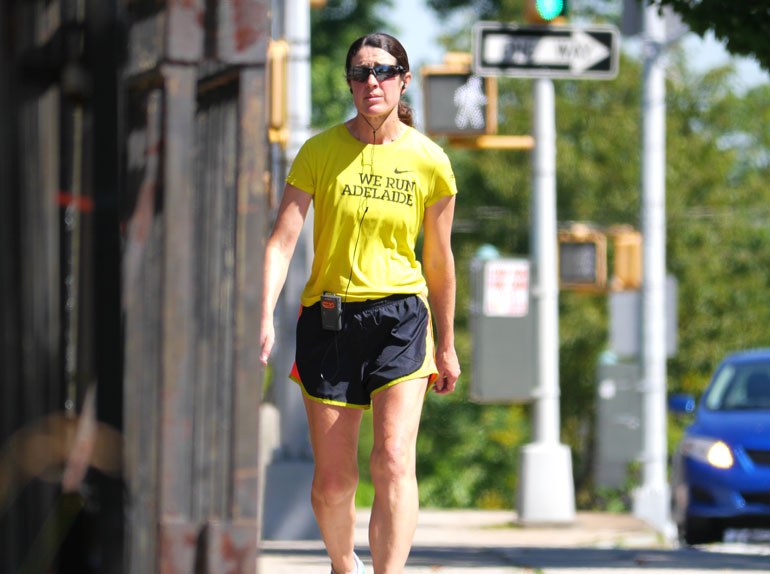 Sarah has found her own rhythm.  Incredibly fast laps at times and then slowing down to recharges for the next push.
Whew.  I just have to take a break right here.  It is a long way to the top you know.
The temperature is going up slowly.
Little flowers and bigger dreams.
Jayasalini had 109 laps yesterday.
Getting some help and some joy from her friend from Moscow Harikanta.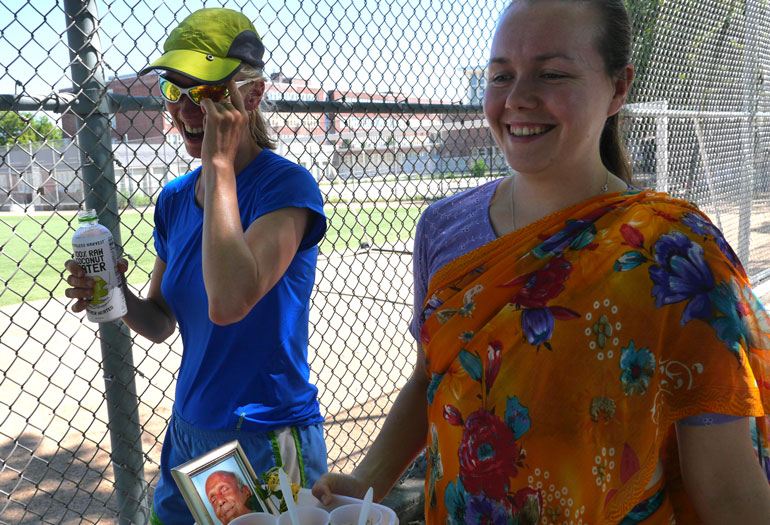 She has 1279 miles so far in the race.
Attention mission control. We have attained lift off.  We are now ready for a trip into space or over to that tree where I see a bug.
Not so obvious unless you and unless you try.
Teekshanam had 114 laps yesterday.
There are times when he seems to know when to take it easy.
Whatever he is doing it seems to work and seems to be very right for him.
Wow. Now I know exactly why the chicken crossed the road.
From near and far.
Nidhruvi can tell the future.  So very true.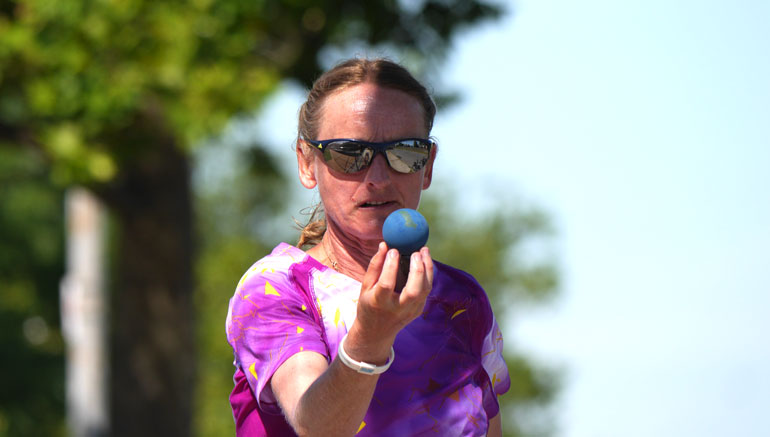 She did 109 laps yesterday and now has 1255 miles.
Yesterday was a tough day for Baladev.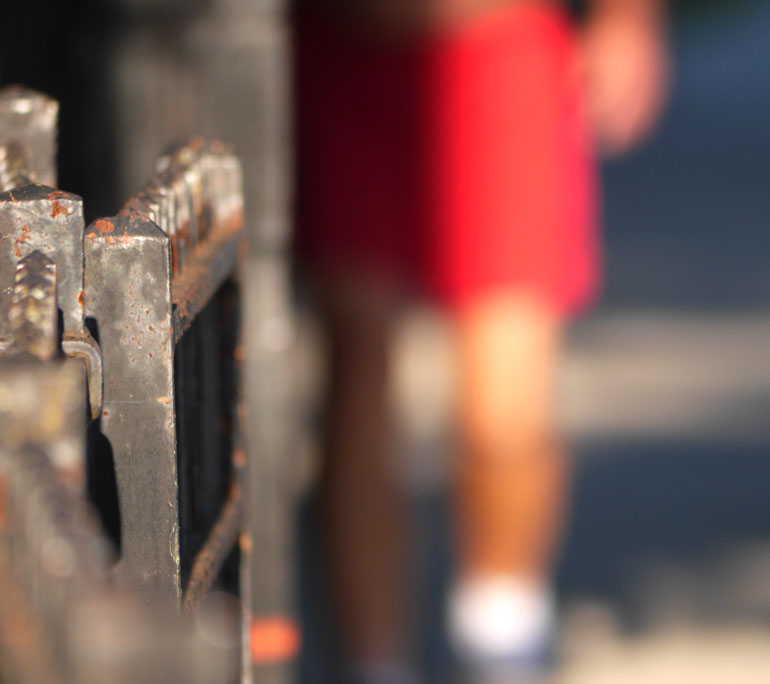 He did 92 laps. 
He takes a very short mid morning break to try and recharge.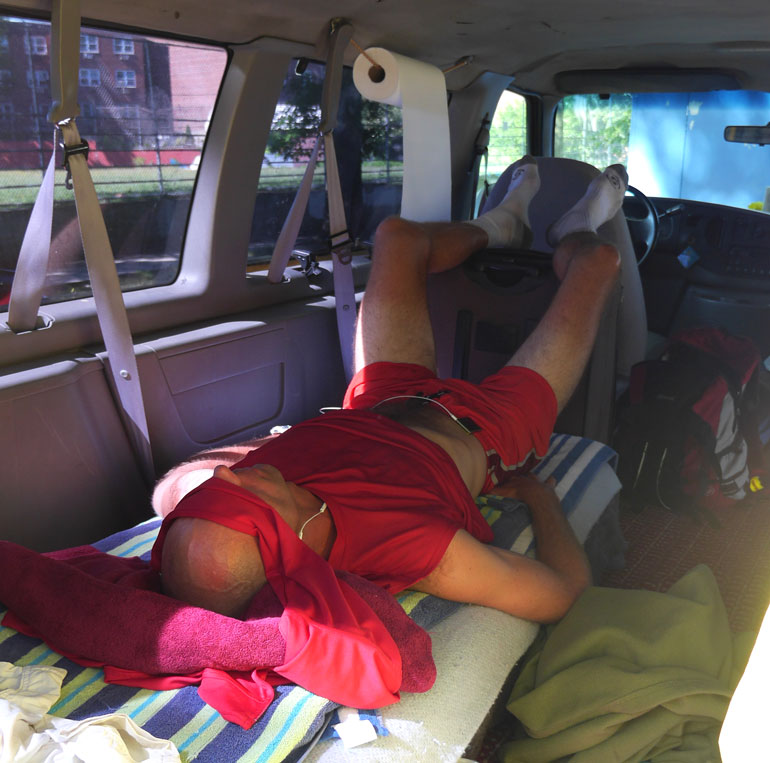 Then he is back out on the road again. He has 1254 and is 55 miles ahead of last year.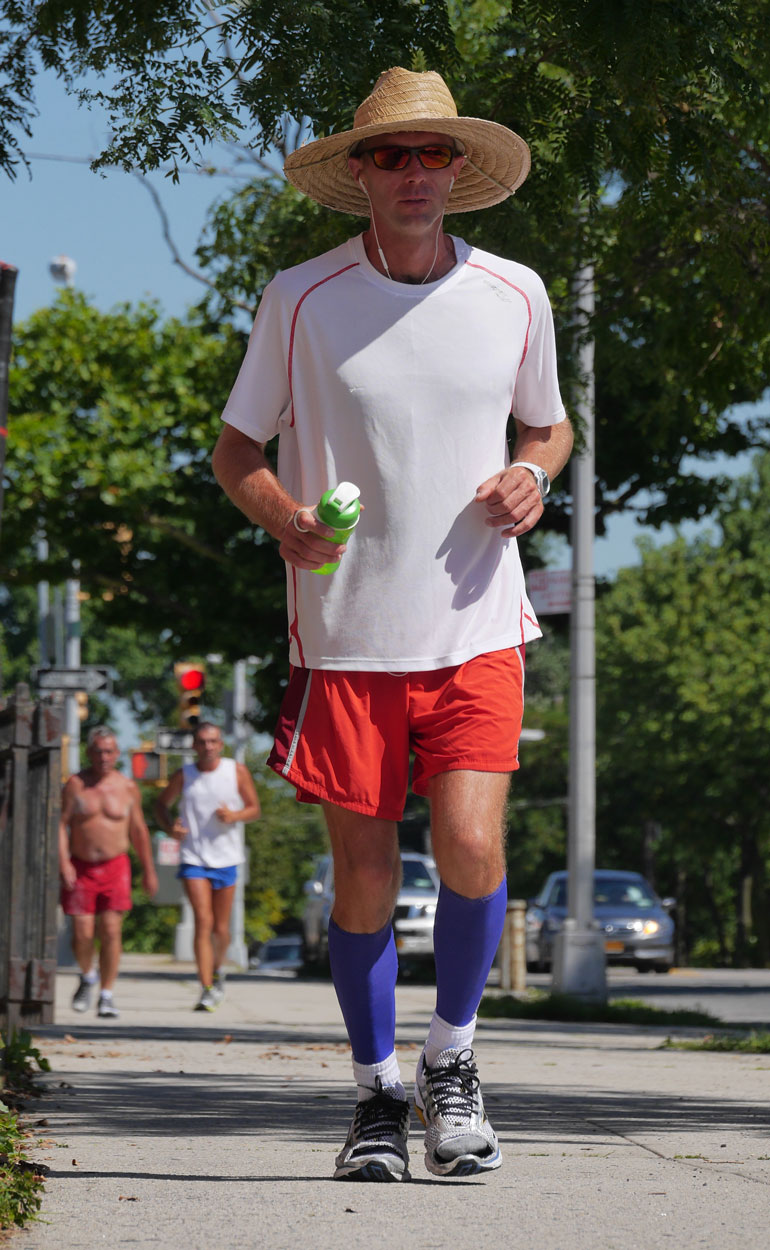 There is not a moment he does not cherish being here.
Sopan heads up the hill and keeping going onward.
He hurts but he is happy to be here and conquer the battles that we all have.
He is doing his very best.
William had a good day yesterday with 111 laps.  He is slightly behind the pace he needs.  But seems to be getting better adjusted to the extreme task at hand.  He has 1185 miles.
Ananda-Lahari heading into the sunrise.
Am not sure exactly why the shoes came off.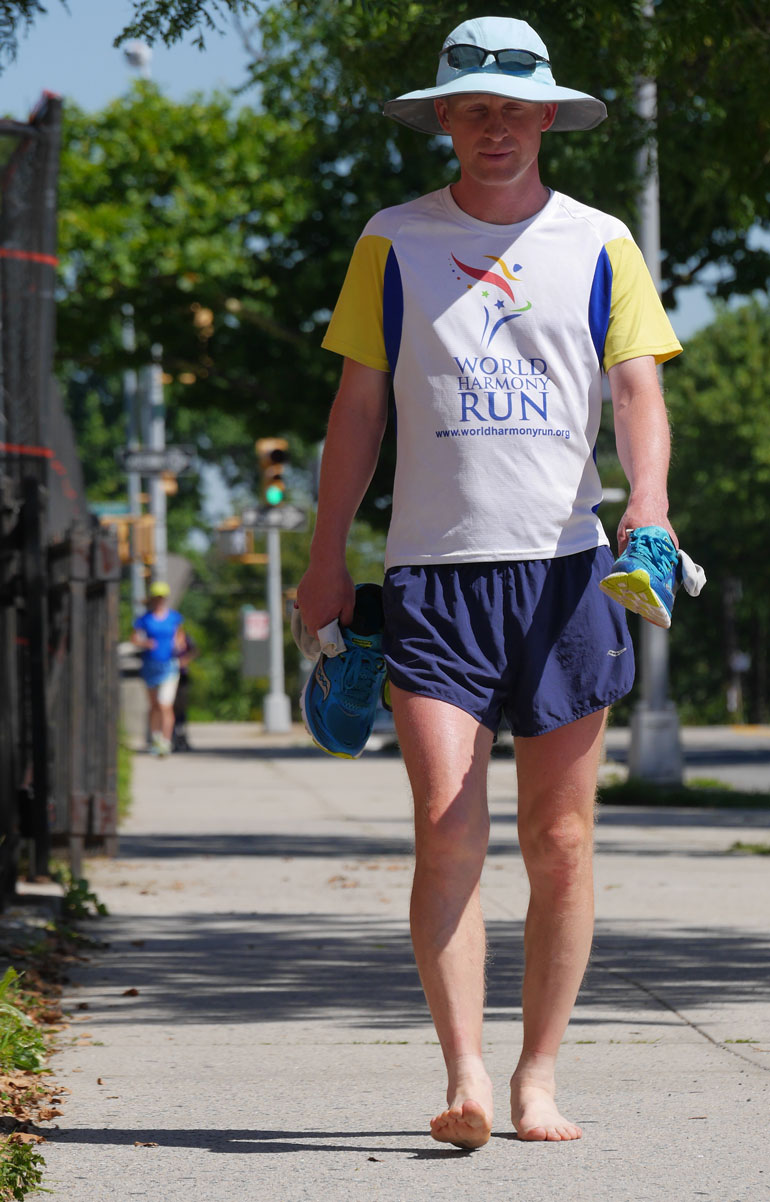 Ray recited some of his poems again today.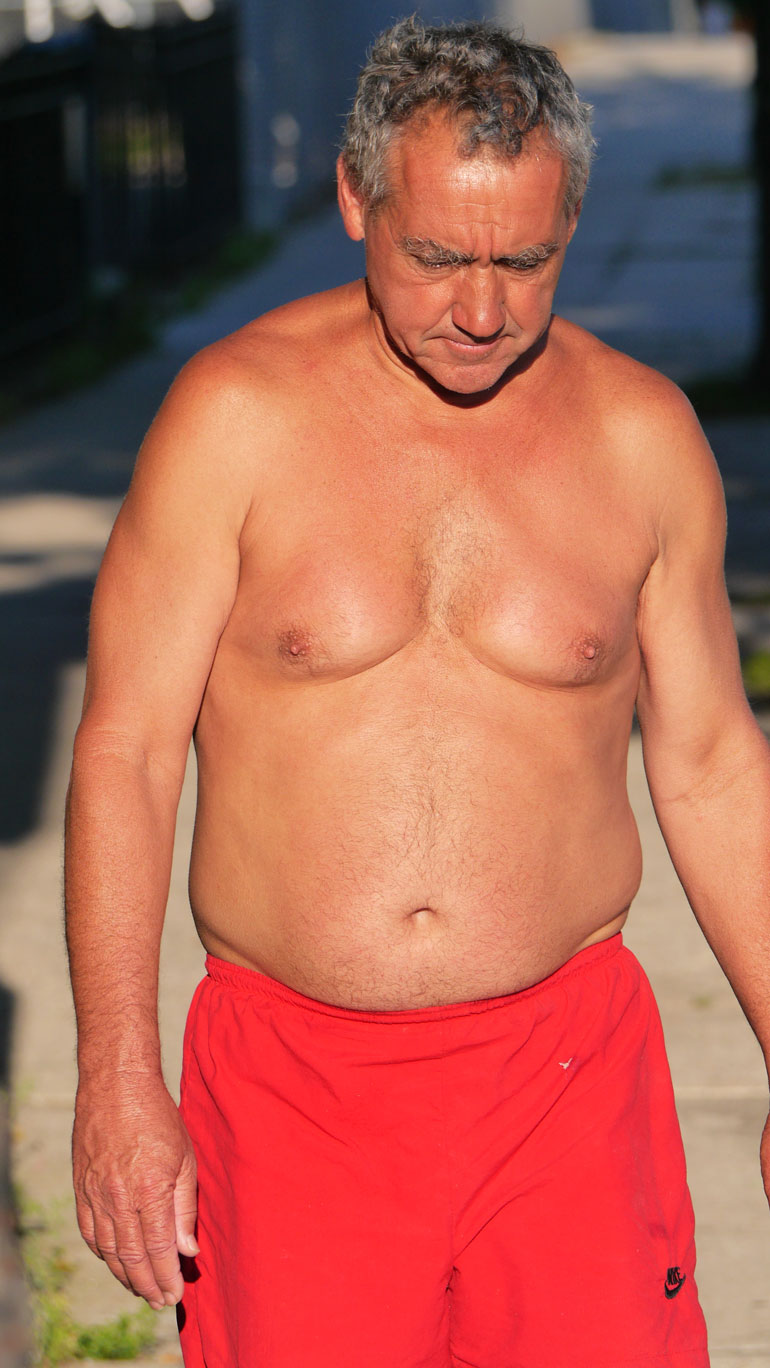 Click to Play:
"Today I had an experience which brought me very close to the runners."  Pushkar has enjoyed his time at the course over the past week but has to leave today to go back to Switzerland.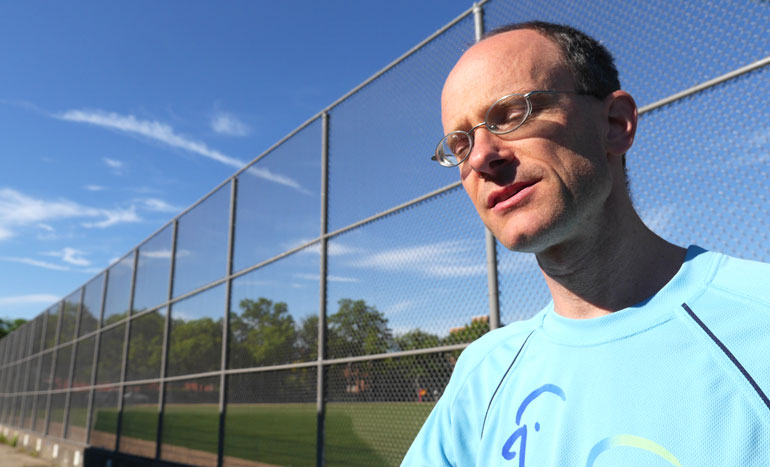 "Yesterday night I forgot to set my alarm.  So I woke up at 7 minutes to 6.  And I made it to the start." (laughs)
"It was very nice to be here.  I would love to stay longer.  It is very beautiful to run here and talk to the runners.  Inspire them and help them. "
"It is always the right place to be.  But sometimes you have to do something else."
I ask him about Teekshanam and how he is doing.  "It is beautiful to see him moving so nicely. I could help him."
"I like to share what I have.  Sometimes I know things, and sometimes I don't know things."
"Keep up the good spirits."
Click to Play Interview: 
It is Stota's birthday today and she joined the Enthusiasm Awakeners to sing today.  She has been here visiting many years on this day.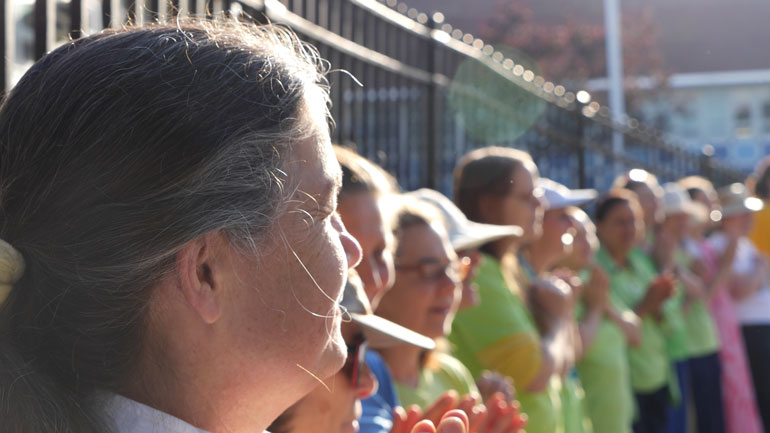 She and Daulot recite the prayer of the day.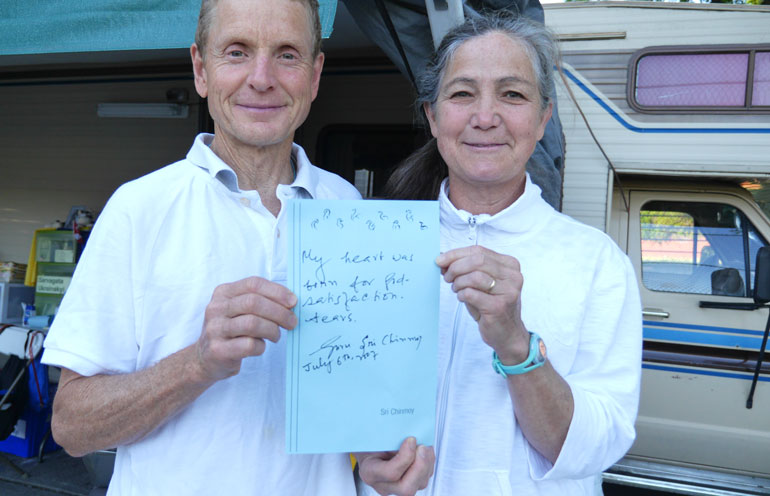 Click to Play:
Enthusiasm Awakeners.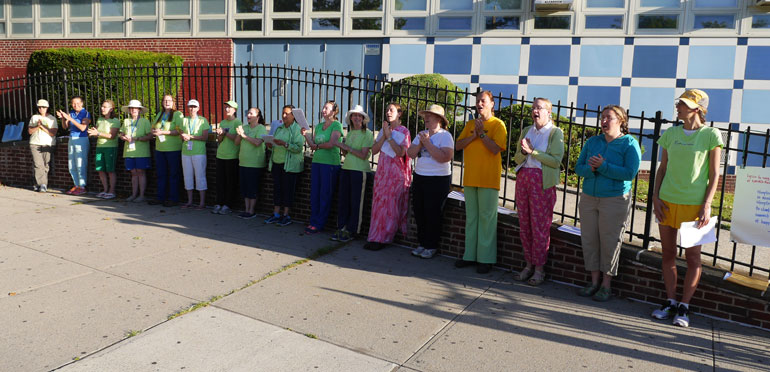 Song of the Day
Click to Play:
Not what you give,
Not even what you are,
But only what you want to become
Counts in the long run.
Sri Chinmoy, Twenty-Seven Thousand Aspiration-Plants, Part 79, Agni Press, 1984