"I think it was on day 11 when I passed the point of 673 miles.  From that point new horizons started to open up.  I have never run further.  Today is day 18 and yesterday I got to the point of 1000 miles.  Then I realized that this was 1,600 kilometers.  It really struck me this number, really."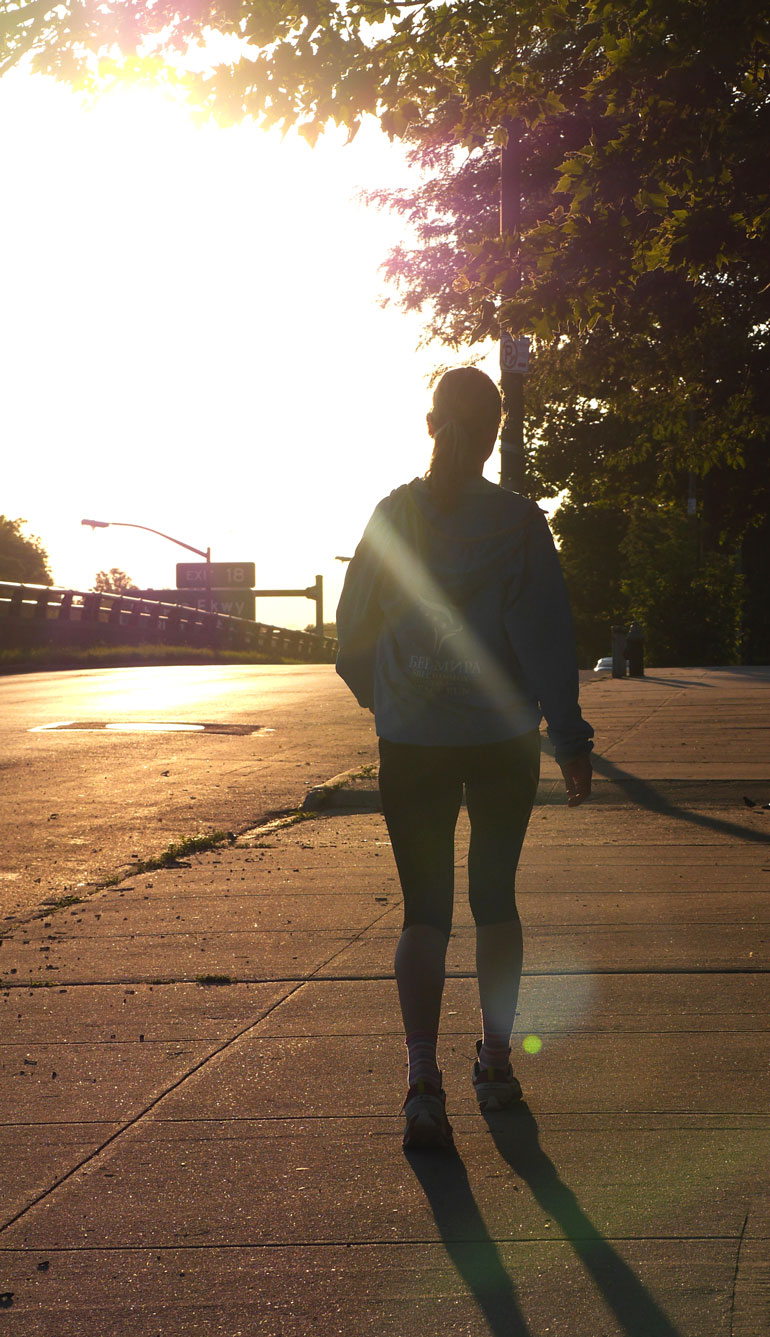 "Of course I was waiting for this point.  I was wondering how I would feel afterwards."
Nearly every runner would love to accomplish a world record, or a country record, or even a personal best each time they compete in any of the Self-Transcendence multi day races.  It is only natural.  Most of us have an incessant appetite to digest understandable facts and crunchable numbers and to improve.
Each of us, in one way or another have had bits and pieces of our lives added up and analyzed and scored in more ways that we can even imagine.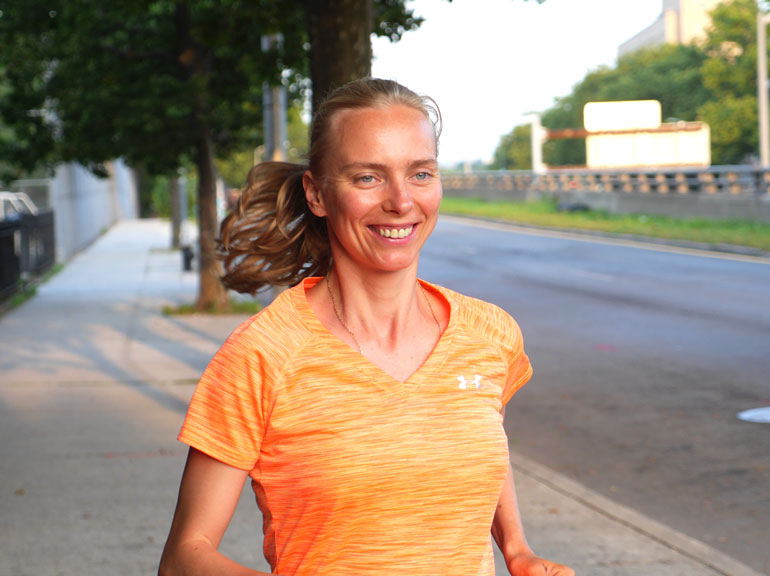 For Jayasalini, much like it is for William Sichel, every new day here on the course, and with each new milestone crossed,  she will be setting a new mark in the Russian record books.  Smashing the marks set by others and also most likely creating a whole new catalog of new distance running records.  This will be a tremendous achievement without doubt, and one very much deserving of this champion Muscovite runner.
But to actually see this young, smiling, running phenom, you quickly realize that she is not running this, the hardest and longest race in the world to break records.  She runs inspired by something else.  Something she cannot see or even measure.  Something she feels with rich sweet intensity in her heart with each new step she takes.
This morning she also received a huge card and gifts from other members of her mediation group back in Moscow.
"I am running not alone.  One of the messages I received said, just know.  We are running with you.  The whole Oneness-Dream-Boat-Shore is with you.  You are not alone there.  It is a great help."
One of Sri Chinmoy's final trips in late 2007 was to visit Oneness-Dream-Boat-Shore.
Question asked in 1991:
What do you think of the soul of Russia and of its role in the development of the earth's consciousness?
Sri Chinmoy: For years and years the soul of Russia has suffered a lot inwardly. Now the inner problems have been solved and Russia's soul is awakened; it is fully responding to the higher light — the light that can change and, as a matter of fact, has already started to change the face and fate not only of Russia but also of many, many other countries.
Now we see many political problems and other problems, but these are all outer problems. What we notice now in Russia is the outer struggle. When the soul of Russia wants to act in and through an individual, it does so according to the potentiality and possibility of the individual.
The soul of Russia acts swiftly, confidently and self-givingly. It has many, many divine qualities, but its main qualities are tolerance, patience, determination and a one-pointed will to achieve its goal, whatever that goal may be. The goal can be higher than the highest, or it can be not so high.
Instead of using the word 'Russia,' let us speak of the soul of the Soviet Union. When the soul of the Soviet Union says "Yes," it is positive in every sense of the term. Some other countries, on the other hand, may also say "Yes," but inside their "Yes" the word "No" looms large.
Sri Chinmoy, Russia And Russia's God-Blossoming Heart, Agni Press, 1991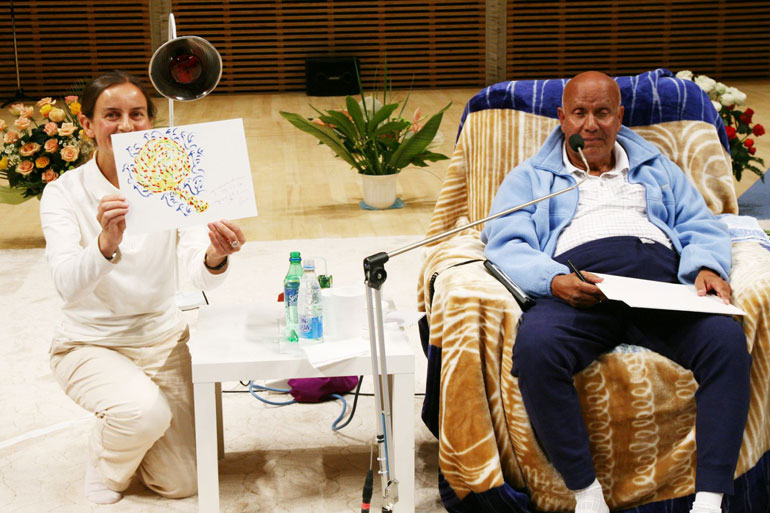 Just when you thought there might be a lull in Sarvagata's big lap numbers he poured on another 134 lap day.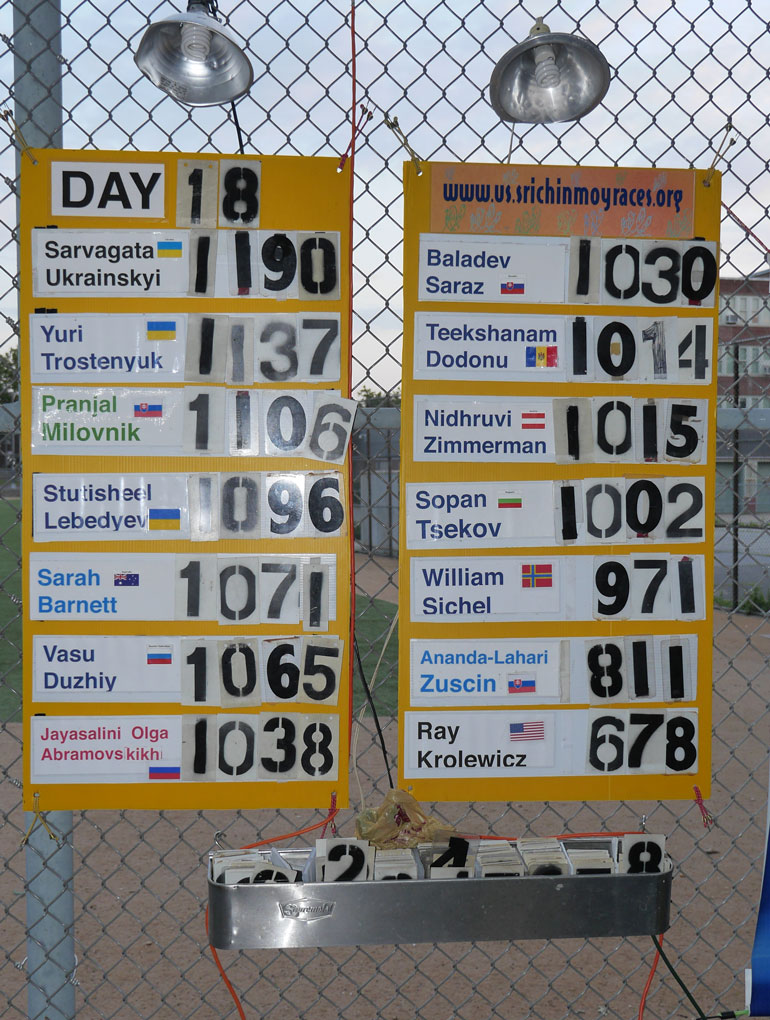 William will get more of an opportunity to experience  New York weather today.
Harikanta arrived from Moscow last night and has brought treats.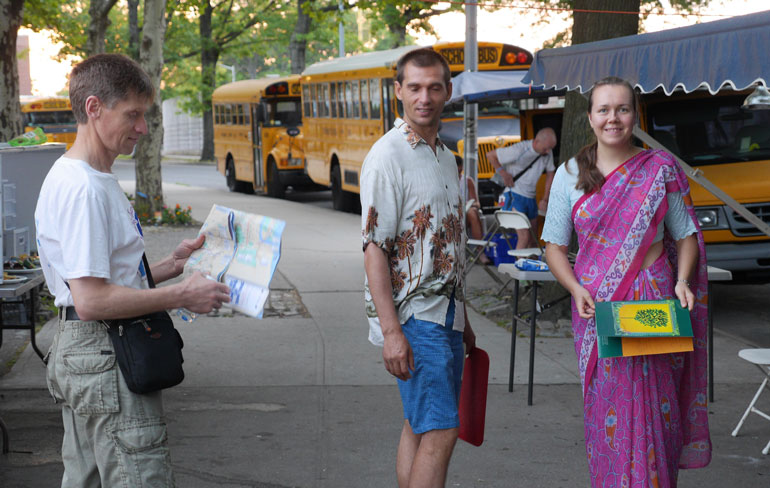 Besides the very big card signed to the brim Jayasalini received some very cute toys.
Yuri, Vasu, and Sarvagata also received a signed card of encouragement.
Teekshanam also passed 1000 miles yesterday.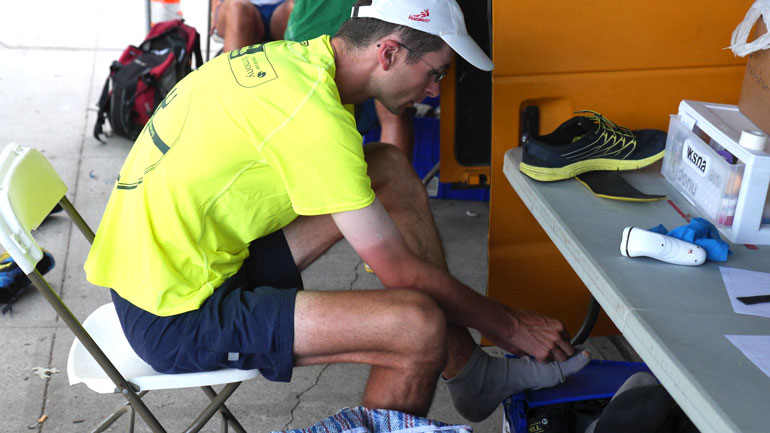 The boys
Nidhruvi pours herself some coconut water.
Start Day 18
It takes more than a little arithmetic to understand how well Sarvagata is doing this year.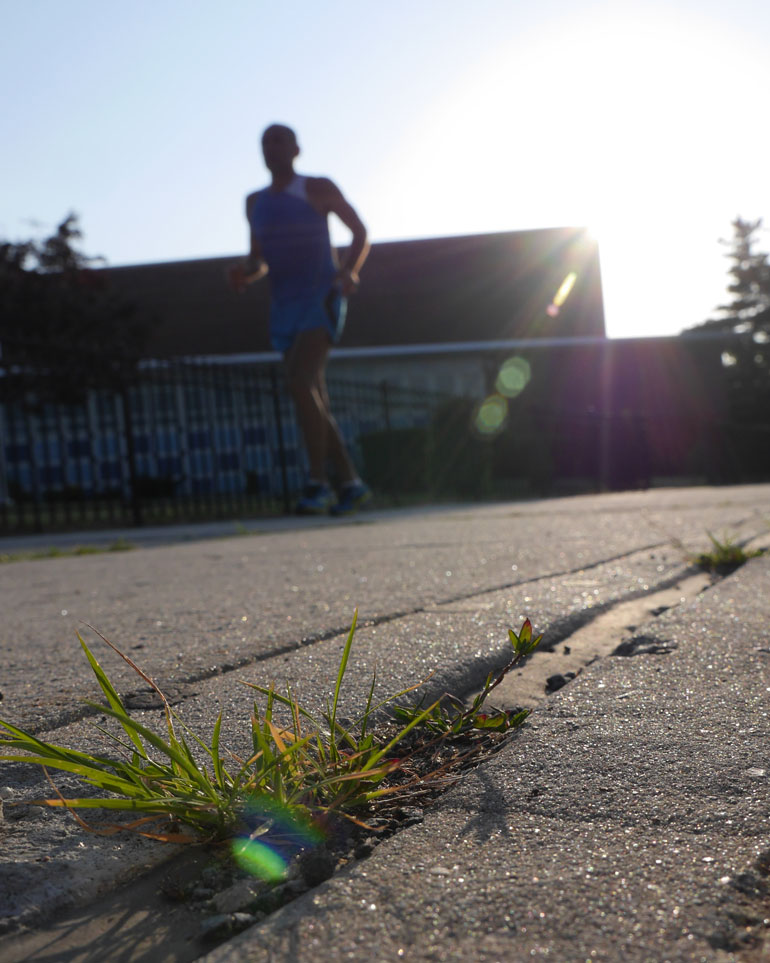 He is now about 100 miles ahead of last year's pace.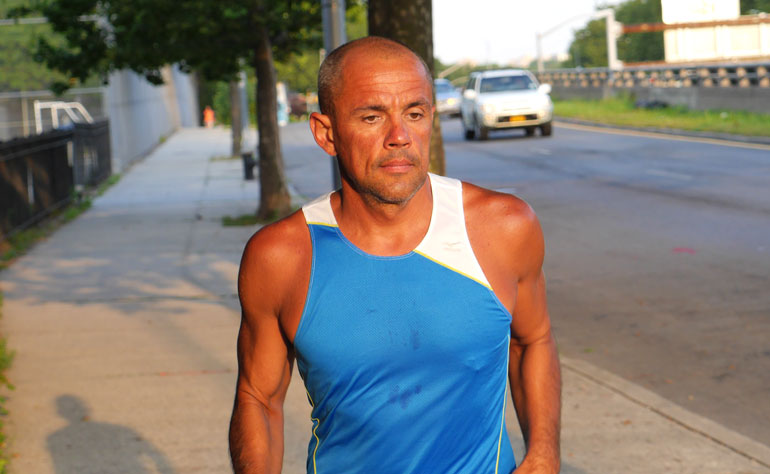 And his numbers add up to 10 miles more than the race leader last year at this time.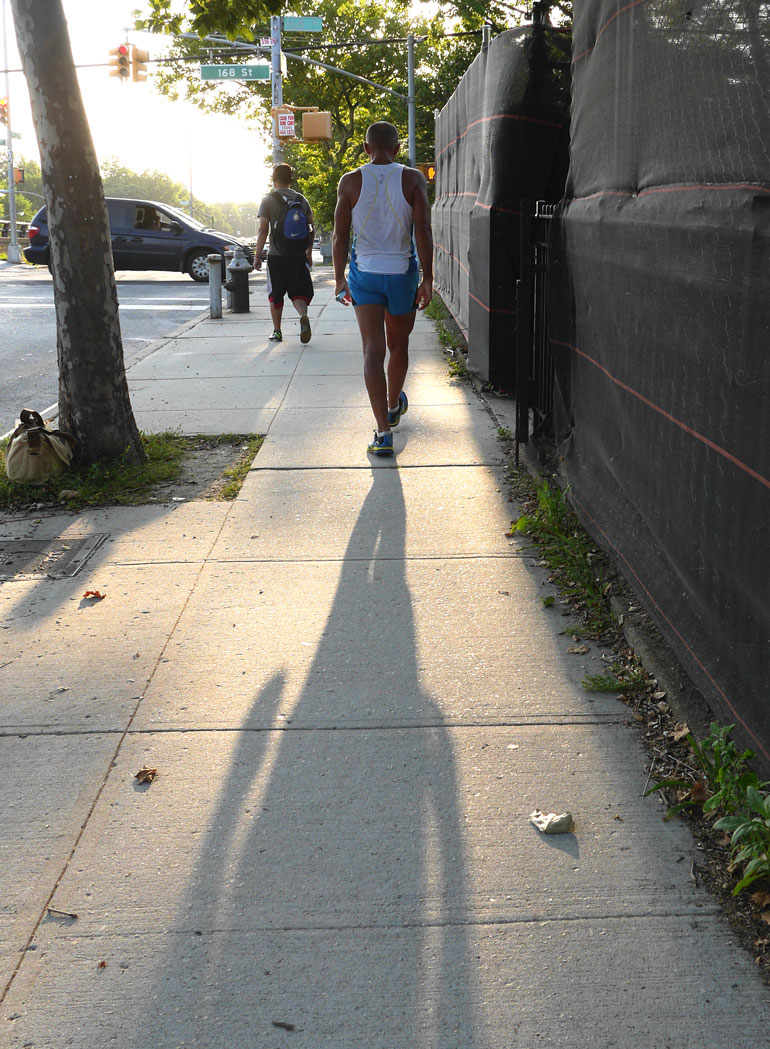 Yuri had 122 laps yesterday
He has a new streamlined look care to a hair cut from Sundar last night. He is 37 miles ahead of last year.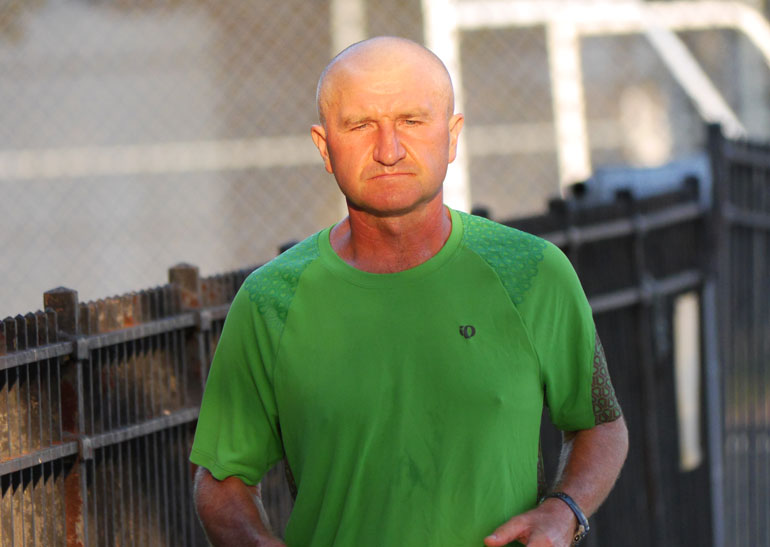 Extraordinary bits of color.
Pranjal had a good day with 122 laps.
Yesterday he started and felt sleepy.  "But I have pretty good mileage so far.  Usually when it is so hot you loose a lot of energy.  But you still have to keep moving and then you will find out how much you have for the evening."
"You never know how much it will cost you.  My body is still adjusting to the stress.  Sometimes small injuries happen but usually after a few days I am over them.  Muscle injuries don't usually last too long."
The trek up to 168th street.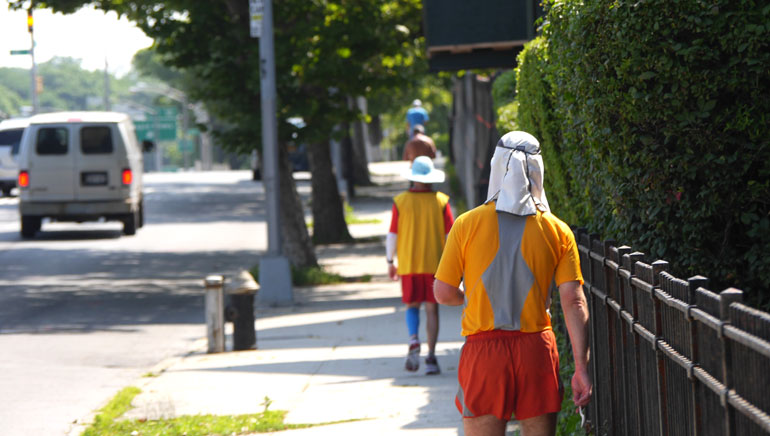 Having fun in camp.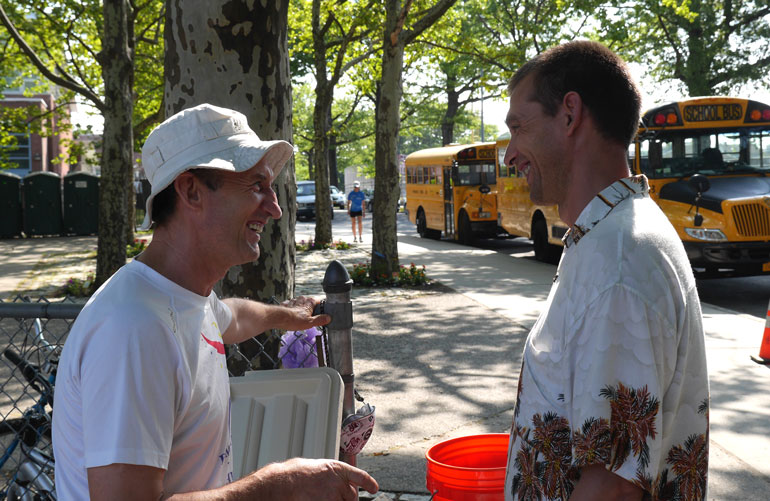 Stutisheel had a great day except for one small thing.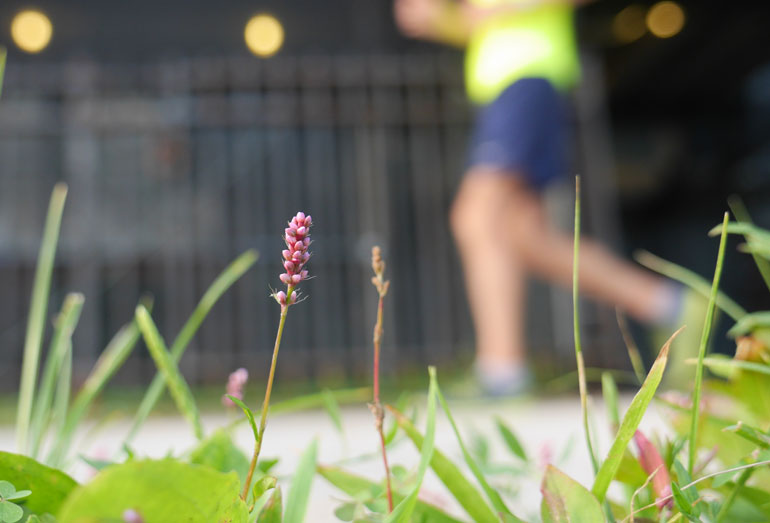 He had just finished 125 laps last night, which was a tie for the most laps he had run on any other day of the race this year.
He decided to go for one more lap but would need to hurry in order to make the cutoff.  The result of this he thinks is a strained Achilles.  Which he tapes up today.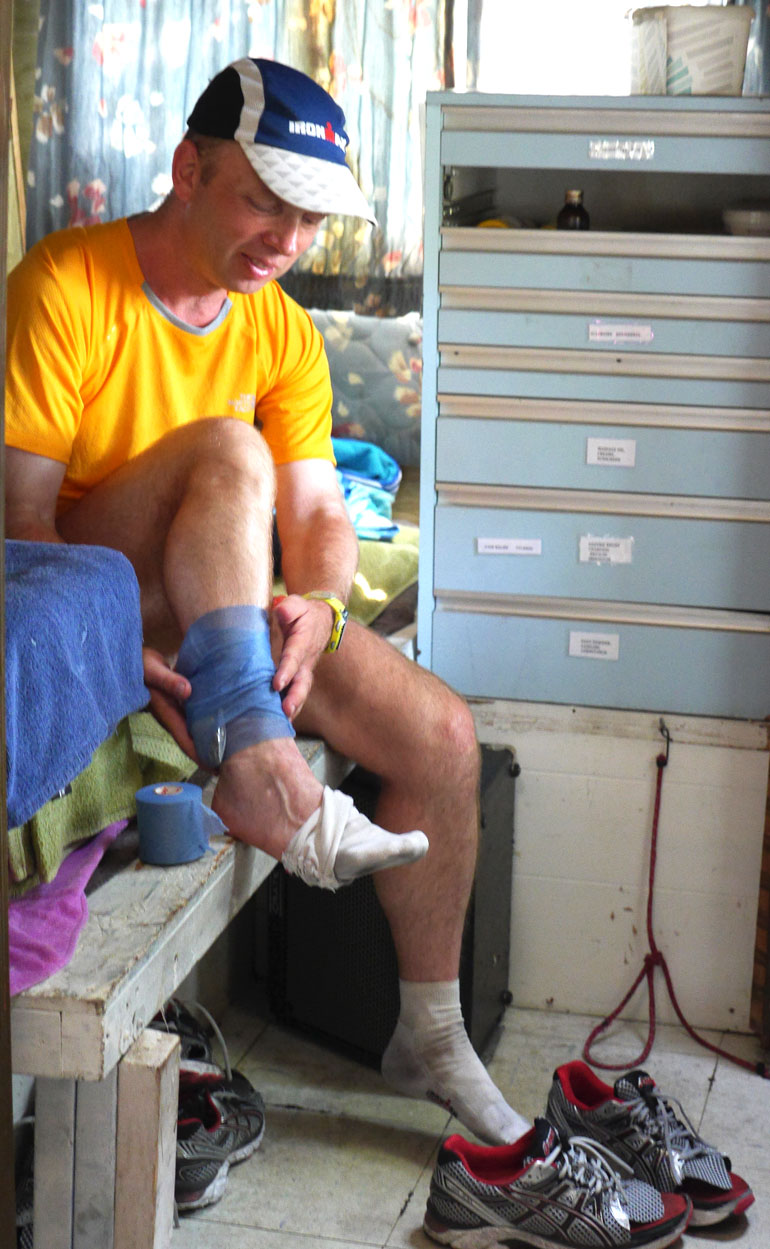 He has been through much worse and this is not a new experience.  He starts the day with 1096 miles.
Sarah just continues to do so well.  She had 112 laps or 61 miles.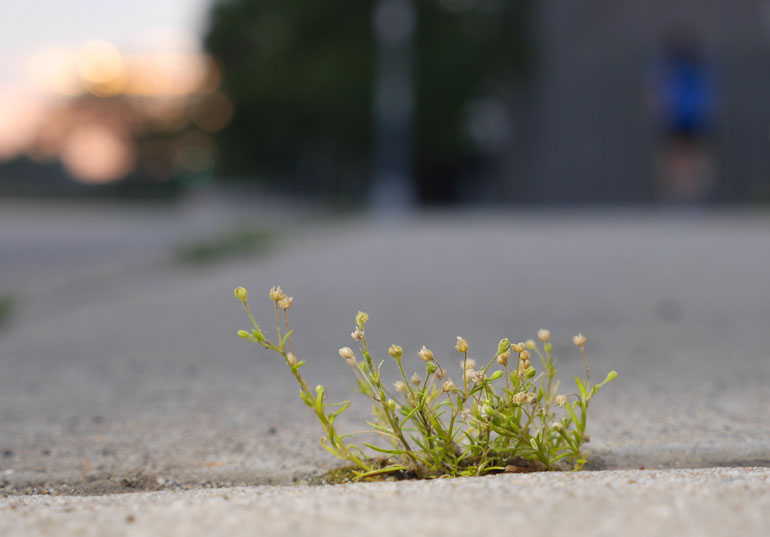 We don't get a standing still pic too often
The camp as usual, lots of motion, lots happening.
Punita who has been helping so much in the kitchen puts in one last counting shift.  She has to return home to attend to an urgent family matter.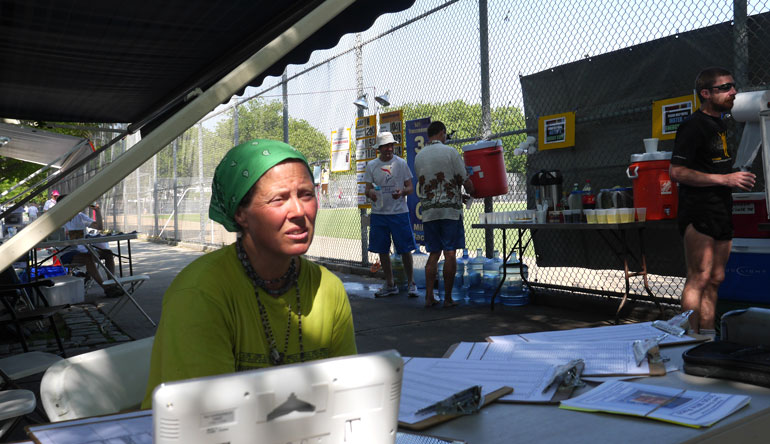 Vasu had 118 laps yesterday.
He flies with his stick at least twice a day.
He talks to Ray.
He has another good day.
And he goes away.
Jayasalini had another day of 110 laps.  She had completed 1038 miles but the journey thus far has not been without pain and injury.
"It is really amazing that we can extend and extend, again and again our capacities.  To set new and high and higher goals.  And to be brave and go for it."
She smiles so much that when I see her through the lens of my camera I spontaneously cannot help but be inspired to smile as well.  I ask her about her smiling.
"Sometimes I just consciously remind myself about the importance of a smile.  Sri Chinmoy said once, even if we smile, when we go through the hardest periods.  That is already a victory.  I just recall this again and again."
"I want to smile.  This is so simple.  It gives so much joy to myself, to people around me.  I just love smiling.  I realize that it makes someone happy.  This is something that pleases Sri Chinmoy.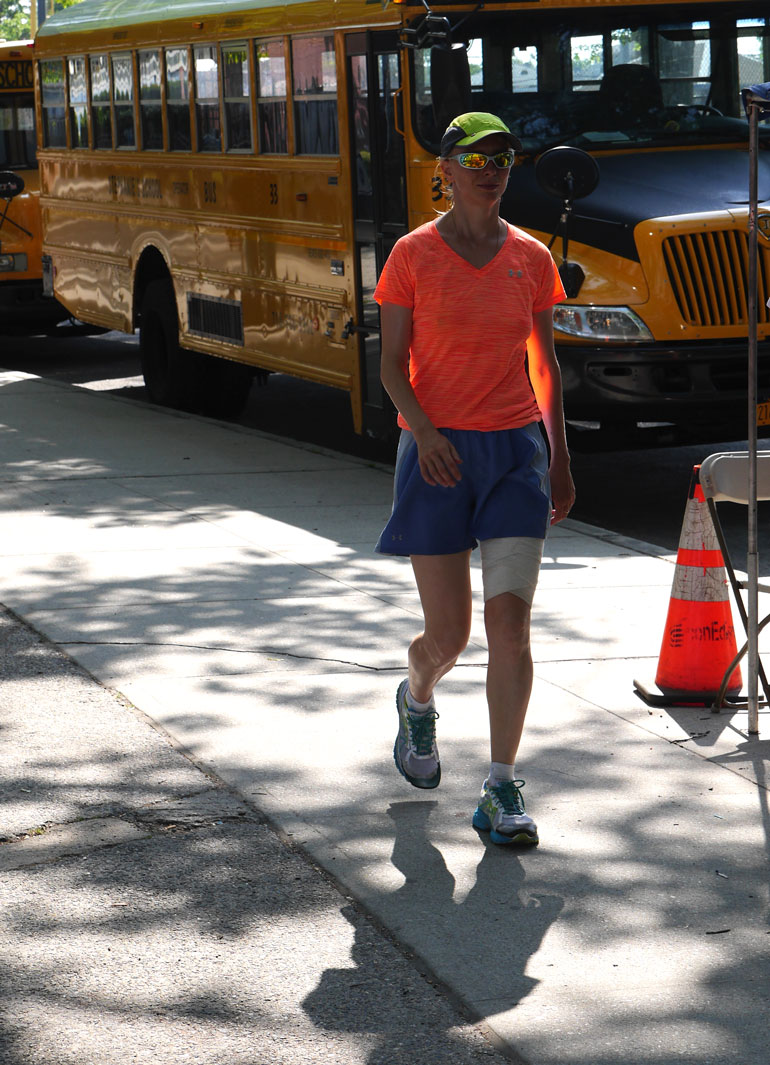 The arrival of Harikanta this morning with all the treats she had brought with from Moscow was really something.  "It was such a surprise to see so many toys on my table, and cards."
"Not only from Oneness-Drean-Boat-Shore have I received tremendous support.  People from Brazil have written me messages.  It touches me so much."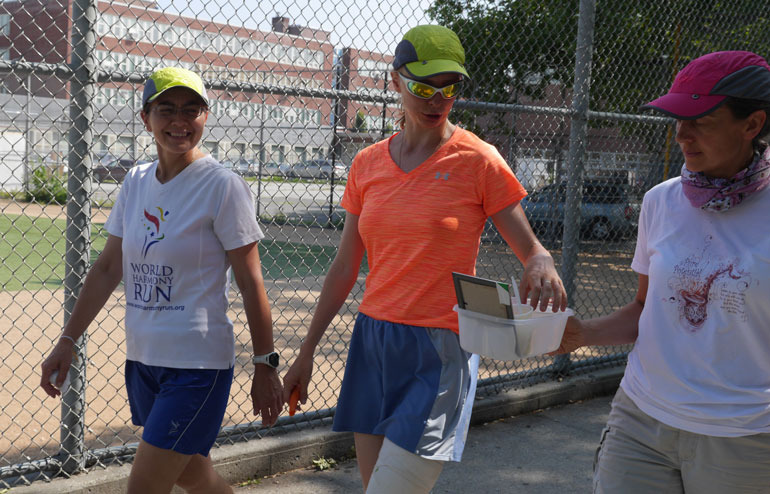 "This is a totally different race from anything that I have done before.  One of the simplest experiences that I go through every day which is amazing is how the runners get healed at night.  This is so amazing.  I can't understand how it happens.  How in less than 4 hours you can be healed.  Your legs can feel much much better."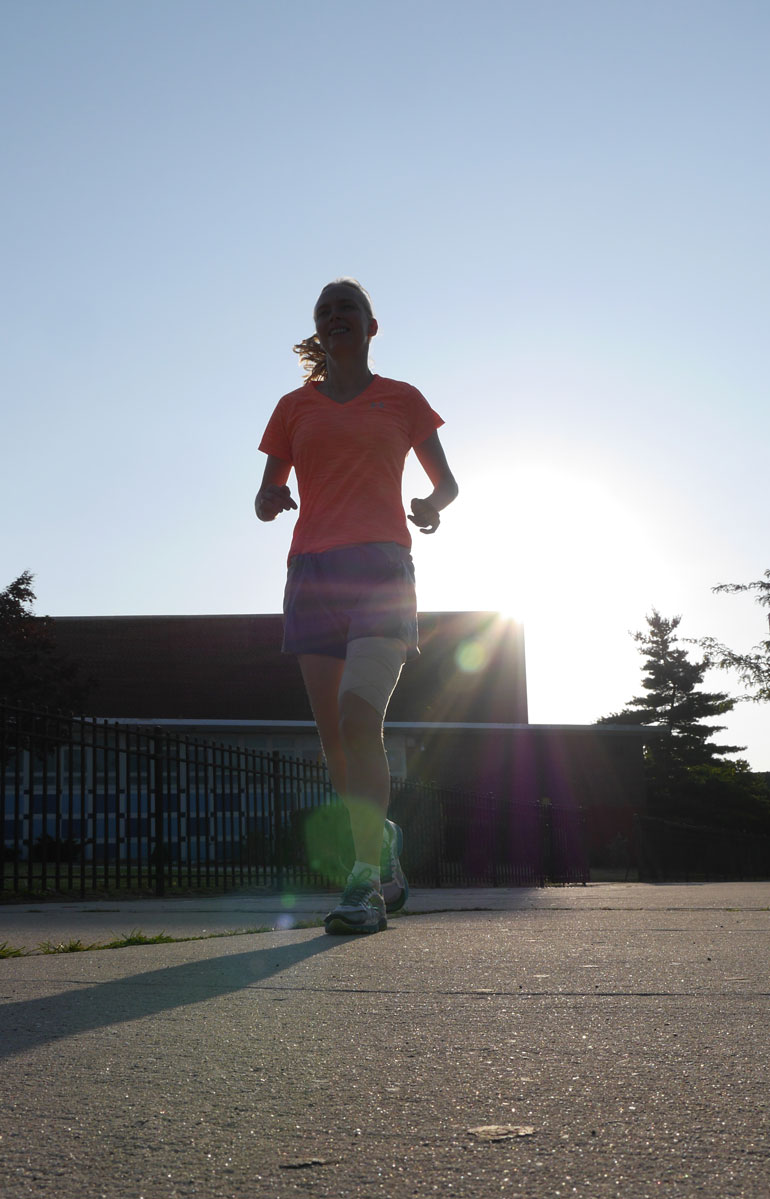 "Of course there are some inner things.  I have a feeling how beautiful the world is, particularly at night.  I just love this time.  Looking around at everything and feeling that God created this universe.  It is a perfect world.  It is indeed perfect and everybody around is perfect."
"When you enter into your heart, and you stay in your heart.  You feel this very intensely.  It is the grace of this race."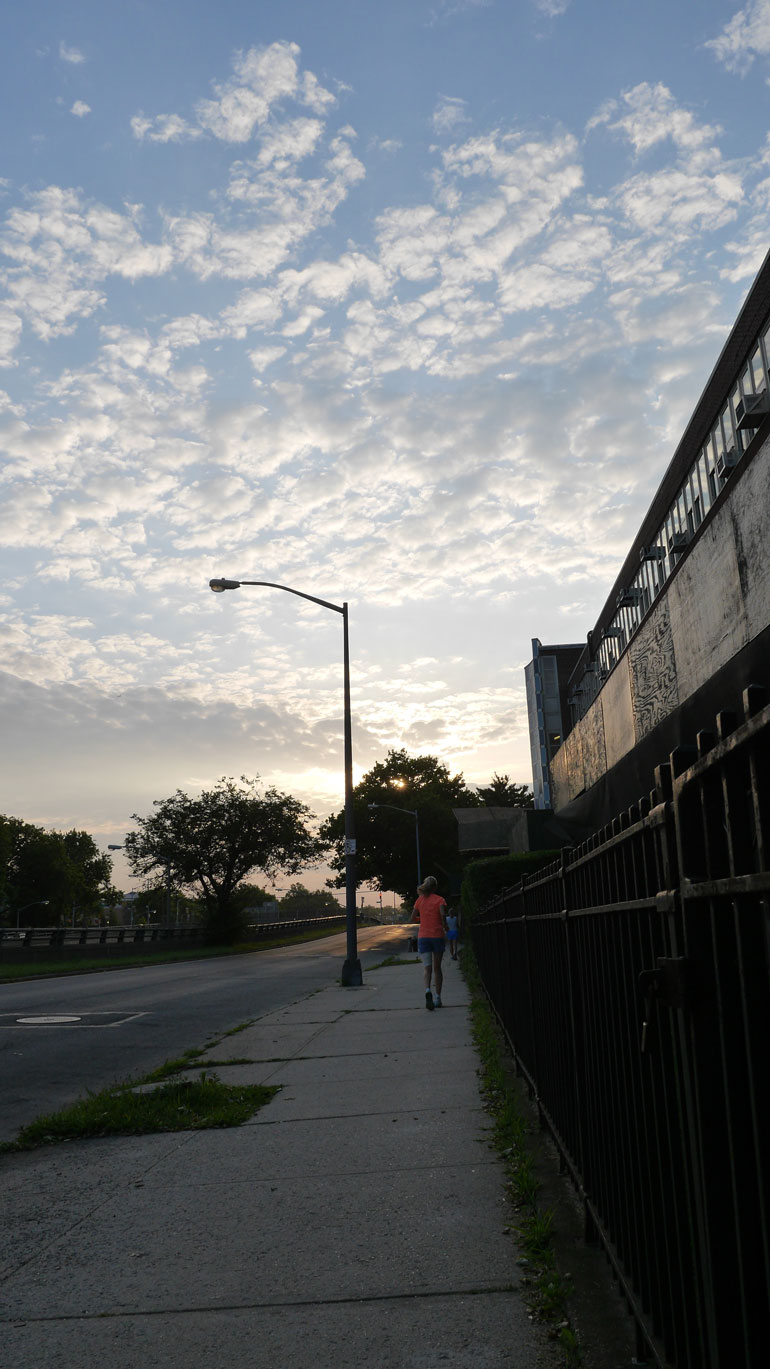 Click to Play Interview:
Misha taking a music break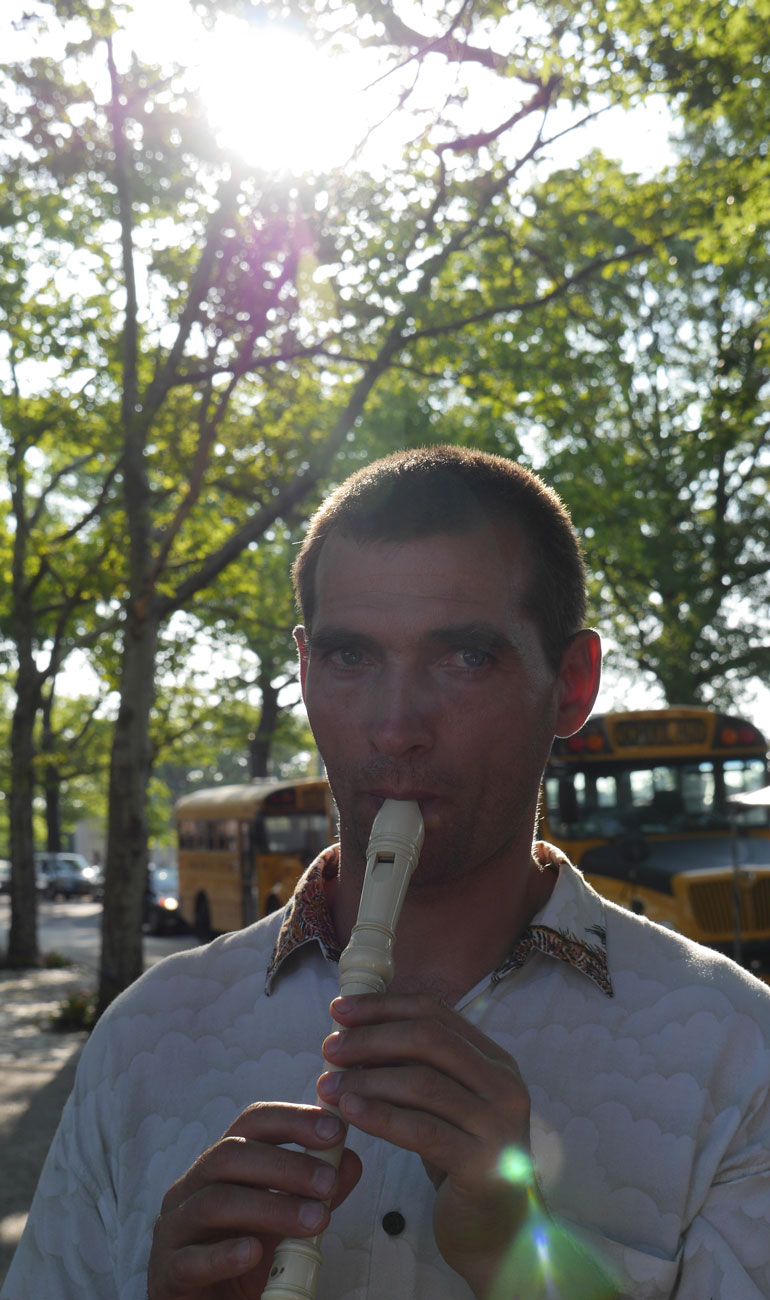 Click to Play:
Morning snacks have arrived.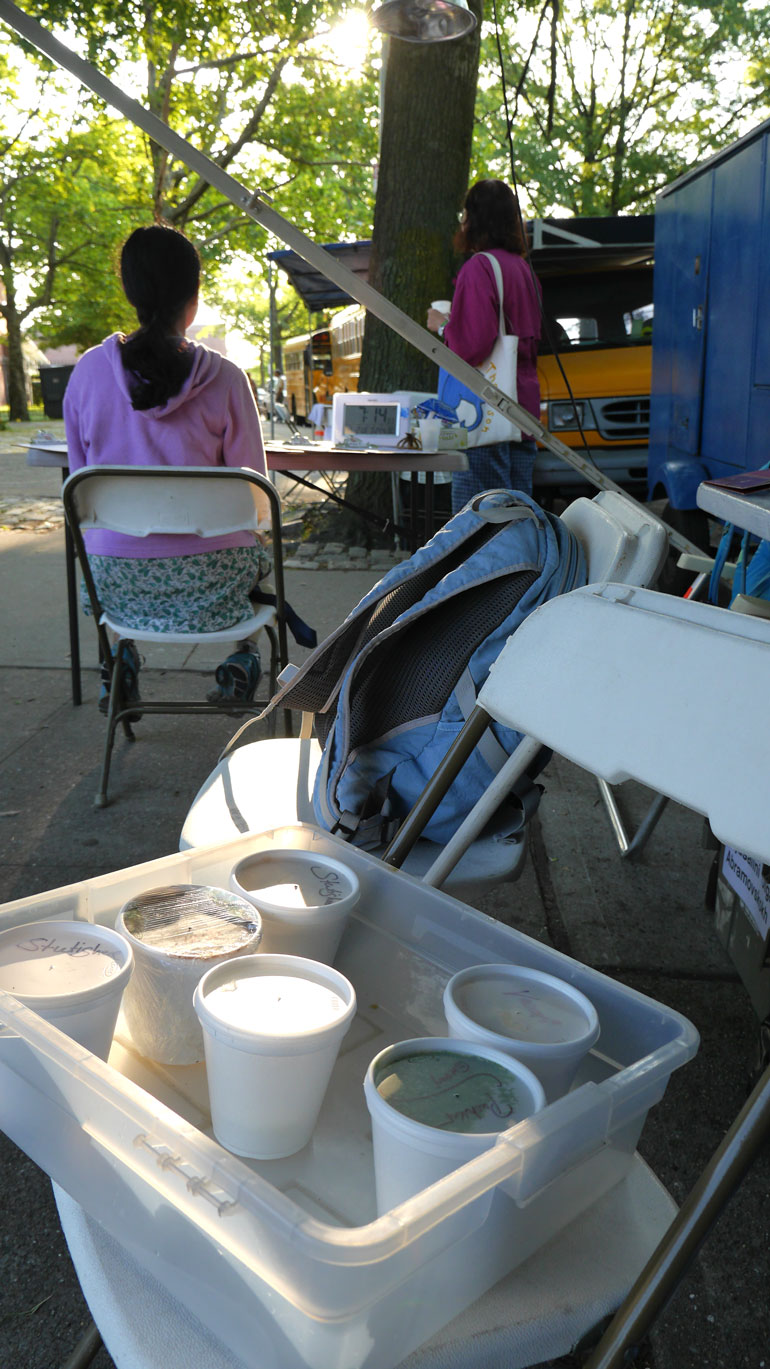 Treats are discussed for tomorrow as a present for Teekshanam from his friends in Geneva.
Baladev had 91 laps yesterday.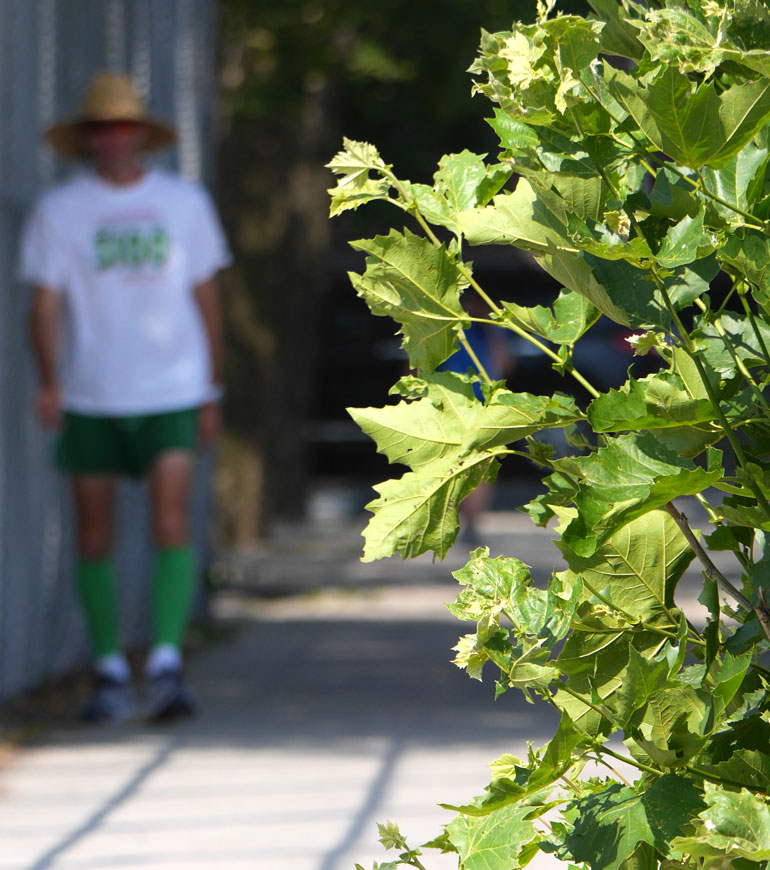 He has 1030 miles.  Last year at this time he had 987
Never say you can't.
Much like Jayasalini, Teekshanam is also entering new horizons.
He has never run longer than 10 days or gone further than 580 miles.  He has completed 17 days already on the course, ran a great 107 laps yesterday, and starts day 18 with 1015 miles.
I ask him how he felt about passing 1000 miles yesterday.  "It did feel like a milestone.  It gave me the encouragement to pass it and continue on."
I suggest that he is looking more confident and more engaged with the race every day he is here.  "It is easier to deal with the various challenges over time.  There are still quite a few out there.  That still need to be dwelt with."
"I also draw strength from the other runners, who have gone through that already.  Who always find the right moment, the right solution to share.  Such that my journey and the journey of others through this race is better."
Teekshanam is very proud of his Moldovaness.  His mom and sister in Chisinau are following the race and his progress every day.  But he also identifies in part with Switzerland which is where he now lives.
Pushkar is here visiting from Zurich.  He has completed the race many times.  "Definitely, his coming gave me a lot of comfort.  I certainly appreciate him continuing to be here this week."
"I think the mere fact that he has done this race 4 times.  His being here is just a tremendous tremendous form of support.  Not only to myself but also to all the other runners."
I am curious if he is aware of just how good his performance has been so far.  "I don't think of what I am doing as well or not so well.  I just don't have an idea about that."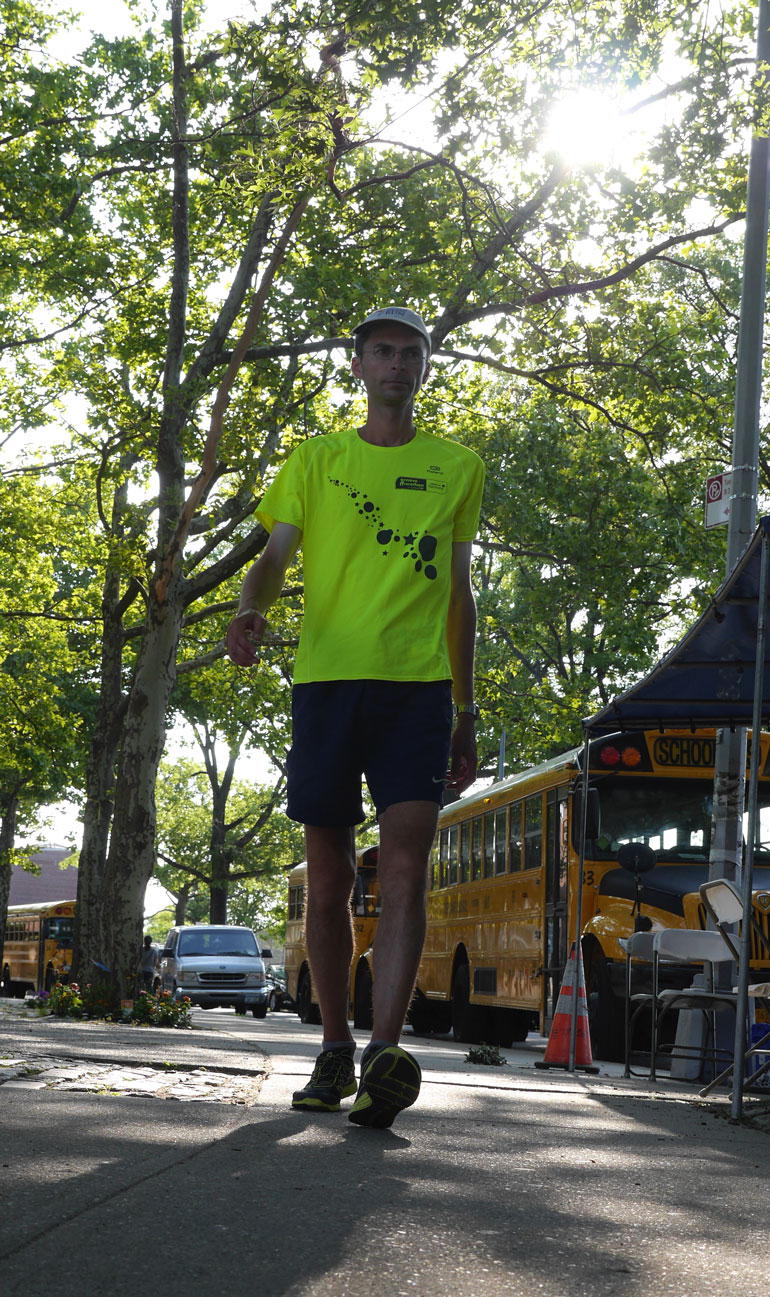 "I do every day what I can.  It maybe well in the end or not so well.  But that is a judgement one can make after the race is over."
Click to Play Interview: 
Nidhruvi got 102 laps yesterday.
She also passed 1000 miles yesterday and has 1013.
She has 23 more miles than last year.
Sopan had 95 laps yesterday.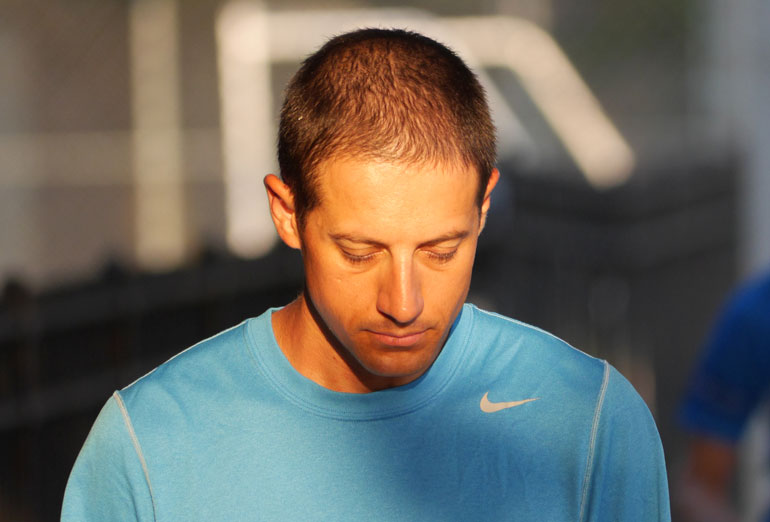 Yesterday: "A great day with good experiences and nice ending for me … 1000 miles! I have noticed that for me living on the 3100 course has become more about the inner feelings and experiences."
Dr. Mitch Proffman is at the race today to give chiropractic adjustments.  Sopan has a problem with his 5th Vertebrae.
Mitch goes to work quickly.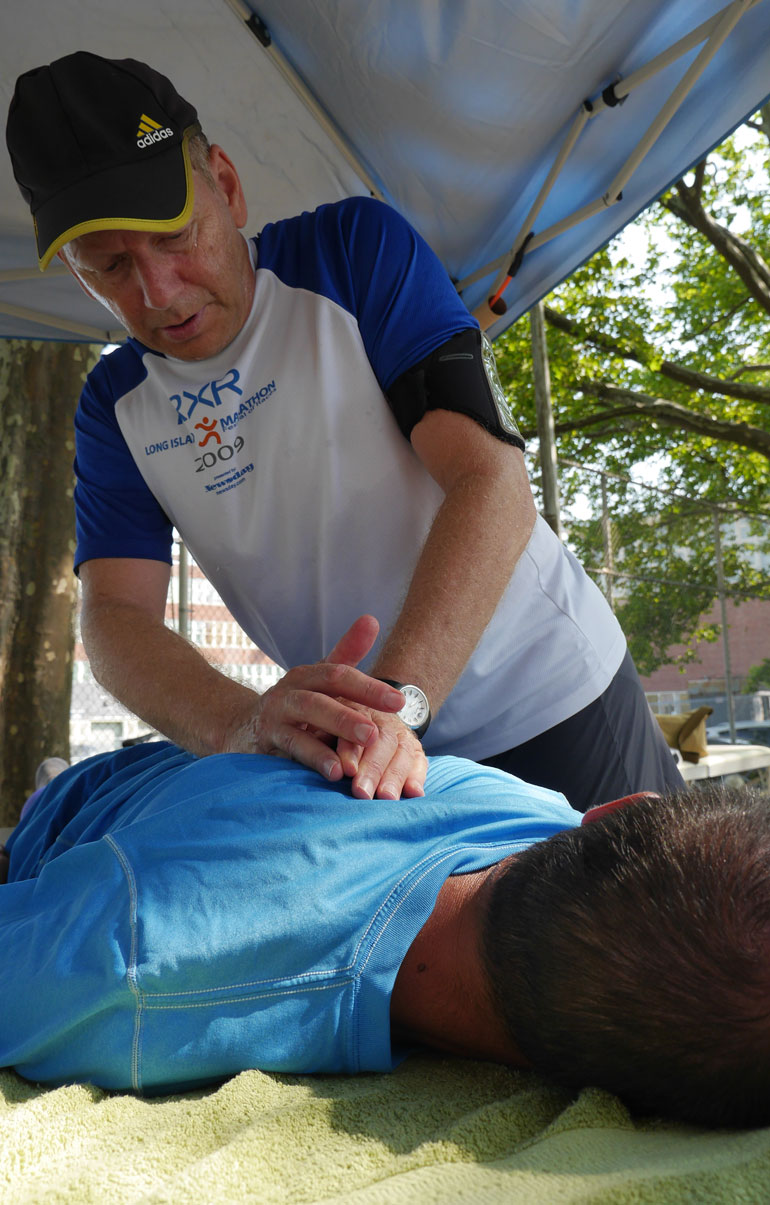 Can you hear the snap?
He says that being here means, "Without most worldly distractions we get to concentrate mostly within ourselves and like this cultivate our inner life and intensify our inner feelings."
"Last few days I have really enjoyed this part of the race. Time goes faster this way even though laps still matter… I like to have a goal which presents a challenge and it feels great at the end of the day when you reach the goal or run even more."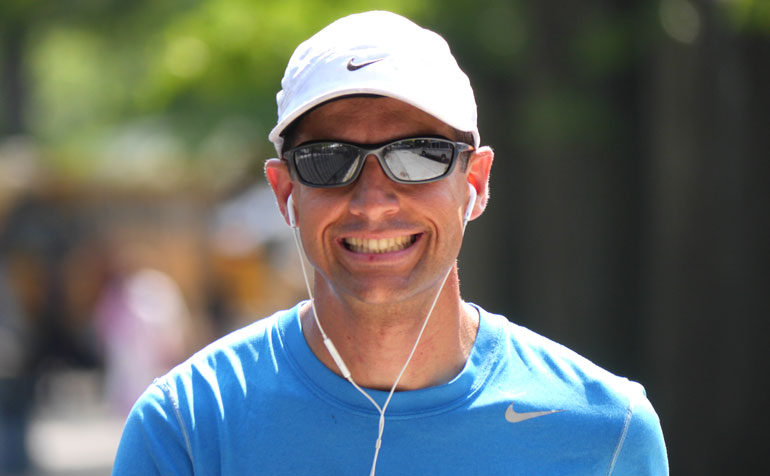 William will make 1000 miles and most definitely another world record this afternoon.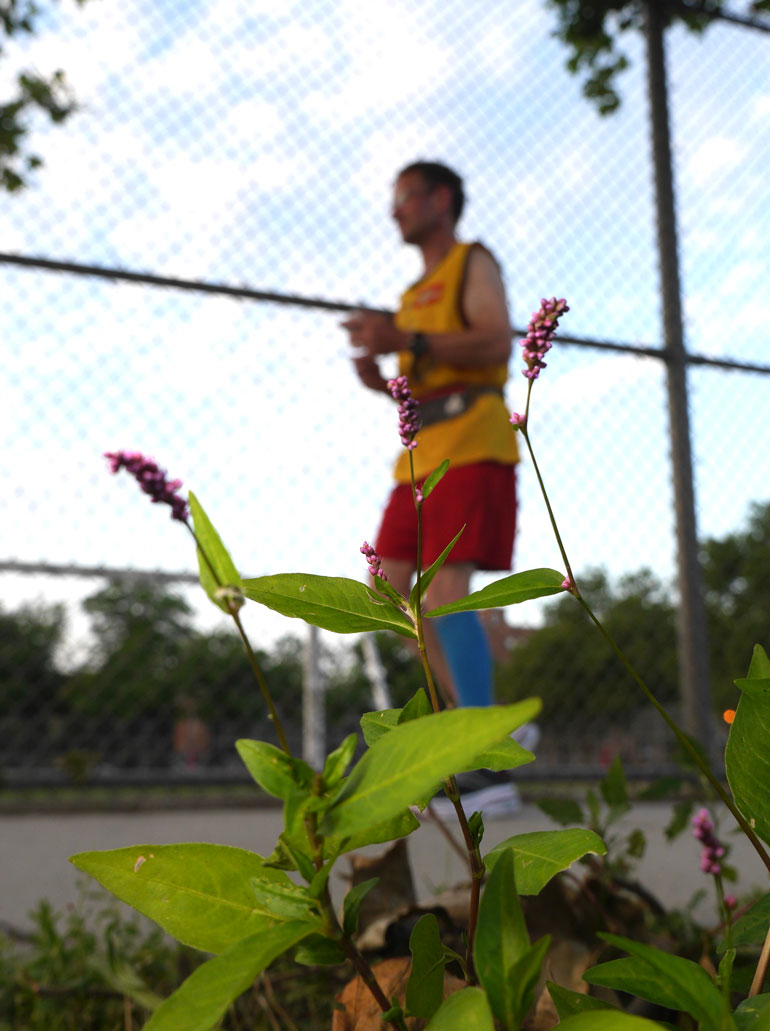 He did 89 laps yesterday.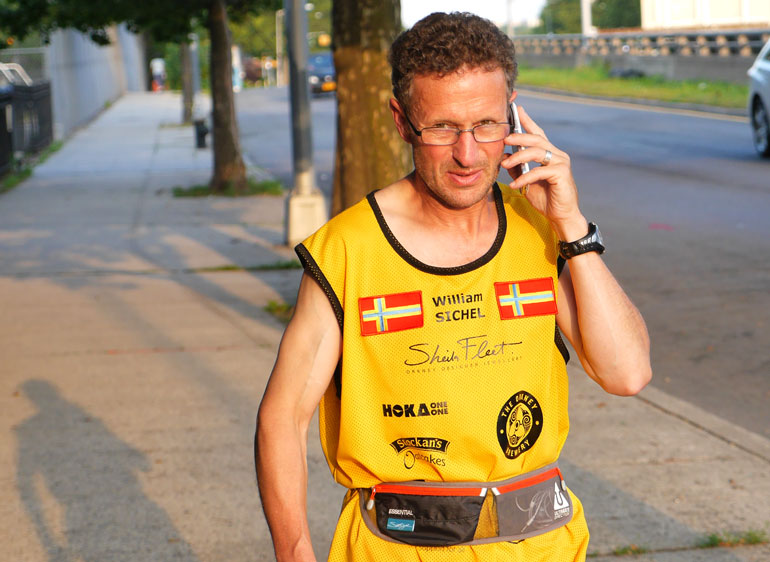 Tim will be here with him for a few more days.   He does get off the phone and the chair often.
William starts day 18 with 971 miles.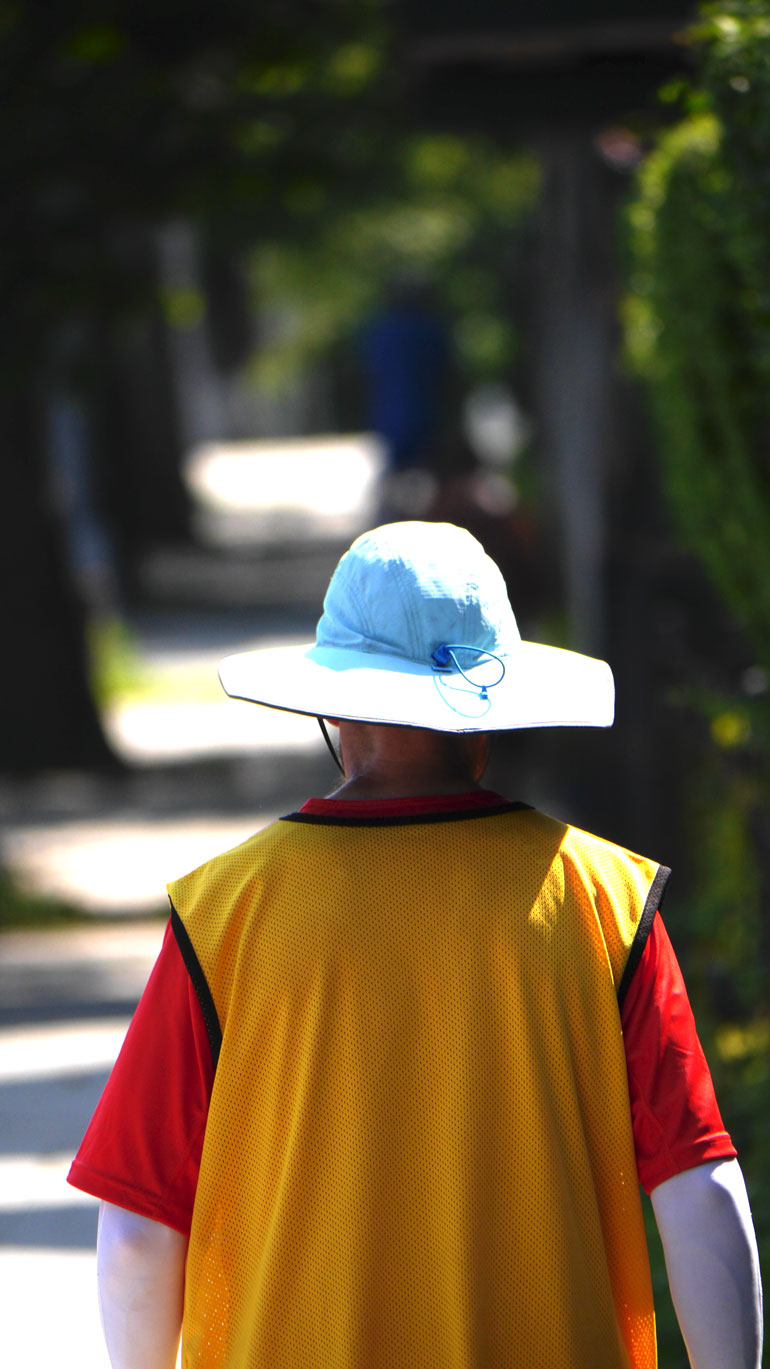 Ananda-lahari never seems to have a bad day.
He neither worries nor complains.  yesterday he did 79 laps.  He just keeps moving.
Ray K writes poems and runs miles.
Hearing a few lines from him or doing a few laps and you soon realize just how special he is.
Teekshanam recites the daily prayer.
Click to Play:
Enthusiasm-Awakeners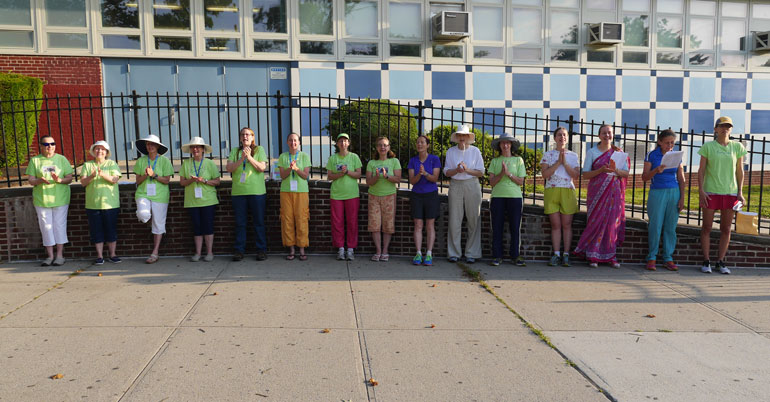 Song of the day
Click to Play:
When we are willing
To change a little,
We enter into
A new horizon of bliss.
Sri Chinmoy, Seventy-Seven Thousand Service-Trees, Part 22, Agni Press, 2001