For 3 days his face has born the unwavering expression of a man focused on doing but one singular and extremely difficult task.  Never distracted, never bothered, never surrendering to the pains and fatigue that must be grinding away within the deep dark recesses of his very core.
The kind of strains and pains that would make most of us crumble and crash.  Yet something much more powerful than these human torments continues to push, prod, and pull this 45 year old Irish runner Eoin Keith through it all.  Some might call it his power of concentration, which is most definitely burning bright and clear in the eyes you see right here.
But there is something much more revealed in what we see in his eyes and in his performance here.  For what is happening on this one mile loop in Queens NY is that a Irish man is reaching into the very depths of who he is to accomplish something he has never done before.
On and on through 3 long dark nights when the cold and wind, and last night the rain came too to torment and bother Eoin, as well as all the others who are challenging themselves by running here. Through it all there has been no break, no real rest, and no complaints as such.
For any waver in his focus, any surrender to pain, doubt or fatigue and all would be lost.  It is a goal that he has prepared long and hard for and as of noon toady he is still only half way there.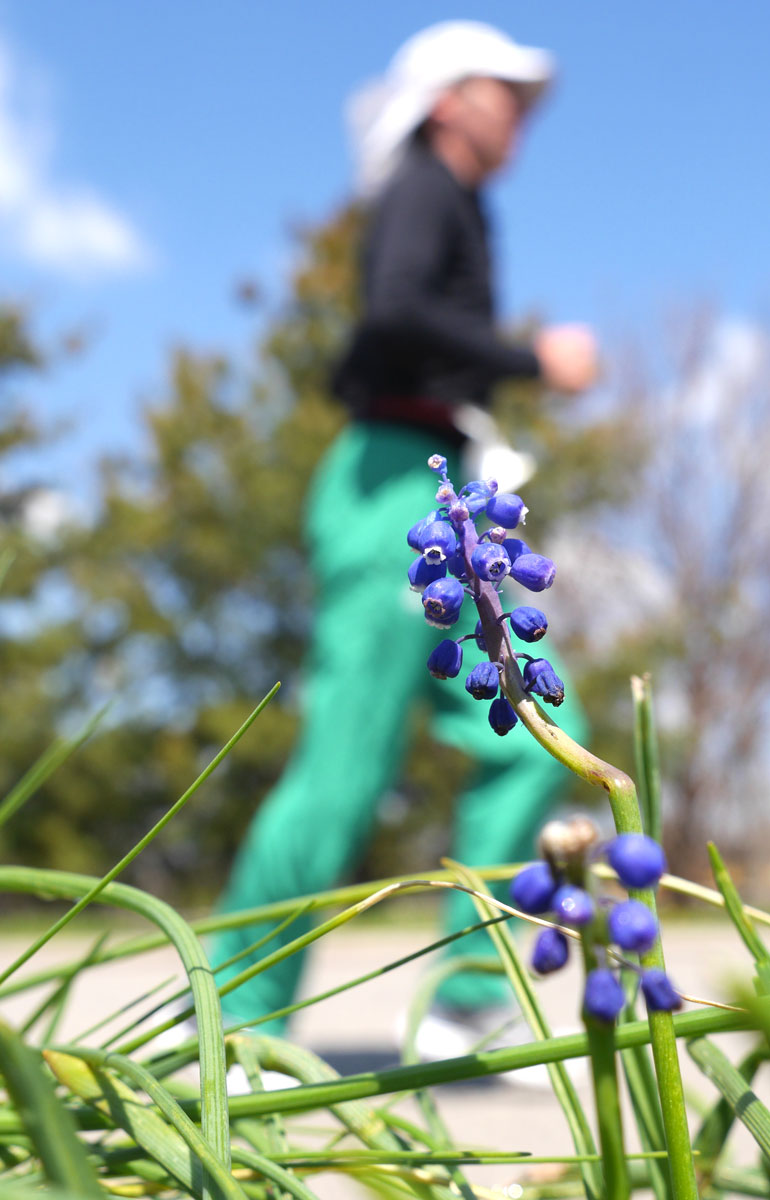 At 12 today he stepped forward into a new realm, an even more challenging chapter of his 15 year long running career.  For at that precise moment he began running in a competition for longer than he has ever done before. In fact twice as long.  A journey that will only be completed after 6 days.
His record for 3 days, his longest race to date was 300 miles.  In the past  72 hours he has just about matched that total with a rather remarkable 296 miles.
Without much pause and certainly no fanfare at the half way mark, Eoin just kept going.  There was no choice in the matter. His goal commands that he go on.  Each step taking him higher and farther than he has ever gone before.  A place that is known to the champion within us all as self transcendence.
At 2 last night the rains came down and made it miserable for all here at the course.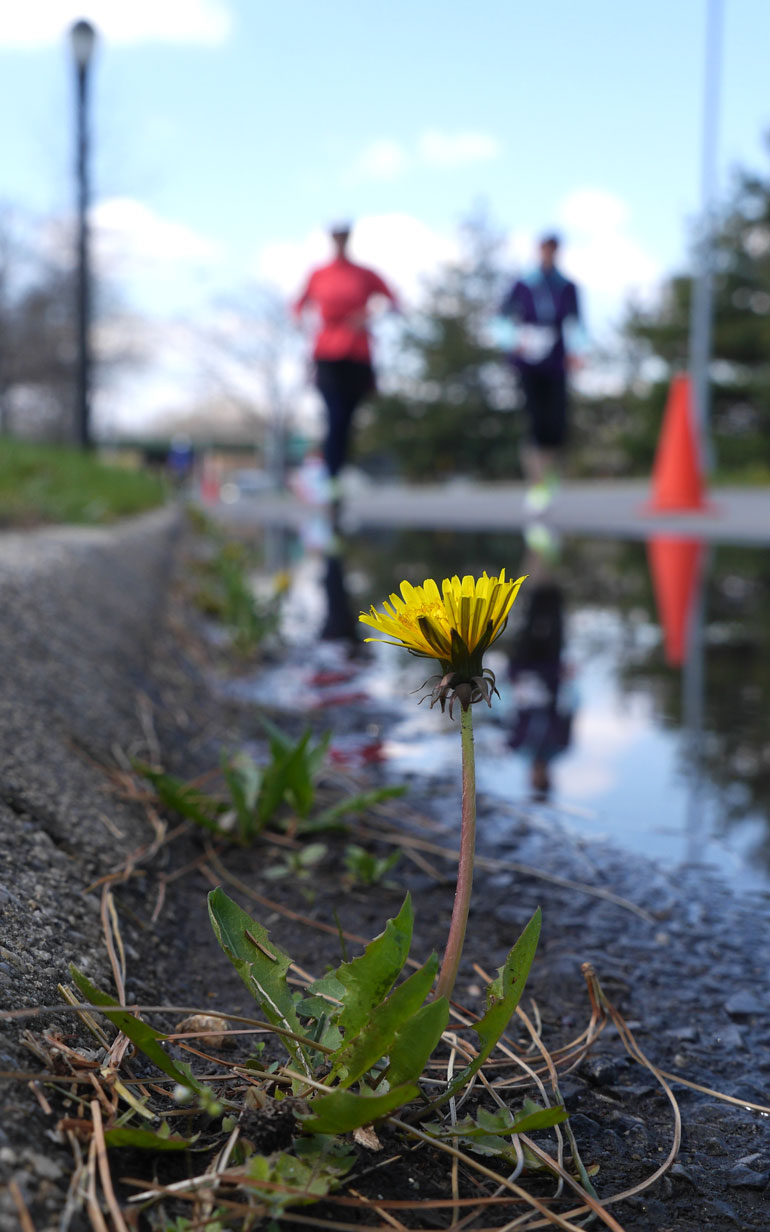 Despite this Dipali managed to complete 253 miles in the these 3 days.  5 more miles than she had last year.
It didn't take too long before all the runners then had to start worry about burning in the sun.
There will be more than enough sun for at least today.
Ashprihanal ran 75 miles on his 7th day and has 575 miles total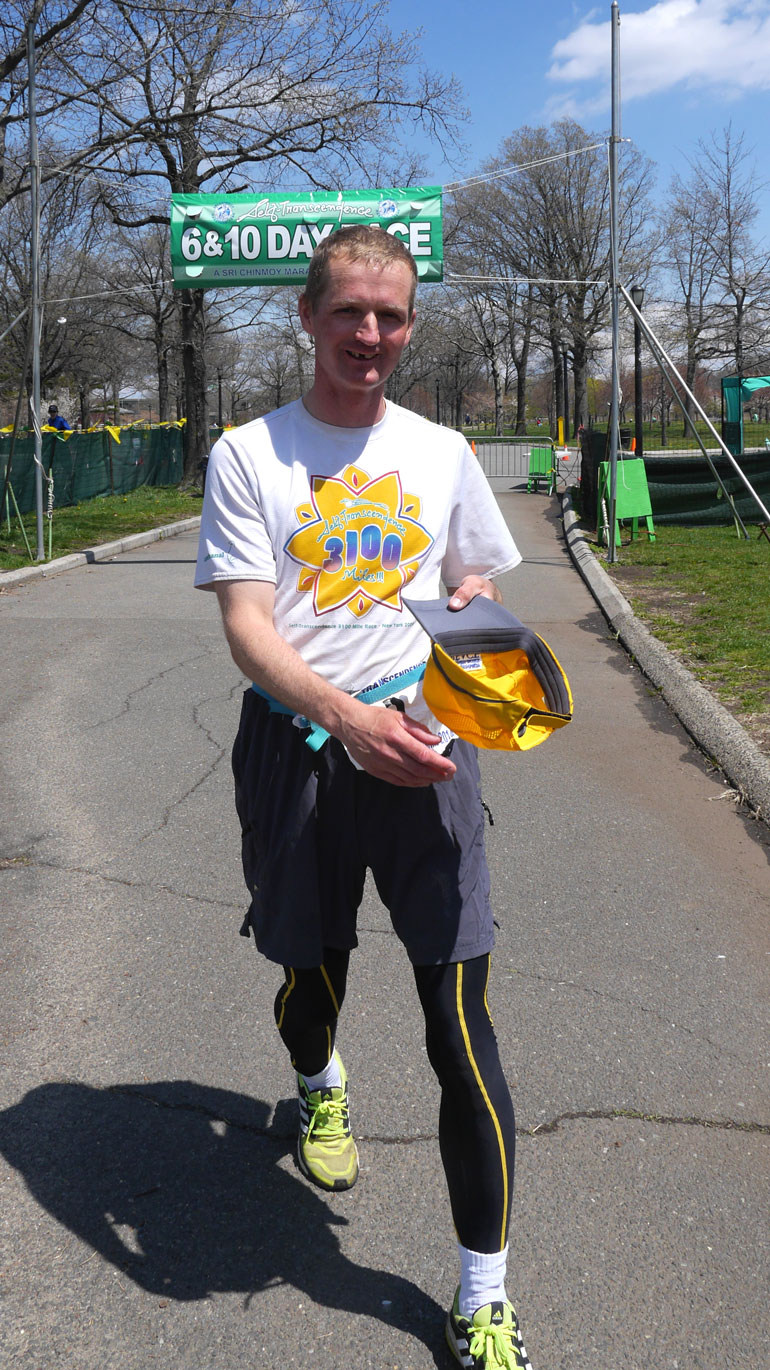 Budjargal Byambaa a 32 year old runner from Mongolia is also running much further than he has before.   Never having gone beyond 24 hours in a race he now has 141 miles after 3 days here.  "It is a big change for me, especially in a good way."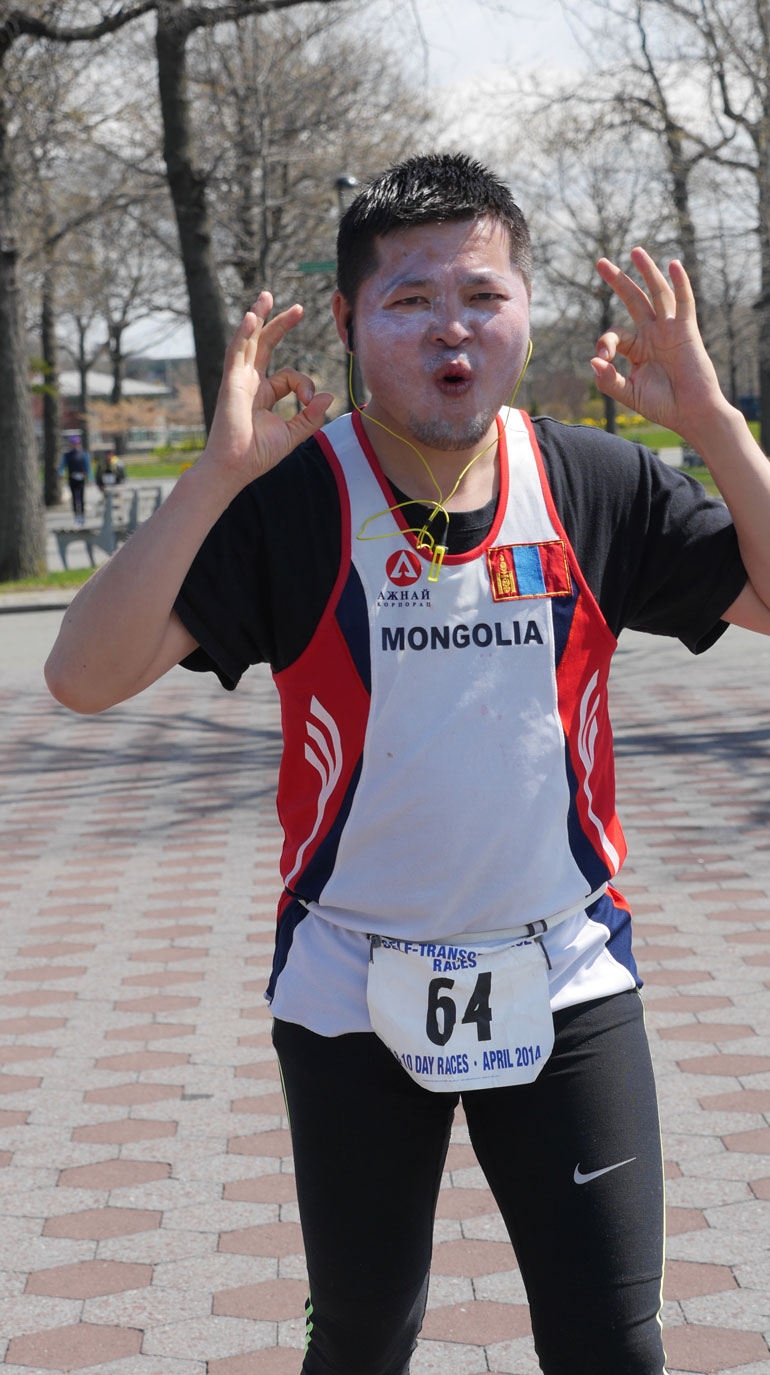 "This race challenges my patience,  so if I finish the race it will be another step forward for me." He describes that he is also striving for both big mileage and improvement in himself.  "It is quantitative and quality."
"I am also the first Mongolian to come and participate in this kind of distance race."
Click to Play Part 1 Of Interview:
"The one thing I experienced after 24 hours when I was so tired.  I wanted to quit and to stop.  I suddenly heard some Mongolian music and it helped me to go through that difficult time."  It says that there have been no real surprises.  "I only concentrate on running, jogging, and walking all day long." Every day he is happy being here.
"I am enjoying the moment…. and also to when I will finish.  The race now is half over."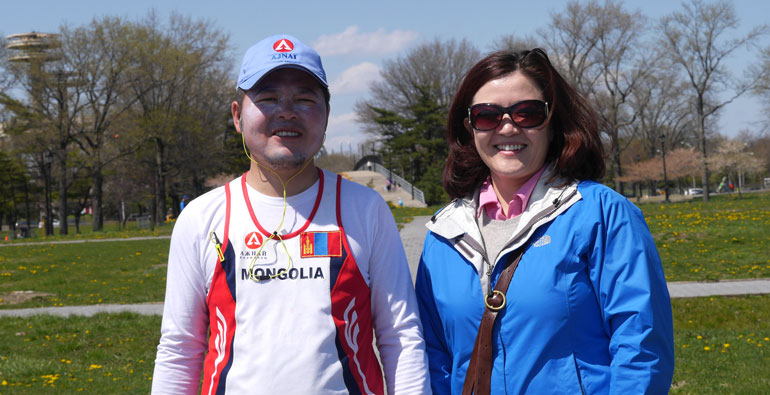 Sarah who is helping me with this translation came out to support Budjargal.  She is a student at Colombia but many other Mongolians have come to help him as well.  "It is good to have friends here."
He is also inspired to come back and try the longer race next year the 10 day and would be happy if other Mongolian runners came as well and ran in the races here.  "I would tell them that they need to challenge themselves, both personally and professionally.  This is a good way to challenge and improve yourself.
Special thanks to Translator Sara Davaasambuu
Click to Play Interview:
Just off the course.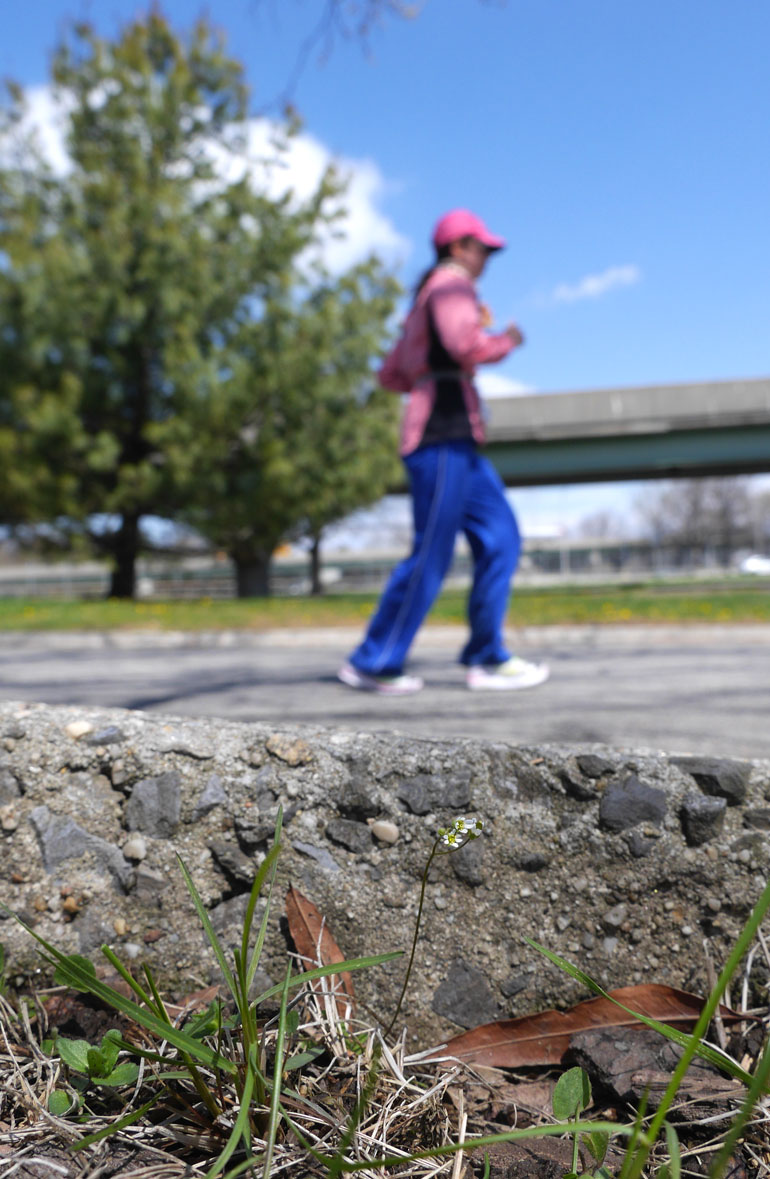 The always cheerful Adrian with 337 miles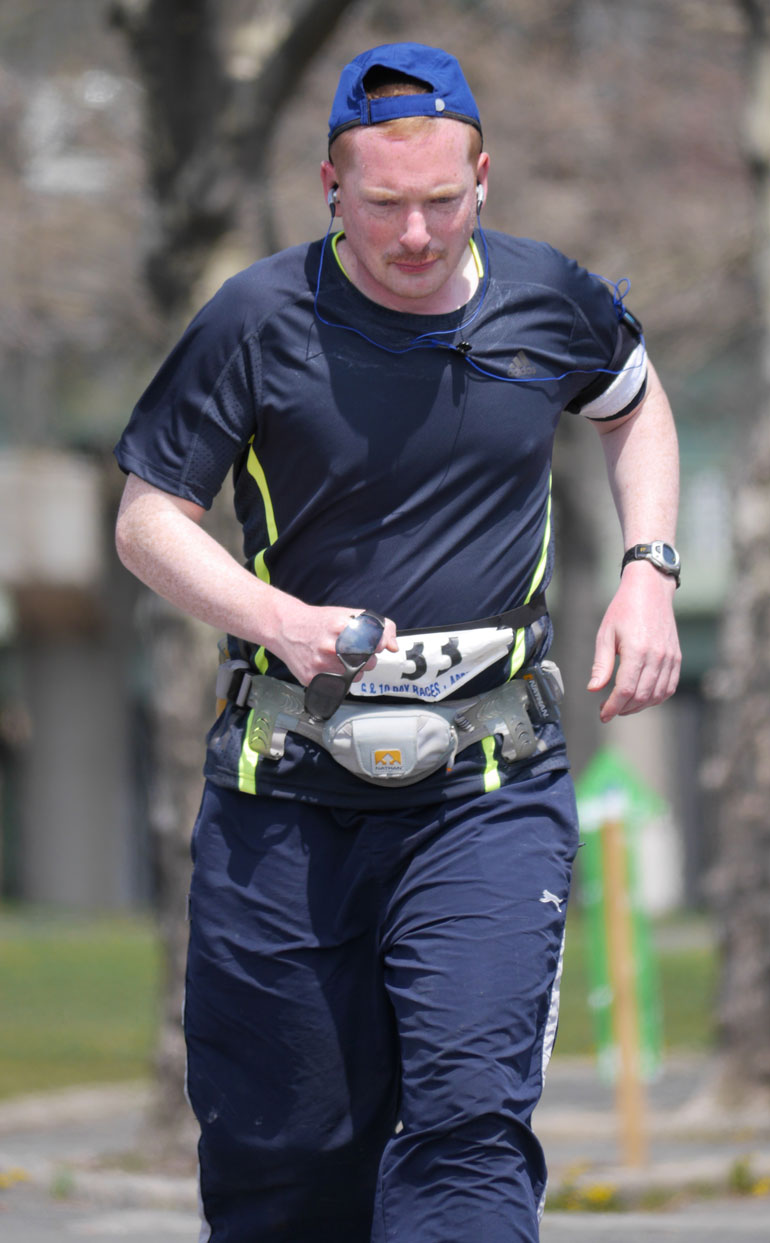 Simple jobs you have to do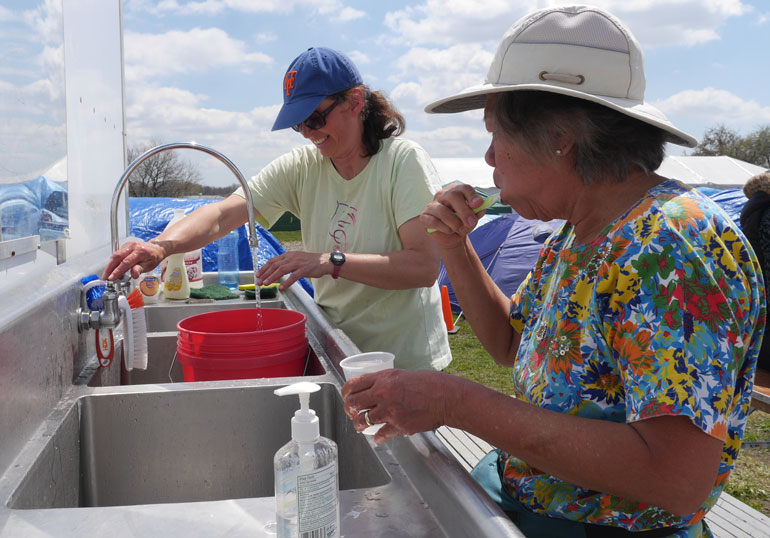 Rimas with 207 miles
Enjoying each others company along the way.
Gabriela moving forwards.  She has 431 miles after 7 days.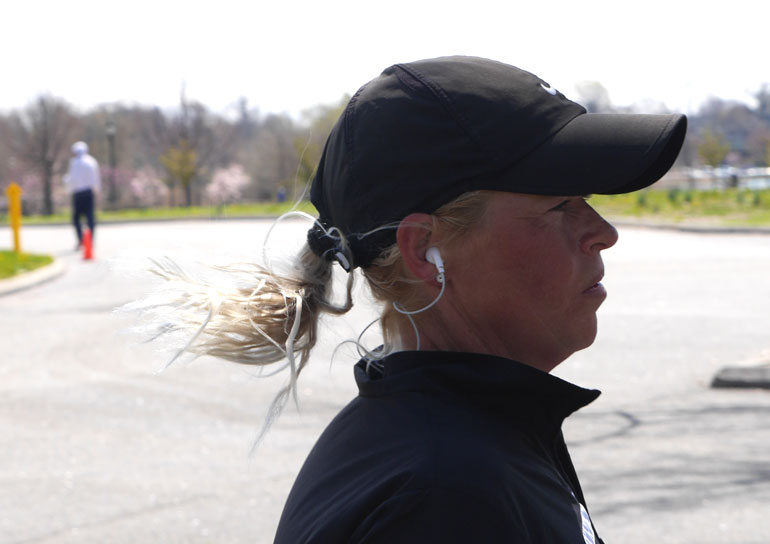 Elena with 415 miles
Yesterday I was witness to an event that happens so many times here to just about everybody.  Gerry, who is running a 6 day race for the first time was going though a real rough patch.  He was having pains like he never had before.
He had 79 miles after 2 days and it didn't look like he could continue.  Who knows what it was, but somehow Gerry found some strength that he never knew he had and got through it.  After 3 days Gerry has 114 miles.
The shadows can swallow up even the very best.
Hubert tells me he also had a tough time getting up this morning.   He felt that he could barely move and yet he too goes on.  A shower and a coffee and he came back to life.
Some things may appear bigger than they are.
Just a short break along the way.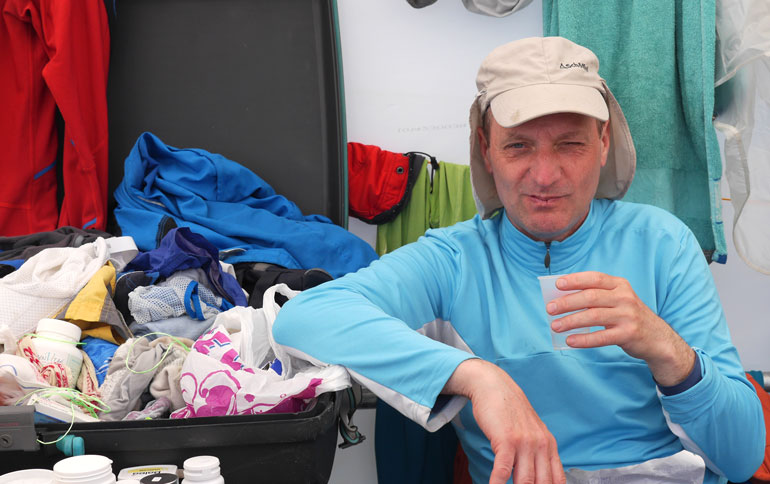 Never the easiest to go on but do we want to go back.
Subala glad to hear from Mom…..and to have 260 miles.
Dr. Mitch Proffman before heading into medical
Then he works on Kaneenika
Who also happens to have 513 miles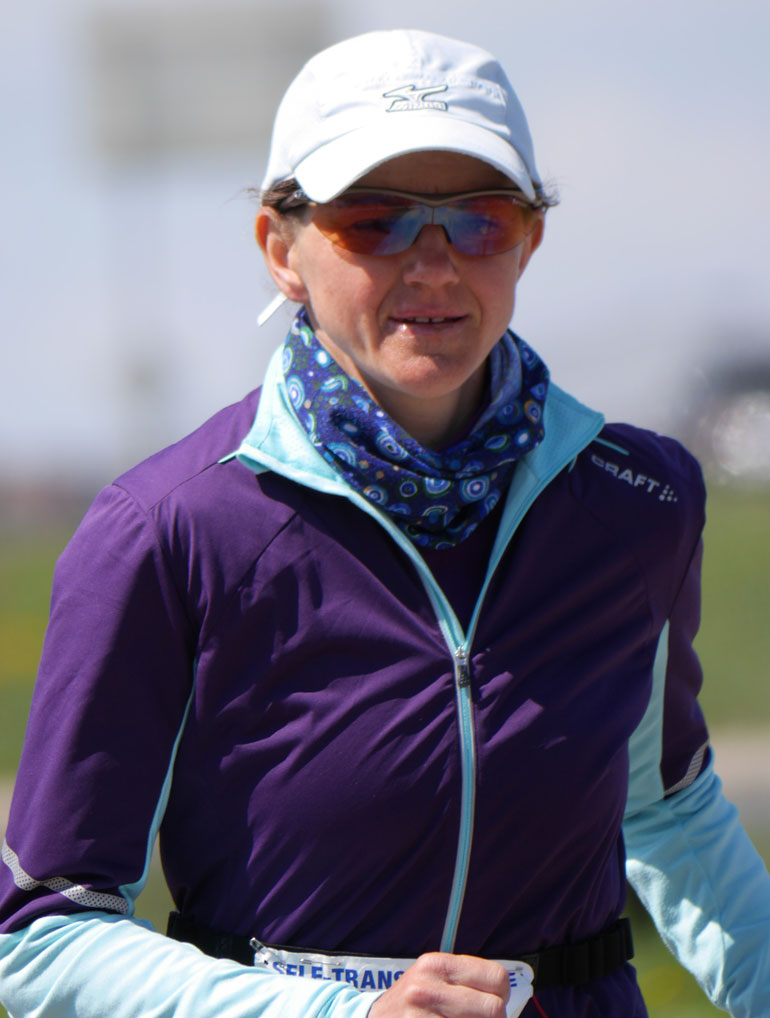 Nipura the cook captain taking a well deserved break.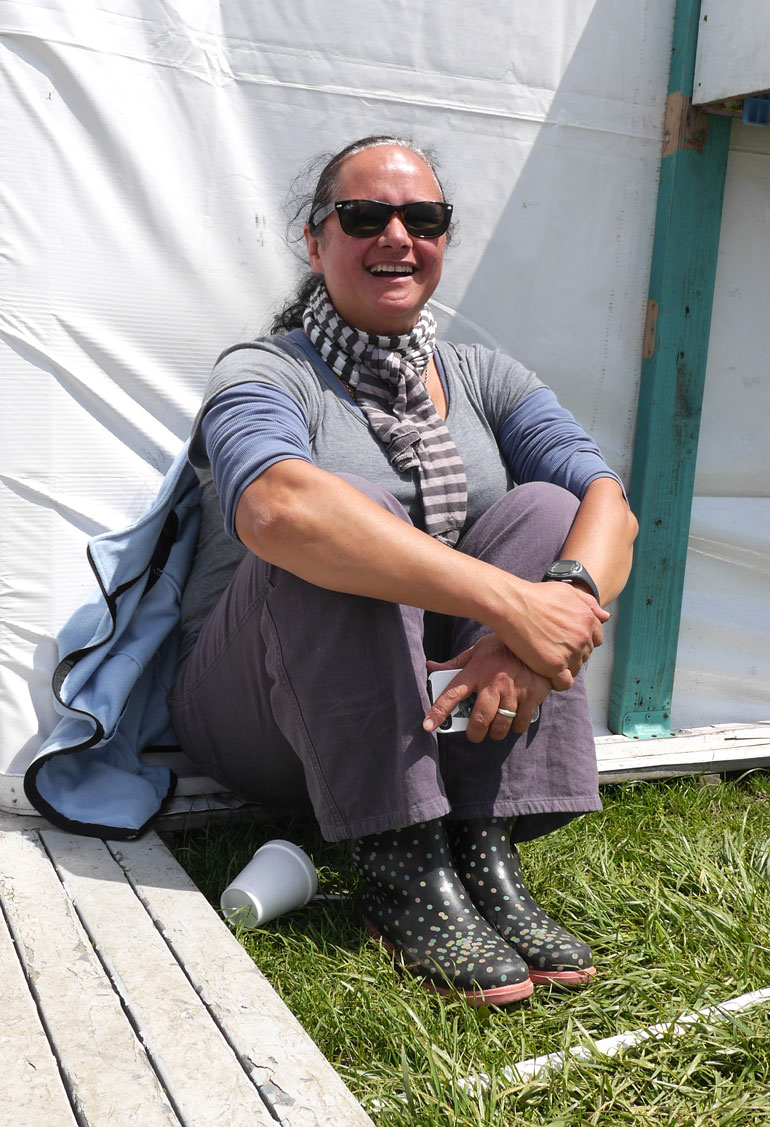 Something to do with chocolate.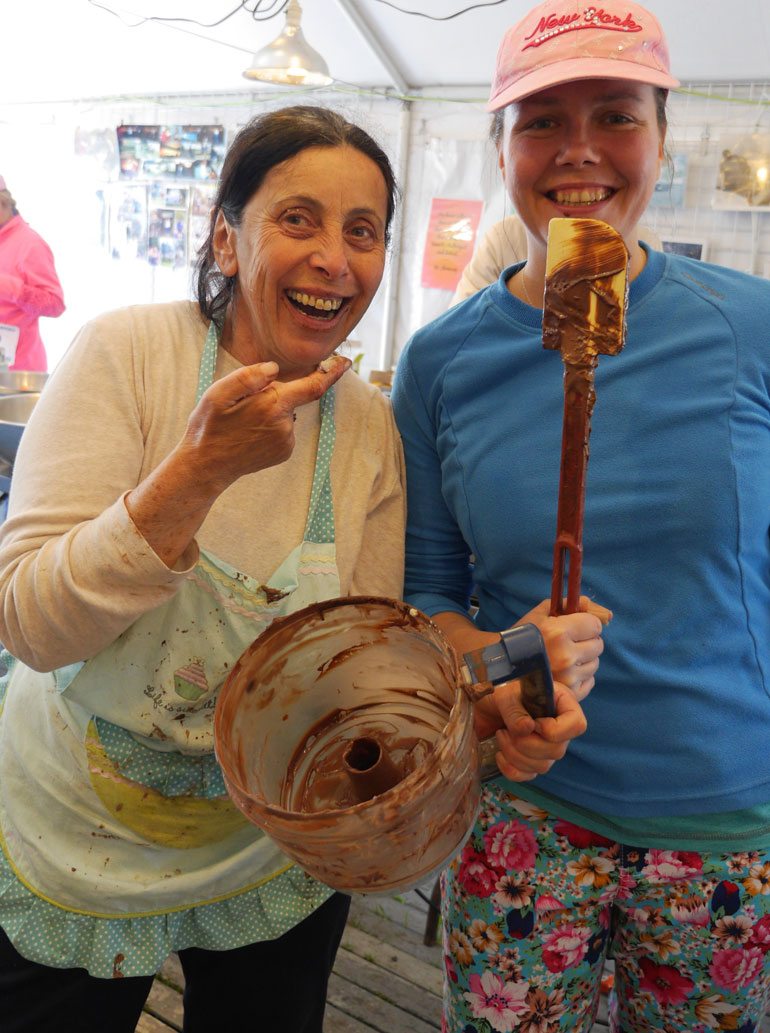 Certainly the rain was needed.
Kumar has 409 miles.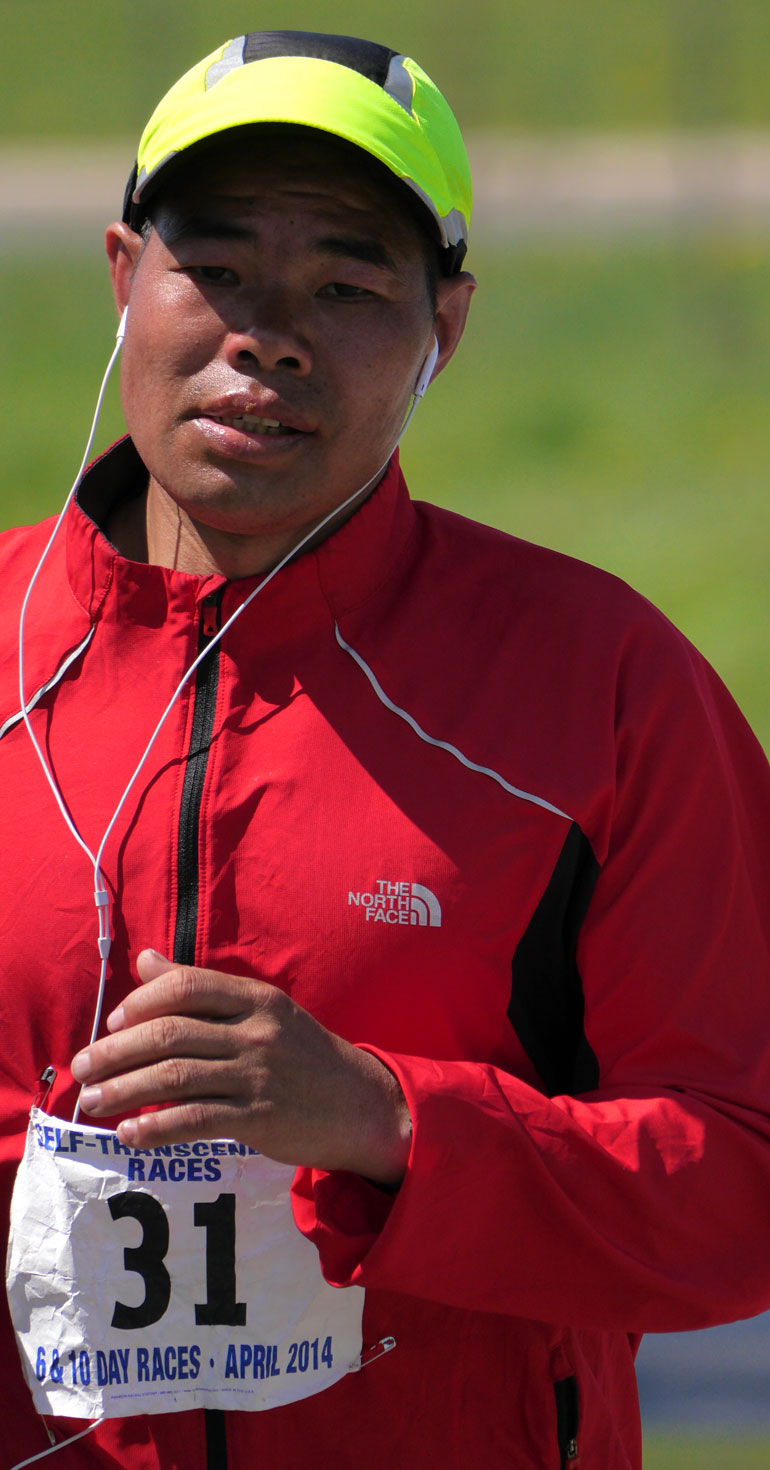 "At the very beginning of the race it was very difficult for me."  Lo Wei Ming a runner from Taiwan has seen a tremendous amount of support from the local Taiwanese community.  Frank Su in particular has been responsible for alerting a large following for him using social media. Today I am very grateful that he is helping with translating for this very good runner.
Lo Wei Ming tells me that it was hard to adjust to the jet lag, the environment, and the temperature here in NY.  Taiwan he tells me is sub tropical and much warmer than here.  That was the most difficult part.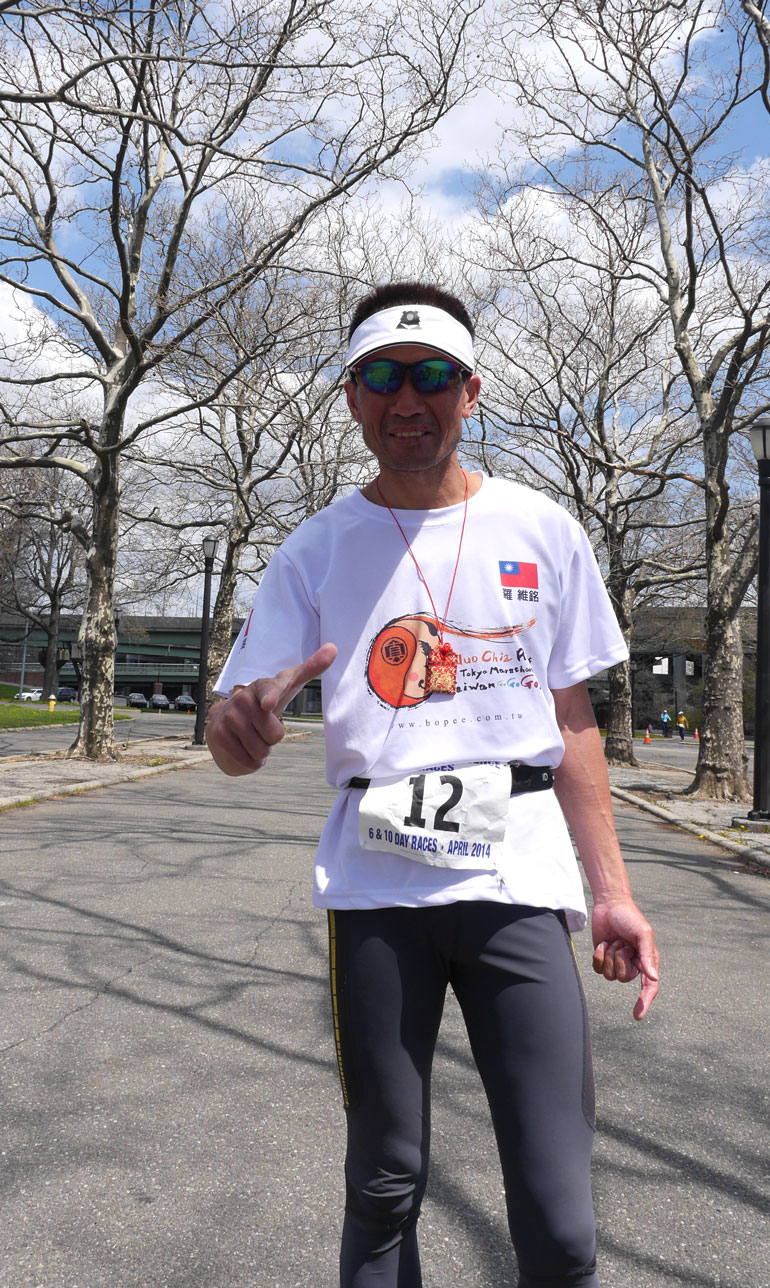 "This is my first time in NY.  In 50 years I have learned a lot and I hope to come and learn even more here."
"I have been inspired about doing this race for a long time."  He has competed in a 6 day race in Greece."  Of the 10 day race he is now running, "there is nothing like this in Taiwan.  His best race before now was one in Hungary.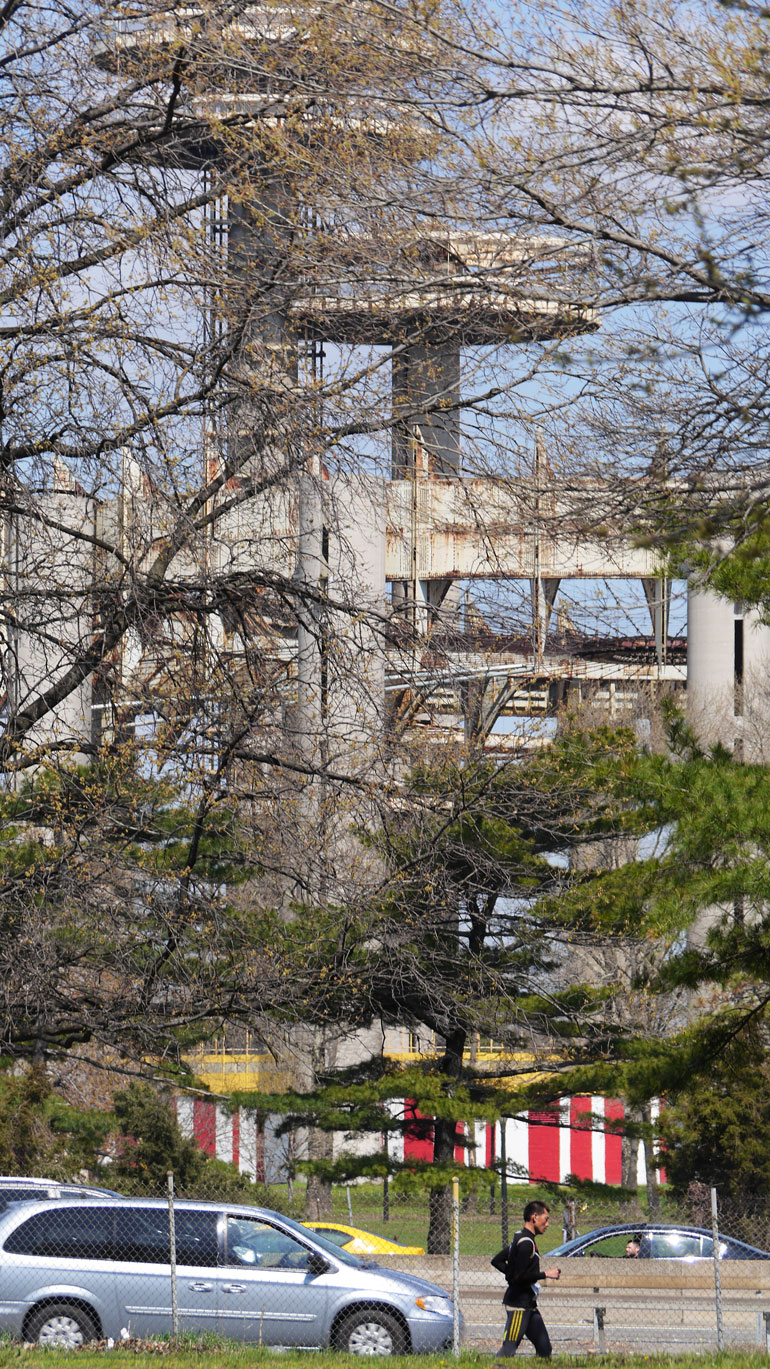 "My goal now is to run 10 days and I hope to complete 1000km."  Over 7 days he now has 431 miles.  His strategy was to go out fast and then moderate his pace and then hopefully finish the last portion of the race stronger.
"The longest race we have in Taiwan is 48 hours.  The motivation I am getting from back home and also here locally is helping me a lot.  I just wish that more people knew about this race.  Maybe more runners will come here from Taiwan to run and also maybe some day there will be a race like this there as well."
"When you see so many people running well here it also stimulates me too.  When I run well I also provide positive energy.  It is challenging."
He says that if he is able in some way to inspire others, "I really appreciate it."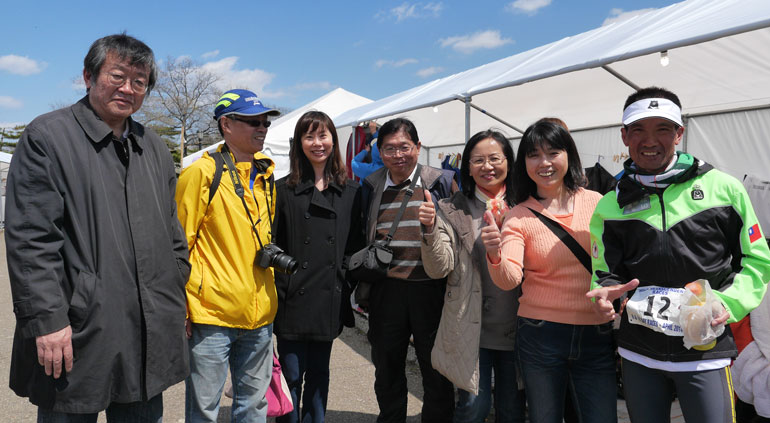 "This whole race is a very good motivation and inspiration for myself and I really appreciate all the support the organizers have offered to me and the other runners."
Click to Play Interview:
A bright sun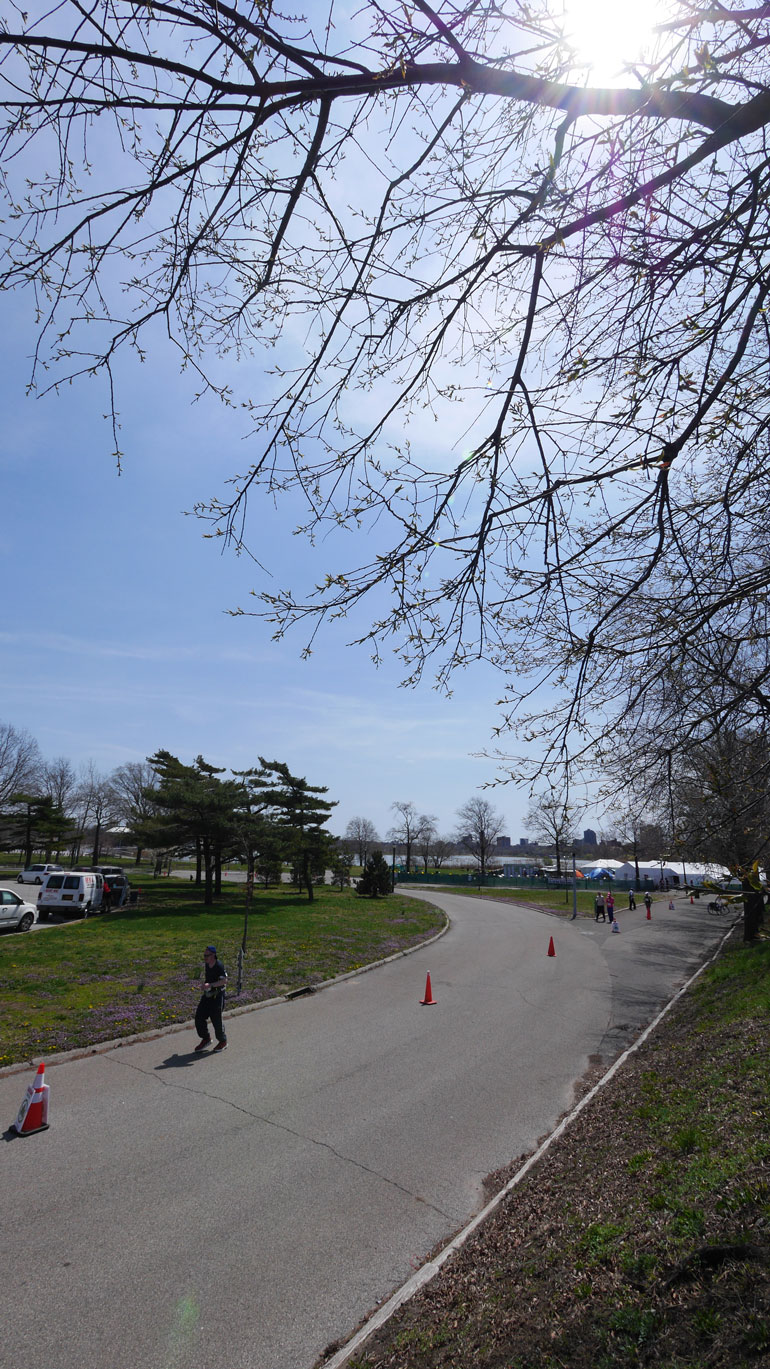 Keeping track of runners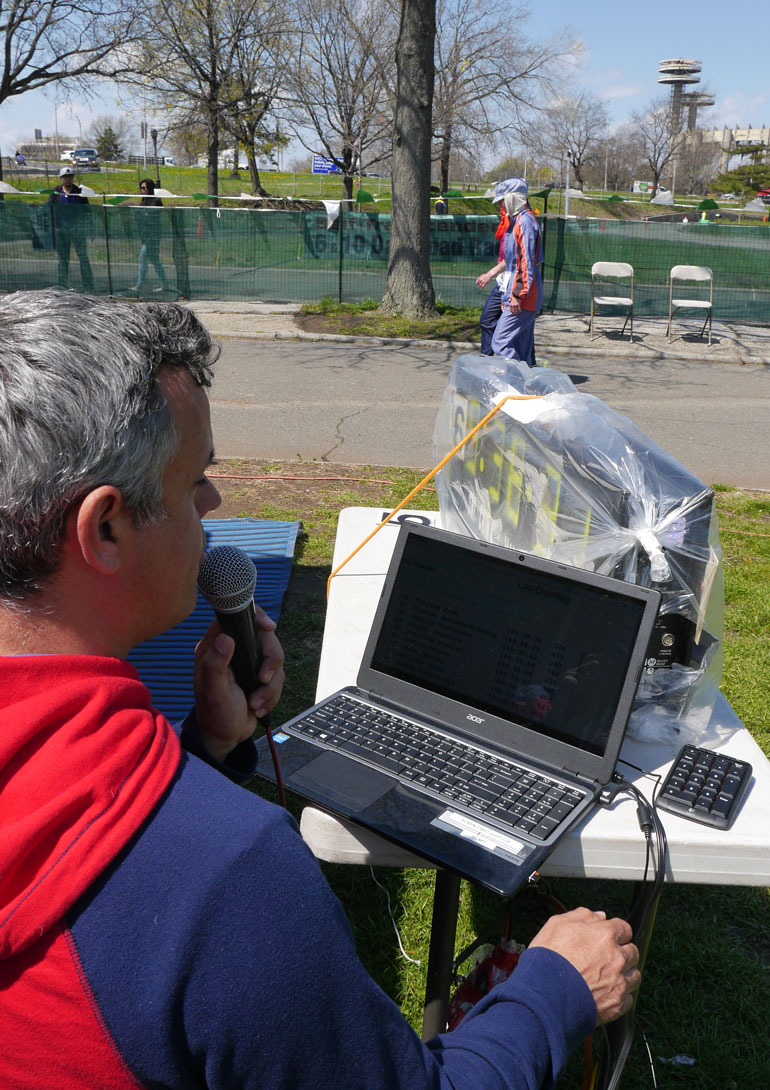 Bipin watching over it all.
Nature enjoying all that is going on.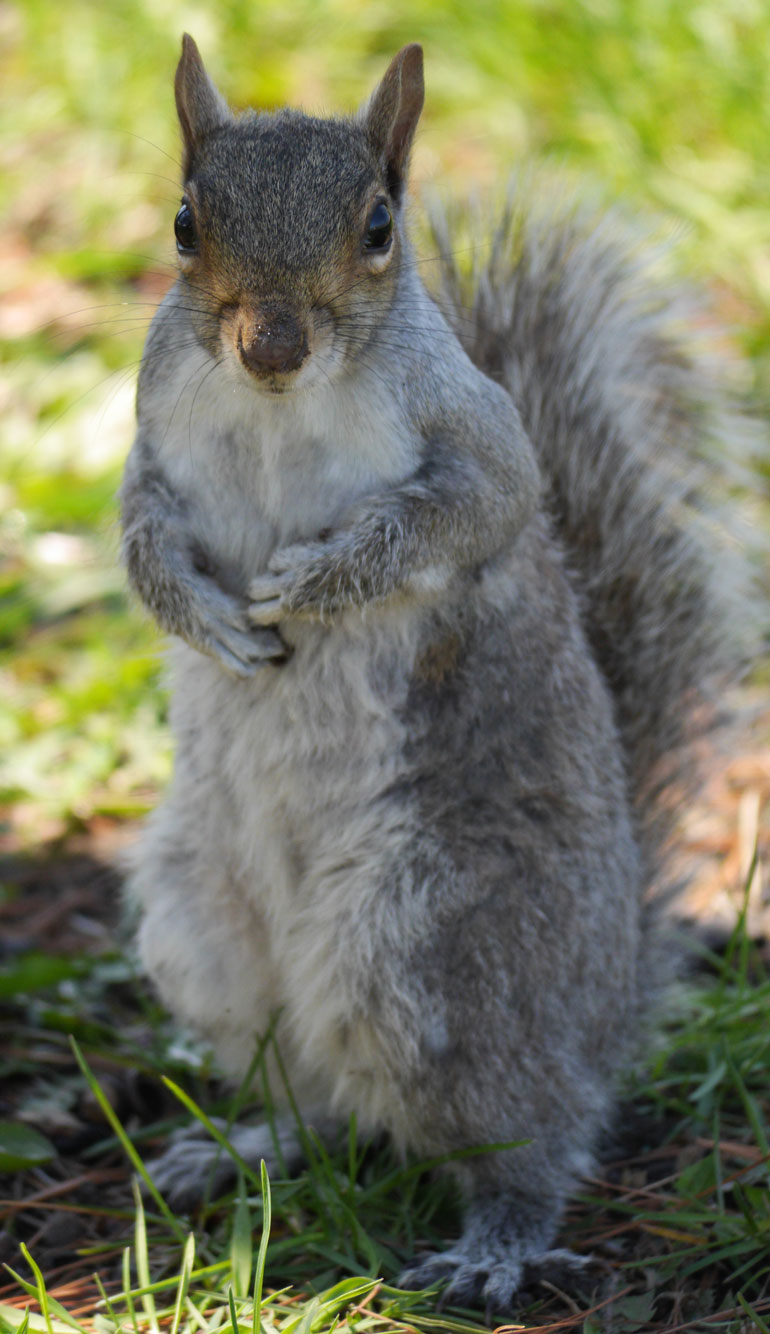 Nirbhasa doing something extraordinary. He ran 77 miles yesterday.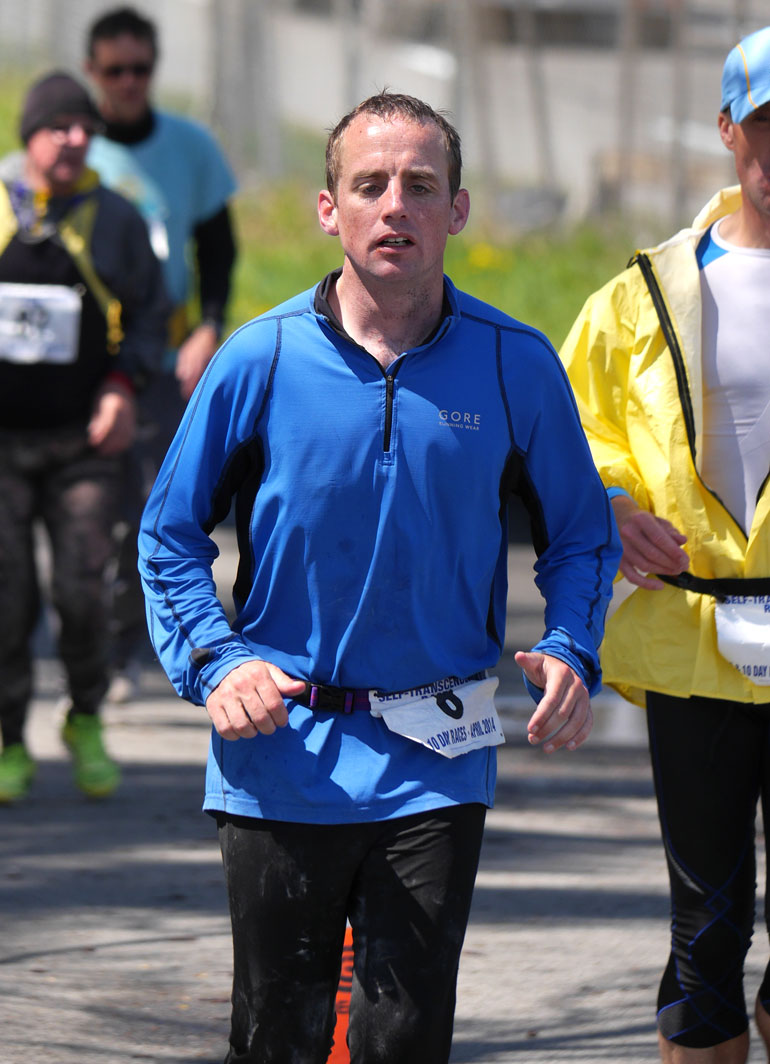 Recently Sarvagata learned a new technique to help his hip.
It has helped him a lot. He ran 69 miles yesterday.
Taking a moment
Big things and big goals…Sergey with 377 miles after 7 days.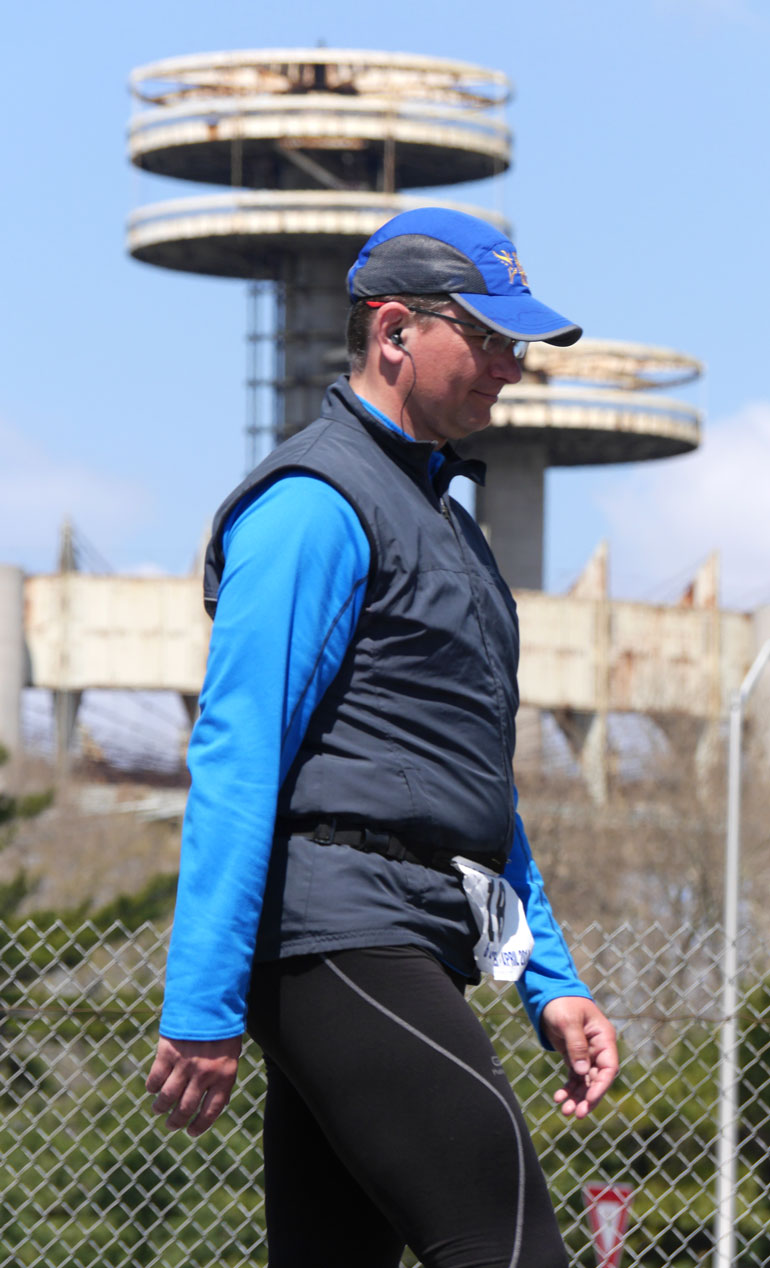 Everybody with 2 of these.
And everybody looking just a little bit like Janos from time to time.  He has 297 miles after 7 days.
Focusing on little things as well as the great.
Galya leading a small parade. He has 264 miles after 3 days.  John has 229 miles.
"I have realistic plans.  I have fancy plans and I have dream plans."  Eoin was very kind to speak more with me today.  His current mileage of 296 for 3 days he says is realistic.  "Just short of the other 2.  My fantasy plan was 100 miles a day."  A number he is not far off from.
"The only thing that really stopped me was the weather.  That is what my take on it would be.  It was quite windy on the first 2 days, and lots of rain last night.  Which was quite brutal to handle.  Without that I think I would be over 300 miles for 3 days, comfortably."
"I am happy that I am still running.  It is a good start.  I am running reasonably comfortably.  I have found that most of the pain from day 2 has gone away.  I have sore feet and sore muscles here and there.  I am still moving.  That is the main thing.  I am happy overall."
I am curious if he is observing the other runners.  "To be honest I am totally focused on my own thing. Though it is very interesting to watch the 10 day guys.  Some of them are pretty phenomenal.  The leader of the 10 day race (Ashprihanal) is outstanding."
"I am very much race focused.  I enjoy racing.  I think it is the only way to get through something like a 6 day race is to race it.  If I was a tourist I wouldn't have any where near the mileage.  It is the racing that is driving me and pushing me through the pain."
I suggest that he could easily run slower and win the race.  "I don't think that you can throttle back because I have total respect for the guy in 2nd place.  Galya pushes through in spurts which are very good.  I haven't ruled him out at all.  He is running relaxed."
As for the distance between both him and Galya and Dipali.  "I am aware of the gaps very well, let's put it that way."
His wife is his support crew. "Helen is fantastic.  This race would be a hell of a lot harder without her.  I am privileged to have her here I am safe to say."
Click to Play Interview:
Both the mind and the body
Will have to act together
To reach the ultimate Goal.
Sri Chinmoy, Seventy-Seven Thousand Service-Trees, Part 14, Agni Press, 1999