"I try to enjoy each moment. I really try to appreciate where I am, what I am doing. I'm not in a hurry because I cannot land early. So, time is not so much an issue, so important — it's more the way to get to the destination, which is very interesting."  In the very early hours of Sunday morning here in New York a solar powered plane landed at JFK airport. It had left Washington a little over 18 hours earlier.
The Solar Impulse had first begun its historic flight across continental America back on May 3.  It's 2 Swiss pilots took turns commanding the aircraft on its multiple hops across the country.  The total distance was 5649 km (3,510 miles)  and took 105 hours of flying time to accomplish the new record.
"There are no limits. The only limit is the pilot." Solar Impulse pilot André Borschberg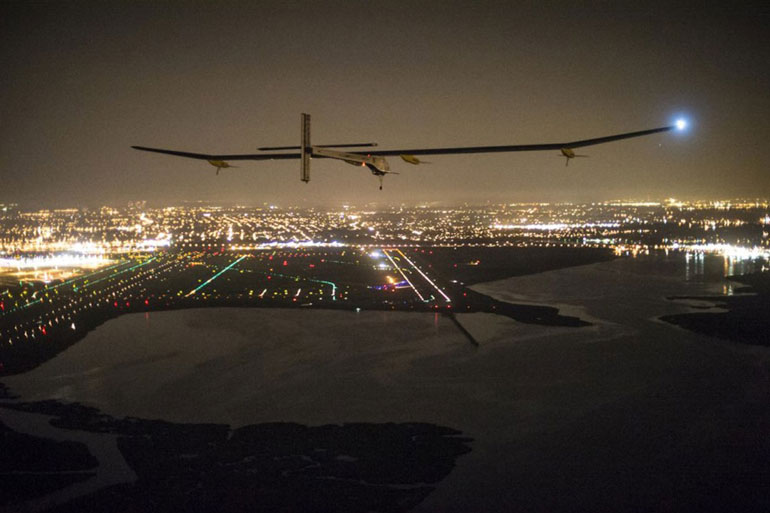 It was a stunning technological breakthrough and one that slipped a little bit under the American news radar, probably due to other apparently more pressing news items.  One other story that almost went unnoticed was Nidhruvi as she passed the 1300 mile mark this morning at the race.  When I catch up with her and ask her what it means, she says, "It means I am going to a new territory."
The last time she had completed 1300 miles took place at her last big race 11 years ago.  She laughs as I suggest that event in 2002 at Flushing Meadow almost  seems like several lifetimes ago.  "Since then I haven't done so many miles."  The race here has also opened up for her a new best for this 47 year old Austrian phenom, in that she had never run longer than 19 days.  Today is her 23rd straight day of running.
"This is a different race.  Actually you cannot compare it.  This is a totally different race."
As we run along there is a cool breeze brushing lightly up and over us as we head down the service road.  It is a small thing but very important to these 12 runners who spent the past few days being cooked here from morning to night.  "God, thanks so much. I am so grateful for this wind and a little coolness."
"Almost all of us have this skin rash and it is really very unpleasant. So this helps a lot the wind blow through our clothes and help keep them dry. So it feels really good."
Patience is running with you.
Patience is running for you.
Therefore, yours will be
The ultimate success-victory.
Sri Chinmoy, Twenty-Seven Thousand Aspiration-Plants, Part 72, Agni Press, 1984
Ashprihanal will be the first to pass the half way mark sometime late this afternoon
Sarvagata gets a morning cooldown.  He will be half way sometime tomorrow.
For everyone of course it is simply day 23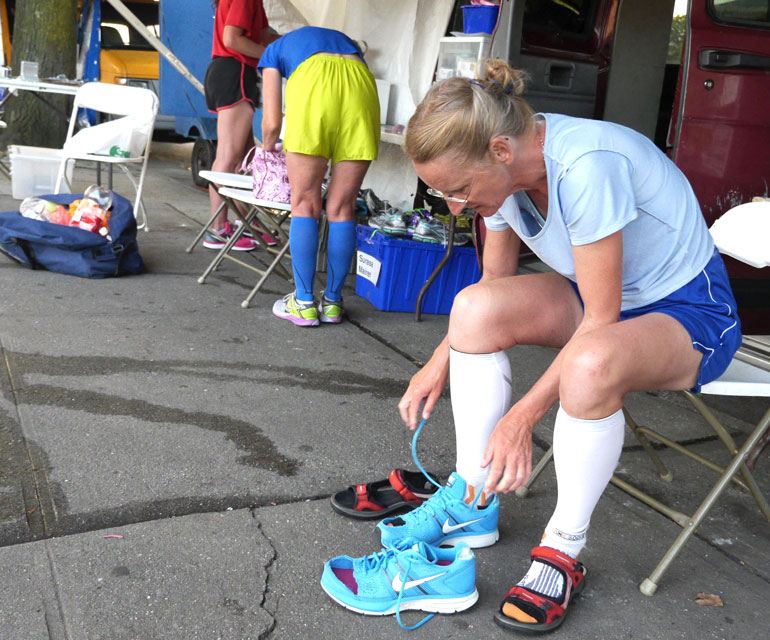 Start
We can never forget how the magnificent and the mundane intermingle.  Vajra cleaning the course.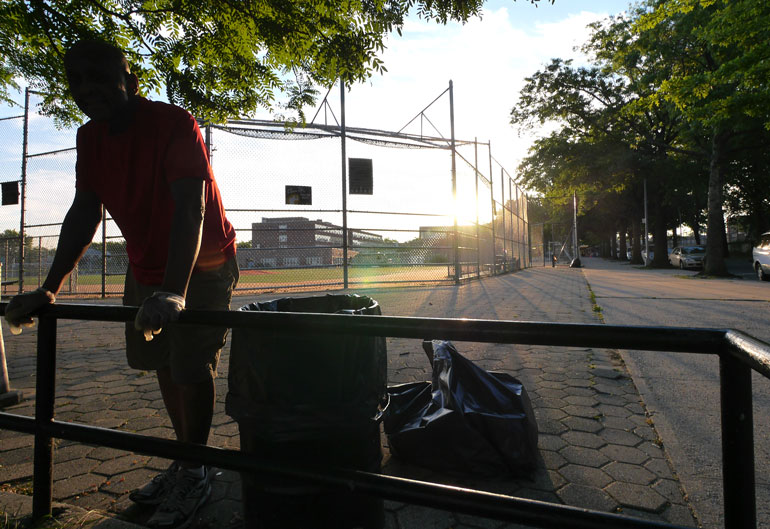 Surasa grabbing a glass of water and going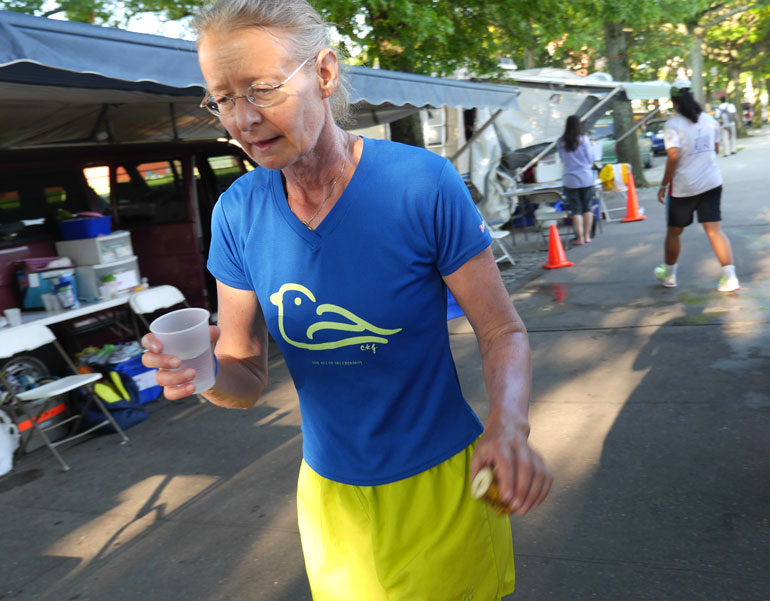 Pedro getting ice bags ready because it still will be hot.
The little pieces that all add up to something greater.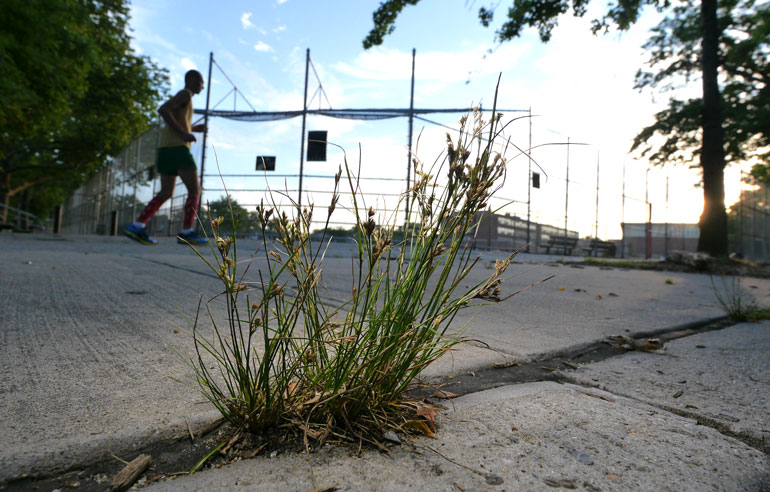 "It happens that I was running as usual but the sun was so strong that I hadn't counted on and so I got a serious problem."  The last 2 days have been extremely tough for Yuri.  Despite this he has persevered and still managed to complete 100 and 101 laps.  I have asked Manogita to help translate my questions this morning.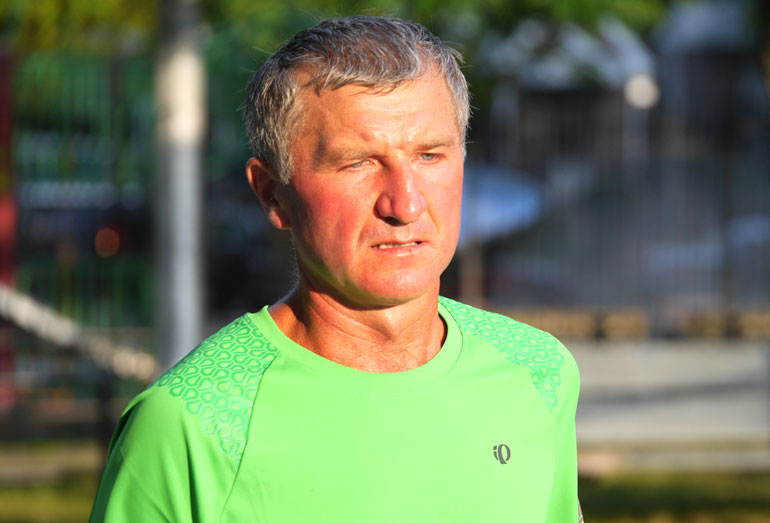 "I got very strong dizziness.  Now I am getting better." (laughs)
He looks much better today.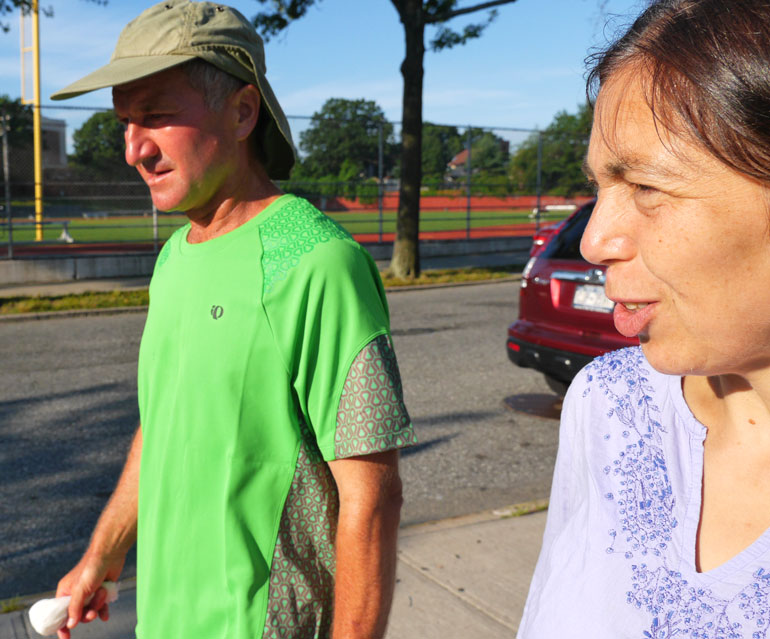 "I just need 2 or 3 days and then I will be totally okay."
He says that it was a very good experience for him and that he learned a lot from it.  He feels he understands the inner level of the race more now.  He appreciates now more than ever the oneness between the runners.  "The inner experiences I have had are very very good."
Sarah had her best day in a while.
A little coffee seems to help those mornings go by.
Ashprihanal had another 128 lap day and is more than 30 miles ahead of Atmavir.  Ananda-Lahari ran 87 laps yesterday.
Atmavir had a very good day with 126 laps
If he can conquer the heat it will be a great achievement for him.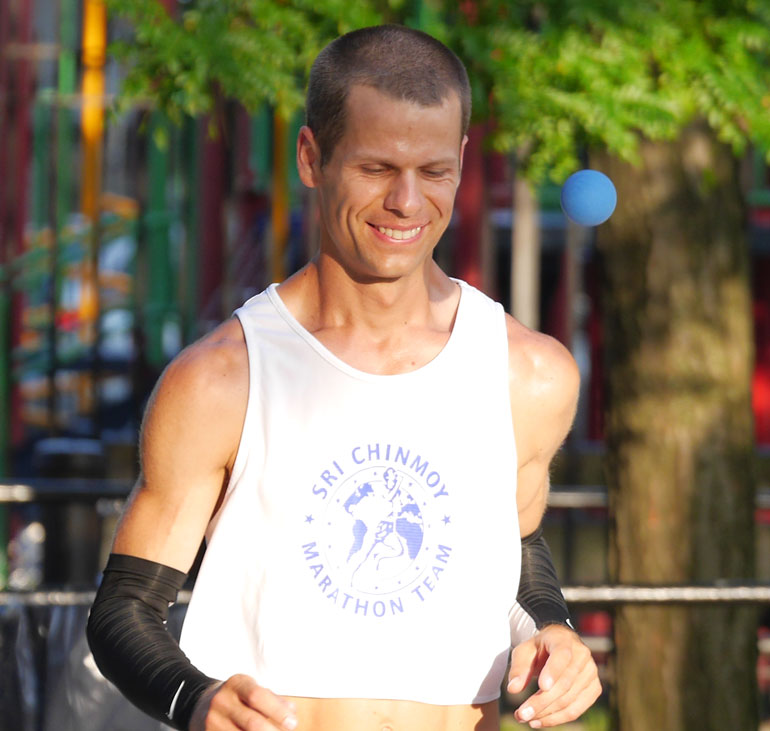 The counters keeping track
Nidhruvi enjoying the moment and noticing how by simply changing the number 3 and the number 1 it would all be over.
I suggest to Sarvagata that some days when he is running here it looks almost effortless and others it appears to be a real struggle.  Yesterday, at least according the lap sheets he completed 113 laps, appeared to be a struggle.  This morning he appears to move easily.  He says today things are going well.  "Everything is okay.  I am happy."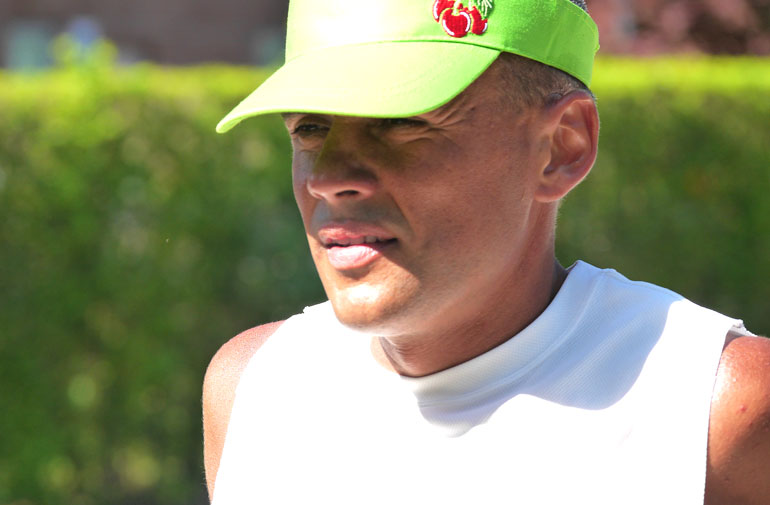 Since the beginning of the race 23 days ago he recognizes that he has gotten stronger and more fit.  He says that coming here is, "perfect fitness training for weight control.  I have lost 10kg."
His big problems seem to be over.  "I have had some small things like everybody here.  But they are not crucial.  It bothers me only at the end of the day.  But it is okay."
I ask him if we are running fast, and he says that at least compared to how he was running yesterday this pace is quicker.
"Maybe I have to enjoy both ways.  I am really trying hard this race to remain happy, no matter what my speed is.  I am trying to be positive. I am satisfied with myself so far. (laughs)  Not too modest."
The other day he made a joke and this surprised me.  "We are getting younger, not old any more."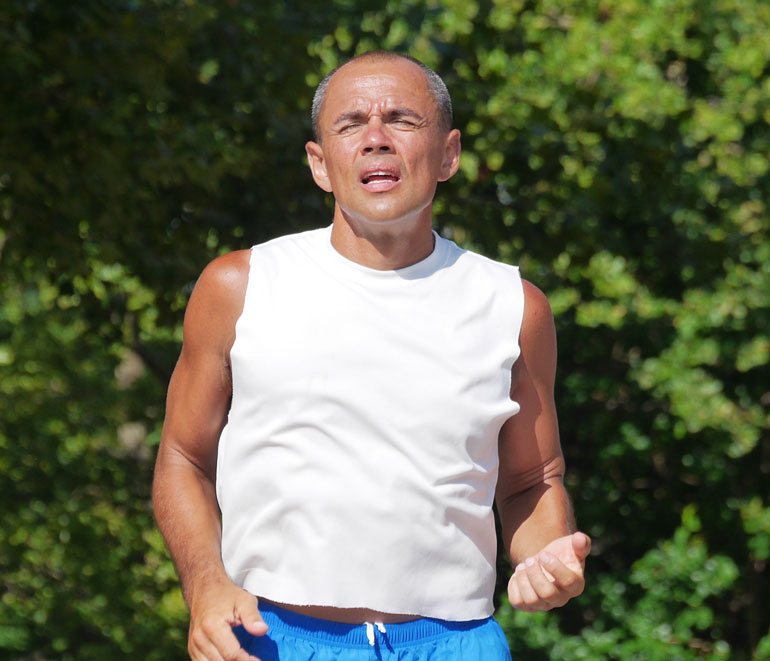 He says that the weather and sun have so far not been too hard for him.  "I would have had a problem if I had been stubborn like I used to be.  It is very interesting."  He feels that all the experiences the runners have here are meant to teach lessons and expand the runner's awareness of not just themselves but also the greater world around them.  "It is a basic educational program for the human being."
He says the race is a place where so much can be learned and experienced and not just the runners.  In a practical way.  "If you have the heat then you have to face it, and deal with it."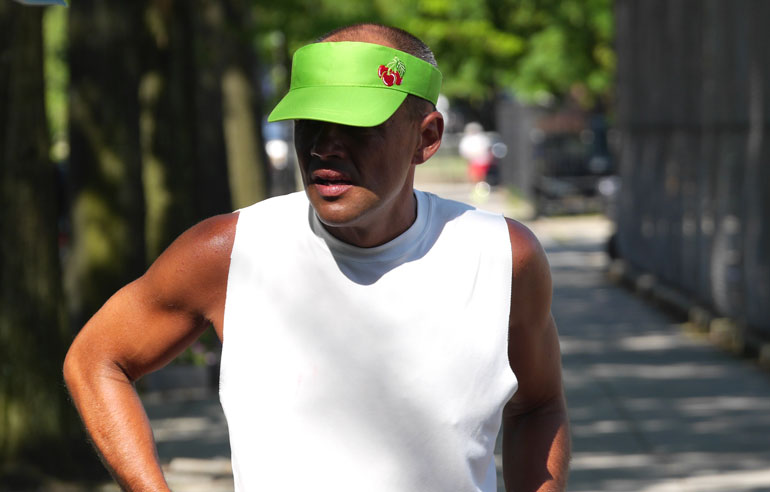 "If you know your goal is pretty far and you have to reach it.  So maybe you have to slow down a little bit.  Think about it.  Change yourself a little bit.  The old Sarvagata would break the world with his head.  Now I am trying to feel that everything does not depend on me.  That I am responsible for that.  I will do my best."
The Vienna girls get together from time to time.  Not unexpected since both Surasa and Nidhruvi did 112 laps yesterday
So many steps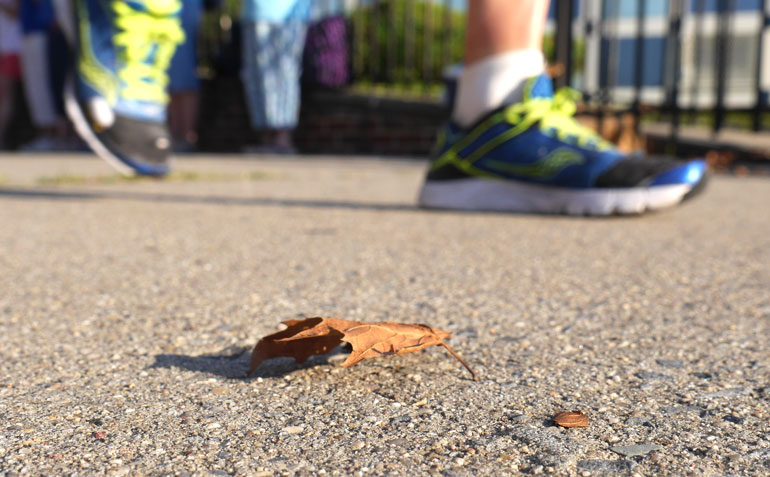 Swamaji has returned for a few laps this morning
Inspiration not hard to find
Baladev promoting one of his favorite snacks before his break.
Just a short break
Vasu did 114 laps yesterday
Sopan did a very good 112 laps yesterday
"I woke up a couple of laps ago."  There are times, particularly in the morning when Sopan seems to be absent from the shuffling body going around and around the course.
"I am not a morning person.  I have a hard time waking up.  It take me a few laps to warm up."  He is moving well now.  "I am grateful because this morning I could hardly go.  I have this blister and for the last 4 days I have been stepping sideways on the side tendon.  So it became very sore."
"In the morning when the tendon is very stiff I can hardly step on it.  So I am grateful.  Actually it is pretty amazing, because after a few laps it warms up.  In the morning I couldn't step on it."
He says he has been getting lots of messages, "it is really cool."
Little things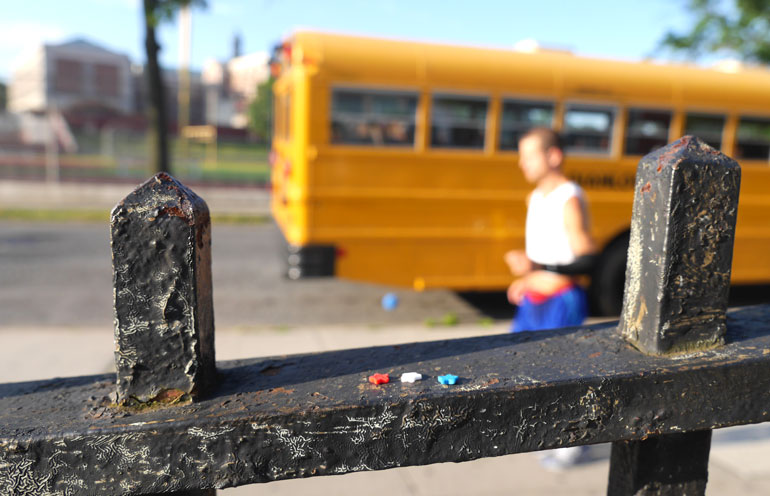 Things to be done or boughten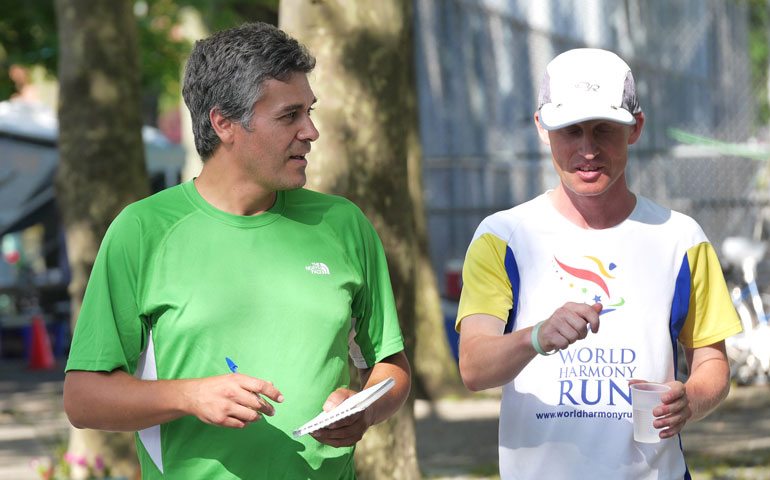 Laps to be completed..  Yesterday 114 for Pranjal, who is sorting out a blister on the bottom of his foot.
The days prayer comes out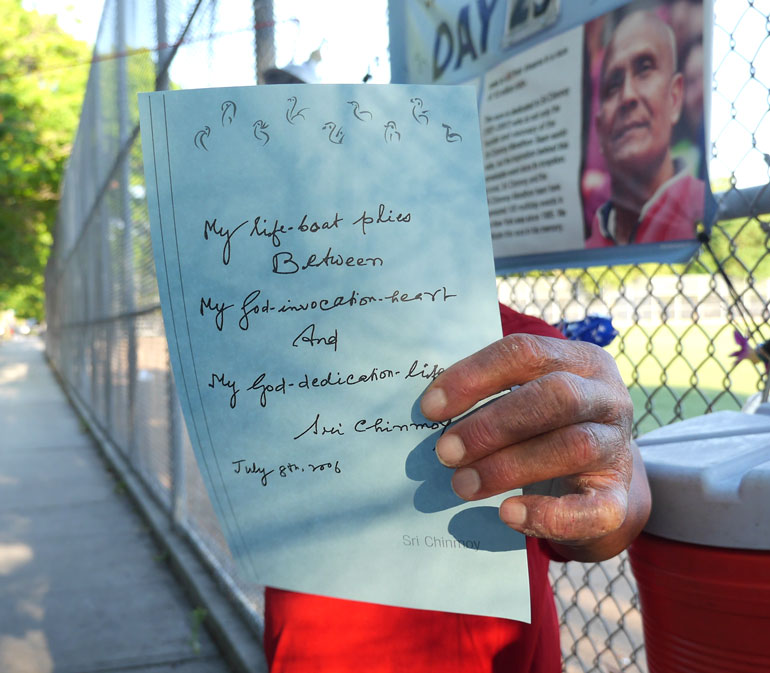 Recited by Sopan
Nicolay from Nizhny Novgorod, a city due East of Moscow who is helping here.
Enthusiasm Awakeners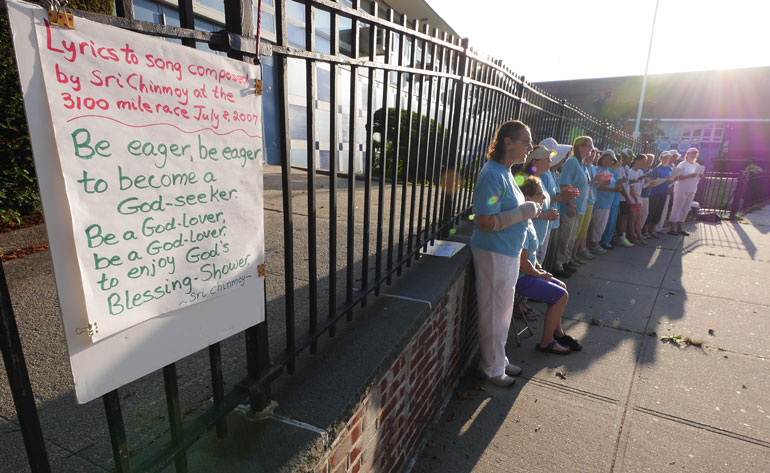 If you can have a free access
To patience-light,
Then you can run very fast
On the high road to Heaven.
Sri Chinmoy, Ten Thousand Flower-Flames, Part 57, Agni Press, 1983