It is probably one of life's most fundamental questions, but most certainly it is not one that I would dare ask of this very tired group of runners.  Yet Baladev got inspired to ask each one running here, 'Who are you?"
His little survey was a difficult one from the start.  Because to get an answer from each and every runner here meant that they had to be literally right beside them.  Not easy when everyone most of the time is traveling at such different speeds.  Also they had to be in the mood to speak about such a serious subject.  Nonetheless he persevered at this task for several days and carried around a little notebook waiting for just the right opportunity to ask his question.
In almost any other setting this kind of inquiry would lead to some simple response.  Most people when asked would probably answer with  something easy and professional, like what they do for a living.  Others might respond with their family status, or even mention some sport or hobby to which they have seriously dedicated themselves.
Yet in our most sacred and serious reflective moments we all probably pose this question to ourselves, particularly at moments of change and transition.  It helps us make decisions about what is important in our lives and helps us decide more clearly where we want to go.  On any given day our answer may change, but most likely deep within us the answer is always crystal clear.  Unfortunately there just may not be a lot of times when we can connect with this illumining truth about ourselves, and yet we bravely and diligently keep marching forward.   Much like these 12 brave souls do here each and every day.
Baladev slowly goes through his list of answers.  All done simply in the order in which he was able to ask them.  I ask him why he did it.  "I don't know.  This question just came to me.  Sometimes things just come to your here. It was a very nice moment when the inspiration came.  I was feeling very good."
Intrigued by all this I ask him what his answer is.  "When this question came to me may answer at that moment was, 'I am  God.'
Try to remember
Who you truly are.
You are God's
Dream-blossoming child.
Sri Chinmoy, Twenty-Seven Thousand Aspiration-Plants, Part 210, Agni Press, 1994
Today is the 4th of July and festivities for the American independence day will begin shortly.
It is going to be hot and humid once again and the forecast for weather for many days to come predict the same.
Rupantar watches over everything
Start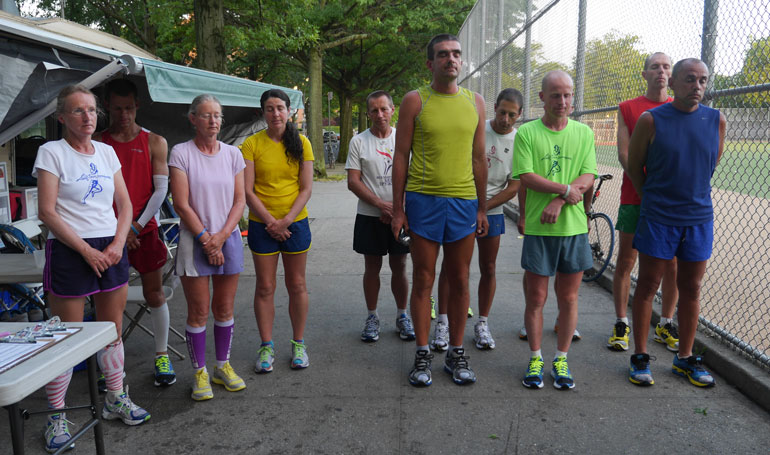 The sky will be clear all day and the sun hot and bright.
There will be lots of water used this morning and throughout the day.
Ananda-Lahari is continuing to run well.  He ran 106 laps and is not walking as much as he did a few days earlier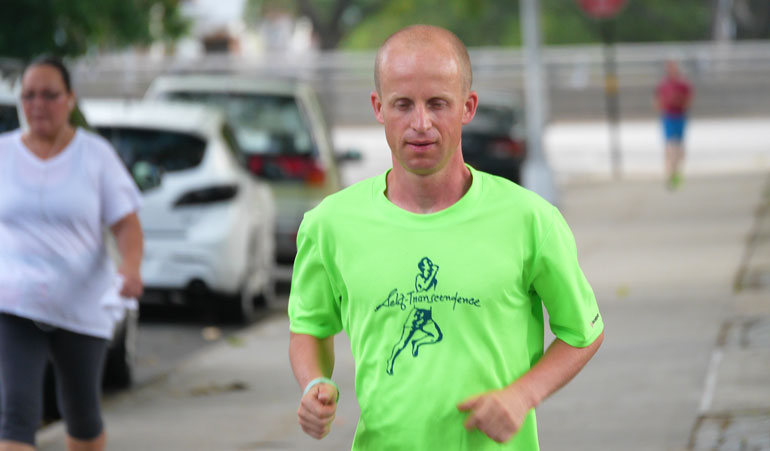 Early in the day Sarah makes 1000 miles.
For her yesterday was small victory being able to make 94 laps.  Her feet problems have been a real difficulty for her and yet she has gone further today than she has ever done before.
She would probably have been happier carrying the Australian flag.  But because it is the 4th of July this was handed to her.
A box of costumes was brought to the race and some for fun try them on.
Ashprihanal enjoys the diversion probably more than any one.
Yet in an instant he can look once again like this.  Like the guy who ran 128 laps yesterday, and starts the day just 9 miles behind Atmavir.
A little beauty in the camp.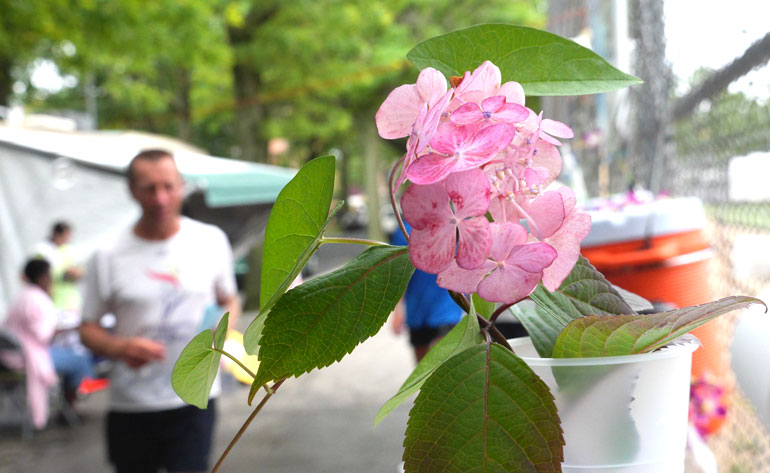 There are many other inspiring and tasty treats as well
Atmavir is clearly suffering with the humidity.  He walked much of yesterday. But while the morning is just a little cooler he tries and runs.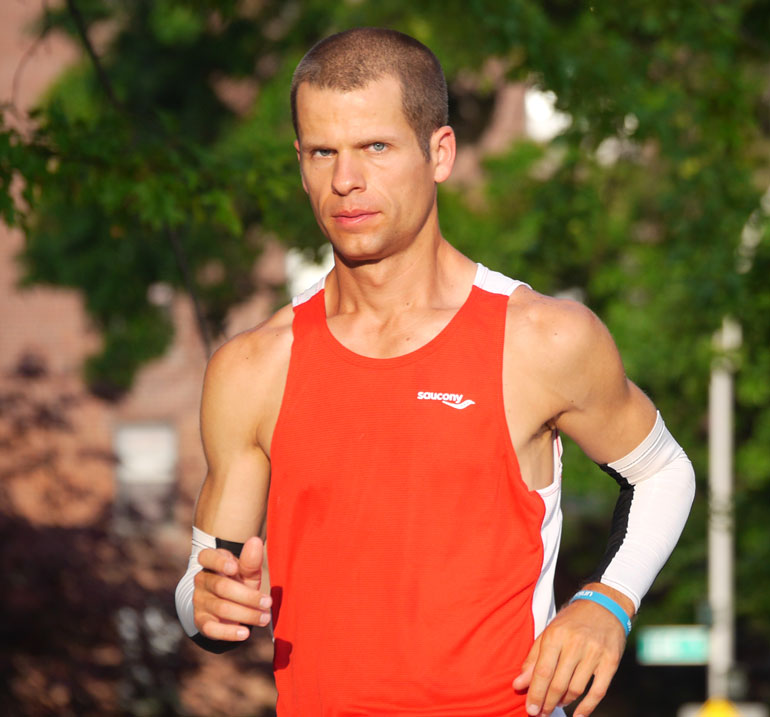 School is over but the buses remain
Sopan has a big yawn as he begins his day.  But he is still doing well and managed 100 laps yesterday.
Baladev tells me how each runner responded to his question, as to who were they.
Ananda-Lahari,  God.
Atmavir, Soul.
Pranjal, I don't know
Sarvagata, I don't know
Surasa , I have no idea
Vasu, God
Sopan, I am a blister
Ashprihanal , I don't know
Yuri, I am a son Supreme
Nidhruvi, I am a God child
Sarah, I am a God Seeker.
He says that the painstaking act of asking all the runners this question was a very nice experience for him.  He says though that he was surprised by the answers he received.  "I think it depended on the moment when I asked the runners this question.  It was more about what kind of mood they were in."
"For Sopan it was still morning during the first 10 meters.  On the day before this he got a big painful blister.  So everything he was thinking and doing was about this blister."
"When I asked Anda-Lahari, he was in a very good mood.  Without even thinking he was quick to answer that he was God.  Vasu was the same.  Very very fast answer.  I am a God, this was very nice."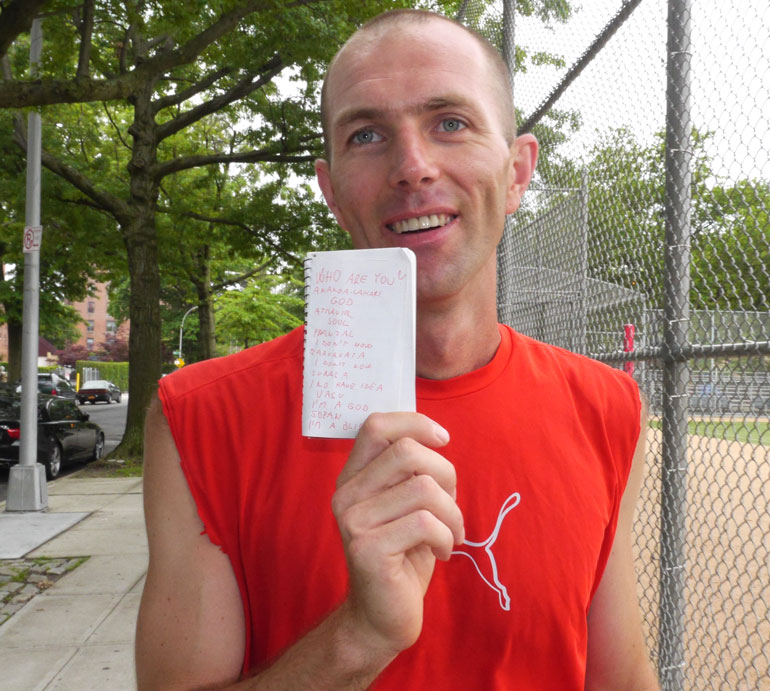 "Some runners started thinking what their answer was, but I told them no, no thinking.  It should be spontaneous.  But it is not easy to answer.  When you are having a problem, and you are having a hard time, and when you are pushing."
He says that for those who didn't have an answer most likely at that moment were more interested in pushing themselves.  "They were in the beyond.  And when you ask a question at this moment every answer is, I don't know, I don't know.  I am only running."
On this day in 2007 Sri Chinmoy wrote this song.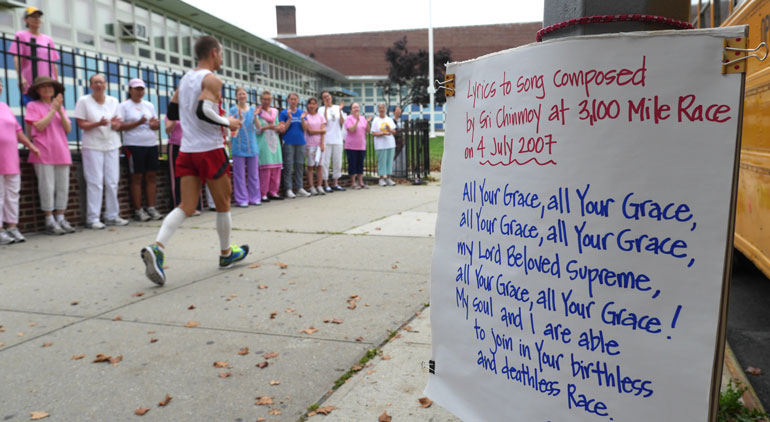 Because it is a holiday there are lot of visitors and photographers here…some very good, looking for their next pic.
There is simply lots to celebrate today.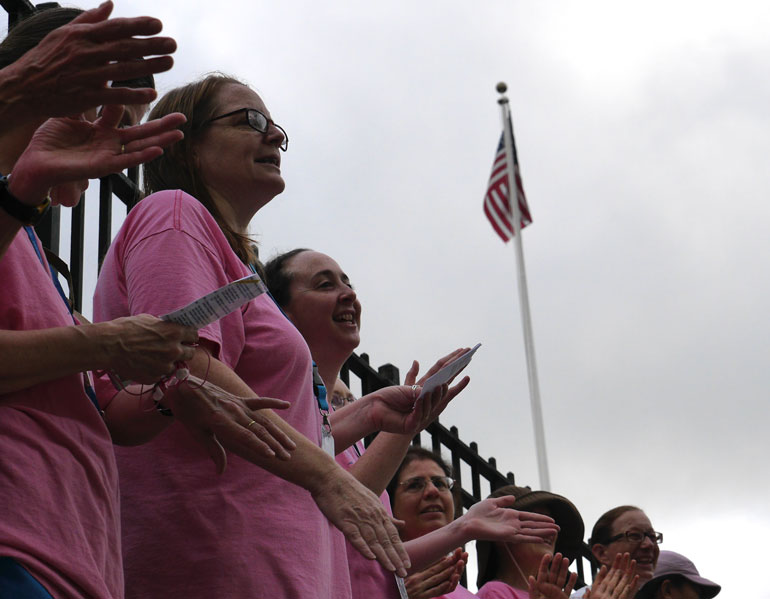 Yuri has lots of reasons to celebrate.  He had a very big day of 123 laps yesterday
Many people will come throughout the day.  Irina drops by.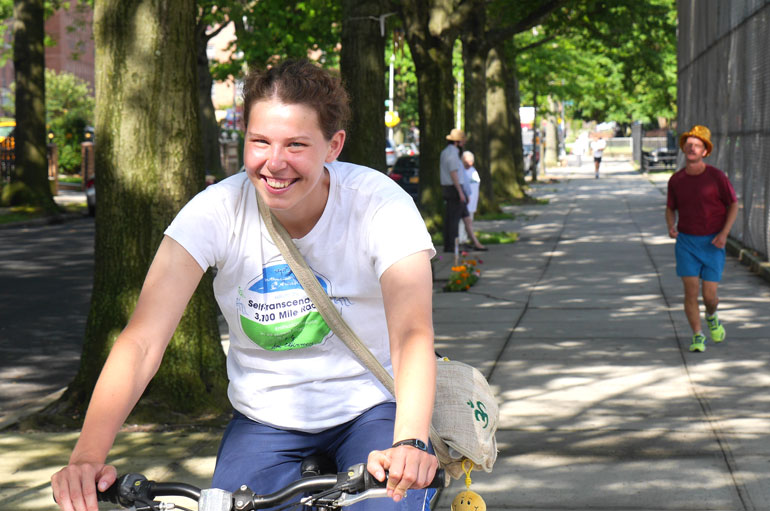 The little things along the way.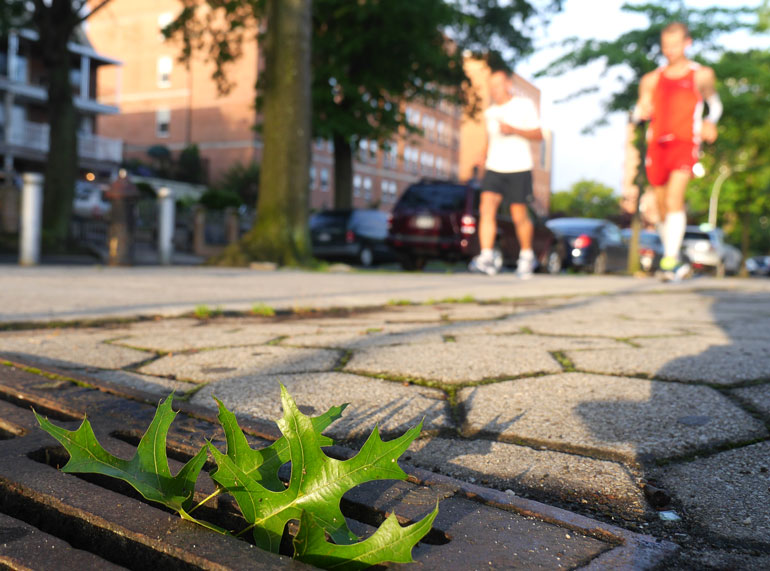 In the field close by an exercise class is taking place.
Surasa is getting more than a little exercise all day long.  She had a very good 113 lap day yesterday.
Vinaya's dog Champ is here.
On the other end of the leash is a harmonica playing Vinaya of course.
He hopes you like the tune.
Vasu had an impressive day of 119 laps
Rupantar records his daily movie
If you don't know the words.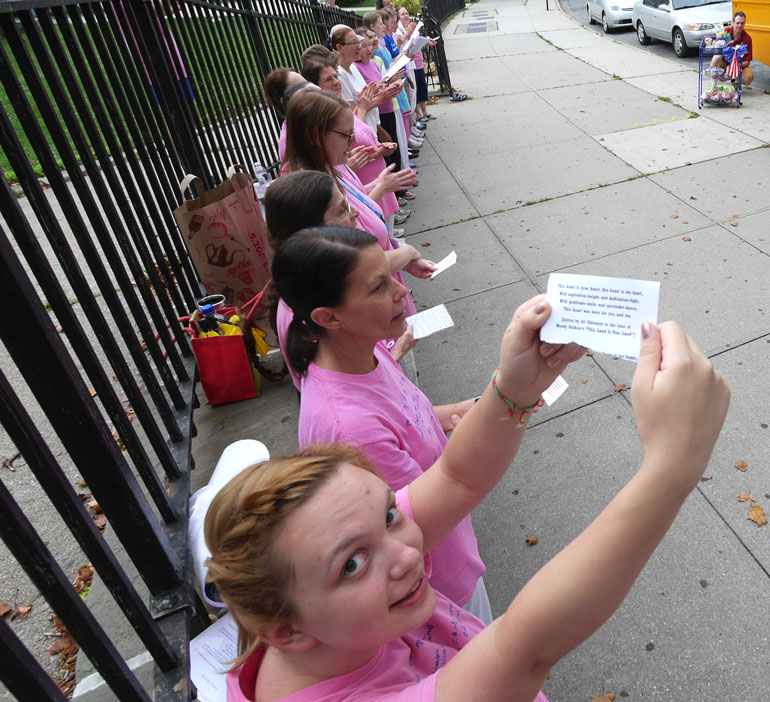 "The energy behind the people and their mindset, I wanted to see it."  Lowensky has biked over to the race this morning quite a distance.  He lives in Corona on the far side of Flushing Meadow.  He tells me he only heard about the race 2 days ago.
He is interested in how the runner's minds can absorb such stress, and what they get out of it.  "It is amazing.  I have experienced a little part of it."  He says that he is a bike rider and that when he goes long distances he feels he gets to understand and experience a little of what the runners are going through.  "When you are doing it and there is a moment when you can detach yourself from the world.  It becomes more about you sustaining yourself."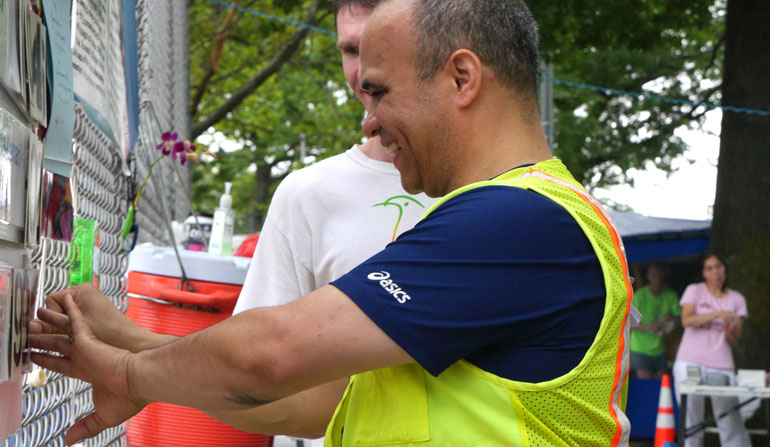 He has ridden his bike from New York to Orlando Florida.  He describes the satisfaction he got by achieving his goal.  "It stays inside of you.  What they get is a life journey, because after that you reach another state.  During the race and even after you really feel that energy.  It is wonderful."
Pranjal being Pranjal He did 117 laps yesterday.
Nidhruvi and Silvy
Nidhruvi had a superb day of 113 laps.  Her best in more than a week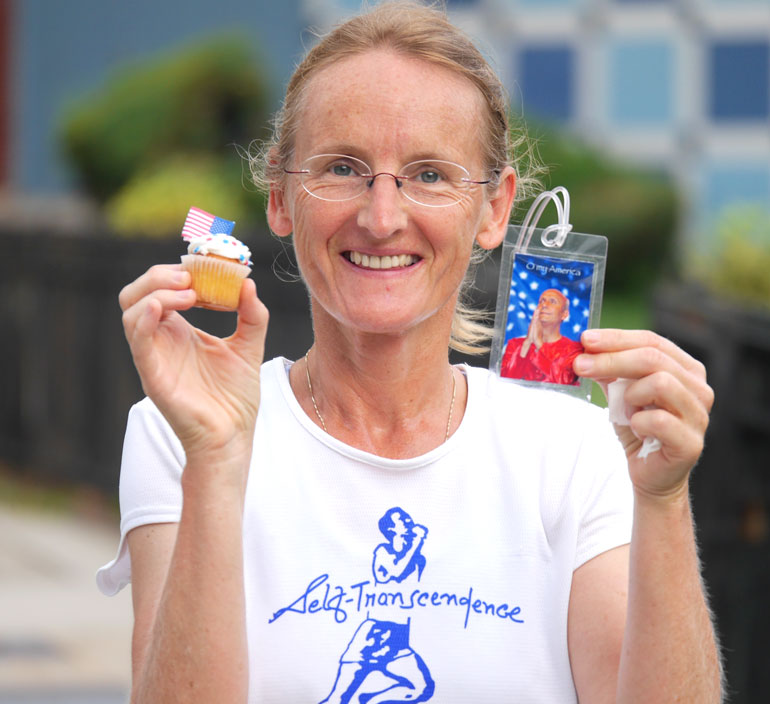 Tonight fireworks will fill the skies over much of urban America.  Today it is the little flowers providing the show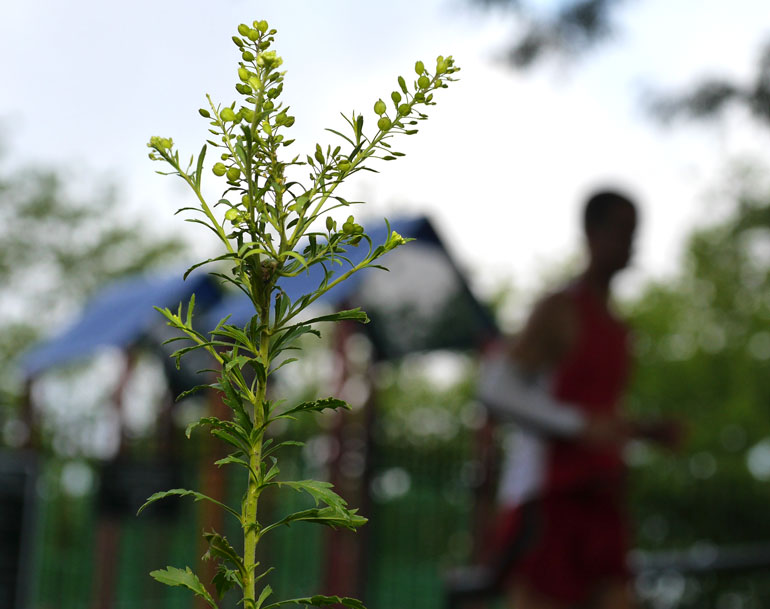 Sarvagata is simply running superbly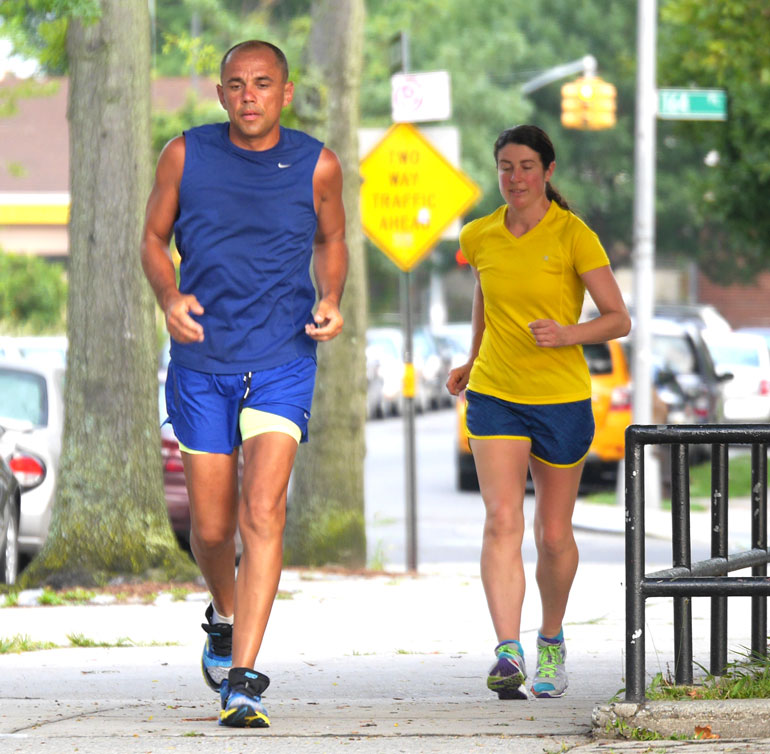 He ran another big day of 131 laps.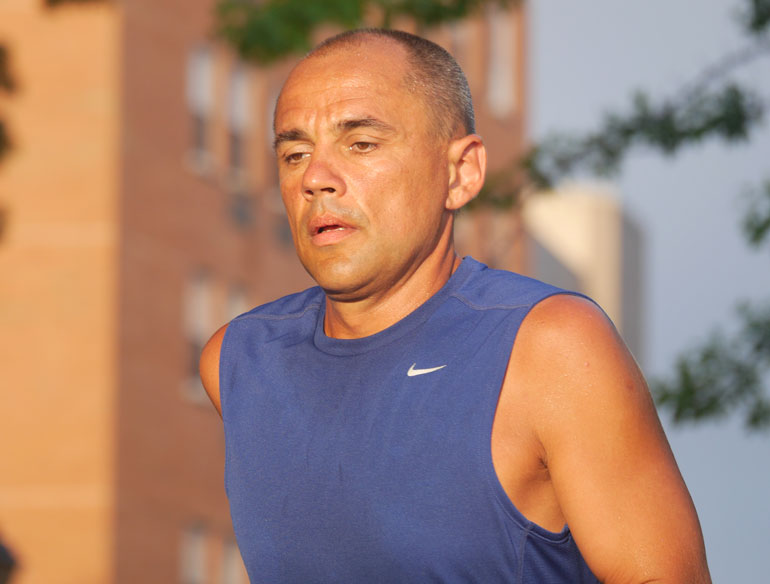 Prayer of the day
Recited by Sarah and Atmavir
Enthusiasm Awakeners
The America song.
Who says
You are a weak mortal?
You are not!
Who says
You are an erring human child?
You are not!
What are you then?
You are God in His preparation
For His ever-transcending Height.
Sri Chinmoy, Europe-Blossoms, Agni Press, 1974