"From my inner feeling from the first day for me this place is paradise." Vasu
We all like to construct from time to time an imaginary perfect world in our minds.  Unleash the power of our thoughts and allow them to rise up to celestial heights and visit a fanciful haven of our own making.  An idyllic sanctuary and one also untethered to our current physical reality.  Unbound by all the restrictions and limitations of the human condition, and if we are so inclined, also leave the door wide open, should God ever be prepared to visit us there.
If we invent such a place it is unlikely that God would ever truly be impressed with our self styled construction of perfection.  Particularly when it is built entirely of thought and illusion.  God is after all the master builder and would much prefer we take up residence in places that he has already created just for us.  Ones in which instead of our mental power we use our hearts aspiration to rise up to and become one with.
For the most part we literally have to jettison the baggage of all thought and instead surrender ourselves to the inner cry of our hearts.   When we do this we find a path already clearly marked out for us.  One that if we follow rises up and leads us to our own perfect perfection.  The miracle of aspiration then is that in the moment God notices us trying he then willingly and gladly comes down to lift us even higher.
For 35 days Vasu has sincerely felt blessed to be here.  His heart aches with gratitude at the opportunity to run here while at the same time he is able to be detached from all the brutal physical aches and suffering that also have been heaped upon this 47 year old man from St. Petersburg.
If Self Transcendence were a simple math puzzle he would have succeeded at bettering his best running achievements weeks ago.  As of last night he had run 2121 miles which far surpasses any of the vast numbers he has run in competition before.  Never having run further than 10 days he has also been here already 35.
Now with just 17 days left the imposing journey still lying in front of him is not a small one.  He has yet a 1000 miles more to run.  But in his face and in his steps you clearly see a miracle taking place.  For he has found his paradise already, and it is running around a high school in Queens.
It is a little heaven that he shares with 10 other souls.  A place in which a grimy tide of pain and fatigue vainly tries to pull him down but he resists its relentless ebb and flow.  For Vasu has stepped free, just beyond its reach and instead rushes now towards his goal.  Enjoying a paradise along the way, that is all his for 17 full more days.
Paradise is the place
Where my heart wants to grow.
.
Paradise is the place
Where my mind wants to know.
.
Paradise is the place
Where my soul wants to sow –
Sow the seed of perfection.
Sri Chinmoy, Ten Thousand Flower-Flames, Part 62, Agni Press, 1983.
There are times when it looks very very ordinary here.  A place inhabited by mortals much like you and I.  The starting line will show something else.
Start Day 36
It will be a typical Sunday in New York
We are all drawn to the light.
Some light though holds true promise and fulfillment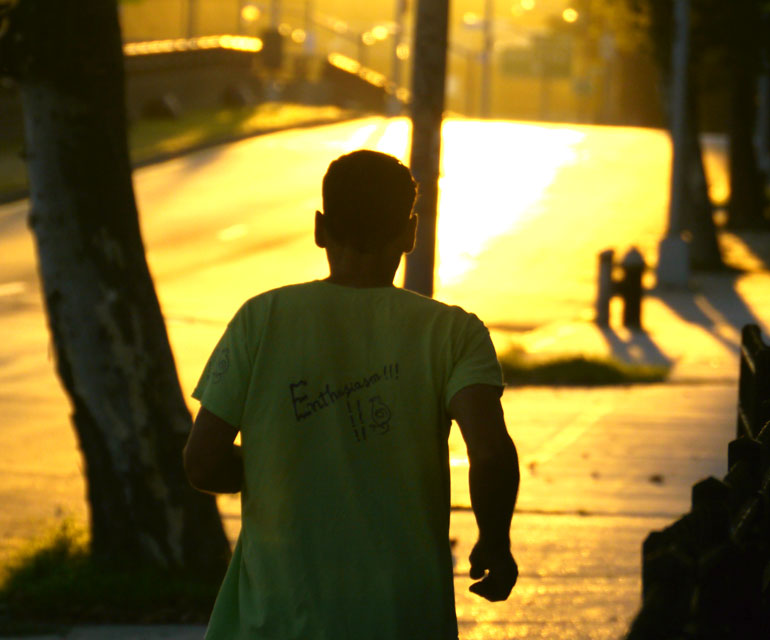 We have a brief discussion about heaven this morning.  Vasu says that Baladev told him that when he first ran the race here some years ago he started off in one of the lower realms of heaven and has gradually over the years moved upwards. It is hypothetical of course but in Vasu's eyes and in his heart he does feel that he is in heaven no matter which of the 7 levels it may be.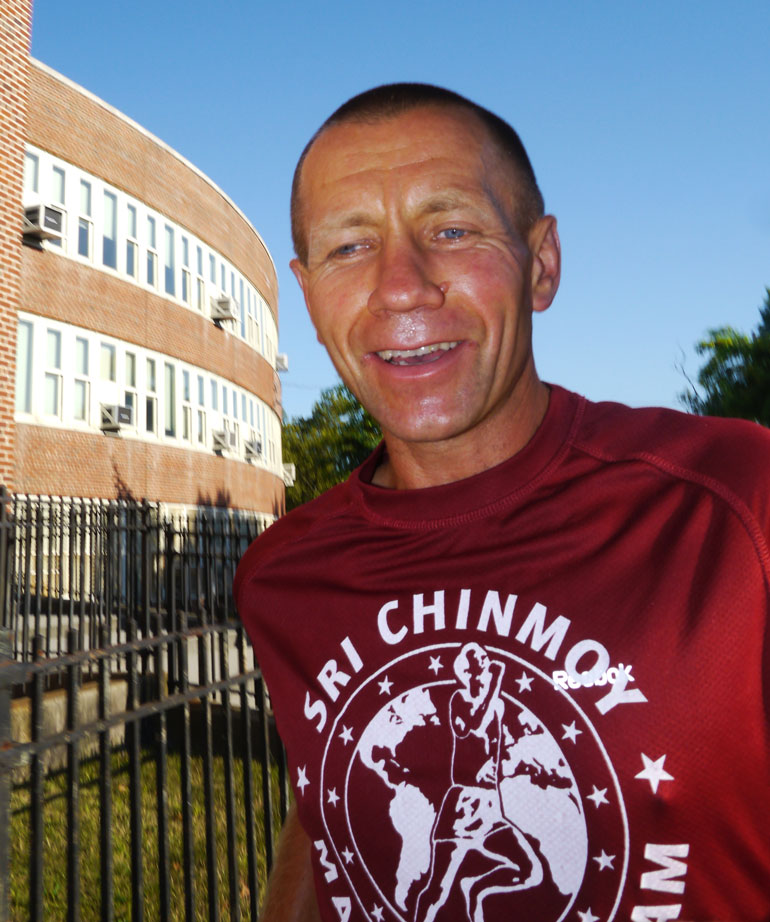 "I had some problems with a blister."  Eklanta has treated him for it and he describes it as, "It was a little painful."
"Dipali also tried to do something to help me."  He was told to take a break.  "I sleep maybe one or 2 hours and then I go home early maybe 7 or 8pm.  I made something for my blister and took a shower and then I went to sleep.
"I came next day in the morning and Rupantar told me to rest one more day."  Then when he started again it was suggested that he not run. "when I start to walk again it was good.  Not too painful."
As soon as it was clear that there was no infection he was once again given permission to run.  "I was the happiest runner.  It was for me heaven."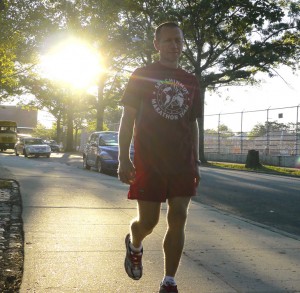 "Before I ran 10 days and had 713 miles.  Now much more"
Kausal has been here helping recently and when he heard that Vasu was having a blister problem he was surprised that it was not worse.  "What just one blister?"
"I would like to finish with 3100 miles.  But I need to do my best.  I hope I can finish this race."
He feels that if he can accomplish this it will all be due to grace.  He is also grateful to all the inner and outer support he has received from back home.
Click to Play Interview
Audio clip: Adobe Flash Player (version 9 or above) is required to play this audio clip. Download the latest version here. You also need to have JavaScript enabled in your browser.
Flowers on the Path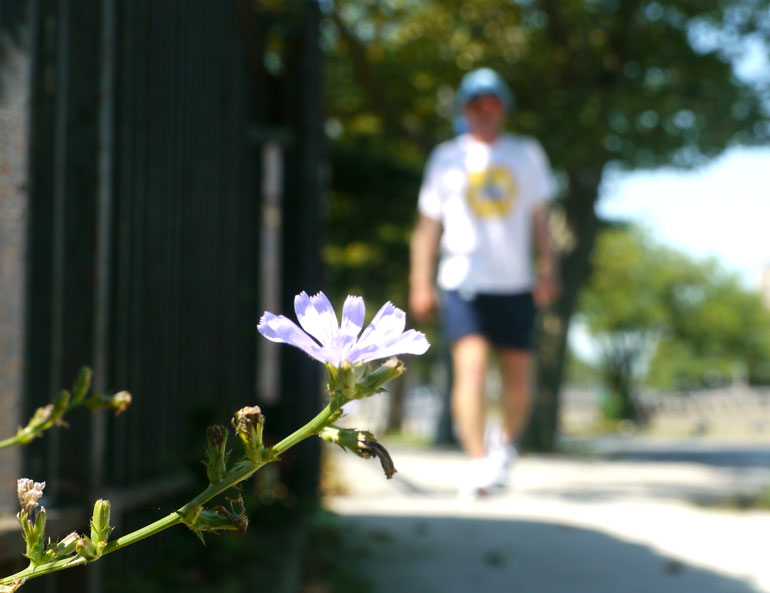 Atmavir just 55 miles ahead of Vasu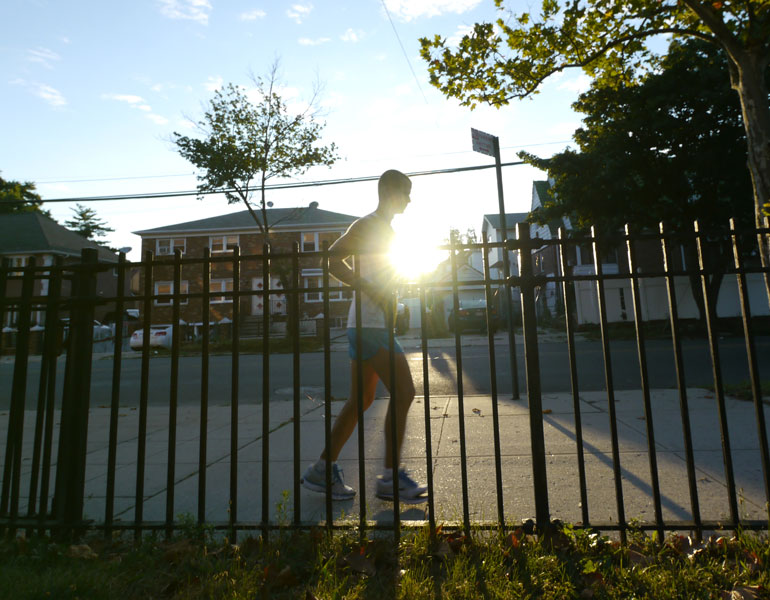 Sarvagata getting better.  He ran 62 miles yesterday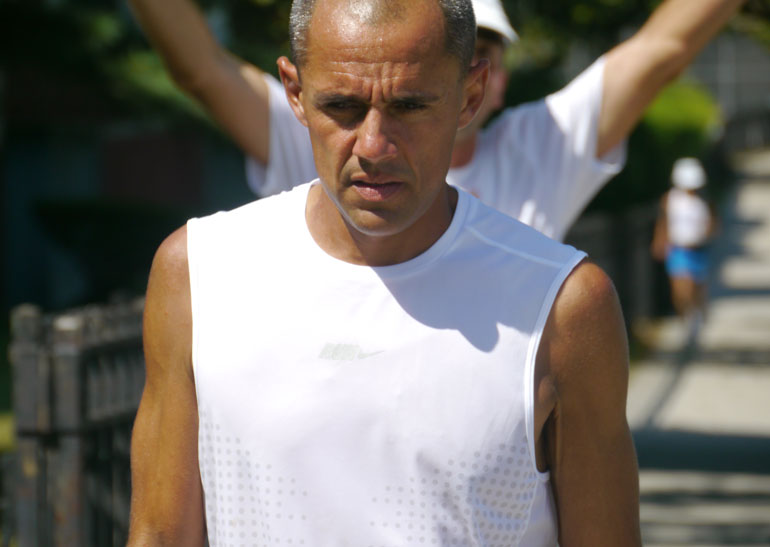 "I am having the best experience in my life now.  Because every step.  Not only every day every hour or every minute or every second, but every step.  Every step that I take here is a real miracle for me this year.  Every year is different, and this year is a really big difference for me.   Because last year I was injured very bad, and this is unbelievable to be here again."
In the past he has written poems while running here but says so far none have come to him. He tells me that his favorite poem by Sri Chinmoys is:
The Absolute
No mind, no form, I only exist;
Now ceased all will and thought;
The final end of Nature's dance,
I am it whom I have sought.
A realm of Bliss bare, ultimate;
Beyond both knower and known;
A rest immense I enjoy at last;
I face the One alone.
I have crossed the secret ways of life,
I have become the Goal.
The Truth immutable is revealed;
I am the way, the God-Soul.
My spirit aware of all the heights,
I am mute in the core of the Sun.
I barter nothing with time and deeds;
My cosmic play is done.
.
"There are many many nice and inspiring poems.  I think every one has something.  Because every poem means something.  When even Sri Chinmoy says one or two words it is something.  Because we know who he was and when he said something it was important.  Everything he did or wrote was very important."
.
  "It is not directly that he is still here.  I think it is like he is everywhere now.  It is only for us to try and feel.  I think here at this special place it is just a little easier to take this feeling.  Because this is Sri Chinmoy's race.  His favorite race."
  Click to Play Interview
Audio clip: Adobe Flash Player (version 9 or above) is required to play this audio clip. Download the latest version here. You also need to have JavaScript enabled in your browser.
.
Click to Play
Audio clip: Adobe Flash Player (version 9 or above) is required to play this audio clip. Download the latest version here. You also need to have JavaScript enabled in your browser.
Tejini recites the Poem of the Day
Audio clip: Adobe Flash Player (version 9 or above) is required to play this audio clip. Download the latest version here. You also need to have JavaScript enabled in your browser.
 
Enthusiasm Awakeners….Click To Play….

Audio clip: Adobe Flash Player (version 9 or above) is required to play this audio clip. Download the latest version here. You also need to have JavaScript enabled in your browser.
O my mind, do not look back
For Paradise.
O my heart, look ahead.
Behold, Paradise is beckoning you.