I don't quite know how to shake free of this feeling I have been having the past few days.  It is as though I am slowly but surely awakening from a deep and total slumber.  That somehow for the past 10 months my world has been shut down, devoid of boundless inner light and wonder.  Certainly a functioning body has been going through all the necessary motions in that time but in some way my inner being has been stuck fast in some inescapable dim void.  Like a pause button has been struck and the time has come to at last resume living life to the fullest by touching the one marked play. My guess is tomorrow that will at last happen to me and to others who have suffered through that same experience.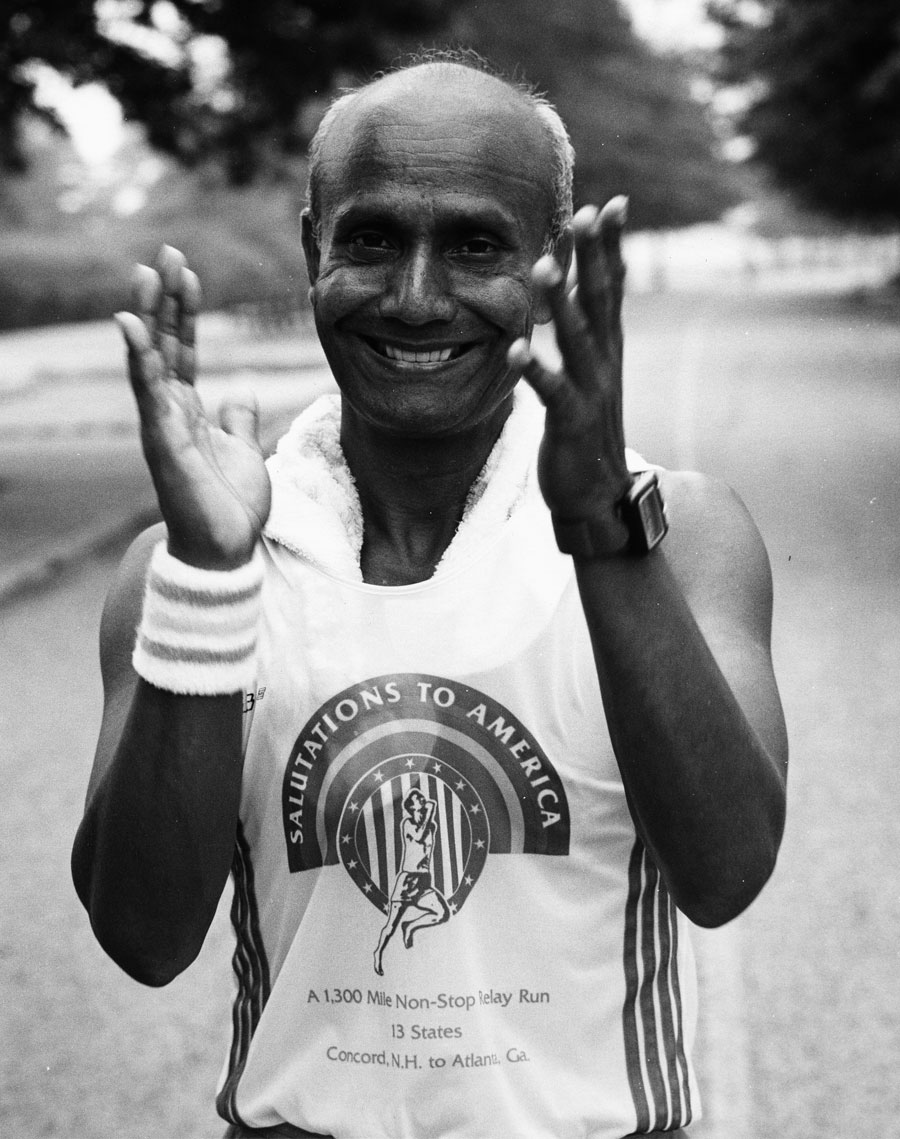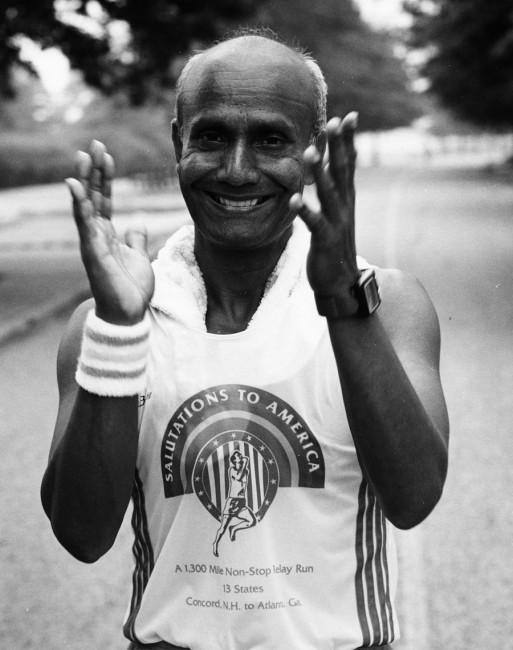 For right now the 3100 mile race is just hours away from starting for the 16th summer and with its momentous beginning, some inactive but precious part of me will once again ignite and my soul flames will burn bright once more.  It is almost as though I am about to embark and enter a world that is flooded with light and purpose and where even the most tired soul cannot help but arise and awake once more and set forth upon the tasks which they have been appointed to do.  In countless ways innumerable others will also see some portion, if not all their own  restless slumber, disturbed and brought back to full wakeful consciousness.
There is no accurate or clerical way to judge just how many people find some portion of their lives intertwined with the race,  By this I do not mean the obvious few who wear numbers and circle the endless block.  I believe, but cannot prove it to be true, that there are countless seekers who are inspired by the race's incompressible magnificence.  See it is a gift to all those who allow their life experience to step beyond the constraints of the limited material world and be absorbed in the effulgence of an unlimited spiritual one.
Discover at every moment in the race that it is an open invitation for all who may be stuck in their personal journeys or who simply want to revive the inspiration to move beyond their self imposed limitations.  It is both the easiest and most difficult thing to allow yourself to be swept up in a great tide of energy and illumination.  Yet without much fanfare and in plain site to much of the sometimes oblivious world, the constant thriving miracle, that is the Self Transcendence 3100 Mile Race comes freely and openly into the world each and every year.  Generously providing an energy and boundless experience that is not confined to a city block in New York, but in its own infinite and mysterious way is able to touch and inspire people everywhere.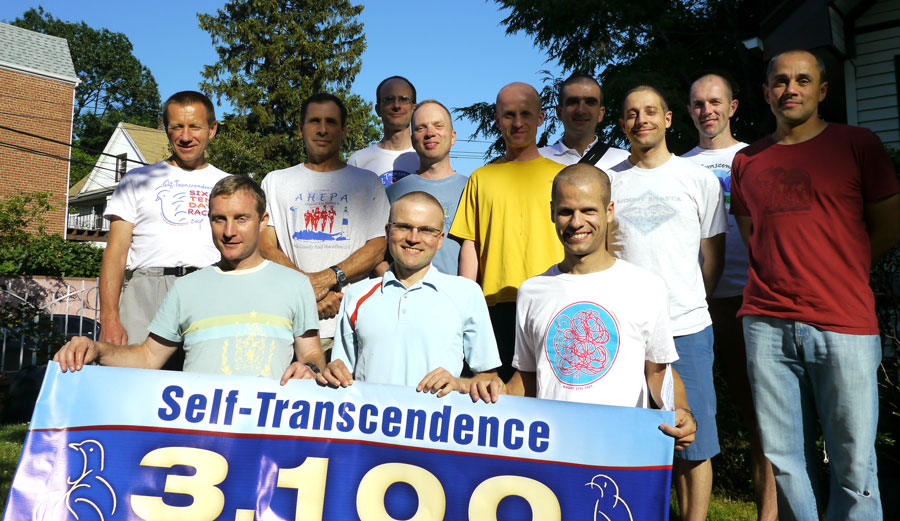 For the 12 who will stand on the starting line tomorrow morning it is for them a sacred task they have willingly and readily agreed to undertake.  All, except one, have endured this challenge before.  Know all too well the sacrifice and pain that will tear and nip at every fiber of their physical and yet are also aware of the subtle inner rewards that are offered to those who open up and reveal the deepest parts of themselves.  It is not impossible of course for a fit and trained athlete to complete the distance, but if it was just about miles stacked in 1000 mile bundles than that runner would be missing the true and deepest aspect of the race.  As Sri Chinmoy once wrote:
Every day when you run, you have to feel that it is a golden opportunity to appreciate the One who is inspiring you. Always you have to feel that the Supreme is inspiring you to run this longer than the longest distance. Somebody is begging you, urging you, to do the right thing. Again, when you agree and say, "Yes, I will do it," then that Somebody Himself runs in and through you. First God comes and begs us, "Be a nice person, be a nice person." Then when we have decided that we should become a nice person, when we have said, "Yes, my Lord, I have decided to become a nice person," God Himself becomes that nice person. Similarly, when you run, if you offer the prayer, "God, please make me a good runner. I want to make progress this time in my running," then this is a good prayer. At that time God Himself will become a good runner inside you.
Sri Chinmoy, Run And Smile, Smile And Run, Agni Press, 2000.
For Grahak it has been a long wait to come back to the 3100.  He ran the race on 3 consecutive years, starting in 2007, and each time transcended himself.  First 2010 came and then 2011 and no sign of this incredibly gifted Australian runner.  Of 2010 he says, "I simply needed a year off.  In 2011 I came close to making it to the starting line."  Then he enters  a gray part of the conversation and says, "there are so many external factors that affect your decision."
Rumors had floated around but some health issues but most did not know what was really happening to the young man from Perth.  "It was real, I had a health problem, that was stopping me from entering."  Without going into his personal details he says that it all has now been resolved and he is completely okay.
I ask him when he felt that he was going to come back.  "I think in my training everything was going pretty well, so I was hoping that in the race the same thing would happen.  You are never 100 percent sure you are going to make it to the starting line until you are actually here.  I guess I let people know a couple of weeks ago that I was coming along to the 3100."
"I think inwardly you get the push.  I also think if you stop doing the races it is harder to start again, because you start enjoying a vacation  or whatever. (laughs) Or you realize what you have been through.  So I am happy to come back this year." He says that there wasn't any single dramatic moment to compel him to return but certainly starting in March the pull to return started to build in intensity.  He increased his mileage and bought more shoes.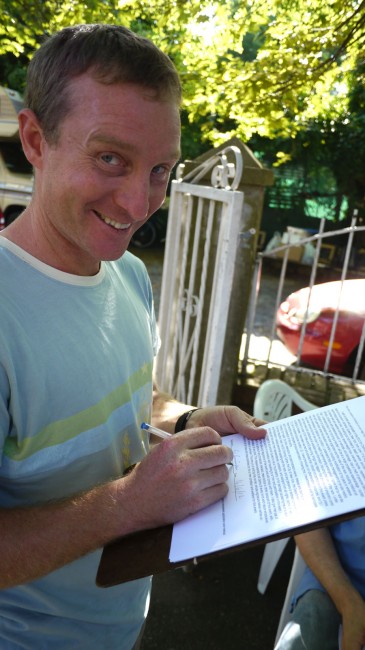 "I started doing more and more kilometers every week and I realized I was doing okay."  The combination of a good 50 km race and 5 and 6 hour training runs contributed to his growing confidence in his capacity to run.  "Everything was holding together."  He suggested that there will always be little distractions like sore knees and minor injuries which are always part of the ultra experience.  "I think a lot of things repair themselves surprisingly when you make it there. "
"I think in the couple of years I had off I had more injuries than I had in my whole running career.  I think if you get there (race), you get looked after by the Supreme.  I am sure I am going to have to push through a lot of things and a lot of problems.  But that is par for the course, when you are running the 3100 mile race. "
Each time Grahak ran here he ran a better time.  In 2009 he ran an average of just over 69 miles a day and completed the race in 44 days (3rd fastest time).  I wonder if this then has put any pressure on him this time.  "I think what comes comes.  Ideally I would like to improve my time.  But I would really have to kill myself to get that 44 day time.  I not sure if I would be able to do that so I would just like to finish."  He admits it would be a dream to somehow get 70 miles a day.  "I don't really have any expectations."
He is one of the few people who have run the race who were actually personally invited to do so by Sri Chinmoy.  For him he says, "you get the inner feeling you were meant to be doing it.  That feeling will be with me for a long period of time."  The invitation came simply in these words,  "have you not done our longest race?"
He says that one way he successfully uses to succeed in the race is to simply feel that his late Spiritual teacher is running in and through him.
Click to play interview
[audio:http://perfectionjourney.org/wp-content/uploads/2012/06/Grahak.mp3|title=Grahak Interview|artist=Grahak]
"We are so grateful that 12 runners are toeing the line.  It is a difficult race but with guidance and help that Sri Chinmoy has set down, and continues to give to us, the joy the blessings and the love.  The oneness that the group has, you can't miss."
"There are 109 performances in this event from 31 people.  So we are so grateful for you people to come back again and again. I know you feel something when you come."
click to play interview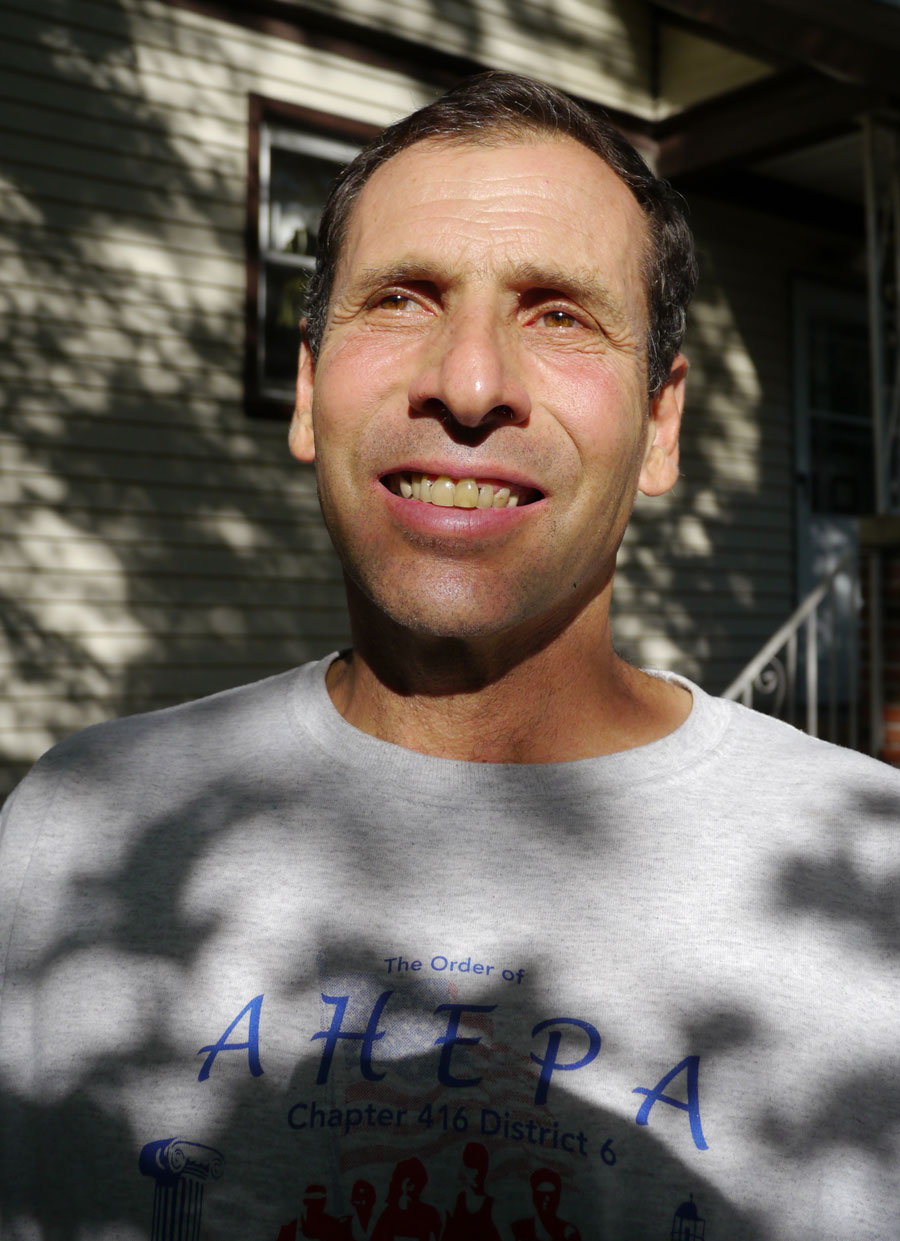 I notice that Arpan is closely studying the race brochure.  I ask him when was the last time his name was in it.  "2004, and it has been a long 8 years and I have always had it in my heart.  In that time I came to the race as much as I could since then, and I think the race is still in my blood.  I think my soul always wanted to run it again.  Sri Chinmoy inspired me originally when he asked me to do it.  He had faith that I could do it. "
"So I still believe he has faith in me and I have faith in him.  So I am going to do it again to make him happy and my soul happy.  Hopefully my body will cooperate."
"I just feel grateful that I am able to be in there.  (brochure) I am grateful that I am healthy enough to run and I am grateful to get started and I have confidence that I can finish.  I don't feel anything special about myself for the race.  I just feel that it is an honor to be running it. It is really really special."
"I remember when Sri Chinmoy was interviewed in 1991 after the 1000 mile race that I did in Flushing Meadow park, and they said why such a long race?  He said we are going to have a 2700 mile race.  It took 5 years to get it going.  To me all these races had a special impact.  I have always wanted to participate in them because I love long distance races, and also because it brings so many people together.  I have never seen so much oneness between runners and non runners at these races especially this one.  That is what the world family really  needs.  The runners are only part of it.  It is everybody's  achievement.  For now I am glad to be on the running side of it because my legs are still moving.  I have to keep them going until they give up.  I know it is going to be tough.  But I know if I stay happy and feel the privilege of  being in this race.  Being here is really an opportunity of a lifetime."
click to play interview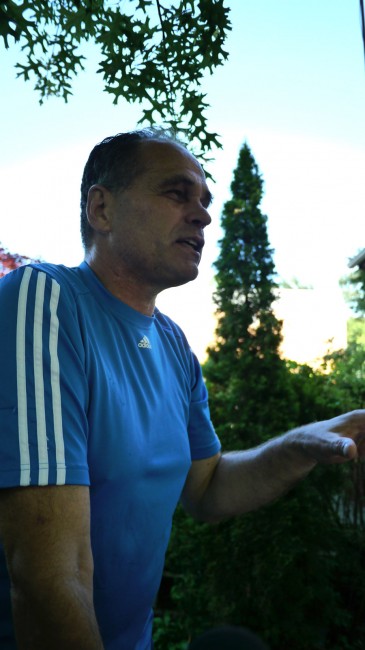 "I look upon it as a great adventure, that we are undertaking tomorrow at 6 o'clock.  Our 16th great adventure.  This one is as new as it was yesterday.  We always look at it as there is so much to do.  But we just accept what happens.  Everyone be happy.  I think we have to enjoy the race.  Enjoy the experience and make progress.  The Self transcendence applies to not only the runners but also to anyone who is involved with the race."
"Sri Chinmoy loved this race beyond belief.  That you are here is just beyond imagination.
That you are taking this challenge, and you are inspiring people all over the world.  You are the real pioneers, you are the real impossibility challengers."
Click to play interview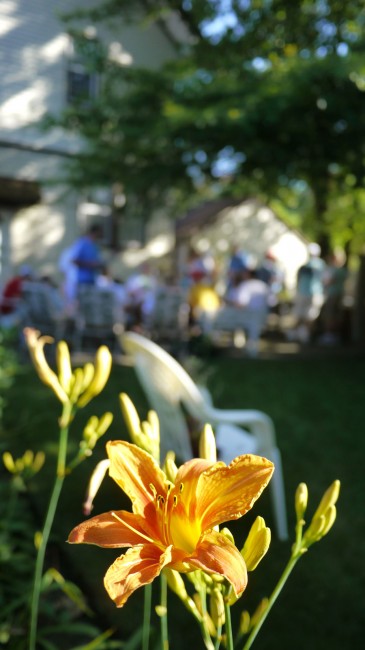 Do not run with the mind. Even if today you fool the mind, tomorrow the mind will come back with redoubled trickeries to make your life miserable.
You should say to the mind, "You stay with your trickeries. I want to play with my heart-toy, not with you.
You consider your toys as beautiful, but I don't agree. In those days I was a fool; I enjoyed you. But now I am wise. I want to enjoy my heart-toy. The heart-toy always brings me happiness and newness, newness and happiness."
When you run, if you can make yourself feel that inside your heart Somebody is running or your heart is running or you are running with your heart, then tiredness disappears, the power of distance disappears. Only the power of oneness, oneness, oneness with God's Will appears.
Sri Chinmoy, Run And Smile, Smile And Run, Agni Press, 2000.