There are some things that are just so immense, so challenging, and so confoundedly difficult to grasp, that human description usually falls woefully short in shedding any light upon it whatsoever.  This afternoon I ran less than a lap of the 10 day race with kaneennika Janakova and was painfully aware from the moment I took one step, in order to match the rhythm of her stride, that I had no idea of just how strong and talented she really is, and more importantly, how she can possibly keep on maintaining this effort mile after endless mile for 10 straight days.
Ultra distance running is in many ways the world in which she is most comfortable and in tune with.  This 42 year old lady from Slovakia seems to run here with such poise and ease it is almost as though she could be doing this every day of the year and not just for 10 days in Flushing Meadow every spring.  Last year she conquered the overall first place and set a course record of 724 miles.  Yet Kaneenika is just one small piece of this unfathomable puzzle.  Also with her, and sharing the same journey that winds around and about through Flushing Meadow, as the cool overcast afternoon dissolves into a hard dark night, are 35 other runners who will attempt to discover and accomplish their own unique goals in the coming days.
Then you have to acknowledge the crew that worked for days to set up this miraculous but O so temporary community, and the  additional crew of helpers who shuttle back and forth many times a day in order to maintain the practical workings of the race.  Sometimes there are striking moments of clarity when it just seems possible in being able to take it all in.  Rupantar, who is the Sri Chinmoy marathon team race director said to me the day before the start, "if people want to see a real miracle all they have to do is come out here to the race."

Miracles of course defy comprehension and discussion.  They lie boldly out there in public and do not demand to be examined.  Few passing by on the busy expressways would see any miracle or even much that is amazing as they glance out their side windows at the little running village by the lake.  As well the constant parade of park goers may also see little here of interest in the jumble of tents and huts.  Shuffling runners buttoned up from the cool or reddened by wind and the harsh sun would scarcely appear by most, to be or represent anything close to miraculous.
Yet when you stand for a moment on their path, and feel if even for a short time the great churning brilliant force which propels the runners onward, you can really and truly believe in miracles.  Glimpse if you can or will, a flash of the divine, and perhaps even believe and feel that it dwells within everyone, whether or not they are aware of it at all.  It matters not whether they are champions like Kaneekia who seems to glide with such exquisite precision or any of the lesser giants who appear to struggle from even their first tentative steps.  Strip away the distracting bits that the material world calls its own and you will be taken aback by the subtle soulful world that has taken up temporary residence here.  A place in which impossibility stubbornly can find no followers.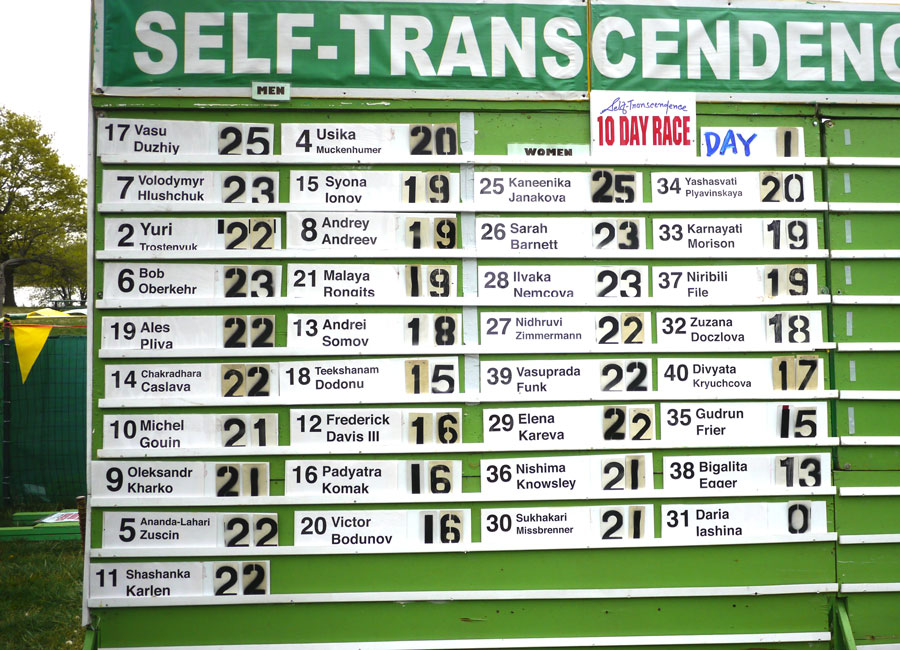 There are so many who inhabit the back pages of the race.  Those whose names don't go on the big board, don't get trophies or awards and yet breathe life and support into the 6 & 10 day world.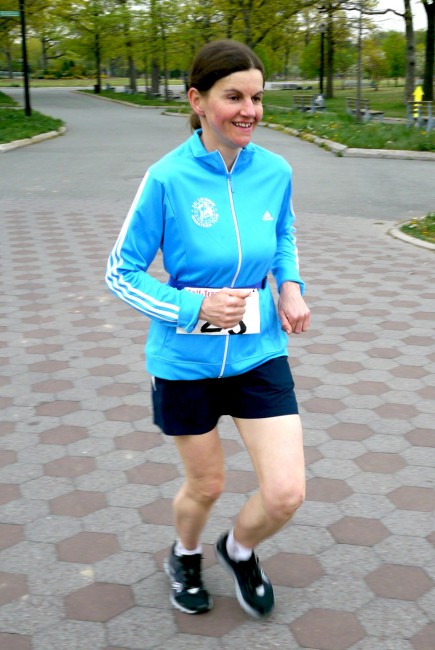 "I was injured last year so I wasn't actually running so much."  Kaneenika trains hard all year long.  There usually isn't any breaks in her relentless training pattern, but from October until early January her running was limited due to a foot injury.  "I was running maybe 15 to 20 minutes a day."  It was only at the first of this year that she could really focus on her training for this race.
When I ask her about winning last year she says, "it didn't really matter to me the fact that I won overall.  I was really happy that I did the mileage I did.  I didn't know that I was breaking the course record until I finished."  She broke the record it turns out by one mile.  "I think everybody thought I knew but I didn't."  She speaks modestly about this accomplishment but it is clear that she recognizes that she transcended herself in a remarkable fashion.
"There were some moments when I really had to go deep and I had to surrender to whatever circumstances there were."  As we run now you can hear on the recording the strain in my voice to keep up with her.  I ask her if it really is easy for her and she confesses that there was moment a little earlier when she thought she felt really tired, and then simply discounted it.  "This happens all the time at the race.  You feel that there is no energy, and then you transcend it.  Then all of a sudden you are running again.  You just feel great."
She has been running now non stop for 5 hours.  When asked if a break is any where nearby in her plans she says that usually she takes a break after 7 hours but because it is her first day she may skip it for today.
Click to play interview
Audio clip: Adobe Flash Player (version 9 or above) is required to play this audio clip. Download the latest version here. You also need to have JavaScript enabled in your browser.
Bigalita is a familiar figure at the 6 and day race the past few years.  While Jesper Olsen, long familiar to many who follow his exploits running around the world, will soon be part of the 6 day race.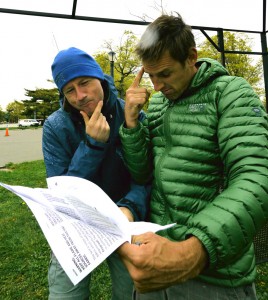 There are a few final details yet to ironed out in constructing the village.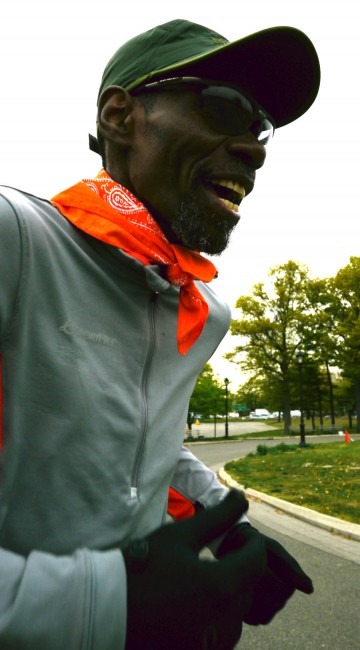 Fred Davis is one of those runners who enjoys running so much he simply seems as though he is never going to stop.  Just a month ago he was in Fairbanks Alaska running a 100 mile race.  One of the souvenirs from the race now hangs next to his table.  A gift from the kids of the family he stayed with there.  As a sign of his commitment to running he continued to run even though he finished 25 hours after the next to last runner.  There was a 60 hour cut off.
He tells me that he went to Alaska simply because he has a goal of running an ultra race in all 50 states.  He has come to the race here in Queens each of the past 5 years.  His best distance to date is 504 but he says, "every time I come I set a goal of 600.  My goal this year is to not worry so much about mileage, but my goal is to stay awake.  If I stay awake I will get the mileage. "
Click to play interview
Audio clip: Adobe Flash Player (version 9 or above) is required to play this audio clip. Download the latest version here. You also need to have JavaScript enabled in your browser.
An afternoon crew change.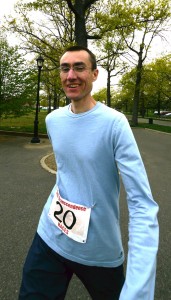 Victor Bodunov from Omsk Russia may surprise a few people by the end of the next 10 days but I don't think that he himself will be.  He does not run fast but his steps are smooth and flowing.  Our conversation is challenging as he struggles to understand my English.  In his running there is no struggle.  It is his very first multi day and he looks as though he has belonged here for a long long time.
Not too many days ago he was in a 12 hour race and completed a remarkable 63 miles.  Now he sees a greater challenge, he is hoping to complete 1000km.  I cannot see any excess baggage in his journey.  He seems to have left any fear and doubt at home.
Yuri Trostenyuk ran 678 miles here last year and was first amongst the men.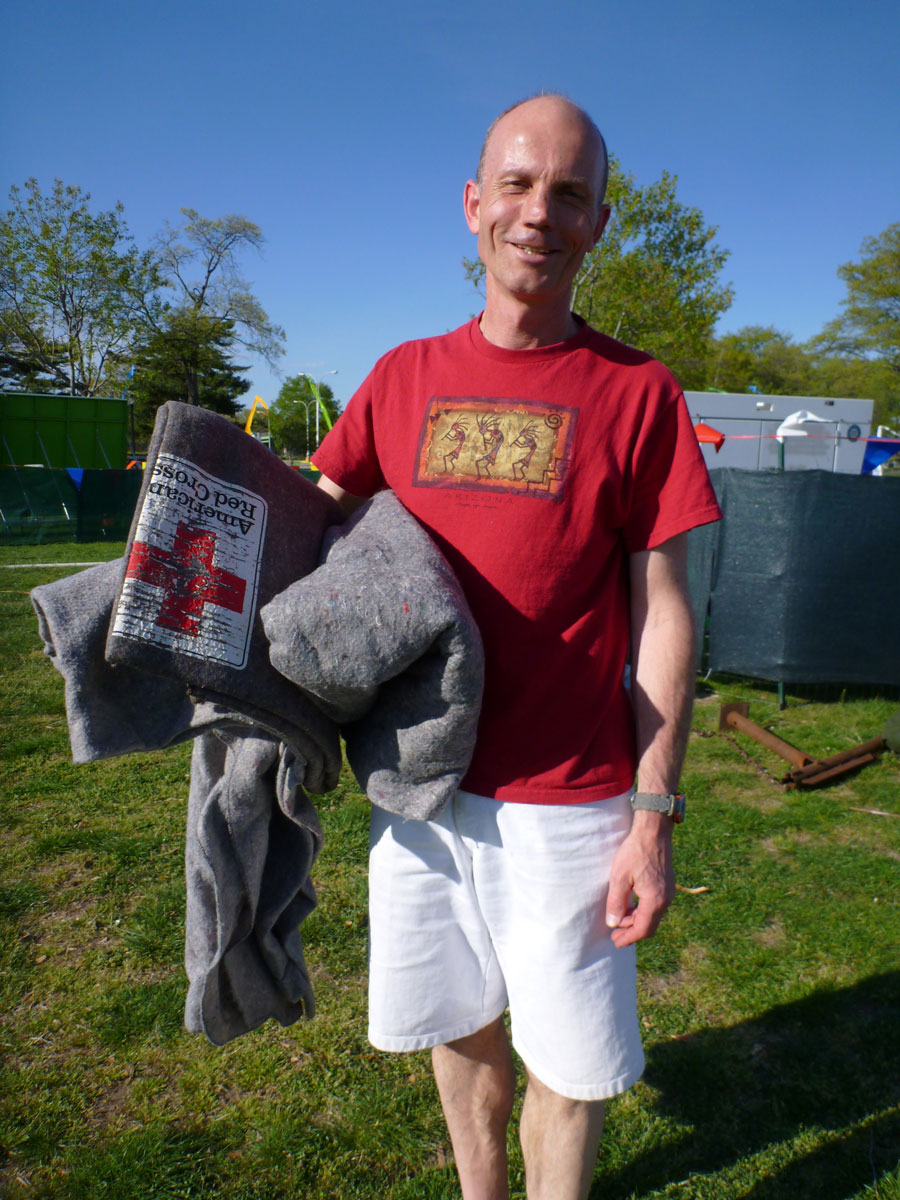 Yesterday Shashanka was about to start the 10 day race and today his life revolves completely and unhesitatingly about revealing all that he is has and is.
Now today another young man prepares himself for his 6 day race and wait for his opportunity to arrive.
A year ago Sarah Barnett arrived here at the race quite exhausted after having just competed in a 100o km race in Greece. This year she says that her last big race was in Monaco in November.  She tells me, "I have been slack and indulgent since then." A statement that I am not prepared to believe for even a moment.  For she is an exceptional athlete and was in an incredible battle last year with both Kaneenika and Jayasalini for 10 days straight.
She says if she can get to 3 international races a year that she is happy but confesses that her budget is quite restricted when it comes to traveling.  She is very conscious about saving.  As for her training she laughs and says, "things really have to change.  I would really like to add some weights, and do a bit more cross training, and a bit more speed work.  I really want to get a lot more inspired to improve."  She jokes that this will all have to take place after this race.
"This is the one thing in my life that I never hesitate to sign up for, because I just know, that even though it is difficult, by the end of the race you feel like a different person.  I just love seeing everyone.  As soon as I got to the track here it felt like a family again.  All the students of Sri Chinmoy are so cheerful and loving.  You really feel the difference.  I really love very much coming back."
She confesses that she has her eyes set on 700 miles a goal she has yet to reach.  Bur perhaps more importantly she wants to stay happy and positive.  She had a restless night and tells me that she is now looking forward to a few quiet hours in her tent.  Knowing her indomitable strength this suggestion I am hesitant to believe.
Click to play interview
Audio clip: Adobe Flash Player (version 9 or above) is required to play this audio clip. Download the latest version here. You also need to have JavaScript enabled in your browser.
First we have to see the Goal.
Then we must nurture the Goal
Every day without fail.