In most team sports whenever  a player is injured or not doing well they can be benched or substituted with someone faster or stronger or simply better suited to face the game conditions.  But in individual competition taking a break for long is never an option or a solution.
For individual runners who are competing here ultimately they have only themselves.  They are alone on this 3100 mile road and whenever and whatever the experience may be comes, it has to be felt, experienced, and endured by them alone.
Nothing can be avoided or put off until tomorrow.  There is no hiding from duty, no shirking of responsibility, you must stand up and confront adversity with who you are and what you have inside.  Today Surasa is facing a foe, who with brute and painful force is trying to steal away from her, what appeared just yesterday to be inevitable and an almost certain victory in the 3100 mile race.
When she started on day 47, Thursday morning, she looked as relaxed and confident as she has been all summer.  Yet even then the pain was building in her leg and refused to be subdued and beaten back by her will.  "These muscles were tight for a long time, especially after the day off.  Then in the evening and the next day they were very tight.  Then yesterday they were worse.  Then all of a sudden, I couldn't move any more."
Today is Friday morning and rain drifts across the course in brief yet drenching bursts.  Eventually it stops but Surasa does not.  Her quest to complete the race bravely and gallantly continues.  This morning she has returned to the race after pain forced her to leave the course yesterday.  She is walking and it is obviously painful.  In front of her appears to be an impossible task.  321 unyielding miles more to go, and now only 7 days left in which to do it.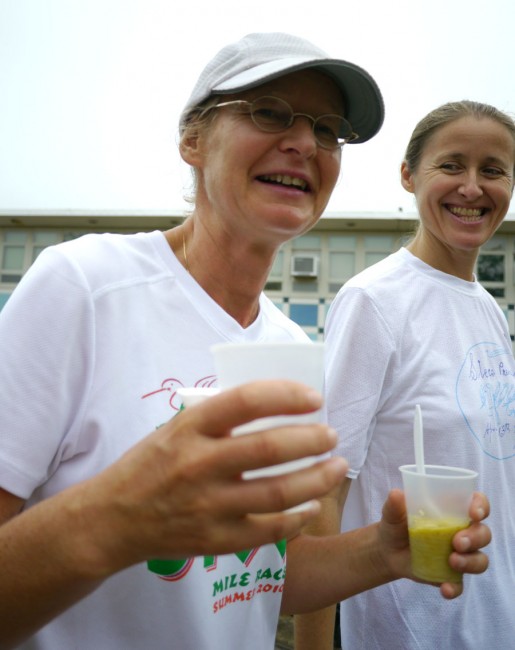 For now nothing is absolutely clear to her other than to try and complete her task. Yesterday just after it happened,  Gaurish, a chiropractor treated her at the camp in the early afternoon, but was unable to detect exactly what was happening to her leg or find the magic cure.  He treated her as best he could but could only ultimately suggest rest.  He knows full full well that it is not easy to say, 'no more', knowing full well that this superb endurance athlete has already gone 2700 miles.
Later he tells me how deeply concerned he was with her.  He was worried that because of the unbalanced way that she was walking that she might fall over and cause further injury.  He said, "It just goes to show, you never know when your last breath is.  It could pretty much happen to anybody.  One never really knows.  That is the intensity of the 3100."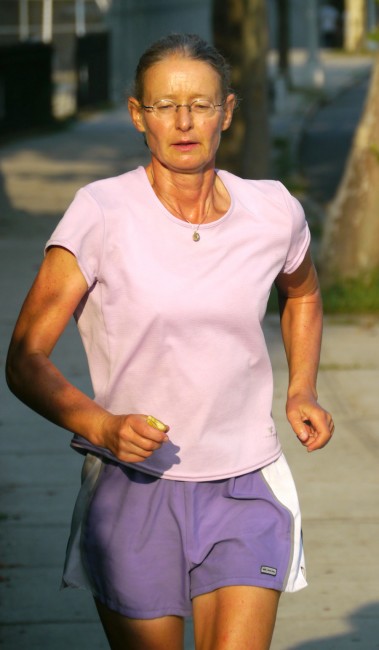 After her treatment she bravely attempted to continue at least by walking.  It turned out to be so painful that she had to be picked up by car and returned to the little camp.  "I said no, it makes no sense.  I am going so slowly, it is better to take a rest.  Maybe it will get better."  Today she is here and trying to walk as best she can.  "I cannot move the right way.  It is painful but I will see.  Maybe we will go to a Doctor and see what has really happened."
I ask how she is feeling about all this.  "I have the feeling that it is not me.  They want to bring me to a Doctor, but of course I have already lost a lot of time.  We will see now.  I had shin splints last year and it feels a bit like it, but I am not sure that it is shin splints.  It is not in the normal place that shin splints usually are.  But the feeling is the same."
She stayed at the race yesterday so as to not miss Ashprihanal's finish.  After which she was brought home.  "I was happy to see him finish.  He also had hard times.  It was just nice to see his finish."
Click to play interview
[audio:http://perfectionjourney.org/wp-content/uploads/2011/07/surasa2.mp3|titles=surasa]
Update:  Surasa later in the morning visited a Doctor in Manhattan who diagnosed a torn Soleus muscle in the calf.  She was advised to take at least 3 days of complete rest.  As of late this afternoon she has not returned to the course.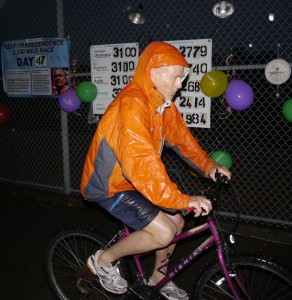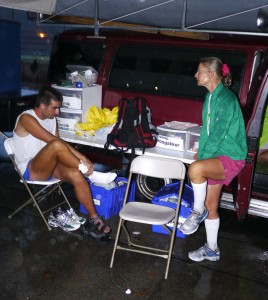 It is a nasty wet morning which is soon to be followed by a pleasant late morning and day.  The wet conditions will come back by early evening.  Aryavan has returned from Europe and proceeds to help out by getting the yellow van going.
Pranjal will finish tomorrow morning and did his usual 114 laps 62 miles yesterday.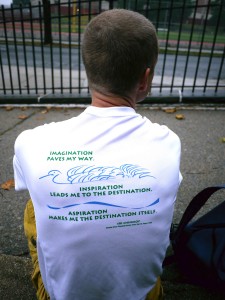 In case you might like to know what it is like to finish the race, this man has a good idea.  Ashprihanal finished yesterday and is enjoying seeing the race now from the other side of the fence.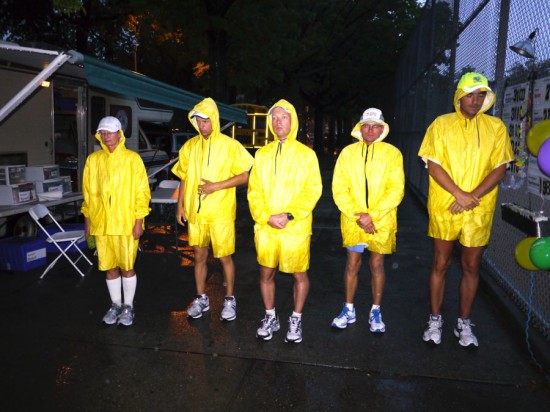 Start
Day 48
"This is how the whole summer is like in Holland, especially lately. If the humidity would go down a touch, and stay the rest of the day like this it would be heaven."  Pradeep had another great day yesterday with 115 laps.  He has 314 more miles to go but ahead of him is a rainy night which is soon to be followed by another long series of very hot days.
He was inspired by the finishes of the some of the other runners.  "It is true.  It makes me really happy to see all the finishes.  It is like another dream complete.  I feel really well."
He adds, "one other reason I am feeling well is that Tuesday is my birthday.  So the finish was supposed to be on my birthday but it changed.  Usually when my birthday is coming up I feel good.  Something in me feels it coming.  It gives me this extra little thing."
"I am more or less at a 60 mile a day schedule.  I am 6 miles ahead of that schedule.  I could basically do 59 miles a day. "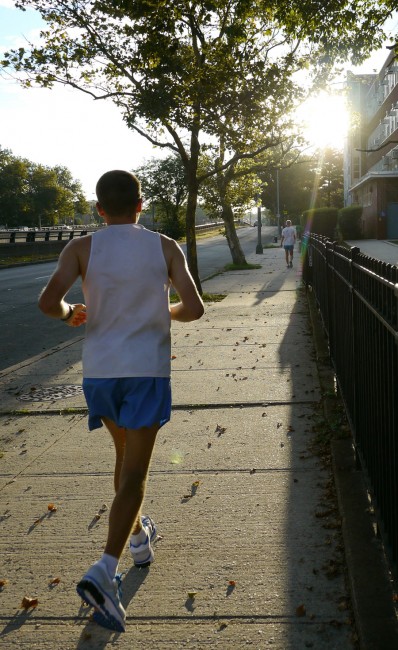 As we are speaking in the morning is still not clear what is going to happen with Surasa and her race.  "It is a lesson for all of us.  You never know where an injury comes from.  You can never blame yourself.  One thing you really have to do is try and stay in a good consciousness, and pray for protection, and be grateful.  I know most of the time when I have got an injury, it was related to my consciousness.  Other people might not notice but it might be some bad thought that keeps recurring.  Or you are a little relaxed.  You are not so focused.  Then these things slip in."
""So yesterday I thought, be grateful for any steps you can run, and celebrate that.  Don't take it lightly.  It is not possible of course to be all the time focused.  Maybe there is a critical amount of time when you have to be like that.  Or a critical amount of soulfulness, even if it is not very  long but you have to put in and it helps."
"Basically it is a mystery for all of us.  We are all plodding along and trying to see what we can discover about ourselves."
Click to play Interview
[audio:http://perfectionjourney.org/wp-content/uploads/2011/07/pradeep4.mp3|titles=pradeep]
Recited by Pradeep
[audio:http://perfectionjourney.org/wp-content/uploads/2011/07/poem15.mp3|titles=poem]
Enthusiasm Awakeners
Click to play
[audio:http://perfectionjourney.org/wp-content/uploads/2011/07/parvati15.mp3|titles=parvati]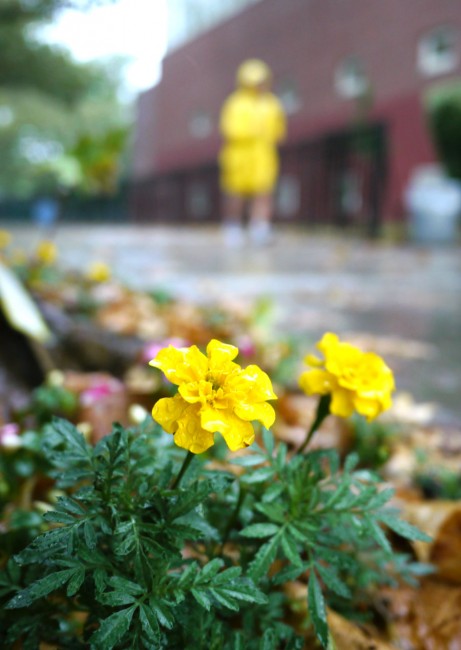 You want to know
The capacity of my hope?
I tell you
My hope has great capacity
To chant God's name ceaselessly.
You want to know
The capacity of my dream?
I tell you
My dream has sufficient capacity
To make me another God,
A real God.
Sri Chinmoy, Europe-Blossoms, Agni Press, 1974.