Early this morning Pradeep showed me something wonderful.  We had run a few laps together and I was just about to go when he invited me over to his table and he pulled this amazing picture out of his bag.  He was really happy and proud to show it to me and I could see why.  For it showed the front of the Health Food store in Den Haag in which he is the manager.  In his absence his employees, instead of goofing off, have dedicated the entire front window of the shop to him and his exploits here at the 3100 mile race.
Front in center of the window is posted his daily mileage which all his friends are anxiously watching as well as I am sure the customers who know him so well too.  I can just imagine the person whose job it is to go to the results page and print it out every day.  Now with just 11 days of running left just about everyone can start wiggling all 10 fingers and come up with the exact math of what he needs to do.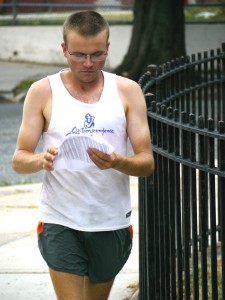 So here is a news flash from the source, Pradeep is still pretty confident, and running strong.  He says he just needs to complete 60 miles a day to make it to the finish line in time.  Of course the folks in Den Haag are not the only people who love and are concerned about a runner here in New York.  Folks in Finland may be a little more experienced  at following the exploits of their favorite son Ashprihanal as he makes his way to his 11th finish here.  They may have had a little scare a couple of days ago but he seems to be recovering nicely.
As for the folks in Brno, following Atmavir, Kysak following Ananda Lahari, and Bratislava following Pranjal these 3 guys are very experienced.  I am sure they are all proud that the Czech and Slovak republics are all well represented.
In Hamburg, which is the home of Purna Samarpan his friends are all a little sad no doubt that he didn't make it this year.  In a day or so I will try and write a little more about his story.  As for Vienna the home of Surasa, they are used to her many world class exploits in distance running.  This year though she is doing something really magnificent as she seems on the verge of conquering her personal Himalaya in this her second attempt at the 3100.
In the Ukraine tonight I know that many are anxious for Sarvagata, as he is very soon about to win his first 3100 mile race in his first attempt.  If they think they know him in Berdansk they will be much surprised when he finally makes his way back home there. He has blossomed unimaginably here as a world class athlete.  In Vinnitsa there are many as well who are shocked and maybe just a little surprised that their first time running friend, Igor will capture second.  In Kiev, the home of the great Stutisheel, there are many who are wondering, is this really his last race?
10 runners from 7 countries.  All with friends and family who have tried to reach out with their hearts, hopes, and many prayers.  The journey now will be over now in just days.  Where once there was a vast chasm of time it is now just  a ditch  that is quickly eroding, filling in with laps and miles and the endless toil of those who could not and did not stop.
On the August 4th Pradeep is scheduled to come home.  I am certain that the window at the Madal Bal store there in Den Haag will look pretty spectacular when he finds his way back there again.  It will look as it never has in its 24 years of existence.
As well as in the windows, and offices, and in meditation halls across 6 other countries.  Where prayers and dreams will be answered and friends will return to those who will love them.  With celebration and with admiration they will be greeted, for what they accomplished here in Queens, so far away. Showing to not just themselves but to all of us as well, just what Self Transcendence is really all about.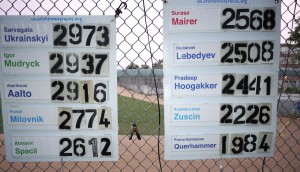 Pradeep had a big day yesterday, 66 miles on which was a hot but overcast day.  Ashprihanal did 60 miles yesterday.  He seems to be still recovering from his heat exhaustion.   The two of them took the shortest of all possible naps before today's start.
Start
Day 44
"It was like somebody put you in an oven and told you to run."  Pranjal survived Friday's heat just as he has survived all and everything the 3100 has thrown in his path.  Over the course of a very long day he only took one 15 minute break.  "I did my best.  It doesn't mater if it is like 50 laps or 120 laps.  It was my absolute best that day."
He kept going until midnight as he has done every day.  "I was walking the last 2 hours because there was no more energy.  Because I could not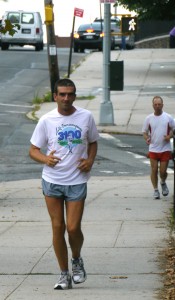 eat all day properly, because it was so hot.  When I tried to eat something all my blood went to my stomach.  Nothing left in my head.  So I have to be really careful with eating.  I was just trying to eat some small amounts.  Something really really easy.  But any way, it didn't really help.  So in the end I just did not have any energy."
When he left that night I wonder if he was at all concerned about having to come back he next day and face the furnace once again.   "What can I do.  I cannot change it.  I have to just accept it."  Eventually he got a phone call cancelling all the running for Saturday.  "I was afraid he might want to cancel the race completely, but fortunately not."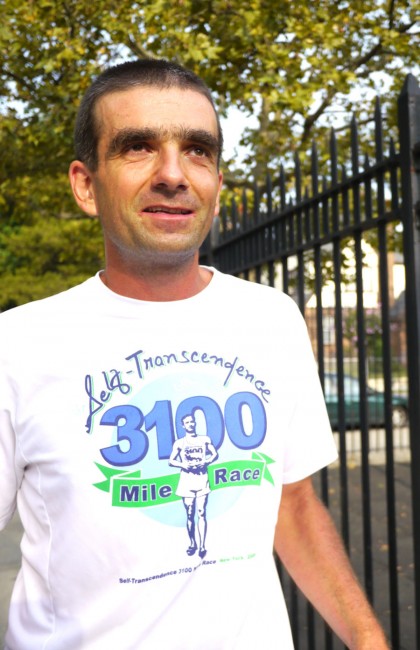 When asked what he did on his day off.  "I had a lot of work to do.  I was sleeping whole day.  I was sleeping and eating."  He admits that if had a choice he would much rather have been running here.  At 10pm that same evening race director Bipin was sitting in a van at the race when he spotted Pranjal on the course.  "I was doing my usual 2 miles.  I am running every day 2 miles.  So I have to come here and do my 2 miles."
"I was on the edge of doing my personal best but since we had a day off I am one day short.  I cannot change it so what can I do.  I just have to accept it.  I am always doing every day my best.  To do as many laps as I can, and this is what I did.  On Saturday I did my best, nothing."
click to play interview
[audio:http://perfectionjourney.org/wp-content/uploads/2011/07/pranjalP3.mp3|titles=pranjalP3]
Pradeep got to really experience the most extreme side of a New York summer on Friday.  "It was quite something also because the humidity was really high.  So it feels even hotter than it is.  In my case if the humidity goes over a certain level than the switch of my upper leg does not go on.  I have no power.  It feels like jelly.  So I was forced right from the very beginning to go very slowly."
"After 10 laps I could run a little, it was really hot.  So I just tried to be really careful.  I mean everybody was warning us.  The race directors were really concerned. I still did better than I expected.  Also compared to some of the other runners I managed pretty well."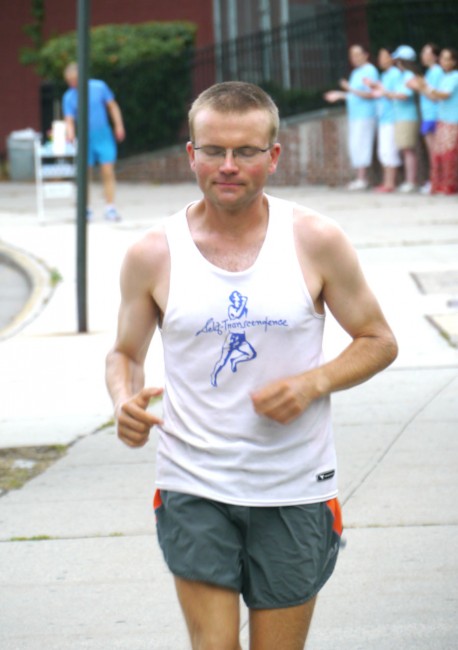 "Before coming out here to the race I was worried how I would deal with the heat, because I have just never experienced anything like this.  And it wasn't too bad.  I did 47 miles which is not so much.  It was just about the best I can do in those kind of temperatures."  He stayed to 11:15 that night. "I went home a little earlier than usual just to rest.  Because we thought we were going to have another day like that."
"I knew what kind of weather they had here last year, so we are still lucky compared to that.  I was just happy that I had made it through the day quite well.  Some people went home like they were completely dead.  So I was happy that I made it through in one piece through the day."   By comparison, last year was a summer of non stop heat but never at any time did the temperature get up into the record numbers of Friday and Saturday.
As for the decision to cancel the race for the day.  "I mean it was the right thing to do.  You cannot take any chances.  So not only did we get a rest day we also got an extra day.  So in total we have 54 days to finish the race.  Which especially for me is really great.  I have a much better chance to finish now.  So basically it is almost a gift for me.  Most of  the other runners didn't need it.  I was very grateful for that."
The extension of the race as welcome as it is for him also now conflicts with his return flight which is scheduled for midnight of August 4th.  He spent much of the morning of his unexpected day off, on the phone, trying to change airline and work schedules.  It became just too difficult to cope with so he ended taking a well deserved rest instead.  "I will sort it out later."
The weather on this day is very forgiving.  "It is great.  It is like a breeze, it is cool.  They say it is going to be a little hotter, but let's enjoy the day."
We pass by the board and he informs me that in order to complete the 3100 in the allotted time, "I have to do exactly 60 miles a day for 11 days.  That's possible, if nothing goes wrong, and the Supreme wants it."
Click to play interview
[audio:http://perfectionjourney.org/wp-content/uploads/2011/07/pradeep2.mp3|titles=pradeep]
Every weekday the Kumar family have been walking 5 miles around the course.  "I am so happy to do this." Each day they are here around 5am.  They are also very inspired to just be able to share the same course with the 3100 mile runners.  It inspires them to do more laps as well.  He says his wife has been also provided a big push as well to come out and do it.  "She wakes me up and says, let's go."  They are familiar with just how much effort the 3100 mile runners put in.  Of Sarvagata who finishes tomorrow, "he is a very hard worker.  I am so happy that he will finish.  When I come home from work, still he is running, and it is very hard to do this every day.  I am so happy and so impressed."
Click to play interview
[audio:http://perfectionjourney.org/wp-content/uploads/2011/07/couple.mp3|titles=couple]
Recited by Nirjharini
[audio:http://perfectionjourney.org/wp-content/uploads/2011/07/poem11.mp3|titles=poem]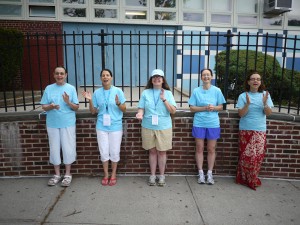 Enthusiasm Awakeners
Click to play
[audio:http://perfectionjourney.org/wp-content/uploads/2011/07/parvati11.mp3|titles=parvati]
Act as strictly as possible.
Run as quickly as possible.
Your goal will not remain
A far cry.
Sri Chinmoy, Seventy-Seven Thousand Service-Trees, Part 21, Agni Press, 2001.