Last night a rainbow boldly painted itself across the sky above the Self Transcendence race.  There are probably quite a few boring technical and scientific reasons of why and how it was formed, but still in the brief time it glowed up in the sky, it was magical.  For the runners it was particularly significant for it was for them a totally unexpected visit of nature's beauty.  They have been every which way around the course over the past month now and yet this was something totally unique and new.  No one could recall every seeing something quite as spectacular as this ever on the course.
Moments earlier it had rained only briefly and there were a few flashes of lightning and then the air simply sweetened as a light breeze swept across the city.  For a time there was even a smaller second rainbow beside the bigger first one but the camera simply couldn't pick it up.  I know how thrilled I was to see it all above me but I really can't imagine just how great it must have been for those who have been going around and around for thousands of miles and to suddenly be blessed with this.
Was it an omen of bright  things to come or simply a little kiss from heaven upon those who are working with such intense purpose on the hard earth below.  Who knows.  But for a while certainly it brought a smile to every face.  For those who had been dragging along under the burden of a hot humid day, suddenly they could run again.  Atmavir, after this happened, ran as quickly and as lightly upon his feet as I had seen him do in weeks.
For those in their cars below on the Grand Central I will never know what they actually saw and felt.  But I hope that their day may have gotten just a little brighter as well.   If even for just a moment.  Beauty is sometimes a little elusive to find for most of us.  Yet for a while last night it splashed itself, bright and clear across a grey New York sky.  Freely available  to anyone, who simply only had to look up.
Today another 2 runners will pass into the 2,000 mile group.  Surasa yesterday had her typical day and Stutisheel had perhaps his worst ever.
The great yogurt debate has been going on for a long long time.  It seems that the runners who like yogurt only want the high fat variety.  The man in charge of procuring snacks seems have a difficult tine on occasion finding it.  In this instance he actually bought LIGHT yogurt.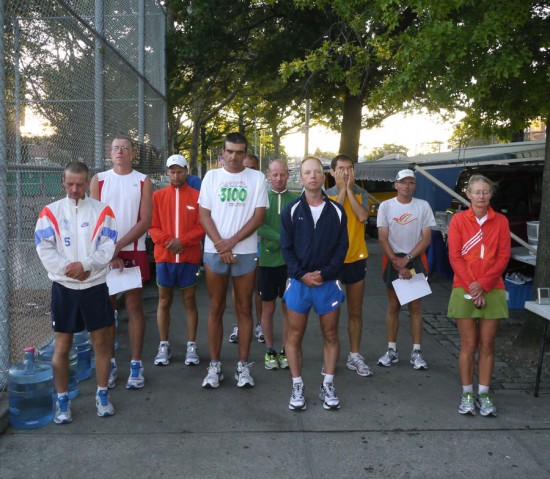 Start
Day 33
"Yesterday I transcended myself by running 63 laps."  Of course Stutisheel is making light of a potentially very catastrophic situation.  He is a man who is running this race for the 8th time and it was just over a year ago that injury forced him to retire.  He says that other than stopping altogether his previous worst day was 66 laps.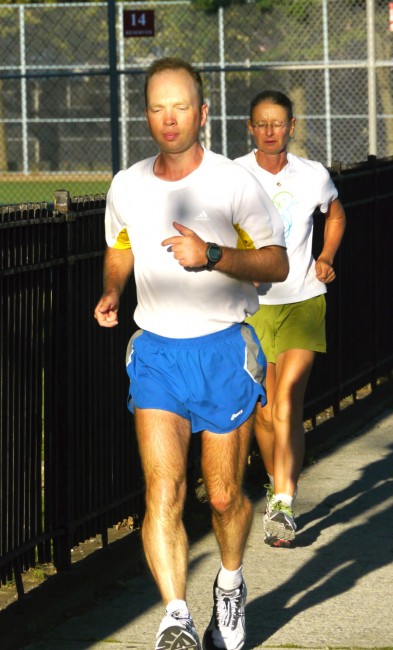 When most folks have stomach problems they can simply stay home and try and get better.  This is not really an option at all, either for Stutisheel or any of the other 3100 mile runners.  That 63 laps translates into 34 miles.
When asked if he will be attempting to set a new record today he says, "today is a different story I believe.  So let this record remain."(laughter)
I ask him if he got disappointed in any way with yesterdays setback.  "Well it is dangerous to be disappointed in the race.  By any means you are trying to be positive."
"Actually the other runners are very supportive, when you have a bad day or a hard day.  They are so supportive that you immediately feel their concern, love.  I love it."
He then adds that he is miraculously still ahead of his personal best in 2009."
click to play interview
[audio:http://perfectionjourney.org/wp-content/uploads/2011/07/stutisheel-21.mp3|titles=stutisheel 2]
There are just 20 days left.  Pradeep and Purna Samarpan have found both inspiration and new strategy in each others company.  There are days when they have been nearly by each others side for every step of the way.  Pradeep the newcomer from the Netherlands seems to be gaining more confidence each day.  Purna Samarpan has been buffeted by the humidity and despite a brief period when the air changed to light and cool had his second worst day of the race this year.  Just 74 laps.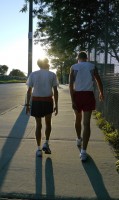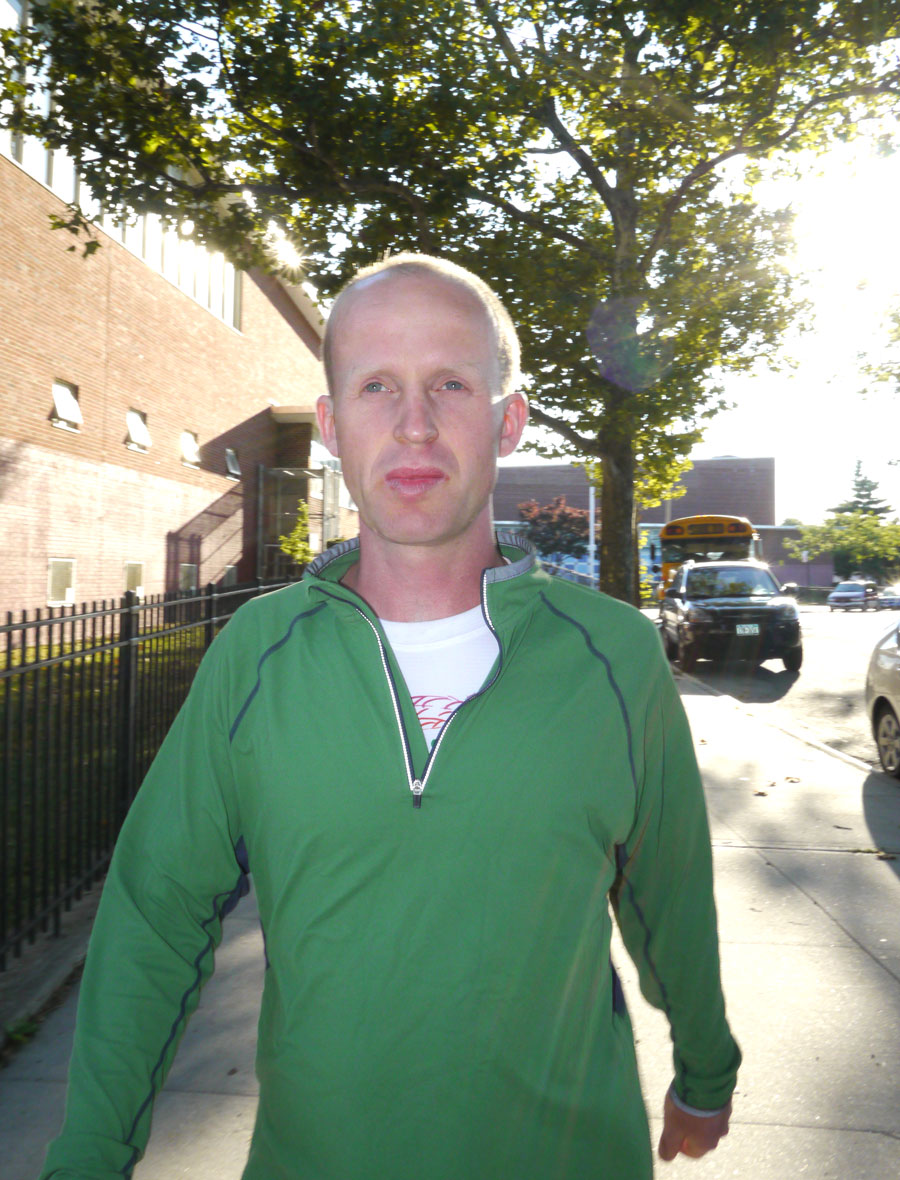 I took a picture last night of Ananda Lahari and Atmavir with the rainbow between them.  He says, "It was so beautiful, beautiful, beautiful, and powerful.  I don't think I have ever seen in my life such a strong rainbow.  The colors were so vivid."
"It was a very hot day.  Then in the evening there came quite big clouds out of nowhere.  It started raining and yet there was clear sky where the sun was.  Then there was a rainbow.  It was like a theater going on in the sky.  I really liked it."
"Nature is really beautiful here in New York.  Maybe when you come only for a short time you only see a lot of cars, noise, and concrete side walks."
I remember I was asked by a journalist, what have you seen of America.  Basically when I come to America I come only here.
'Only here.  but there are so many beautiful places.'
But this is also very beautiful."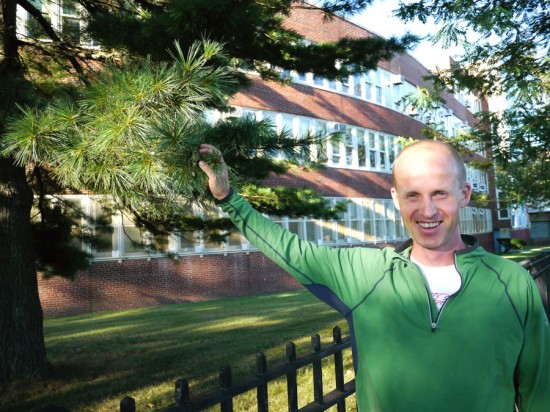 He mentions the pine tree on the far corner of the course that he likes but also how much he enjoys coming into the little camp.  "Coming here I am getting joy.  Quite often I imagine that Sri Chinmoy is standing there."  Ananda Lahari is fortunate in that he was able to run the race when is spiritual teacher was still living and came to the race often to visit the runners.
"I must say that I am kind of surprised at how the race is going, in my case.  I really thought that I would be running fast.  Somehow it is not working.  But what is surprising for me is that I can take it, that I am not running."  Certainly this morning and for the past few days Ananda Lahari has been steadily walking.  "I don't know what is going on but.  I am grateful, very, very grateful, that I can be here and do this race."
"I am still working.  It is not that I am taking it easy.  Just that the result is not coming in the form of success, lets say.  I believe everything is under control, and everything is fine in the long term.  In everybody' life  there is transformation, and I believe that this is quite fast transformation.  It is really good."
"It is happening all the time because we all have some imperfections.  For me when I have these slow days.  It is like an opportunity to transform many things.  To learn how to be more focused.  To be more simple.  To be more pure."
Ananda Lahari starts day 33 with 1363 miles more to go.  With the time left to him he will have to run over 70 miles a day in order to accomplish it.  So I ask him what number would he like to have by the end of the race.  His shockingly simple answer, "I would like to have 3100, but if it doesn't happen I know that I will not be disappointed.  I am doing my best.  The race is not over.  I am not giving up."
click to play interview
[audio:http://perfectionjourney.org/wp-content/uploads/2011/07/ananda-lahari.mp3|titles=ananda lahari]
Recited by Pranjal
[audio:http://perfectionjourney.org/wp-content/uploads/2011/07/poem4.mp3|titles=poem]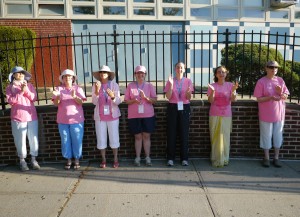 Enthusiasm Awakeners
Click to play
[audio:http://perfectionjourney.org/wp-content/uploads/2011/07/parvatil1.mp3|titles=parvatil]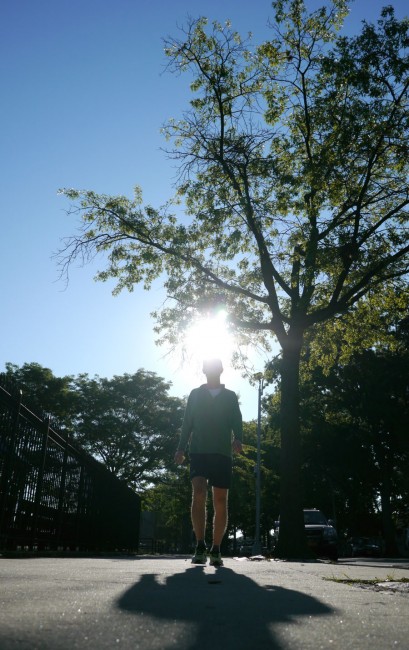 Intense longing creates opportunity.
Each opportunity
Is more than a blessing.
Indeed,
It is a miniature goal itself.
Sri Chinmoy, Ten Thousand Flower-Flames, Part 2, Agni Press, 1979.