Everything always moves along so incredibly swiftly here at the Self Transcendence race. There rarely seems to be much time or opportunity to look back over your shoulder. If one did it too often you could easily trip over the present.
It is challenging at the best of times to even just attempt to keep up with the relentless pace and rhythm of all the events taking place here, on this little half mile island of concrete.
Then, out of the infinite blue, a sweet memory will simply lift me out of my shoes and hurl me backward.   It is almost like stepping into some kind of time portal and I find myself returning back to something that took place here over the past 15 summers.  Today there was just that kind of special moment.  It was an instantaneous shock, and It felt  like I had been struck by a thunderbolt. In this precious instant. I briefly found myself in exactly the same place, but it was 5 years earlier.
The spiritual history here is so incredibly deep and rich, that sometimes I am surprised  that I am not delightfully tangled up in it more often.  In the later years of his life Sri Chinmoy spent a great deal of time at his race, often coming several times a day.  Starting in 2006, he used to write a special race pray every day, and have it given to each of the runners.  Today, the very first in that series was once again handed out to the runners.  From the moment my hand touched the blue page, my heart's clock spun immediately backwards to that time.
Stutisheel was one of the 5, of the current group of 10, who was running the race that year.  He says, "for me it was so delightful, because I adore Sri Chinmoy's aphorisms, and he started writing them especially for the runners.  It was so special.  Every aphorism reveals the universe to you."
"Just, I know how to run.   That is it.  It is so simple, but I am running for my Lord Supreme, and therefore he loves me, with his blessing pride.  This is the secret."
Click to listen
Audio clip: Adobe Flash Player (version 9 or above) is required to play this audio clip. Download the latest version here. You also need to have JavaScript enabled in your browser.
New memories are being written here all the time, just as they should.  5 of the runners here today were of course not even here back then.  Some even may never have even seen much of Sri Chinmoy in person, at all.  But it doesn't mean to say that they cannot connect with his vision of transcendence as powerfully and as most assuredly, as any one who had the opportunity to be standing close by Sri Chinmoy at the starting line 5 years ago.
For many of us Sri Chinmoy's physical life was all too brief, yet his inner life continues to illumine and inspire.  His gifts to humanity are still being revealed, his guidance, and vision still felt as strongly as ever.  A confirmation of this of course is clearly revealed in each of those who continue to run so bravely and with such unerring dedication to the goal of transcendence each and every day here.  His vision will continue long past the countless tomorrows.  Long after the sound of footsteps have passed beyond the finish line.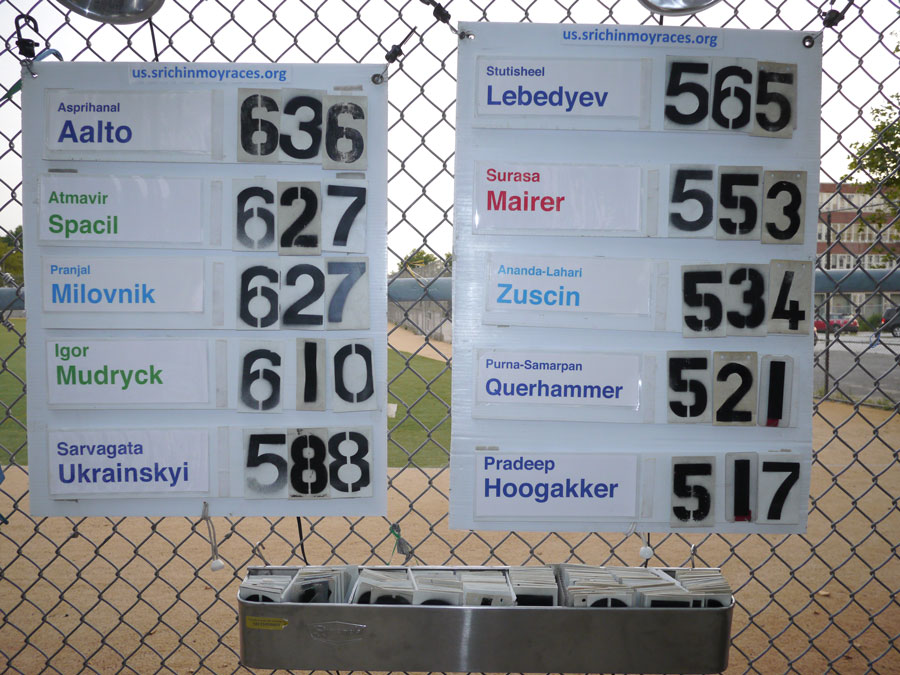 It just may have been one of Ashprihanal's greatest days of running in this race in years.  Yesterday he ran 75 miles and propelled himself into the lead.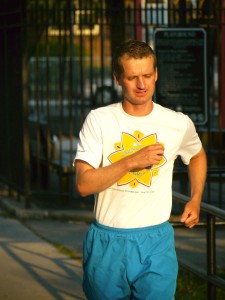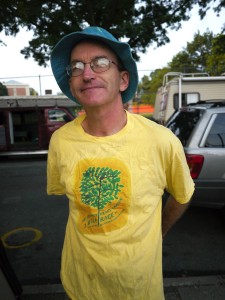 Today, Medur, one of the key technical and logistical coordinators dropped by briefly this morning.
For the 3 new runners, today they will each find themselves stepping beyond their previous achievements in multi day running.  None has runner longer than 10 days before.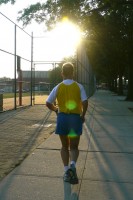 Start
Day 10
There really isn't too much praise that one can lavish upon 37 year old Igor Mudryck from Vinnitsa, Ukraine.  In his first 9 days of running here he has been superb.  He demonstrated extraordinary capacity when he previously ran in NY in the 10 race and here he has shown that he absolutely belongs among the champions.
He had told me previously that he looked upon Stutisheel to be his mentor in the 3100.  Despite this appreciation it has not kept him from surging past him by 75 miles at the end of 9 days.  Yet this quiet man runs with remarkable consistency and poise.  His ability to speak English may be limited but he is saying all he needs to with the air of tranquility that seems to be part and parcel of his makeup, and the 67 miles he has averaged here so far.
His friend Sarvagata, and fellow Ukrainian, willingly offered some translation for Igor today.  As we all run along together, I joke, 'have you met before?'  "Of course we have known each other a long time."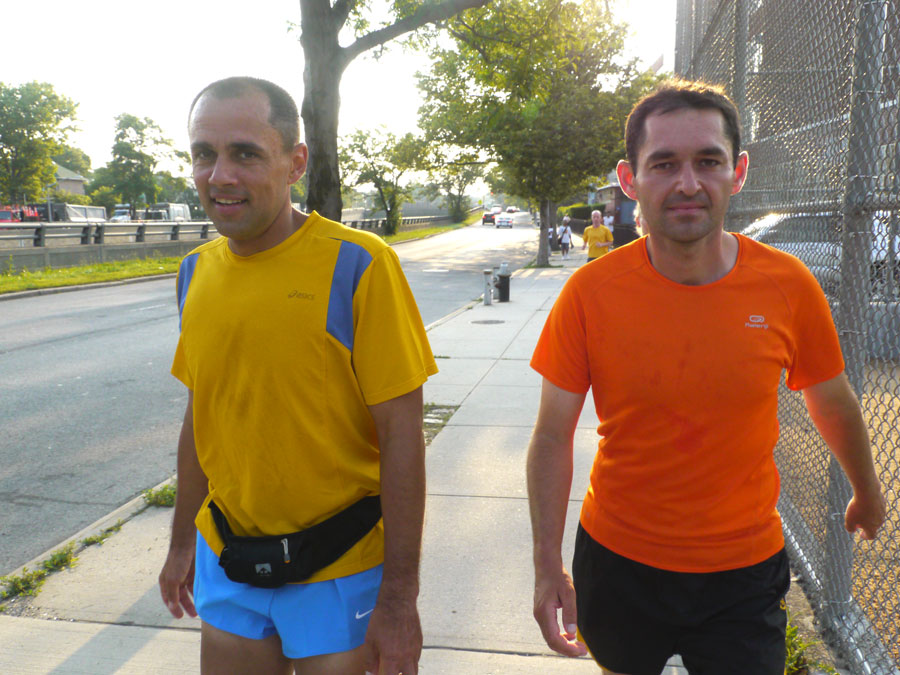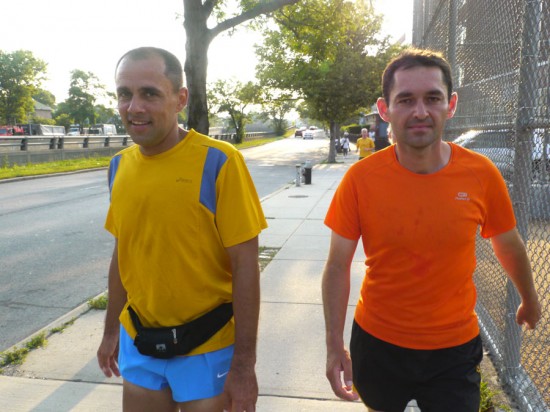 I suggest that they also share something uniquely in common in that they are both first time runners here.  "It is difficult to define something particular, but I feel that we have a lot in common.  But the main thing is that it is very easy for us to be together.  We don't disturb each other."  When I suggest that by interviewing them together I am forcing them to be disturbed, he laughs.  "Very funny."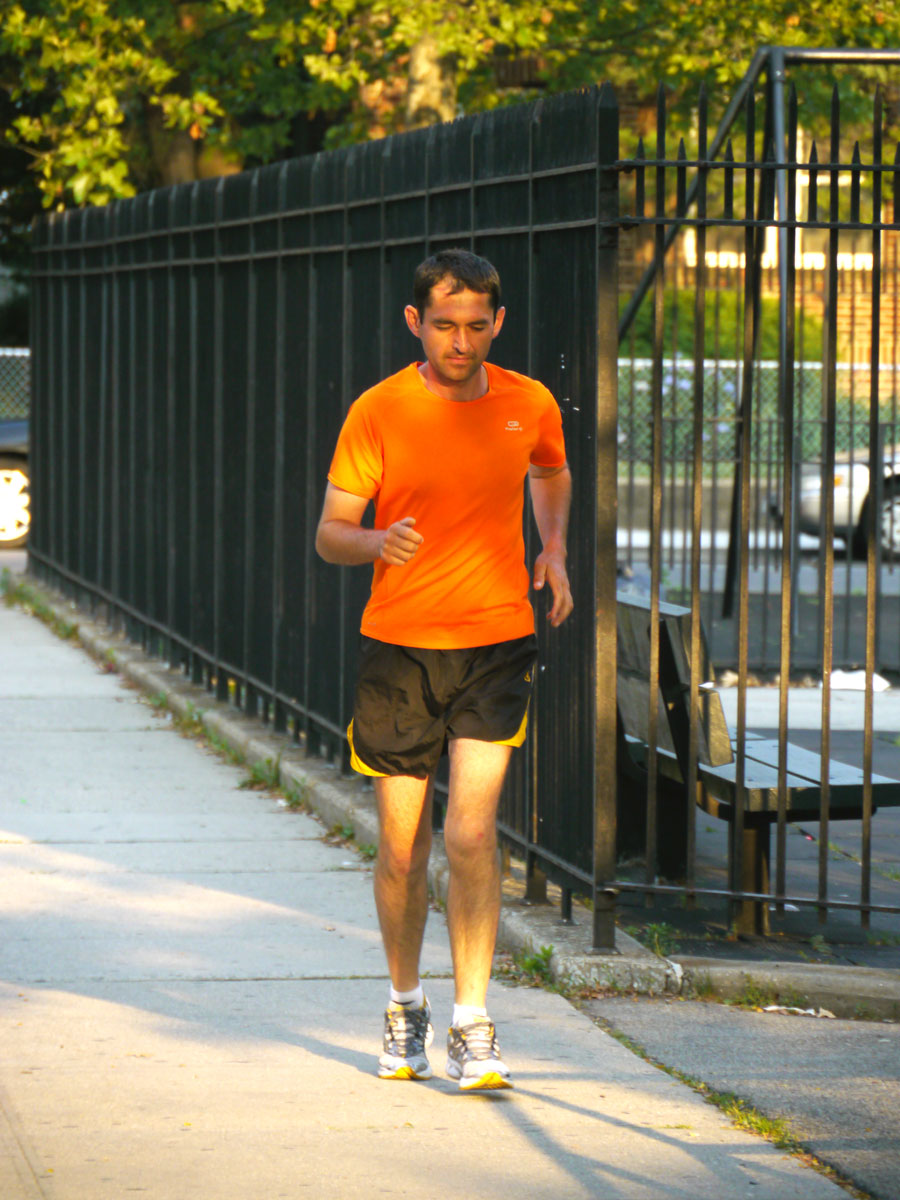 I ask how he feels to be not part of not just a special group of Ukrainian runners but also part of a much greater world family.  "I feel myself very good here.  Very comfortable.  What can I say.  I feel people are very close here."
He has wanted to run this race for a long time.  He says, "frankly I had no expectations about running this race."  He feels that it is important to simply accept the race for what it is and not anticipate whatever experiences he might have while running it.  "So, I didn't imagine anything about the race, just to accept it, as it goes."
"It is too early to describe the experience itself.  I think we will find the deepest part of it at the end of the race, and it will be after the race.  For now I simply feel like running the way the course demands me to.  Whatever the course wants from me I try and run according to that."
"I don't think about the experience.  I am just running and following whatever is asked for.  The course itself is a very powerful instrument to draw you from the outer world back into your inner world.  Deep inside.  It is like a whirlpool."
He seems to never be distracted by anything, always looking and exuding calmness and serenity.  He says that the only thing he has any apprehension about whatsoever is to loose focus on what he has to do here or feel his attitude shift.
He describes as well not being distracted or disturbed by all the commotion that typically goes on around the course in this bustling Queens neighborhood.  "I think all my spiritual family around me help create an atmosphere of poise and peace here.  The helpers create a very unique atmosphere which helps all the runners stay calm and inspires him to go within.  I don't really need to care about outer things, because the helpers take care of everything."
Click to play interview
Audio clip: Adobe Flash Player (version 9 or above) is required to play this audio clip. Download the latest version here. You also need to have JavaScript enabled in your browser.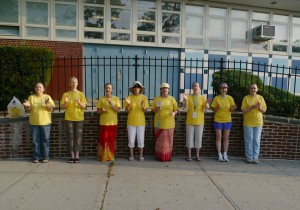 Enthusiasm Awakeners
Click to play
Audio clip: Adobe Flash Player (version 9 or above) is required to play this audio clip. Download the latest version here. You also need to have JavaScript enabled in your browser.
God has a very good memory.
He will keep His Promise, He will.
But where is your heart's climbing cry,
Where is your life's expanding thrill?
Sri Chinmoy, Silence Speaks, Part 1, Agni Press, 1990.