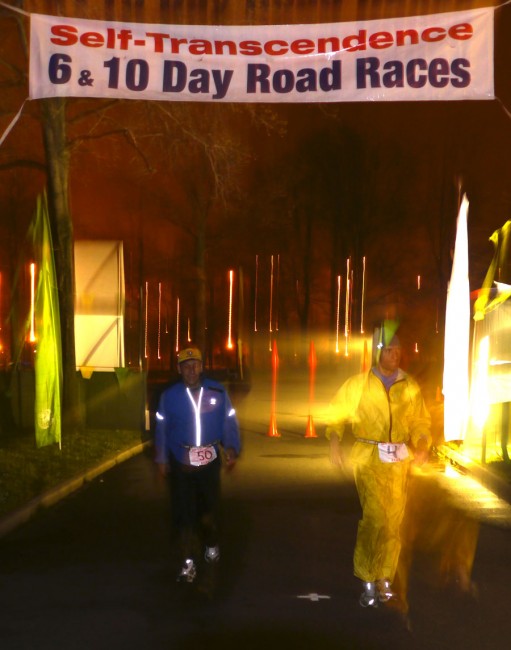 It is simply my favorite time to be at the race.  Right now, it is either very late at night, or early in the morning, take your pick.  The air is absolutely still, and a soothing warmth has ebbed back into the camp.  At 2 o'clock in the morning New York is still a very busy place.  Cars continue to dash by on the freeway, but there are many fewer at this hour.  Planes don't scream in and out of La Guardia.  The constant rumbling stress and urgency  of the outer world has receded into the night's gentle shadows.  For now, the world in Flushing Meadow Park is just about the runners, making their methodical way around the course.  Chasing after very real dreams that don't come as easily to those who sleep.
Sometimes you hear their steps before you can actually see them emerging out of the darkness.
Where so much of the world is sleeping around them, for many of the runners, this is a luxury they can ill afford.  Some stagger off the course and into tents or dorms for rest, for a nap, or perhaps you might call it just a break.  But it is never the all embracing deep slumber most of us succumb to when the weight of night falls around and about us.  You see them set their clocks, so that alarms will go off in a few hours at most.  10 days or 6 days seems like such a grand and luxurious swath of time, but it isn't.  Precious minutes lost to sleep mean miles snatched away when the whistle blows at the end.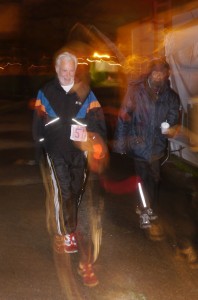 Nobody might really notice if you have let a mile slip away here and there from your daily total.  But you will know.  You will, as soon as the results are posted, recognize a nag and torment of the, 'if I had not slept so long.'  Some of course at this Self Transcendence race move relentlessly and with a kind of precise efficiency.  That is the veterans and the record holders of course.  Experience has taught them clearly, when the mind and body simply no longer tell the truth.  When aches and fatigue cry with such alarm that they can scarcely be denied.  But these are voices that need to be reckoned with, just  as you would answer a small tempestuous child.  Somewhere within the heart of each runner, they know what they can and must do.  Reach beyond the limitations that seem so real.  Push further, add another step, and still another, until hopefully you push beyond all the things that hold you back.  Emerge on the other side of dreams into the sun bright light of your heart's reality.
There is always a constant ebb and flow on the score board.  It is during the night that great gains in miles can be gradually eroded, like a gentle stream pulling away the sand.  Kaneenika will take a well deserved break tonight and see her 7 mile lead taken away from her by a relentless Sarah Barnett.  It is early yet and Kaneenika will emerge in a few hours and quite likely take it back.  For everyone here eventually must surrender to sleep, if even for just a precious brief time.
Ray Krolewicz is a familiar face and well appreciated presence at the Self Transcendence races but it has been some time since he has been able to run one.  His schedule as a school teacher in South Carolina has kept him occupied the last few years.  He usually has been able to drop by for a brief visit most yeats, at which time he always tells himself, "God I got to do this."
"It is part of the journey.  It is part of why we run, why we test ourselves and why we enjoy the friendships even as we compete.  It is a chance to play and still look inside yourself.  Find out where you are at any given time."
Ray enjoys the easy camaraderie that is automatically part of the muti day experience.  He tells me that he has just met a young lady who was not born when he ran his last 6 day.
He recounts for me some of the many places he has run and the terrific numbers he was able to make there.  He also tells me about meeting Sri Chinmoy for the first time in 1985 during a race at Wards Island.  How they walked together and were able to discuss philosophy. "I thought I knew what the Sri chinmoy marathon team was about, and I came to a really full understanding, at a much higher level, both intellectually and spiritually, over many conversations, in the 6 day period."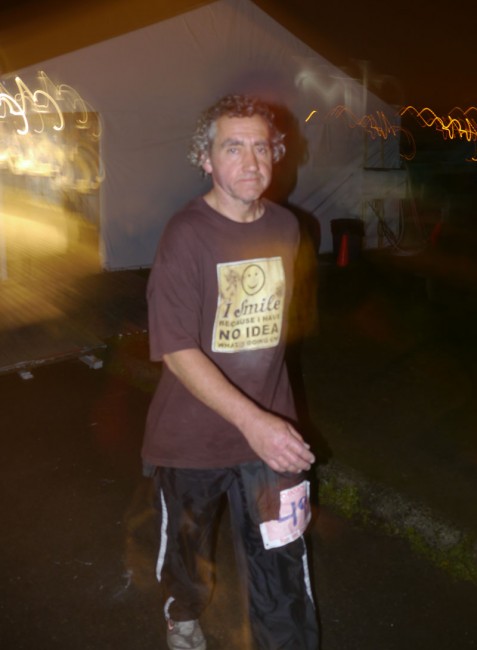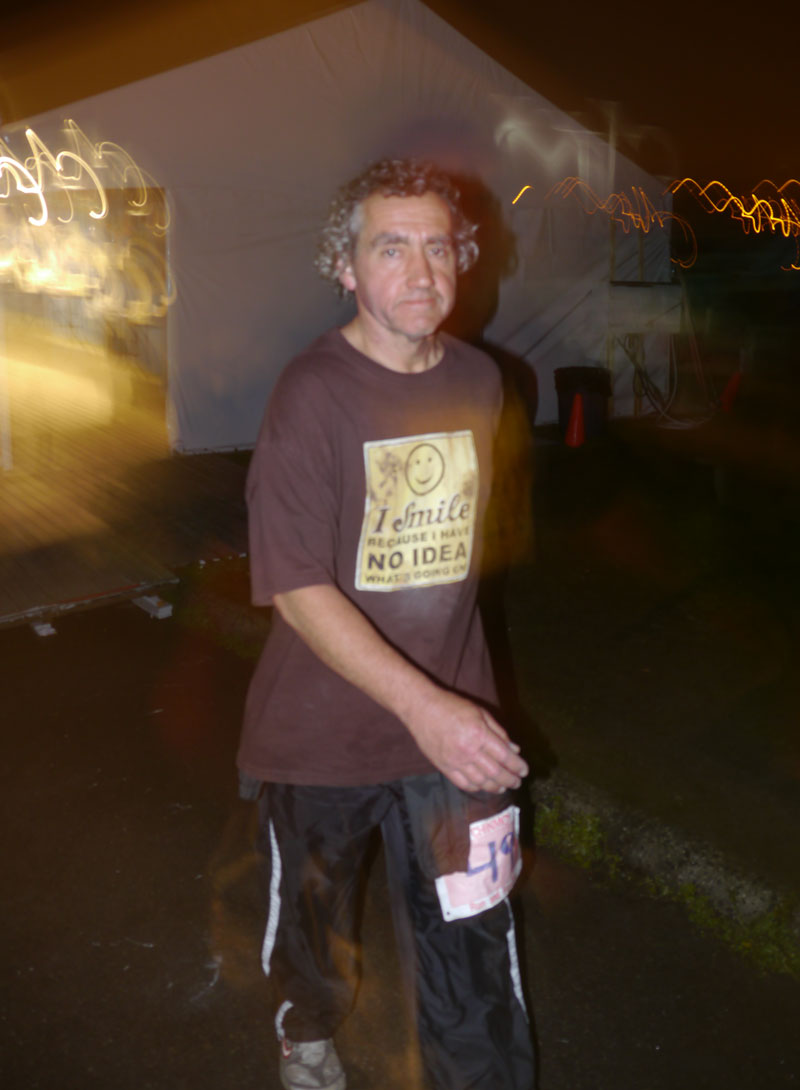 "He told me to never loose my ability to play while I was running."  He says that he deeply respected his relationship with Sri Chinmoy and appreciated that he had his own path to follow, "and yet he knew that I would always be a friend.  I would love and cherish the friendship I have with every member of the Sri Chinmoy marathon team organization."
"My last conversation with him was here at this race."  Ray was on his way to another race and had stopped by for a visit.  By chance Sri Chinmoy was visiting the race as well.  He believes it was in the spring time of 2007, the year he passed.  He says that they sat at the camp picnic table.  Eventually Sri Chinmoy had to leave to catch a flight to Oslo where he was going to give a concert.  "He repeated then, that he enjoyed my ability to play, and of course his appreciation for my coming out, and we talked about doing this event."
He says they also discussed the possibility of Ray running the 3100.  "You will know when the time is right.  So far the time is not right.  I have had too many years of working too much and training too little."  He is introspective in all this as he attempts to compare himself now to the runner he was 26 years ago.  He says that Sri Chinmoy told him that he would like the 3100 race because there was an imposed cutoff at midnight.  Very practical advice for a man who was told by a Guru that he liked to sleep.  Sri Chinmoy told him, that that at the 3100, after 18 hours everybody sleeps.  "Because if you go to sleep and get up to early you don't run well.  18 hours for you is no problem, it is a race that is well suited for you."
"I appreciated him for both recognizing that and sharing it with me."  He tells me that Sri Chinmoy was there the day he ran his best 100.  "He was out there, and every time I would come by there would be that quiet clap, and a nod of the head."  After his race he came by and told him, "Congratulations, that was a very good performance."  In that race Ray was second.  He says that despite not winning he was more than pleased with his performance.  He had run the best race he possibly could on that day.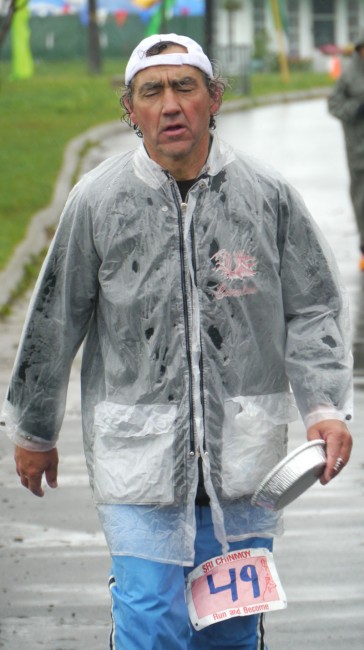 "I think that something that Guru was teaching the world, that there is a peacefulness to being out here.  To being within yourself.  I probably emote more than any other runner on the planet, and yet there is still the deep inside going on, even as I am singing to people, laughing, or giving advice.  I think that is the spirit of the event.  True spirituality comes from helping others."
"I think that was the other thing when you talk about Guru.  I think he understood, that for all the humility and for all the different reasons of running.   That as a true spiritual master he understood that humans do have egos, and we exhibit our egos in different ways."
He discusses the motivations he sees in many of the runners.  He says that at one point Martin Frye spoke with him.  He told him simply, "Run within yourself."  His best philosophy which he loves to share with all, is to give yourself permission to to be playful and to relax, and try and do what you can do to maximize your performance.  The other guys are going to end up where they end up."
Click to play Ray interview
[audio:http://perfectionjourney.org/wp-content/uploads/2011/04/Ray.mp3|titles=Ray]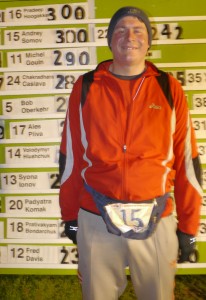 The light at this time of night is always gentle.
Small victories come at unexpected times.  Andrey Somov reached 300 miles.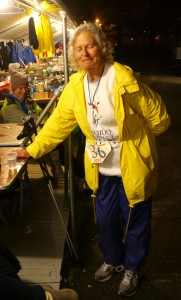 Pauses come in many forms.  Begalita is about to get a massage.
Larry Philips takes time to do a little shoe work.
Martin declares that the has a case of the "wobblies," and takes a 2 hour break.
Sarah jots down some notes and takes the lead.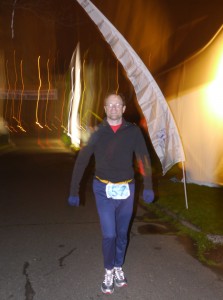 Allan Harman seems to be one of those who particularly love the night, or maybe it is just still for him Vancouver time.
Young Andrey Stefanov finds himself in 3rd place in his first 10 day race and needing a snack, but not a rest.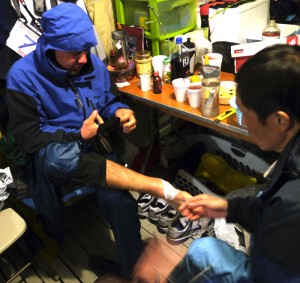 Medical never really takes a break.  Trishul is here tonight using his great experience to help keep the runners moving.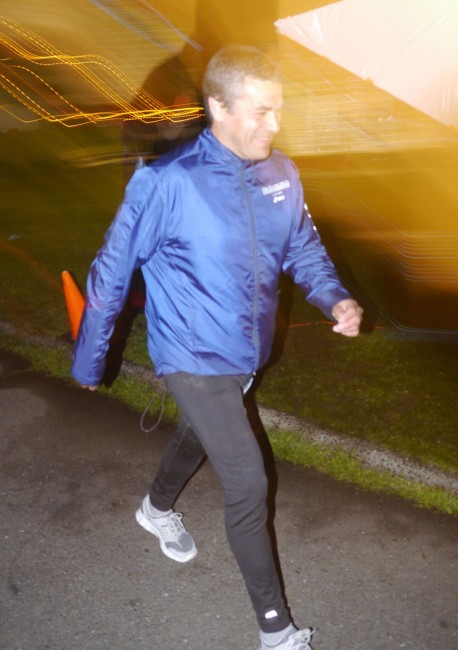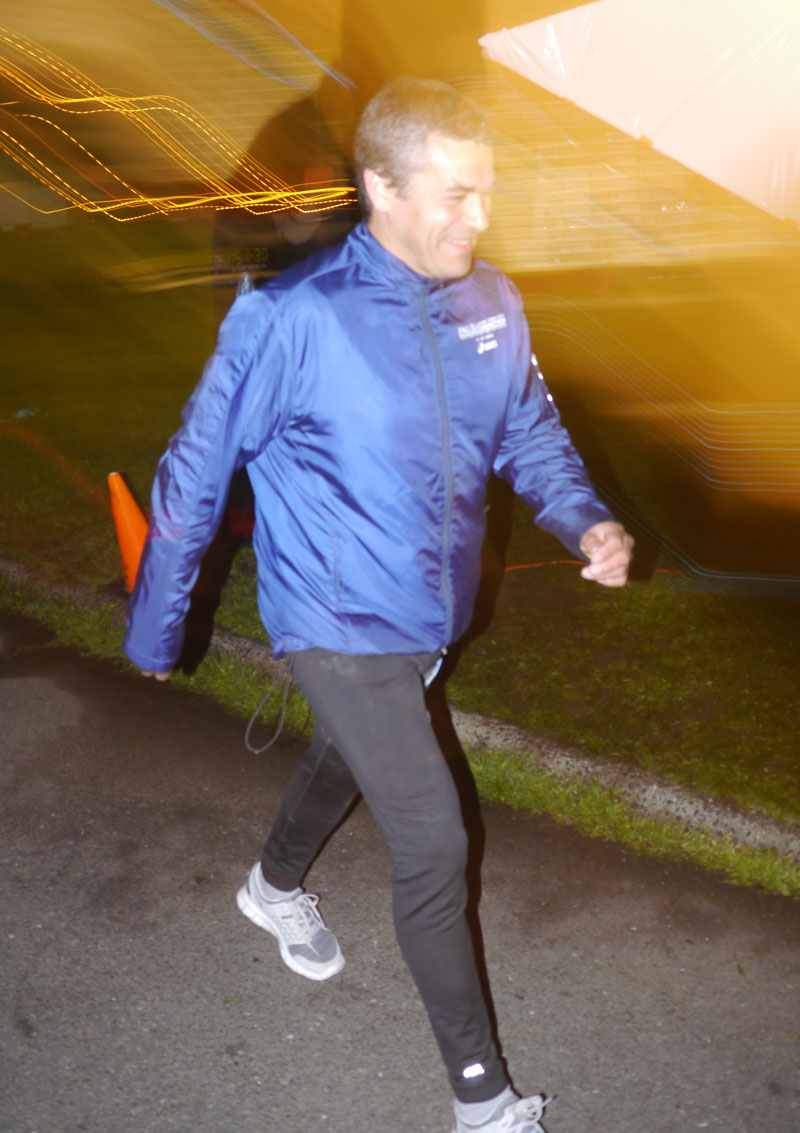 Pedro Gaspar from Portugal is running his first multi day race.  He is something of a sports psychologist and spent a great deal of time at last years 3100 mile race trying to understand the motivations and strategy of those that run there.  He is an exponent of the latest running footwear and I ask him about it.  He calls the minimal sandals he wore today, "In the morning I use the rain tire," and laughs. "Very good for the rain, no blisters, barefoot running basically."
"The furthest I have ever run is 12 hours in Prague."  At that time he was able to complete 80km.  When asked what has been happening to him here he says, " I have been discovering myself.  Mostly my body I have rediscovering.  How you can improve a lot of things in yourself, and transcend yourself in the process."
"It is a good experience.  I see it as an experiment.  For example I have never  run so far with the sandals."
He tells me that it was after a meditation back home that he had a very clear inspiration to come and run the 6 day.  "I didn't think about it, let's go."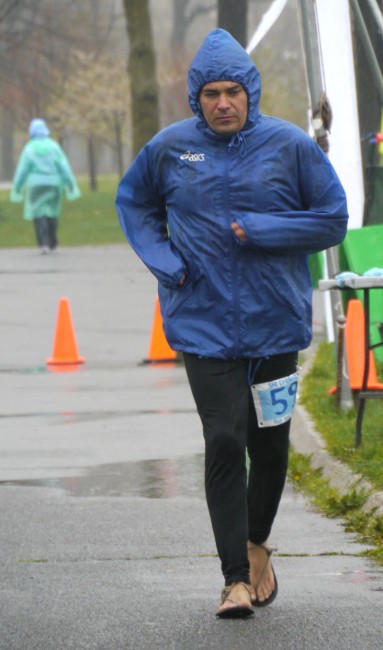 He spent quite a bit of time at the 3100 mile race last summer.  "You can learn a lot with that race.  There is everything there.  Everything you can want to find in mental training, motivation, determination,   goal setting.  Everything is there, self transcendence, everything."
He says that when he first looked at the race from a distance, he thought, "this is weird. A very strange race.  How can they do it?"  He had been helping out there for a while and he still hadn't understood.  Than one day he asked if he could run one entire day himself.  It was the first hand experience he says that he finally understood and from then on he could begin to fully research the race.
I ask him what he learned by running that he couldn't see from the sidelines.  "First of all it is not an easy race.  That is the thing.  The most interesting thing was the monotony.  So my mind started bothering me.  That was the most difficult thing I found at the race."  The answer he realizes it that you have to go beyond the mind.  "These guys get in a meditative state and they go beyond pain and they go beyond monotony and they transcend themselves.  It is an amazing race."
The best and most effective motivational technique is currently using on himself he says is, "basically I try and enjoy myself, and keep moving, moving, moving."  He isn't paying any attention to his mileage.    "When you focus on the result your mind goes to the result, and then you are not focused on what you should be doing.  Having fun and keeping moving."
Click to play interview
[audio:http://perfectionjourney.org/wp-content/uploads/2011/04/Pedro.mp3|titles=Pedro]
Bad dreams frighten me, My helpless vital. Good dreams enlighten me, My fearless heart. Earth-dreams discourage me, My infant mind. Heaven-dreams illumine me, My orphan-body.
Sri Chinmoy, The Golden Boat, Part 16, Agni Press, 1974.