Every sane and sensible person is taking it just a little bit easier today in New York city.  Up and down much of the eastern seaboard, most people are taking special precautions because of the now official heat wave in the area.  In New York city and in other cities, cooling centers are being set up to take care of the elderly and those who do not have access to air conditioning.  Where ever you may be during this hot period the smart people are telling us to drink lots and lots of fluids to stay hydrated.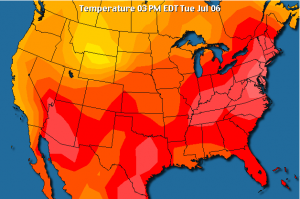 The human body likes to keep a core temperature of 98.6 F.  It really isn't happy when it goes above or below this number.  In winter we have pretty much figured out how to stay warm but when it comes to summer and temperatures above 98.6 there is simply no easy fix other than to take it easy and drink lots.
(the weather map doesn't even have a proper color for this kind of heat)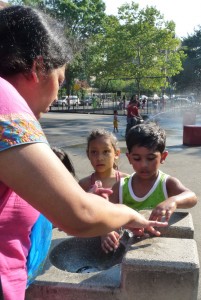 I started reading up on this subject recently and the information is just plain scary.  The body, in its desperate attempt to stay cool pushes more blood towards the skin surface.  It then grabs moisture out of the body and throws it to the surface of the skin in the form of sweat.  The body makes this its main priority and shifts its energy from all the other tasks it is supposed to do, like moving and maybe even thinking clearly.  When you factor in that the air around us, because of its added humidity it just cannot accept our body's heat.  At this point a person under physical stress is potentially in for some real trouble.
The 11 runners here have heard the scary stories about the forecast and are living in the perilous reality that has now befallen the course.  They are drinking and they are slowing down, but they are also not stopping or giving up.
There is very little evidence that any creatures in nature are designed for sustained activity in high temperatures.  Yet the 11 runners are are doing just that.  They run slower, they run smarter, and they listen to their bodies closely and they listen to their hearts even more.
The cooks are the unsung heroes of the 3100 mile race and there is never enough praise for the effort they put into keeping the runners moving.  Nirjharini has been managing the kitchen since 2004.
This year she is in a brand new facility which was built and designed just for the race.  I visited the kitchen for the first time and was impressed by its set up and just how much energy it takes to keep it running.  When I visited yesterday afternoon only Nirjharini and Maria were there but there are others who help through out a long day.  The others not present right now are Caroline from New Zealand and Tanya.  There are others who volunteer as well from time to time.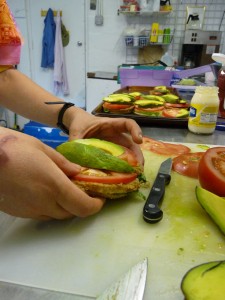 It was 4:30 and I was suspecting that dinner was being prepared but instead it was just the late snack for the afternoon.  Vegi burgers with avocado on top.  "In the afternoon they get quite hungry, so we make a few snacks in between lunch and dinner."  She then launches into a gourmet list of treats that most people would not expect to be displayed out on table beside a busy sidewalk next to a chain link fence.
"We try to adjust the food according to the weather.  When it is cold they are much more hungry.  When it is hot they need lighter food and also hydrating food.  Also a lot of drinks with electrolytes in them. "
On one wall are cards with the names of all the runners and their special dietary requests.  Birthdays are also included so that those whose birthday comes during the race will also be sure to receive a special cake as well as all the other treats that come out through the day. Petr's birthday will be on the 20th followed the next day by Galya.
With her in the kitchen as we make our brief tour is Maria from Hamburg.  She is cutting up potatoes and is enjoying doing one of the most basic and necessary of food preparation tasks.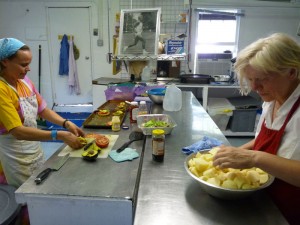 Her day starts well before the runners show up at the starting line.  She and her crew are then kept busy until about 9pm every night.  She loves her kitchen and she loves cooking for the race.  The runners are fortunate indeed to have such loving service offered to them throughout their long day of running.
Take a Tour of the Runners Kitchen
After leaving the runner's kitchen I found out that I had volunteered to transport the burger snack over to the race a few blocks away.  When I got to the race I found out that Darrell, one of the race's chiropractors, was busy working on Stutisheel.  He has been to the race before and enjoys helping out from time to time.  Stutisheel was now into his 4th day of hip pain and he was eager for an adjustment and help of any kind.
When I ask him if he has seen any athletic event quite like this he says, "not this extreme.  Absolutely not even close.  I take care of many extreme athletes.  This is far and above anything I have seen before.  You see here a lot more wear and tear.  The body is not given a chance to heal like all other athletes in every single other sport.  There is so much more wear and tear.  So much more oxygen depletion of the body.  The body just needs that much more recovery time that they are not able to get.  That's why we need to be out here to help assist them in every way possible to get them that extra bit that they need."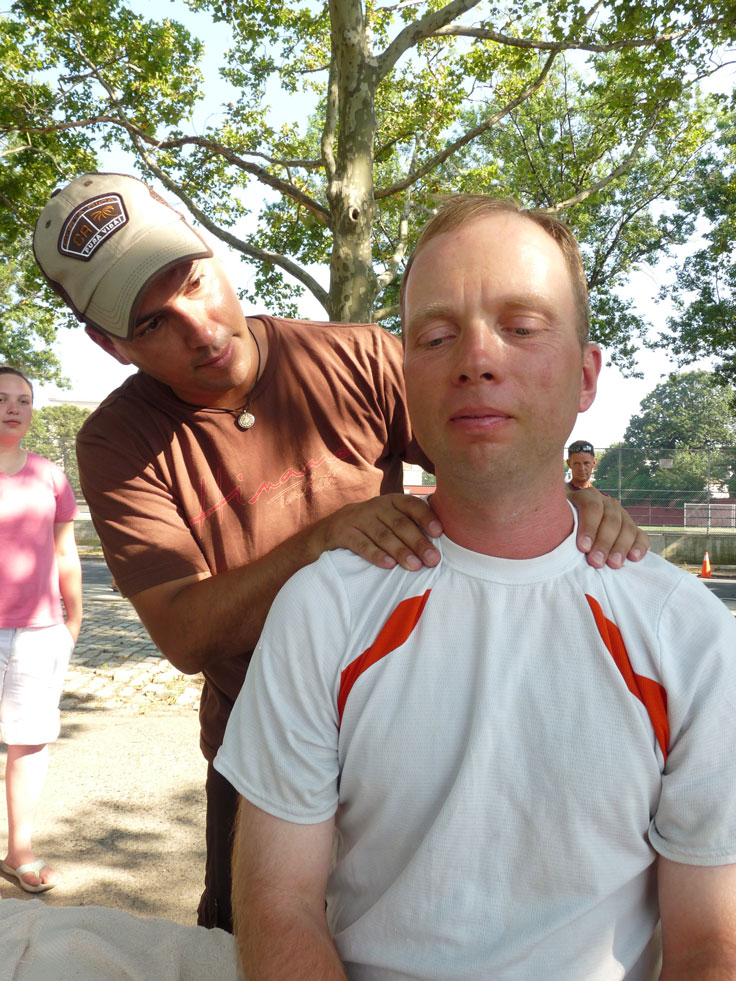 "I have taken care of almost any extreme sport that you can think of, from jumping out of planes, to surfing, to ultra marathoners but again, nothing comes close to this."
He speaks then about Stutisheel's physical problems.  His problem with his knee he believes is because his hip is very much out of alignment.  His adjustment of this area he hopes will then take the pressure off the knee.  "He may not feel something right away because there has been a lot of wear and tear to the knee."  He tells Stutisheel, "your knee is not going to have to fight as hard."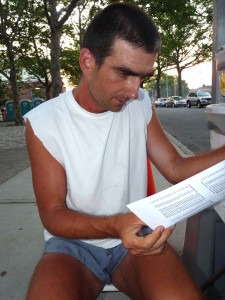 The next day the toll the weather has played is evident in the decreasing mileage for nearly everybody.  Pranjal dropped 5 miles yesterday and Asprihanal dropped 3.  Pranjal notes that only Dharbhasana somehow increased his mileage.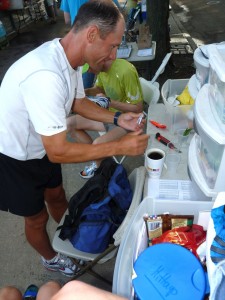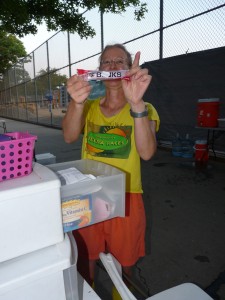 Pranjal and Galya will also pass the half way point later today. They say that coffee is the worst thing to drink on a hot day.  Galya's mileage went down only a little.  He still ran 61 miles.  Surasa has some special energy bar that she is enjoying this morning.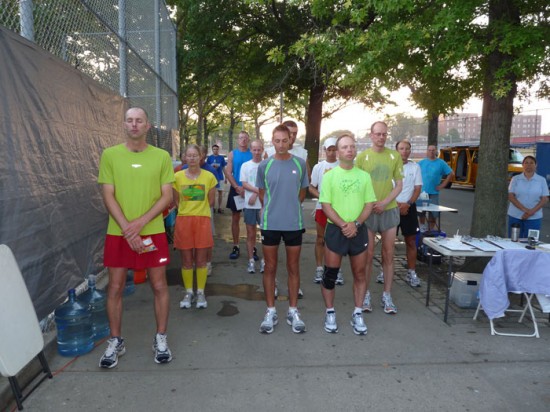 Start Day 24
Running with Galya this morning the thing most on his mind is not that he will reach the half way point but the condition of his friend and fellow Ukrainian, Stutisheel.  He says that when one of the runners is injured that they all feel it.  He has seen the heat also affect the performance of his friend Petr.  In light of their struggles he feels that he has done pretty well the last few days.  "It is really difficult." He also feels that he has been loosing weight because of the added effort he has had to put out because of the heat.  Still is is for him, "run, run, run, keep going."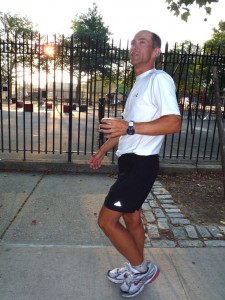 He says that some of the runners of course have let the weather become the main topic of conversation.  He admires however Asprihanal who when asked about the weather says, "I don't care."  This attitude he says has really inspired him to try and be indifferent as much as he can to the conditions and just simply focus on what he has to do.  "Complaining only makes troubles for yourself."
He tells me how the temperature got hotter and hotter yesterday and still he was able to run, amazed at this he says, "still it is possible."  By 5 o'clock the temperature had dropped just a few degrees and then it once again became easy.  He felt that his body as well had simply adapted to the heat.
We go by the kids fountain area and he tells me that a couple of runners went in yesterday to cool off.  He says that the first 2 weeks here he was ahead of last years progress, but the last 4 days his mileage has dropped a little.
He is optimistic about his race, "still it will be better.  We will see.  It is better not to make plans as somebody planned it for you.  I can only run here and try and do my best today. This is everything."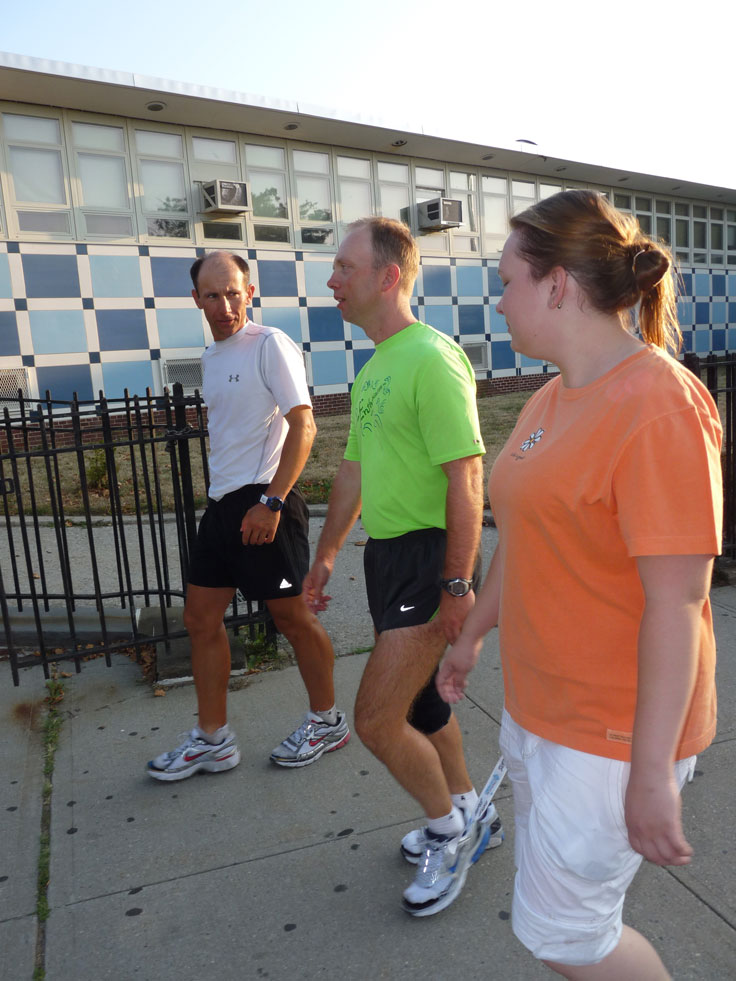 This morning Stutisheel and his daughter Alakananda are walking the course together.  Yesterday he was able to complete almost 38 miles.  It is a slight improvement over the day before.  He wears a brace on the knee but he is clearly in pain.  At one point as I run by he almost topples to the ground in pain.  She comforts him as he is bent over double.  He pauses for a few minutes, pulls himself upright, and then continues his long march forward.
My Heart was born
For God Satisfaction tears.
Poem of the day by Sri Chinmoy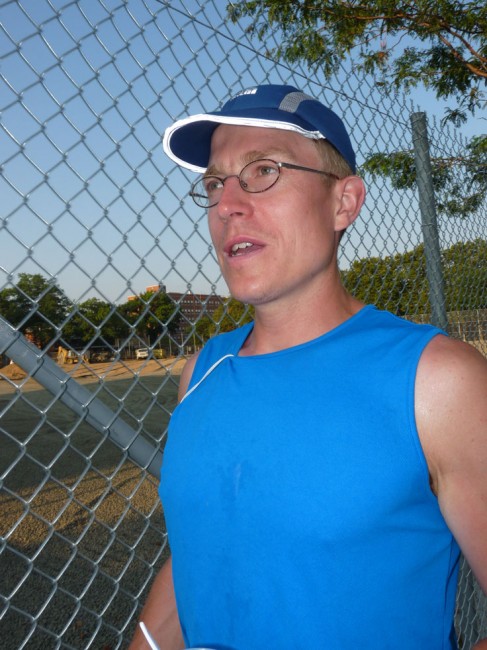 "Many of the runners have decided not to hear their laps any more." Purna-Samarpan has just made a joke with the counter Niriha this morning.  He stopped asking for the laps because, "my mind just started calculating every time.  Okay it is 12 hours left.  If you do so many laps you will end up with this and that.  For me it took all the joy away from the running.  It really helped me not to hear the laps.  Otherwise it is like slow motion.  Now I ask every 3 or 4 hours.  Sometimes I am surprised that I have more than I thought, and sometimes I have less than I thought.  I can much more enjoy the running."
Come what may, come what may,
My heart must pray, my heart must pray.
Song composed by Sri Chinmoy
Performed by Enthusiasm Awakeners
"When I compete only with myself, I always get tremendous joy. Yesterday I had one standard, but today my standard has gone higher. Yesterday I had a certain number of weaknesses or defects in my nature, but today I will try my best to have a few less. In this way I am always making progress and I am always happy. Here there is no third person who is judging the two competitors. I myself am the judge. I know how many lies I told yesterday, so today I shall decrease the number. Again, yesterday if I prayed for five minutes, then today I will try to pray for ten minutes. Good things I will try to increase and bad things I will try to decrease. In this way I am competing only with myself. In sports also, our goal is to do our very best and try all the time to compete only with ourselves. But whatever the result, we have to accept it cheerfully. We will do our best and then, whatever result God wants us to have, we will accept."
Excerpt from Sri Chinmoy Answers, Part 2 by Sri Chinmoy