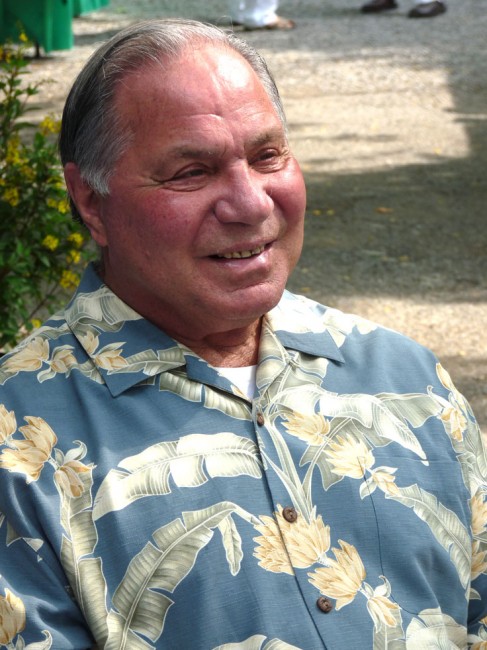 "I am awestruck.  You can't put it into words."  This morning, one of the greatest body builders of all time, Bill Pearl has come by to visit the race.  25 years ago, on this day in 1985, Sri Chinmoy first entered the world of weight lifting.  It was a sport that he would continue on for the rest of his life.
From the very early years Bill Pearl became an adviser, intrigued that a 53 year old spiritual teacher would take up such a sport.  Very quickly the relationship deepened and they eventually became the closest of friends.
In a few hours an anniversary celebration will take place nearby.  He has been a unique witness and supporter of much of Sri Chinmoy's many remarkable achievements. Because he has observed countless of Sri Chinmoy's astonishing accomplishments in a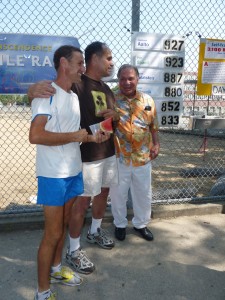 multitude of fields, he is not surprised that such an event as a 3100 mile race is still taking place.  He himself still feels a heart felt connection to Sri Chinmoy and continues to be motivated by his inspiration.  He is still incredibly fit, and does not look at all like a man of 80.  He still subscribes to the philosophy of daily exercise and demonstrates that a vegetarian diet does not decrease one's strength.
"If you are talking about world harmony, and changing the world, if things like this don't do it, it is not going to be changed by anybody."
He is with his wife as we are talking and I ask what in particular his relationship with Sri Chinmoy did for him.  "It changed our lives.  Not only religiously but also our thought patterns.  He was the epitome of what a true friend is.  I could relate to Guru and he could relate to me.  He was kind enough to ask me for advice, and he actually took my suggestions, which is the biggest compliment I could receive."
"The average person doesn't understand what a 500 pound weight is or what it looks like.  I was constantly suggesting to Guru to lift things that are visual."  This would lead to Sri Chinmoy lifting practically every imaginable heavy object.  In particular his, "Lifting up the World,' became his own unique way of honoring people and inspiring others, by lifting up people, who stood on a platform above his head.
He says that in the beginning Sri Chinmoy first started it all by lifting a 40 pound dumbbell.     "That isn't a heavy weight by my standards. "  Eventually he progressed to lifting, as he calls it, "unbelievably heavy weights.  He said the relationship began simply enough by Sri Chinmoy asking questions of him.
Than he says, "I started asking questions of him.  I became more and more fascinated.  He was trying to promote world peace through nonviolent efforts."
He is still an ardent promoter of daily exercise and says that if one has the discipline to exercise than that quality can contribute to your well being in all other fields as well.  "If you take a stand on a daily basis, like these people who are doing this run.  If you do something like this, you will do this with everything in life you attempt to do.  It goes hand in hand."
When he is asked what else he will doing while he is visiting Queens, he says, "I will be smiling the entire time.  That's it period.  That says it all."
Yesterday, both Petr and Pranjal ran the most miles, just over 69.  Petr is experiencing some blister problems and is attending to them this morning.  The wastebasket at the race sees a lot of objects thrown into it.  Most days a pair of shoes will end up here after running who knows how many miles.
Start day 14
"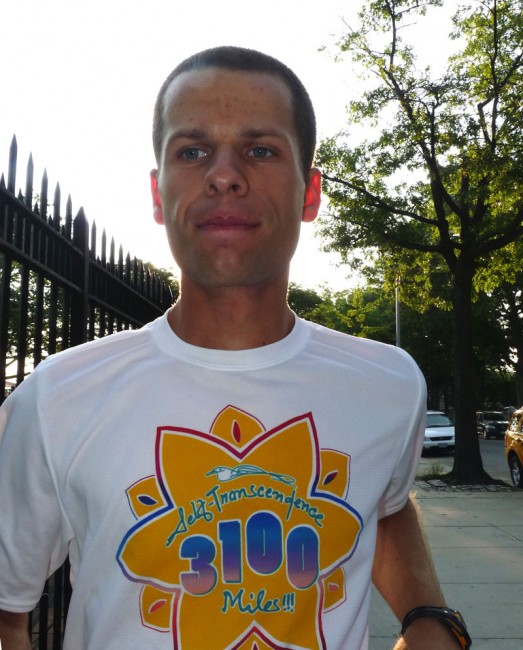 I am warming up a blister."  By the end of his running day, tomorrow night, Petr will have completed almost certainly, at least 1000 miles.  That he is being bothered by them at this stage in the race would be no surprise to anybody.  It is however a condition that has not tormented him in quite this way in his previous 3 races here.  "usually I don't have so many problems with blisters.  I will fix it somehow."
Pranjal, who also ran 69 miles yesterday, he says is a blister expert and has given him advice in how to treat it.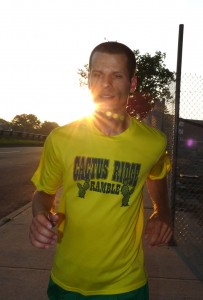 He, like all the runners are excited by the weight lifting anniversary that is taking place.  He said that before coming to the race this morning, he went to the place where the celebration will take place, just to see some of the heavy weights that Sri Chinmoy once had lifted.  "I think for us, we could hardly imagine how much power, he put always into his lifts.  It was just unbelievable."  He describes that this aspect of Sri Chinmoy's life was unbelievable for him.  He really appreciated all sports and could understand how incredible it was for Sri Chinmoy to lift so much weight.  "I always admire it very much.  It was something, very, very, special."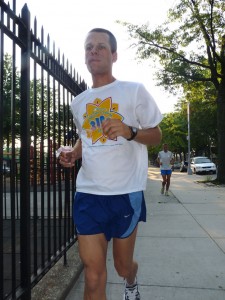 He says that day 12 was very difficult.  "I lost all my energy completely after lunch.  I had to really slow down a lot.  And then I was really grateful that I did 64 miles."  He was suffering so much at the time he didn't even think he would reach 60. "It was so hot, humid, this combination.  That day also Asprihanal had problems, as did Stutisheel.  Many people lost mileage that day."  He describes Pranjal as a dark horse of the race.  "Slowly and steadily going up." He says that Pranjal trained more than anybody else in the time following last years race. "He has been running a marathon every weekend, that is the result."
As we are running together we come upon Asprihanal who is just ahead of us.  I ask him if the presence of Asprihanal on the board, just a few miles ahead of him, is it inspiring him to try harder.  "I am running my own race.  I am not really watching the board.  I don't really care about that.  Maybe it will inspire him to make more miles."
He is trying to be consistent, but at the same time be spontaneous.  "Not pushing too hard.  That is my secret. I am really trying to listen to my body.  If my body is exhausted, the mileage is not really important.  It is actually nice that I am so close to Asprihanal.  It is still the beginning of the race."
"I have been living here for 40 years and I have been seeing this race for many many years."  Edgar Gerome has come out today to take a walk with his son and their new puppy.  Daily dog walking has inspired  him to take a closer look at what has been taking place so near to where he lives.
He has been familiar with the names on the board but until today he has never been able to connect the names and faces.  Today he is learning who Asprihanal is and is enthusiastic to learn more.  Referring to him he says, "he is so competitive and top at his game."
He has been talking to Michael who is one of the counters today who has described that it is an inner race as well.  "It is remarkable what the human body can endure. "
"My God gratitude
Is my Heart's most special treasure."
Poem of the day by Sri Chinmoy
Purna-Samarpan is upbeat this morning like I have never seen him before.  Yesterday he ran the most miles since his very first day here.  It is as though he is at last really getting into the rhythm and flow of the race.  "I felt it coming for a few days.  Everybody says that the first 2 or 3 weeks are for training. Yesterday I was able to keep it up all the time."  He says it was very hot and he had to walk for a time, and despite taking all his breaks, he still did well.  "I didn't push.  I was patient.  I kept going and still I had 108 laps.  Which I am very grateful for.  Yeah, I hope there are more days like this coming up."
He tells me as well that there are a few runners who feel that one of Sri Chinmoy's songs they like a lot expresses his philosophy about running the race.  "We kind of feel that this is how you should run the race."
"No, no, no pushing no pulling
Just loving and self-giving."
By Sri Chinmoy
"Once you push too hard, you have to pay for it latter.  That is how I experience it here.  You might have a bad day a day after or 2 days after.  Well we will see if I am right.  I think it is really about patience, and really just trying your best."
"Competition is the mind's bravado vain glory.
Oneness-participation
is the heart's humming sweetness."
Song composed by Sri Chinmoy
Performed by Enthusiasm Awakeners
Competition is the Mind's bravado
God's Oneness-Love
We see, feel
And one day shall become.
Therefore, we are not awestruck
By God's transcendental Height.
Excerpt from Twenty-Seven Thousand Aspiration-Plants, Part 147 by Sri Chinmoy