This morning there was a celebration of sorts before the start of the race.  It would never ever appear on the radar of typical big time New York parties  but it still  meant a lot to those who are part of the 3100 mile race family.  Purna-Samarpan turned 33 today and all those who were there took a moment to wish him a happy birthday.
At the best of times, time itself is a precious commodity.  Perhaps nobody is compelled to examine the passage of time quite like the 11 who run here.  How, in an ironic fashion, you can be both a slave and a master of time simultaneously. The tiniest details gather such incomprehensible importance as the days and miles past.  Simple things like rest breaks that slip on just a fraction too long.  Taking extra steps to grab a hat or change a faulty shoe.  The most insignificant elements that add up to a missing lap here and there over the months long journey.
This is Purna-Samarpan's second time at the race and the experience and training he gained here last year he feels was an invaluable preparation in order to transcend his effort  here this year.
Last year he was unable to complete the full distance but still had a powerful and transcendent experience.
Many would think in unimaginable to spend a birthday here doing such an impossible task.  For the 11 however the ultimate goal they strive for is far beyond the realm of cakes and party hats.  Though a birthday cake will show up at the race soon.  The ultimate gift that he seeks he cannot get today.  Where his dream takes him is to be able to simply go the distance this year.  To challenge impossibility and then reach beyond.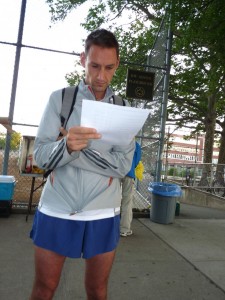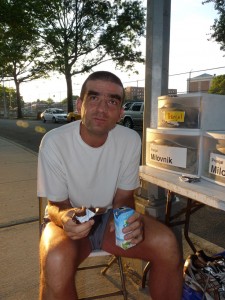 The one and only reading material that most runners take any interest in is the printed daily result records.  Dharbasana has had a good second day with 64 miles and seems to be getting more in sync with the race each day.
Pranjal enjoys a power breakfast.  Main course a daily Snickers candy bar.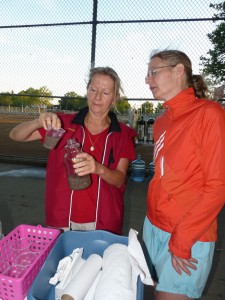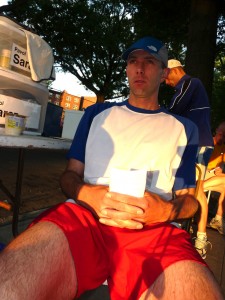 The fad supplement of choice does seem to be less caloric but maybe not quite as tasty.  There has been a run on Chia seeds.  The health food store has run out and will not have any more until Thursday.  The runners cannot be the blame of this.  One of the benefits of them is weight loss which cannot be considered a positive benefit to the 11.  Taking a few minutes of rest is good for all.
Checking and fixing shoes is a regular job for most.  Pushkar had a good second day with 67 miles.  Surasa typifies the best qualities of the 3100 mile runners.  She is strong, confident and more importantly, she is joyous.
Start of Day 3
.
"It is nice to talk to somebody," the birthday boy, Purna-Samarpan is glad to have a little company on the first few laps today.  It is sometimes hard to imagine that it can get a little lonely out on the course, especially when you can feel that you are exposed to the entire world.  The reality however is that unless you find yourself running with someone who is matching your own pace you will most like be passing other runners or being passed.
"I am feeling very well.  I am always taking the comparison to last year, and I am doing much much better.  So I am very happy about that."  Despite not making the distance last year he was a consummate runner.   He never seemed unhappy and was always confident about his presence in the race even though as each day passed it became glaringly evident that he would simply never be able to make the distance.
He feels that last year was good training for him.  He had precious little experience with a race of this magnitude and describes it as, "jumping into cold water.  But still I was grateful that I could do it.  It was a really good experience to learn.  It is so hard to train for something like this."
For him the coming to the race every day was not the hard part.  He feels that his body was just not prepared to run enough miles, to come anywhere close to reaching the finish line.  He did have as well problems with his feet.  He says that the notion to quit never even occurred to him until day 41 when a new injury showed up in the form of sciatic nerve pain.
He says that it was a turning point of sorts and that it made him change his approach from being a runner trying to finish to instead being one who was gathering experiences of another kind and also feel as though he was laying the groundwork to be able to attempt to do it the following year.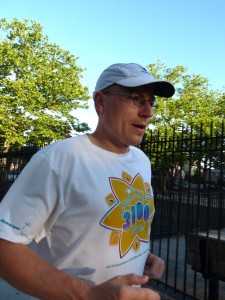 When asked what he gained most from his participation last year he says, "for me the main experience really was inner peace and freedom.  All though you run around this small block here.  Outwardly there is not much freedom, but inwardly it was just great."
What takes place here is not something easily quantified and examined.  He says that after the race last year his feeling of being changed and transformed by being part of the race was echoed in comments from his friends who told him how different he looked as well.  "It is hard to describe what really changed but I definitely felt different."
Without question it did take some time for him to fully recover physically from the race.  In particular his feet needed time to heal but he says by the time December and January rolled around he had the feeling clearly once again that he needed to return to the 3100.  As we run together on a perfect June morning he adds, "I am happy I did."
Part of his preparation was simply doing more long training runs in a row.  On one occasion he even ran 3 different marathons on one weekend.  He also realized that the magic number that needed to be completed each day in order to complete the race is to be able to run 100km each and every day.  He adds, "I also tried to really relax while running.  To not feel tension anywhere, and it has worked much better this year.  I feel much better than last year.  I feel as if my body has adapted to it, and I am much better prepared."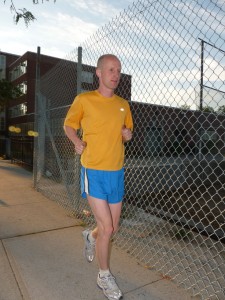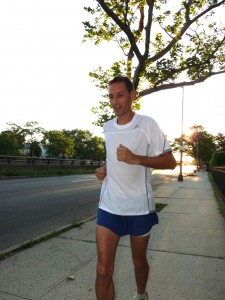 Ananda Lahari 35 from Slovakia is here for the 6th time.  He has a solid 2 day total of 134 miles.  Dharbasana after not a great first day now has a 2 day total of 125.
Surasa has a 2 day total of 129 miles, which puts her in the thick of things.  Stutisheel has 132 miles.
"My soul and I can easily see that God is constantly smashing his own compassion and forgiveness records."
Song and melody composed by Sri Chinmoy.  Performed by Enthusiasm Awakeners.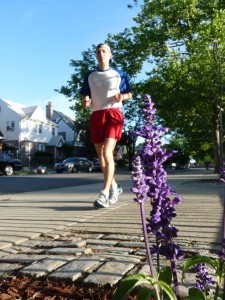 A beautiful rose
Was my gift to God.
Fortunately, I did not expect
Anything from God in return,
Not even a smile.
That is why I am divinely happy
And God is supremely proud of me.
Excerpt from Twenty-Seven Thousand Aspiration-Plants, Part 109 by Sri Chinmoy