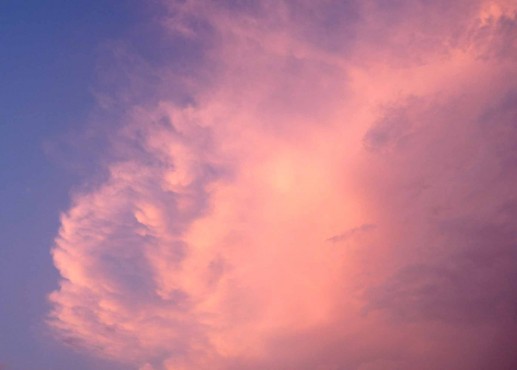 Today the dawn sky is breathtaking.  In more than 40 days of 6 am starts the sky has never been so beautiful as it is on this morning.  Because it is Sunday there is also a tranquility present that one cannot find on any other day.  Usually it is darker as well.  Somehow the combination of white cloud and humidity seems to accentuate the soft brightness in the sky.  It is such a powerful experience I wonder how many others are out at this moment  basking in its radiance.  By the time I make it to the race the pink glow has faded nearly away and the sky now is mostly gray.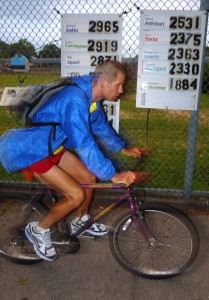 The tired runners cycle to the start most likely oblivious to the magic moment, that had for a short while,  spread out in a vast enchanting panorama above them.  For some their journey is just a few short days away from being complete.  The inner world they inhabit much of the time however has vistas much more compelling than that which for a brief while played out across a New York sky.  They may not always see the beauty of the inner world they are traversing but it is there nonetheless.
Of course they are part and parcel of this world we all struggle sometimes to inhabit.  Within them however the journey of the Self-Transcendence runners is beyond our reckoning.  The laps we can count and log but they are traveling on a sacred journey that precious few can follow.  When they have completed their task in time they will seem as mortal as the rest of us.  For now though, as they are embraced by the bountiful spirit of Self Transcendence they are not like us at all.  And if we look closely we just might see their footsteps arching across a glorious inner sky.
I invoke the flaming dawn.
Someday, someday,
This life of clay,
This vital display
Surely shall die;
I shall own bliss-sky.
Excerpt from From The Source To The Source by Sri Chinmoy.
Sutisheel looks up towards the sky when I start to describe how beautiful it had been just a short while earlier.  It is uncomfortably humid right now and the beauty has much faded away.  He is perhaps a little distracted by more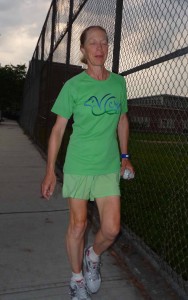 important things.  Yesterday, in what can only be described a stellar day of running, he ran nearly 72 miles.  To put some perspective on this achievement it was the highest runners total for the day and the longest he had run on any day this year.
Suprabha had a tough day yesterday.  Her back pain caused her to have the lowest mileage day of the race.  You will not see her complain or dwell upon it.  She has still more than 700 miles to go.
For more than a lap Petr speaks to me about the life of the famous 12th century Tibetan monk Milarepa.  He recounts for me a story of his early life when he first began his search for enlightenment.  It is a story filled with intrigue and folly.  Milarepa he tells me attained great powers and then abused them.  It would take years for him he says to make right the mistakes of youth.  Eventually Milarepa does reach his inner goal and becomes a teacher himself.
As fantastic as the stories of his life his written teachings have withstood the test of time and still can easily speak to a modern generation.
To the hermit's life and the Guru's wish
One can always aspire, but few
Can put them into practice.
The perfect, skillful path of Naropa
May be shown, without concealment,
But those who can really follow it
Are very few. My dear lad,
You should follow in my footsteps
If in this life you want to do
Something that is worthwhile.

— Jetsun Milarepa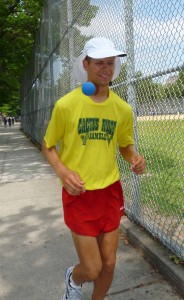 Petr is more than 200 miles ahead of last year.  He was one of the 4 who ran 70 plus miles yesterday.  He tells me of all the speed work and racing he has done in the past year.  His marathon is resting on the edge of being under 3 hours.  He says, "speed is one of the most important things here."  He tells me it may not look like it is but it affects not only your lap count for the day but also how much earlier you can go home for the evening.
It is also quite hard to comprehend how it is possible after running nearly 72 miles but Petr also tells me how much relaxation and joy he gets from watching cartoons when he goes back to the place where he stays.  He says, "it is how I relax in the evening." He tells me that getting relaxation is crucial due to the pressure one can be under nearly all the time.  "It is running running running and nothing else for 2 months."  He describes this experience as being particularly difficult for those who have never tried anything like it before.
He has been inspired by some of the encouraging messages he has received since the race began.  Some are from family and friends but some have come from those he does not know but who have been inspired by him and the race.  This sincere caring he really appreciates and is humbled to think that others would care so much about him running here in New York.
He tells me that when he is in a particularly good consciousness he tries to inspire others.  He mentions how the previous evening he found himself just running very fast.  His pace he says was 9 laps per hour which is fast by 3100 mile race standards.  He describes how at that time he just focuses on his running and nothing else.  He says, "you just go. You just run.  You take your drink and don't stop."  He says at these moments it is all about being concentrated and one pointed about the race.  He says, "sometimes days are like lifetimes."
Late in the afternoon Asprihanal will come by and announce that he has just past 3000 miles.  He is in a celebratory mood and no matter any discomfort he may be experiencing will feel the final 100 miles pass by like a gentle sweet breeze.  This is his last full day of running.
Pavol tells me his latest poem.Pavol poem
As the day progresses the sports fields nearby fill up with activity.  Across the road soccer is played on the field beside Jamaica High school.  In the Joe Austen playground baseball is played.  At one point Petr tells me how much he once loved playing soccer.  He describes goals he was able to make from a corner kick.  How much power he had in his legs and his ability to bend the flight of the ball.  The only ball he is much interested in these days is the blue one in his hand which he has bounced for many miles.
There are some of course here on and near the course who are not interested too much in sport of any kind, at least not just yet.
True, the temptation of the world
Is powerful.
But even if for lifetimes
The soul does not make progress,
A day will eventually dawn
When once again it will start
Its progress-journey.
Excerpt from Ten Thousand Flower-Flames, Part 88 by Sri Chinmoy.