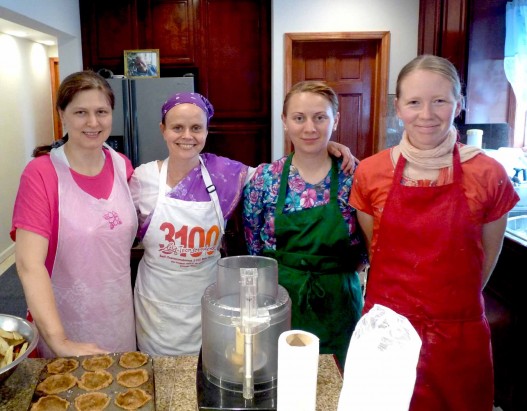 They are not seen over at the 3100 mile race that much, but what they do in this little kitchen, a half mile away, is crucial to the well being of each and every runner.  The food they make with such love and selfless dedication is constantly present, even if they are not.  From the moment the race is set up in the morning, snacks are ready for the tired runners, who often snatch something the moment they arrive, and then again when they leave at night and even perhaps every lap in between.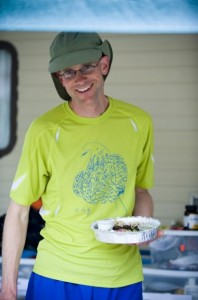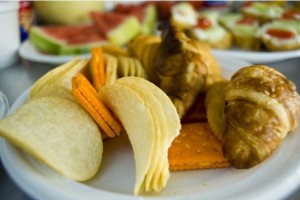 Before the runners have even woken up the cooks have already started to prepare the fuel that will get them through the day, through the many weeks and miles, and right through to the very end of their 3100 mile journey.  Their efforts here can not be measured on a board or marked in miles.  What they accomplish can be seen only in the strength and well being of the bodies who will run those unbelievably long miles.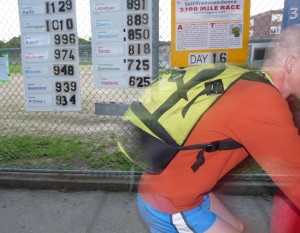 Today is one of those singular days that appear as special for those who love milestones and yet, for the runners, it is just another number.  Today, almost certainly 4 more runners will  pass the 1000 mile mark.  Elmar has at last arrived.  He is a full time music teacher in Austria and has spent his summers here helping for the past 14 years.
There was a new kind of soy based yogurt on the snack table this morning.  It had a large picture of a panda on it.  Suprabha jokes, "I wonder if it is Panda flavored."
Nirjharini has been organizing and preparing the 3100 mile race food since 2004.  When you see the snacks set out with such love and beauty on the table it is hard to imagine sometimes what care and concern went into making them even appear. 
The meals are tailored meticulously to the needs and wishes of athletes who are giving of themselves 100% which perhaps makes their job both more demanding and more satisfying as well.  Miracles are happening out on the course because these dedicated cooks are giving the runners food energy to sustain them over the miles.
Nirjharini says, "It is a really important job, and since those runners are real heroes. It is really important that I can give them something that gives them energy to make them run.  Also of course they should enjoy the food. I try and feel what they need or would like to have so they can also have a little joy."
Ujjwala has been coming for the past 5 years to the race to help Suprabha and began last year to help with the food preparation.  She has run multi day events so knows a little about the unbelievable demands of the sport.  More importantly however Ujjwala is a full time cook at the Lotus Heart Cafe in Christ Church New Zealand and brings some unique culinary talent to the mix.  She knows that the hot days of Queens require a delicate balance of foods.  "It is so hot here, there are many more lighter foods like miso soup and sushi."  One constant of the food table at the race she add is watermelon.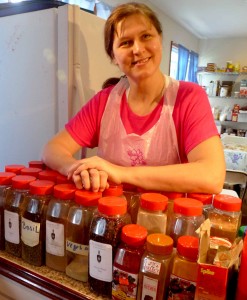 The runners are weighed every Sunday and I ask what, if any this information is to them.  Nirjharini says, "I don't want them to loose too much of course but then again I try not to have worries.  Because then my worries would go into the food.  I really try to stay happy."  If there is one most important thing about their food preparation all seem to agree that consciousness is a number one priority.  "We really try to be very harmonious," adds Nirjaharini.
She is the first to start the daily cycle around 5am in the morning.  One of the first thing she prepares is chai tea.  She mentions that Asprihanal told her one morning, "the chai you make for me in the morning tastes soooo good, and it gives me energy."  Next to arrive is Sukhada who claims not to be a cook but fulfills lots of other tasks.  I saw her carefully filling muesli containers one morning.  Ujjwala comes in at 6am to prepare potatoes, eggs, and tofu.  Luba will come next.  At the moment she is doing a clean up with great joy. The last snack will go out at around 9 pm in the evening.
The mood is very light here.  It matches the brightness of the ultra clean kitchen that is filled with the fragrance of dozens of delicious aromas.  The lunch is nearly ready and the hot and tasty food will soon be heading out the door and driven over to the course.  All 4 girls feel, that as important a job it is to prepare food for the runners, it may be more important for them to remain cheerful.  This joy in turn will be imbued into each and every morsel that comes, not just from their hands, but from their hearts as well.Interview Cooks
Before I leave they sing a song for me that they enjoy singing together.  They also recite this poem written by Sri Chinmoy.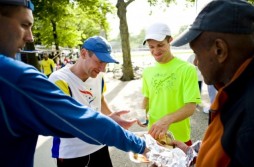 "My Lord i do not know what I am doing
but I know that you know what you are doing in and through me
for you manifestation
here on earth."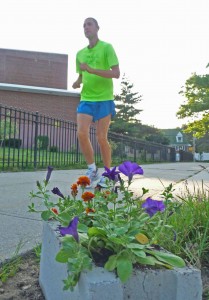 A beautifully conspicuous and welcome addition has been added to the 3100 mile course since I was last here.  Diganta, who had planted some flowers around the course before he started now has seen his little floral inspiration expand dramatically.  The past 2 weeks have been hard on his delicate project.  The flowers  have been both stepped on and stolen.   Now a hardier and more pleasing set of planters have been arranged here and there around the loop, though some might call them cinder blocks.
I ask Diganta what he knows about this and he says, "It is flower power."  He tells me that the mysterious gardeners who set up the new flowering plants were Parvati and her mom Joey.  He says they came simply out of nowhere and much to his astonishment and delight started pulling flowers out of their car.
He says he and the other runners are very pleased and inspired by this new and colorful addition.  "It brings life energy and joy to the course.  It is like having a lot of little friends around the block.  When I see them they are like a lot of little friends cheering me up."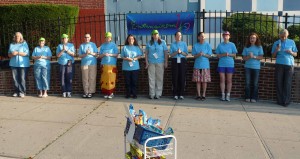 FOOD FOR THE SOUL
The body's food
Is matter-made.
The soul's food
Is spirit-made.
Gratitude-life,
Gratitude-heart for God
Is food for the soul.
Perfection-cry
Is food for the soul.
Heart's awakening
Is food for the soul.
Excerpt from Transcendence-Perfection by Sri Chinmoy.