Today the sun will lift itself in a great arc across the northern skies.  It will offer to the world below the most light it has seen and felt in the entire year.  Nature today moves officially, according to the calender, into the wide and wondrous embrace of summer.  The air this morning hangs ripe and heavy.  The rain will come and go but today spirits are running high.  It is Father's Day.  Many students of Sri Chinmoy have come to New York to pay tribute.  They have come as they have come on this same day so often over the years.  A 26 mile marathon will take place across the street in tribute.  Today, on this the longest one of the year, there will be no doubt or question on why people have come to this very wet concrete street to run.
The forecasts call for a rich stew of  many varieties of weather conditions.  Early on it is not raining but the clouds press close to the earth and are dark and threatening.  Yesterday most ran well to complete their first 7 days out on the course.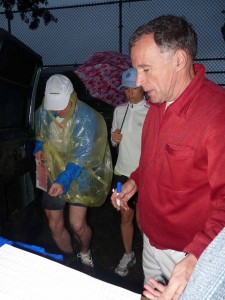 A sign up for the Father's day marathon is taking place across the street.  Almost 25 have come to pick up numbers and run next to those who will still be running long after they have gone back to their homes in distant cities and distant countries.
Vidhura is pouring water for the marathoners who despite cool damp conditions will still be drinking lots.
At precisely 6, just as it does every day, the 3100 mile starts.
The poem was written by Sri Chinmoy on this day in 2006 to inspire all the runners.
Start of the Father's Day Marathon
"I was happy when I finished 2700 miles in last years race.  This year it is easier.  My only goal is to finish 3100 miles," said Pavol Saraz the 33 year old run from Zlin, Czech Republic.  In last years race he endured a lot and still had the courage to persevere even though it was going to be impossible for him to finish 3100 miles.
He tells me that he learned many important things from his experience last year.  The most important being that what takes place within the runner is more important than what takes place on the surface.  He says, "don't be interested in what happens outwardly.  Only concentrate on the inner things."  His goal is to also focus only on the positive.
A knee injury he had last year prevented him from training properly before that race.  This year has been different and except for a few bumps his training has been on schedule.  "Now I feel strong in my muscles."  At the moment he is working through a case of shin splints that is not as severe as those he had in a 10 day race a few years ago.  At one point he could only walk for 4 days but hopes he will be moving well soon.
One of the things he is finding helping him this year is to inwardly chant when he runs.  With each step he chants the word, 'Supreme.'  He says, "I get energy from this.  It was a strong power for me."  He found this as a solution to the experience of waking up yesterday and feeling, "absolutely dead.  I felt it was not possible to walk, it was not possible to do anything."  Yet still he felt compelled to come somehow and start.  The very instant he moved forward from the line he says, "Everything changed"  For him it was one of the small miracles that can and do take place here all the time.  He says, "the good moments are more important than the bad moments."
"When we use the mind it is no good for this race.  It should be all about the Heart."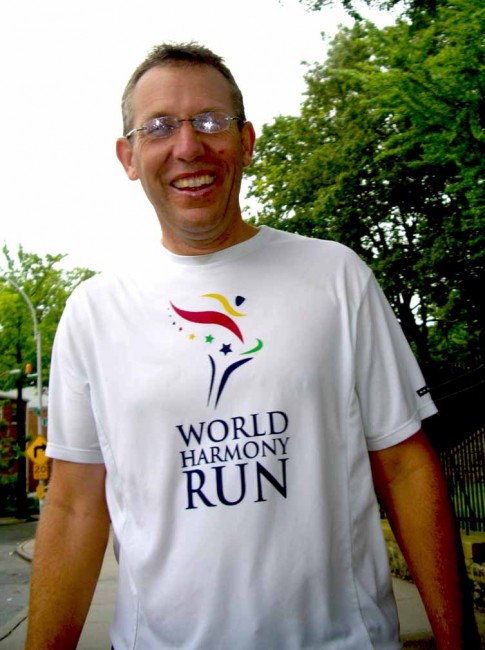 Salil, whose life revolves full time around the running related World Harmony run, has had some difficult times in his personal running life. It has been sometime since he has run a marathon and is looking forward today to staying out here, no matter the conditions and finishing the Fathers Day Marathon.
I ask him why he thinks Sri Chinmoy gave so much attention to the sport of running.  "I think it helps on many levels.  Like every one knows on one level it is a real metaphor for a Spiritual Journey.  One is going along a path.  Then there is the element of Self-Transcendence, which is going beyond your limits.  Which I am doing today."  He laughs at this.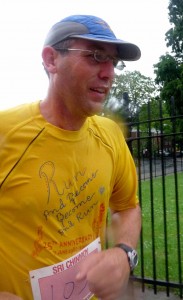 He also believes that running is an excellent way to transform the impurities that all of us hope and try and transform within ourselves.  Negativity is something that is stubborn at the best of times but when confronted by the positive power of running it has to take a back seat.  Without question, as well he suggests, "It makes your body stronger, which is a good thing."
He is grateful that Sri Chinmoy, his spiritual teacher, introduced him to the sport of running.  He says, "It definitely made my life more rich and rewarding."  His involvement with the World Harmony run has taken him all around the world, where torch bearing relay teams, have in their unique way spread the significance of running.  The Harmony run is both an outwardly dynamic and inwardly conveyor of the message of world harmony and peace.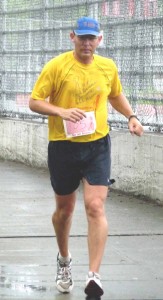 Salil has not run the father's Day Marathon in 24 years.  He fondly recalls it as his very first marathon.  It took place on the small 400 meter track nearby, which at the time was made of cinders, and blackened the feet of all who ran.  "I think it took me 5:45.  Hopefully I will beat that today."
He tells me that recently he was in San Francisco with a relay team that ran by a tree that Sri Chinmoy had dedicated in Golden Gate park in 1976,  He said that after the tree planting ceremony, Sri Chinmoy invited those present to run one mile with him.  When he returned he said to all present that this was where his running journey had begun.  Salil is genuinely moved by this.  He says, "from this little seed, grew this great tree of running events and experiences.  It is amazing."
Nidhruvi Zimmerman, from Vienna Austria, is one of the great veterans of distance running.  Injuries have plagued her the last few years and she has been unable to attend the big races like she once did on a regular basis.  She has started the marathon but when I ask her if she will finish she says, "I don't know.  I planned to run the half marathon.  I am quite injured and I haven't been running."
When I ask her what she thinks about running with the 3100 mile runners just across the street,  "Well it is very inspiring.  We run for just a few hours and they have to run for 50 days or more.  It doesn't matter how they feel, what the weather is or what the conditions are, so it is very inspiring.  I just adore them like anything."
She has learned a lot from her involvement with her Spiritual teacher and the sport of distance running.  The first thing she says is the idea, "Never give up. We can all do the impossible.  It doesn't matter how you feel or what problems you have."  She feels that she has learned to take this philosophy into her daily life as well.  She still feels this philosophy works for her, even though it has been some time since she has competed.
She laughs at the idea that age can slow one done in the sport of running.  "I think if you are really open, and let things happen, then it doesn't matter how old you are.  You can still achieve great things in the running world and the inner world. I have seen people who are 60 or even 70 who are running like anything.
She talks about Dipali who is also running todays race at the age of 51.  "When I look at Dipali it is amazing that she is running marathons in a time of 3:31.  She even runs world records.  She shows what age can do."  Her own 44th birthday is just a week away.  She pulls away from me looking very much like someone who will continue past the half way mark.  Her last comment, "We can do everything when we are in the heart."
Dinesha will win the marathon in 3:27
Salil will better his time from 1985 and run 5:26
Maral, who was determined to finish did just that in 5:36
Meanwhile across the street the race leader there, Ashprihanal collects the day's poem from Vajra.  He ran 77 miles yesterday.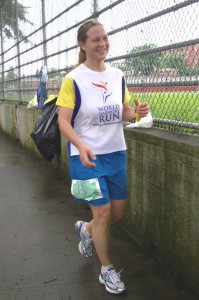 Dipali will win amongst the girls with 3:45
Gautami in second with 4:05
Tanuja here ran 4:47, and Nidhruvi, who was uncertain of finishing came in 3rd in 4:35
There is no 'inwardly' and 'outwardly'. If we feel that there is any difference between the inner life and outer life, then we shall always be failures. There should be no difference between the inner life and outer life—not even an iota. If we have a good thought, that very good thought we have to manifest in the outer life. Inside and outside we have to take as the obverse and reverse of the same coin. A coin has two sides, but no matter which side you are looking at, the coin has the same value. Each side is equally important. Whatever you have inside, whether it is a good thought or a bad thought, automatically gets expressed.
Excerpt from Run And Smile, Smile And Run by Sri Chinmoy.