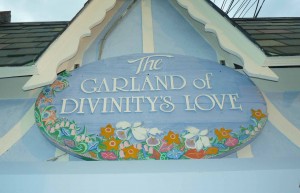 Flowers are perhaps the most beautiful of all of nature's offerings.  Beautiful and yet at the same time fragile and fleeting.  Stores that sell them however we consider in quite a different light.  Kanan's flower store, Garland of Divinity's Love has been at its Parsons Blvd location for longer than most people can remember.  Even Kanan himself scratches his head when asked to remember when he first opened up its location there.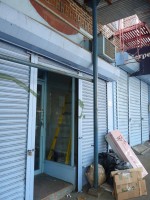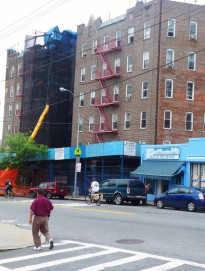 For the last year that particular block of Parsons blvd has been through a lot and then some.  There were problems with a building near by, that were not going be fixed, neither simply and easily, or more importantly, anytime soon.  Scaffolding hanging overhead had made his shop look dark and gloomy for many months. It was also very hard to park.  The Health food store and the Stationary store had already moved months earlier.
On the last weekend in May a most surprising, though not unexpected, event took place.  The Garland of Divinity's Love picked up its roots, its pots, its petals, and everything else and moved.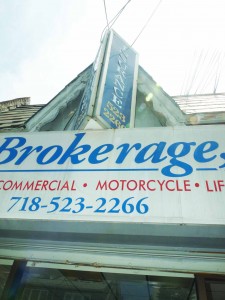 Its new location is next to the Laundromat, around the corner from the Greek Deli.  When Kanan moved in on May the 25th things were a bit of a jumble, as could be expected.  The old sign overhead had yet to be taken down.  There was some wording on the glass in front however that somehow provided a little comfort and encouragement to this big change for Kanan and to the neighborhood.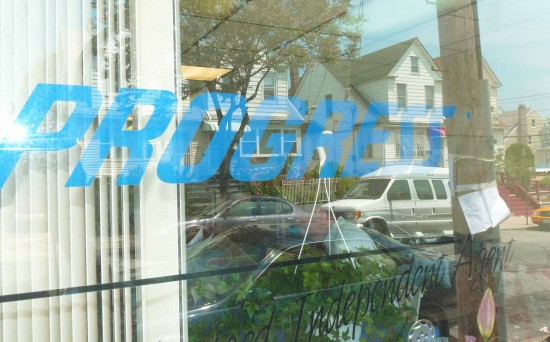 Progress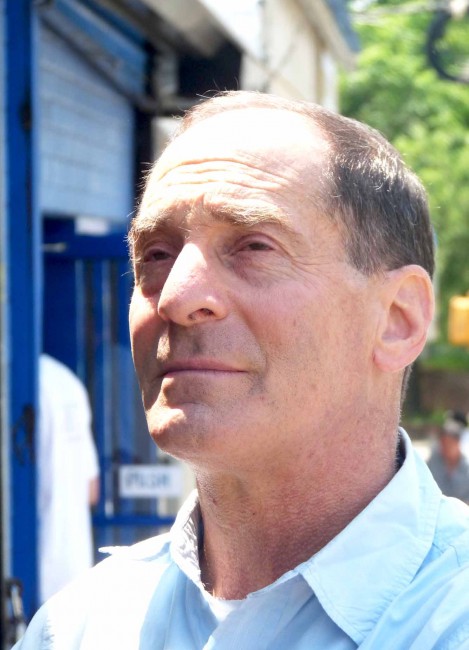 For the students of Sri Chinmoy it would be hard to imagine the Parsons blvd. block without The Garland of Divinity's Love.   Whether they lived in Queens, or just visited from far away, all at one time or another have come to Kanan's shop to purchase some flowers.  And even if they were not in New York they would call and fax his shop to buy a flower, a bouquet, or an arrangement which would then be offered to Sri Chinmoy with gratitude.  For birthdays, for celebrations, for anniversaries you name it, in the spiritual life flowers always find a place to brighten and inspire people.
The Garland of Divinity's Love of course has a long history that goes back nearly 40 years.  It first officially opened on June 25th 1971 on Parsons blvd. but quite a few blocks further along.  At that time there were just a handful of enterprises.  Sri Chinmoy actually asked Kanan to open a flower store, a task which he willingly and gladly accepted.  With just one months training, at a store in Yonkers, Kanan started his first Garland of Divinity's Love.
Divine enterprises exist on earth
To awaken and serve
The aspiring mankind
In accordance with
The Supreme's Vision.
Excerpt from Seventy-Seven Thousand Service-Trees, Part 16 by Sri Chinmoy.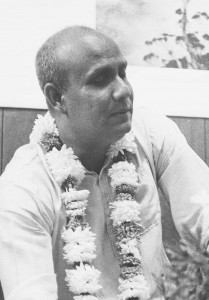 There is a very old tape recording of its inauguration.  You can hear the sounds of cars moving by on the busy street.  Children are playing close by and Sri Chinmoy is there to give the shop and its owner Spiritual names.  At first you can hear Sri Chinmoy singing several spiritual songs and then, from a deep meditation he begins to ever so slowly repeat the name, 'Garland of Divinity's Love.'  The inner qualities of that name he said, represent simplicity, sincerity, humility and purity.  Several minutes later Kanan receives his own spiritual name and once again Sri Chinmoy repeats these same 4 qualities and says they represent the qualities of his soul.
For anyone who has met him it is not hard to see that these qualities perfectly represent him.  In the hectic world of New York city there are few to match his patience and generosity and just plain willingness to do the toughest tasks.  Besides operating his flower shop, he could be counted on to set up Sri Chinmoy's chair and table whenever he appeared at functions or special events.  A job to be envied perhaps but it also required him to be there sometimes very late in the evening and then bring those items back to his shop.
He has driven center buses, played soccer, guarded race sites when no one was there, and basically taken on just about any job that needed to be done.  It is hard to imagine a kinder more self giving individual then Kanan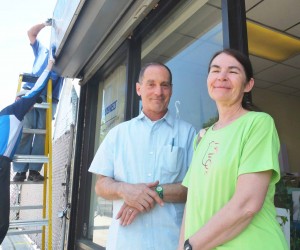 Hashi, Kanan's wife does not work at the store but is of course is a major part of the life of Garland of Divinity's Love.
On that hectic first day she is there helping to make the transition as smooth as possible.
Kanan tells how distracted he was during the first inauguration.  The compressor that cooled his flower refridgerator was no doing well.  He was frightened that it would stop working and ruin all his flowers on that first hot June day.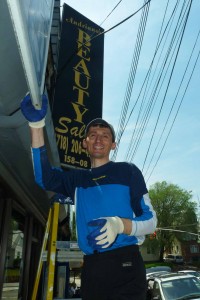 Many people have come to his assistance in moving on this holiday Monday.  It will be several weeks before the shop is completely organized and set up.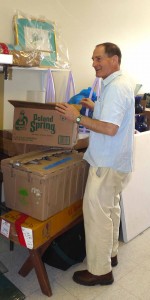 Kanan says his favorite flowers are ones that grow either in gardens or out in nature itself.
Kanan: Are there any gardens in Heaven?
Sri Chinmoy: Yes, there are many gardens in Heaven, and the most famous garden in Heaven is called Nandan Kanan. And the most beautiful flower is called parijat. I wish to tell you that, as there are gardens in Heaven, so also is there a garden in God's Heart; and the name of this garden is Kanan, the ever-blossoming gratitude.
Excerpt from God The Supreme Humourist, Part 1 by Sri Chinmoy.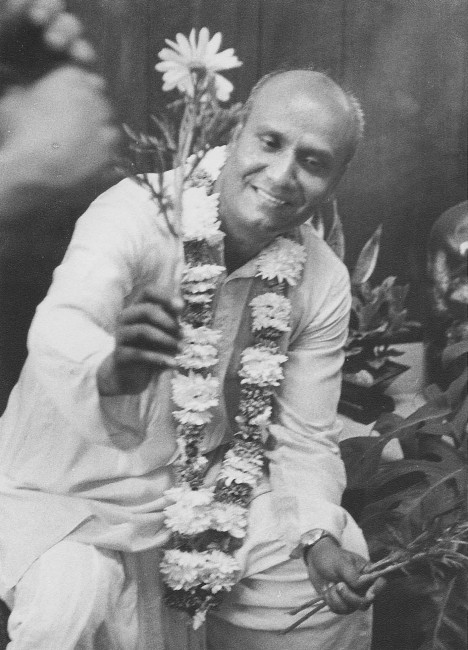 The black and white pictures were all taken at the opening of Kanan's first Garland of Divinity's Love.  At the end of which Sri Chinmoy gave out flowers to all who were there.
His new store will have its official opening on June 25th, 38 years to the day after his first opening.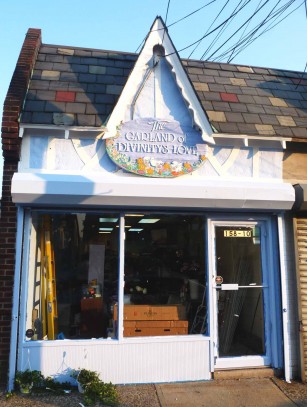 Flowers fade away.
Life fades away.
My heart-gratitude-flames never fade.
They always take shelter
Under life's protection-shade.
Excerpt from A Soulful Cry Versus A Fruitful Smile by Sri Chinmoy.