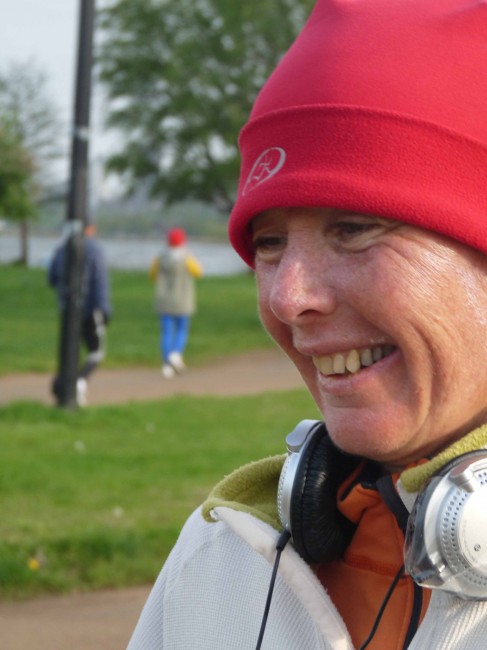 "I think I am being shown that age is in the mind."  Dipali Cunningham is 50 years old and with each new mile she runs she is drawing tantalizingly closer to doing something miraculous, which is to break her own world record.  In the spring of 2001 she ran 510 miles for 6 days which was not only good enough for the record books it also made her the overall victor of the race, beating all the men as well.
As we run smoothly along she has so far run 367 miles, 105 of those miles came on the first day alone.  With 2 days to go she will need to run another 143.  Yesterday she ran 86.  Of course her running is not about math.  On the human level the presence of Pam Reed has been an important inspiration for her to reach new heights of performance.  Of Pam she says, "I feel that incredible determination has pushed me to my critical limits."  This has pushed Dipali to run on average more than 80 miles a day, something she says she has not done in years.
She admits that earlier in her running life she had been reluctant to join the multi day experience.  Yet in 1991 her spiritual teacher Sri Chinmoy inspired her to take part.  She says in the beginning, "I was the classic case of someone who wanted to go home."  It just seemed all too difficult to her and yet here she is still running multi day races 18 years later.
Dipali trains hard for these events, but the inspiration she receives for these distance races comes from within herself.  The importance of this  factor can never be calculated.  She still feels a deep inner connection to her late Spiritual teacher.   She feels that as he continued to transcend himself late into his life, that this was a philosophy that is an inspiration, not just for herself, but for everyone.  Sri Chinmoy once said of her, upon hearing that she had an injured foot, "Dipali does not run with her feet, she runs with her soul."
As she talks to me with such enthusiasm and joy, it is hard to imagine how little sleep she has had over the past 4 days.  She looks almost as though she is taking a little afternoon jog and not that she has run a distance that would almost take her to Cleveland.
We all, in our own lives have to listen to, and then sort out the wishes and demands of various parts of our beings.  Knowing what our physical, mental, emotional requirements are can be confusing, even at the best of times.  Generally it is easier to listen to the weakest part and give into lethargy or inertia or all the temptations that dance and jabber for our attention.  For Dipali at this point in her race the dialogue has become something quite simple and pure.  What keeps her going now is an inspiration which says simply, "you have to go further than you have gone before."
Dipali Interview
Click to play interview
Dipali is being helped this afternoon by Suprabha Beckjord who will spend this summer doing what she has done for the past 12 years and that is run the Self Transcendence 3100 mile race.
Click to play interview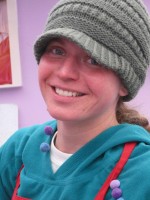 Sushovita tells me that her kitchen crew this year is the best ever. Everyone is a little camera shy but none is short on commitment to helping create and serve the mountains of food that will keep the fire burning in the races of each of the 80 runners.  I ask her how many people she feeds every day and Sushovita is not sure.   She just knows that no one ever goes hungry in the camp.
Tomorrow is her birthday, but for her it will be just another day to do what she and her helpers are so inspired and at the same time grateful to do.  Serve the Self Tanscendence 6 & 10 day race.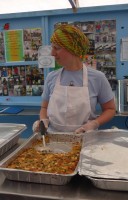 Luba is working in the kitchen for the first time
click to play interview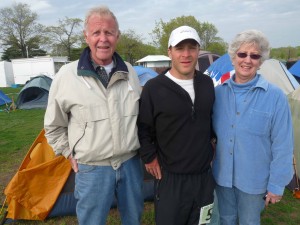 Darren Worts tells me, "I was looking for the next challenge."  He has come to this race with no experience beyond running for 48 hours.  At that time his mileage was 191.  As of today he has run much further, a total of 319.  By noon on Friday it will be further still.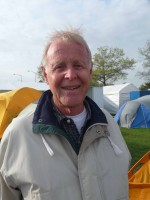 He has the fortune or misfortune to be in the same race as Dipali Cunningham and Pam Reed who will most certainly both surpass his total.  For this 38 year old runner from New Jersey it is not a factor.
What is helping him however is the presence of his folks Howard and Doris, who have helped him in  previous races.  Darren tells me that a lot takes place during the event.  He says, "you have a ton of highs and lows."  Ultimately he says it is a great experience in that, "you have to work through them all."
click to play
Howard Worts says that both he and his wife are not only happy with the experience their son is having but also are having a great time themselves.  He says about being here, "You just make friends and everybody is just so great."
"It is amazing," says Doris Worts.  "It truly truly is the most wonderful experience, the people are just great." Darren is just about to take a sleep break.  His folks meanwhile are planning to spend the night in their car in the parking lot instead of heading back to New Jersey.
Larry Philips 48 Red Hook NY had a hip resurfaced a year ago.  He could not run for a year and yet he is here for the 6 day race.  He is a little disappointed with his miles but he enjoys coming back to the race after an absence of 6 years.
click to play interview
Fred Davis having a low patch but happy for his Cleveland Cavaliers.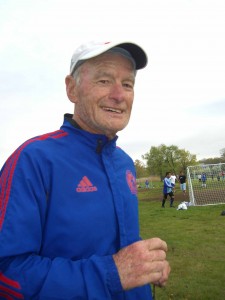 Pete Stringer 67 Osterville MA., knows perhaps better than most about lows in ones life.  He says, "the name of this race Self Transcendence means everything to me."  It is through his running life that he has been able to transform his world into one that is both positive and with real focus.  Of the 6 & 10 day race, "I would never miss this race, because this race and the people that put it on are so giving and into world harmony.  I just feel it speaks for itself."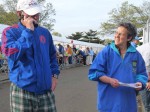 Pete is currently in 10th place in the men's 6 day.
click to play interview
Sylva Stradalova 30 Czech Republic is running her 5th multi day race.  She is just 67 miles away from breaking her personal best.
Connie is getting ready to present a floral garland to Tatjana who is about to complete 400 miles.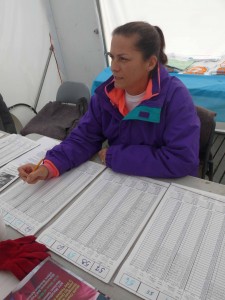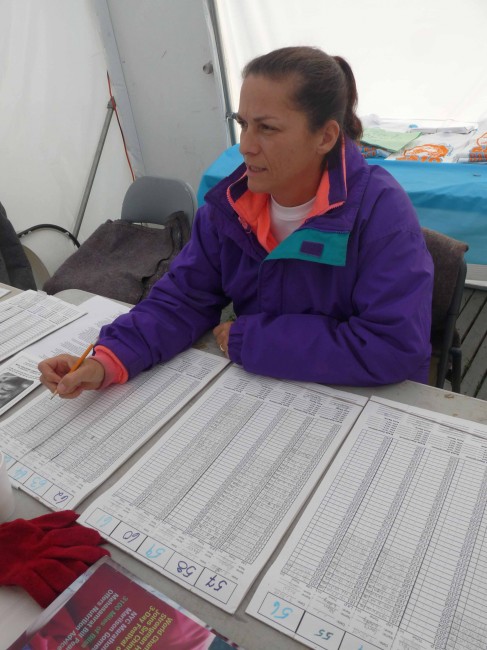 Nandana New Zealand has been helping at the race since day one.  For her it is a fun experience.
Nancy from Tampa says, "It reminds me of what the world should be like, and of how everyone helps each other."
Elena Kareva 466
Kushali Trantsova 347
Radi Milev 534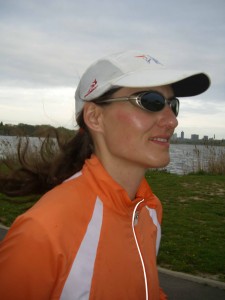 "I love everything about this race," says Lenka Svecova 34 Czech Republic.  She laughs when I ask how many multi days she has completed. It must be hard to keep track, because in 17 years of running she has run at least 14 multi day races.  She is in 3rd place in the 6 day race but has no particular number of miles that she is trying to reach.  She feels her training has not gone well and instead has come for the experience.  She tells me, "I am very happy."
I ask her what can people learn from the self transcendence experience.  She says,"I believe that every body has something special to offer to the world.  They just have to discover it."
For the betterment of this world,
I am able to offer only three things:
My soul's promise,
My heart's hope
And
My life's service.
Excerpt from Ten Thousand Flower-Flames, Part 61 by Sri Chinmoy.