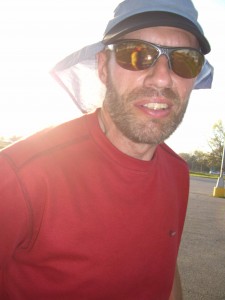 I am standing in the parking lot of the 6 & 10 Day race and I feel almost as though I am caught up in a swirling tide of humanity.  The race now has swollen to 80 runners, and on this warm sunny Monday afternoon, in every direction I look they are all either coming or going at this moment on the course.
The weather has once again become sensible.  Meaning only, ridiculous April temperatures have been replaced by just warm ones.  As I gaze out across the park I am aware of an ebb and flow of runners.  I cannot help but sense the great outpouring of energy taking place here beside the still lake.  And there is a unique irony to all this to and froing.  As much as great quantities of energy are being spent, none is ever really lost.  At one point the 10 day race leader Madhupran goes by and says, "this is not a race…it's a game."
He has run 425 miles in a little over 5 days.
They each ran more than 100 miles in the first 24 hours of the 6 day race.  If anyone thought that Pam Reed and Dipali Cunningham would be inspired to push themselves to new heights, they would have been correct.  With just one day gone it would be silly to make any kind of prediction about the outcome.  Perhaps only one thing is certain.  It will be a memorable experience for both of these superb athletes, and without a doubt each will find themselves tapping into their deepest reserves of strength, courage and heart.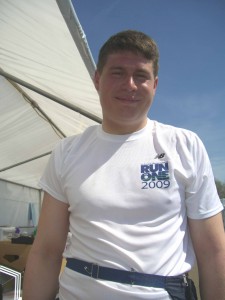 He told me, "It will be a new uplifting experience for me.  When I first talked to Andrey Somov 29 St Petersburg Russia before the start, he had told me that the longest he had run, prior to the 6 day race, was a 24 hour orienteering race.  As I look at him today he has already far surpassed that time and distance.  The board says that he has now completed 79 miles and by the time he gets to 48 hours it will be even larger.  For him, on the surface of things, it is an inevitable and
obvious case of self transcendence.
But of course it is that and much more.  As a first time multi day runner he appears to be very happy.  He walks by and waves with real enthusiasm.  He seems to be having the time of his life.  He had told me yesterday,"I would like to see some changes in me, inner and outer." He appears well on his way.
Click to play interview
Joe Cleary says he has had a subscription to Ultra running for 20 years.  "The first time I saw this race I said this is my kind of thing but I never came. It was just one excuse after another."  Now of course Joe has fulfilled a long held wish, and with 60 mile
s  already on the board he is pushing into new ultra distance terrain.
He has attempted several 100 mile events but never before entered a race even anywhere as long as the 6 day race he is currently  running.  He is being helped by Cheryl who is in the same running club as he is in Georgetown Ontario.  She tells me that it is amazing being here and adds, "it makes me think I want to do it myself."
I had heard that he was the oldest runner in the event
and he tells me, "I am 69 which is not old as runners go.  I am having a ball here it is awesome."

Click to play interview
Sopan Tsekov, a 26 year old runner from Bulgaria tells me, "I am still enjoying it.  I feel strongly that it is the right thing to do."  He currently is in 4th place in the men's 10 day race with 348 miles.  He has tremendous experience in distance running and hopes to improve upon his personal best of 645 miles.  He has a deep and personal commitment to the sport and says, "My soul is inspiring for something.  I feel this is the way to manifest this aspiration"
Elena Sidorenkova is 42 from smolensk Russia.  She is currently 4th in the 10 day women with 323 miles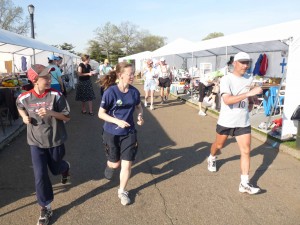 "It's like a family," says Chantelle Gouin, and though she refers to the community of runners and helpers that makes up the 6 and 10 day race she also can just as easily refer to her own family.  She and her son Tommy have been helping her husband Michel since the weekend.  He had started the 10 day race on wednesday and since his wife and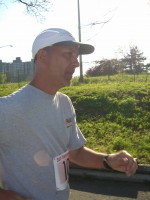 son appeared he is running better.  Last year he ran 541 miles and says, " I want to improve myself."  When I ask him how far he would like to go this year he says, "542," and laughs.
Click to play interview
Igor Mucryk 35 from Vinnitsa Ukraine is in 3rd place in the men's 10 day race. He has run 383 miles so far.  Last year he ran 337 miles in the 6 day race.  He seems to be constantly moving and I have to move quickly to catch up with him.  He speaks little English so I ask him to tell me what his experience has been so far in the race.  This is a translation of what he said in Russian.
"For me the race means, I feel that I have to do something for my inner growth, and maybe for the inner growth of others around me.  And I get tremendous satisfaction from getting transcendence.  This is a great joy."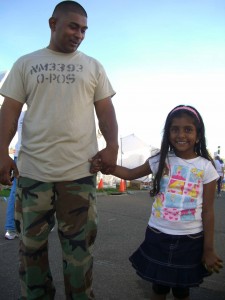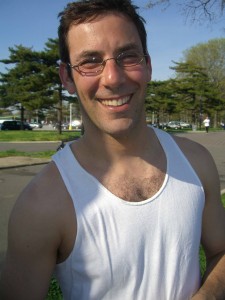 Rick tells me he comes by every day to check out the race.  He is a runner himself and as he looks at the board he says, "That's a lot of miles."
Andrew is walking excitedly with his daughter Tiffany through the village.  They are enjoying the spirit and energy here.
"I come back because of the challenge," says 63 year old Nirbili File.  This is her 7th multi day and along with her husband Nick, who is one of the main helpers, they are an integral part of the Self-Transcendence race community.
click to play interview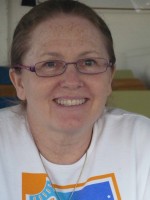 Just a few of the Countesses
They will leave at 7pm and then another and another and still another group will keep coming until the hours have all slipt away.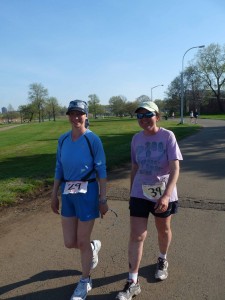 "We have never run together before.  We have different pace.  Somehow we really enjoy running together and laughing together." Jayasalina Abramovskikh 28 Moscow is telling me about how she and Kateryna Krot 33 Ukraine have become the best of running partners since almost the moment the 10 day race started.  Their joy is real and they take turns telling me how much they are enjoying each others company, and how this relationship on the road takes away some of the fatigue of the many miles they have run.  Jayasalina says, "we don't notice miles passing by."
They talk about how sometimes it just seems to be impossible to go on and then the energy just comes.  Jayasalina says, "there is no such thing as impossible."
Jayasalina & Kateryna Interview
Click to play interview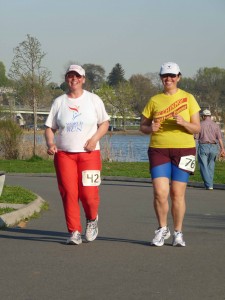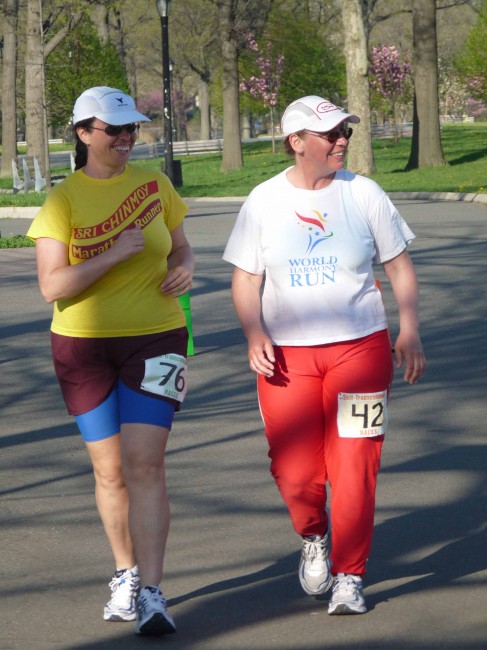 "I think sometimes that even an elephant can fly," says Kushali Tarantsova 41 Ukraine.  who has run 5 multi day races.  With the start of yesterday's race she was joined in a very real way by her musical partner Rajeshri Muzychenko 38 Ukraine. With her presence and that of the other 6 day runners she says, " I felt new energy and new joy."
click to play interview
click to play video