"People are asking me how am I doing, and how am I moving?  I tell them very well and I am also moving very well."
"Because of my condition I cannot move very fast, but what I can do is focus on my consciousness.  So that I can do.  I can smile and be happy."
5 days ago Volodymyr's back was so bad he could not get up in the morning and come to the race and run.  A moment that could have easily spelled the abrupt end of his long time wish to come and run the 3100 mile race.
In the subtle way that small miracles often happen when you least expect them, Volodymyr was thrown a life line.  A consultation by Auyervadic Dr. Kumar revealed that it was his kidneys that were causing the problem and the problem was treatable, but would remain painful.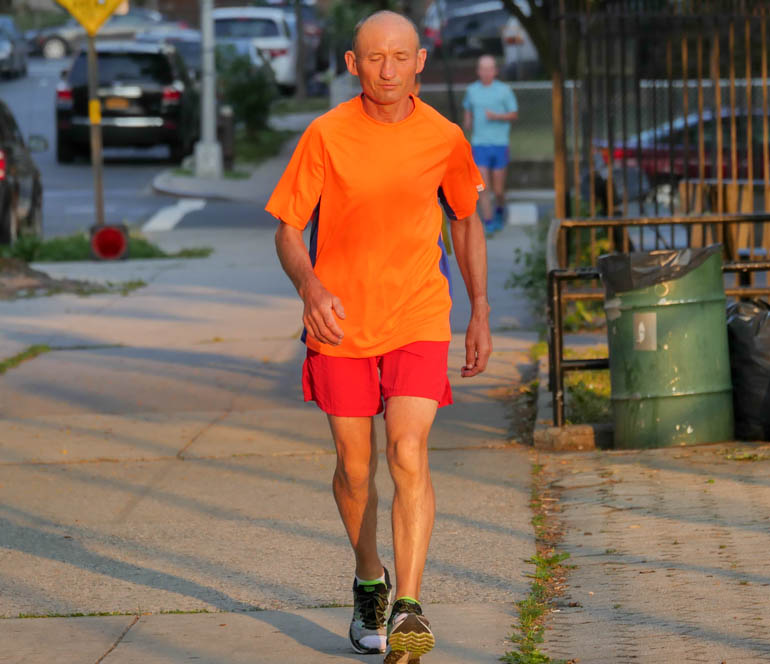 By the afternoon of his visit to the Doctor, Volodymyr was back on the track and managed to make 26 miles.
Subsequently he is now able to come back every day and walk.  Usually he makes mileage in the high 40's.  His optimism that he might yet get back to running again a twinkling hope that he will not let extinguish.
"My kidney is not allowing me to go fast.  It is giving me pain.  I cannot go faster than I am going.  Because of this it makes me focus more on my soul.  And to try and find happiness within."
"The pain is always there but it goes to the background and to the forefront comes out the true happiness of my soul."
"Definitely being here is much better having this pain and this happiness here.  The pain came from my depression that I used to have.  Now it has manifested in this kidney and this is forcing me to find the true happiness inside of me."
"I am extremely happy and grateful to be here.  Because here I am working on self healing, on self transformation.  Otherwise if I were in a different environment I would never have been able to create this experience in order to heal myself."
"Here I am extremely happy even though my body is in extreme pain.  My mind, my vital, my heart, and my soul are truly happy that I am here."
"So through the union of my soul, my heart, and my mind I am fixing my body.  Also with my oneness with Guru."
"Guru is the personal aspect of God.  When I see Guru I see God.  So I here I can do this from morning until night.  As much aspiration as I have to do it."
The most important thing in life
is not to win the race,
not even to run the race,
but to see God's face
while sleeping, standing, and running
right in front of your own face.
The board
The van arrives
Andy Cable from Connecticut has come for a visit and do some laps.  It is something he has done most years since 2006
Baladev checking out the laps sheet.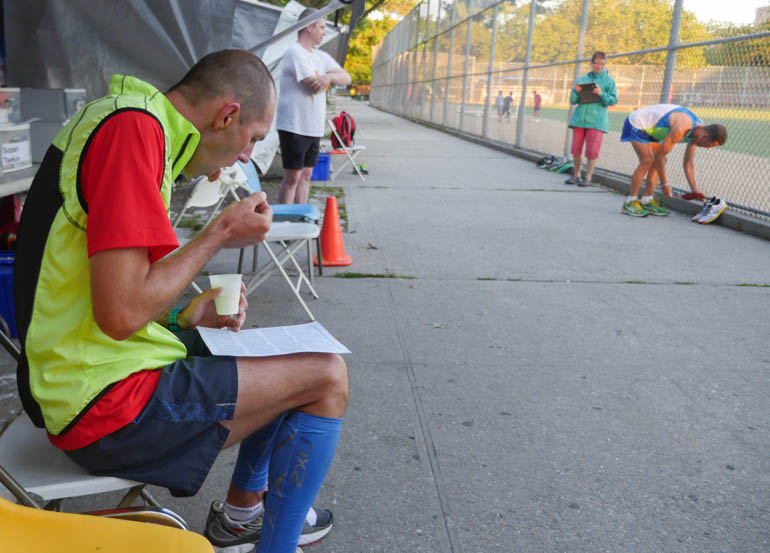 Kaneenika getting ready
A Poem
The ordinary human mind
Is a container.
You can fill it
With good thoughts
Or bad thoughts.
It is up to you.