If one needs any reminding that the results on the board are not the only thing that is important here at the 3100.  Than taking a closer look at Ashprihanal helps to illustrate just a little more clearly that numbers are just one small aspect of the true race.
A year ago now Ashprihanal was 4 days away from a world record.  He had run on average 75 miles a day and on this day had 2757 miles.  This morning he started day 36 with 2315 miles (785 miles to go). There is no question of course that Ashprihanal will complete the distance.  But now that looks to be as much as 13 more days away.
As someone who has already run the race 13 times you can't help but see in him that the race still has powerful lessons and experiences to offer.  Ones that are not really visible to us who watch him lightly skipping and flying up the street.
"The numbers are definitely getting better and better."
"I always like it when you get to the last week and you can say, ah, this is the last Saturday.  But there is still time for that."
"Last year was only for the world record and nothing else.  So I shut down everything else."
"Last year was the time for that and this year I couldn't do it."  Ashprihanal accepts this wholeheartedly, that he is not going to be breaking records every year and that simply being part of it and doing his very best is his only option.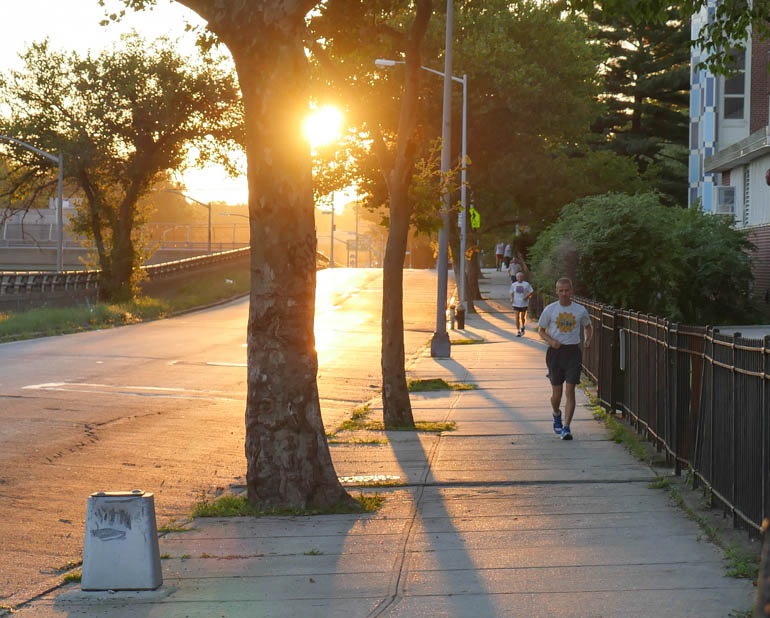 I ask him if he would call his experience this year fun.  "It is a little bit of everything.  Sometimes it is fun and sometimes it is not."
"I am definitely trying to have fun.  I am trying to enjoy.  But it is not easy."
"It is still nice.  I am running pretty good."  One big improvement is that he has lost a persistent cough that had lasted a long time.
"I am happy."
God enjoys watching me
When I enjoy my pilgrimage
To my oneness-heart-home.