The practical world has lots and lots to offer us.  It has countless comforts and many many remarkable things but it is missing something that is most significant to all of us.  The practical world does not have dreams of transcendence.
photo by Alakananda
The practical world has boundaries and dimensions that can be measured and recorded and kept safe.  Human beings need to have firm structures in order to pursue the things that matter to them.  But spiritual seekers feel the call and pull of the divine world that exists within us all. A realm of light that has no dimensions or boundaries.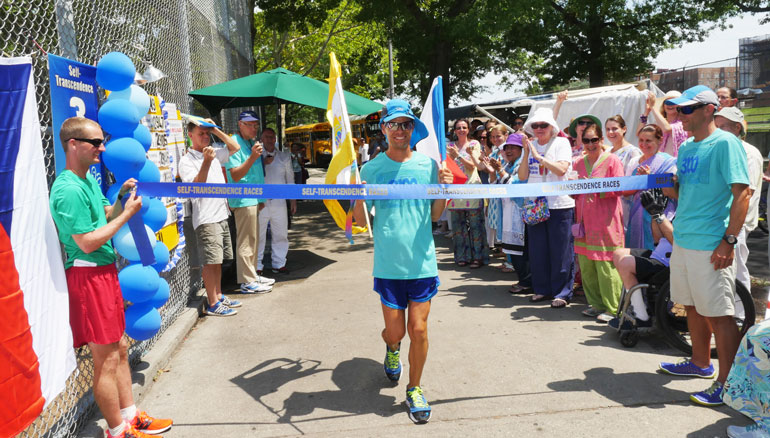 The practical world doesn't want or feel the need to look within.  The divine world however is compelled to express itself continuously in the outer world in and through those willing to transform themselves.  In this same process the outer world is as well transformed.  In so doing, the divine creation evolves into the perfect perfection of what the creator intended.
Today 37 year old Atmavir Spacil from the Czech republic completed the Self Transcendence race for the 8th time.  He came in 5th and his time was 48 days 7 hours and 13 minutes.  He did something that no practical person would do.
He won nothing.  His name will not appear on the news tonight and other than the few hundred people who follow the race, most of the world will not even know what a remarkable thing he has done here today.
His distance over 8 years (24,800 miles) is enough to take him around the world.  Atmavir has run now 45,192 times around a school in Queens New York in a time span that would take up a full year of his life.  What he has done and what he actually has accomplished cannot be explained or understood by the practical world.
Spirituality expresses itself in and through him with each of the countless steps, laps, and miles that he has completed here.  Is the world changed by it in ways that we can see and understand?
Only our hearts can feel and understand this.  Atmavir however has no questions of this as he crossed the finish line of Self transcendence yet again.  As he truly sits down for the first time in many many days.  A large cake is placed upon his lap and he promises to the few happy souls gathered around and about him, to come back next year and do it all again.
Click to Play the Sound of his finish:
Audio clip: Adobe Flash Player (version 9 or above) is required to play this audio clip. Download the latest version here. You also need to have JavaScript enabled in your browser.