It was probably the best race he ever ran.  It was also his very first attempt to run for 24 hours.  It was being held  on a track in London by a group who were doing something brand new as well for them.  It was a first for lots of people in a way.
It took place in October of 1993 and probably should have attracted a larger field, but another more established event in Spain seemed to get the cream of the crop.  None of this mattered to Alan Young. Living in Scotland he wanted to test himself to his limits to see what he could do as an ultra distance runner.
So Alan came to the inaugural Sri Chinmoy marathon team 24 race in Tooting Bec and won.  He didn't use tactics, he didn't use guile, he ran as hard as he could until there was no more time left.  His distance of 138 miles was the furthest he had ever run and getting this little trophy wasn't bad either.  The next man was 2 miles behind and as Alan talks about this race now nearly 21 years ago his eyes twinkle with delight.
But at some point over the years he came to realize, "I wasn't particularly good.  But I got an insight."  He came to realize that maybe from the sidelines he could actually achieve more than he ever could on the track.  Not that he completely gave up his own dreams, but winning the 24 hour race in Tooting Bec was just about as good as it got.
Being crew for a runner has to be one of the most thankless jobs on earth.  There are no trophies or records for the man holding out the cup and rubbing sore backs and legs.  Keeping track of laps and supplements, and running off for heavy cream is not a job that pays well if at all.
Something very much else happens that says more about how far a friend will go for another, what oneness and a hearts bond really means, and can you realize and become one with another's triumph. Even when they hold up the trophy up and you carry a towel.
I have joked many times with Alan about his job and just how good he is at it.  I have seen lots of helpers at these races over the years and he really may be the best at what he does.   He has crewed for Alan for 10 years now.  You can see Alan adjusting, shifting, and recaclutaing just what he needs to do from morning until night.  He has been here 8 days now and his job is not yet done, not by a long shot.  He has probably 15 more days of this routine yet in front of him.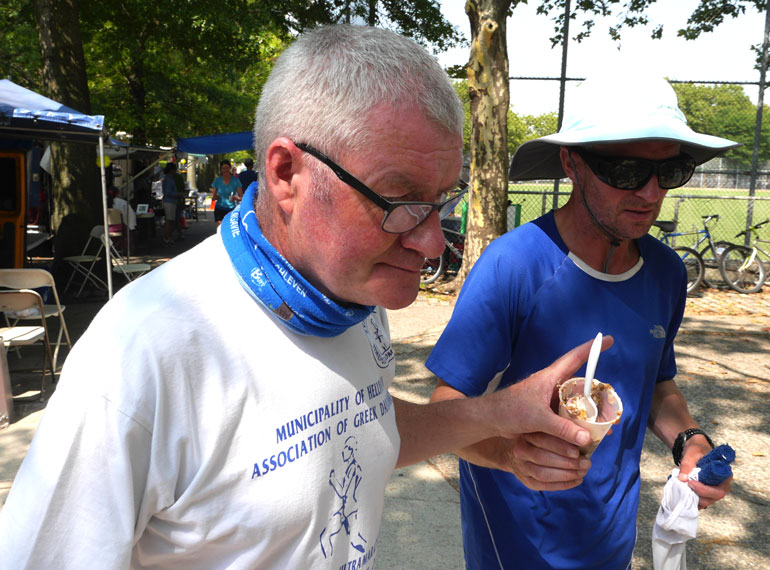 In the beginning he wasn't sure he was going to be any good at it.  William was a fast marathon runner who wanted to move up and so 10 years ago asked Alan to help.  The first three 24 hour races were a disaster.  Basically William blew up after 18 hours and that was that.  Somehow they worked and fiddled and fine tuned and well, you can see where Alan is now. What they learned more than anything was simply slowing everything down and being more patient.
William jokes when I ask him whether he wants to send Alan back to Scotland.  "O he is all right.  It took a few days for him to bend in.  But I will keep him now.  We'll get on, we will manage."
I ask William,  that without the help he has gotten from not only Alan, but also Tim and Tarit what would have happened to him here.  "That is the one mistake I made before the race.  I thought I could crew myself at the beginning and still manage it.  Preparing the food was something I just couldn't possibly manage and do all the running.  High marks for Alan.  I don't want him to get too big headed.  He is doing alright for the moment.  We will have to keep on him, to keep him up to the mark."
Alan says that by late tonight, after many many days of being off the needed pace, he will once again be back on schedule to finish the race in time.
Ron Clarke was one of the greatest distance runners of all time.  In his career he accomplished 17 world records but somehow failed at the Olympics to win a gold medal.  The achievement, that for most athletes stands at the very pinnacle of their competitive life.  Having more significance than any record or title.
Fate however would not deny him this honor.
In March of 1976 Ron Clarke would meet with Sri Chinmoy for the first time. He composed the song below at that time.
From 2004 to 2012 he was the mayor of the Gold Coast in Australia.  He once said, "I agree very much with Sri Chinmoy's philosophy of promoting friendship through running and sports,"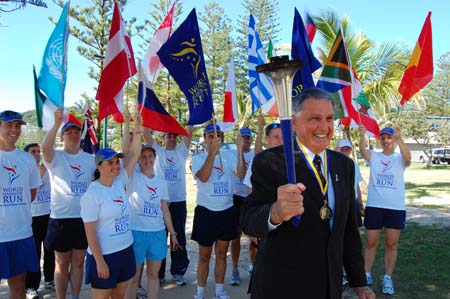 Ron Clarke, Ron Clarke, Ron Clarke, Ron Clarke!
O runner-world's pinnacle-spark,
Australia's pure treasure-light,
The world salutes your champion-height.
In distance-speed a stupendous soul.
With seventeen crowns, yours is the goal.
Run and Become, Become and Run    [song #35]