You tell the world:
Progress, progress, progress!
Progress within, progress without.
That progress is not and cannot be
A prisoner of time.
Sri Chinmoy, Gorbachev: The Master-Key Of The Universal Heart, Agni Press, 1990
Sometimes there are moments that are so sweet and precious that we never want to let go of them.  But time, as it always does, and of course as it must do, eventually snatches at the edges of our memories.  The past cannot hold on to us for long.  At best we can only extract from our trans-formative experiences that which can enrich and prepare us for the next challenge.  In so doing we lighten our burdens and leave behind hopefully, at least some of our imperfections and doubt.
For those who want to dedicate themselves to living on a spiritual path there is no stopping, there is only progress and moving forward.  The beyond does not tire, the dream reality of tomorrow continually beckons to us, the summit of perfection will always be our ultimate destination.
In 1980 the 47 mile race was still very new and very challenging. For the students of Sri Chinmoy there was always a powerful incentive to run the race just as there continues to be one now.   At the stroke of midnight on August 27th it was Sri Chinmoy's birthday.  There was no better offering to your spiritual teacher than to run the very race that he created.  One in which for 2 years straight, both in 1979, and again in 1980 he ran the 47 himself.
In that race in 1980 he ran 1 hour and 15 minutes faster than he had the previous year.  His time was 11:27:24 and because of his physical ailments he would never run the race again.
What also happened on that remarkable night was that Virendra ran a time of 5:09:30. As someone who came in 5th that year and was just a little more than an hour behind I have a very real sense of just how remarkable Virendra's achievement really was.
Two years ago when asked about that night Virendra said,
"It is an offering from my side and it is grace from Guru's side.  I couldn't have done it without it.  I remember once about 2 hours in where I had my focus really solid.  I was kind of in autopilot, and I was running and running.  I didn't have a single idea how many miles I had run or what the pace was.  I remember looking down at my legs and saying, wowwww, who is making these run?  They are just going by themselves.  I remember telling the counters, I don't want to hear any splits.  I don't want to hear my marathon time.  I don't want to hear anything.  Just wake me up with one lap to go.  I had no emotional attachment to that race whatsoever.  It was a job that had to be done and that is it."
"I am so happy to have that kind of treasure to put at Guru's feet.  I really felt at that moment how big it was.  We were chasing 6 hours and then out of the blue comes this 5 hours. I remembered thinking, Guru is going to like this."(laughter)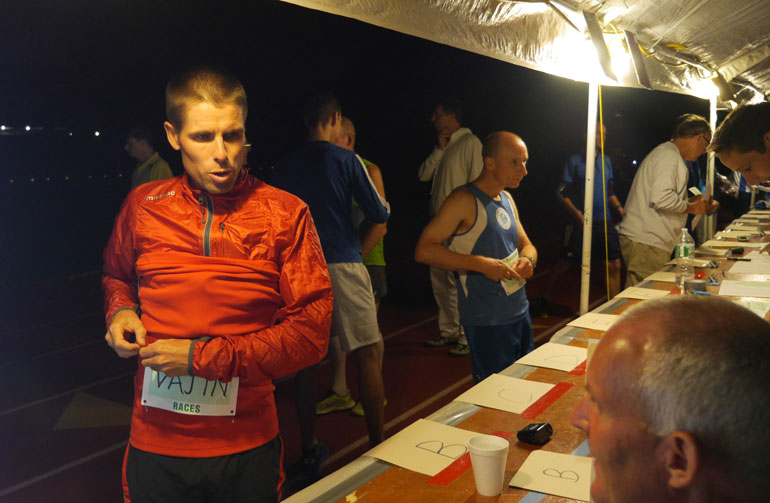 Now it is 34 years later and no one has even gotten close in those many years, that is except Vajin.  Who 2 years ago at age 32 made a very serious attempt to surpass Virendra's achievement.  "The funny thing was that I was hoping to break the record, than I don't have to do it any more.  (laughs)
"But that's not how Guru works.  He doesn't want things to come easily.  He wants you to work for things."
At the time he also said, ""I am definitely going to try it again. " He was just 1 minute and 26 seconds off the record.
"It is so satisfying because you put so much into it. It means so much having Guru run this race and Guru run with this flag. This race has a special consciousness. There is no other race that can compare to this. It is a race purely for the soul and for the spirit, and for our Guru. For me it is such a significant race to do. I mean to come here and share it with my brothers and sisters from all over the world."
 Progress:  A short film of Sri Chinmoy running the 47 mile race in 1979 and 1980
There is no end to our inner progress, no end to our inner progress. Progress, progress, progress! My Guru, your Guru, everybody's Guru is the Supreme. I tell you in all sincerity, the Supreme Himself is progressing. Now, can we believe it? We cannot believe it. Our mind will not believe it. How can the Absolute Highest be progressing? Infinity we cannot measure, Eternity we cannot measure, Immortality we cannot measure. But when God, out of His infinite Bounty, opens up our third eye, we can see that God Himself is progressing. Not only on earth and in Heaven, but in His own highest Reality, I tell you, God is progressing, progressing.
.
You can say that God is absolute. That is true, absolutely true. But in His absolute Reality also, progress can be made. When God used His Vision to create the universe, His Vision was always Self-Transcendence, Self-Transcendence.
.
Therefore, the terms that we use—Infinity, Eternity and Immortality—He far, far exceeds. God's Infinity we cannot believe; our mind will never believe it. The mind can only believe so much. The heart, on the strength of its identification, can go very far. But if we are in the soul-consciousness, we see that the Absolute Supreme Himself is expanding, diving deeper and climbing higher.