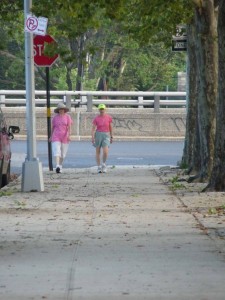 With each new day that Suprabha continues to return to the course it is becoming clearer and clearer that something truly miraculous is happening here.  It is not obvious in her slow measured walking.  Nor does it show in any way in the small numbers that are painstakingly gathering by her name on the plastic board that hangs on the fence.  Her appearance and manner continue to be content, patient, and unflappable.
Yet were most would fearfully see the vast distance still looming forbiddingly in front of her she does not.  Going into day 47 she has 647 more miles yet to journey.  The last two days she has not made even 40 miles.  Making a hasty calculation, at her present rate, she has more than 2 weeks of hard unforgiving slogging left in front of her .  It all seems impossible what she is trying to do and yet she seems now, more than ever before to be embraced by some dynamic hope that seems capable of smashing impossibility in a heart beat.  She is oblivious to doubt and insecurity and any nattering fear that may come and pester is swished away like a tiny bug.  But encouraging words can come faster and easier than the labored steps she puts in each day.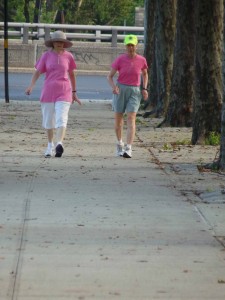 She is leaving the course early each evening as her Doctor recommended.  Last night the skies opened up with a torrential downpour just as she was about to go home.  In this way she is following her Doctor's orders but confesses that she is doing a little more mileage than they recommended. She lives anew each day.  Hope is still fresh and alive in her.  If the strong pain comes back she will be mindful of its message.  She is not about hurting herself in any way.  Adversity is something one must battle for a life time.  Permanent injury is quite another.
It is so early and it is so late.  47 days ago she came here with a simple dream to finish.  It is the same one she has cherished for the past 13 years.  Now the future is not so obvious, yet if nothing else about what what will happen here over the next few weeks is obvious it is that she embodies fully the spirit and heartfelt essence of never giving up.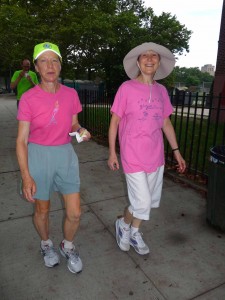 Few if any of us have ever faced the ferocious challenge that is now in front of her.  How many of us would simply give into discomfort, comfortably knowing that we would still be safely judged as heroic for going so far.  It is quite another thing to fearlessly push through the clouds of adversity when the bright daylight on the other side cannot yet be seen.
In the future it just may well be writ that if ever one wanted to cite an example of one who did not give up, it just may well be Suprabha and what she did here at the 3100 mile race.
Do not give up!
He who gives up
Never reaches the Satisfaction-Shore.
Who knows?
Each attempt of yours may bring you
Many exceptionally heart-enlightening
Heaven-prosperities.
Excerpt from Ten Thousand Flower-Flames, Part 87 by Sri Chinmoy.