"I have to say I am so happy that my heart won over my mind.  To come here and run this year, my mind would never have made the choice.  My heart made the choice instead."
In both 2016 and 2017 Smarana had very challenging experiences at the 3100.  Despite completing the distance 7 years in a row from 2002 to 2008 and taking a long break this great Austrian runner could not reach the finish line 2 years in a row.  It had to be disheartening because in so many ways he is so well equipped physically and had so much experience.  It just didn't seem to make any sense that he didn't do it, and also, what made even less sense was to come back to try it once again this year.
Yet as of this morning he is just 300 miles from the goal.  Smarana says, "it feels really good.  But there is still 300 miles to go.  I have a good cushion so it doesn't pose any pressure on me.  Still, until you cross the finish line you have to be really focused."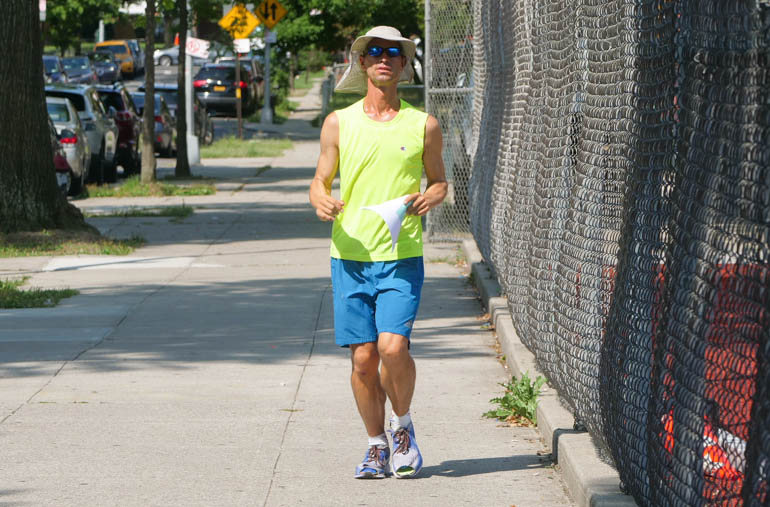 "You never know what comes.  Yesterday in the evening.  I pushed a little bit, and I fell.  All it takes is one bad one and your race is over.  So until the finish line you have to keep your focus, and keep it together."
"So far it has been an amazing journey.  I have collected a bag full of experiences, that I will be happy to take out when I get home, and relive, and enjoy again."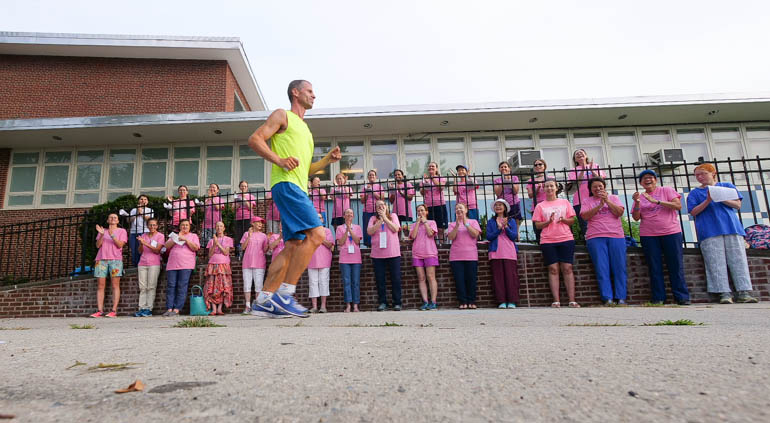 Smarana confesses that a lack of confidence was something that he has been working on since day one here.  "It has been working pretty good so far.  The race helped me tremendously to work on it.  You learn so much how to deal with it.  It is really amazing that I could be part of this journey here."
Smarana looks back at the last 2 races as stepping stones.  In his earlier 7 races he was stronger and more confident.  He felt that there was a strong force from Sri Chinmoy that helped him to accomplish them.  But in the last of that series in 2008 he had some serious issues.  "I kind of burned out."
Almost from the beginning of the race in 2016, he was thinking, "it is hot I want to go home.  My mind just wanted to escape.  It didn't want anymore pressure.  I feel these 2 races were still stepping stones to get back into it.  To rid myself of the dramatic experience I had previously in 2008."
"It looks like I have been through it and I now definitely have a lot of confidence."
The Board at the Start of Day 47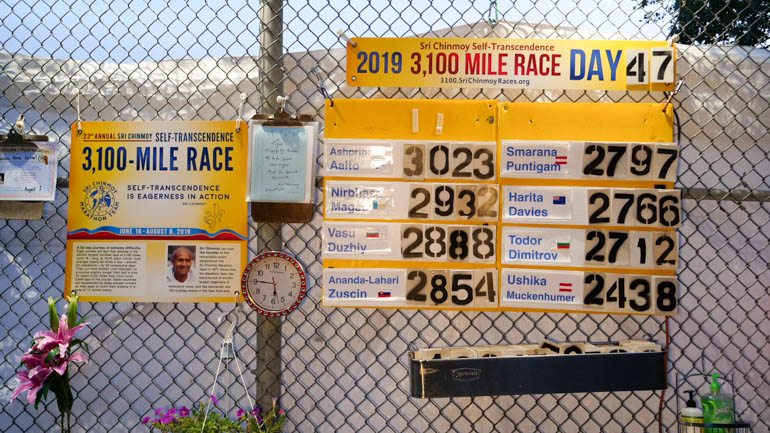 Camp early
Clocks
Aharan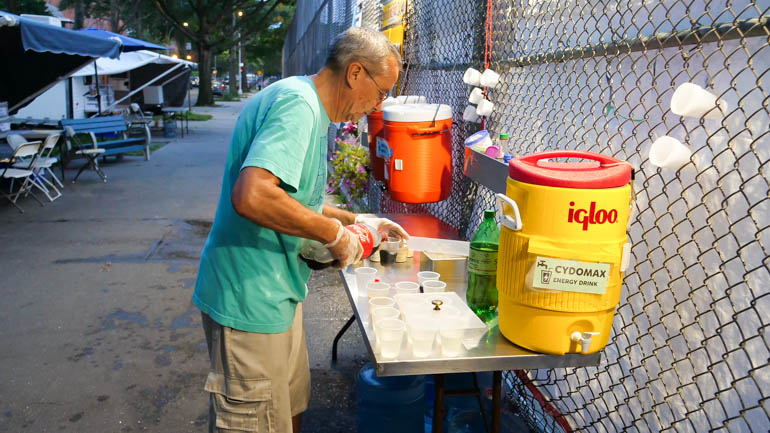 Ashprihanal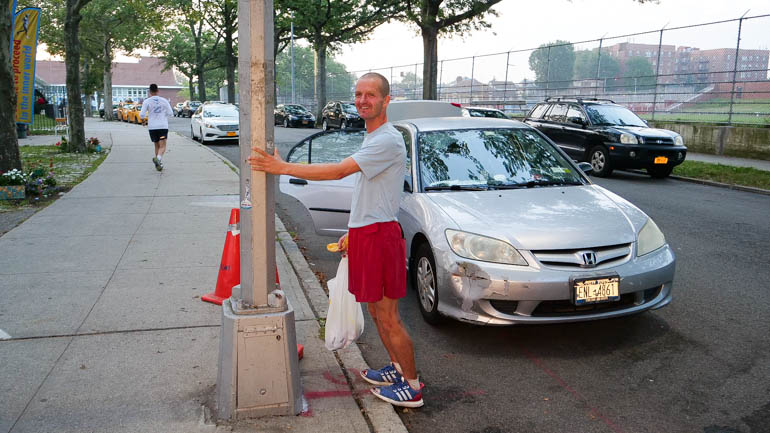 Rupantar checking the counting book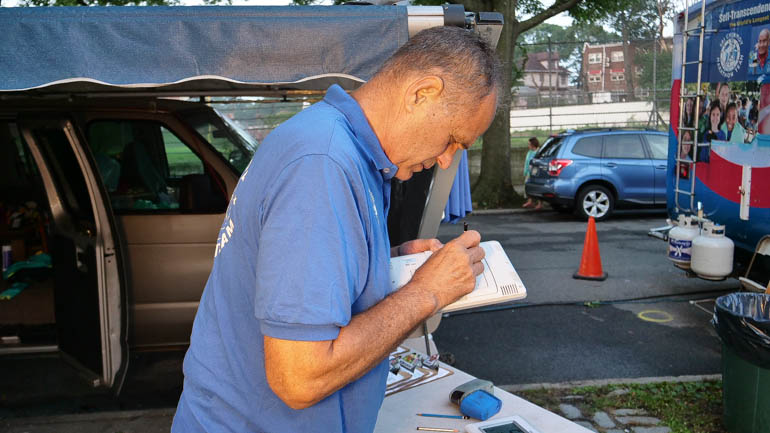 Ananda-Lahari
Ushika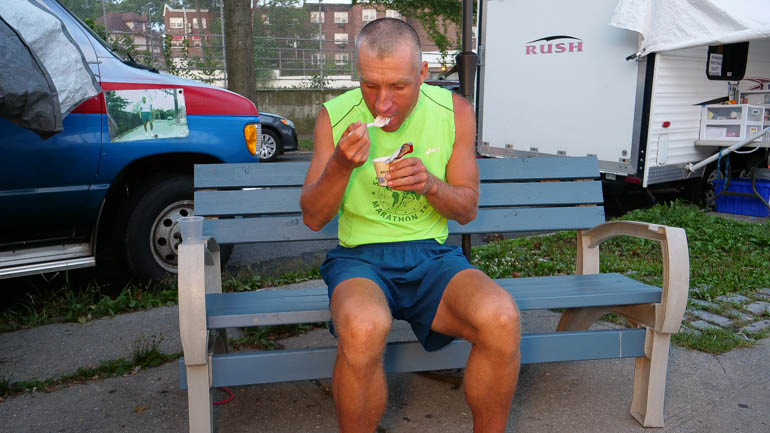 Harita
Aharan is going to fix Ananda-Lahari's shoes
Smarana
Harita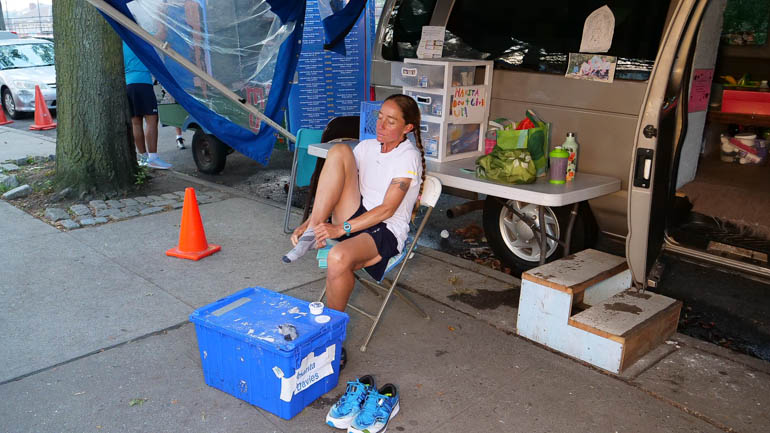 Start Day 47
The weather
Slightly overcast
Ashprihanal has 3023 miles
He ran 68
Will finish tomorrow morning
Another win
Flower
Nirbhasa has 2932 miles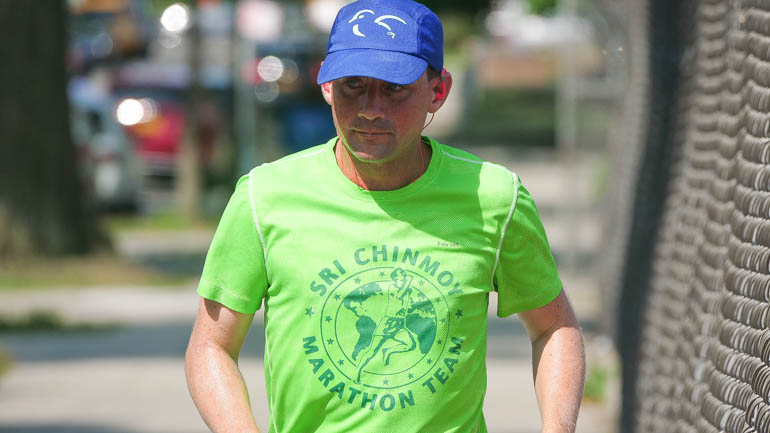 He ran 65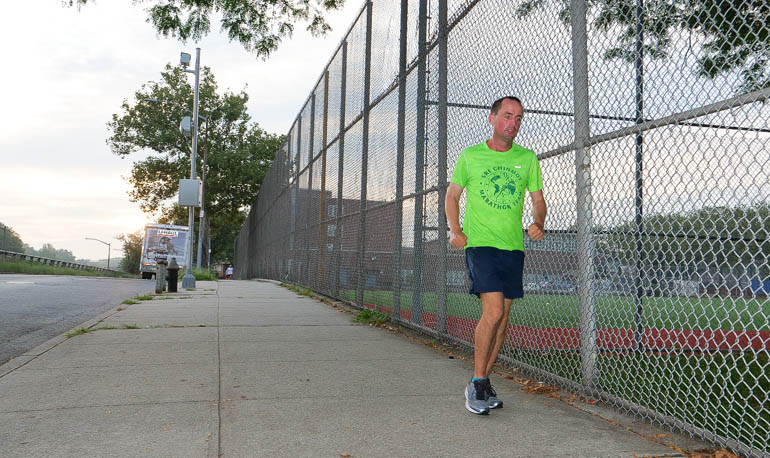 Leads Vasu by 54 miles
Flower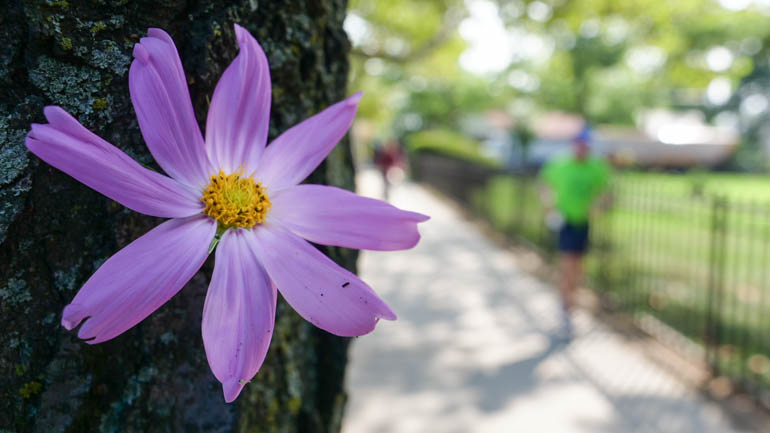 Ozod came from Brooklyn to run 100 laps of the course
Vasu has 2888 miles
He ran 64
Leads Ananda-Lahari by 34
Flower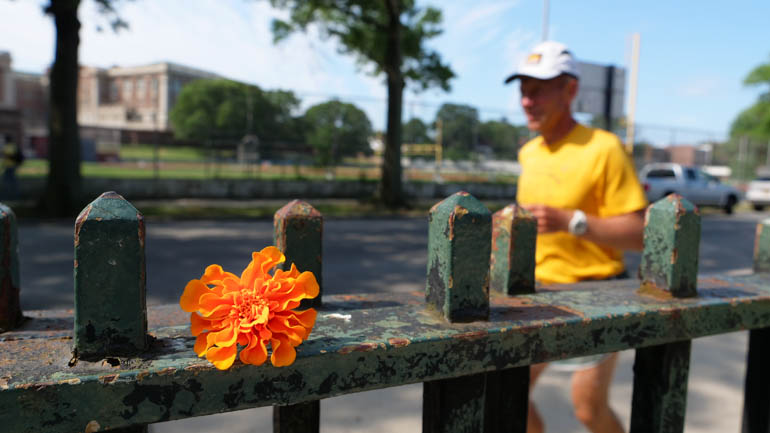 Nayaja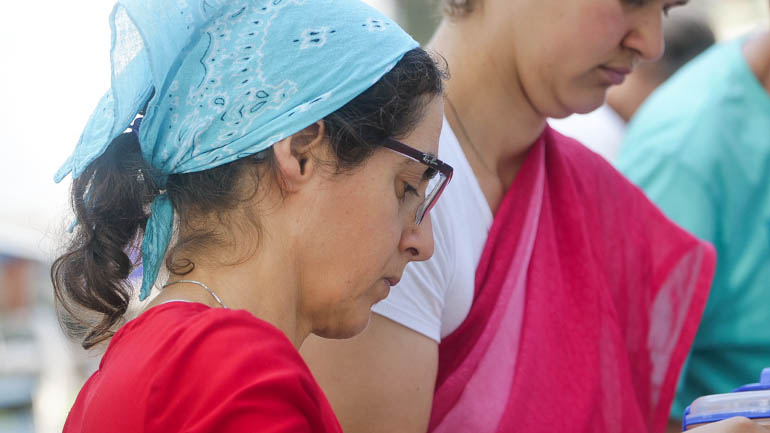 Ananda-Lahari has 2854 miles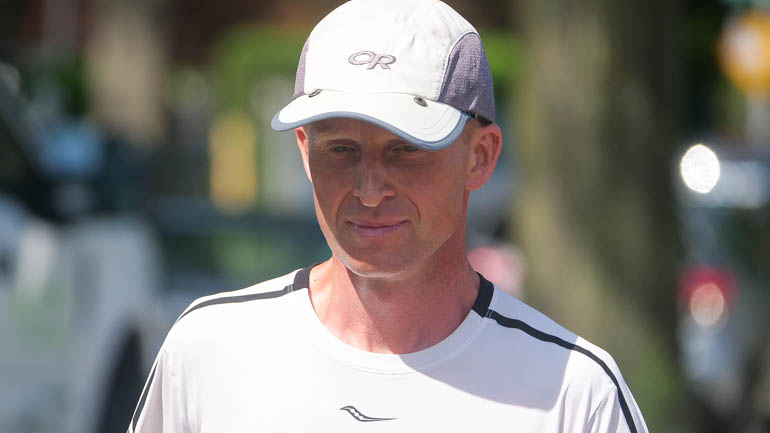 He ran 53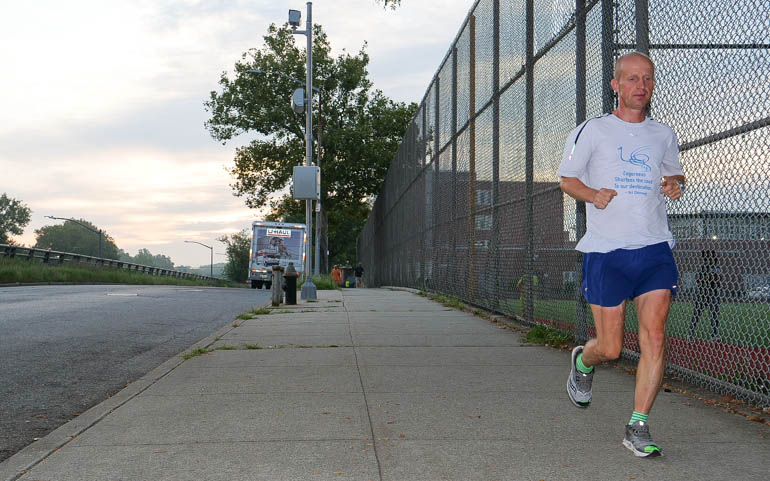 Leads Smarana by 57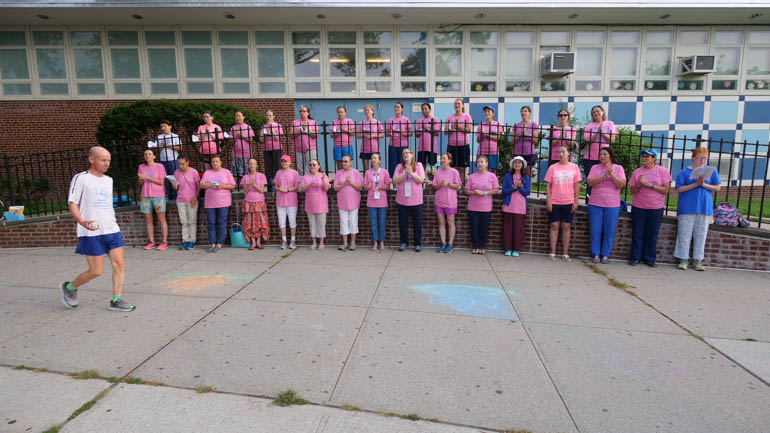 On Day 47
Flower
Camp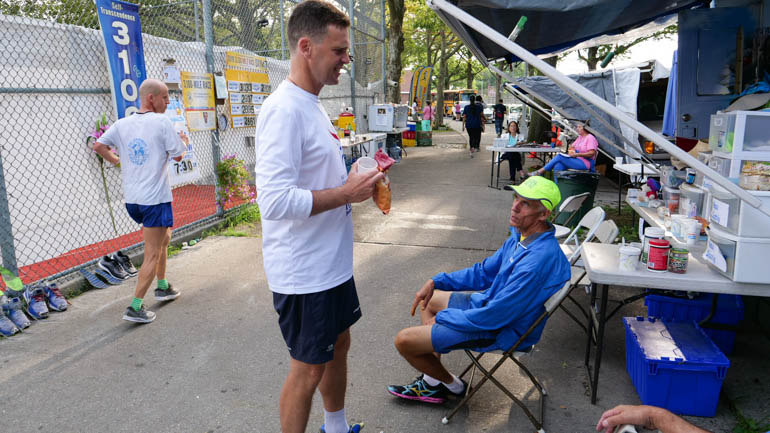 Peterson
Smarana has 2797 miles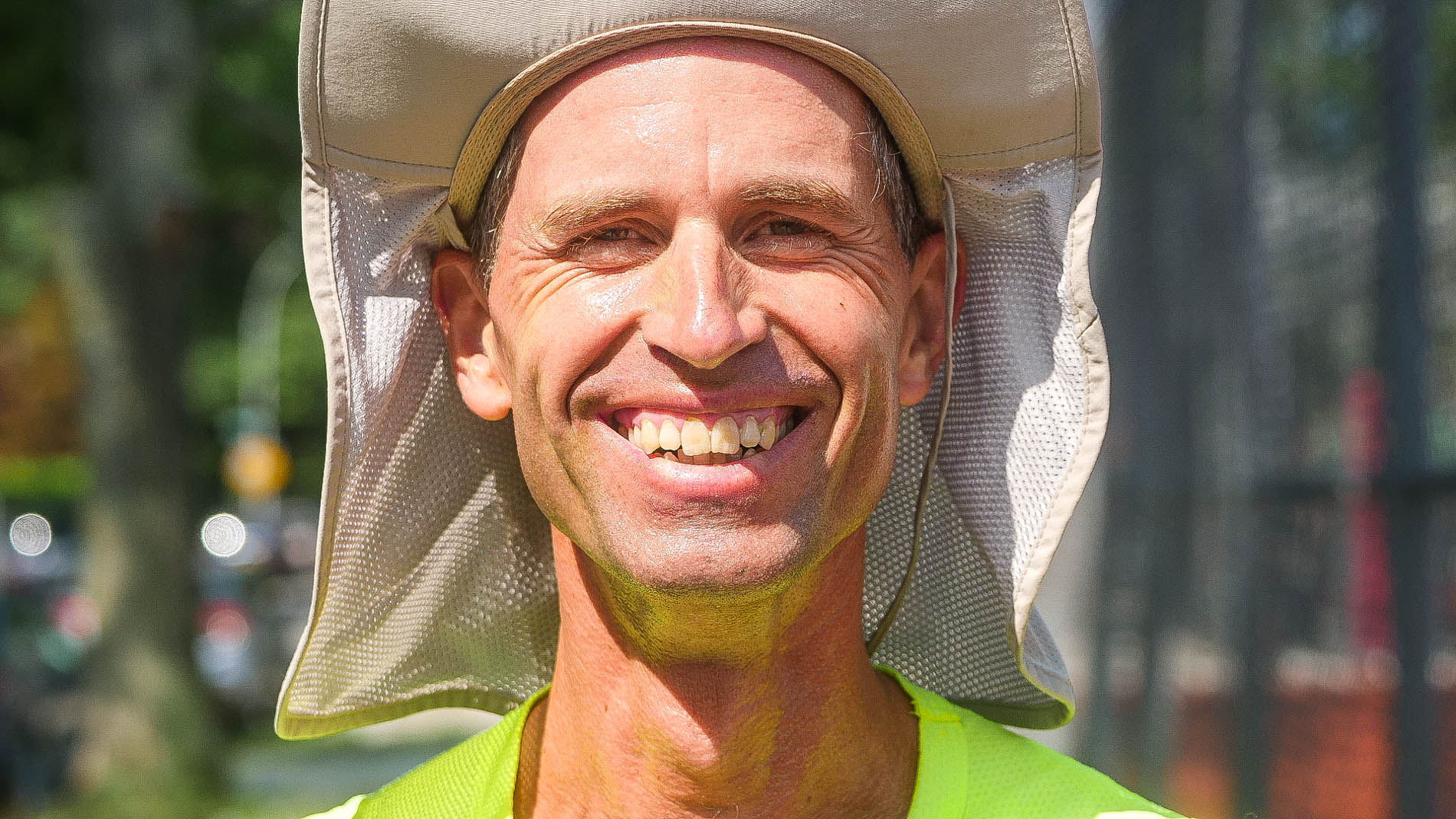 He ran 63
A fall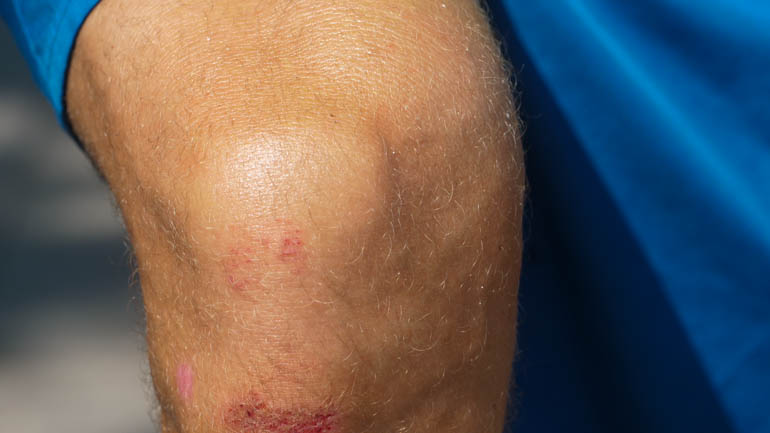 Has a cushion of 56 miles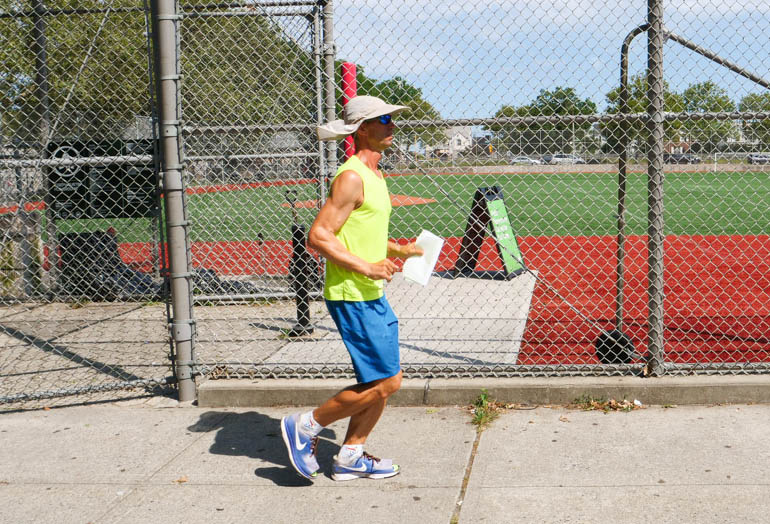 Flower
Aharan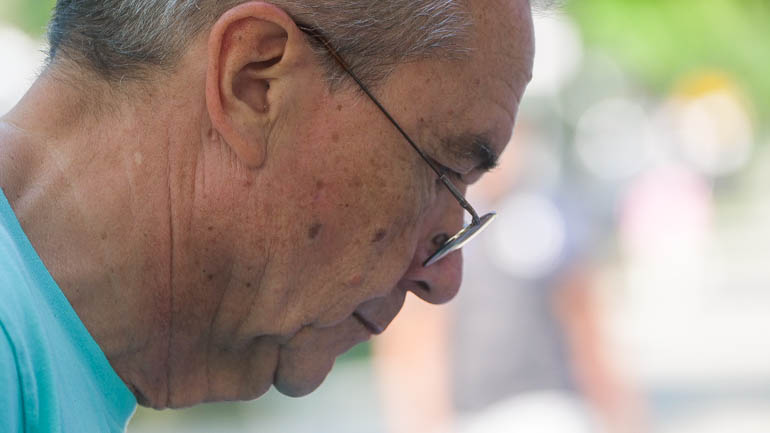 Harita has 2766 miles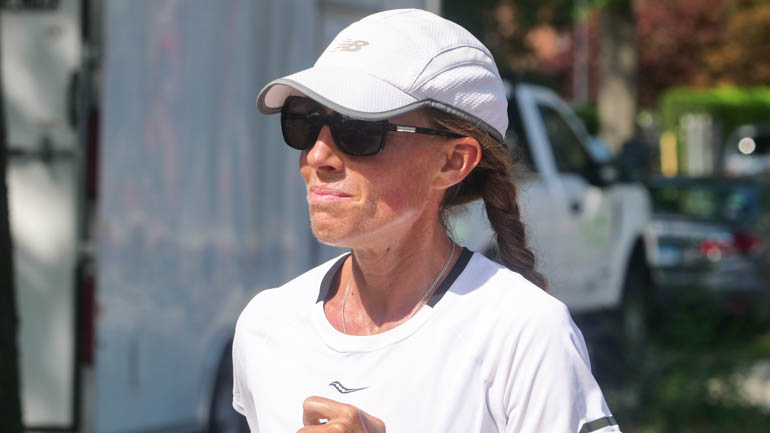 She did 56
Not feeling great in the morning she has a cushion of 25 miles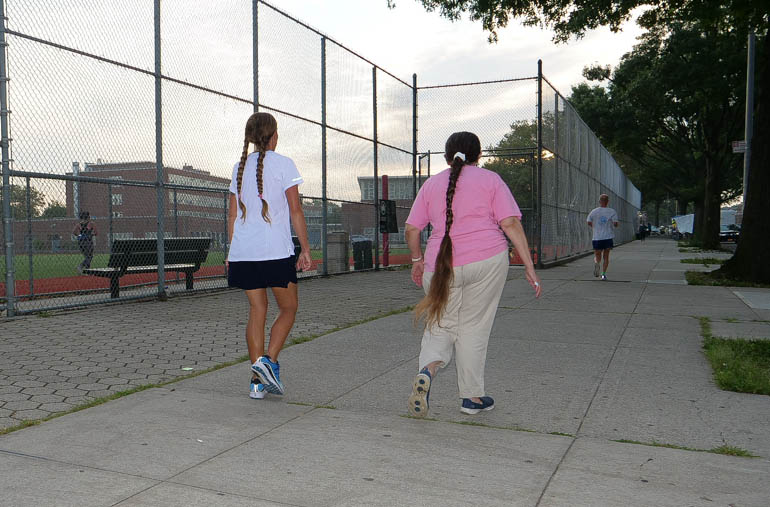 Flower
Luana gathering fresh grass
Anupam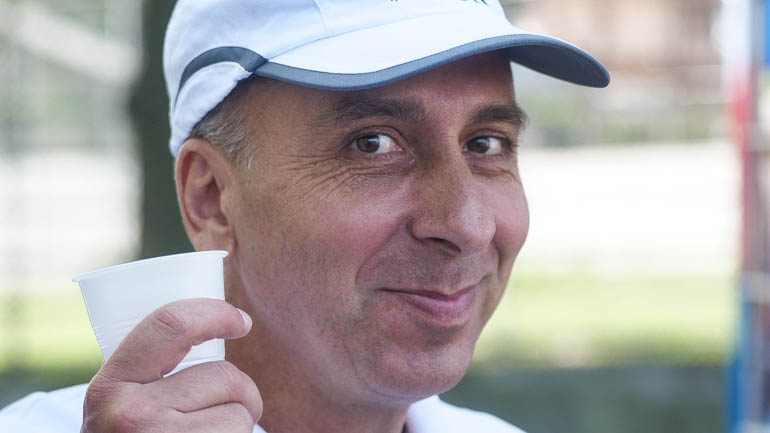 Todor has 2712 miles
He did 45 miles
Stretching
He is 29 miles behind the magic number
Doing his best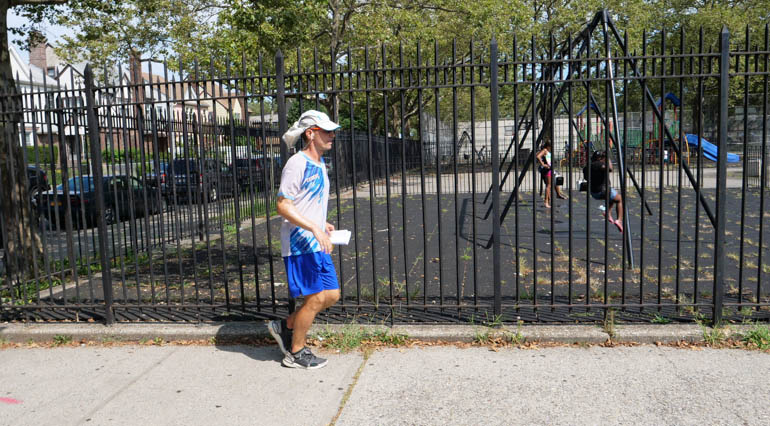 Flower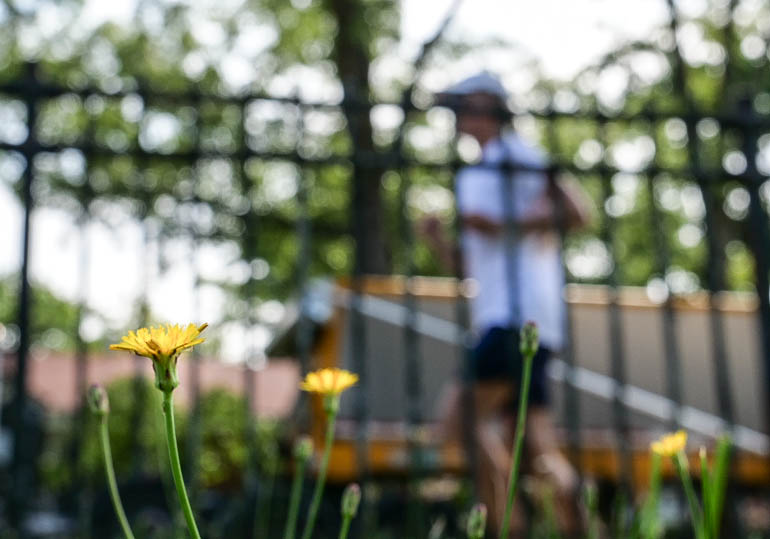 Sahishnu making ice bags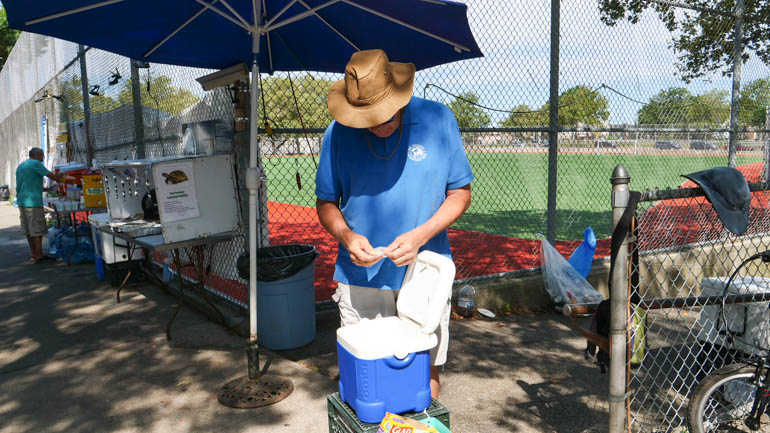 Ushika has 2438 miles
He did 51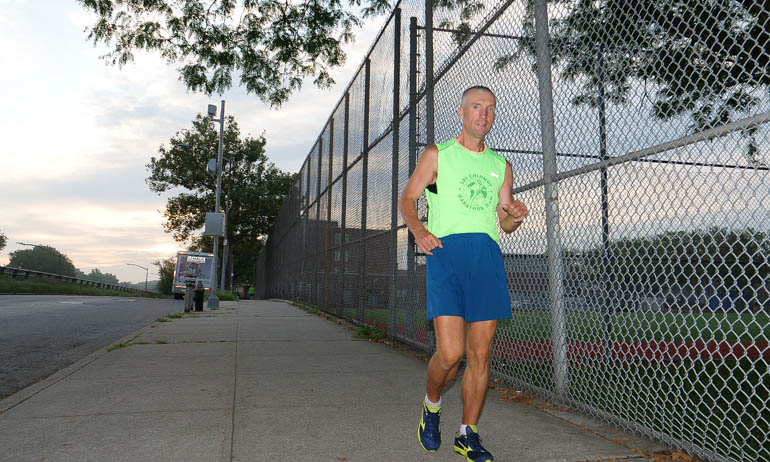 With smiling Max
Flower
Renata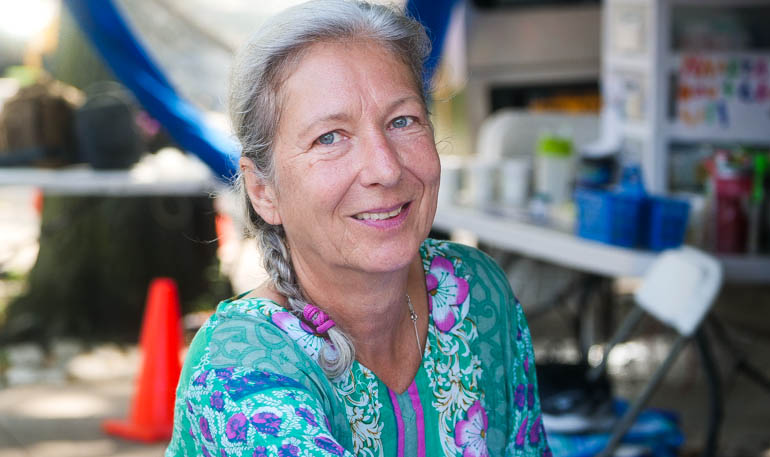 Swamiji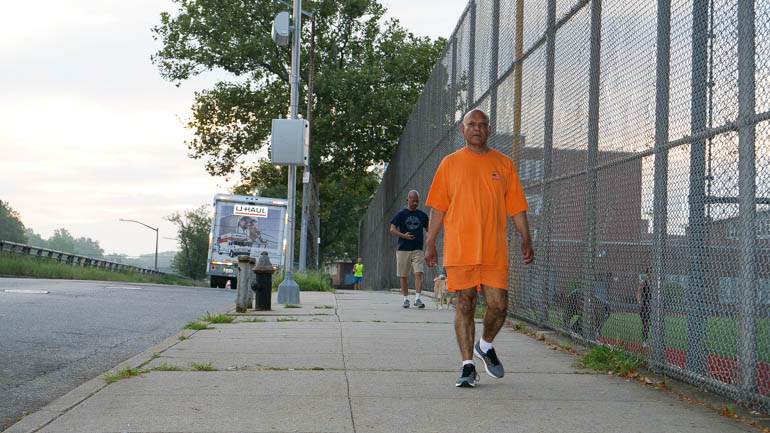 Flower
The finish tomorrow
Poem of the Day held by Kalpa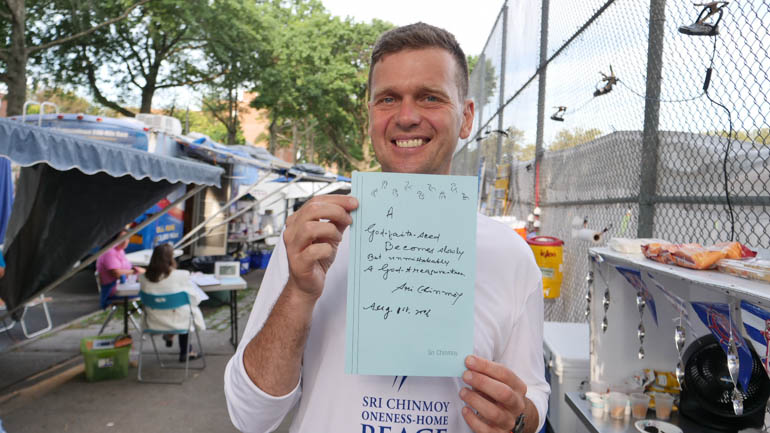 A
God-faith-seed
Becomes slowly
But unmistakably
A God-treasure-tree.
Sri Chinmoy
Aug. 1st, 2006
Enthusiasm Awakeners
Not what happens to you
But how you accept it
Is of paramount importance.