When Smarana went home last night he could rest easier than he had for some time.  Not only did he not just have a good day of 64 miles he also had pushed past the half way mark, a day and a half ahead of tonight's deadline.  Being able to excel and succeed in this race was for 7 years straight an almost given.

Coming back from his long break 2 years ago things on the physical level at least did not go to plan.  Both in 2017 and in 2018 he was unable to make the distance and he had to gamely find joy in battling out for 52 days and yet was unable to cross the finish line.
This year the story appears to be something quite different. Smarana has re calibrated his attitude and perhaps as well his receptivity.  Incredibly strong outwardly to look at he now is showing an inner strength that is proving to be very successful.
I spoke with him as he was running with Todor.  I was curious just how much it helps to have a running companion.  "One plus one is more than two."  He describes how each of their energies feeds off of each other.  "Every now and then you talk a little bit.  It is nice that somebody is there.  It feels like having an extra power bank."
"I can draw a little bit from him and sometimes he can draw from me.  It is very nice."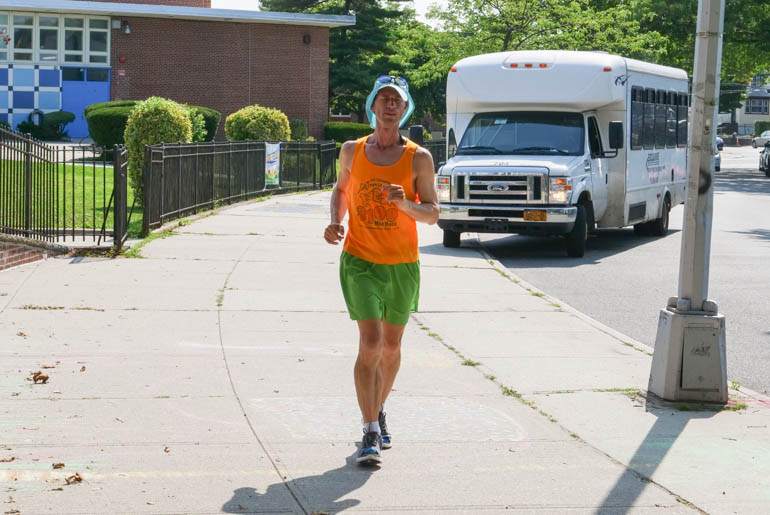 "This race has been quite different compared to all my other races.  I think I am getting there.  The first 7 races sometimes I pushed with brute force, and the last 2 races I tried to change my way of doing the race.  I tried to be more joyful, a little more surrendered.  To be in the flow and not have these mental goals."
"I see in the end you get your miles, but with much less stress.  You can see the world around you better.  You don't have to have this tunnel vision.  I want to have more faith that everything will just work out, and be fine.  It is a nice feeling."
Smarana says that he had a series of not so great days which reminded him a similar experience he had last year when he felt himself tumbling down a metaphorical rabbit hole, which he could not escape from. "I really crashed."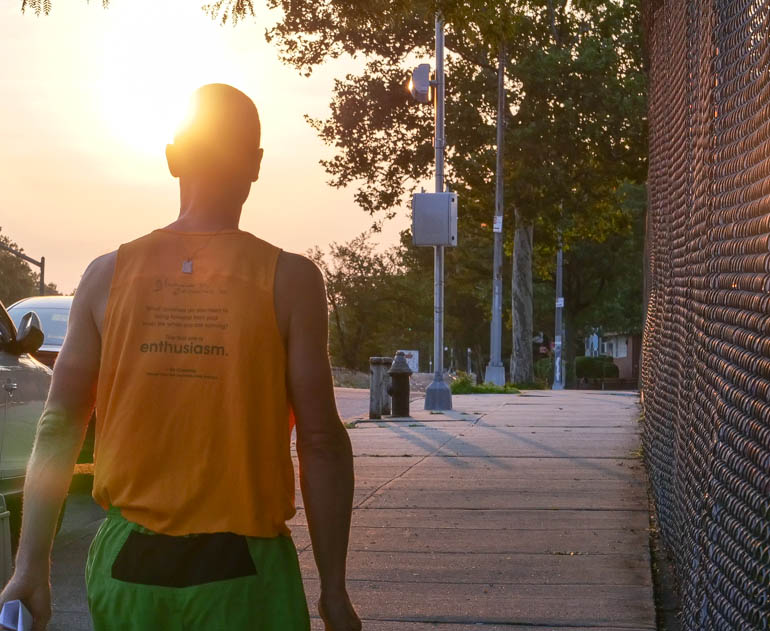 When he felt things were not working out as he hoped he says he simply started changing things.  "It helped.   This was very important for my confidence.  I am not going down this rabbit hole.  So it helps me to run with someone and stay in the flow."

The Board at the Start of Day 26
Vajra cleaning up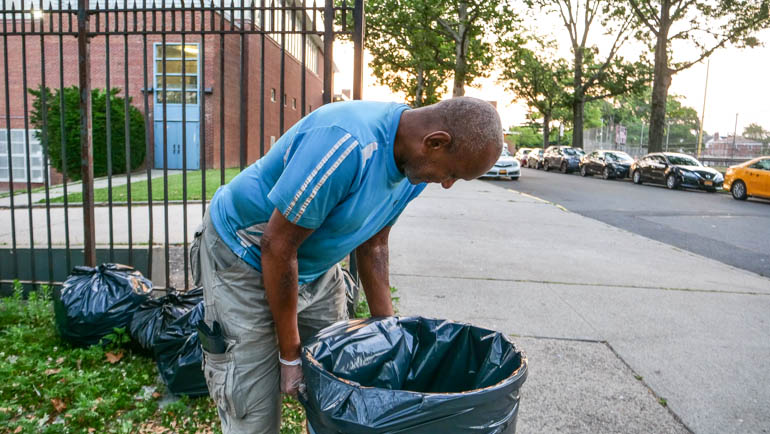 Camp early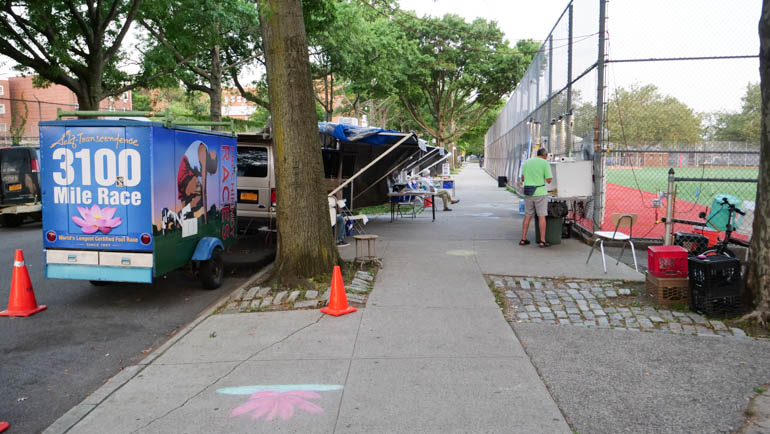 Clock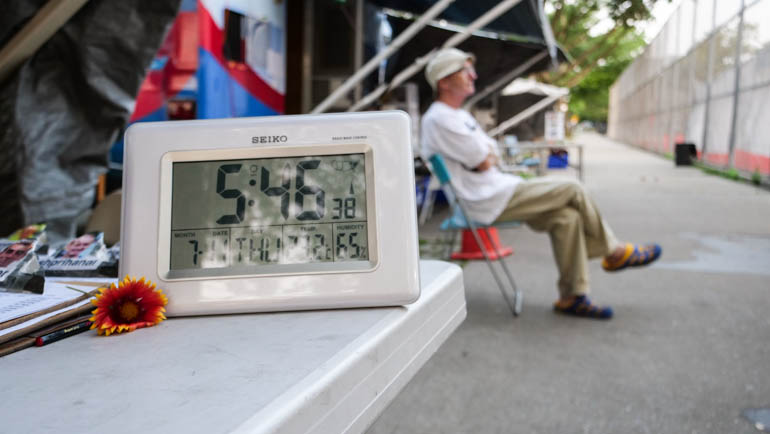 Ashprihanal
Making notes
Smarana's bike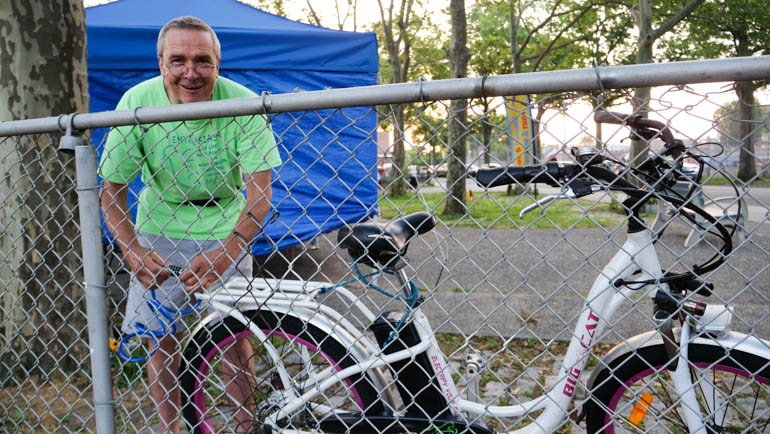 Smarana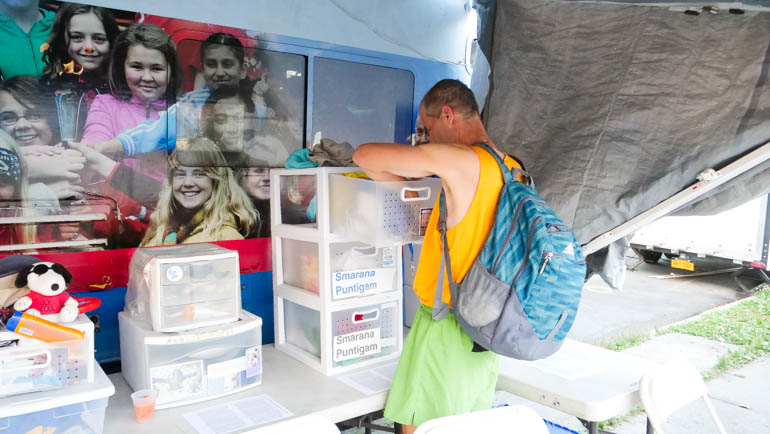 Ushika and Ananda-Lahari
Harita
Nirbhasa gets help with his shoes
Ushika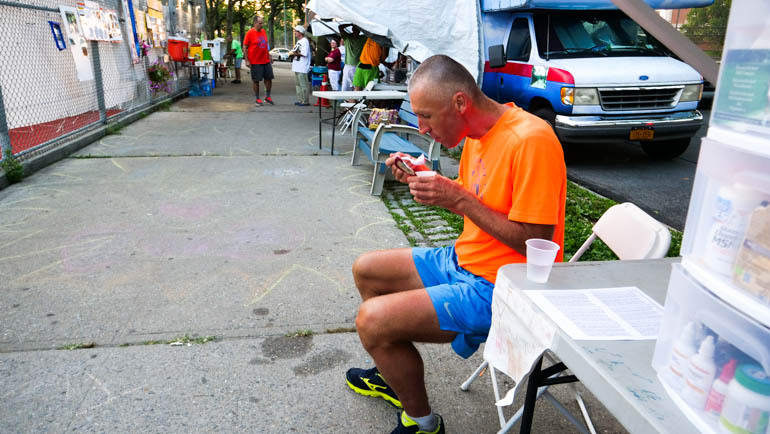 Start Day 26
A beautiful morning but showers come late in the day
Ashprihanal has 1671 miles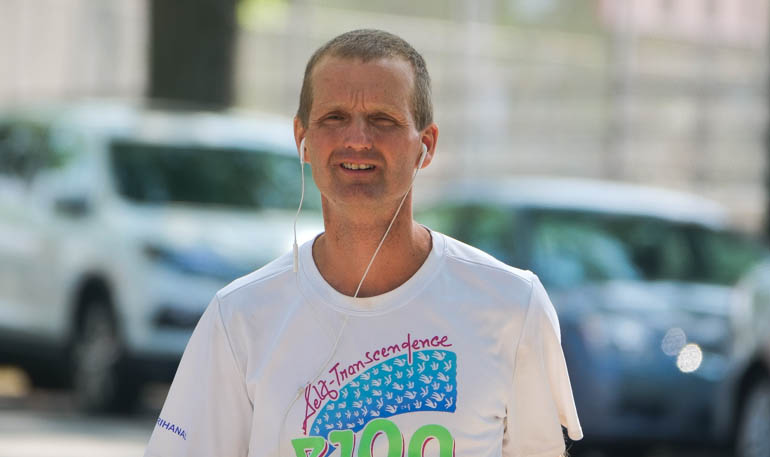 He ran 69 miles yesterday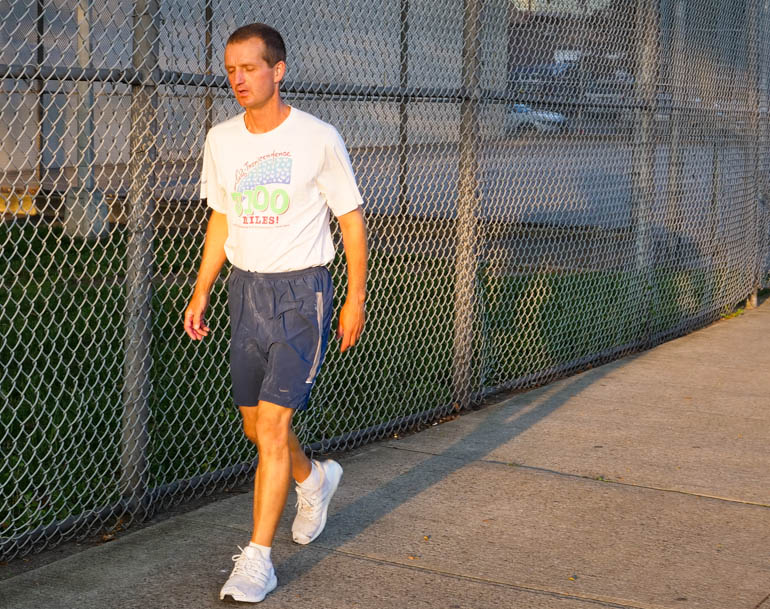 He leads Nirbhasa by 40 miles
Green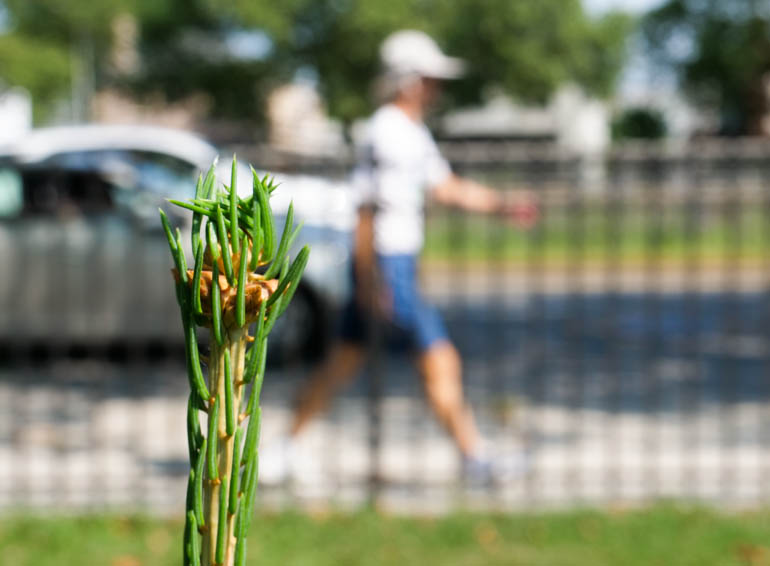 Sahishnu
Nirbhasa has 1631 miles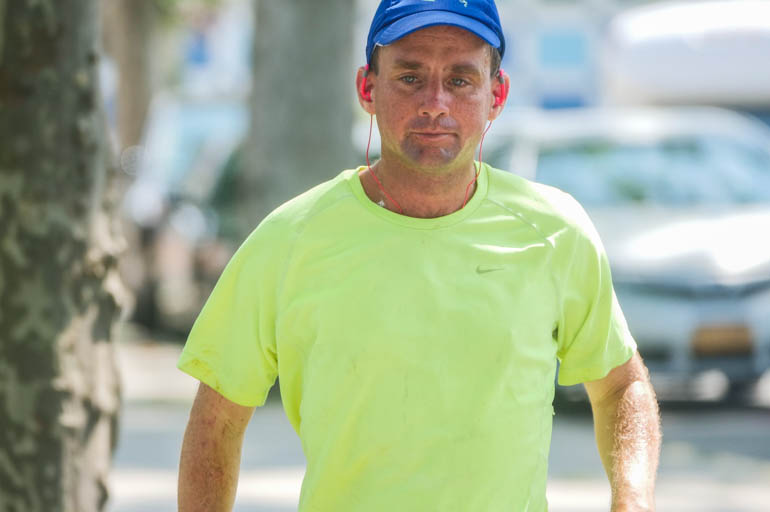 He ran 66 miles yesterday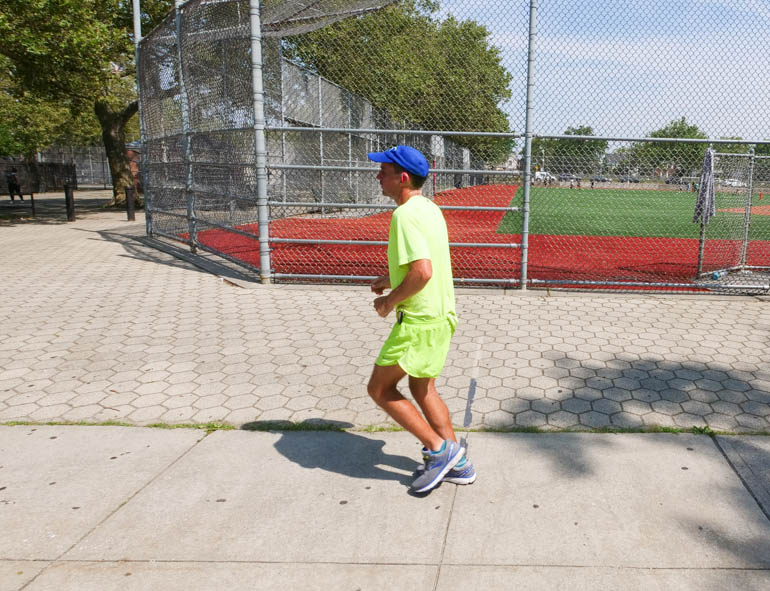 With Yahva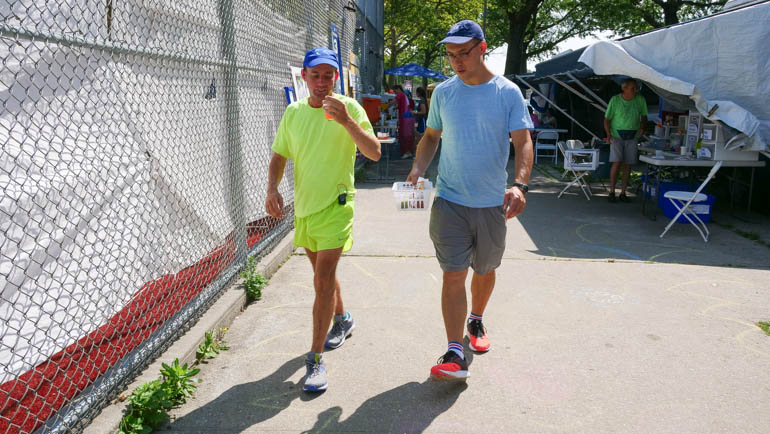 He is doing very well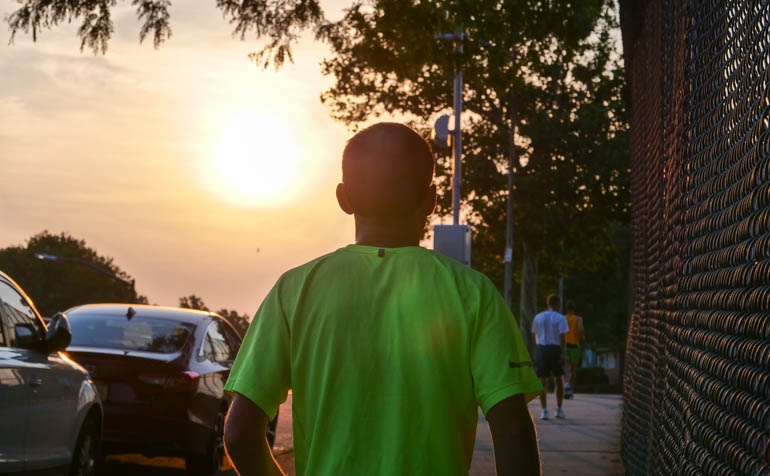 Flower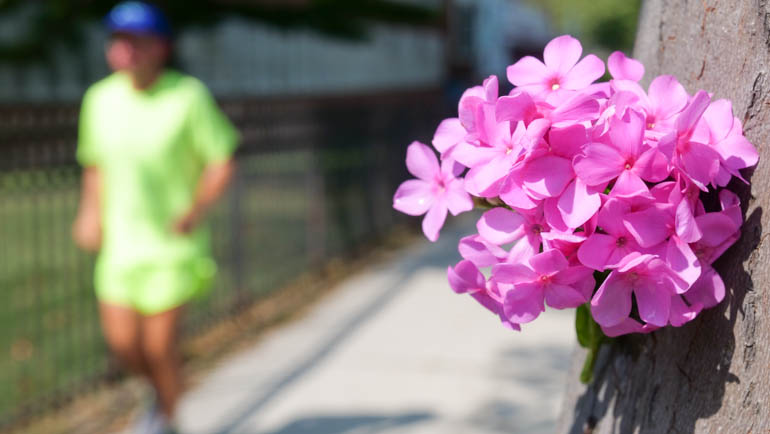 Sadanand and Salil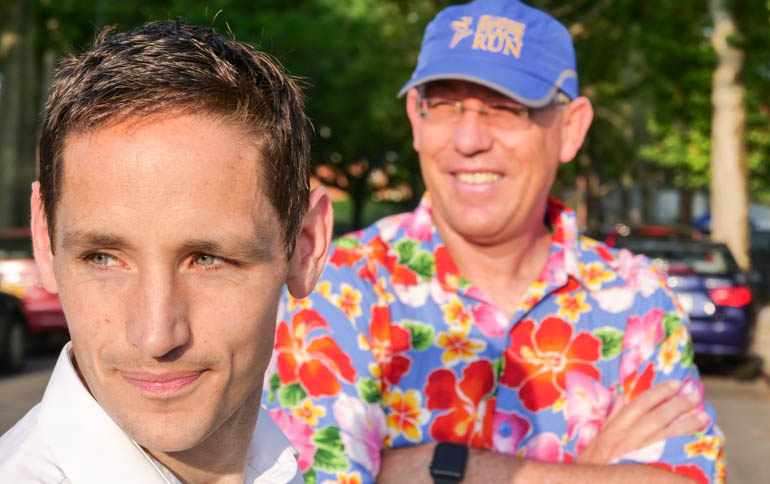 Vasu has 1577 miles
He ran 60 miles yesterday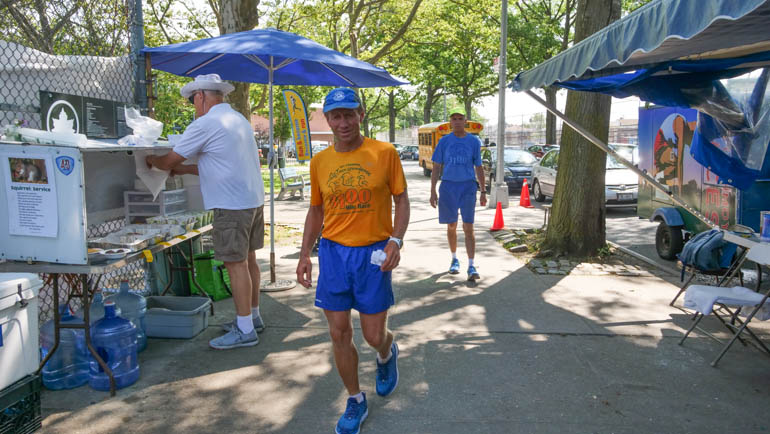 With Nikolai
Doing well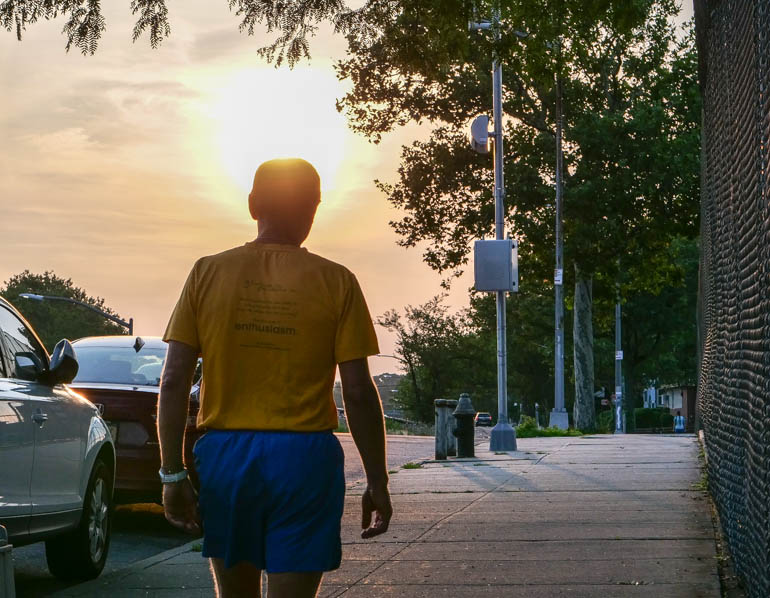 Flower
Yahva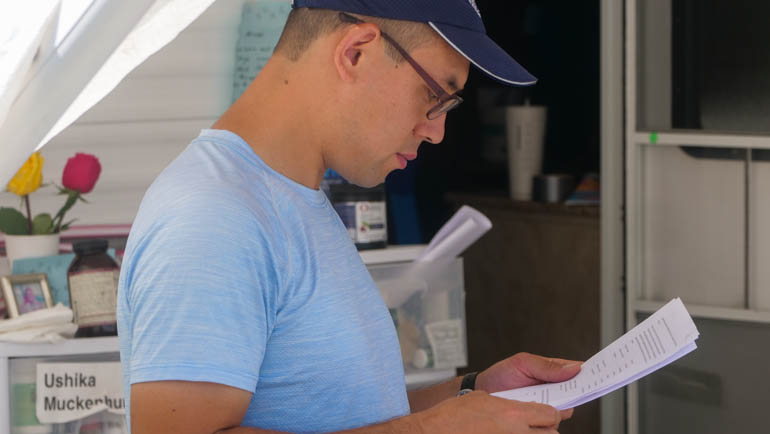 Smarana has 1565 miles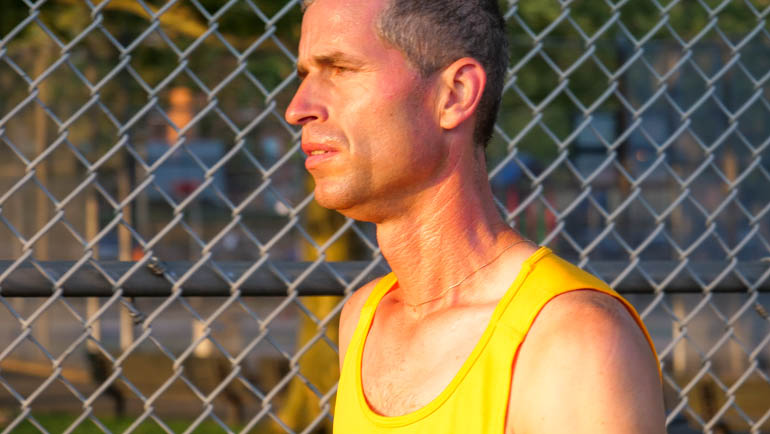 He ran 64 miles yesterday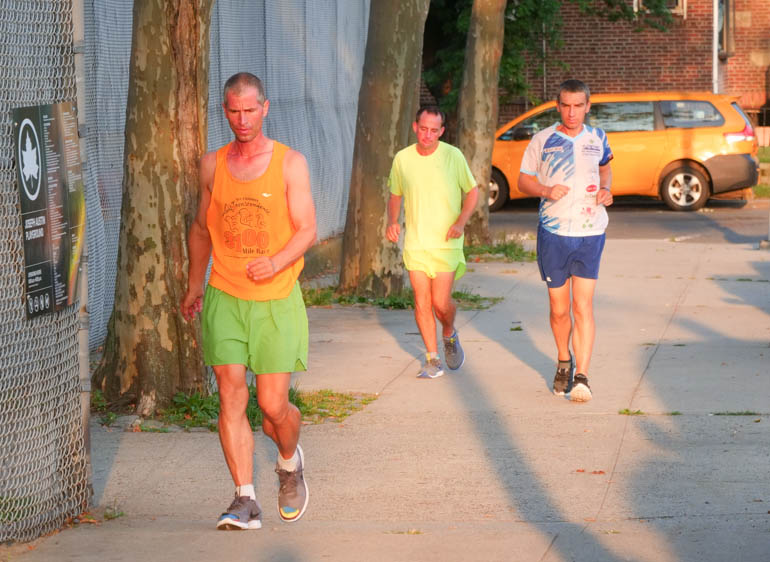 Just 1535 more miles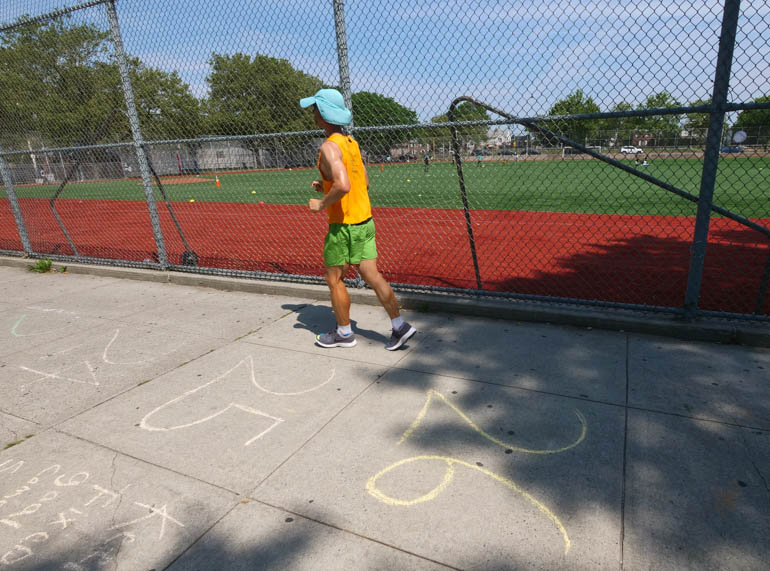 Flower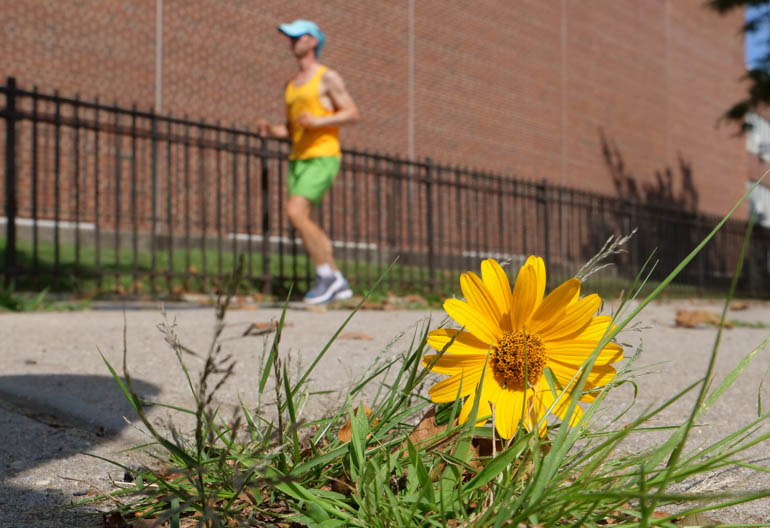 Nirjharini
Ananda-Lahari has 1544 miles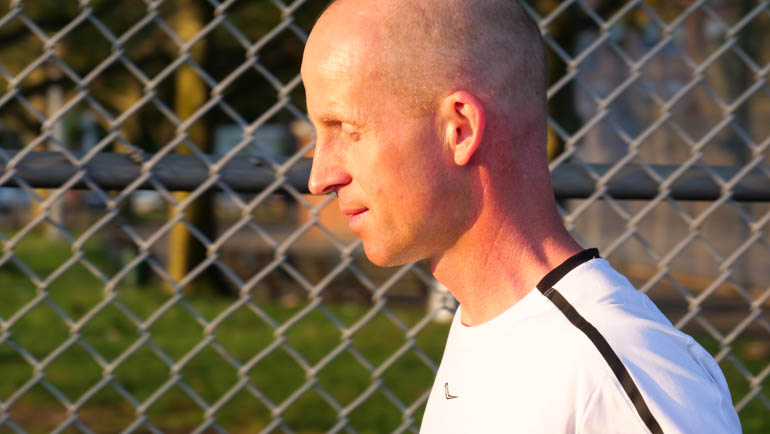 He ran 64 miles yesterday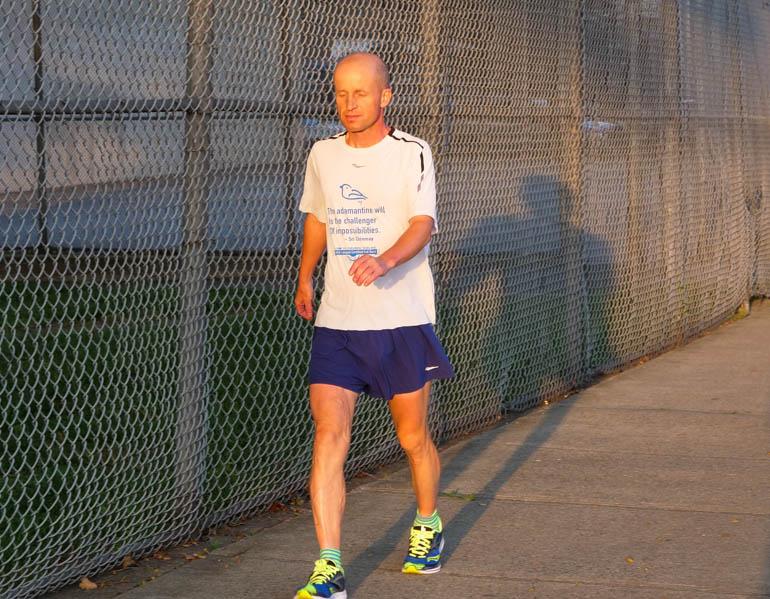 25 miles ahead of Harita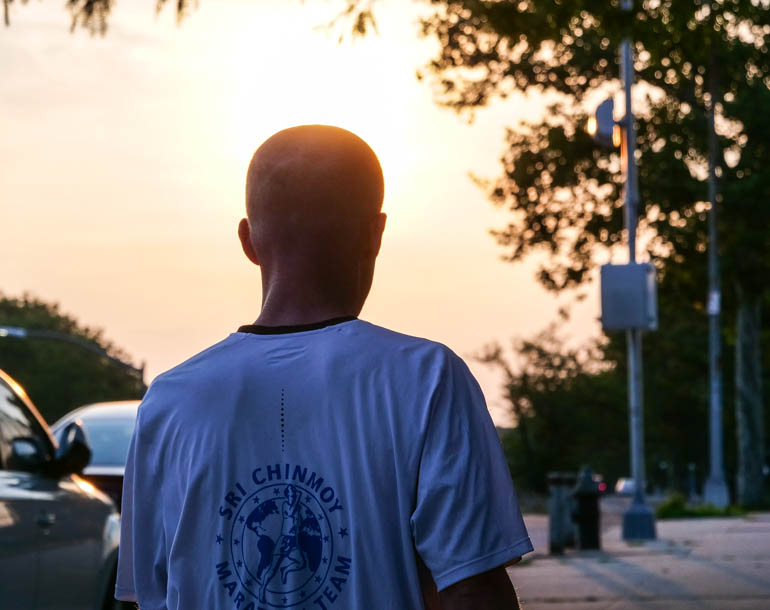 Making half way
54 miles ahead of the magic number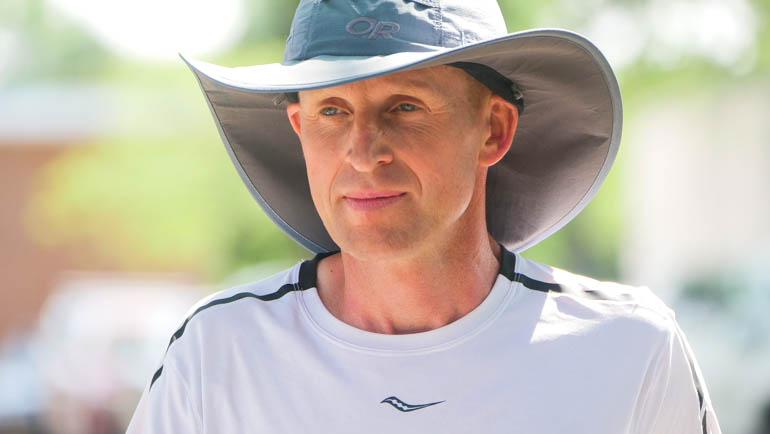 Flower
Harita has 1519 miles
She ran 62 miles yesterday
With Anita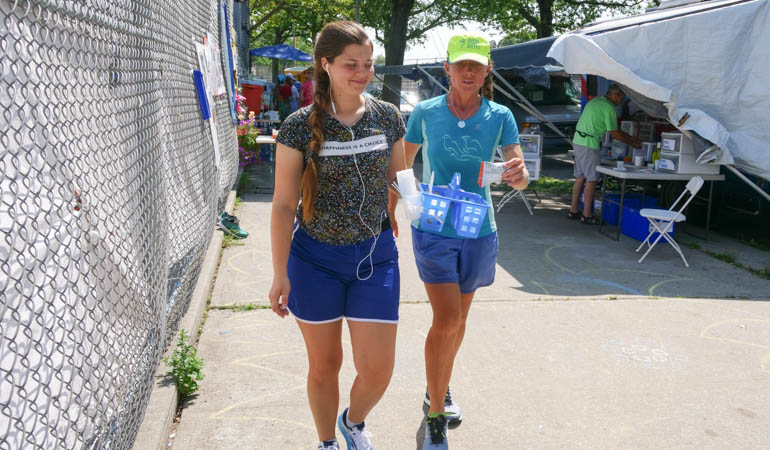 She is 29 miles ahead of the magic number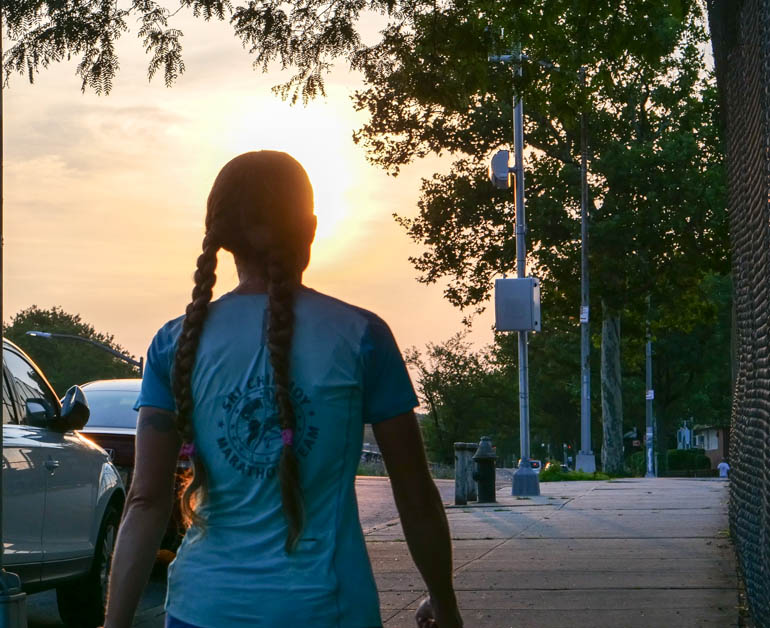 Harita and Kaneenika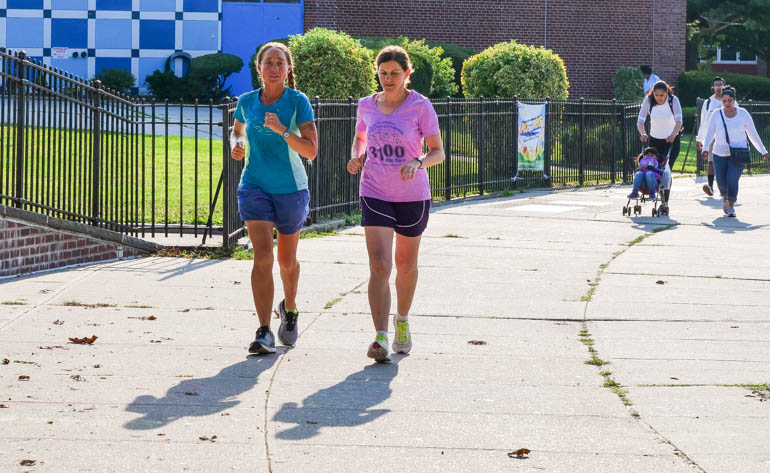 Flower
Todor has 1504 miles
He ran 63 miles yesterday
He is 14 miles ahead of the magic number
Todor made 1500 miles last night
Doing well
Flower
Nirjharini and Anita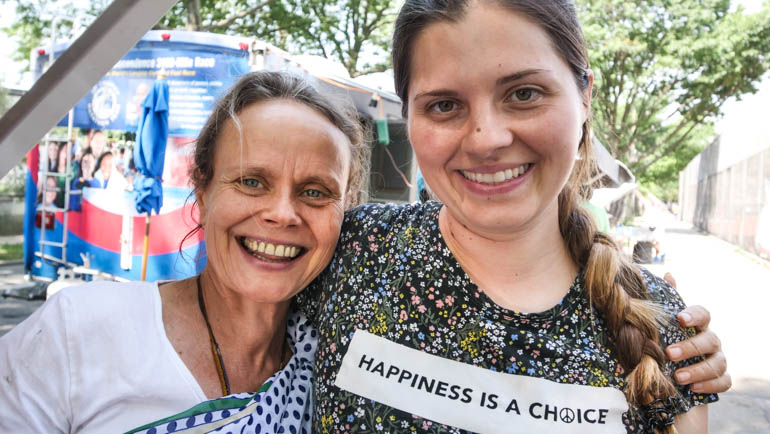 Ushika has 1336 miles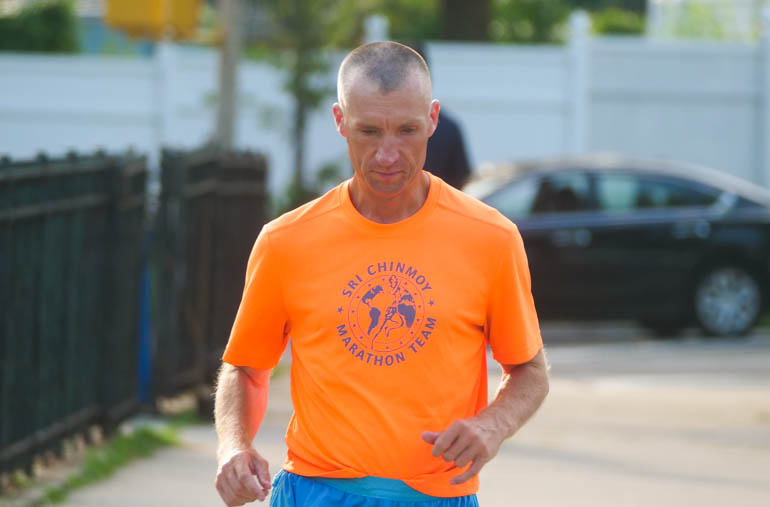 He ran 54 miles yesterday his best since day 11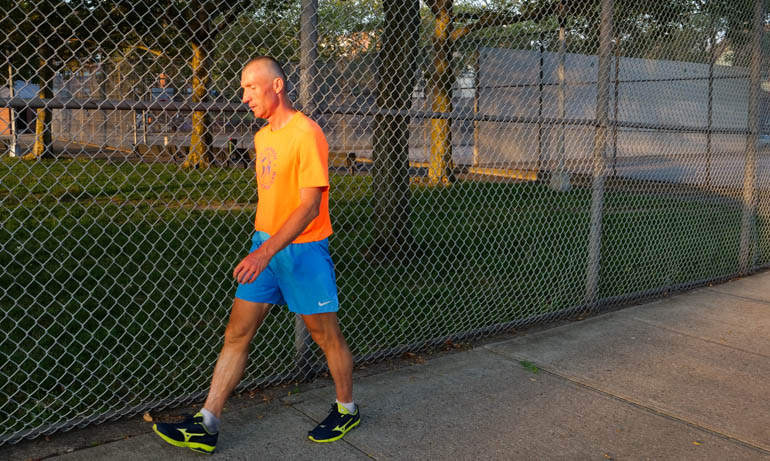 The long journey
Flower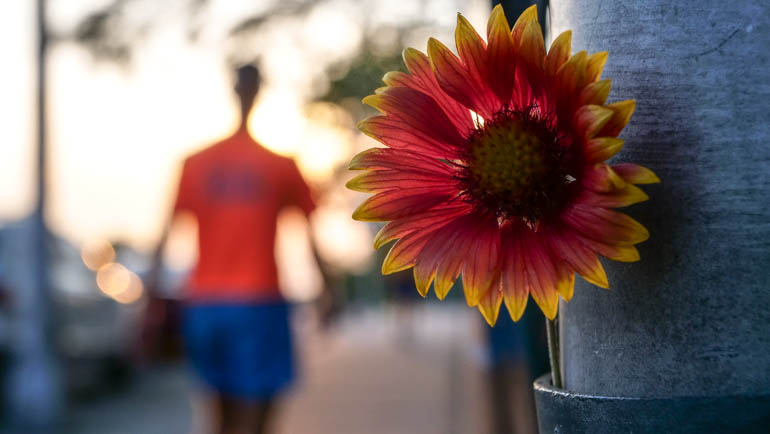 Max
Waiting for his cue.
"I think living in clover works better as a metaphor."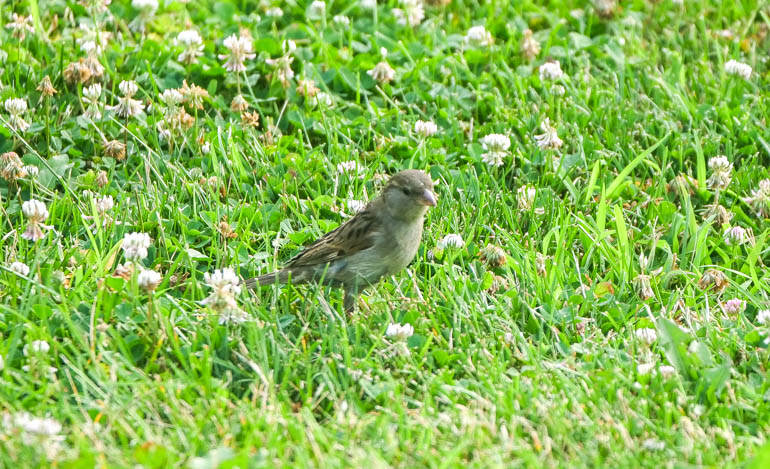 Poem of the Day held by Kaneenika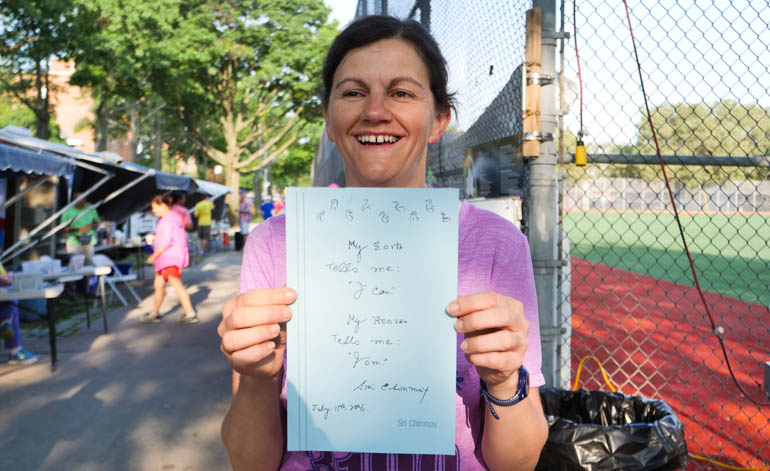 My Earth
Tells me:
"I can."
My Heaven
Tells me:
"I am."
Sri Chinmoy
July 11th, 2006
Enthusiasm Awakeners
No time can ever be better
Than this very moment.