Yesterday was a very good day for Yolanda.  She managed to make 119 laps (65 miles), and though she had hoped to add one more lap to the total, the unforgiving clock at the finish line did not allow it.

As she enters the 43rd day of the race she has amassed an impressive total, 2483 miles.  Which by using the simple math of the days left to her means she has 10 days to cover the next 617 miles.  An average of 61.7 miles will do it.  But there now can no longer be a bad day.  For Yolanda there is no longer such a thing as taking it easy.
"I just want to say, I want to get this done.  Last night I pulled off 65 miles, and today I hope to do the same.  I just want to get this race over with.  If I hadn't had those 3 hiccups (Days 28, 29, 33).  Those setback, I would be almost finished."
"But that is in the past.  I am okay.  I have lost a lot of weight, but it is okay.  I am moving forward.  I am going to get this done."
When asked about her supporters following her on Facebook, "I am really proud of everyone who has taken the 52 day challenge.  But we are there.  There is only 10 days left.  We have got this."
I am curious of how she has been able to overcome all the hardship that she has so far endured.  "I have this inner strength that I didn't know I had.  It pops out every once in a while just when I need it.  Last night, the last 2 miles.  I was trying to do 120 laps.  This strength and speed just came from nowhere."
Renae her coach has been helping Yolanda tremendously ever since she arrived a few days ago.  "Her encouragement and her support and her truly believing in me has really helped me tremendously.  If it wasn't for her being here, the 62 miles a day that I need to do would be a pure struggle.  She is an amazing woman, a great coach, and I am happy to have her here with me.  Her support is just what I need right now."
Yolanda believes right now that the makeup of what is driving her right now is based 70% on her mental strength and just 30% on her physical strength.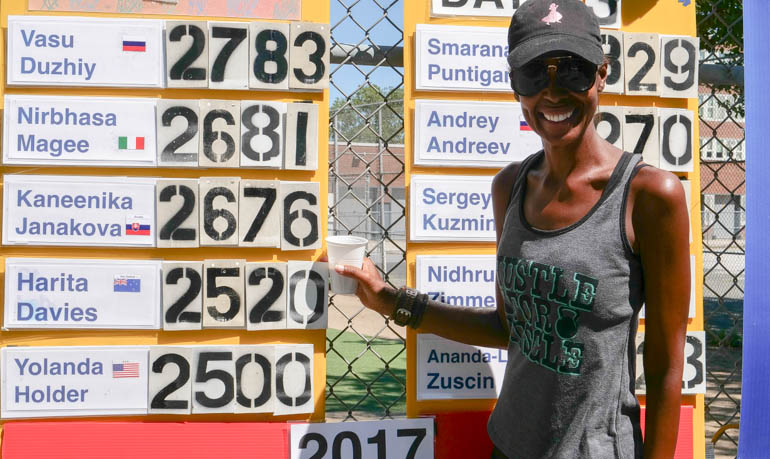 "It is hard.  This concrete is no joke.  My left foot is pretty much damaged, my right foot is okay. There is nothing you can do about it.  Just suck it up and pray on it and keep moving forward."
"We only have 10 days left and I am going to give this my all and get this baby done."
On her good days she says the challenge of the race makes her shine.  "My smile comes natural.  It makes me happy.  I love walking and walking 60 miles a day is amazing.  It is something that I like to do.  I keep smiling and digging deep and keep praying.   Praying is what works."

A life of perfection
Never stops.
It only moves forward,
Upward and inward.
Board at the start of Day 43
Quiet Sunday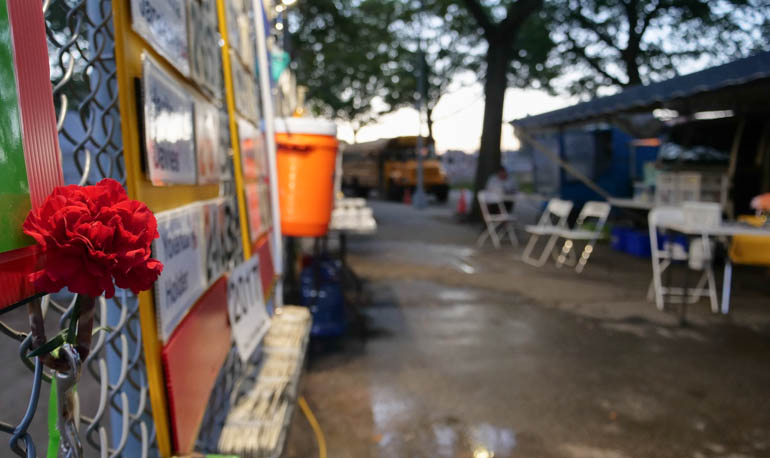 Clock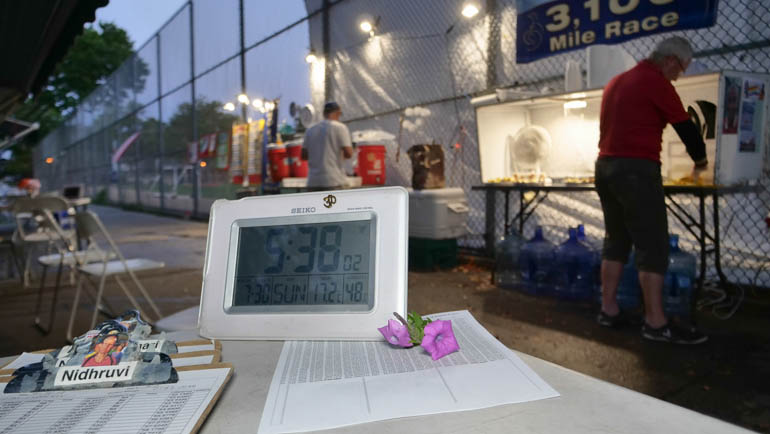 Suhasini
Yolanda
Yuri
Nidhruvi
Alan
Renae gives Yolanda a massage
Vasu
Girls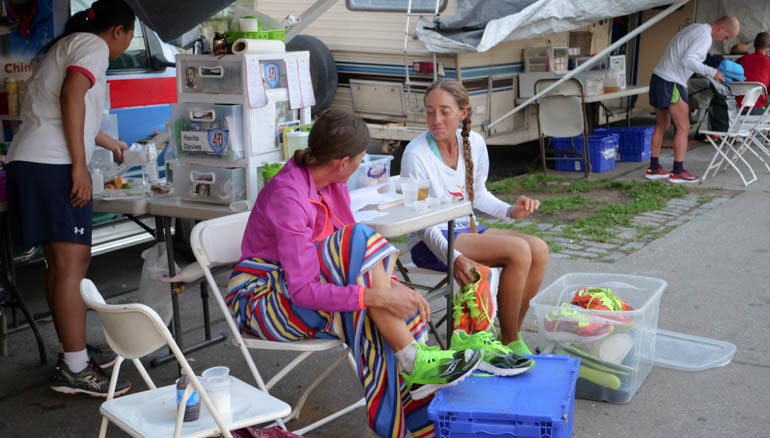 Rupantar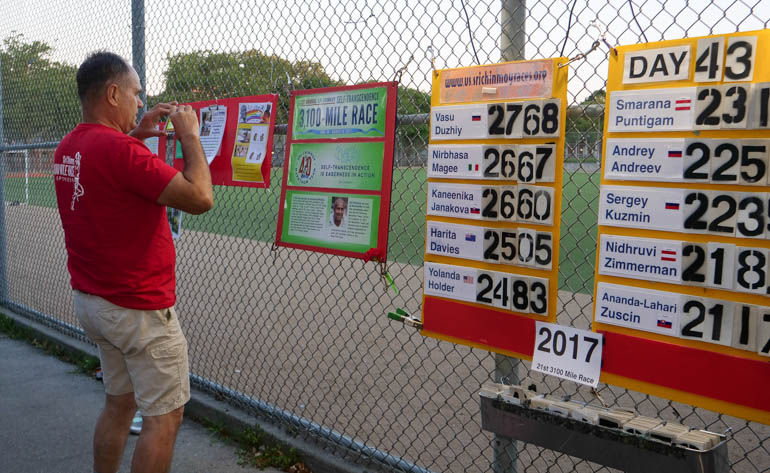 Decisions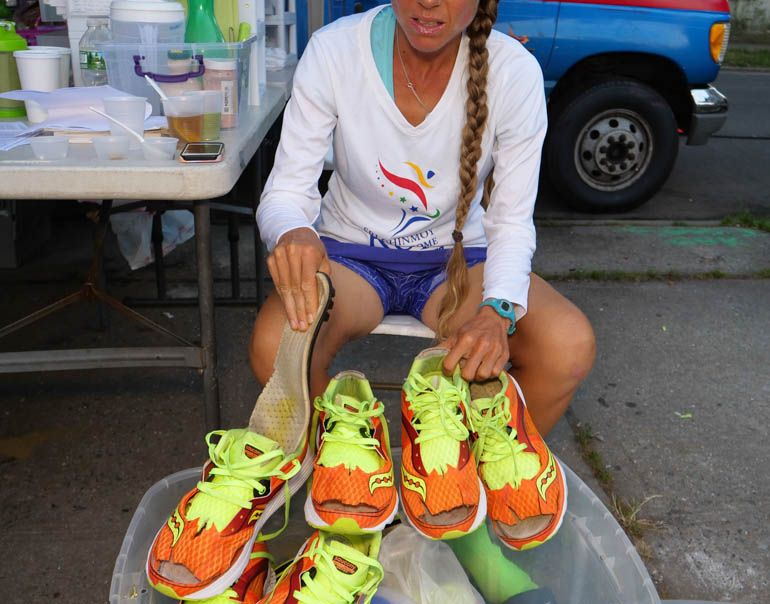 The boys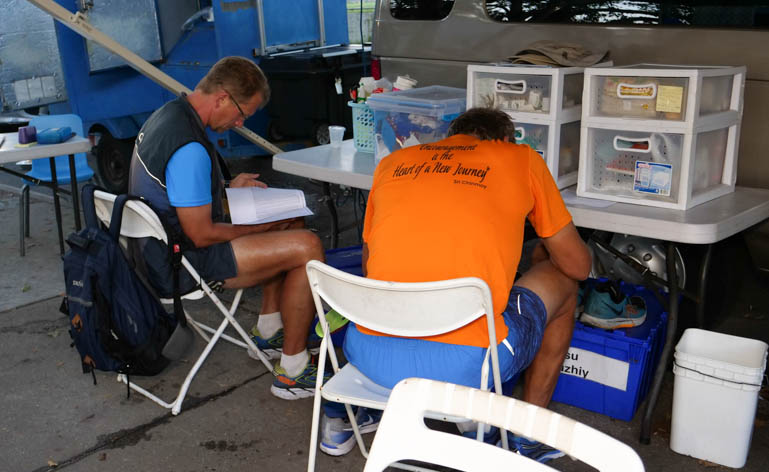 Guzel taking a picture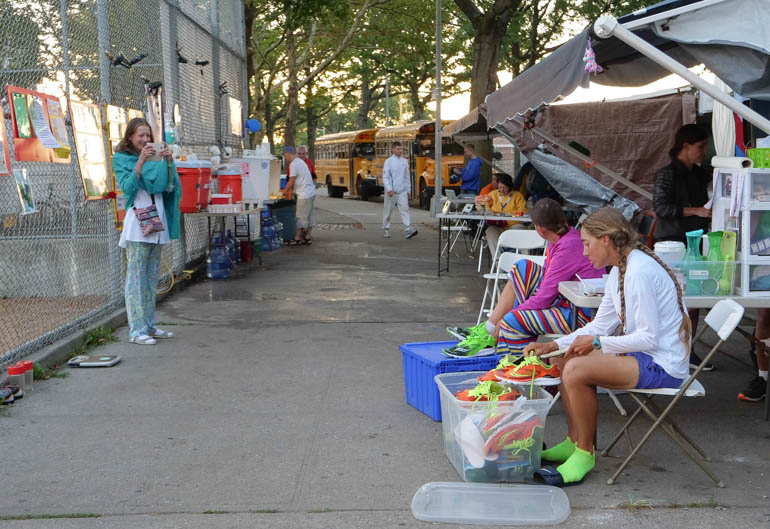 Smarana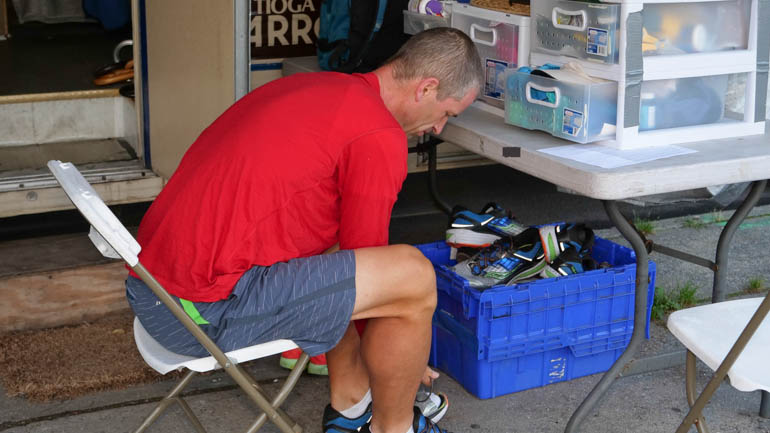 Bigalita's roses
Nirbhasa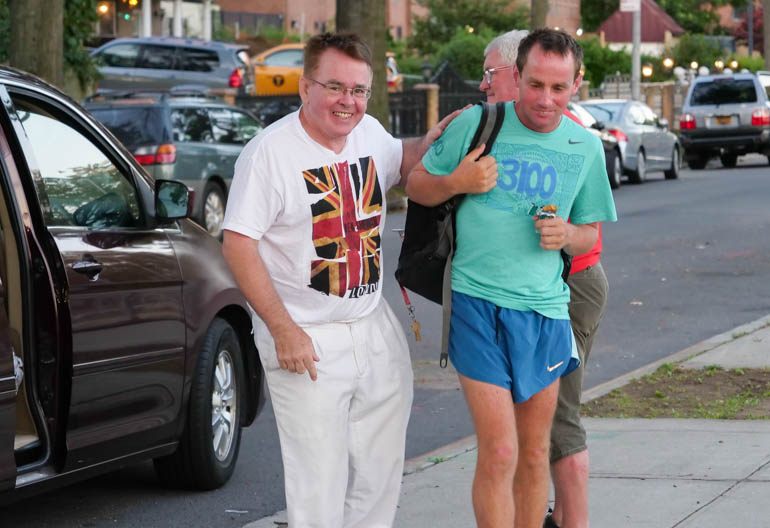 Kaneenika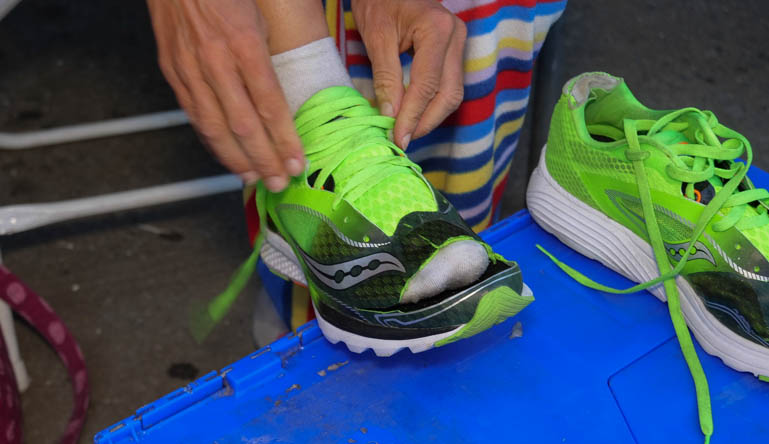 Start Day 43
Another incredible day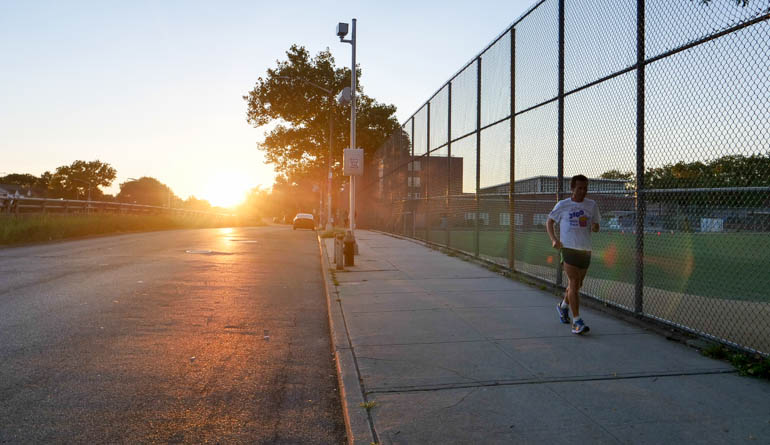 Vasu had a good day with 66 miles 122 laps
He now has 2768 miles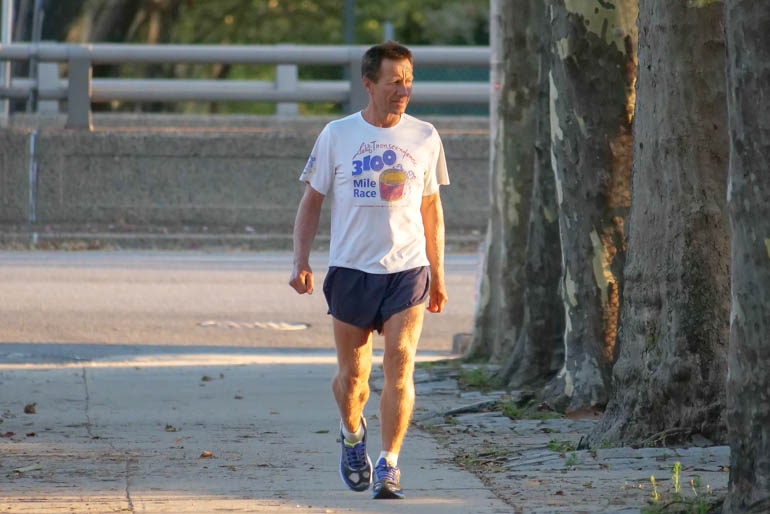 Getting some foot help from Sasha
Letters from home
It will be is 2nd fastest time
Flower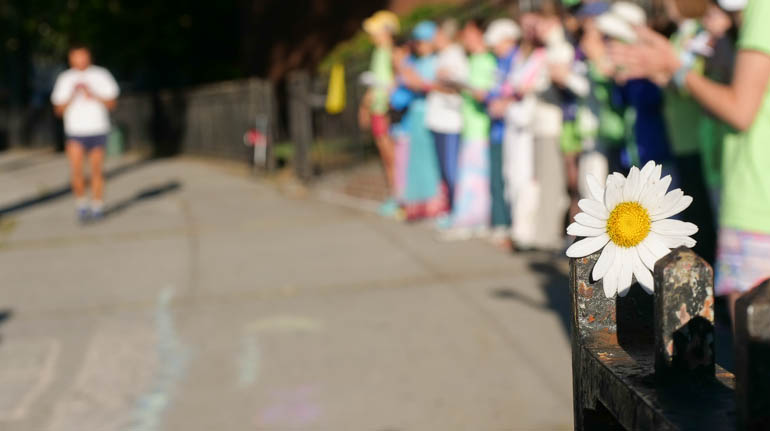 Nirbasa did 63 miles 117 laps
He now has 2667 miles
Knee support
Running with Smarana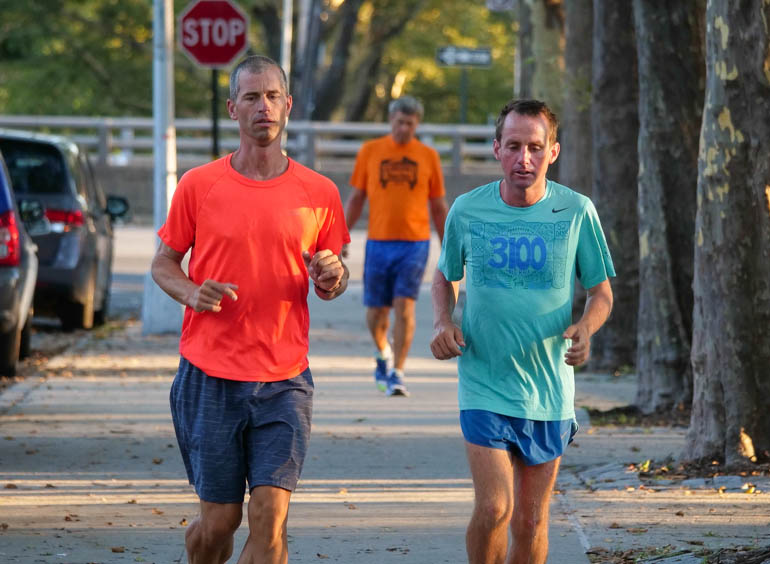 Shoe inspection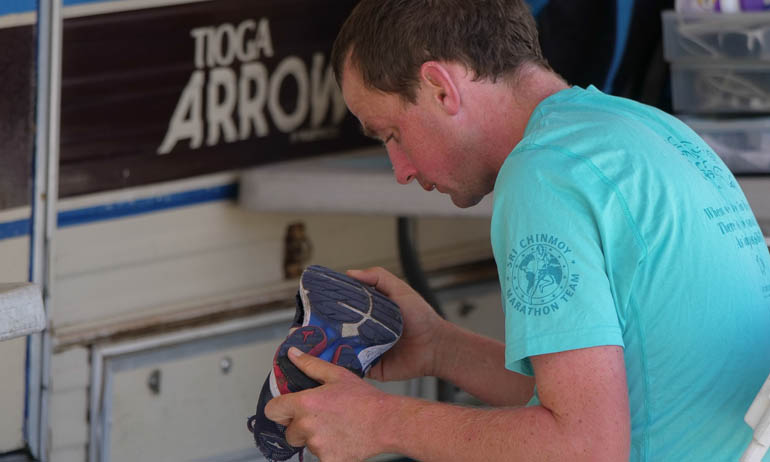 joke time
433 more miles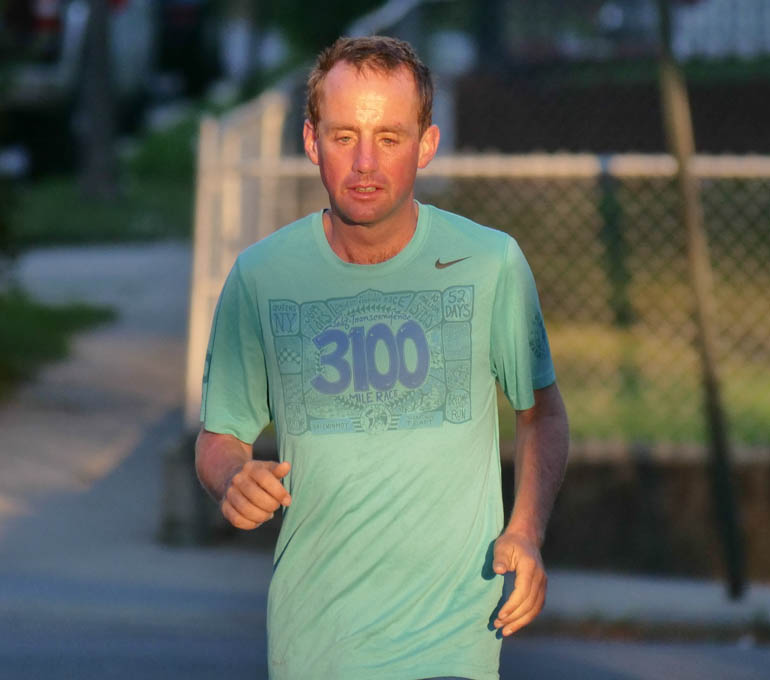 All kinds of transportation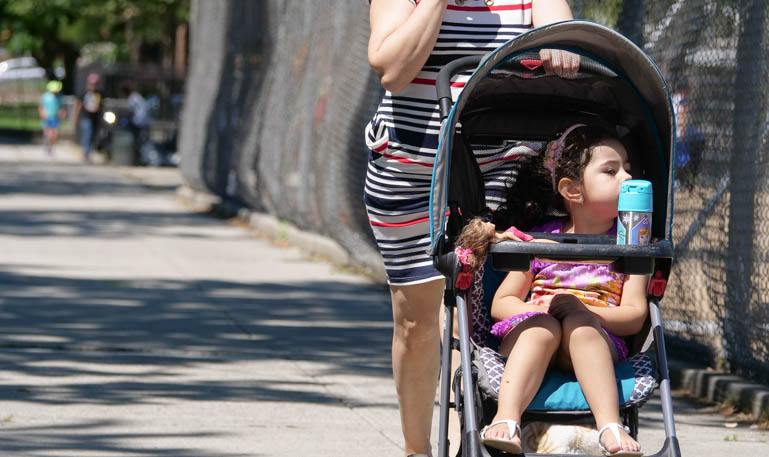 Flower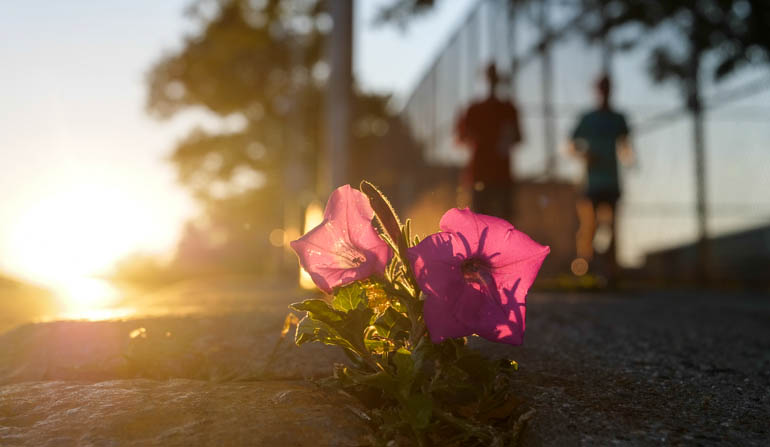 Kaneenika did 64 miles 117 laps
She now has 2660 miles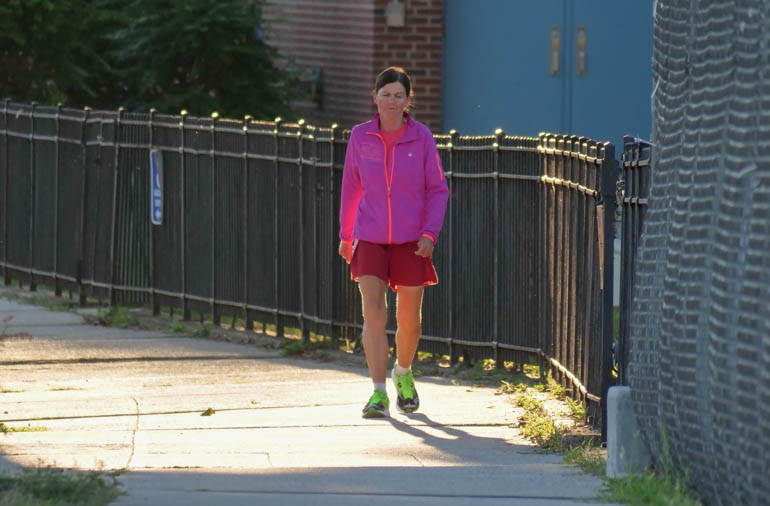 She is 92 miles ahead of last year
Feet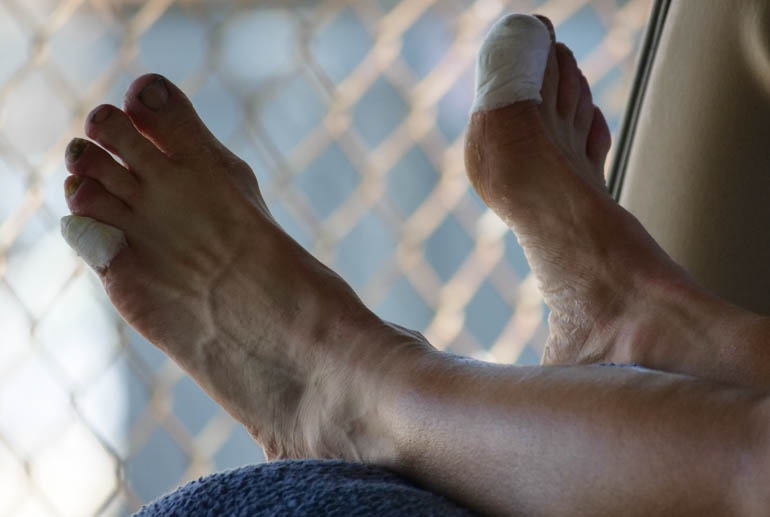 Suhasini
7 miles behind Nirbhasa
flower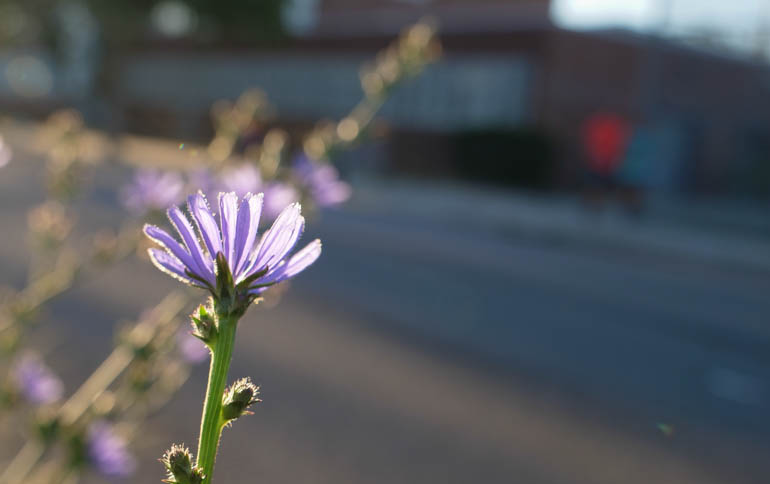 Harita did 60 miles 110 laps
She now has 2505 miles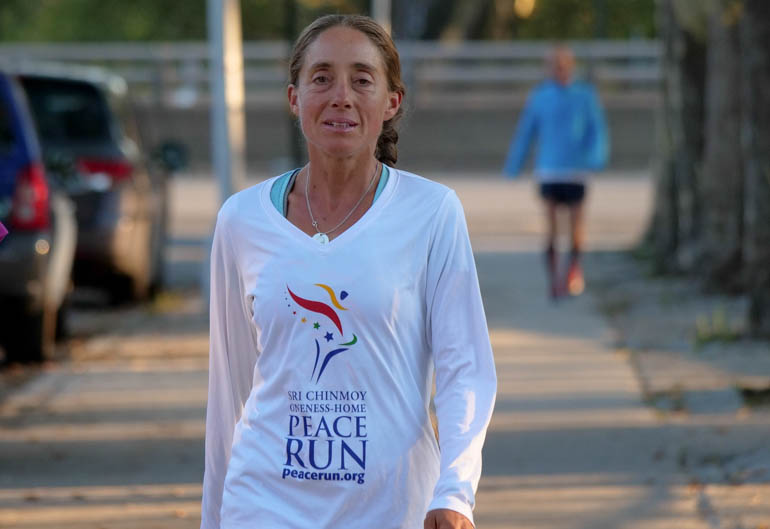 With Kanala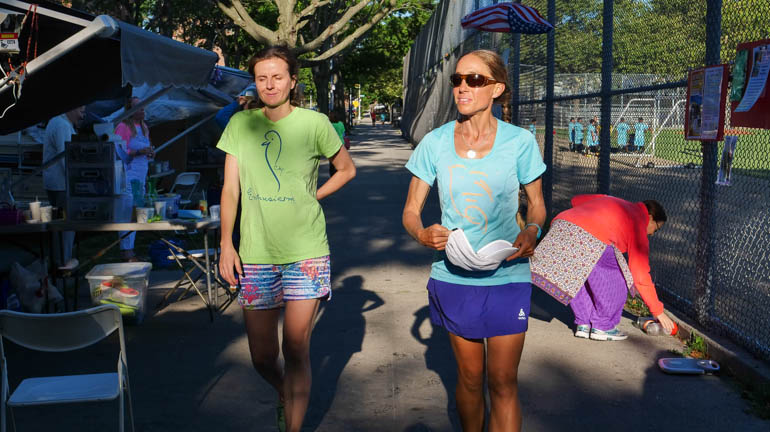 eyes right
With Nidhruvi
telling jokes
A great race
Flower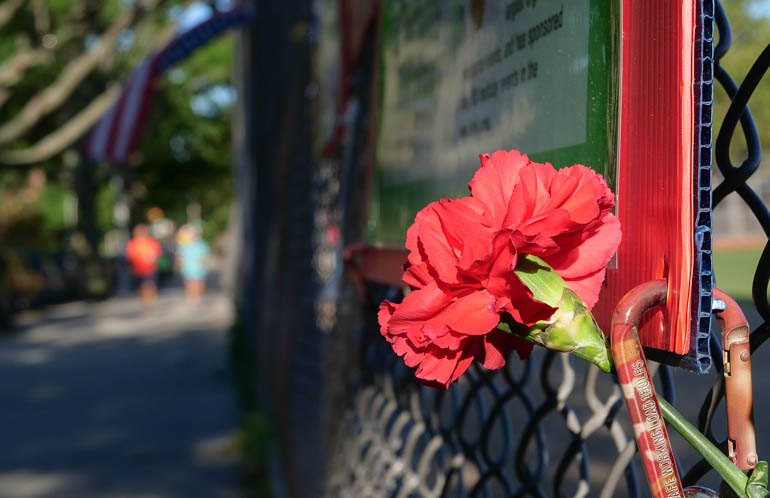 Yolanda did 65 miles 119 laps
With coach Renae
She now has 2483 miles
Flower
Smarana did 62 miles 113 laps
He now has 2314 miles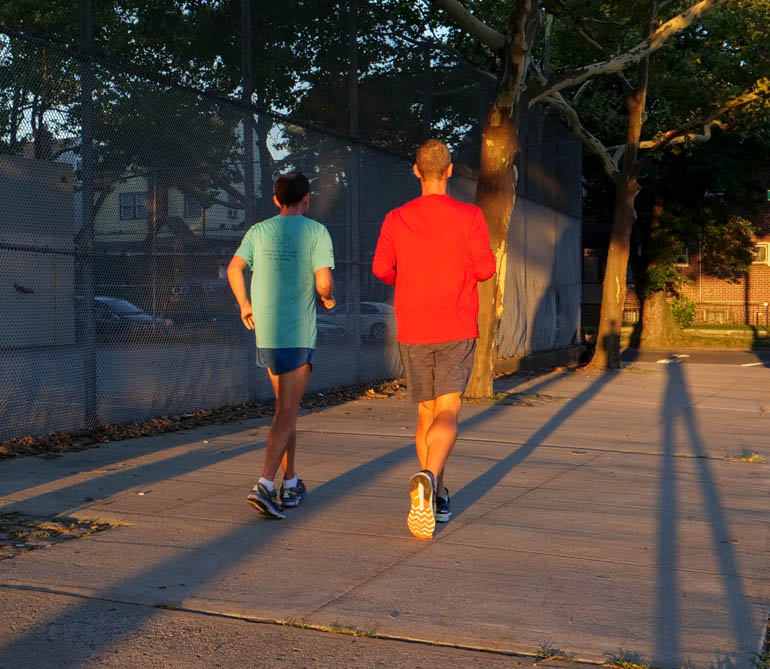 His best day in 2 weeks
telling jokes
flower
Andrey did 56 miles 103 laps
He now has 2259 miles
Hill
Encouragement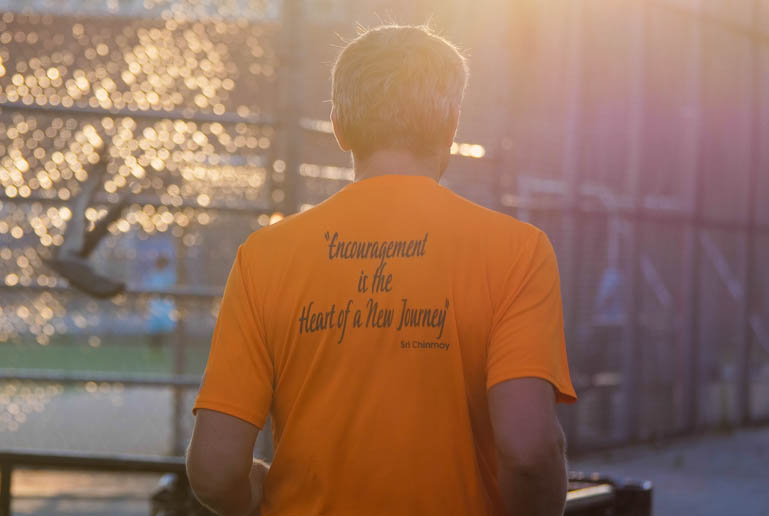 Flower
Sergey did 50 miles 92 laps
He now has 2239 miles
Morning sun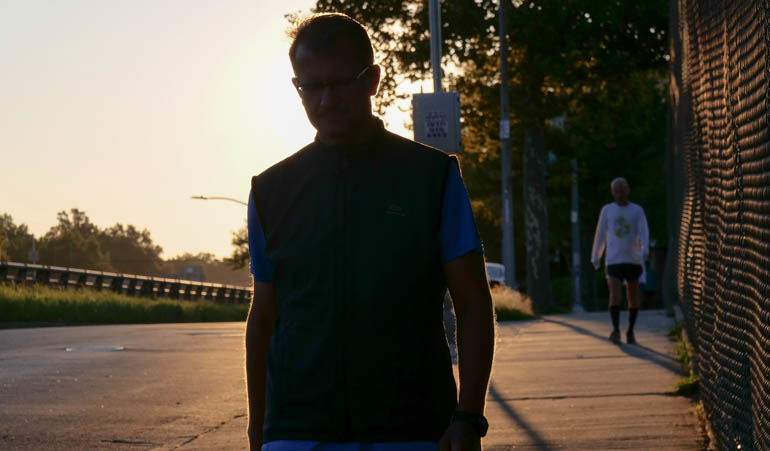 Happy rock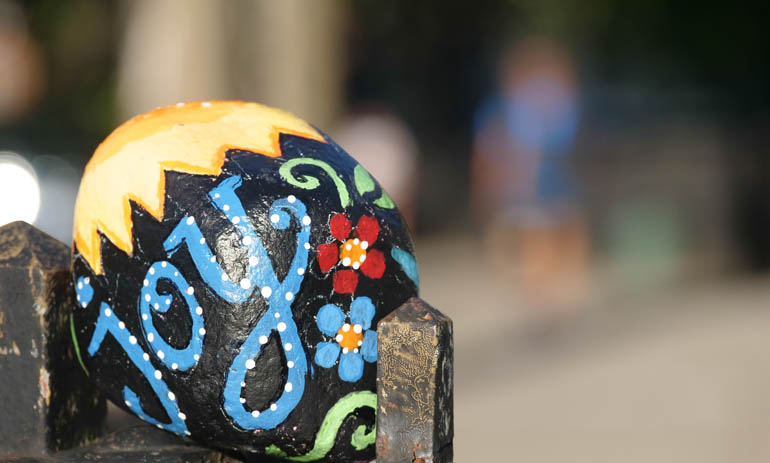 Nidhruvi did 53 miles 97 laps
She now has 2182 miles
Telling jokes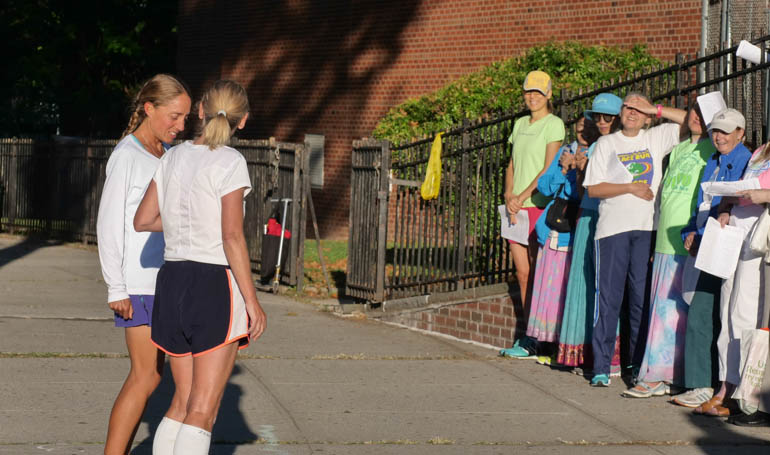 Feet
With Mareike
A great athlete
Flower
Ananda-Lahari did 42 miles 78 laps
He now has 2117 miles
Celebrating the Ananda-Lahari song
Flower
Swamiji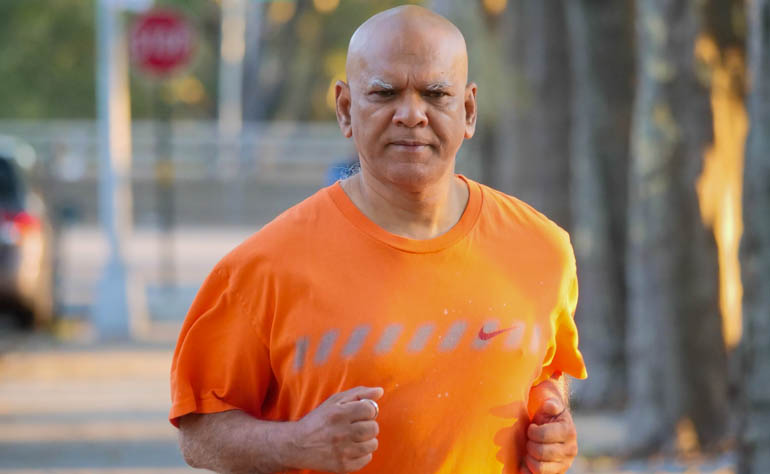 Databir
Alexy and cabbage
Alan
Flower
"You make think that is bird food but I see squirrel written all over it."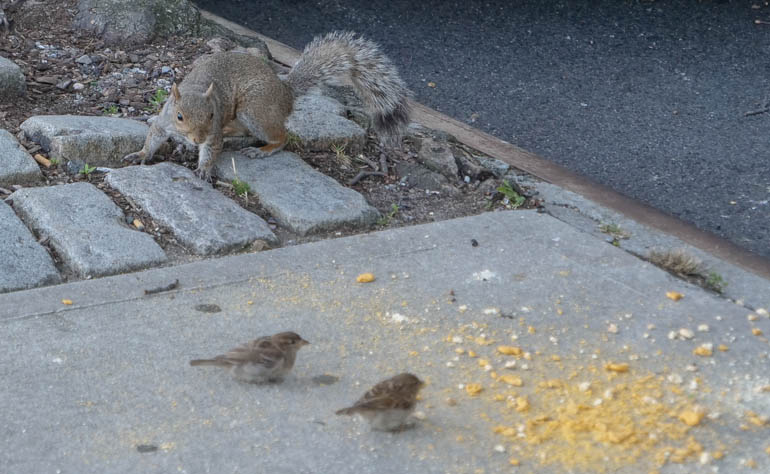 Sahishnu and his weekly report
Click to Play:
Sharani reads the Daily Prayer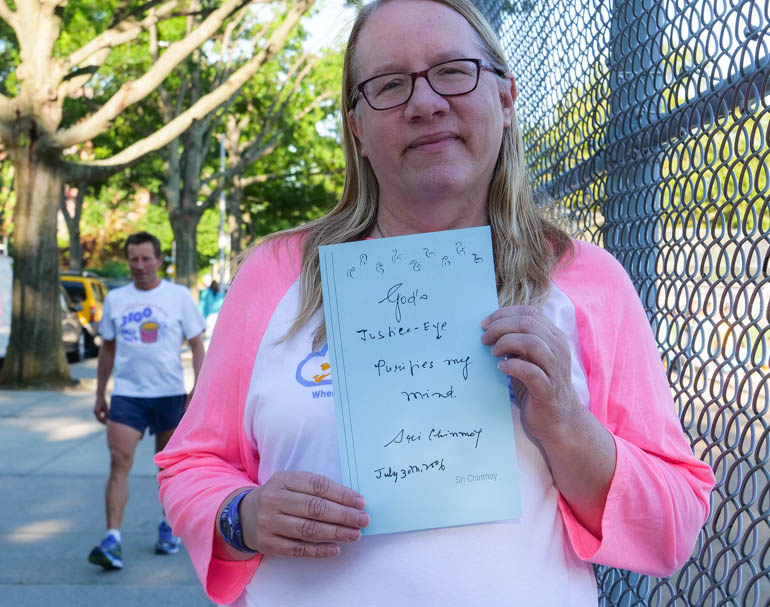 Click to Play:
Enthusiasm Awakeners
Click to Play:
Small steps or big steps
Do not matter,
As long as we move forward
Towards our Destination.