Imprinted on the running shorts that she is wearing today are the words, Happy Run.  They are a perfect match for the smile that she has so often carried with her these past 41 days.
In a race that did not develop quite as she had hoped but in many ways as she intuitively expected, she has now run 2128 miles.  Nidhruvi's joy and infectiously positive attitude will most definitely help her with the not so easy next 11 more days of running here at the Self Transcendence 3100 mile race.

I ask her if over the course of the race she can value the hard days as much as the better ones.  "I guess so.  It is not just the days it is even the moments.  You have moments when you are totally happy and then it can switch so fast, and sometimes you don't even know why."
"Sometimes you start crying and you have no idea why.  So it is really really interesting."
"For me there is so much gratitude that I have to be here and to serve my Guru and to serve the world.  So it doesn't matter how hard it is.  It is just such a privilege.  Therefore I am totally grateful."
She laughs when I ask her if she will be sad when day 52 at last comes.  "I am not.  I am looking forward to it so much."
Nidhruvi says that she has not had any major experiences.  "It is maybe all the little experiences put together that you see how many miracles you experience every day.  Especially in the beginning.  Now I am kind of in my flow.  There are now so many problems that I now know how to solve.  If they occur.  If they are physical problems or even mental problems.  You just always have to stay focused."
"All those little miracles in which there was a problem coming up.  You sometimes find immediately a solution if you stay calm and have faith.  And just don't give up.  That is just so miraculous for me.  Then immediately the answer to your problems comes."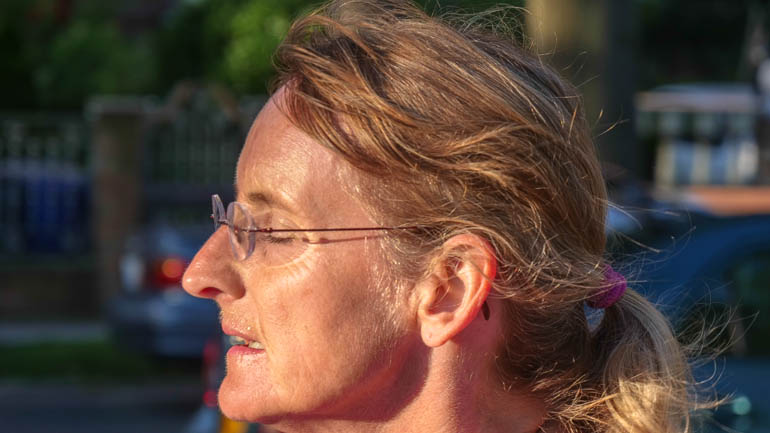 Sri Chinmoy, particularly when he was still with us could inspire his students to do much more than they could even thought possible.  I ask Nidhruvi if she had any experiences like that.
In 2000 she first attempted the 1,300 mile race, "which is really extremely difficult.  After 4 or 5 days I had to quit the race.  I was so badly injured, that I had to stop."
"After the race I saw Sri Chinmoy.  I was standing in front of him and I was just crying like a little girl.  Then he smiled at me so sweetly.  Then he said, don't cry.  You know life's experiences.  Then he smiled even more and said…..Next Year."
She came back to the same race the following year and says, "it was so difficult.  I had to run every day 68, 69, and even 70 miles.  So quite often I remembered what Sri Chinmoy had said the year before, next year.  So I hoped, even with all my difficulties that I could finish the race."
"But it was so hard that on the last day I did not know how to move any more."  She had her last mid day break and 2 friends who were concerned about her asked if they should tell Sri Chinmoy about her problems.  "I said, yes, please."
When she came out of her break the 2 same girls were there to greet her.  They said, "You know what Sri Chinmoy said.  He wants you to win!  I said, O my God."
At this same time she was in close competition with another girl and were always just a few miles apart.  "So I had no idea how to do this.  Because I could hardly move."
"Usually at midnight I would take a break for 2 hours.  But somehow when that break time came I was in a flow.  I thought, that if I stopped maybe I couldn't move on any more.  So I was sitting down sitting next to the East river and looking at the Manhattan skyline in the night sky."
"I asked Sri Chinmoy inwardly what should I do.  Should I continue or should I go for a break.  Immediately I felt the answer….continue."
"So this is how I finished early and won the race."
Gratitude is not a mere dictionary word.
Gratitude is the golden link
Between man's heart and God's Heart.
Dipali's Race Tips
The board at the start of Day 42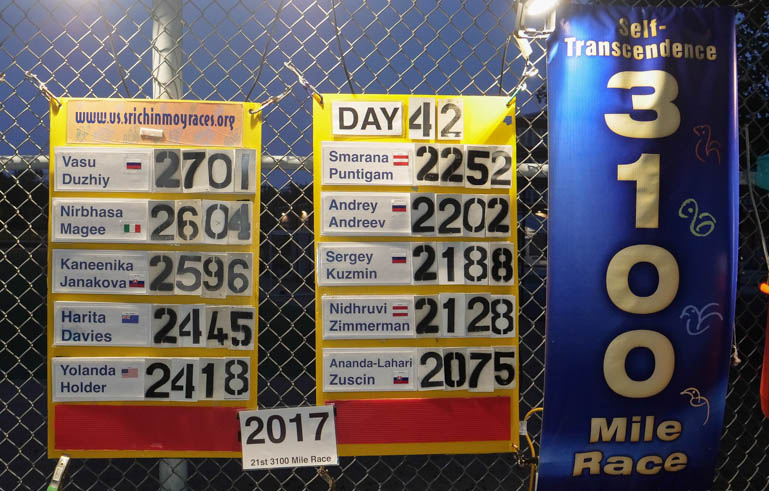 The Clock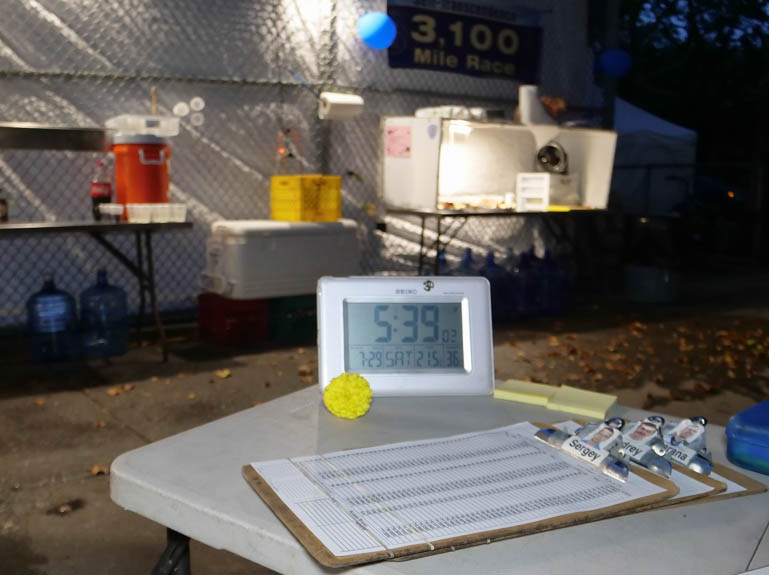 Alan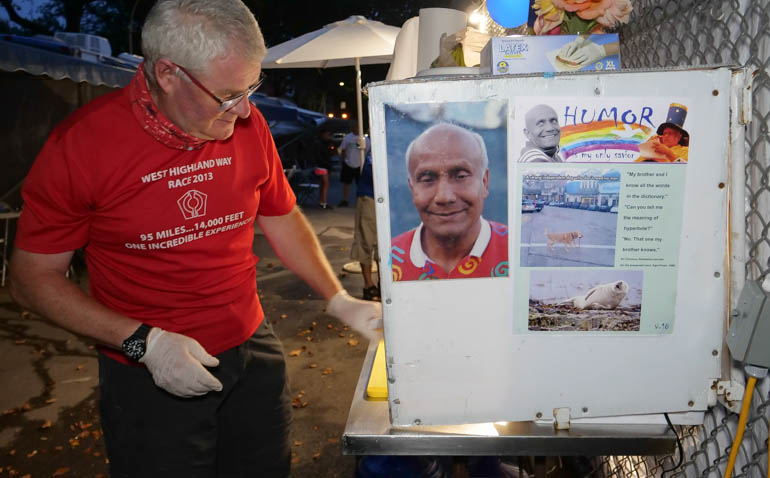 Suhasini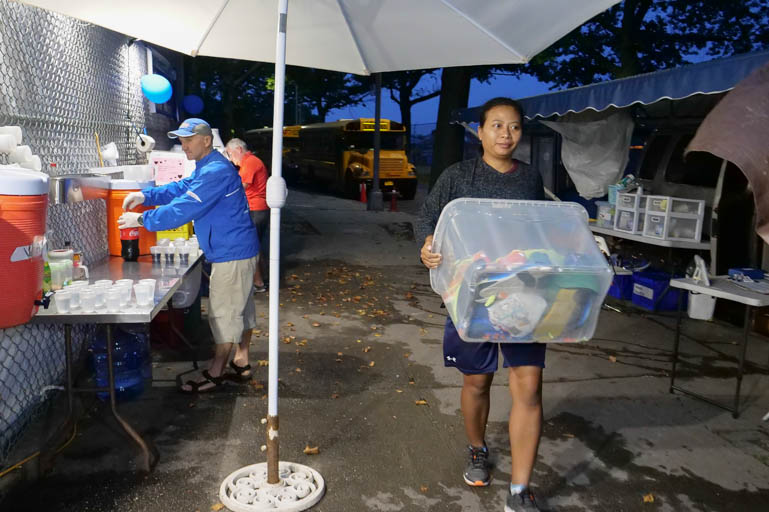 Andy has come to help support Yolanda
Yuri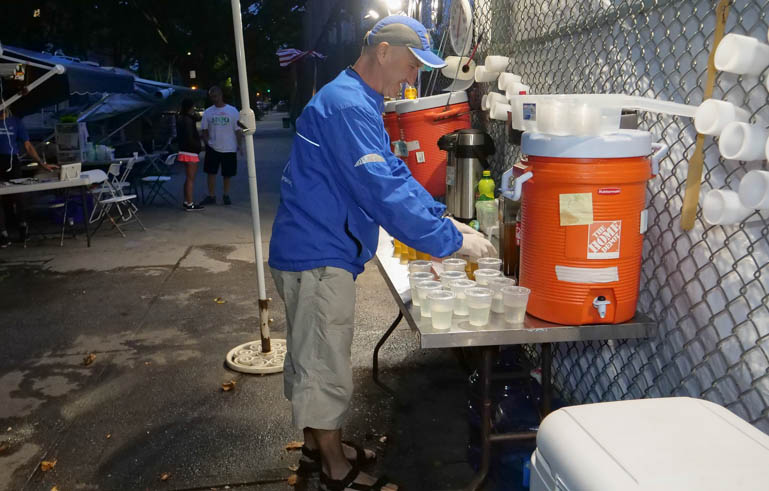 Renae talks with Andy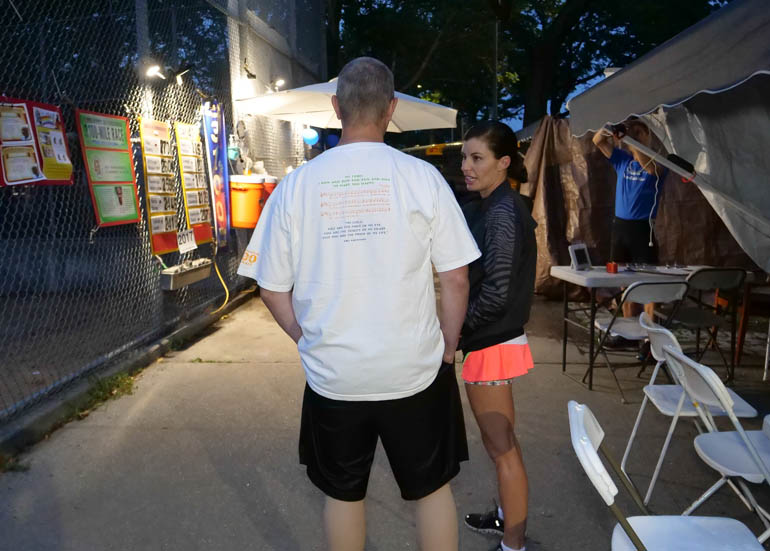 Vajra leaves
Nidhruvi
Kaneenika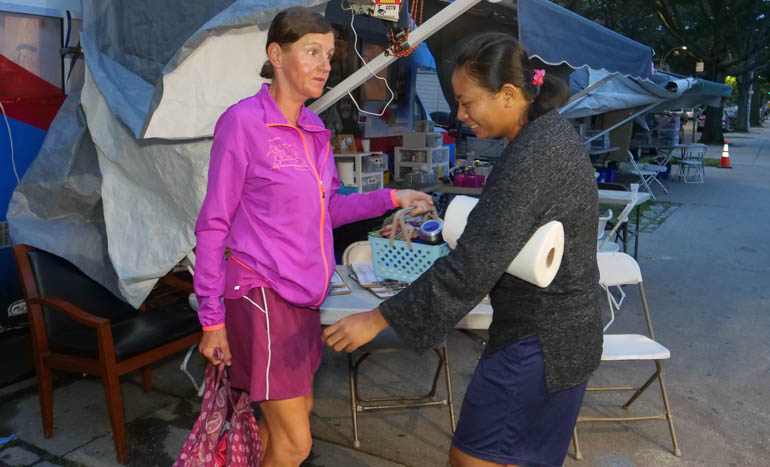 Team Yolanda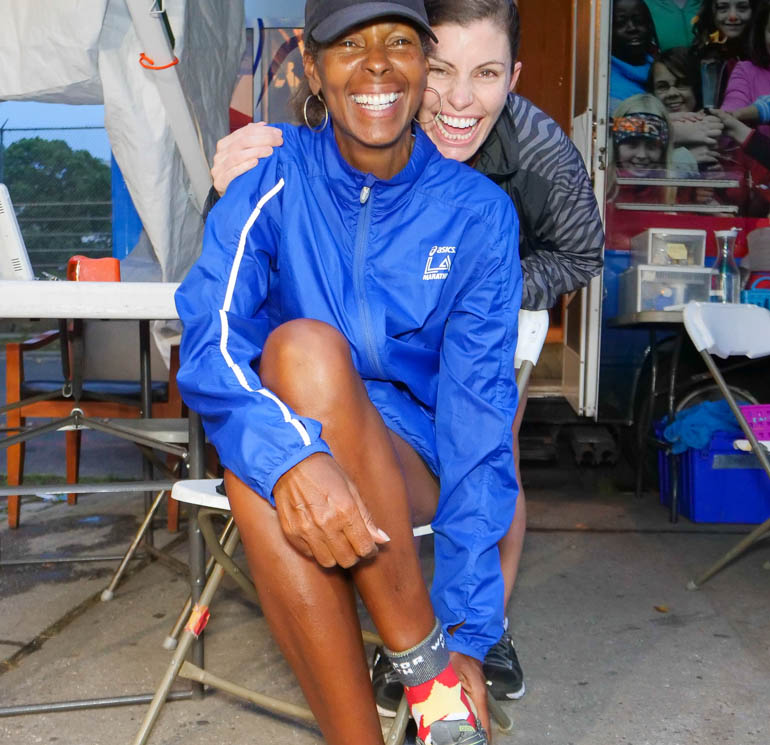 Rupantar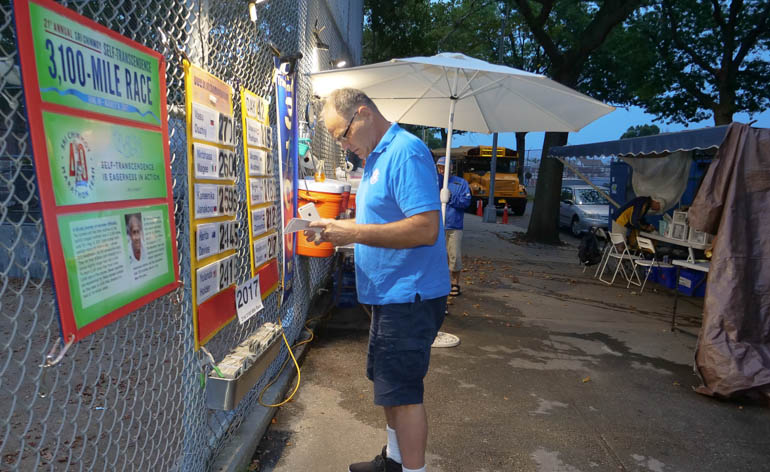 Girls
Vasu
Boys
Very soon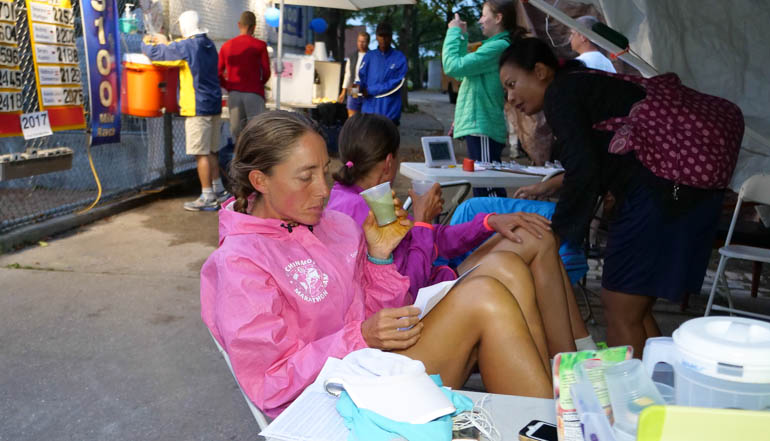 Start Day 42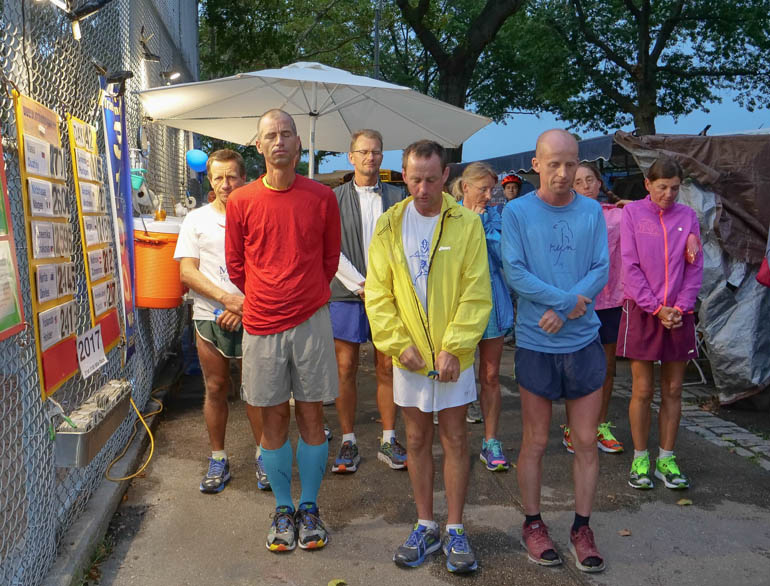 Overcast and windy
Vasu had 63 miles 115 laps
Gopi patrol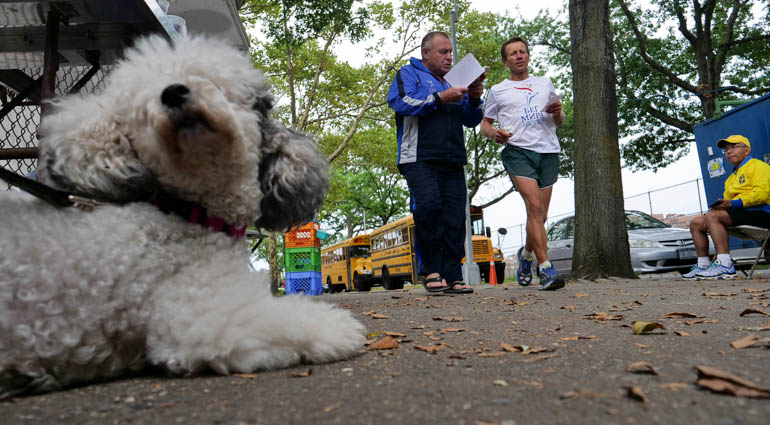 He now has 2701 miles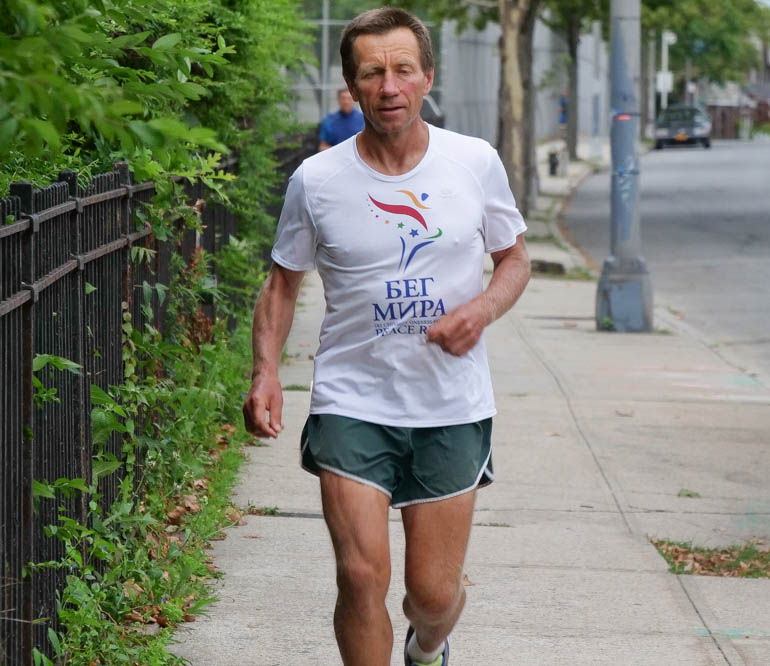 Just 400 more to go
A bit of green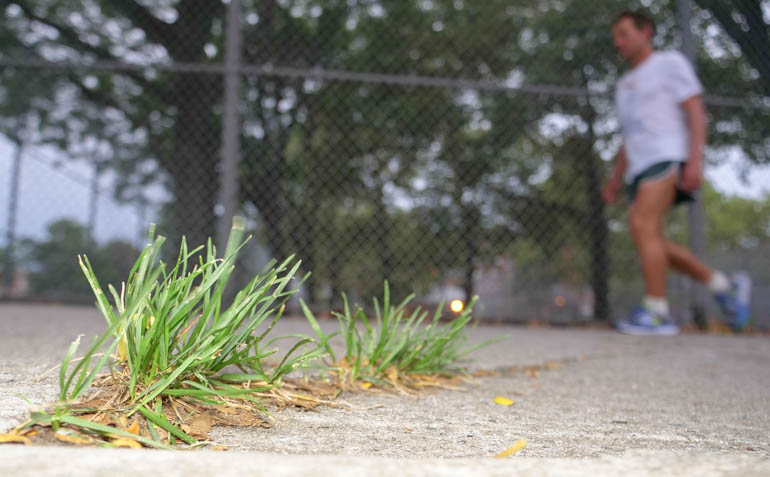 Nirbhasa did 61 miles 112 laps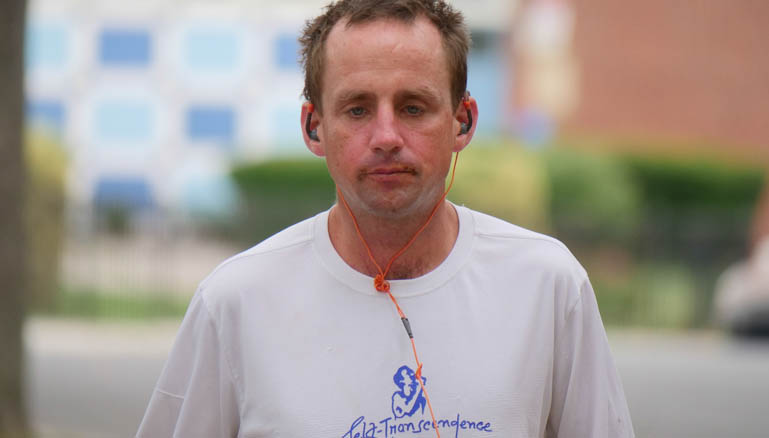 Another dog inspector keeping watch
He now has 2604 miles
He starts the day just 8 miles ahead of Kaneenika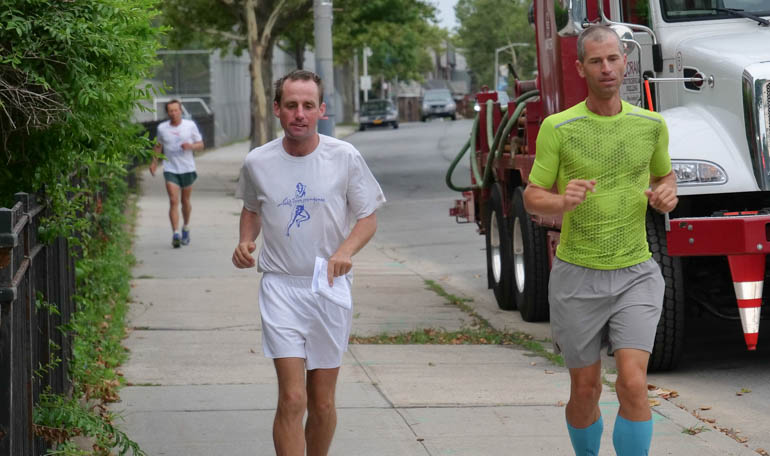 Flower
Kaneenika did 63 miles 116 laps
She now has 2596 miles
Just received the daily prayer.  Suhasini expecting rain any minute
The smile
Giving some advice to Harita about inserets
A bit of green
Harita did 59 miles 109 laps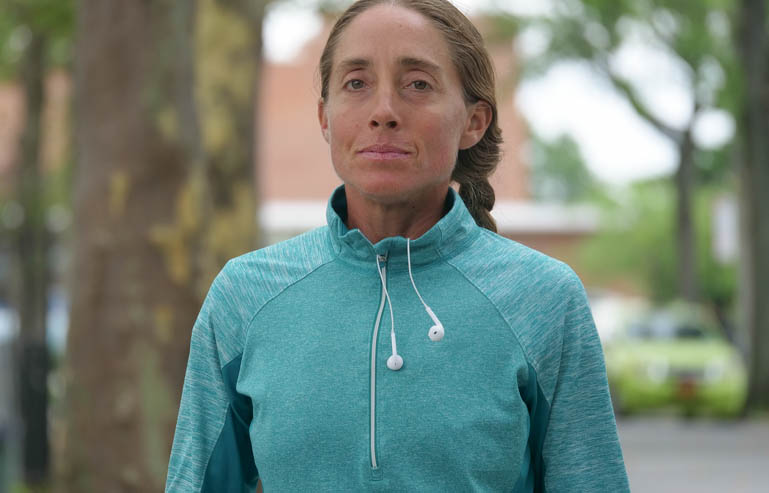 She now has 2445 miles
Working on the shoes with Katya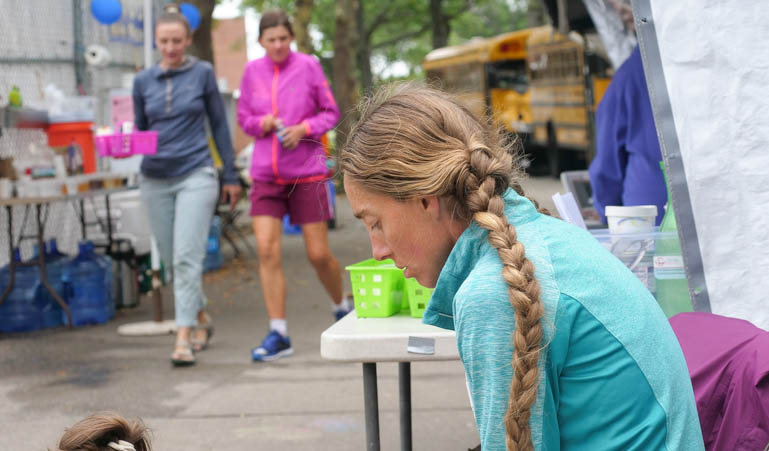 Feet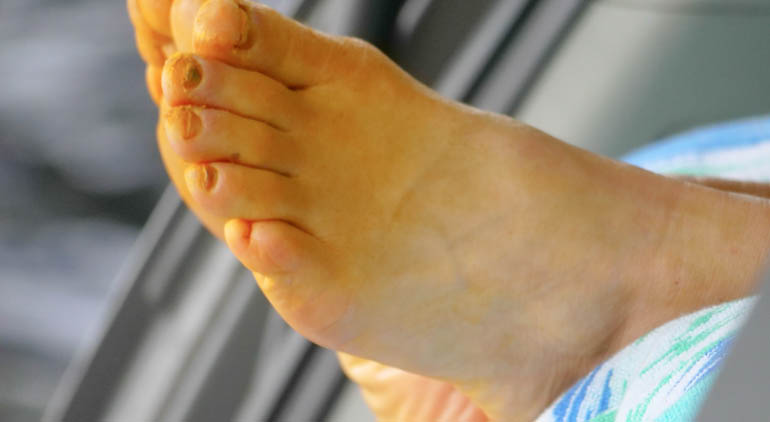 555 miles to go
Telling jokes
Flower
Yolanda did 62 miles 113 laps
She now has 2418 miles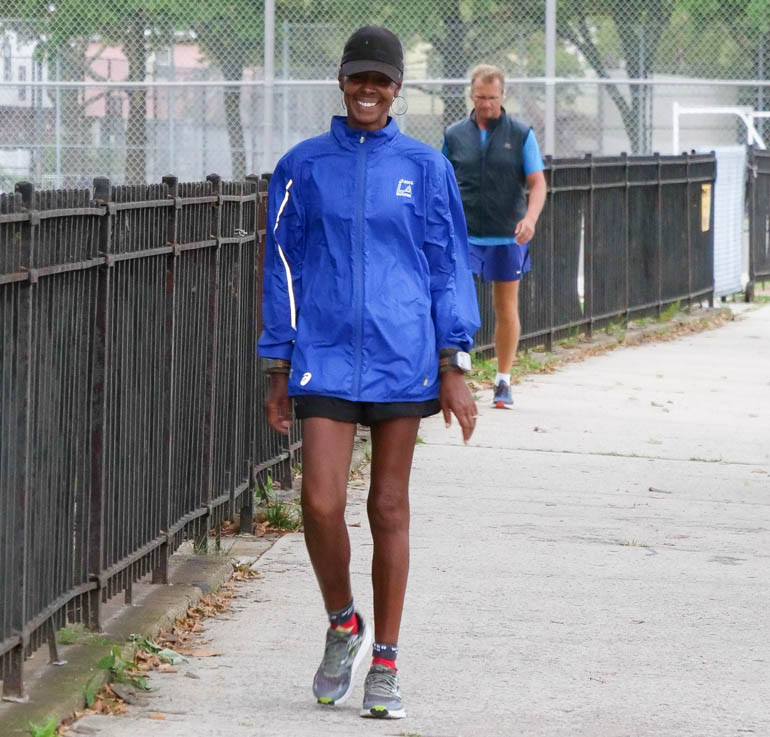 She must continue to do at least 62 miles a day for the next 11
A great competitor
Flower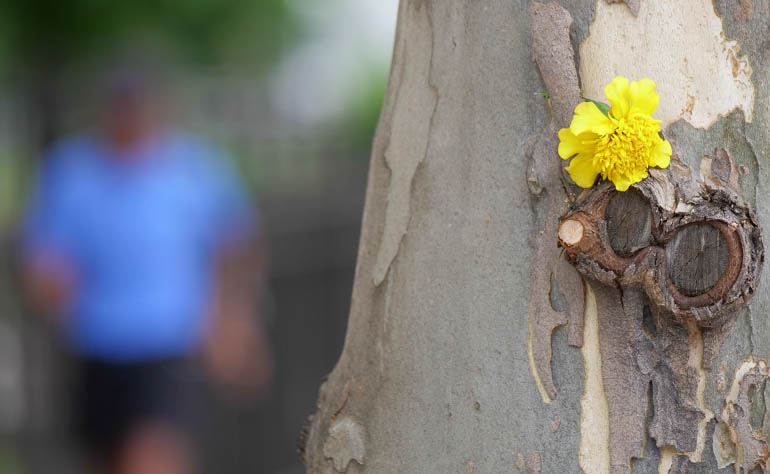 Smarana did 49 miles 90 laps
He now has 2252 miles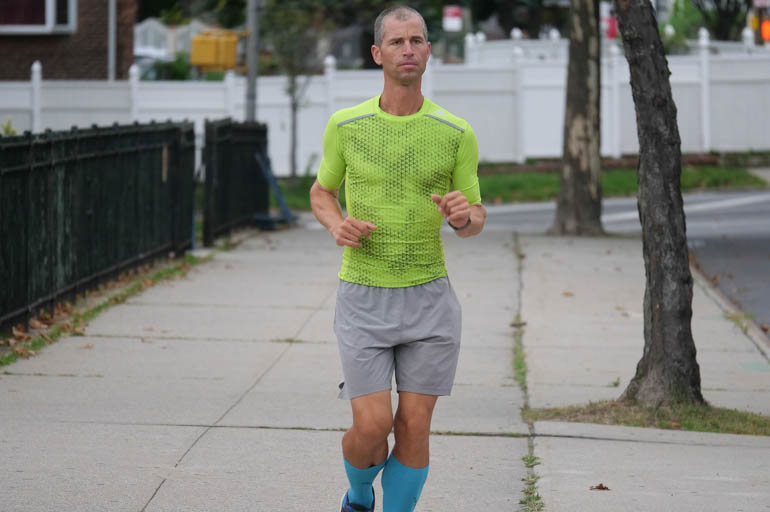 Good to have Horst back
flower
Andrey did 48 miles 88 laps
He now has 2202 miles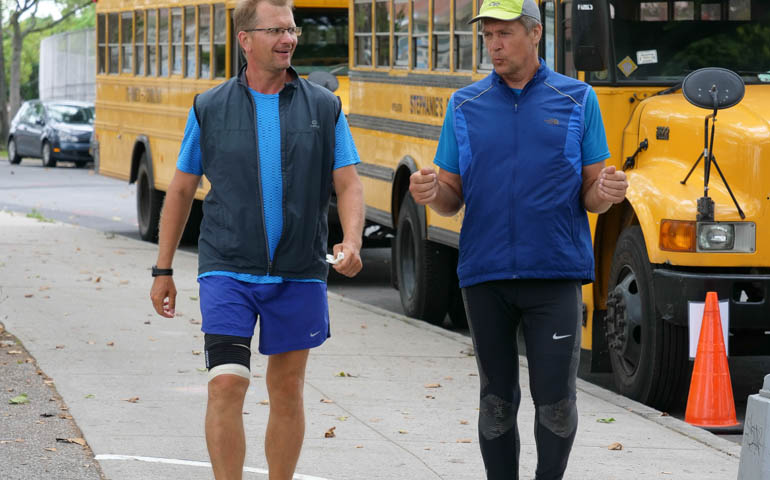 His wife is here to help
Flower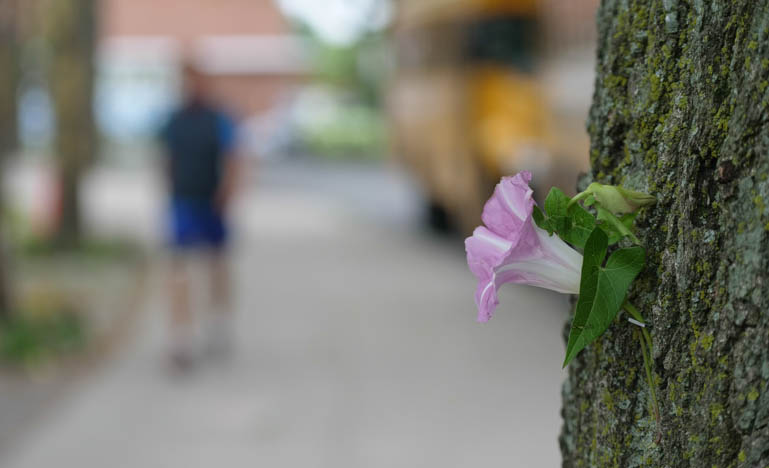 Sergey did 49 miles 90 laps
He now has 2188 miles
He is 14 miles behind Andrey
Happy rock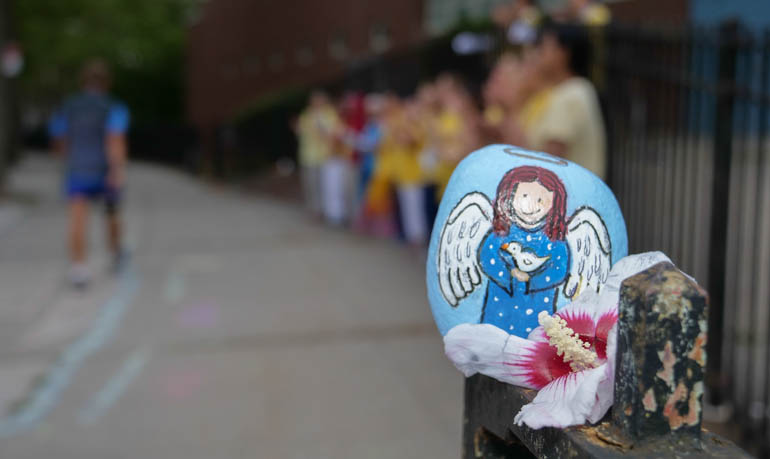 Nidhruvi did 53 miles 97 laps
She now has 2128 miles
telling jokes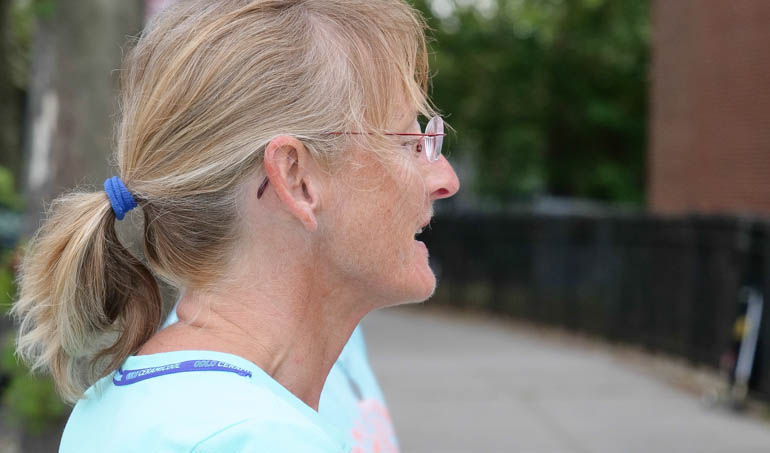 The audience
A happy day
News from home
What a world
Katya
Flower
Ananda-Lahari ran the most yesterday with 74 miles 136 laps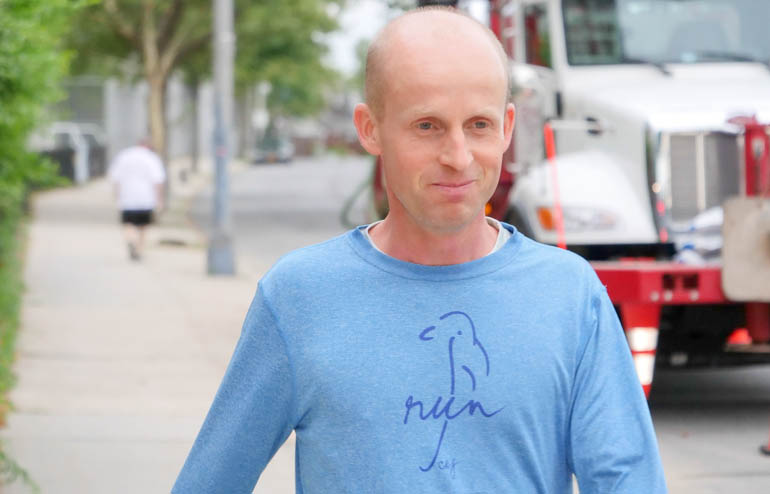 He now has 2075 miles
Flower
Swamiji
Eddie
Flower
Alan updates the board
Putting up a sign
Getting ready for the Saturday 2 mile race
Andy keeping track of his laps
A break
Renae and Dipali having a chat.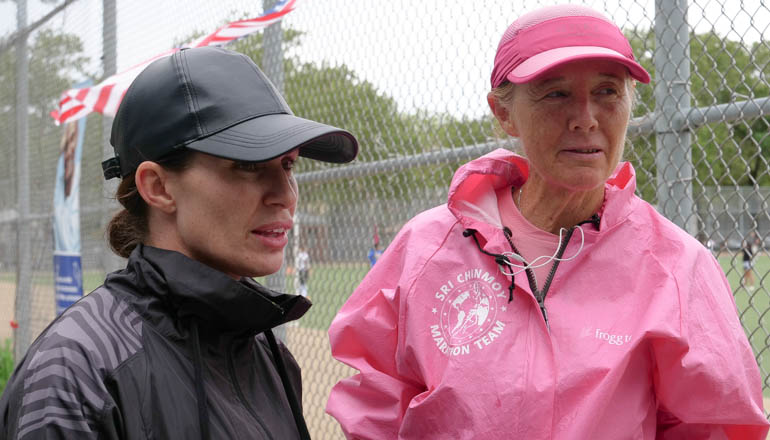 "Ugh, that is so sticky.  I need to speak to somebody about this course."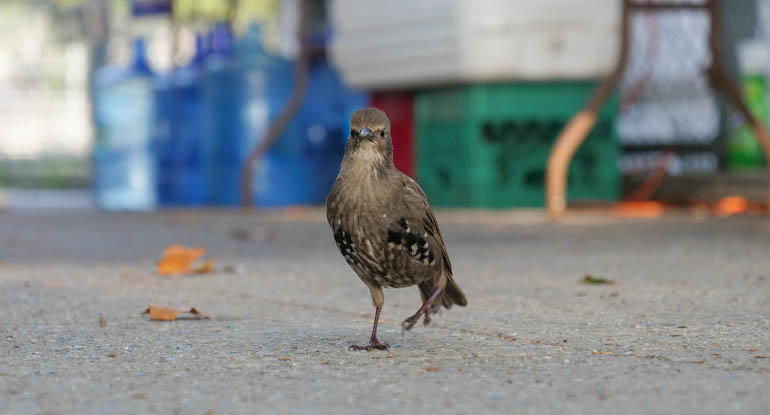 Databir with a 3100 Mile Race story
Click to Play:
Poem of the day read by Guzel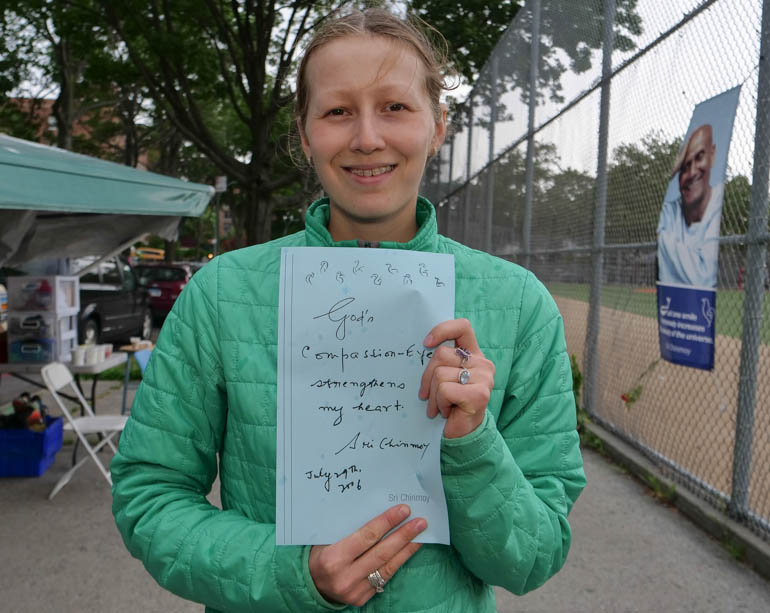 Click to Play:
Enthusiasm Awakeners
Click to Play:
A gratitude-tear from my heart
And a gratitude-smile from my life
Have given me, my entire being,
Utmost joy.