After 2 days of running Harita Davies has more than proven she belongs with this extraordinary group of distance runners attempting to complete 3100 miles.  Among the women athletes she ran the most laps on day 2 and is currently tied with Kaneenika and Nidhruvi for 2nd place (4th overall).  She starts her 3rd day here looking great and showing no obvious wear and tear from just running 128.9 miles.
"Ever since I started meditating I started running.  So since I began my spiritual life, it was always really a part of it.  I was very fortunate to have it instilled in me by Subarata who was a great runner and one of the center leaders of the Sri Chinmoy group in New Zealand.  She had done many ultra races she really really encouraged us and showed how meditation and running go really well together."
"I grew up playing sports, my parents are really into sports so for me it was something that I was brought up with and I know that it saved my life in so many ways.  As a teenager when ever I had a hard time and went into sports it made me feel that everything was going to be okay."
"So my running is like that in so many ways.  Whenever times are difficult or challenging I can just go out for a run.  You feel like everything is taken away.  You feel clear and you feel light.  It helps you to stay much more positive."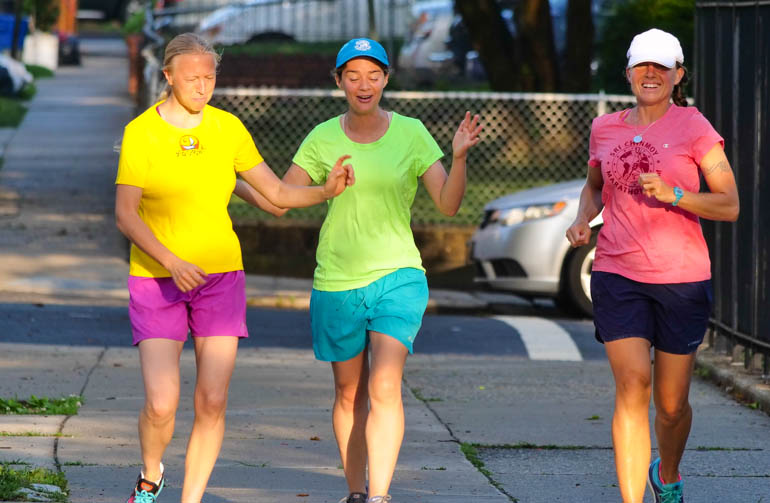 "A lot of people say that I seem like such a happy person and that I am really lucky for that but I would say that is something that I have worked at very hard.  Running is a big part of what helps me to be able to do that."
"Ever since I first saw the 3100 mile race I just had the feeling that it was inevitable that one day I would do it. But I had no idea when and I always thought maybe in 10 years time.   But last year I realized, I am 42, and 10 years more?
"Last summer I got the inner inspiration and at the time and hadn't been thinking about doing the race at all.  I was always projecting it into the future.  So I was really surprised that I got inspired to run the race this year."
She describes her position as one that she would never attempt the race at all unless she could be happy while doing it.  "But every time I looked at the race it just looked like torture.  I couldn't conceive of how I could do it and be happy."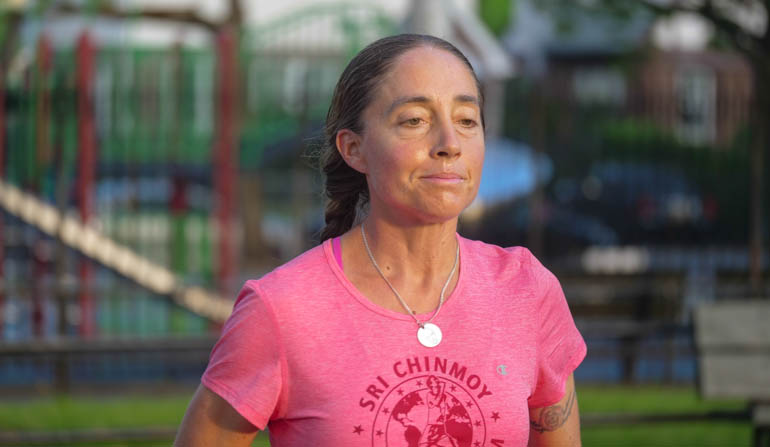 "After I ran the marathon and the 47 mile race in August I had an experience.  Even though my body was really suffering.  On a deeper level I felt so much joy and happiness.  Then a couple a weeks after those races I was handed a book on the 3100 mile race, and I suddenly went…..O NO!  Now I can see how it is possible."
"The more I meditated and thought about it I felt, if you have the inspiration to do something, you should follow that inspiration.  Sri Chinmoy said that inspiration is like a bird.  You should reach out and catch it and not wait for it to land.  If you really feel as though you are following your heart, which I really try and do in my life."
"I really try and follow my inspiration.  I feel Inspiration is a most powerful blessing.  If you have an inspiration to do something you have to see it as a tremendous blessing.  I felt inspired and that is why I am here doing it."
"Whatever experience I have doing this race is what I am meant to have and will make progress from it."
"I am grateful so far, but it is still so early.  Everybody knows that the race is a tremendous opportunity to just live in the moment, and that is a thing that we all have to learn how to do……..and be happy."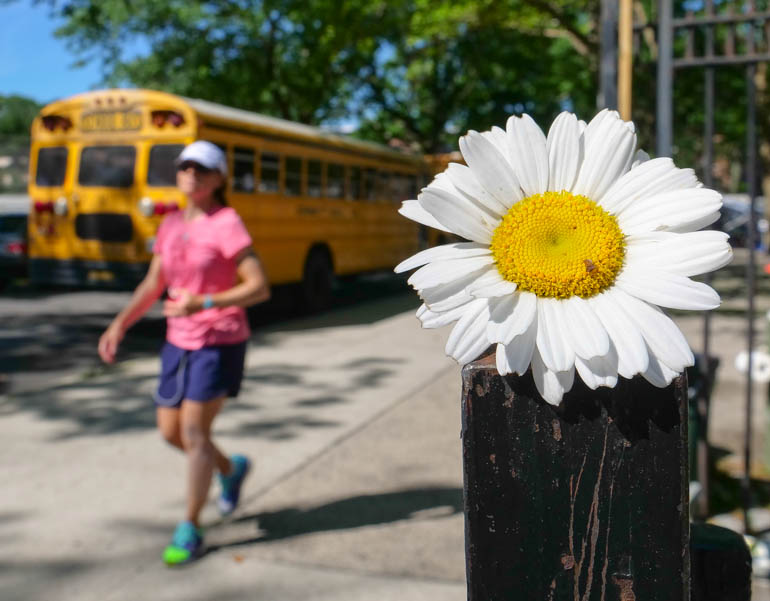 You follow
Your heart's love.
Your life's happiness
Will follow you.